14 Top-Rated Things to Do in Mystic, CT
We may earn a commission from affiliate links ()
Mystic exudes quintessential New England charm. Sitting quietly on the shores of the Mystic River, this quaint seaside village offers visitors a welcome respite on the route between New York and Boston. Don't think that means you'll get bored during your trip; you won't. Mystic is packed with fun things to do, especially for families.
Gleaming white sailboats bob "hello," while a clanging bell draws attention to the historic Mystic River Bascule Drawbridge. When closed, it links tourists to the center of town, allowing easy access to a multitude of unique shops, delicious eateries, and two of Connecticut's top tourist attractions: Mystic Seaport Museum and Mystic Aquarium.
Inhale the brisk sea air, gobble the freshest of seafood, and soak up the history in this adorable maritime town with our list of the top things to do in Mystic, CT.
1. Board a Boat at the Mystic Seaport Museum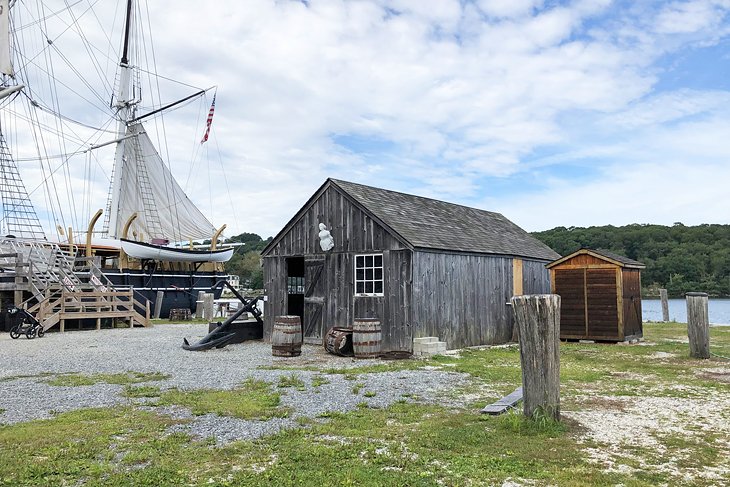 If you can only visit one place during your trip, make it the Mystic Seaport Museum. This impressive harbor boasts everything from a planetarium to a working shipyard, and is one of the best places to photograph in Connecticut. The re-created 19th-century seafaring village is one of its crown jewels. Each building is authentic and houses friendly and knowledgeable staff to teach you about life in the 1800s. You'll see first-hand how the sailors banked, printed newspapers, and carved ships.
Don't miss the "Voyaging in the Wake of the Whalers" exhibit, where you'll learn about America's historic relationship with the whaling industry. Then, climb aboard the Charles W. Morgan (the world's last wooden whaleship) to see where the whalers slept, ate, and boiled blubber into oil. There are multiple other ships to explore, including the full-rigged Joseph Conrad.
Leave the seaport in your wake as you board one of their passenger boats. Whether you rent a rowboat; sail on the working catboat, Breck Marshall; or float on the steam-run Sabino, you're sure to have a rollicking good time on the open sea.
Visiting with kids? Little ones can dress like a sailor and swab the deck at the Children's Museum or learn the science behind a ship's sail and hull design at the Discovery Barn.
2. See the Beluga Whales at the Mystic Aquarium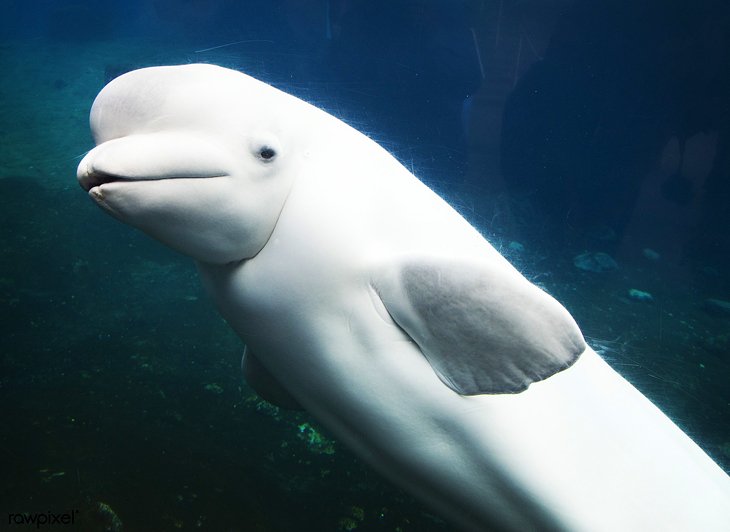 Rated one of the best attractions in Connecticut, Mystic Aquarium is a crowd pleaser. It's here that you can see Beluga Whales up close or learn to train them as part of a paid encounter program. This popular package is also available for exclusive access to penguins, seals, and sea lions for an additional fee. Ever wanted to see a stingray paint? Join the "Paint with a Stingray" encounter.
This aquarium scores extra points for offering so many opportunities for visitors to interact with its aquatic residents. Touch the soft wing of a sting ray in the Ray Touch pool, run two fingers along a shark's back in Shark Encounters, meet a lobster, or feel a starfish in Discover Long Island Sound. Then visit Scales & Tails. If you're lucky, you'll get to pet a baby alligator.
Wander through the indoor and outdoor exhibits to find jelly fish, giant turtles, eels, thousands of fish, and poisonous frogs. One of our favorite spots is the outdoor Pacific Northwest, where you'll see (and definitely hear) seals and sea lions at play.
Just past the Marsh Trek (keep your eyes peeled for turtles) you'll come to the Animal Rescue Center. Take a moment to peek through the holes to see rescued seals being rehabilitated. This is a small part of what your admission pays for-conservation efforts that extend far beyond these patients.
3. Taste the Food Samples at Olde Mistick Village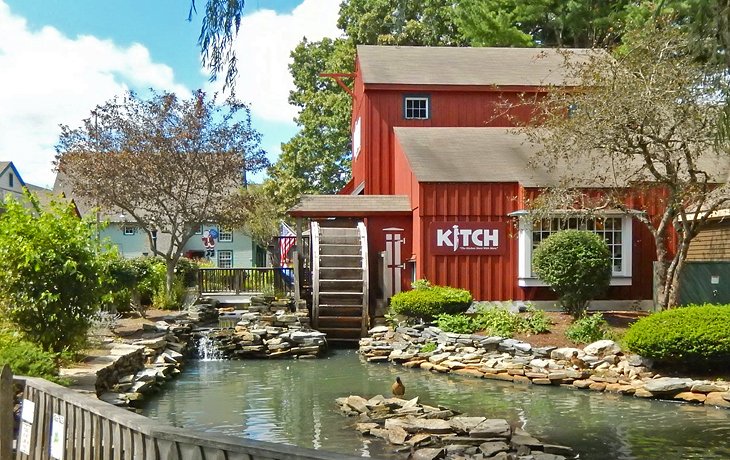 It's hard to beat the charm found in Olde Mistick Village, an outdoor mall set in a recreated 18th-century New England Village. Wandering through the quaint cottages is a treat, and one of the best things to do in Mystic. It even boasts a duck pond and water wheel.
The best thing to do here, other than shop, is sample the tasty fares on offer. From homemade fudge to flavored vinegars, there's a bevy of delicious items you'll have to take home.
With the exception of Franklin's General Store, which sells an assortment of jams, the most delicious candied nuts, and souvenirs, the majority of shops are themed. Sticky Situations sells honey like you've never tasted it before-it's been infused with flavors of everything from avocado to chipotle. Their sister store, Extra Virgin has a similar idea, only they flavor olive oils and vinegars. Pop on the Block offers popcorn in every flavor imaginable (including maple, pizza, Cajun, and jalapeno).
When you've had your fill of samples, head to one of the over 50 stores, including Mystic Kite Shop; Taylor Sports; Sofia's Mystical Christmas; the pet-centric Raining Cats and Dogs; or Kitch, which sells kitchen items you never knew you needed. Kids will adore the quirky Alice in the Village tea shop and café featuring hanging playing cards, Eat me! signs, and the bottom half of Alice (from Alice in Wonderland, of course) dangling from the ceiling.
Feeling peckish? Try Pink Basil (we highly recommend the coconut soup) or Mango's Wood Fired Pizza Company (the dough is delish).
4. Watch the Mystic River Bascule Drawbridge Open and Go Shopping in Historic Downtown Mystic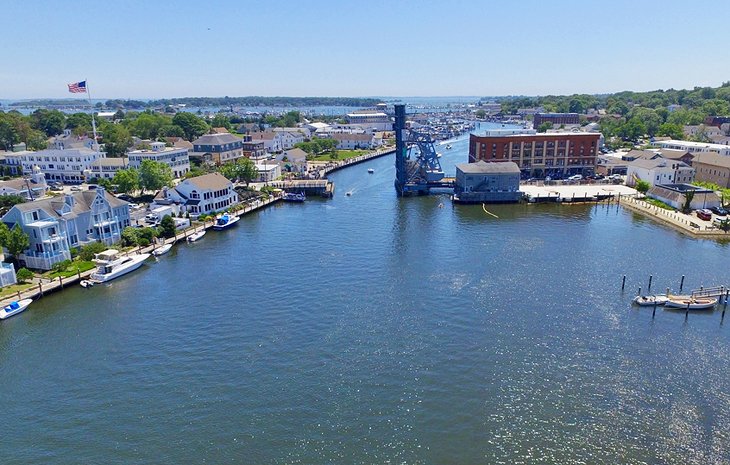 Downtown Main Street is where it's at. It's here that you'll find the town's top tourist attraction, the Mystic River Bascule Drawbridge. Built in 1922 to cross the Mystic River, it joins the west and east sides of this popular street. If you're lucky, you can watch it open, allowing tall boats to travel up (or down) the river-this usually happens every hour at 40 minutes after the hour (between 8:40am and 6:40pm).
Bascule is a French term meaning seesaw. It describes the process by which the bridge is raised and lowered using counterweights. The mechanism responsible for this movement is uncovered, allowing visitors to see the machinery in motion.
When it's down, the drawbridge allows cars and pedestrians to cross the river to visit the many local shops and eateries lining Main Street and its offshoots. Shopping is one of the best things to do in Mystic, especially if you're visiting on a warm, sunny day.
Whether you're looking to purchase a bracelet, ball, or coaster at the award-winning Mystic Knotwork (on Holmes Street); buy specialty items just for men at Trove (who doesn't want bacon jam?); or crave a juicy burger from the vibrant Engine Room restaurant (also on Holmes Street), the drawbridge will lead you to the best of everything Mystic has to offer.
5. Get Inspired at the Mystic Museum of Art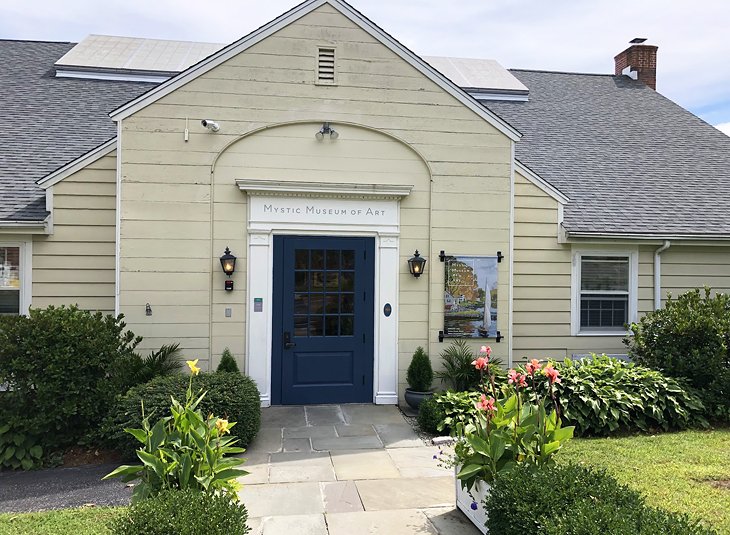 Just up the street from Sift Bake Shop is the Mystic Museum of Art, also known as the MMOA. Housed in an adorable cream-colored building on the shore of Mystic River, this art gallery is a palatable size, featuring several simultaneous exhibits enticing enough to make this one of the top attractions in Mystic.
The gallery rooms are spacious and open, with natural lighting helping to show off their impressive displays. The glass doors leading to the perfectly manicured back garden and river are so beautiful, you may fail to notice the paintings hung on either side.
The museum's exhibitions change regularly, which makes it easy to come back again and again without getting bored. Plus, the MMOA offers lasses for both kids and adults and hosts special events like Art After Dark, featuring live music, food, and art (obviously).
6. Cruise the Harbor on The Argia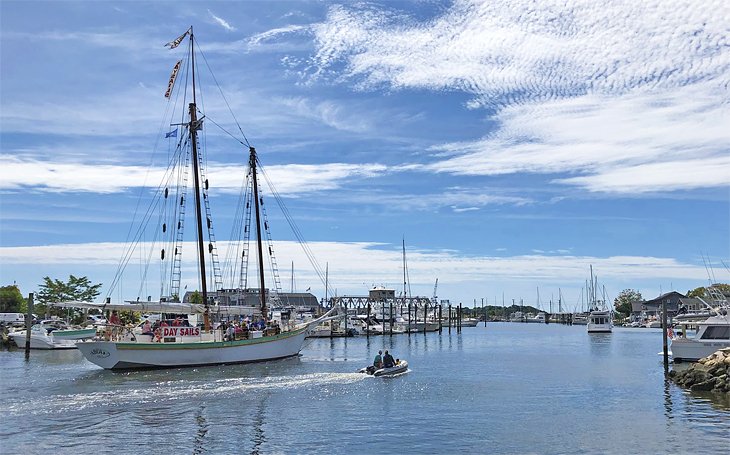 No trip to Mystic would be complete without a relaxing cruise on the water. Climb aboard the Argia, an 81-foot, two-masted Gaff Topsail schooner, for a glimpse into what sailing would have been like in the early 19th-century. Don't worry, it's US-Coast-Guard-inspected and approved.
Whether you choose to feel the wind in your hair during the day or opt for a more romantic sunset setting, each cruise lasts two hours and takes you past islands, lighthouses, and the incredible homes lining the Mystic River. This is a perfect way to truly appreciate the impressive coastline, and easily one of the best things to do in Mystic in summer. They begin sailing on May 1st through mid-October.
Another bonus: The Argia's staff are super friendly and very knowledgeable about the area. Plus, snacks and soft drinks are included with your ticket. If you're traveling at night, you'll also receive cheese and crackers, but you're free to pack your own picnic.
7. Get Outside at the Denison Pequotsepos Nature Center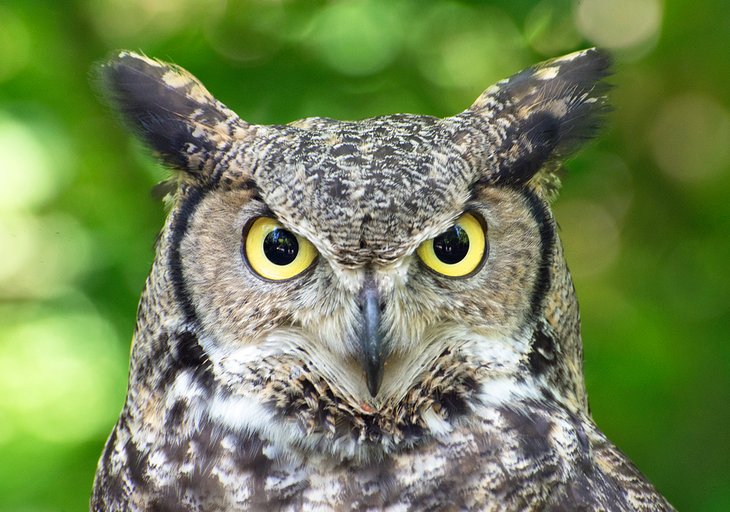 Escape the buzz of Mystic's historic downtown at the Denison Pequotsepos Nature Center. Boasting more than 10 miles of trails though woodlands and wetlands, there's no shortage of nature to explore. Keep your eyes peeled for the 17th-century stone walls peppered throughout the grounds, and listen for the soothing sound of babbling brooks.
The center is made up of two locations: The main facility, which is located on Pequotsepos Road, is where you'll find animals (including owls and hawks), special exhibits, and trails. Coogan Farm (on Greenmanville Avenue) boasts a welcome center, farmhouse, store, pavilion, and more trails. You'll want to put aside a few hours to truly appreciate this beautiful nature reserve.
8. Eat a Donut (or Three) at B.F. Clyde's Cider Mill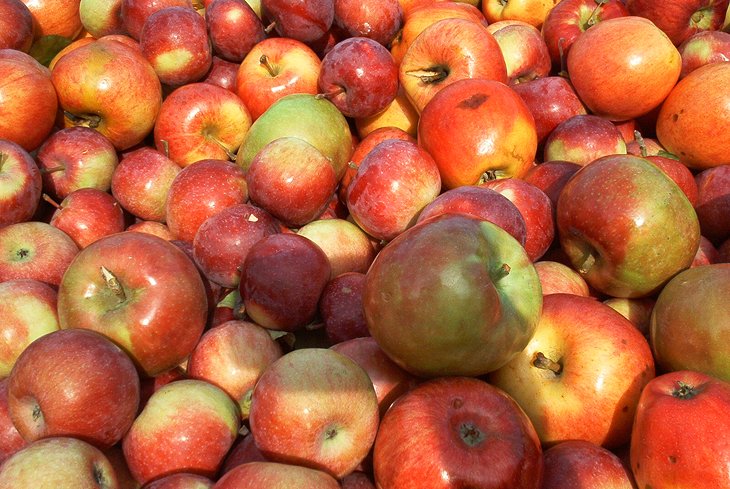 Nothing says fall quite like the smell (and taste) of fresh apple cider. The oldest, and only, steam-powered cider mill in the United States, Clyde's Cider Mill in Old Mystic is a popular tourist attraction and the perfect place to spend an hour or two. It's here that you can enjoy the sound of a steam whistle while stepping back in time to see how this popular drink was made. Keep in mind that these demonstrations only happen on weekends.
The mill's original owner, B.F. Clyde, began making cider in 1881. Since then, his family has carried on the tradition of cranking out their sweet treats in this National Historic Landmark.
Sample the sweetest cider you'll ever taste and buy a treat to take home. We highly recommend the cider, apple butter, and maple syrup. Be sure to time your visit well. Clyde's is only open seasonally from September to late December. Due to its popularity, you should also expect to stand in long lines to make your purchase.
9. Visit the Old Lighthouse Museum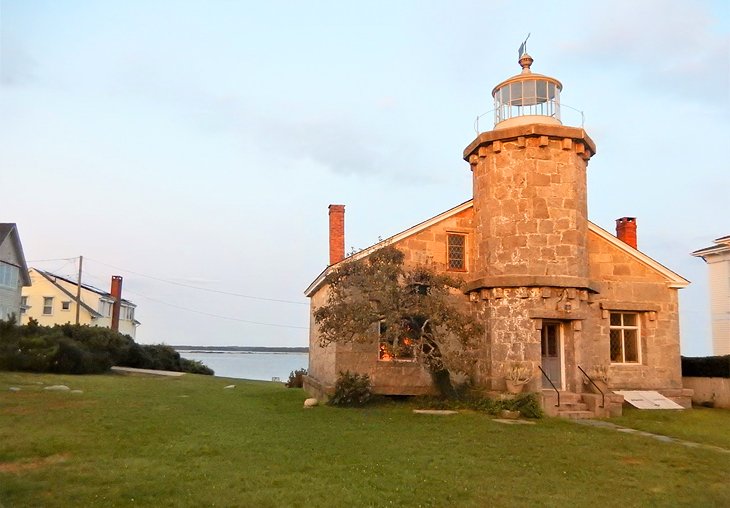 While this small stone lighthouse isn't technically in Mystic, it's worth a visit. A mere seven-minute drive southeast on Route One, Stonington is considered by locals to be a suburb of Mystic. Surprisingly, the Stonington Harbor Lighthouse isn't located directly on the end of the peninsula. Instead, you'll find it tucked quietly behind a white picket fence off Water street, backing on to a bay, only a few hundred feet from Stonington Point.
Smaller than you'd expect, it has stood proudly as a safety beacon on this spot for over 170 years. Inside, you'll find six rooms of exhibits highlighting the town's seafaring history.
10. Play in the Sand at duBois Beach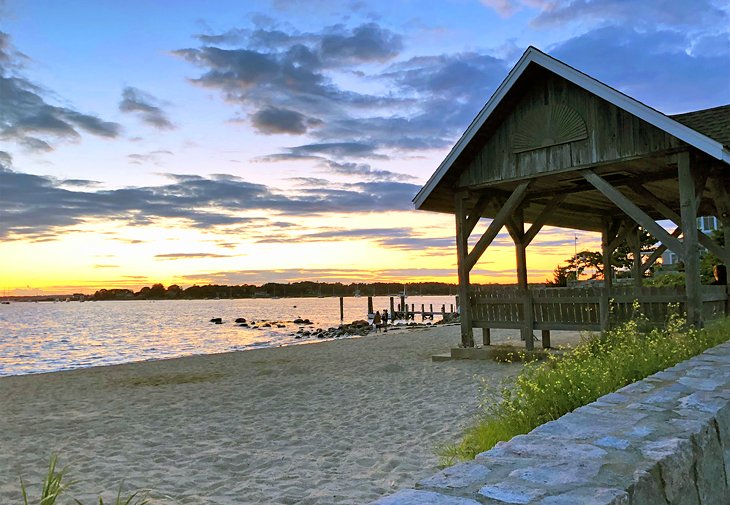 A stone's throw from the Stonington Harbor Lighthouse, duBois Beach sits at the tip of Stonington Point. This small, sandy beach is a perfect spot for a picnic and an ideal location to catch the sunset.
The surf here is mild, making it safe for swimming, especially for those visiting with young children. Plus, lifeguards are on duty during the high summer season. There are no amenities at this popular place to visit, so you'll have to find another place for food and a bathroom. Luckily, the beach is within a quick and easy walk to Water Street, which is lined with charming shops and restaurants.
Insider's Tip: duBois Beach is owned by the Stonington Village Improvement Association and operated by the Stonington Community Center. If visiting during the warmer months, be prepared to pay a small fee (which is used to help keep the beach clean and safe) at the gate before entering.
11. Cruise on a Catamaran with Mystic Boat Adventures
Mystic Boat Adventures is one of the most fun things to do while in Mystic. Fuel your adventurous side by renting a two-person catamaran. Feel the wind whip through your hair and your heart flutter as you speed through the scenic waterways surrounding this beautiful town.
Unlike other river cruises, you're the driver on this adventurous tour. A guide will take you on a 25- to 30-mile journey past the downtown, Bascule drawbridge, historic whaling ships at the Mystic Seaport Museum, and Fisher's Island Sound. You'll also pass lighthouses, ogle at spectacular coastal mansions, and explore hidden coves.
12. Enjoy a Treat at Sift Bake Shop
As aesthetically pleasing as its treats are delicious, Sift Bake Shop is one of Mystic's most well-loved eateries. If the mouthwateringly beautiful pastries aren't enough to sway your belly, the sweet smell of this restaurant's heavenly baked goods are sure to do the trick.
Head baker and co-owner Adam Young is winner of the Food Network's 2018 Best Baker in America award. And he's as passionate about his French-inspired creations as he is about the ambience of this local hot spot. From sandwiches to baguettes to macaroons, there's plenty to please the palate. Most who come here can't stop at just one, leaving with a large bag bursting with goodies.
We suggest staying in to enjoy your purchases. Choose from a seat on the outdoor balcony, overlooking the Mystic River, or tuck in to your almond croissant at a comfy table inside. There's complimentary lemon water on offer, and you won't have to fight for a place to sit as there's no public Wi-Fi, which means no laptop users reserving tables for hours.
13. Step Back in Time at the Denison Homestead Museum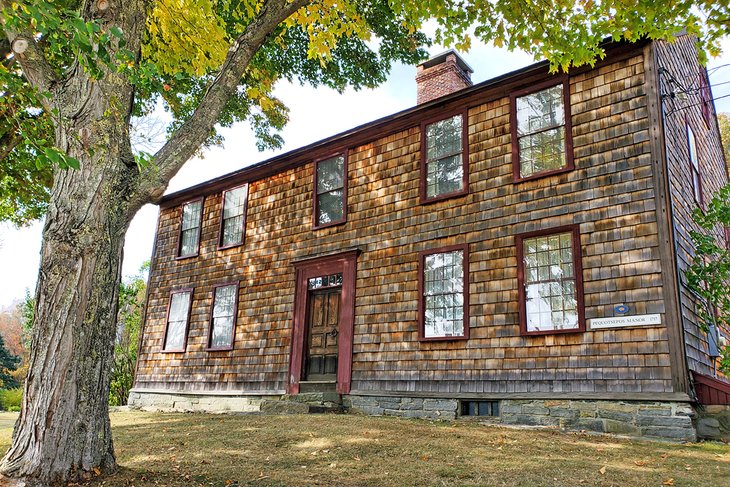 The Denison Homestead Museum is worthy of a visit, even if just to ogle its historic façade and wander its many wooded trails. Built in 1717, this unique beauty is worthy of at least a few photos, and it's a quick five-minute drive from town.
Over 160 acres greet visitors to this museum, which is part of the Denison Pequotsepos Nature Center, which you'll find slightly higher on our list of the best things to do in Mystic.
While the original home was built here in 1663, it burned to the ground years later, in 1717. Since being rebuilt at that time, six generations of the Denison family called this manor house their home.
Today, this charming home is on the National Register of Historical Places. It is currently open for tours by appointment, most often between June and October. Speaking of June, the Denison Farmers Market returns to this area on June 5th , serving fresh goodies every Sunday through October.
14. Find Tranquility at the Peace Nature Sanctuary
The Peace Nature Sanctuary lies serenely on the banks of the Mystic River, almost directly across from the Mystic Seaport Museum. As its name implies, this is the place to visit if you're looking for tranquility.
Known as the Peace Grove in the late 19th century, this site once hosted close to 10,000 people for peaceful meetings. Today, it is operated by the Denison Pequotsepos Nature Center (DPNC) and used as a nature reserve, as well as a site to host classes on important topics like conservation and other environmental education.
Where to Stay in Mystic for Sightseeing
Mystic has just a handful of hotels, mostly in the mid-range price bracket.
More Related Articles on PlanetWare.com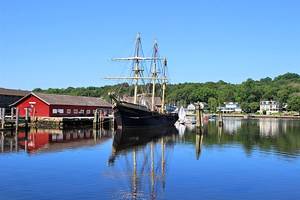 Getaways in Connecticut: If you simply want to enjoy a relaxing weekend or a quick romantic trip, see our guide to the Top Weekend Getaways in Connecticut. You may also find inspiration in our list of Best Small Towns in Connecticut. Alternatively, head to the capital and explore the sights of Hartford.