14 Top-Rated Beaches in the Hamptons
Summertime in New York City sees a lot of locals and visitors flocking to the famed beaches in The Hamptons, situated on eastern Long Island's South Fork. Sure, there are private clubs, fabulous parties, golf courses, and gallery openings in this resort destination, but the allure of The Hamptons lies in the picturesque Atlantic coastline.
Long stretches of powdery soft, sandy beaches, backed by undulating dunes and dotted with estates in the distance are located minutes away from popular towns, where you can grab delicious meals, visit farm stands, and stay in cozy bed and breakfast inns or luxury hotels. Accommodations offer permits that will get you into local beaches, as most of them require a permit during peak season.
Encompassing hamlets and villages in East Hampton and Southampton, The Hamptons provide a number of choices for a beach getaway on Long Island. Popular towns like Montauk, Amagansett, Sag Harbor, and Westhampton Beach buzz with activity in the summer months, and stretches of white sand fill up with colorful umbrellas and sun and surf worshippers.
Pack your designer swimsuits and sunblock and get ready to hit the waves and have some fun in the sand with our list of the best Hamptons beaches.
1. Main Beach, East Hampton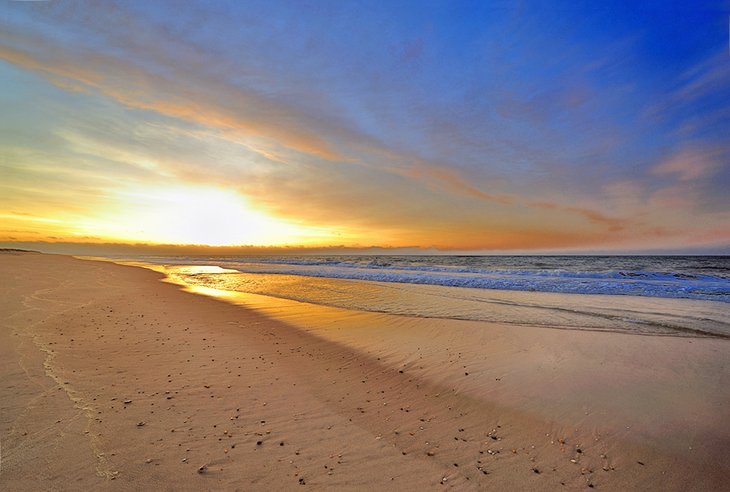 You have a good chance of spotting a celebrity or two at the top-rated Main Beach in the Village of East Hampton. Main Beach is among the closest beaches to the town's downtown, where you can walk to the shops and restaurants in 25 minutes. The town has outfitters offering rentals of kayaks, paddleboards, and surfboards.
The beach has lifeguard stations, restrooms, outdoor showers, and a concession stand selling snacks and ice-cream. There is a shaded deck at the pavilion when you need a break from the sun and a makeshift used book library when you run out of juice on your Kindle.
Because of the proximity to town and the free shuttle that brings beachgoers, Main Beach tends to get crowded on weekends. If you are driving, it's one of the few beaches that allows visitors without a seasonal parking permit for a fee of $30 during weekdays.
You may also opt to bike to avoid the fee. Walk to local attractions like the old-fashioned windmill at Old Hook Mill and Home Sweet Home Museum after your time at the beach.
2. Coopers Beach, Southampton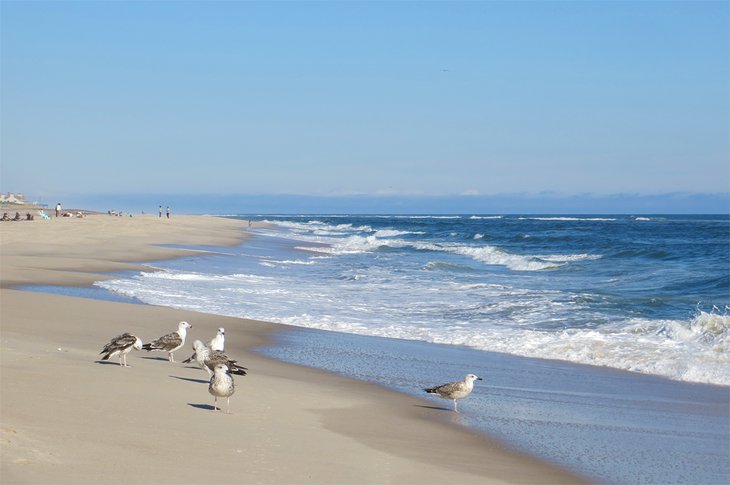 Coopers Beach is a wide, expansive stretch backed by mansions, with pleasant waves and a relaxing vibe in Southampton. Families, groups, and locals converge on this lovely stretch to sunbathe or chill in the water, but the beach never seems crowded. Lifeguards are present in the summer, and there are restrooms and showers and chair and umbrella rentals. It also happens to be a favorite spot for surfing, and you'll often find experienced surfers hitting the waves.
Similar to Main Beach, Coopers doesn't require a seasonal pass but charges $40 per day to park. However, you can bike or take a shuttle from your hotel and get in for free. If you are visiting from New York City, take the Long Island Rail Road (LIRR) train to Southampton stop and catch a 10-minute Uber ride to the beach.
Both Coopers Beach and Main Beach have live streams online, so you can check crowd conditions before venturing out.
3. Two Mile Hollow Beach, East Hampton
The Main Beach in Each Hampton gets all the attention, but for a more low-key outing, head to the Two Mile Hollow Beach, a short drive from the downtown area. The beach has a Cape Cod vibe and attracts a younger crowd, sans kids, so if you are looking for a quiet spot to sunbathe, this is your best bet.
You can also pay for parking during the week ($30) if you don't have a seasonal permit. Facilities on-site include bathrooms, an outdoor shower, and a lifeguard stand. Rent a bike from Amagansett Beach & Bicycle Co. on Main Street to ride down to the beach and avoid the fee. The nearby performing arts center of Guild Hall has exhibits, concerts, and movies.
4. Atlantic Avenue Beach, Amagansett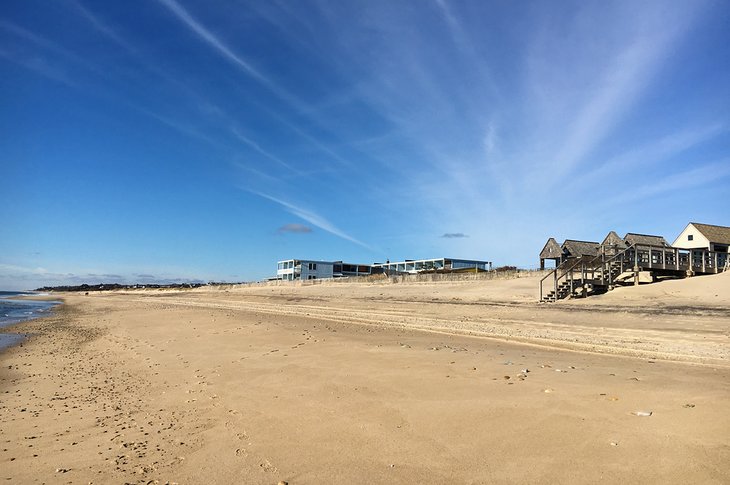 If you enjoy people watching and don't mind children running about, you will like it at the Atlantic Avenue Beach in Amagansett. The beach has a large parking lot, and the fee is considerably less at $25 if you don't have a local permit on weekdays (hence the throngs of beachgoers). You can also take the train from New York City to the Amagansett train station, which is a 25-minute walk to the beach.
Atlantic Avenue Beach has a concession stand, outdoor showers, chair and umbrella rentals, bathrooms, and lifeguards. The Beach Hut on location is a good place to grab a burger and a refreshing milkshake.
5. Ditch Plains Beach, Montauk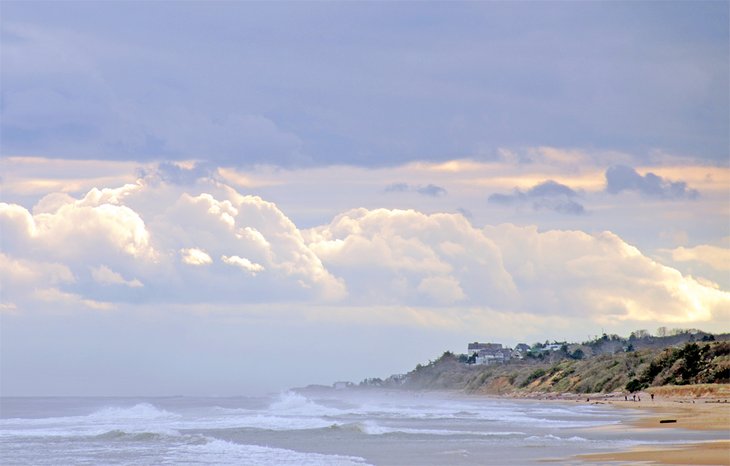 If you've got wheels and are willing to take a scenic drive, it's well worth your while to make a trip to Montauk's Ditch Plains Beach, which attracts surfers wanting to ride its mighty waves. This windswept piece of the shoreline is unlike other East Hampton and Southampton beaches and is the place to go for experienced surfers and those wanting to watch them while catching some rays.
And if you've got a hankering to learn surfing, the Air and Speed Surf Shop nearby offers lessons. It also offers rentals of surfboards, boogie boards, wetsuits, and beach cruiser bikes.
Parking at the beach requires a permit, but you can park nearby for free and walk. The Ditch Witch Food Truck on-site serves breakfast burritos, bagels, cinnamon buns, wraps, and the Ditch Witch Cubano. A short drive from here will bring you to the historic Montauk Lighthouse, the oldest one in the state.
6. Kirk Park Beach, Montauk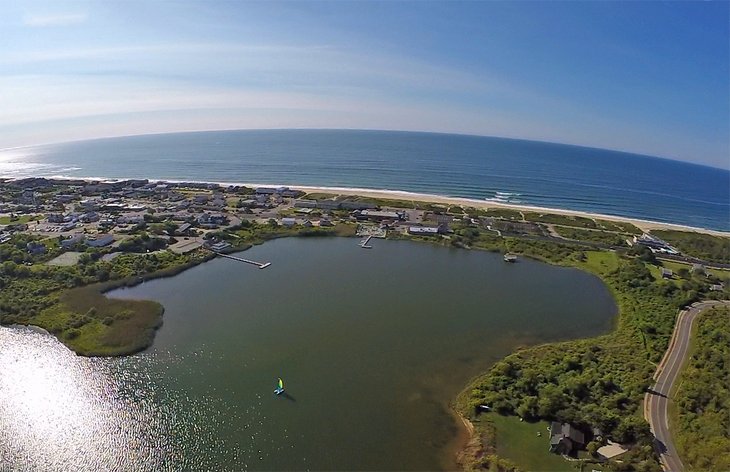 Whether you are staying at The Montauk Beach House or The Surf Lodge or visiting from NYC, the Kirk Park Beach is a sand-dune-backed, perfect little spot right off Montauk Highway. The best part is the parking here is free. There are no chair or umbrella rentals, so bring your own if you are spending the day.
The beach has toilet and shower facilities and is patrolled by lifeguards during high season. Grab snacks, drinks, and ice at the IGA supermarket, conveniently located within walking distance, before setting up for the day.
7. Hither Hills State Park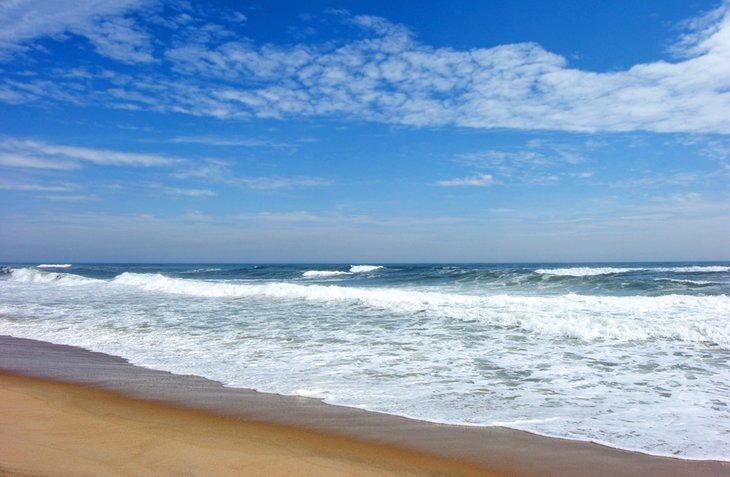 Located at the eastern end of Montauk, Hither Hills State Park is a two-mile stretch of sandy beach allowing visitors to camp and make the most of their time in the Hamptons. The park has hiking and biking trails, and offers fishing and bird-watching opportunities.
The Walking Dunes trail is among the more popular routes in the State Park, and it takes you through a maritime forest. The trail gets its name from the shifting sands that try to bury the trees.
This popular family-friendly location has 189 campground spots overlooking the beach, and it fills up fast, so get your permit at least nine months in advance. While dogs are not permitted in the picnic and camping areas, you may bring your pooches on hikes so long as they are leashed.
8. Cupsogue Beach County Park, Westhampton Beach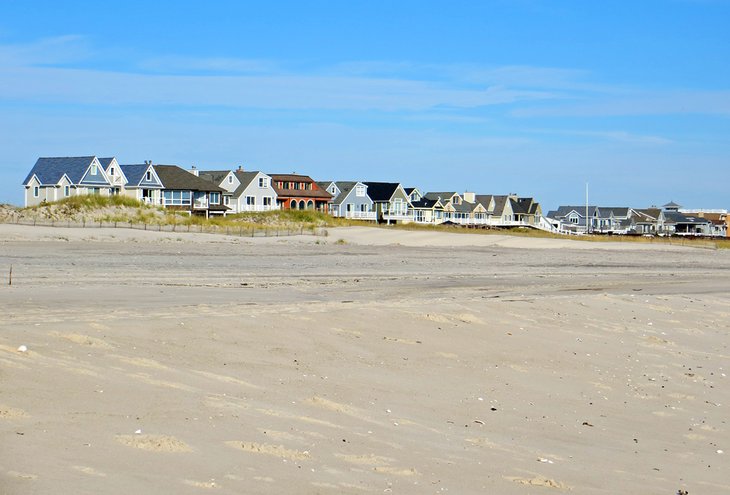 Straddling the east end of Fire Island and the west end of Westhampton Island, the 296-acre Cupsogue Beach County Park features a beautiful barrier beach that's off the beaten path. Between November and April, you can join a mile-long guided CRESLI (Coastal Research and Education Society of Long Island) seal walk in search of seals lounging on sand bars.
A short drive from Westhampton's Main Street brings you past multi-million dollar homes to this beautiful beach. You can also take the LIRR train to Speonk station and take a cab. The pavilion has food concessions, showers, changing rooms, and an EMT-staffed first aid center during peak season.
It's best to arrive early in the morning, but keep in mind that admission to the beach is free after 5:30pm (when you can catch a stunning sunset and live music on the boardwalk). Night permits are issued if you want to go fishing for saltwater bass. You can park your RV or pitch a tent along the road running alongside the outer beach. Leashed dogs are allowed outside the lifeguard areas.
9. Flying Point Beach, Water Mill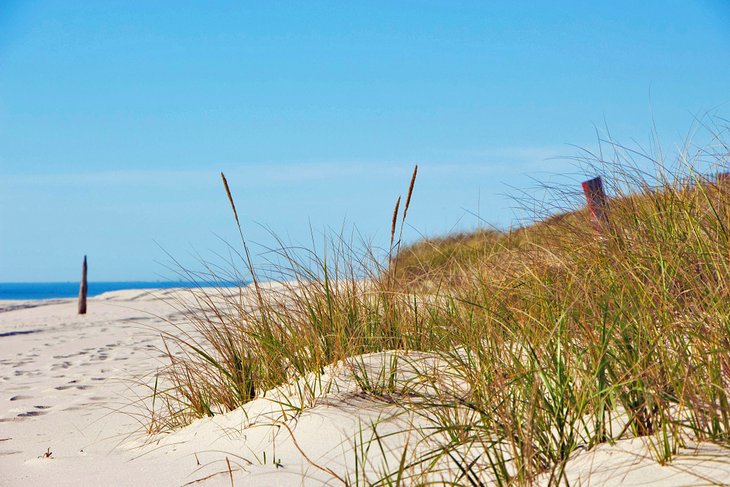 At the south end of Flying Point Road in Water Mill lies the scenic Flying Point Beach, close to the Water Mill Beach Club. This family-friendly spot has restrooms and lifeguards on duty during the day. You'll find beachgoers enjoying volleyball, kayaking, and fishing. Non-resident seasonal permits are accepted, but no daily passes are available, making it an exclusive stretch of sand.
Farther down the road, you'll find "The Cut," where the Mecox Bay meets the ocean, creating tidal pools that are popular among families with toddlers. This beach requires a resident sticker, but you can get in if you walk, bike, or get dropped off. Mecox Bay is ideal for kayaking, paddleboarding, and kiteboarding.
Water Mill is the only hamlet on the South Fork that has a functional windmill and a water mill. Leave some time in your day to walk the main street and visit the Parrish Art Museum and the nearby town of Bridgehampton's South Fork Natural History Museum and Children's Museum of the East End.
10. Ponquogue Beach, Hampton Bays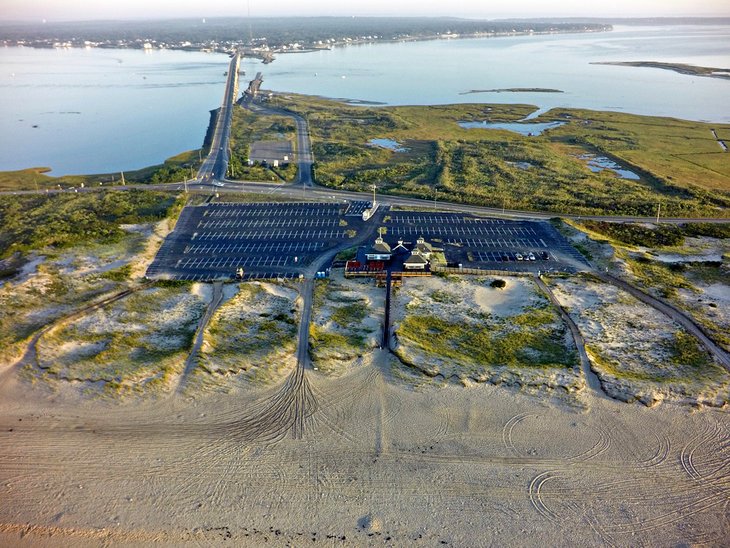 With a newly renovated eco-friendly pavilion, the Ponquogue Beach in the Hampton Bays, accessible via a bridge across Shinnecock Bay, is attracting beach lovers to experience its quiet beauty and modern amenities. The pavilion, renovated in 2018, has a new look and comes with additional outdoor seating and showers. It utilizes sustainable products and harvests rainwater for irrigation and the restrooms.
On any given day in the summer, you'll find kids building sand castles or flying kites, and adults playing volleyball or enjoying a relaxing day at the beach. Lifeguards patrol during the day in the summer.
A beach permit can be purchased; the new lot has electric-car charging stations. The nearby Edward J. Warner Sr. Old Ponquogue Bridge Marine Park has a picnic area and boat launch facilities.
11. Havens Beach, Sag Harbor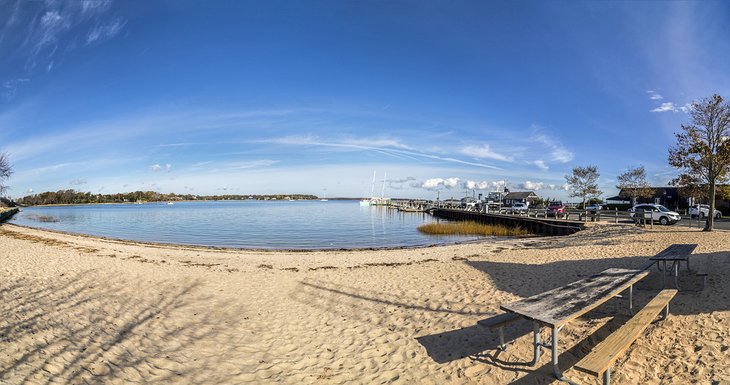 Havens Beach in Sag Harbor Village is a small beach ideal for swimming in the shallow waters of the Sag Harbor Bay. It comes with a playground, changing rooms, and restrooms. Lifeguards are on duty during the summer. Seasonal parking passes are sold by the village municipality for both residents and non-residents.
After some fun at the beach, bring your family to the Sag Harbor Whaling & Historical Museum for exhibits on the town's past. The South Fork Natural History Museum and Nature Center, located within driving distance in Bridgehampton, is known for its educational programs and outstanding outdoor exhibits.
12. Sagg Main Beach, Sagaponack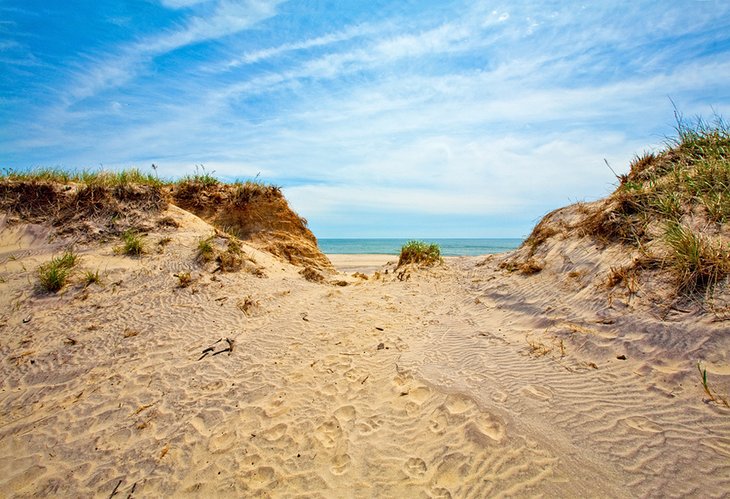 Sagaponack, a town of just 322 residents, is considered the most expensive zip code on the East Coast. Sagg Main Beach, the town's public beach, is similar to other Hamptons beaches - with pristine sand and plenty of fun. However, this beach isn't as popular as the Coopers Beach, allowing it to stay uncrowded even in the height of summer. Lifeguards are on duty, and food, public bathrooms, and showers are available seasonally.
Daily passes are available during the weekdays, and pets are allowed November to March and have limited access under owner control the rest of the year.
Nearby, Gibson's Beach is the unofficial dog beach, where you will find locals mingling with their neighbors and their dogs.
13. Gin Beach, Montauk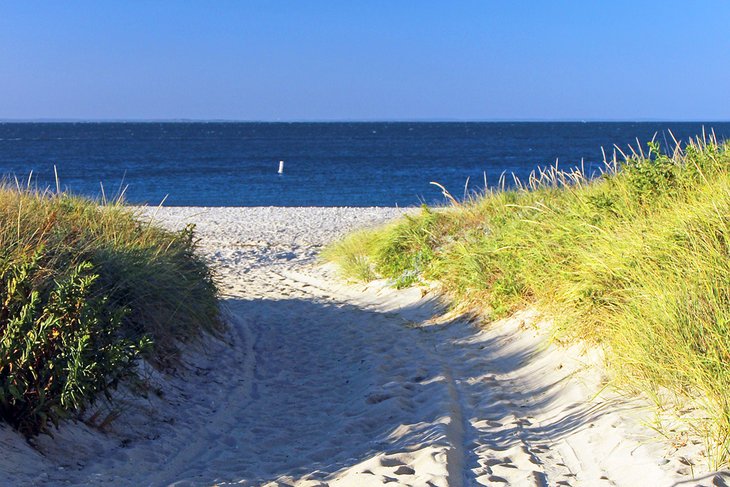 This is a popular family-friendly beach that features relatively calm surf and soft, powdery sand. Lifeguards are on duty mid-June through Labor Day, and the swimming area is roped off for extra safety. This is also a popular place to visit for shell collecting, and is not nearly as crowded as other beaches in the summer.
Within walking distance of the beach is Inlet Seafood, a favorite spot for locals and tourists alike, and on hot days, you will also find many food trucks lined up to provide plenty of options. Those planning on driving to the beach should be aware that permits are required, and violation fees are quite steep.
Located next to Montauk County Park, this lovely stretch of sand is not to be confused with Gin Beach in Southampton. If you're in the mood to explore, visit the Montauk Point Lighthouse Museum on the far side of the Montauk Point State Park.
14. Mecox Beach, Bridgehampton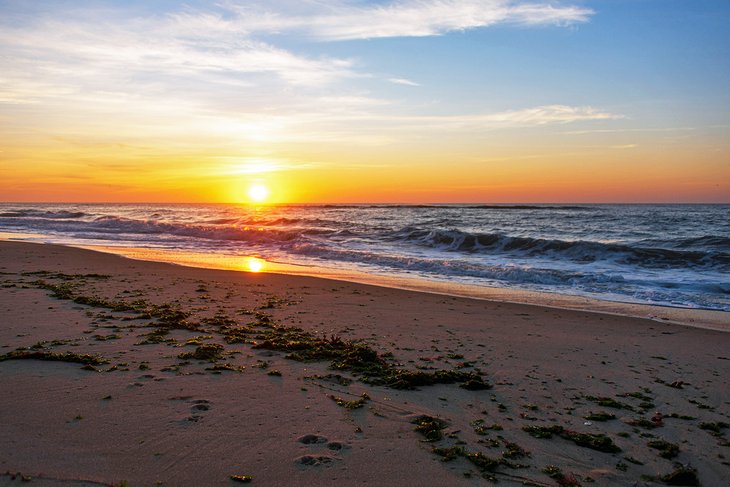 Mecox Beach occupies 250 feet of a long stretch of sand on the southern shore on Mecox Bay. Despite the name, this is not a protected bay, and the beach faces the open Atlantic Ocean. It is neighbored by W. Scott Cameron Beach to the west, and Ocean Road Beach to the east, allowing beachgoers to stroll for miles down the sandy shore.
There are lifeguards on duty until 5pm in the summer, and visitors will find many concessions options for snacks, cold beverages, and an extra bottle of sunscreen. Like most of the popular beaches, parking spots fill up quickly during the summer and there is a fee for non-residents.
Getting to The Hamptons
The Hamptons are approximately two-and-a-half hours by car from New York City (depending on traffic), and they can also be accessed by the Montauk branch on the Long Island Rail Road or the iconic Hamptons Jitney bus. The Hampton Ambassador or the Hampton Luxury Liner, are more upscale options, with more comfortable seats and better amenities.
The buses allow pets, bikes, and surfboards, so you can bring everything and everyone along (just keep in mind that dogs aren't allowed between 9am and 6pm from May to September). If you've got cash to burn, book a helicopter ride from the city to get to the beach faster.
Map of Beaches in the Hamptons