14 Best Cities in Connecticut
As America's third-smallest state, it won't take long to travel around Connecticut. In fact, you can get from one end to the other in less than two hours. What the Constitution State lacks in size, though, it makes up for with quintessential New England charm and impressively vibrant cities.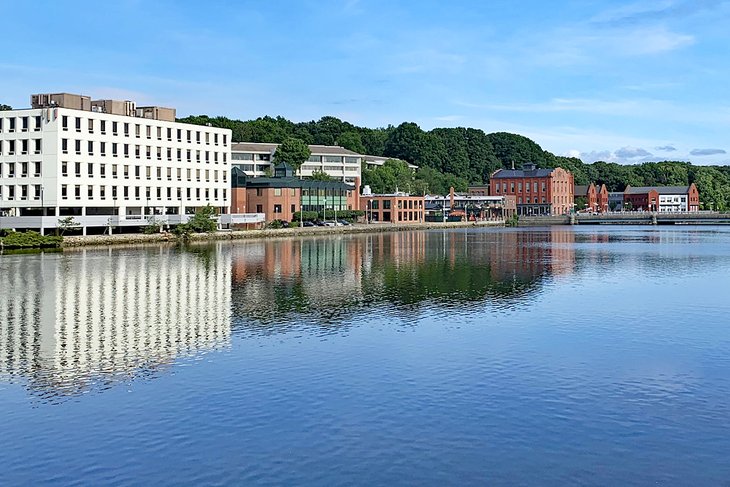 Peppered throughout the state are colonial towns mixed with quiet seaports and cosmopolitan metropolises. No matter what you're looking for–contemporary art museums, Ivy League campuses, or fine dining–you'll find it all, and so much more, in Connecticut's best cities.
Stick to the coast (Connecticut boasts over 250 miles of shoreline) for cities lined with pristine beaches, or head inland to enjoy a bustling town surrounded by verdant forest and sparkling lakes. All that gorgeous nature will help balance out the fun you'll find among the cities' busy streets.
For ideas on the top places to visit, plan your sightseeing agenda with our list of the best cities in Connecticut.
1. Stamford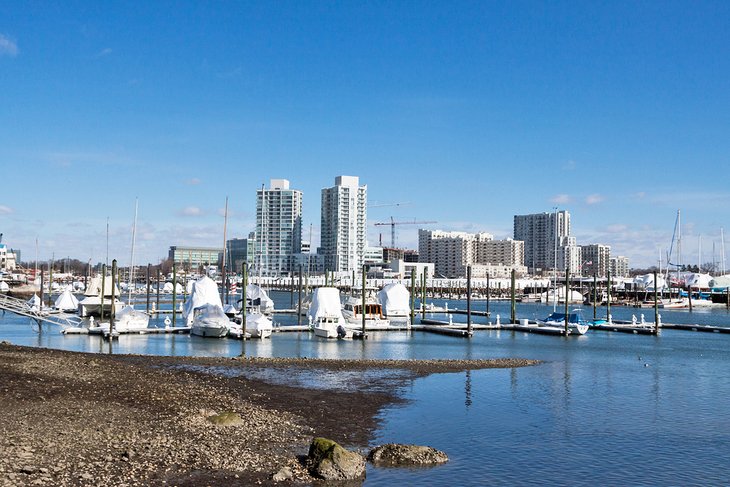 On the Metro North, it takes just under an hour to get to Grand Central, the closest large Connecticut hub to New York City. With so many things to do in Stamford, there's really no need to head into the Big Apple.
From gorgeous parks to a giant mall to a movie house, you'll find everything you need right here. Head to Bedford Street for a selection of bustling stores and restaurants. Stamford Town Center lies at the end of the street, so you can literally shop 'til you drop in this thriving neighborhood.
Enjoy the fresh air in Cove Island Park. You can use the outdoor exercise equipment, walk one of the many trails, or merely sit and enjoy the water views. The Stamford Nature Center is home to more rustic walking trails that lead visitors on wildlife-spotting expeditions through the forest.
Mianus River Park is another must-see for nature lovers. You'll want to pack snacks, water, and comfy shoes to explore this 300-acre wonderland.
2. Hartford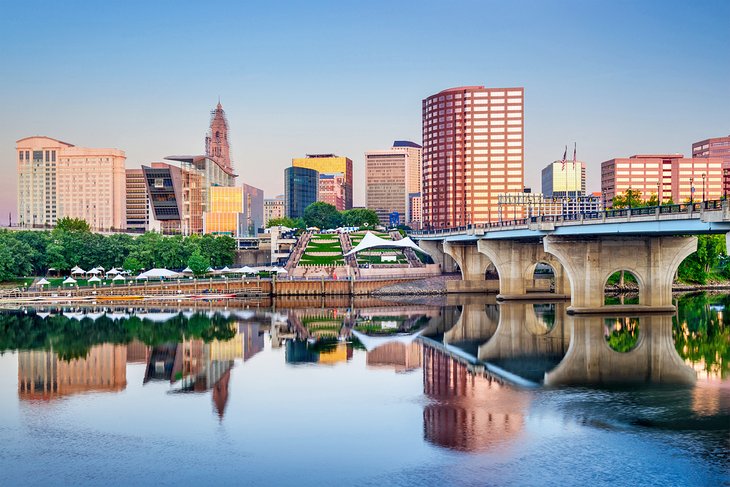 Located one hundred miles west of Boston, Hartford is easy to visit, whether you choose to rent a car, hop on a bus, or ride the train. It also boasts an international airport, so you can get pretty much anywhere from this Connecticut hub.
In addition to Hartford's world-class museums, this state capital boasts a wide variety of dining and shopping options. Plus, the beautiful 37-acre Bushnell Park is beloved by kids and adults alike, especially the carousel and unbeatable State Capitol Building views.
History seeps through the streets of Hartford. One of the oldest cities in the country, this busy spot boasts a prime location on the banks of the Connecticut River. Back in its heyday, Hartford garnered wealth through its insurance industry, and drew famous authors to settle here.
Up your knowledge of literary culture with a visit to Mark Twain's House & Museum, one of Hartford's top tourist attractions, or tour Harriet Beecher Stowe's former home in the Harriet Beecher Stowe Center.
Don't miss America's oldest free public museum–the Wadsworth Atheneum–where you can check out a remarkable collection of objects.
3. New Haven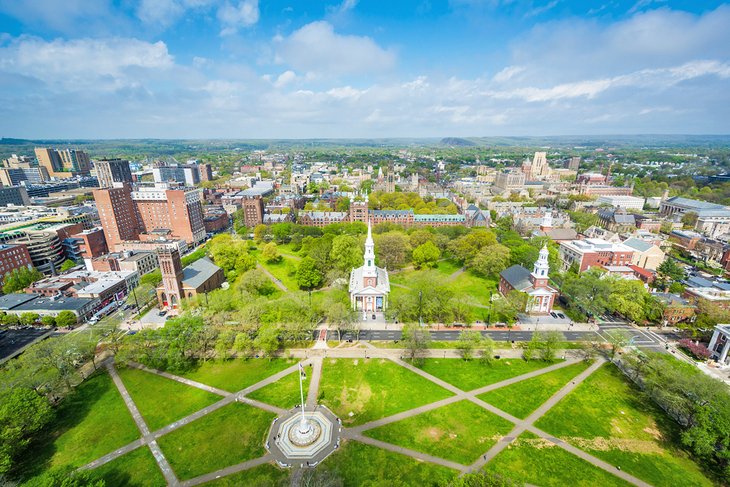 Best known as the home of Yale University, New Haven is chock full of fun things to do and incredible places to expand your knowledge. Having an Ivy League college at your doorstep certainly makes it easy to add culture to a trip, and the excellent restaurants offer enough diversity to tempt any palate.
The Yale Peabody Museum of Natural History is a must-visit, especially if you have kids in tow. Be sure to check out the Great Hall of Dinosaurs. The Yale University Art Gallery is particularly inspiring. Plus, it's free. Inside its beautiful walls lie works from the ancient Mediterranean world to today.
From a lusciously vibrant town green surrounded by photographable faux-Gothic, modern, and Victorian buildings to the decadently pink cherry blossoms of Wooster Square, there's a lot of beauty within New Haven's borders.
Find some serenity at Duck Pond in the 60-acre Edgewood Park, then pop into one of the lively cafés and restaurants we mentioned earlier for a tasty meal.
Read More: New Haven in Pictures: Beautiful Places to Photograph
4. Greenwich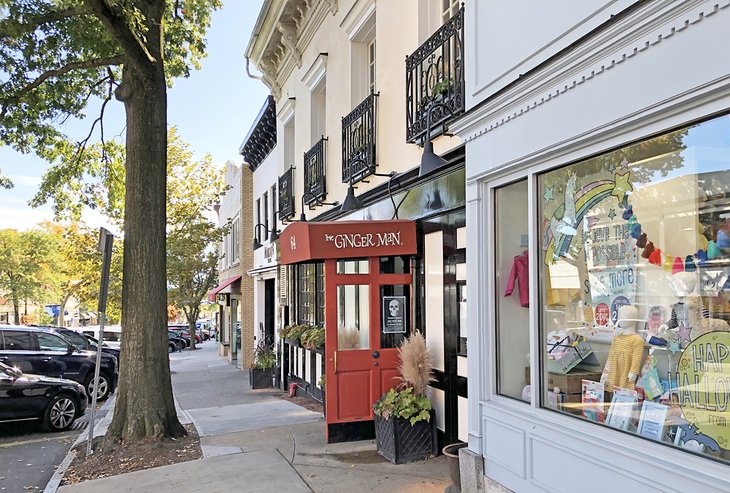 Notoriously posh, Greenwich is one of the prettiest towns on the Gold Coast. A mere 30 minutes from New York, this commuter haven is populated by some of the country's wealthiest inhabitants. Luckily, your pockets don't need to be flush to visit its perfectly manicured, tree-lined streets.
Although it only covers about 67 square miles, Greenwich is bursting with things to see and do, even for those on a budget. Teach the kids about science at the newly renovated Bruce Museum, hike the trails at the Greenwich Audubon Center, or window shop along Greenwich Avenue.
This idyllic city is sure to please your inner history buff, as well as your not-so-secret shopaholic. Step back in time at the adorable colonial Putnam Cottage and snap pics of the Bush-Holley House Museum (a National Historic Landmark) at the resplendent Greenwich Historical Society.
When you've finished exploring, head back to Greenwich Ave for a bite to eat. You'll find everything your taste buds desire along this lengthy stretch.
The Delamar Greenwich Harbor Hotel is one of the best resorts in Connecticut. Just five minutes by foot from Greenwich Avenue, this waterside spot is lush, relaxing, and dog-friendly.
5. Norwalk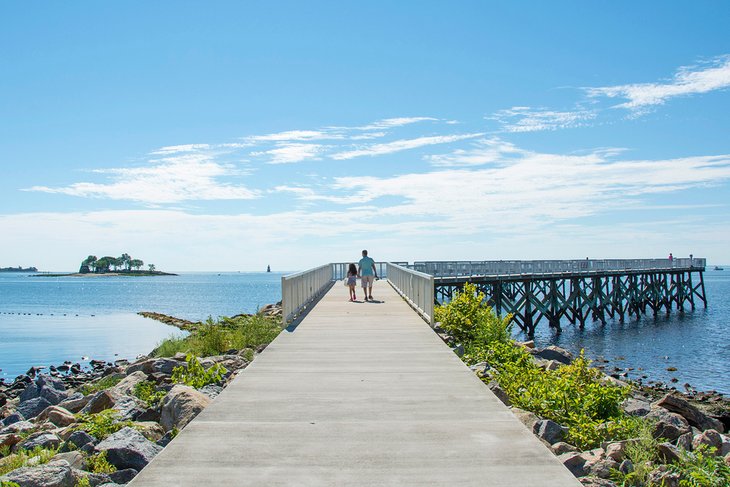 Norwalk is one of the best beach towns in Connecticut, but that's not the only reason you should visit. This seaside town boasts a vibrant downtown, dubbed SoNo (a.k.a. South Norwalk) by locals. Trendy restaurants and eclectic shops line Washington Street, which is packed with guests on warm, sunny days.
Grab a few tacos from Rio Bravo and take them to Calf Pasture Beach, the city's best (and sandiest) asset. Shake off the sand before visiting the 44,000-square foot Lockwood-Mathews Mansion, a gorgeous country estate and museum dating to 1864.
Top off your day with a trip to the Maritime Aquarium. The second-most-visited family attraction in Connecticut, this fun spot is home to more than 2,700 marine animals. Book one of their boat cruises for a truly informative ride along the Long Island Sound.
6. West Hartford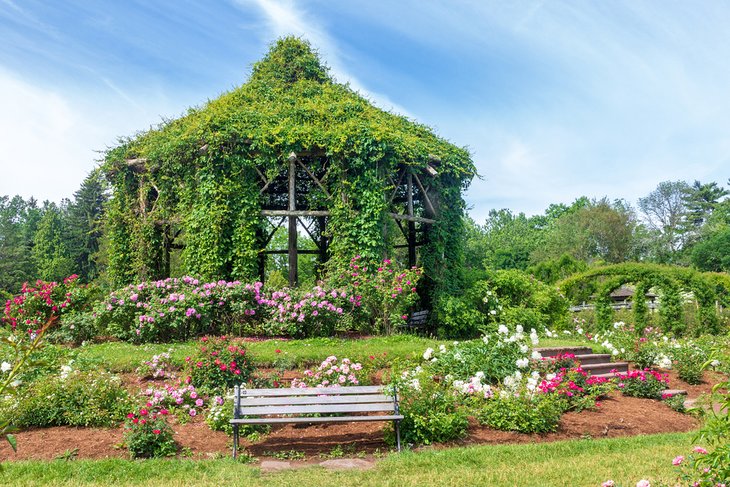 A smaller and quieter version of Hartford, this pretty city lies five miles west of the capital. Just because West Hartford is small doesn't mean it's boring. This lovely spot features tree-lined streets, historic homes, and family-friendly attractions, and there's plenty to keep visitors busy.
The spectacular gardens at Elizabeth Park are a sight to behold, especially when in full spring or summer bloom. More than one hundred acres wow visitors with their dazzling beauty. Pack comfy shoes to enjoy the walking trails.
West Hartford Center (a.k.a. the walkable downtown) is the place to be if you're hoping for quintessential New England charm, quirky shops, pleasing restaurants, and a chance to meet the locals. The nearby Noah Webster House and West Hartford Historical Society up that charm factor and bring history to life.
Ever wanted to see a sperm whale up close? Check out the life-sized replica housed in the Children's Museum. Your kids will thank you! Then, head to the West Hartford Reservoir for some natural R&R–it boasts waterfalls, mountains, and hiking trails.
7. Danbury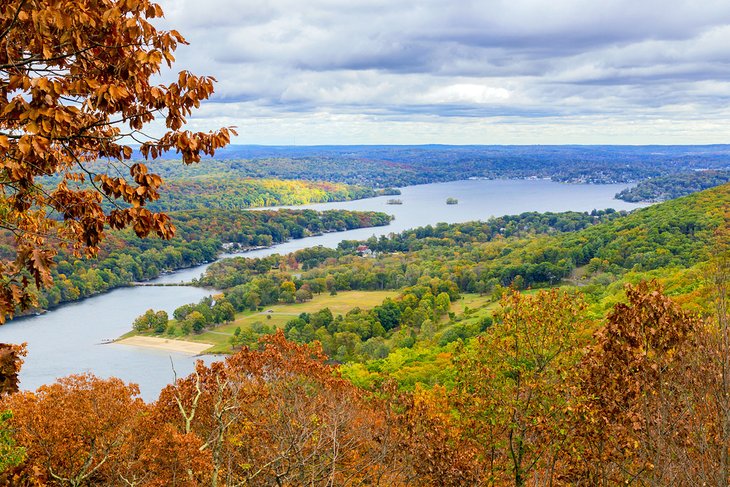 A small gem located in Fairfield County, Danbury's northern edge hugs the stunning Candlewood Lake. Visit during the height of fall for an unsurpassed view of the vibrant foliage reflected in the lake's mirrored surface. Be sure your camera is charged.
Outdoor enthusiasts enjoy Tarrywile Park & Mansion. Over 700 acres of natural wonderland cover this area, which is peppered with ponds and rolling hills. There are over 21 miles of trails to hike, bike, or ski. The area's star attraction is the Tarrywile Mansion, a community center opened in 1990.
Flex your shopping muscles at Danbury Fair, a large mall that attracts visitors from across the state. When you've lightened your wallet, head to the Danbury Railway Museum for an in-depth look at all things locomotive. Visit between April and November to climb aboard for a ride.
8. Waterbury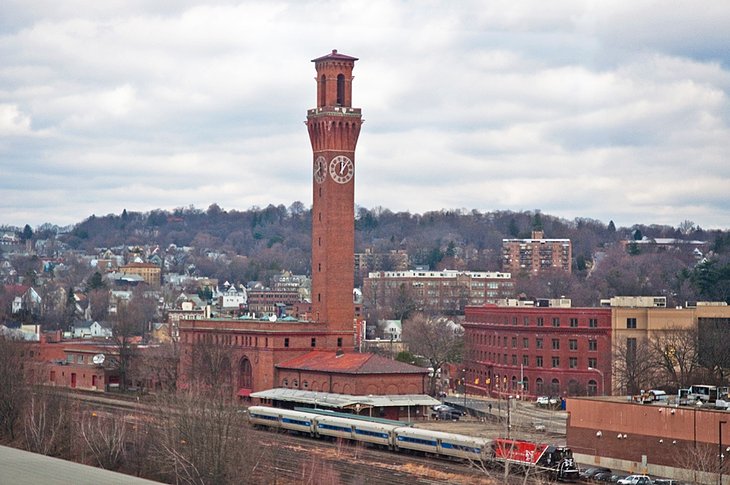 Waterbury once held the esteemed title, "Brass Capital of the World." Today, remnants of its past as a producer of brass clocks and watches can be found throughout the busy city it has become. Mixed in with its modern buildings and picturesque parks are historic homes and statues.
Step back in time in Bank Street Historic District, which is lined by lovely brick buildings dating from the late 19th century. Then, visit the Timexpo Museum, one of the city's top family-friendly attractions, to learn the history of the Timex Group and Waterbury Clock Company. It's flanked by an impressive Easter Island Statue.
Love amusement parks? Holy Land USA once offered theme park attractions with a spiritual twist–they were designed after passages from the Bible. Today, it serves as a living museum offering spectacular views of the ruins and surrounding countryside.
When it's time to relax, catch a show at the historic Palace Theater. Newly restored, this fun space has been hosting shows of all sorts since the First World War.
9. New Britain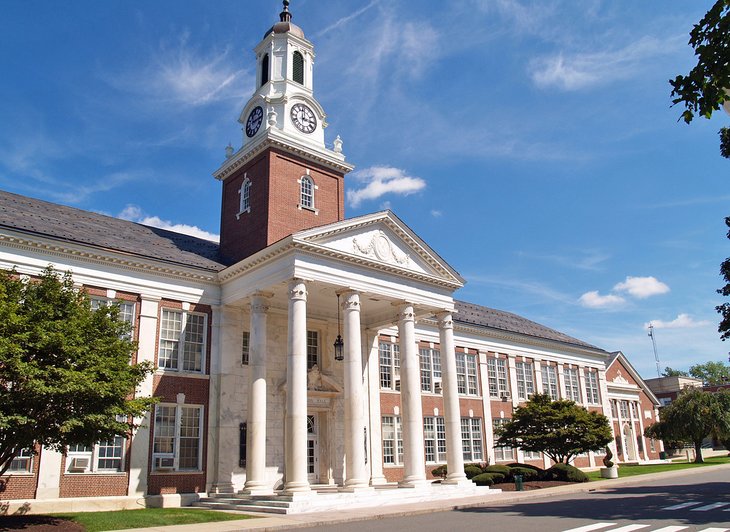 More than 72,000 people call New Britain home. Once you visit, it's easy to understand why they've chosen to put down roots here. Pretty parks, a thriving arts scene, and a perfectly sized baseball stadium (it's not too big and not too small) help keep guests busy.
A beloved attraction, the New Britain Museum of American Art has been around since 1903 and houses a permanent collection of over 8,200 works created by American artists. Norman Rockwell, Howard Pyle, and artists of the Hudson River School are just a few of the iconic creators on display.
Visit the New Britain Industrial Museum to glimpse over 200 years of the area's most innovative history. Dubbed "Hardware City," New Britain was a vibrant industrial hub in the early 19th century. It's been the home of the Stanley Works (now Stanley Black & Decker) since.
Don't miss a walk around Walnut Hill Park. Listed on the National Register of Historic Places, this lovely spot is highlighted by a 2.7-meter-tall obelisk built in honor of the town's soldiers who fought during World War I.
10. Bristol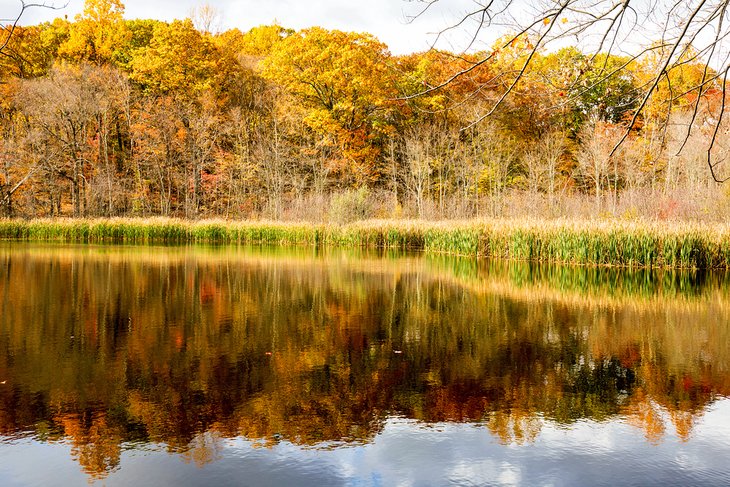 Another Connecticut hub lies just 20 miles southwest of Hartford. Despite its large size, this bustling place feels more like a small town. Historic buildings sprinkle the streets, attractive parks offer a natural respite, and the area's lush rolling hills present a photographer's dream backdrop.
Like New Britain, those in Bristol were excellent clockmakers, and you can see examples of their handiwork in the city's American Clock & Watch Museum. Fast forward to today, where you'll find large satellite dishes at the home of the locally based national sports network, ESPN.
One of the city's main attractions encourages visitors to scream with delight as wind whips through their hair. Lake Compounce is the country's oldest continuously operating amusement park, which opened in 1846. It boasts a large water park and rides ranging from the world's best wooden roller coaster to high-tech flyers.
Head to the New England Carousel Museum for an in-depth look at the beloved ride. Housed in a former hosier factory, this unique spot thrills kids of all ages (from 1 to 100). Upstairs is the Museum of Fire History, a fab spot for those intrigued by firefighters.
11. Meriden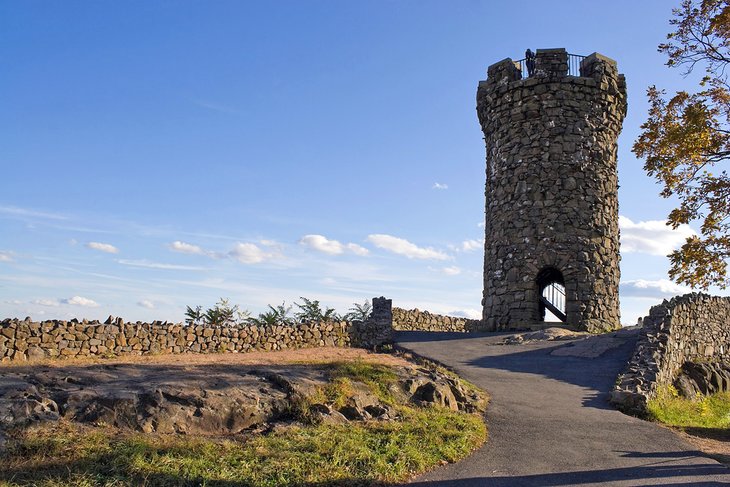 Located halfway between Hartford and New Haven, Meriden was once a manufacturing nucleus. Today, you'll find eclectic shops, museums, and fine restaurants dotted throughout town, and a marvelous natural wonderland surrounding its borders.
With over 24 square miles of geological features and over 3,000 acres of pristine parks, it's easy to escape the noise of this big city. The Blue-Blazed Mattabesett Trail passes through the picturesque Guffrida Park in the northeast. It also contains waterfalls, a reservoir, wetland meadow, and extraordinary vistas. This is a very family-friendly place to visit.
Hubbard Park is one of the best attractions in Bristol. In addition to more than 1,800 acres of lush land, it is home to the breathtaking Castle Craig Tower. Built in 1900, this stone masterpiece offers an unbeatable view of the city below, as well as its surrounding countryside.
Book a tour of the oldest house in Meriden for a look into what life was like in the 18th century. The adorable (and perfectly preserved) Solomon Goffe House is a must-see.
12. Westport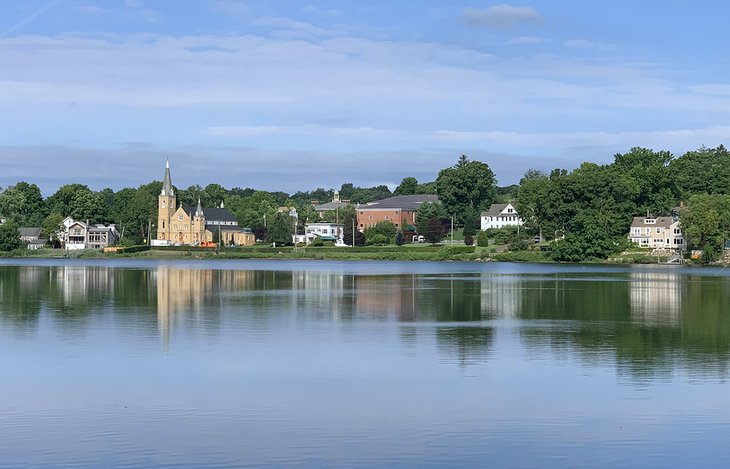 It's so very easy to fall in love with Westport. Whether you're charmed by the kaleidoscopic flowers peeking out from behind white picket fences or captivated by the small-town feel of the adorable Main Street, you won't want to rush your visit to this lovely town.
Technically more town than city, Westport deserves its spot on this list due to its many attractions. Prepare to be charmed by the boutique shops adorning the quaint downtown streets, inspired by the contemporary exhibits in MoCA Westport, and wowed by the innovative productions at the Westport Country Playhouse.
Feel the sand between your toes as you watch the sun set over the Long Island Sound at Compo Beach or grab a bite with a view along the banks of the Saugatuck River. There's no end to the beauty found in this pretty commuter town.
13. Fairfield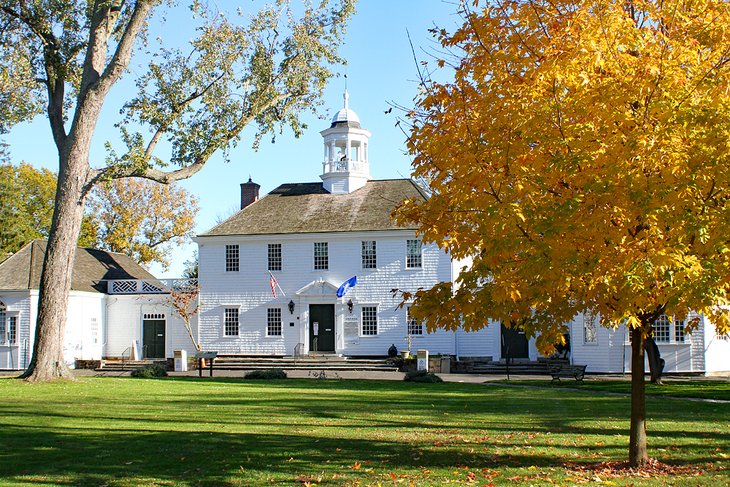 Fairfield offers everything you'd want from a Connecticut city vacation–theaters, restaurants, shops, and museums. This small city (which is considered a town by some) also boasts soft, sandy beaches worthy of a visit.
Whether you're looking to soak up the history of this New England gem or the sun's bright rays, you won't be disappointed by the fun activities on offer in Fairfield.
Play in the waves at Penfield Beach, learn about the area's storied past at the Fairfield Museum and History Center, or grab a bite at one of the popular restaurants on Post Road.
Looking for a more natural city experience? Go off-roading (by foot) in the serene Roy and Margot Larsen Wildlife Sanctuary or treat your dog to a few hours in the resplendent Lake Mohegan Recreation Area.
14. Glastonbury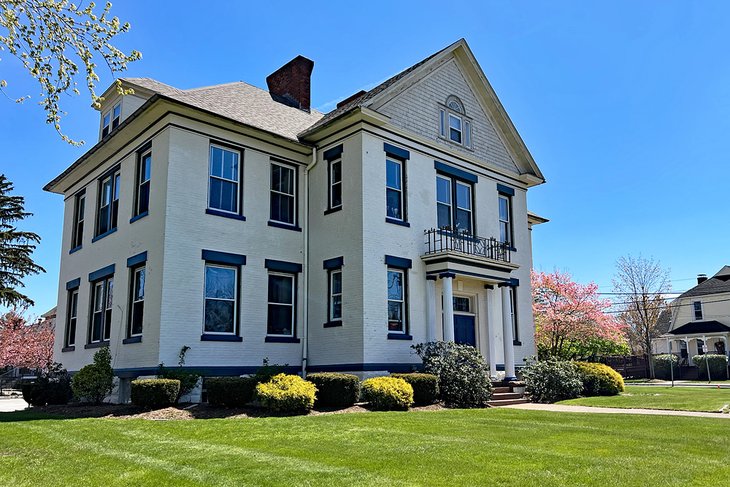 Set in Hartford County, just a 15-minute drive from Harford, this small city has the feel of a cozy town. Founded in the late 1600s, this historic spot is about as charming as you'd expect from a quaint New England city–we're talking a Main Street lined with Georgian, Colonial and Gothic Revival buildings and quaint cafés.
There are many ways to entertain yourself in Glastonbury, especially if you're traveling with kids. Take a turn enjoying the playground or wandering the trails at Riverfront Park, transport yourself back in time on a walk through the pretty Glastonbury Historic District, or get lost in nature at the Cotton Hollow Preserve.
If you're lucky enough to visit on a Saturday in spring, summer, or early fall, be sure to visit the Glastonbury Farmer's Market. It's organized on the historic Hubbard Green. Concerts take place throughout the summer and sometimes in September. There are also yoga classes, face painting for kids, and other fun activities, as well as the tasty fare that is always on offer.
Map of Cities in Connecticut
More Related Articles on PlanetWare.com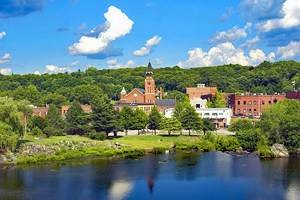 More Fun Things to Do in Connecticut: While the Nutmeg State's cities are home to historic museums, eclectic shopping, and top-rated restaurants, some of the best things to do can be found outside of these busy hubs. Don't miss these adorable small towns during your visit.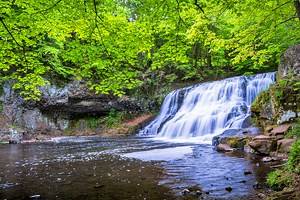 Get Outside in Connecticut: A New England gem, Connecticut boasts some pretty impressive scenery. From soft, sandy beaches to sparkling lakes to tumbling waterfalls, there's no lack of beauty in this East Coast star. Be sure to pack comfy shoes and a towel.