15 Best Things to Do in Glastonbury, CT
If you're looking for New England charm, you'll find it in droves in Glastonbury. This pretty, small town in Connecticut, located just 15 minutes southeast of Hartford, is packed with historic attractions and fun things to do with kids.
A picturesque mix of Georgian, Colonial, Greek, and Federal-style homes line the historic district, making this a perfect backdrop for stunning photos, not to mention a lovely place to enjoy a quiet walk. This is also where you'll find charming shops and a few cafés to tempt your taste buds.
Among the top places to visit are a riverside park, nature preserve, waterfall, berry farm, farmers market, and numerous museums. For a tiny town, there really are a lot of family-friendly things to see and do.
Plan your visit with our list of the best attractions and things to do in Glastonbury.
1. Enjoy a Walk in Riverfront Park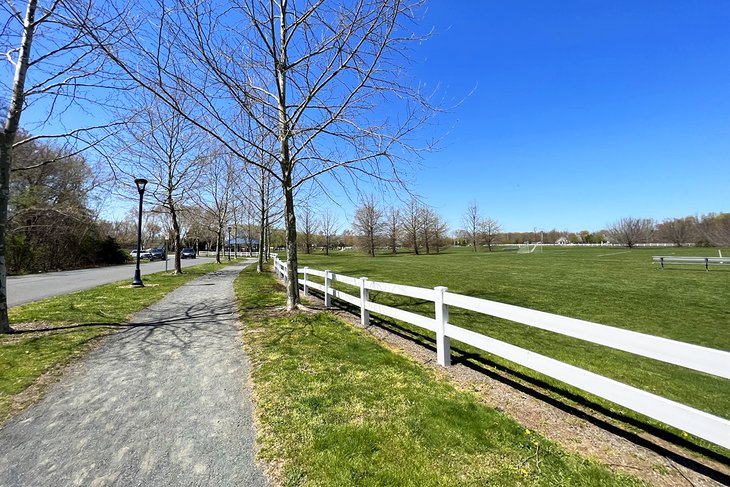 As you'd expect from its name, Riverfront Park lies on the water. Set on the east bank of the Connecticut River, this newly renovated park was a highly anticipated addition to Glastonbury's waterfront.
The park boasts a boathouse, riverfront path, playgrounds, a dog park, picnic pavilions, and restrooms in addition to stunning views.
The playground is a must if you're traveling with kids. One of the most family-friendly attractions in Glastonbury, this fun zone was well designed. Essentially two separate playgrounds, there are different spaces for toddlers and bigger kids, and both are fenced in to keep your little ones safe. It's easily accessed from the parking lot near the boathouse.
The park is also home to hiking trails, a basketball court, baseball and soccer fields, a running track, and a public boat launch.
Address: 300 Welles Street, Glastonbury, Connecticut
2. Travel Back in Time in the Glastonbury Historic District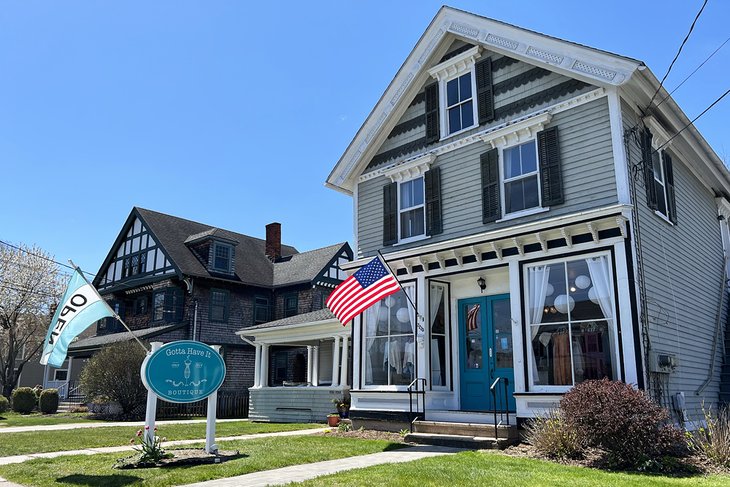 It's hard not to love a historic district, especially one as charming as Glastonbury's. Listed on the National Register of Historic Places, this gorgeous region stretches across 128 acres and is comprised of 100 buildings lining Main Street.
Bring a camera because you'll be tempted to snap photos of the impressive architecture. Whether you're a fan of Georgian, Federal, Colonial, Greek, or Gothic Revival, you'll find superbly preserved examples right here.
There is a good collection of houses spanning the 17th and 18th centuries (over 20 of the 100 that lie in this section). Peppered among them are numerous examples of architecture from the 19th and 20th centuries.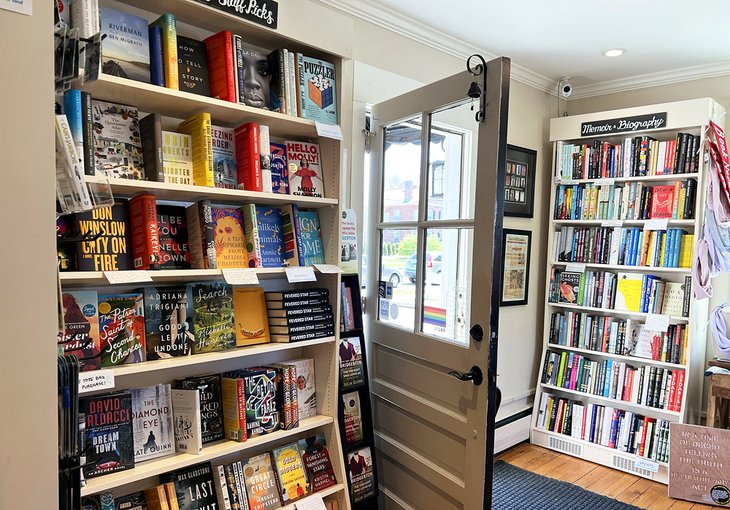 Some of these buildings are home to boutique shops and the adorable River Bend Bookshop, which resides in a building that dates to 1863.
Address: Main Street, Glastonbury, Connecticut
3. Take a Hike at Cotton Hollow Preserve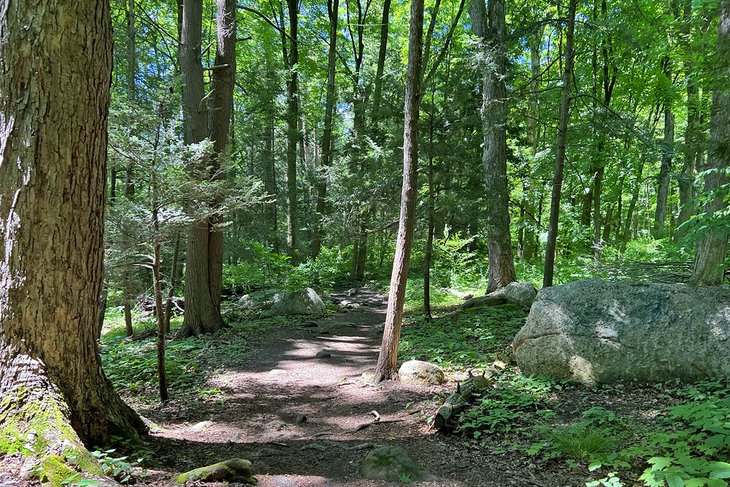 Those looking to escape the hustle and bustle of big city life will find serenity in Cotton Hollow Preserve.
This 80-acre preserve is a natural wonderland filled with the cacophony of birds, rushing water of a brook, and rustling of leaves. Whatever stresses accompanied you here are sure to be washed away.
Popular things to do in this Glastonbury attraction include hiking, biking, and fishing in Roaring Brook. Once home to grist mills that date to the 18th and 19th centuries, today's tourists are awarded a glimpse of their historic ruins.
The two trails within this preserve are either easy or moderate, making them accessible to even unseasoned hikers. If you're hoping to traipse through the river, though, be prepared for slippery conditions that are best suited to appropriate footwear.
North Trail is a mile-long loop (it's more moderate than easy as it entails hiking up a few steep places). It's accessed near the Grange Pool on Hopewell Road. Tree Trail is an easy mile-long loop set in South Glastonbury, just south of Roaring Brook bridge.
Picnicking, swimming, and camping are forbidden here, but pets are allowed as long as they're on a leash.
Address: 500 Hopewell Road, Glastonbury, Connecticut
4. Climb aboard the Rocky Hill-Glastonbury Ferry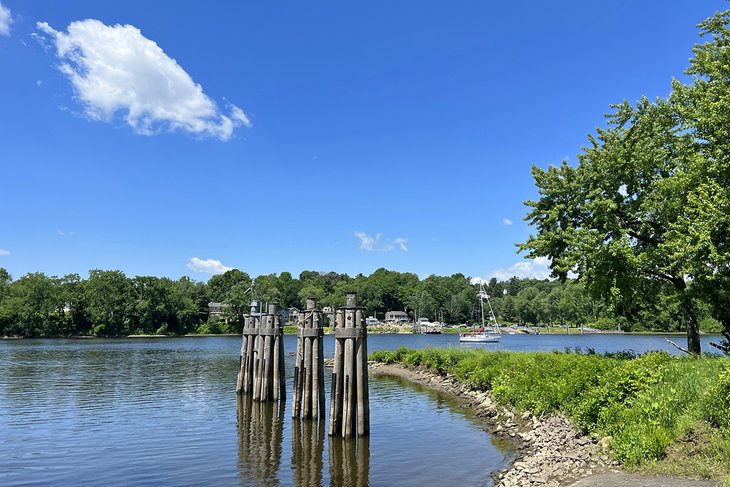 It may not look like much–the Rocky Hill-Glastonbury Ferry is a small barge–but this charming boat company is the oldest continuously operating ferry service in the country. When it began chartering people across the Connecticut River between Rocky Hill and Glastonbury in 1655, the ferry was a mere raft operated by pushing large poles.
Today, the Holster III is pulled by a towboat named Cumberland. This tiny engine that could pulls the three-car barge, which also transports people and many bicycles. This ferry is the only way cyclists can get from Glastonbury to Hartford and Middletown.
Not in need of a ferry? Head to the launch anyway, as it's an enjoyable place to watch the barge get tugged along the river. There is a small park here with a picnic area and benches, as well as a nature trail and plenty of opportunities to fish.
The ferry runs daily from April through November, from 7am to 6:45pm on weekdays and 10:30am to 5pm on weekends.
Address: 300 Ferry Lane, Glastonbury, Connecticut
5. Be Soothed by the Sound of Blackledge Falls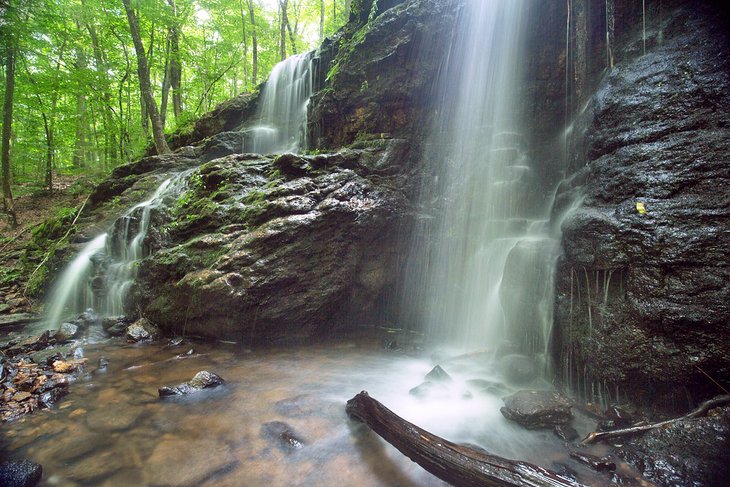 It's easy to see why Blackledge Falls is deemed one of the best waterfalls in Connecticut. At this tranquil spot, you'll feel your muscles relax as soon as you first hear the waterfall's unique song.
A series of cascades tumble over inky black rocks, on their way from the Blackledge River to a shallow rock pool below. A narrow fall in comparison to others in the state, the 25-foot drop over steep cliffs is a marvel to behold.
The falls are set within 80 acres of wooded land in East Glastonbury and are peppered with walking trails, a sparkling pond, and a rushing stream. Fishing is permitted in the area, so pack your gear if you're hoping to flex those angler muscles.
Address: 3874 Hebron Avenue, Glastonbury, Connecticut
6. Welles-Turner Memorial Library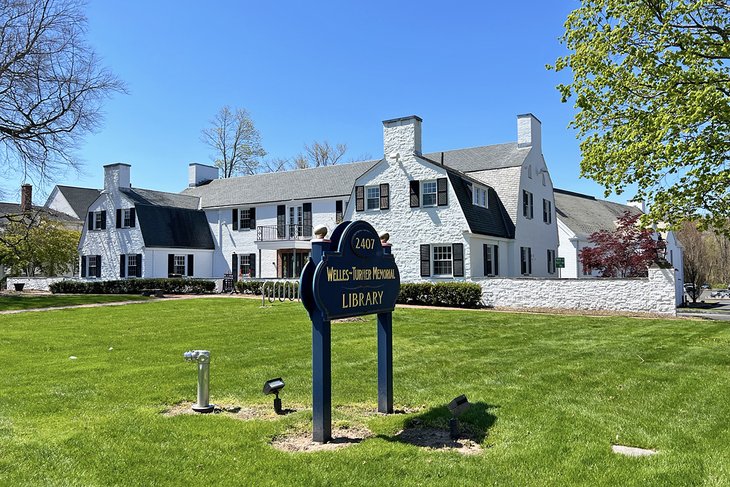 Stick your nose in a book, or many, at the Welles-Turner Memorial Library. A gorgeous building set in the heart of Glastonbury, this historic spot has been a beloved gathering place since 1952. Since then it has expanded, twice, with modern additions encased with giant glass panels.
Even if you don't have an inkling to read, go inside to soak up the peaceful and airy ambiance but make sure to keep your voices low.
The library is a family-friendly go-to for events ranging from story time to dancing to movie afternoons. Educational seminars abound for kids and adults of all ages, including an informative fishing seminar hosted by a competitive bass fisherman.
Address: 2407 Main Street, Glastonbury, Connecticut
Official site: https://www.wtmlib.info/index.shtml
7. Pick Your Own Fruit at Rose's Berry Farm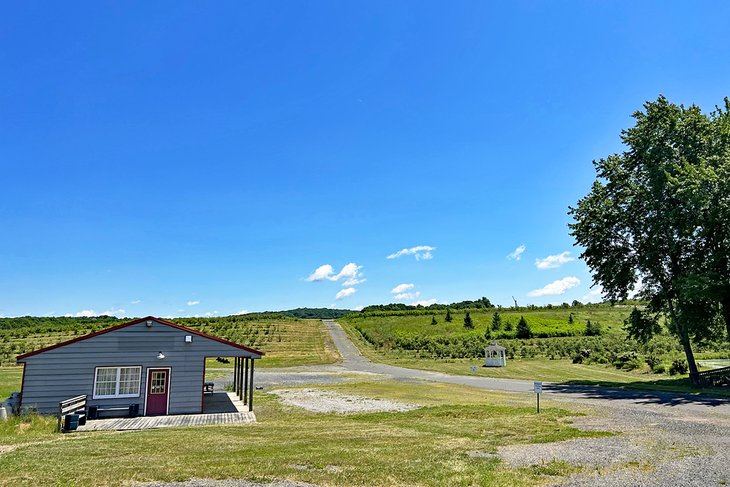 There's something extra tasty about fruit you've picked yourself. Plus, there's the bonus of being able to sample a few while you're in the field choosing the best berries for your basket. Rose's Berry Farm is one of the best places to pick your own fruit in Connecticut, and one of the top attractions in Glastonbury.
A charming spot that opened in 1908, this historic farm is known for its sweet strawberries, raspberries, blackberries and later-season offerings like apples, peaches, and pumpkins.
Sunday Breakfast with a View is one of the most popular offerings at this farm. Beginning mid-June and running to the second Sunday of October, guests can enjoy breakfast on the deck with a lovely view of the fields. The breakfast runs from 8am to 1pm, and reservations aren't accepted, so arrive early.
Can't make it to pick berries? Buy some at the farm stand, which is located at 1200 Hebron Avenue.
Address: 295 Matson Hill Road, South Glastonbury, Connecticut
Official site: https://www.rosesberryfarm.com/
8. Have a Picnic at the Matson Hill Open Space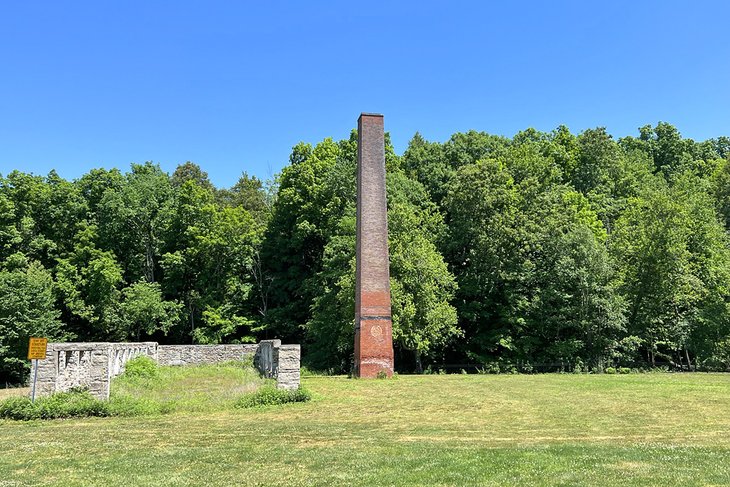 It's easy to miss the Matson Hill Open Space if you're pushing your pedal to the metal on Matson Hill Road. If you do pass this interesting spot, hit the brakes and turn around (safely, of course).
The main feature of the open space is impossible to ignore. A stone foundation and red brick chimney rise from the grassy expanse, enticing tourists to take photos of this historic relic.
Once home to the Glazier Manufacturing Company, this was formerly a textile mill built in 1836 by the Dean family. The Great Depression hit hard, and the company was sold in 1933. It was purchased numerous times over the years but fell into disarray.
In 2007, the land was purchased by the town of Glastonbury to be preserved as a public open space, and it has become a sightseeing landmark.
Today, you'll find access to woodlands, picnic areas, walking trails, fishing, and a rocky stream. If you're hoping to catch a fish, you'll need a trout and salmon stamp on your fishing license. The open space is located very close (as in a minute's-drive) to Cotton Hollow Preserve.
Address: 97-43 Matson Hill Road, South Glastonbury, Connecticut
9. Get Historic at Museum on the Green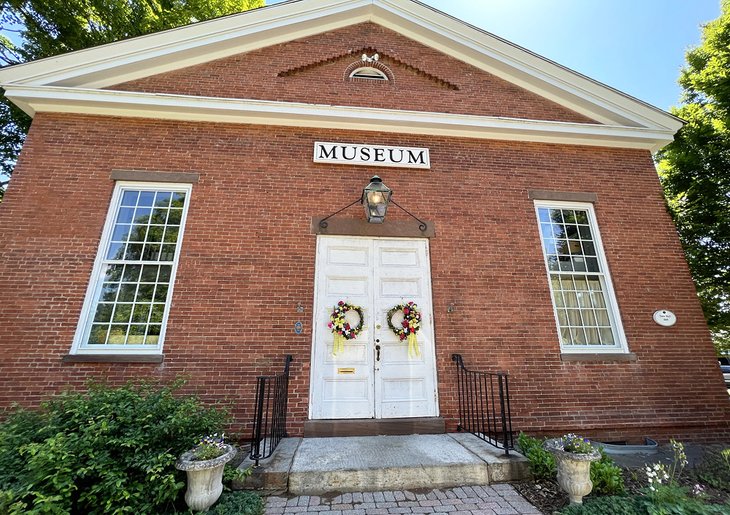 Museum on the Green once served as Glastonbury's town hall. Set upon the town's green, this picturesque red-brick building dates to 1840 and is currently run by the Historical Society of Glastonbury. In fact, this is where you'll find the society's home base.
On Saturdays, you'll also run into the Glastonbury Farmer's Market, but more on that below.
Inside the museum, you'll find displays outlining Glastonbury's history, as well as detailed information about the area's past industries. A research library and multiple exhibits, including an interesting display of Native American artifacts, are also on offer.
The museum is open Monday, Tuesday, and Thursday from 9am to 4pm and on the third Sunday of each month from 1pm to 4pm. It's small but filled with memorabilia that will keep you occupied for at least an hour.
Address: 1944 Main Street, Glastonbury, Connecticut
Official site: https://www.hsgct.org/
10. Webb-Deane-Stevens Museum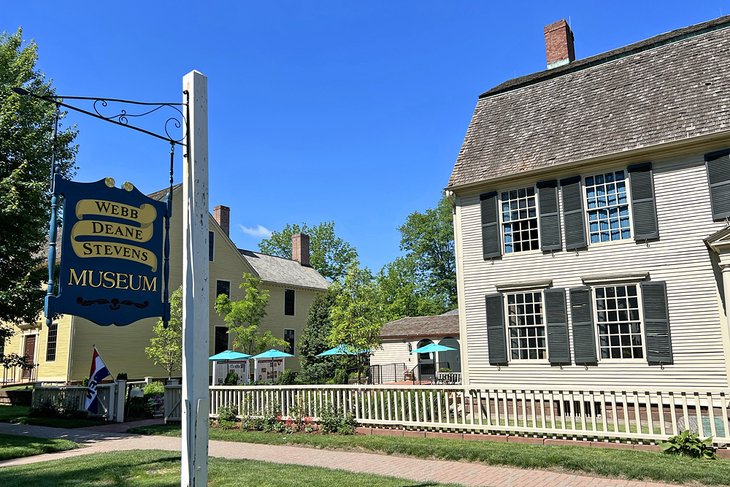 While not technically in Glastonbury, the fascinating Webb-Deane-Stevens Museum lies a mere eight-minute drive away, in adorable Wethersfield. If you've never been to this sweet small town in Connecticut, go! You'll think you've stepped into the pages of a fairy tale, or at least into the 18th century.
Embark on a one-hour tour to learn all about life in this area and in particular, this grand house, in the mid-18th and early-19th centuries. Tours are available from May through October on Tuesdays through Saturdays at 11am, 1pm, and 3pm. Those who visit on a Sunday at 1pm and 3pm can also gain access.
The new, Holcome Education Center is on-site, as well as a lovely Colonial Revival garden. It is worthwhile to buy a membership, as members of the museum gain free admission to other historic homes and museums in the area, like the Webb, Deane, and Stevens Houses.
Address: 211 Main Street, Wethersfield, Connecticut
Official site: https://webb-deane-stevens.org/
11. Glastonbury Farmers Market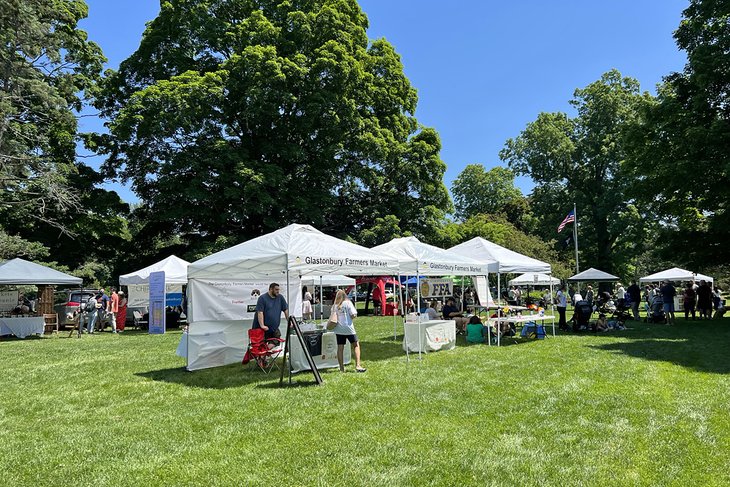 Head to Hubbard Green for the freshest, tastiest, most divine treats. Whether you're a fan of fresh-baked pies, super crisp apples, or homemade honey, you'll love the fare on sale at the Glastonbury Farmers Market.
While you're munching on a peach, be sure to check out the other stalls on hand, including those offering items from soap sellers, jewelry designers, and sweet treat creators.
Yoga classes are also available between 10 and 11, for free.
Plus, kids can have their faces painted and if you're lucky enough to plan your trip during the summer concert series (these mostly take place in July), you'll be able to enjoy your purchases with a side of funky, live tunes.
Market hours vary by season, but they generally take place between 10am and 1pm on Saturdays during summer–from early June to mid-August–and during the fall market, from mid-September through late October. Parking can get tight, so try to arrive early. The tiny lot behind Museum on the Green fills up quickly.
Address: Hubbard Green (at the corner of Main Street and Hubbard Street), Connecticut
Official site: https://www.glastonburyfarmersmarket.com/
12. Visit Emmy Lou's Gift Shop in the Gideon Welles House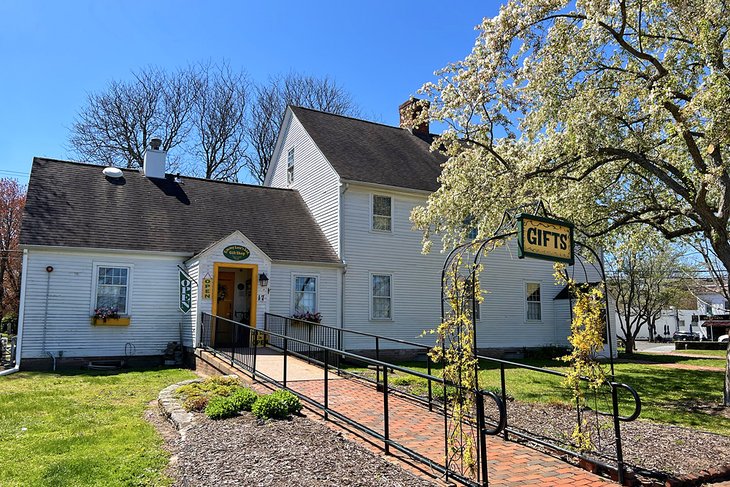 Housed in the Gideon Wells House, Emmy Lou's Gift Shop has been selling its unique wares for over 35 years. The house itself is only part of the allure of this top attraction.
Built by Revolutionary War captain Samuel Welles in 1783, this historic home is charming, and visiting it is one of the best things to do in Glastonbury.
In 1935, the home was moved to Hebron Avenue to save it from being demolished. It was moved again in 1974, to a location further up the road. Today, this is where you'll find Emmy Lou's Gift Shop, a boutique store selling everything you need to decorate your home and garden.
With a bevy of products on offer including silk floral wreaths, jewelry, tote bags, clothing, decorative plates, and holiday decorations, you're sure to flex your shopping muscles in this cute shop.
Address: 17 Hebron Avenue #1 Glastonbury, Connecticut
Official site: https://www.facebook.com/EmmyLousLtd/
13. Ogle the Antiques at the Hurlbut-Dunham House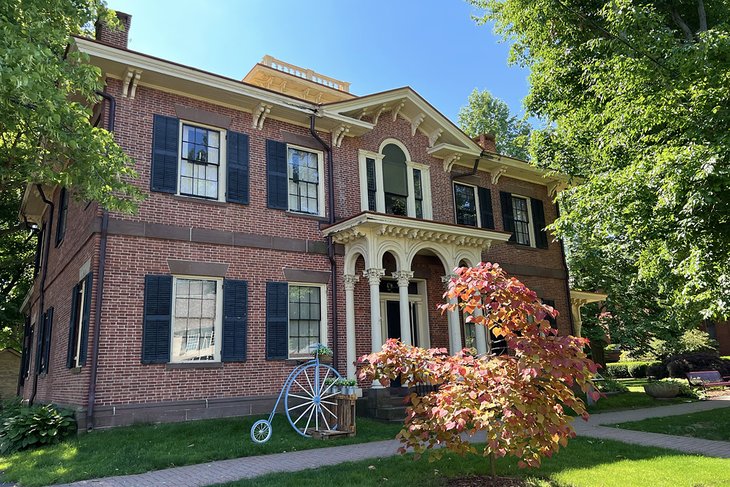 Another Wethersfield gem tops our list of the best places to visit in Glastonbury. A stunning façade greets visitors to this historic home, which dates to the late 1700s. Set on Main Street, the home's exterior is worth gaping over.
Italian-inspired columns surround the front door while the red brickwork was created in the Georgian style. Inside, you'll find a lovingly restored home filled with antiques that were used by (or similar to those used by) the Dunham family when they lived here between 1907 and 1935.
Run by the Wethersfield Historical Society, you'll find revival-era wallpaper, painted ceilings, and historic furnishings, among other unique elements.
To book a tour, head next door to the equally impressive Keeney Memorial Cultural Center. The house is open on Saturdays and Sundays from 1pm to 4pm from late May through mid-October.
Address: 212 Main Street, Wethersfield, Connecticut
Official site: https://www.wethersfieldhistory.org/visit/exhibition-properties/
14. Welles Shipman Ward Museum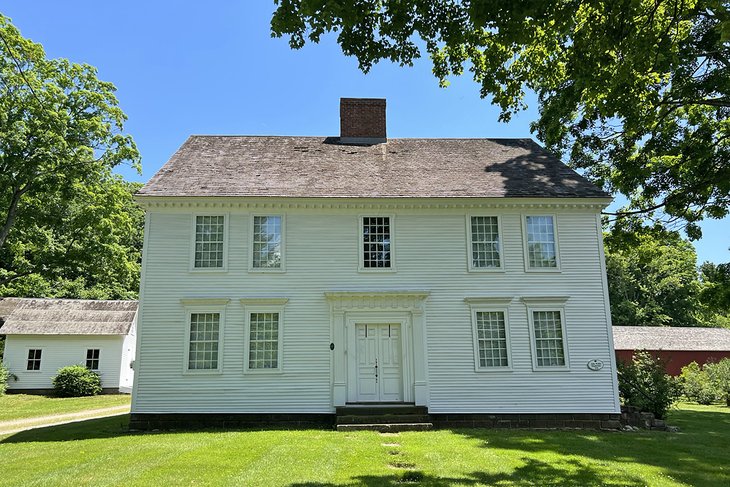 The Welles Shipman Ward Museum is another beloved tourist attraction in Glastonbury. This stunning historic home was built in 1755 by Col. Thomas Welles, a ship builder. Years later, the house was bought by Stephen Shipman, Jr. and Nathaniel Talcott, Jr. Shipman (hence its name) and revived to include Federal and neoclassical-styles.
Inside, you'll find a massive (for the times) kitchen fireplace. In fact, it's dubbed the "largest known period kitchen fireplace in Connecticut." You'll also spy antiques a plenty.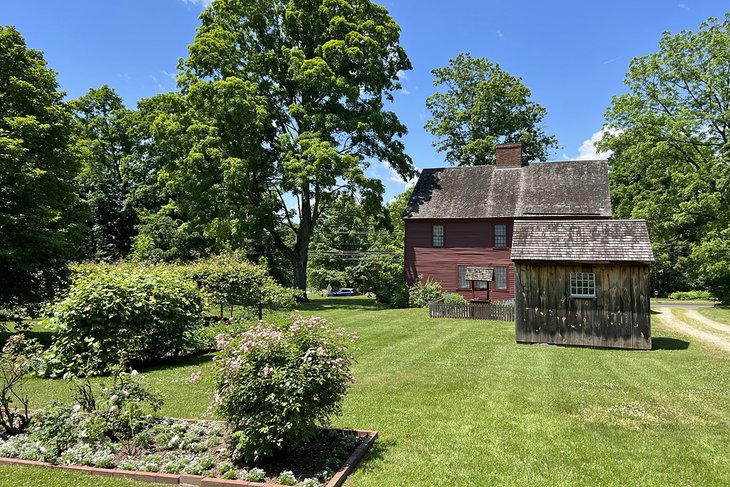 When you visit, don't miss a trip around the back of the house. This is where you'll find a 200-year-old English-style bank barn, three other barns and sheds, a smokehouse, and lovely gardens. The English style bank barn still houses antique tools and historic horse drawn buggies, among other priceless treasures.
The museum is open from 1pm to 4pm on Tuesdays from June through September.
Address: 972 Main Street, South Glastonbury, Connecticut
15. Buy a Pie at the Killam & Bassette Farmstead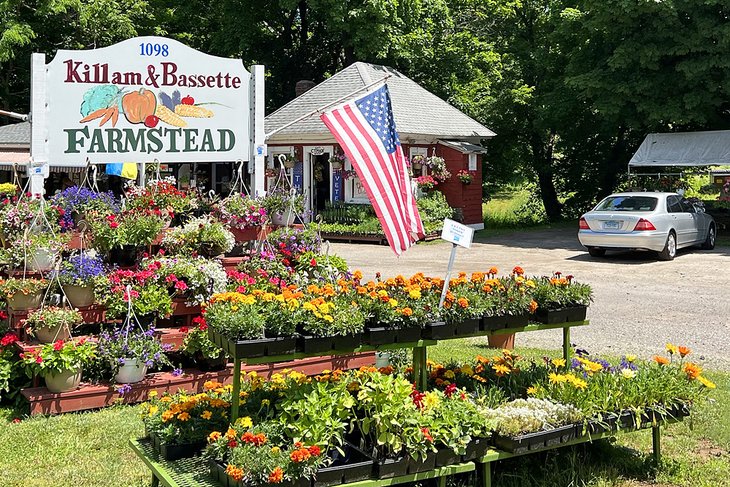 Applesauce, pickles, and pies, oh my. The freshly made staples sold at Killam & Bassette Farmstead are drool worthy. This family-run business features the most impeccable food that's raised and grown on the family (and friend's) 85 acres of farmland.
The Main Street location features everything from vegan cupcakes to the freshest veggies to floral bouquets and hanging baskets. The produce you buy here is guaranteed to be picked either the same day or the day before. There's even a quaint gift shop next door for those who'd like to bring home a trinket.
Fresh From the Farm Tastings are popular events that happen once a month from April through June and again in September. They're held from 1pm to 4pm and include free, fresh samples of the very best farm fare. Live music, hayrides, animals, and face-painting are also part of the fun, as is a jam-tasting bar.
Note: The 14 Tyron Street farm stand is much smaller and operates on an honor system.
Address: 1098 Main Street, South Glastonbury, Connecticut
Official site: http://kbfarmstead.com/
Map of Things to Do in Glastonbury, CT
Glastonbury, CT - Climate Chart
Average minimum and maximum temperatures for Glastonbury, CT in °C
J
F
M
A
M
J
J
A
S
O
N
D

2

-9

4

-7

8

-3

15

3

21

9

26

14

29

17

28

16

23

11

17

4

11

0

4

-6

PlanetWare.com
Average monthly precipitation totals for Glastonbury, CT in mm.

93

67

92

97

101

97

100

97

97

99

96

87