16 Top-Rated Weekend Getaways in Connecticut
Formally known as the Constitution State, Connecticut is home to some of New England's best beaches, hiking trails, and nature reserves. Nestled between Rhode Island, Massachusetts, New York, and the Long Island Sound, this picturesque region also boasts a wide variety of charming towns, perfect for quick trips or romantic weekend getaways.
From quaint villages like Chester to bustling cities like Hartford, Connecticut offers something perfect for every weekend traveler. Those searching for culture will be rewarded by a multitude of impressive art, history, and science museums, especially if they head to some of Connecticut's best cities, like New Haven.
Foodies will enjoy the vast array of top-notch restaurants, ranging from local eateries to upscale dining. Sea lovers can expect to be lulled by long walks on the sand, boardwalks, and seaports. And fans of a louder, busier environment will love a weekend spent shopping, dining, and attending concerts and comedy shows indoors at Mohegan Sun.
Not sure where to start? Begin with our list of top weekend getaways in Connecticut.
1. Chester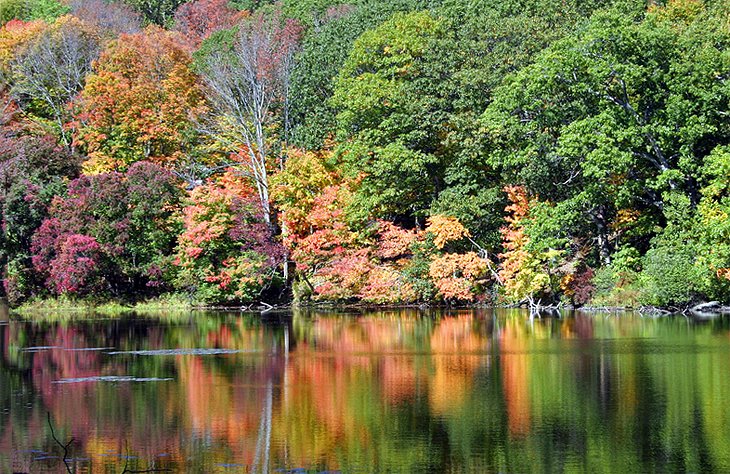 This quaint rural town offers a panacea for stressed city dwellers. About two hours from both New York and Boston, tourists will feel their shoulders relax as they wander along the charming main street of this chart-topping weekend getaway in Connecticut.
Complete with cafés and cute gift shops, the town center is the perfect place to unwind.
Take the Chester-Hadlyme Ferry to East Haddam and visit Gillette Castle State Park, while you're here. It's an impeccably preserved, 24-room mansion with impressive views from atop one of the Seven Sisters hills.
In the morning, rent bikes to explore the area, stroll along the private beach, or have a massage in the spa.
2. Mystic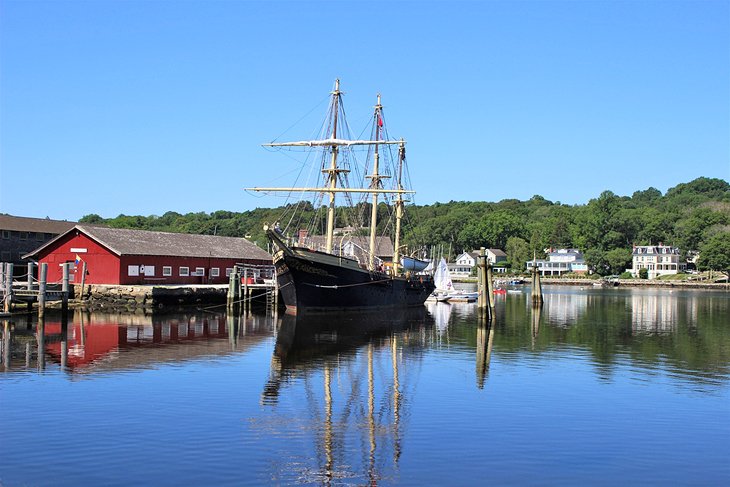 Once a booming seaport essential for the region's trade, Mystic now boasts an impressive array of maritime-themed attractions. An hour from New Haven, this harbor town is home to a wide array of great restaurants - you'll be hard-pressed to find fresher seafood.
Movie buffs can enjoy a slice of pie at Mystic Pizza, the restaurant made famous by Julia Roberts' film of the same name. Step back in time with a visit to the Mystic Seaport Museum. You could while away hours climbing aboard historic vessels, exploring exhibits, and visiting the shipyard.
Next stop: Mystic Aquarium, where you can come face to beak with a penguin, pet a shark, and marvel at a beluga whale. Then, set sail on a trip with Argia Mystic Cruises. When else will you be able to travel aboard a schooner?
When it's time for bed, head to The Whaler's Inn for a relaxing and romantic stay. Traveling with kids? Book the Main Inn Junior Suite - kids get their own alcove complete with bunkbeds and a TV.
Read More: Top-Rated Things to Do in Mystic
3. Hammonasset State Park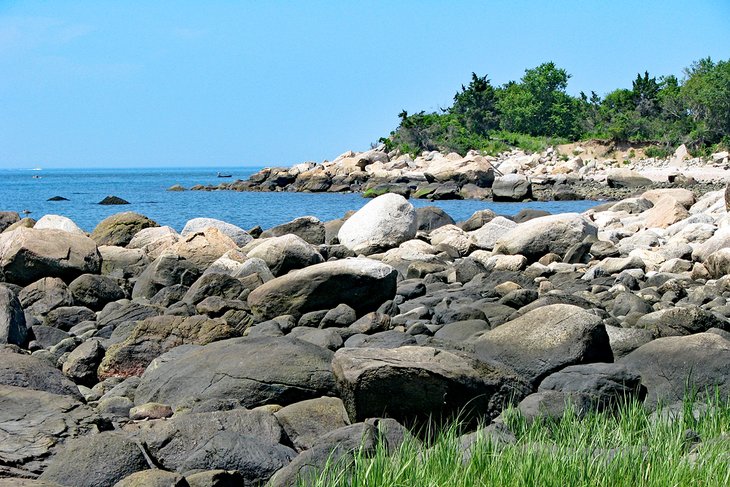 It's easy to see why Hammonasset State Park tops the list of best state parks in Connecticut. Its main attraction is a stunning sandy beach that spans two miles of the Long Island Sound. It's the largest, and one of the best beaches in the state, with plenty of space to unfurl your towel, splash in the waves, and enjoy a waterside picnic.
The Meigs Point Nature Center is another big draw at this top weekend getaway, especially for kids. Programs and activities are frequently on offer, introducing visitors to important concepts such as dune ecology, and helping them to identify local flora and fauna.
Not ready to leave? We don't blame you. Luckily, this lovely park is one of the best places for camping in Connecticut, with over 500 campsites on offer.
If sleeping in a tent isn't your thing, the Madison Beach Hotel's plush rooms, high-end service, and expansive beachfront property is a more luxurious option.
4. Rocky Neck State Park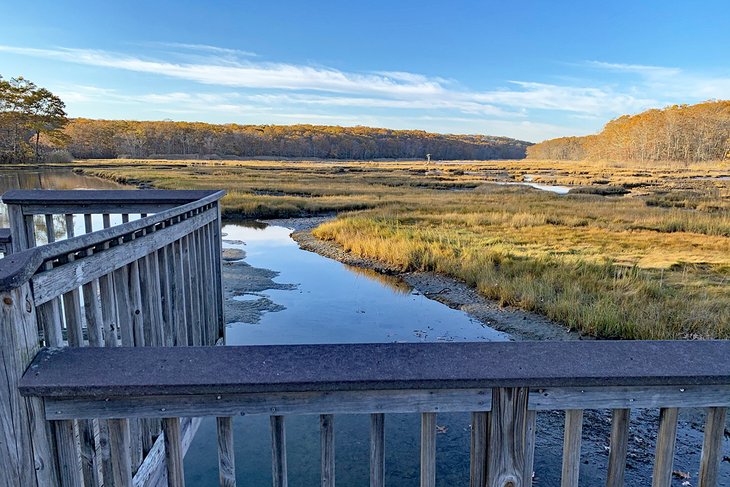 Yet another of Connecticut's state parks tops our list of the best weekend getaways. This lovely spot also features an inspired beach, and boasts a boardwalk that's perfect for romantic strolls. There's a large concession area to grab snacks, as well as a restroom and showers that make it easy to spend an entire day (or more) at this refreshing oasis.
When you're sick of picking sand from your bathing suit, lace up your walking shoes and head to one of the multiple hiking trails that pepper this 710-acre park. You'll pass salt marshes bursting with unique wildlife (the crabs and turtles are especially adorable) and you'll find plenty of spots perfect for bird-watching. Be sure to pack binoculars.
Like Hammonasset State Park, Rocky Neck State Park also ranks as one of the best places to go camping in Connecticut, so be sure to bring supplies if you're looking to pitch a tent.
5. New Haven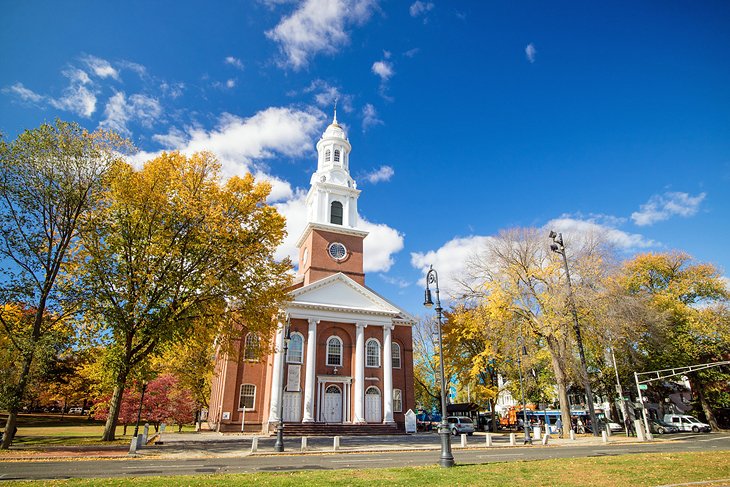 Two hours of calming views soothe the soul as your train speeds along the Long Island Sound from New York. Home to Yale University, New Haven is known for its up-and-coming foodie scene and impressive galleries.
The Yale University Art Gallery, for instance, boasts over 250,000 objects, including paintings by Cézanne, Degas, Monet, and Manet. Plus, it's free. You won't want to miss the Beinecke Rare Book & Manuscript Library, Yale Center for British Art, or Yale Peabody Museum of Natural History.
Whether you're traveling with kids or are one at heart, spend a few hours at Jordan's Furniture store. It houses one of the world's largest indoor adventure ropes courses. At night, enjoy a show at the College Street Music Hall or Yale Repertory Theatre.
Read More:
6. Hartford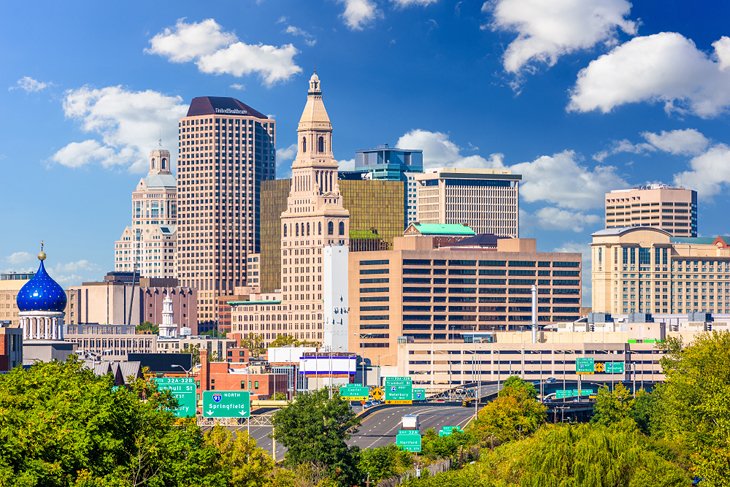 Once known as the House of Hope due to its position as a Dutch trading post, Hartford sits on the Connecticut River. Attractions in Connecticut's capital are plentiful.
You'll kick yourself for missing the Mark Twain House or Harriet Beecher Stowe House, but perhaps the most interesting place to visit is the Connecticut Science Center. Hold a butterfly in the greenhouse, design and test a heli-flyer, or journey through the galaxy - all within the center's walls.
Other places to visit include the Wadsworth Atheneum Museum of Art and West Hartford Reservoir, a peaceful nature reserve with walking trails. Talcott Mountain State Park is 20 minutes away. Hikers who make it to the Heublein Tower (1,000-feet up) are rewarded with spectacular views over the Farmington River Valley.
7. Cornwall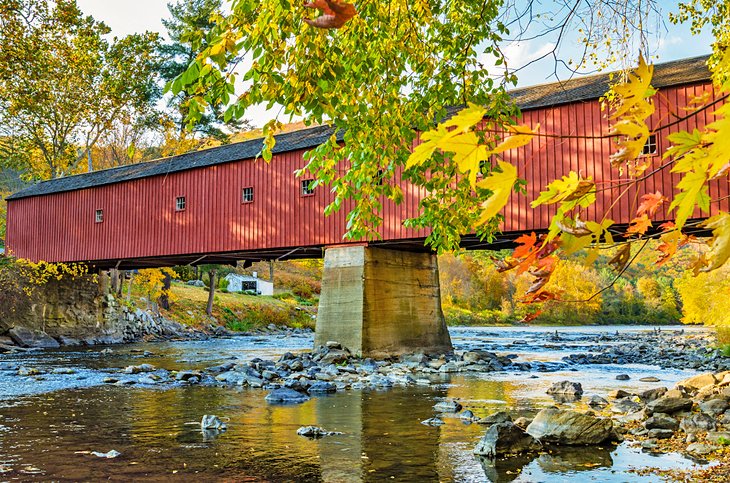 Small-town country charm abounds in this beautiful town. Its quaint buildings and unique shops will remind you of the way things used to be before technology got in the way.
Quietly nestled in Litchfield County, Cornwall is most famous for having one of the only covered bridges in Connecticut. Before you head out, pack a picnic and enjoy a day of hiking through lush forest trails in Mohawk State Park. The summit provides a 360-degree view across the picturesque landscape.
Mohawk Mountain is a hot spot for skiers who don't want to drive all the way to Vermont. A family-friendly resort, it's small enough that you won't lose your way, but big enough to race down trails of varying difficulties.
8. Milford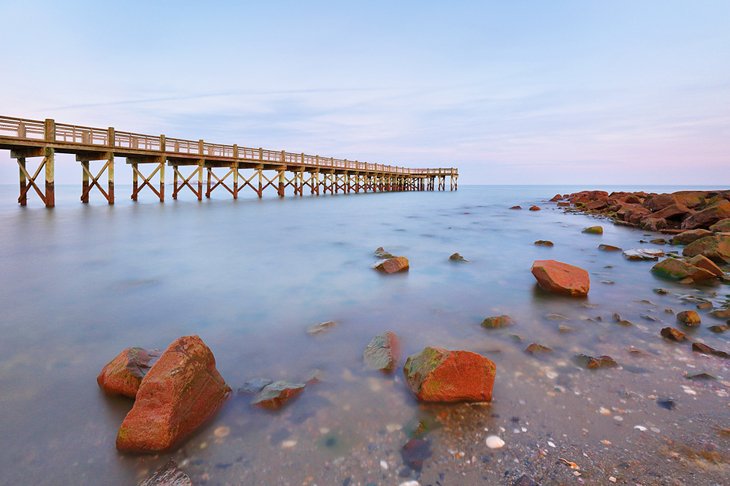 If you're looking for charm, you'll find it in Milford. This old-fashioned town dates back to 1639 and has an English feel. The Wepawaug River winds its way through the center, making Milford the perfect spot for those who enjoy a more laid-back, romantic weekend.
Apparently, Captain Kidd and other pirates sailed along the nearby coast and hid buried treasure along the way. Perhaps you can dig it up at Walnut Beach, Silver Sands State Park, or Charles Island.
Settle in to the Residence Inn Milford before browsing local shops. Then, enjoy a coffee (or two) at the charming cafés and wander through town at your own leisurely pace.
9. Old Saybrook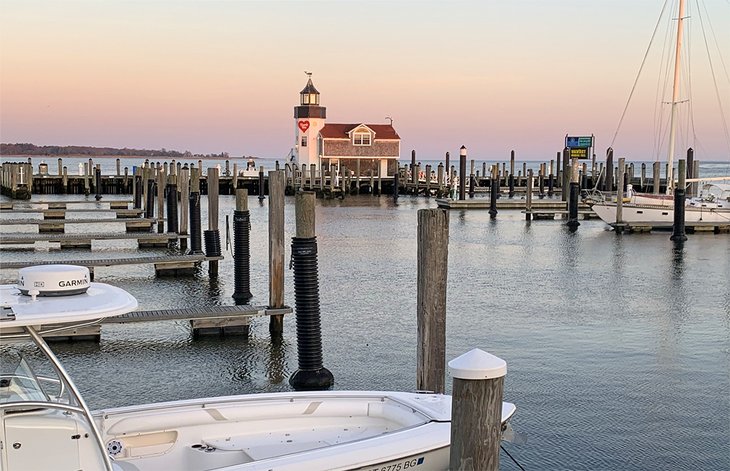 A hot spot for summer fun, Old Saybrook is just as beautiful, and enjoyable, at all times of the year. One of the best small towns in Connecticut, this charmer overflows with quintessential New England charm, this is where weekenders come to unwind and inhale the fresh, salty sea air.
Check out a performance at the Katharine Hepburn Cultural Arts Center, soak up history at General William Hart House, and get inspired by impressionist art at the Florence Griswold Museum.
Then, head to Harvey's Beach for some fun in the sun. The water is calm and shallow, making this an optimal spot for those traveling with kids.
When it comes time to relax, lap up the luxury, and fabulous waterfront views, at Saybrook Point Resort & Marina. While you're there, book a massage and have dinner on the outdoor patio overlooking the marina.
Read More: Top-Rated Things to Do in Old Saybrook, CT
10. Mohegan Sun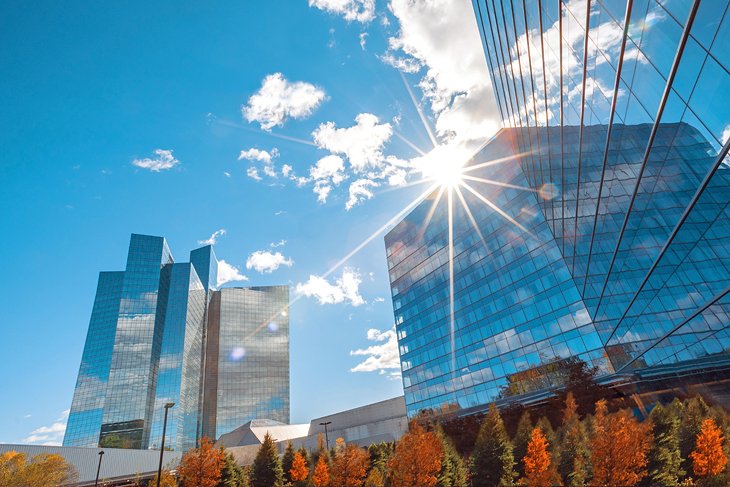 What do U2, live comedy, and an exotic body scrub have in common? You can enjoy them all at Mohegan Sun. A fantastic place to spend a weekend getaway in Connecticut, this expansive property overflows with fun things to do for families and adults alike. No matter what you're looking for—high-end restaurants, a concert venue, or a relaxing spa treatment—you'll find it, and so much more, at this popular weekend destination.
At this massive complex featuring more than 50 restaurants and food outlets, multiple lounges, a 350-seat entertainment venue, comedy club, and a whopping 10,000-seat arena, it's impossible to get bored no matter how long you choose to stay. The best part? You won't have to leave the premises to enjoy the many perks, including a comfy hotel.
Splash in the 10,000-square-foot indoor pool, visit one of the two luxurious spas (we highly recommend the Balinese massage to soothe tense muscles), shop in one of the 40 stores, or dance the night away in one of the on-site venues. Don't miss a visit to Tao, the upscale Asian bistro that will leave your taste buds begging for seconds.
Younger kids (aged six weeks to 12) can occupy themselves with games, an indoor playground, and their own basketball court within Kids Quest, an entertainment complex conveniently located near the shops. The licensed staff are friendly and competent, as well as trained in both first aid and CPR.
Teens can head to Cyber Quest, the family arcade featuring non-violent video and arcade games, as well as karaoke. It's like heading to Vegas without having to step foot on a plane.
11. Kent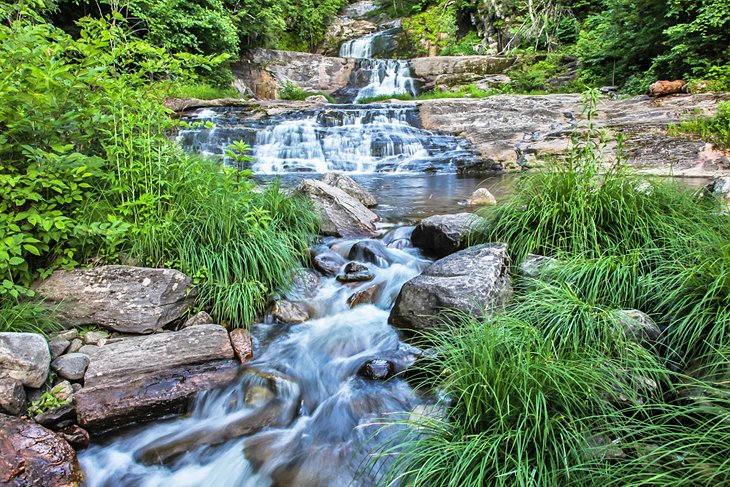 A fan of fall foliage? You've come to the right place. A true natural beauty, it's easy to see why Kent is deemed one of the best places to visit in Connecticut. This sweet small town offers well-maintained, scenic hiking trails, which reward the adventurer with stunning views of the Catskill Mountains and Kent Falls State Park.
In fact, the main reason people come to Kent is for the immense trails like those found in Macedonia Brook State Park. You won't find the impressive shopping offered in larger towns like Greenwich, but your soul will thank you for the fresh air and close animal encounters.
Not a fan of walking? Rent a bike from the Bicycle Tour Company.
12. Madison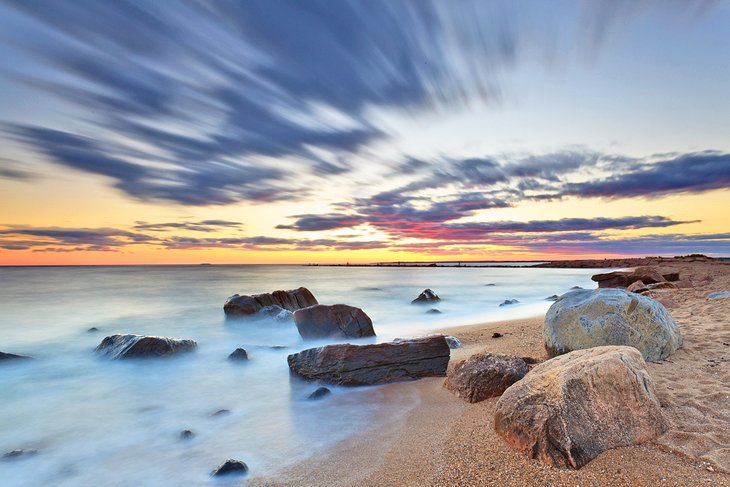 Get away from it all in this sweet, ocean-side town. One of the best beach towns in Connecticut, this beauty is a perfect option for a weekend getaway in Connecticut, especially during summer. Grab a good read at RJ Julia Booksellers and a coffee from a local café. Then head to Hammonasset Beach State Park for a calming start to your day.
Visitors also enjoy a trip to Meigs Point Nature Center, where they can get up close and personal with turtles, crabs, fish, birds, and snakes. A bonus: it's free!
Work off lunch with a walk or bike ride along the Shoreline Greenway Trail. It's flat and scenic, so perfect for kids. You'll wind down easily with a dip in the indoor pool at the Water's Edge Resort & Spa before heading to the Tanger Outlets for some retail therapy.
13. Litchfield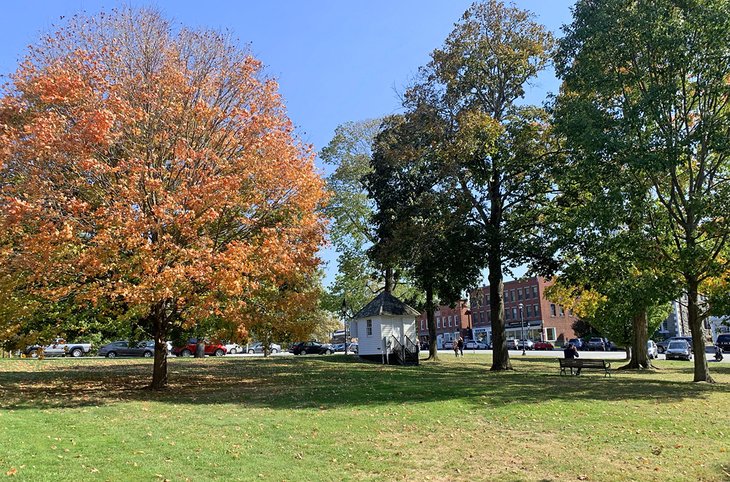 Lovely historic Litchfield will win your heart within seconds. A mere 50 minutes' east of Hartford, this pretty town is about as adorable as they get. Preserved homes line the streets and are set behind perfectly manicured gardens. During spring and summer, the blooms are breathtaking.
The Litchfield Historic District is a must-visit. Nestled around a Village Green peppered with picnickers, it offers visitors a trip through time that spans multiple blocks. The restaurants are found mainly on West and North Streets, and feature food so good, you'll forget you aren't in New York City.
Set within a natural nirvana within the luscious Litchfield Hills, there are plenty of opportunities for weekenders to get outside. The White Memorial Conservation Center is particularly popular and features 4,000 acres of forest, wetlands, and fields.
Nearby Topsmead State Forest is another one of the must-see attractions in Litchfield, which features miles of trails, a butterfly garden, and a luxurious summer estate that mimics an English Tudor home.
As for a place to rest your head, opt for a stay at The Litchfield Inn, a boutique hotel boasting standard rooms, as well as 12 well-designed theme rooms, including the presidential suite, log cabin, and Jacuzzi suite.
14. Greenwich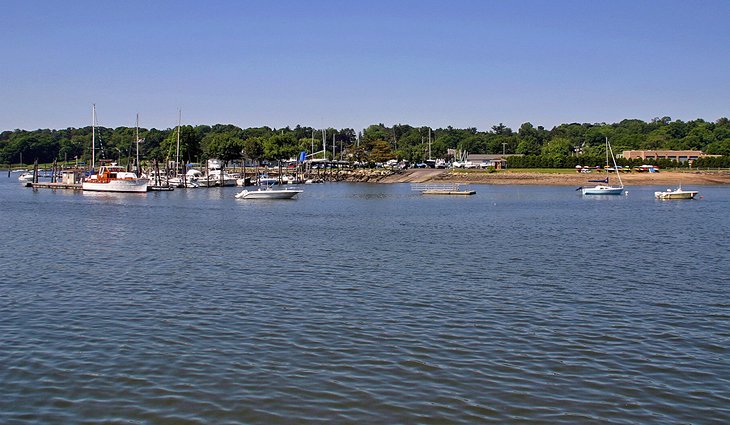 A commuter's haven, Greenwich is a mere 40-minute train ride from the Big Apple, making it a convenient destination for a weekend getaway in Connecticut. Greenwich Avenue, with its luxury designers, upscale restaurants, and trendy cafés, can make even the hardiest of shoppers believe she's on NYC's Upper East Side.
The Bruce Museum, a five-minute walk from the Metro-North train station, offers a cultural boost to your day, while the Flinn Gallery at Greenwich Library is a worthy spot for art lovers.
Are you a nature-lover? Head to the Audubon Center for a stroll along the well-established nature trails. Greenwich harbor is a local gem best viewed from the Delamar Greenwich Harbor hotel. No one will blame you for adding a spa treatment to your stay.
Read More: Top Things to Do in Greenwich
15. Westport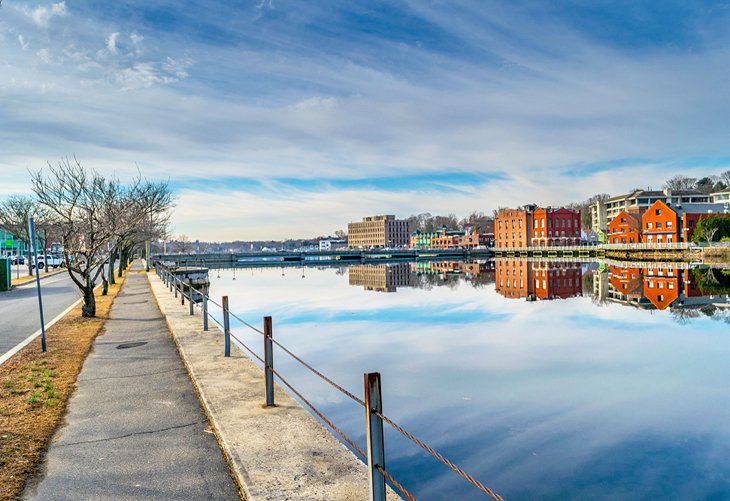 An easy commute from Manhattan (it's takes just over an hour from Grand Central), Westport offers a small-town vibe mixed with city flavor. From paleo to sushi, even the pickiest of eaters will have his palate tempted by local restaurants in this top weekend destination.
Grab fresh seafood, local veggies, and the best taco you'll ever eat at the Westport Farmer's Market on Thursdays. Make room for some of the fresh sweet treats on offer while you're there. Itching to shop? Main Street offers a wide array of stores that sell everything from Lululemon pants to sunglasses to freshly made gelato.
The top three favorite things to do in this town: hang out, swim, and build sandcastles at Compo Beach. For a more rustic beach experience, head to Sherwood Island State Park.
Later, catch a play at the Westport Country Playhouse or an outdoor concert at the Levitt Pavilion for the Performing Arts. The nearby Norwalk Aquarium offers a chance to touch stingrays and jellyfish, watch sharks feed, and take a cruise on the Sound.
The Westport Inn is your best bet for an in-town base.
Read More: Top-Rated Things to Do in Westport
16. Essex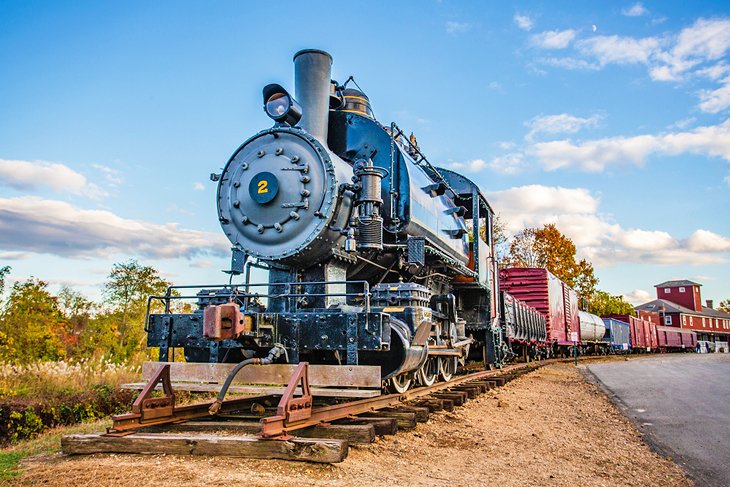 Fans of The Gilmore Girls will love this town, which served as inspiration for Stars Hollow. Like its fictional television counterpart, it, too, is charming.
If you are on a family weekend getaway, hop aboard the Essex Steam Train & Riverboat for an experience everyone will love. The cheerful conductor will teach you about the region's history while you chug through an inspiring landscape.
Keep your eyes peeled for a bald eagle or heron while sailing along the water towards Gillette Castle. Use the charming Griswold Inn as a relaxing base. This historic beauty began welcoming lodgers as far back as 1776. It offers 34 updated rooms, a restaurant, and a fun atmosphere you can't beat.
Map of Weekend Getaways in Connecticut