11 Top-Rated Attractions & Things to Do in Greenwich, CT
We may earn a commission from affiliate links ()
It's not all glitz and glam in this prestigious Gold Coast town. A haven for commuters who are sick of swallowing smog, Greenwich tops the list of most affluent communities in the Connecticut. It's home to hedge funds, financial firms, and many a Stepford wife (the movie was filmed here after all). Located in Fairfield County, this swanky coastal town is the place to be for those looking for a more upscale locale.
Here, you'll find gated mansions a plenty, high-end shops, and upscale restaurants galore, but Greenwich has more to offer than mere pomp. From historical cottages to pristine beaches and miles of glorious hiking trails, this southwestern Connecticut town has a lot to love.
Decide where to start exploring with our list of the attractions and things to do in Greenwich.
Note: Some businesses may be temporarily closed due to recent global health and safety issues.
1. Putnam Cottage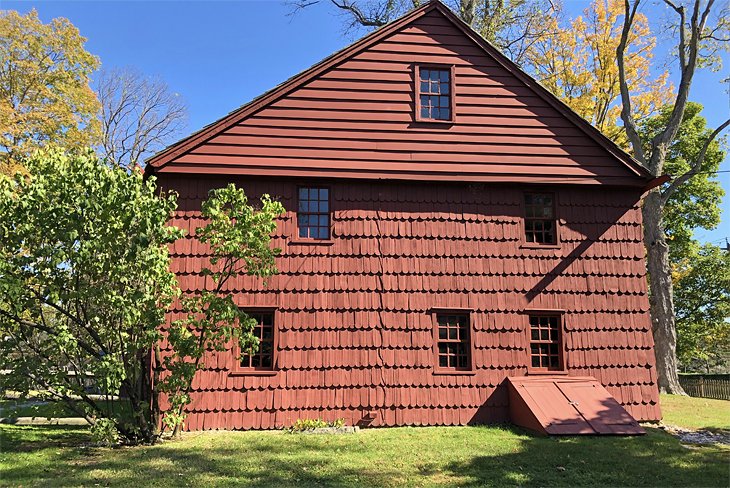 Sitting atop Putnam hill, this adorable, bright red colonial "cottage" is hard to miss. Originally built during the 17th century for Timothy Knapp, the house was used as a meeting place for local Freemasons. It gained its fame, however, during the Revolutionary War. At that time, its resident, General Israel Putnam, made a heroic escape from the British at this location. General Washington is said to have lunched here as Putnam's guest.
Today, Putnam Cottage graces the side of Boston Post Road (named Putnam Avenue in this part of Greenwich) and welcomes visitors, especially school groups, to explore its three main rooms and quaint vegetable garden and carriage barn out back. The inside is decorated as if no time has passed, bringing visitors back to the 18th century.
Cottage tours are offered by volunteer members of the Putnam Hill Chapter DAR, and must be organized in advance, so be sure to call before you arrive.
Address: 243 East Putnam Avenue (a.k.a. US Route 1), Greenwich, Connecticut
Official site: http://putnamcottage.org/
2. Greenwich Historical Society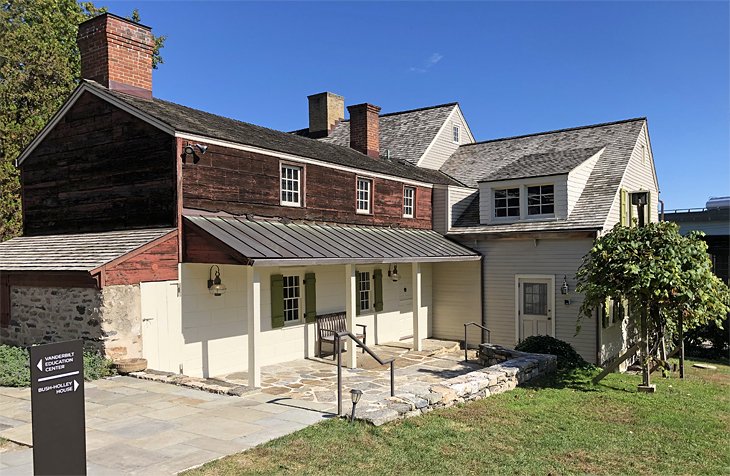 A hidden gem sitting just shy of the busy I-95 in the Cos Cob neighborhood, The Greenwich Historical Society is more than worthy of a visit. The grounds are beautiful, lined with blossoms, and featuring a grape arbor, a spectacular sight when it's in full bloom.
Inside the main building are vast museum galleries displaying paintings by members of the Cos Cob art colony and an array of works shown during rotating exhibits. Here, too, you'll find a library, rooftop terrace, store, and an adorably quaint café.
The Greenwich Historical Society is also home to the Bush-Holley House Museum, a National Historic Landmark built in the early 1700s. Originally owned by the Bush family, the house was purchased by the Holley family and used as a boarding house for artists and writers during the late 19th century. Offshoots of the main house now play host to the society's administration offices.
The museum is only open from 12 to 4pm on Wednesdays through Sundays. Admission is free on the first Wednesday of the month.
Address: 47 Strickland Road, Cos Cob, Greenwich, Connecticut
Official site: https://greenwichhistory.org/
3. Bruce Museum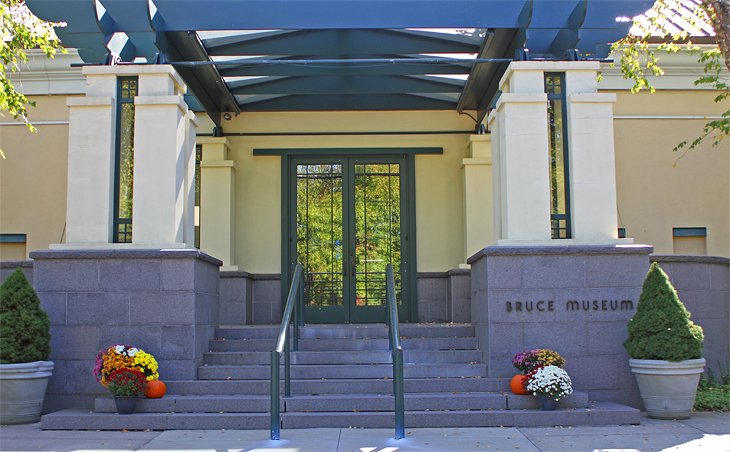 Currently, the Bruce Museum is housed in a one-story, well-laid out building across from Bruce Park. Featuring a variety of changing exhibits, the museum always offers something new to entice visitors to stop by.
The best part about the displays is their variety. You'll find everything from sculptures to photography to Chinese brushwork to giant geodes in the spacious gallery rooms.
A great spot to bring kids, the museum is home to a science wing, which features permanent exhibits such as, Every Object Tells a Story, The Earth's Minerals, and Life Between the Tides. With the help of interesting exhibits and life-size dioramas, these intriguing displays educate visitors about the earth's environmental history and present-day worries both globally and here at the Connecticut coast.
The museum is undergoing a massive expansion project, which means some of it is currently closed until February 2020. Other sections will also be closed at various times, so it's best to check their website before visiting.
By the Spring of 2022, the new, double-sized museum will reopen in its entirety, featuring a new café, lecture hall, community spaces, and other incredible offerings. It's due to include a new and expanded science gallery presenting new ways to look at objects (i.e. via x-ray).
Insider's tip: To make up for the temporary lack of gallery space, the museum is boosting its programs, so be sure to check out what's on.
Address: 1 Museum Drive, Greenwich, Connecticut
Official site: https://brucemuseum.org/
4. Audubon Center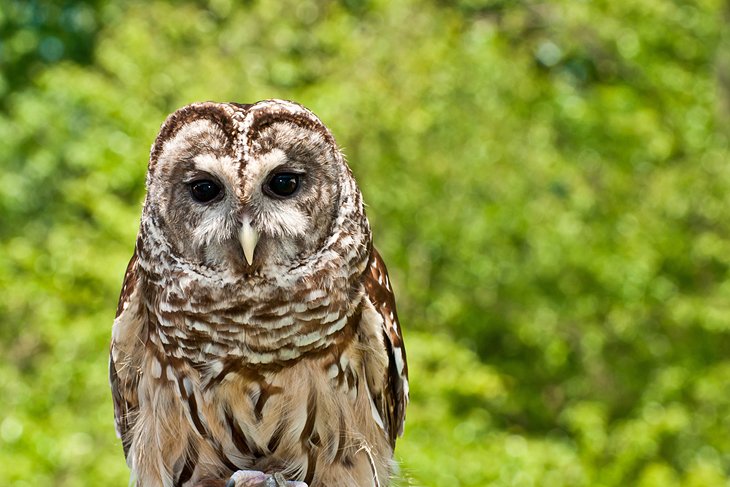 The Greenwich Audubon Center is a beautiful and relaxing place to spend a day. Whether you're in search of serenity or environmental education, you'll find them all here. The center has miles of trails to hike and plenty of spots to stop and bird-watch. Be sure to pack binoculars and a good camera, so you don't miss anything.
Inside, the Kimberlin Nature Education Center offers plenty to occupy kids and grownups. The Hilfiger Children's Learning Center has hands-on exhibits, a puppet theater, and a story corner, as well as live animals to interact with. You'll also find the Nature Store in this building, which is filled with wonderful gifts.
The Perch Coffee Lounge is a perfect place to "perch" yourself (sorry, we had to) after your time spent bird-watching. Located in the Education Center, this bright, quiet spot boasts a reading area and Nature Theater showing documentaries, as well as live feeds from bird cams. The java on offer is "Bird Friendly Coffee," which was grown in a protected rainforest habitat. That means you can drink it without guilt.
Insider's tip: Pick up a Letterbox activity sheet from the front desk before heading to the trails. It includes clues to boxes hidden along the pathways, as well as interesting information about the animals, plants, and habitats you'll come in contact with.
Address: 613 Riversville Road, Greenwich, Connecticut
Official site: https://greenwich.audubon.org/
5. Shop along Greenwich Avenue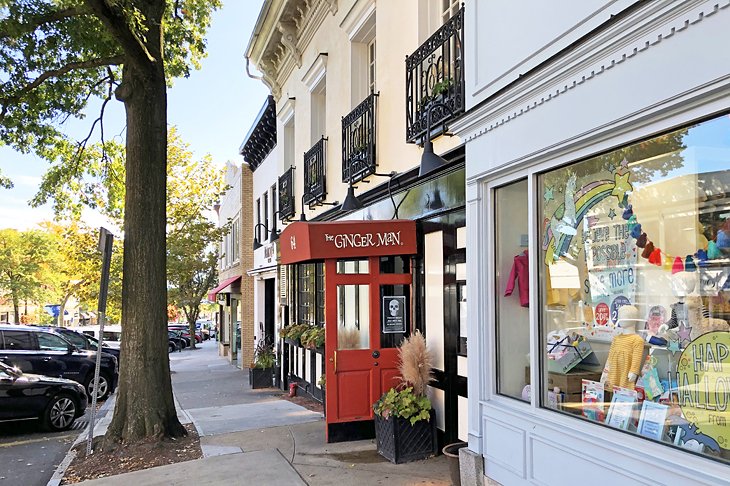 When in Greenwich, shop. That's what the high-class locals do, so why not join in? Greenwich Avenue is the town's answer to a main or high street. It's lined with vibrant flower boxes, decorated during the holidays, and its stores are fronted with lovely displays to entice window shoppers to venture inside.
As is to be expected in this posh town, many of the shops come with big names and expensive price tags. We're talking about you, Apple, TUMI, Hermès, and Saks Fifth Avenue. Other, slightly less pricey options exist as well. Lululemon, Shoes 'N' More, and LF are a few examples.
Not a shopper? Don't worry, there's no pressure to unclamp your wallet. Half of the fun on Greenwich Avenue is found in wandering its streets, watching the yoga moms sipping lattes while laden with shopping bags, and well-coiffed men and women rushing to their next appointments.
Feeling peckish after practicing all that retail therapy? Greenwich Avenue is peppered with mid- and upscale cafés and restaurants.
6. Greenwich Point Park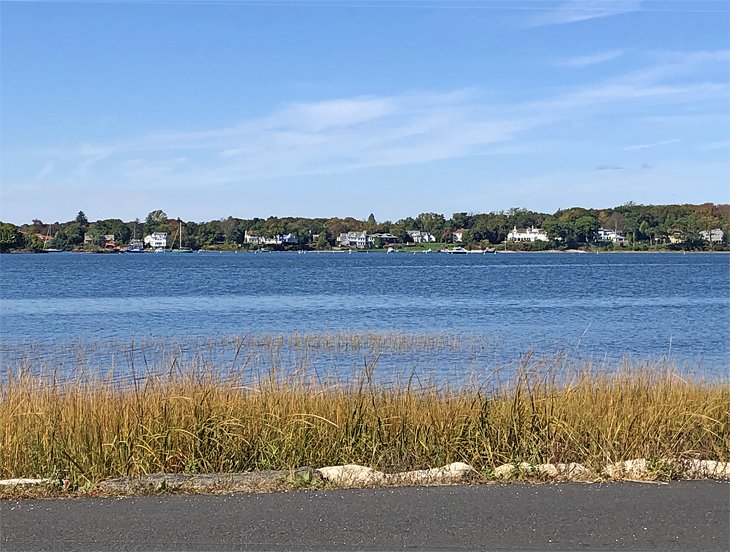 A beautiful 147-acre park set on the tip of a peninsula jutting into the Long Island Sound, this exclusive spot can be a bit tricky to visit. That's the main reason we haven't put it further up on our list. But more on that later.
Here's why the park is worth the hassle for outsiders to get in: A long, golden beach offers views of the Manhattan skyline and a soft place to relax by the sea. Walking trails abound, and concessions are on offer for those looking to cool off with a refreshment or grab a bite to eat. The park also offers showers, grills, a covered pavilion, and multiple picnic tables, making it easy to while away an entire day.
Still not convinced? Fishing, kitesurfing, and windsurfing are popular things to do, as is swimming in the calm, shallow water. Plus, Greenwich park boasts its own marina and a boat storage area for residents.
In pure Greenwich style, getting into the park has been made to feel exclusive, or perhaps elusive is a better word. Residents can apply for a permit online, as well as one for their guests, but out-of-towners will have a bit of a struggle to gain entry between May 1st and October 31st.
To get in, visitors require a beach pass (which, for the 2019 season, costs about $35 for your vehicle and an additional $7 for each person over 5). These can only be purchased during the week from one of the two civic centers in town. Without this pass, beachgoers will be turned away.
Although there's a gate with fees posted on the side, you can't buy a pass on site. Now for some good news: Entrance is free for all from November through March.
Address: Greenwich Point Park, Old Greenwich, Connecticut
Official site: https://www.greenwichct.gov/Facilities/Facility/Details/Greenwich-Point-Park-69
7. Greenwich Polo Park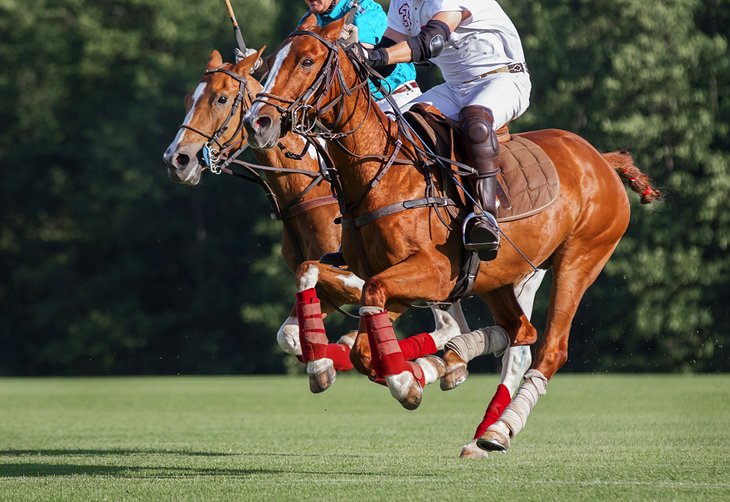 Ever wanted to see a polo game in person? You can, every Sunday from June through the end of August at Greenwich Polo Park. Being Greenwich, these matches don't take place on a boring farmer's field. The lawn is immaculately cut, and the surroundings are beautiful.
Greenwich Polo Park is considered one of the "elite high-polo venues in the world" and is home to the White Birch polo team, one of the most successful teams of all time.
Guests arrive for games dressed in their best, so expect to see men wearing tight, colorful shorts and ascots, and women donning heels and fascinators. You'll want to dress appropriately but aim for comfort. You could be here for a few hours.
As for food, the venue has a nice selection of food trucks, but many pack their own picnics.
Insider's tip: Arrive early and set up as close to the field as you can. That way, your view of the matches won't be blocked by other chairs or umbrellas.
Address: 1 Hurlingham Drive, Greenwich, Connecticut
Official site: https://www.greenwichpoloclub.com/
8. First Presbyterian Church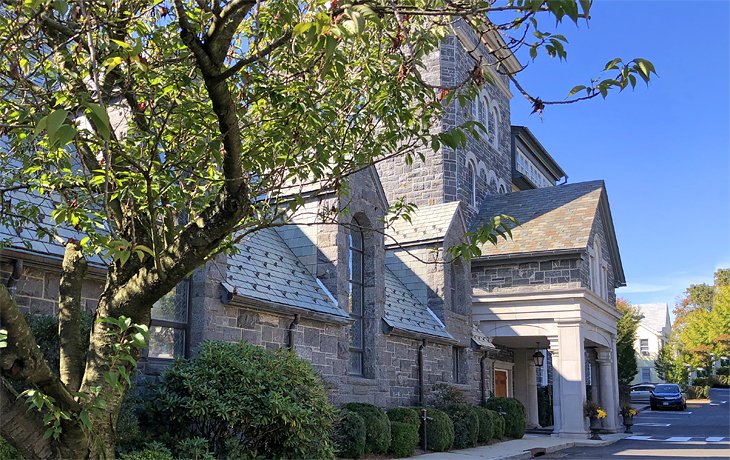 Perched on the corner of West Putnam Avenue and Lafayette Place, Greenwich's First Presbyterian Church is a lovely sight. Its slender, white steeple can be seen from busy Putnam and Greenwich Avenues, adding a slice of beauty to the town's main shopping district. You can't beat the view of this steeple during sunset, especially as it's seen from Greenwich Avenue.
The remarkable stonework of this picturesque 19th-century building stands proudly, arm in branch with an impressive array of large, mature trees. During spring, the cherry blossoms pop next to the grey stone, begging you to stop and take a photo.
Inside, the building is breathtaking. A high, vaulted ceiling and bright stained-glass windows are two of the church's best features. The resplendent organ lies behind the altar, playing music to soothe weary souls.
Address: 1 West Putnam Avenue, Greenwich, Connecticut
Official site: https://fpcg.org/
9. Babcock Preserve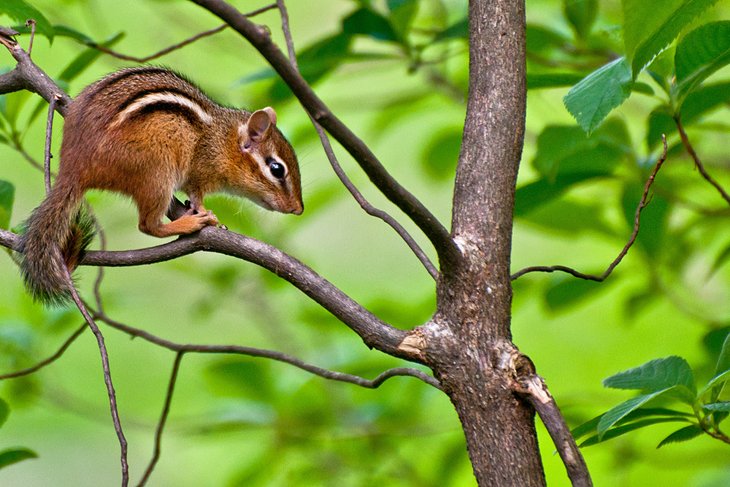 A natural wonderland hidden in Greenwich, the Babcock Preserve is a delightful place to spend an hour or two. With 300 acres and seven miles of trails to explore, this verdant preserve is the largest of the Greenwich parks and a perfect place for hikers.
Open from sunrise to sunset year-round, the trails in this large park are well marked, but it's still advisable to take a photo of the map before heading off into the forest.
You'll be rewarded for your exertion with phenomenal views, babbling brooks, mucky swamps, and a wide diversity of plants and animals. Look closely and you may see a deer or two.
Insider's tip: Babcock Preserve can be steep and rocky in parts, so wear appropriate footwear and beware if you struggle on difficult hikes.
Address: North Street, parking can be found about 0.5 miles north of the Merritt Parkway, Greenwich, Connecticut
10. The Flinn Gallery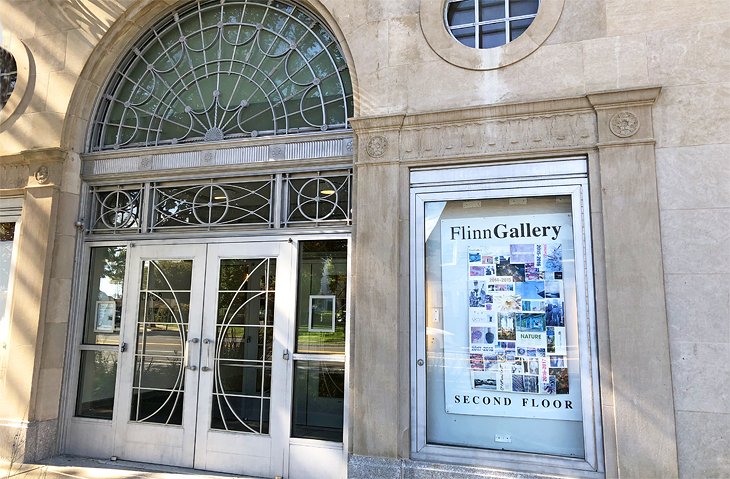 The vibrant Flinn Gallery recently got a facelift, and it's all the better for it. Reopening in late November, 2019, the small but impressive space can be a bit tough to find. It's located at the top of the Greenwich Library, with little signage out front. Head through the library doors and hop in the elevator or climb the stairs to find its quiet spot.
Inside, you'll find a multitude of works, including those featured in the frequently changing exhibitions. Each exhibit tends to last for about three months, so there's plenty of time to catch up on what you've missed. From landscape paintings and historical pieces gifted to the library to prints the library acquired between the 1950s and 1990s, there are plenty of interesting things to see. When you've finished, nip around the library for a wander around its newly updated space.
Address: Greenwich Library, 101 West Putnam Avenue, Greenwich, Connecticut
Official site: https://flinngallery.com/
11. Fill Your Belly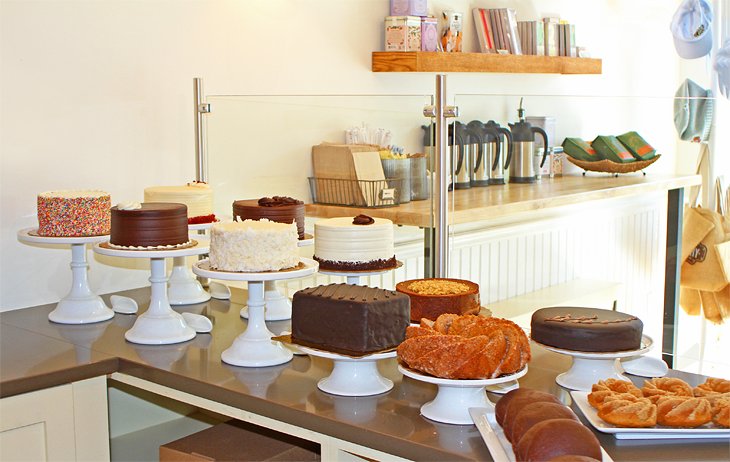 No trip to Greenwich would be complete without sampling the delicious food on offer. In addition to the upscale Thomas Hekelman (a French restaurant that offers vegan and gluten-free options) and L'Escale (another amazing French venue with impeccable views), you'll find mid-priced fare at the tasty, no-frills Thai Basil and the uber healthy and chic Granola Bar.
While you're scrounging for food, don't miss the small but amazing By the Way Bakery. Located on West Putnam Avenue (just near the top of Greenwich Avenue), this gluten-and dairy-free phenomenon offers the most delicious cakes, cookies, and muffins you'll ever eat. Seriously! You won't even realize they're gluten-free. Plus, they're all made lovingly the old-fashioned way, by hand in small batches. No wonder the treats taste so fresh!
Where to Stay in Greenwich for Sightseeing
A haven for commuters to New York City, Greenwich has surprisingly few hotels on offer. Remember, though, this is a relatively small town. As is to be expected, the accommodations are on the higher end, with no budget hotels in the immediate vicinity.
Luxury Hotels: The Delamar Greenwich Harbor

Hotel

is a luxury hotel brimming with charm. Situated directly on the water, this hotel offers a true respite from the everyday grind. With spectacular views of the Long Island Sound, a relaxing spa, the delicious L'Escale restaurant, and top-of-the-line service, you're in for a treat at this beautiful spot. Homestead Inn-Thomas

Henkelmann

is home to the award-winning French restaurant we mentioned earlier (Thomas Henkelmann). It also boasts a beautiful piece of perfectly manicured property situated on the Belle Haven Peninsula. The décor is elegant and lush, perfectly blending old-world charm with the best of new-world luxury.
Mid-Range Hotels: Designed with the business traveler in mind, The J House

Greenwich

boutique hotel boasts high-tech rooms to help get you connected quickly, a spa to unwind in, and a great restaurant featuring live music weekly from Thursday through Saturday. A lovely bed and breakfast, Stanton House

Inn

is as charming as it is comfortable. Decorated in a cozy country style, the rooms are bright and airy, and the breakfast is delish. There's even a swimming pool to enjoy during the warmer months.
More Related Articles on PlanetWare.com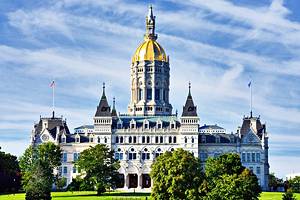 Explore Connecticut: While you're in the Nutmeg State, make time to check out these top-rated tourist attractions in Connecticut. And don't miss out on this state's best feature: Its small towns. These top-rated small towns in Connecticut are worth a look. One of our favorite spots is the seaside town of Mystic.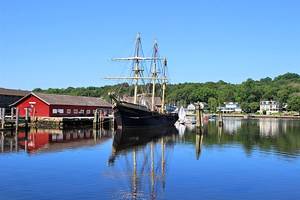 Make a Weekend Out of Your Connecticut Stay: Why head home when there's so much to see? These weekend getaways in Connecticut make it easier to decide where to spend a night or two away. Those who adore the shore, will love these beautiful beaches in Connecticut. And if you are looking for a little more action, city lovers will enjoy a stay in Hartford, Stamford, or New Haven.