11 Top-Rated Attractions & Things to Do in Queens, NY
We may earn a commission from affiliate links ()
New York City's largest and most diverse borough, Queens, doesn't get as much attention as neighboring Brooklyn, but its charms lie in the wonderful ethnic enclaves, entertaining museums, world-class sports venues, and more. Spreading 108 square miles east of Manhattan, Queens has 91 distinct neighborhoods and borders the western end of Long Island.
Established in 1683, the borough was named after the English queen Catherine of Braganza and initially included Long Island's Nassau County, which separated in 1898.
The borough gained worldwide attention for hosting the 1964 New York's World Fair; those visiting Flushing Meadows Corona Park can still see the Unisphere and Observation Towers of the New York State Pavilion that were built for the fair.
Visitors venturing out to Queens have many choices: Marvel at massive art at the Socrates Sculpture Park and learn about the history of film-making at the Museum of Moving Image in Astoria; indulge in Indian, Thai, Chinese, Nepalese, or Dominican food in some of the bustling melting pots, like Jackson Heights and Flushing; take in a baseball game at Citi Field; and end your stay with a beach day in the Rockaways.
The 7 subway line connects Manhattan's 34th Street-Hudson Yards in Chelsea and passes through a number of neighborhoods in the heart of Queens to Main Street in Flushing.
Queens is also home to New York City's two major airports: John F. Kennedy International Airport and LaGuardia Airport, with the latter in perpetual construction mode causing congestion for travelers trying to get to and from their flights. However, LaGuardia is the closest airport to Manhattan, with a driving time of around 20 minutes without traffic.
Here's your guide to exploring the many places to visit in Queens on a day trip or a multi-day outing during your visit to New York City. Plan the most exciting trip possible with our list of the top things to do in Queens.
Note: Some businesses may be temporarily closed due to recent global health and safety issues.
1. Museum of the Moving Image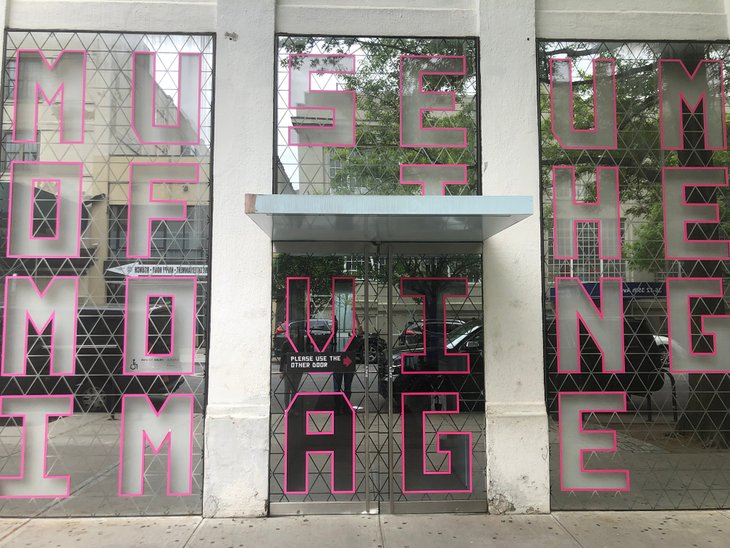 This high-tech space in the hip Astoria neighborhood is a must-visit for cinephiles and pop culture fans. It brings to life the history of movies and television through interactive exhibits. Get up close with costumes like Freddy Krueger's striped shirt and artifacts like the Yoda puppet. Try your skills with sound and film editing in private booths.
Spoil your inner child and come face-to-face with your favorite muppets in the permanent Jim Henson Exhibition. There's something for everyone at this all-ages educational experience. The museum wouldn't be complete without the gorgeous Sumner M. Redstone Theater, featuring exclusive screenings and conversations with celebrity guests - not to mention, it's arguably the cleanest movie theater in New York City.
Address: 36-01 35th Ave, Astoria, New York
Official site: http://www.movingimage.us/
2. Socrates Sculpture Park & Noguchi Museum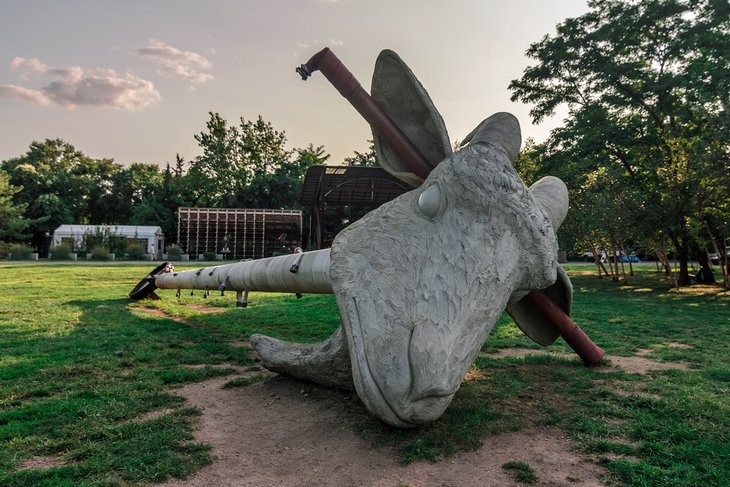 Socrates Sculpture Park in Astoria is a testament to the beauty of repurposing land. American sculptor Mark di Suvero created the sculpture Park on a five-acre abandoned landfill and transformed it into an outdoor museum.
The museum, overlooking the East River and the Manhattan skyline, has been showcasing large-scale works of art from famous artists since 1986. It remains the only one of its kind to exhibit art in an outdoor space in New York City. The sculptures are built on-site, and visitors can leisurely take them in for free.
A block away from the park is the Noguchi Museum, exhibiting a wide collection of Japanese-American artist Isamu Noguchi's work. The museum comes with its own outdoor sculpture garden.
Address: 32-01 Vernon Blvd, Long Island City, New York
Official site: https://socratessculpturepark.org/
3. Flushing Meadows Corona Park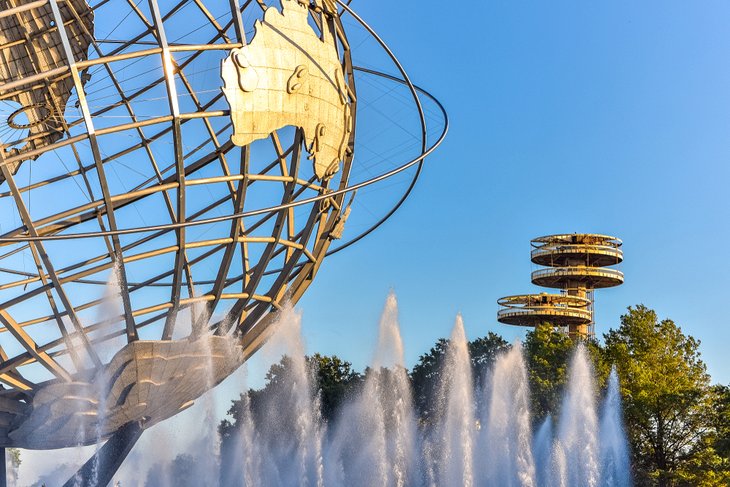 Flushing Meadows Corona Park took center stage during the 1964 World's Fair. The largest park in Queens features several top attractions and cultural institutions in the borough, including the Queens Botanical Garden, New York Hall of Science, Queens Museum, Queens Theater, and Citi Field.
Also here are large open spaces; a zoo; and recreational activities like boating, biking, and hiking. It also plays host to the U.S. Open Grand Slam tennis tournament at the USTA Billie Jean King National Tennis Center.
The park's main attraction - the iconic Unisphere - a 140-feet-high steel representation of our planet, popularized by the 1997 film, Men in Black, remains a central place for pictures, along with the Observation Towers of the New York State Pavilion, also built for the World's Fair.
4. Queens Botanical Garden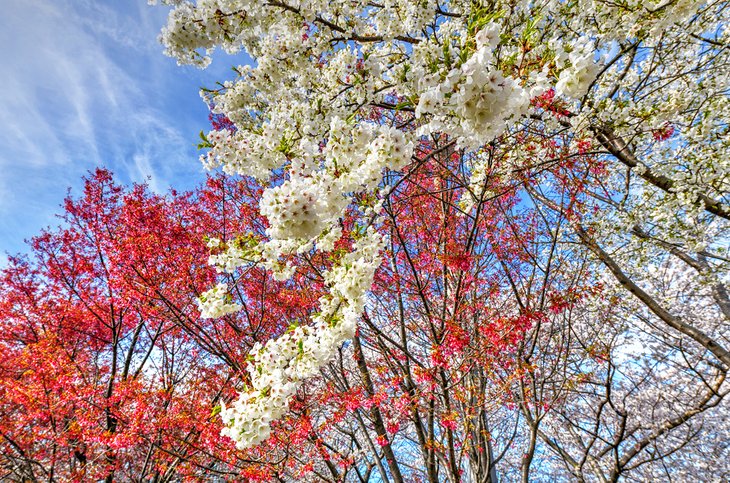 The 39-acre oasis in the middle of Queens presents visitors with 25 wonderful gardens to experience. The Queens Botanical Garden in Flushing first came into being during the 1939-1940 World's Fair as the "Gardens on Parade" exhibit and has expanded to now contain several gardens worth exploring on your outing to Queens.
Take a nice stroll in the warmer weather and admire the Oak Allee, annual and perennial beds, arboretum, herb garden, bee garden, and ornamental grass garden, among others. The essence of the flowers and shrubs in the Fragrance Garden provides a beautiful olfactory experience, for kids and adults alike.
The Wedding Garden, featuring a white picket fence and a lovely gazebo, makes for a nice background for engagement and wedding photos. The Garden is within a short distance of the USTA Billie Jean King National Tennis Center and other attractions in Flushing Meadows Corona Park.
Address: 43-50 Main Street, Flushing, New York
Official site: https://queensbotanical.org/
5. MoMA PS1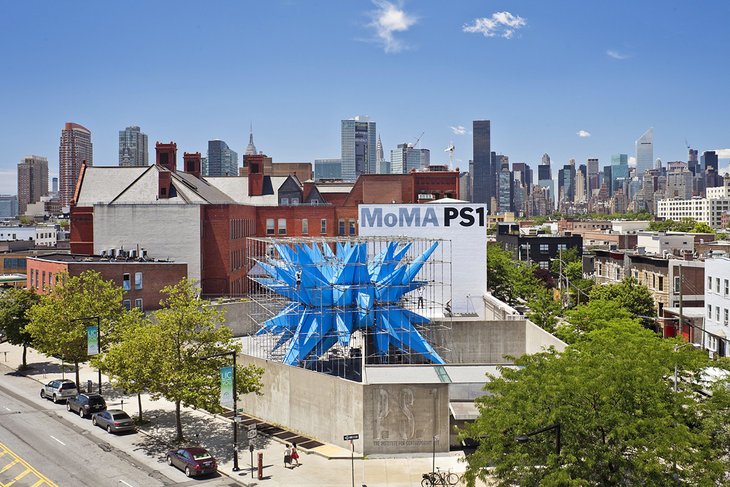 Founded in 1971, PS1's main purpose was to organize art shows. A few years later, a permanent gallery opened in Long Island City. Now, a collaboration with MoMa in 2001 established MoMA PS1 as a creative space fostering innovative contemporary art incorporating photography, technology, and performance.
If you are visiting on a Saturday in the summer, be ready to tap your feet to live music in the museum's courtyard during the Warm Up music series. In its 20-year run, the summer series had a lineup of top artists like Black Dice, Lizzo, and Cardi B perform.
Address: 22-25 Jackson Avenue, Queens, New York
Official site: https://www.moma.org/ps1
6. Queens Museum
Built for the 1964 World's Fair, the Queens Museum (formerly Queens Museum of Art) is housed in a sleek, modern building in the Flushing Meadows Corona park, and showcases exhibits related to architecture, art, and design. The permanent collection includes 10,000 items, with a majority of them related to the World's Fair.
Visitors will also get a chance to marvel at the Neustadt Collection of Tiffany glass windows, lamps, and objects that are on long-term display from Tiffany Studios, which was shuttered in the 30s.
Don't miss the museum's highlight, "Panorama of New York," a massive room-sized scale model of the five boroughs as seen during the 60s, with buildings that have never even been built.
Address: New York City Building, Corona, New York
Official site: https://queensmuseum.org/
7. New York Hall of Science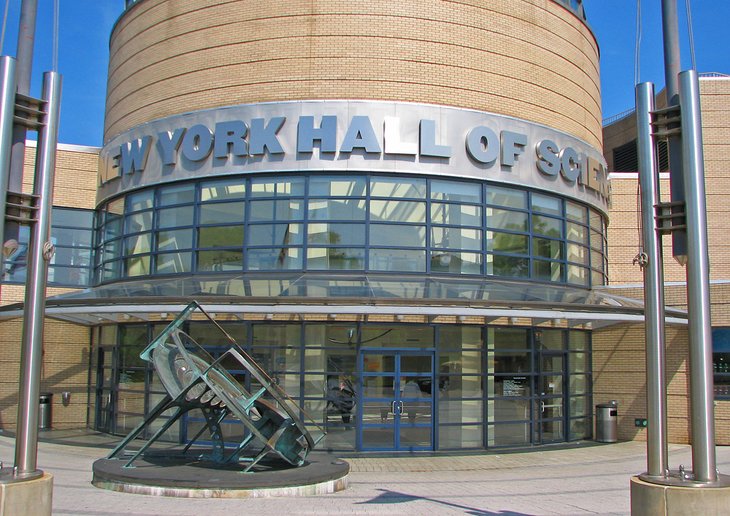 The New York Hall of Science (NYSCI), also built for the 1964 World's Fair, makes science accessible and fun for kids and adults. This family-friendly museum, located in the Flushing Meadows Corona Park, offers 450 interactive exhibits, workshops, and programs in 100,000 square feet of indoor space.
Make your own experiment at the Design Lab, learn about evolution on Earth through a series of exhibits, search for life in the solar system, or catch a nature or animal-centric 3D movie in the theater on-site.
Address: 47-01 111th Street, Corona, New York
Official site: https://nysci.org/
8. Citi Field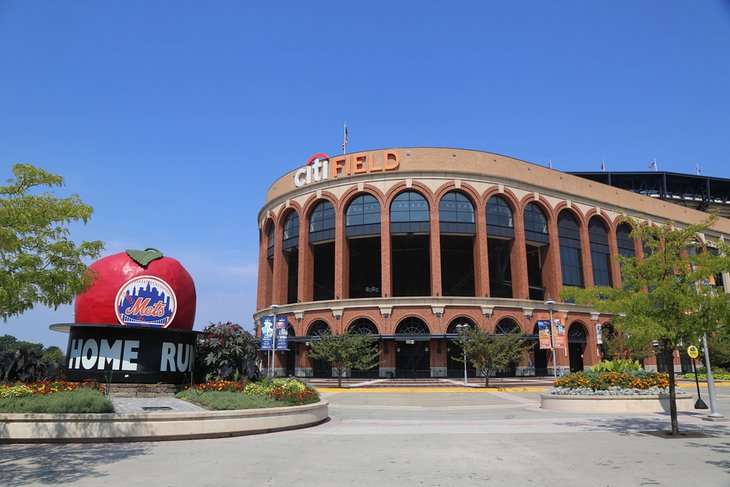 Located in the Flushing Meadows Corona Park, the iconic Citi Field baseball park is the home base for the New York Mets. The Mets are part of the National League division of the Major League Baseball and can be seen competing against the Philadelphia Phillies, Los Angeles Dodgers, Atlanta Braves, or Colorado Rockies. They occasionally play against their rival NYC team, the Yankees (who are in the American League) during the Subway Series.
The Bark At The Park events throughout the year attract sports fans and their pooches to the Coca-Cola Corner for a fun-filled day out at the ball game.
Those looking to learn about the history of the Mets can visit the Mets Hall of Fame & Museum, located next to the Jackie Robinson Rotunda, for highlight videos, interactive kiosks, and trophies from the 1969 and 1986 World Series wins. The museum remains open during game days. During non-game days, visitors can take a tour of the ballpark and have access to some of the restricted areas.
Official site: https://www.mlb.com/mets/ballpark
9. Gantry Plaza State Park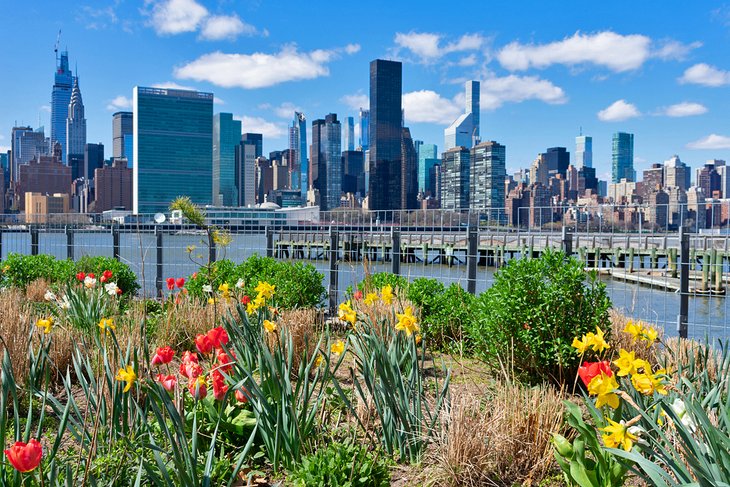 One of the best places to visit to watch the sun set among the skyscrapers of midtown Manhattan is the Gantry Plaza State Park, located across the East River in Long Island City. On a clear day, you'll have unfettered views of the United Nations and the Chrysler and the Empire State buildings from the 12-acre park.
Walk along the riverfront with your leashed dog, take a selfie in front of the landmark 1936 red neon Pepsi-Cola sign, or take in the beautiful gardens and mist fountain. The park boasts basketball and handball courts, playgrounds, and a fishing pier. It can be reached via the 7 train or the East River Ferry.
Address: 4-09 47th Road, New York, New York
Official site: https://parks.ny.gov/parks/gantryplaza/details.aspx
10. Alley Pond Park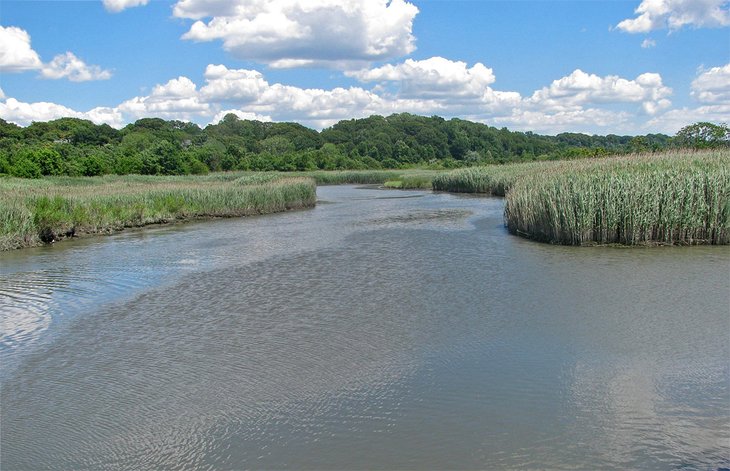 Alley Pond Park, the second largest park in Queens, is home to the oldest and tallest tree in the city. Nicknamed the Queens Giant, the 133.8-foot tulip poplar tree is estimated to be more than 300 or 450 years old, and was gifted to the Walloon Belgian Protestant families (who were among the first to settle Manhattan) from the Dutch West India Company in the 17th century. Don't miss a chance to see this flowering beauty on your visit to the park on an Urban Park Ranger Tour.
For adrenaline junkies and those looking for an exciting team building exercise, the high ropes adventure course promises to provide thrills. The park's many trails allow visitors a chance to experience New York the way it used to be, with meadows, forests, tidal flats, and wetlands. The park has BBQ areas, playgrounds, and courts and fields.
11. The Rockaways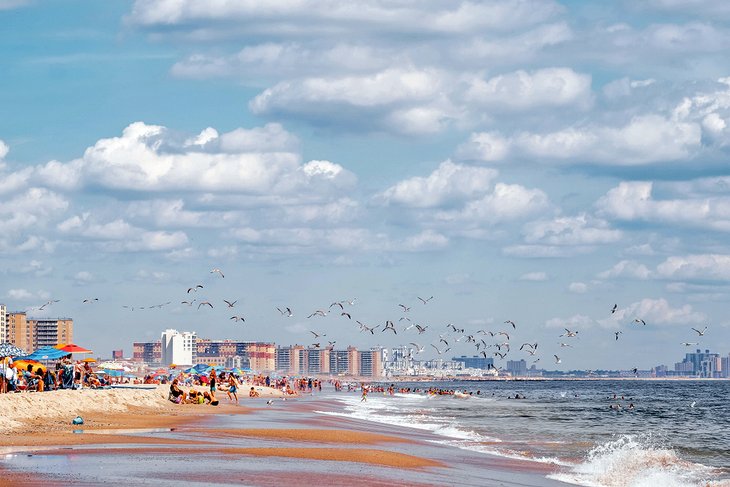 Home to two popular New York City beaches, the Rockaway Beach and Boardwalk and Jacob Riis Park Beach, the Rockaways in the Rockaway Peninsula, are made up of nine neighborhoods. Among them are Far Rockaway, Breezy Point, Belle Harbor, and others.
From Memorial Day to Labor Day, the beaches of these seaside towns come alive with sunbathers and surfers from near and far. The Rockaway Beach and Broadway, located in its namesake neighborhood, is the largest urban beach in the country; however, it sees far less crowds than Brooklyn's Coney Island.
During the height of summer, you can see sun worshippers enjoying this six-mile-long stretch of sand. The beach has playgrounds and surf schools. The Rockaway Beach Surf Club, located on the boardwalk, serves tacos from its popular food stand, Tacoway Beach, among other delicious foods.
A 10-minute ride from Rockaway Beach brings you to Jacob Riis Park for a less crowded beach-going experience. At this stretch, nicknamed the "People's Beach," you'll find a Bazaar, with some of the best and diverse food in the city, and several Art Deco structures. The Bazaar hosts live shows, sporting and film events, and fun games. The beach also has a golf center, ball courts, concession stands, and vendors.
Where to Stay in Queens, NY for Sightseeing
Luxury Hotels:
Boro

Hotel

is a trendy 4-star property in Long Island City and is walking distance from some of its top attractions, including the Fisher Landau Center. Choose from urban contemporary rooms and suites with comfy beds and stand-alone, deep soaking tubs. The hotel is pet-friendly if you're traveling with a dog. Other amenities include a coffee shop, restaurant, and a rooftop terrace.
If you are planning to stay for a few weeks – although you can also book for a single night – check out The Collective Paper

Factory

in Long Island City. The contemporary luxe property has an industrial chic vibe throughout and doubles as a co-living space. Rooms and suites are private, but there are a lot of communal spaces designed for connecting with like-minded digital nomads and travelers.
For a boutique upscale property, the Ravel Hotel Trademark

Collection

is a good choice. Rooms and suites have wide wood-planked floors and other wood-focused accents. There are city and river views from large windows, and some rooms have furnished balconies. Amenities include a fitness center, restaurant, and rooftop terrace.
Mid-Range Hotels:
Aloft Long Island City - Manhattan

View

is a top choice in this price range. The boutique hotel has loft-style rooms and suites that come with fabulous views of the Manhattan skyline located just across the East River from the hotel. The property is just a block from two subway stations offering easy access to the city. Amenities include a lobby with a pool table, a 24-hour grab-and-go café, and a fitness center.
For an extended stay option check out Home2 Suites by Hilton New York Long Island City/Manhattan

View

. This is a popular choice with travelers who have business in Manhattan but don't want to pay downtown city prices. The location in Long Island City, just across the East River, makes it easy to get into Manhattan quickly. The all-suite property features rooms with work desks, kitchenettes, and blackout kitchens. The hotel is pet friendly, and a free breakfast is served daily.
Hyatt Place Flushing/La Guardia

Airport

is a perfect choice if you have an early or late flight from La Guardia Airport. The hotel has free airport transportation. It is located atop a shopping center with numerous shops and restaurants. Amenities include a rooftop garden and a restaurant with fabulous views of the Manhattan skyline.
Budget Hotels:
Travelers looking for budget accommodation have a number of options in Queens. Try the Quality Inn Long Island City -

Astoria

. Rooms are tidy and comfortable. There is a 24-hour front desk and a complimentary breakfast.
The Feather Factor

Hotel

is another budget-friendly option. Rooms have desks and small sitting areas. There is also free breakfast and a convenience store on-site. If you're traveling with kids, the hotel is family friendly.
More Related Articles on PlanetWare.com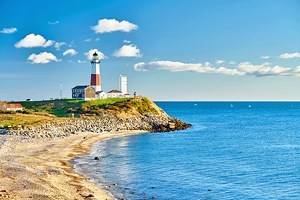 Exploring Long Island: While you are venturing east to Queens, head farther out to see Long Island and its many attractions, from Gold Coast mansions to world-class beaches. Long Island Rail Road (LIRR) trains connecting from Woodside or Jamaica (two major hubs) can bring you to various points on the island, as well as take you to the Hamptons.