14 Best National & State Parks in New York
We may earn a commission from affiliate links ()
Welcome to New York. If you're looking for big cities with buzz, you'll find them here (yes, we're looking at you, New York City). But if you're hoping to find something a bit more soothing and serene, something filled with craggy gorges, towering mountains, sparkling lakes, and thundering waterfalls, you'll be more than happy you came.
The Empire State is packed with serene landscapes so gorgeous, they'll make your camera quiver with excitement. Luckily, the need to preserve these areas of natural beauty was recognized early on. The government created excellent national and state parks to protect not only the environment, but also the historic structures peppered throughout the region.
From viewing Harriet Tubman's home to getting splashed by the phenomenal Niagara Falls to drinking from the healing waters of Saratoga Springs, there are so many amazing things to do in New York's national and state parks. Choose which adventure to try first with our list of the best national and state parks in New York.
Note: Some businesses may be temporarily closed due to recent global health and safety issues.
1. Letchworth State Park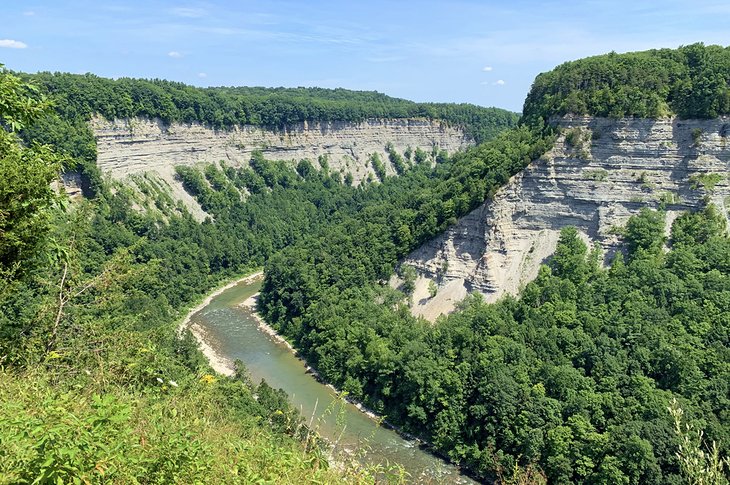 Talk about a gorgeous getaway. No matter how long you plan to visit, a trip to Letchworth State Park will soothe your soul. Known as the Grand Canyon of the East, this scenic wonder spot is filled with natural beauties that will leave your camera quivering with excitement.
Home to awe-inspiring cliffs (some of which reach over 600 feet) and some of the best waterfalls in New York, this captivating site will be hard to tear your eyes away from. The three main falls, known as the Upper, Middle, and Lower Falls, crash through a massive forest- and cliff-lined gorge from the Genesee River.
You'll likely hear these falls before you see them, especially the most impressive, larger Middle Falls. Insider's tip: visit during the early spring to see the falls at their best. They should be rushing and thundering like mad due to the snowmelt. There are plenty of places to get a close-up view, but the best overall falls vista can be seen from Inspiration Point.
Hike along part of the 66 miles of trails, take a cooling dip in the pool, head out white-water rafting, kayak, or hop in a hot air balloon. The options to enjoy this majestic gem are endless. Visiting during the winter? Don't worry, there's plenty to do during the colder months as well. From cross-country skiing to snowmobiling to skating to snow tubing, you'll never get bored.
Entry is $10 per car, and the park, which is over 14,000 acres, is massive (the falls are a 14-mile drive from the Mount Morris entrance). Plan to spend an entire day to reap all the benefits of this beauty. Also, bring a bag for your garbage, as there are no trash cans on site. They have a "carry-in, carry-out" policy.
2. Niagara Falls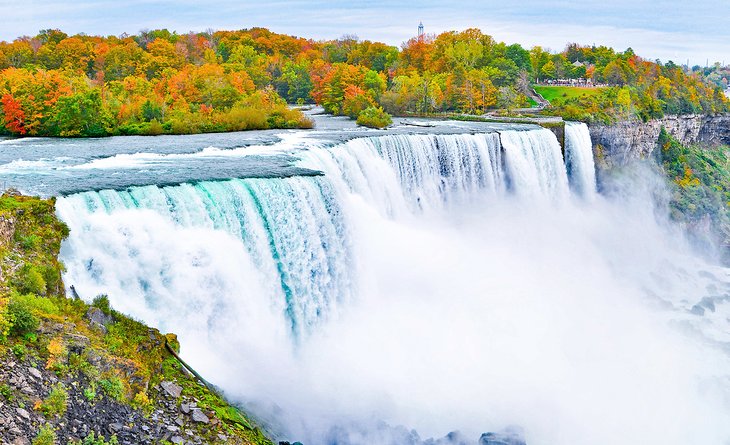 In 2008, the area stretching from Wheatfield to the mouth of the Niagara River was designated the Niagara Falls National Heritage Area. Within these boundaries, you'll find the iconic falls, deemed one of the Seven Natural Wonders of North America, as well as the charming towns of Youngstown and Lewiston.
Niagara Falls State Park boasts popular attractions like the Niagara Gorge Discovery Center, Aquarium of Niagara, and Cave of the Winds. The Hurricane Deck at the latter allows visitors to experience the power of the falls from close enough that they'll feel the vibrations through their core and get a little wet in the process. The landscape architect responsible for creating the 400 acres that make up this park is the same who designed New York City's Central Park.
Insider's tip: Hitch a ride on the Discover Niagara Shuttle. It transports visitors past 15 of the most popular historic destinations, from Niagara Falls to Old Fort Niagara. The best part? It's free.
Accommodation: Where to Stay in Niagara Falls
3. Robert H. Treman State Park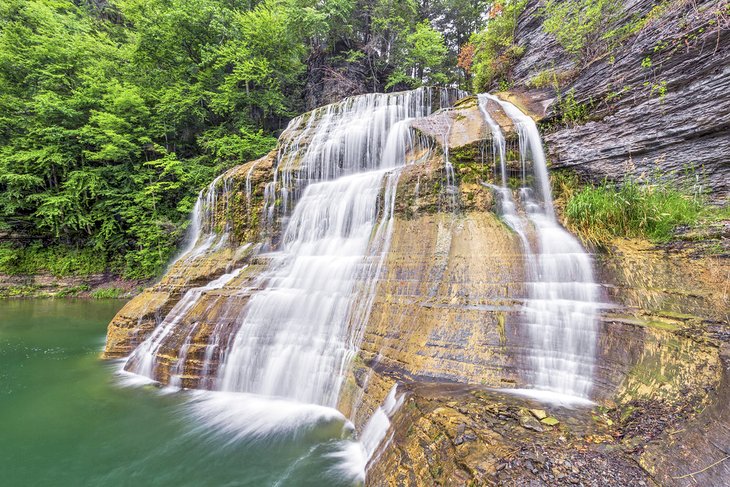 Deep in the heart of the Finger Lakes region lies the outstanding Robert H. Treman State Park. Home to the scenic Enfield Glen, the park also boasts 12 impressive waterfalls within its more than 1,000 acres. No wonder it's so beloved by residents of nearby Ithaca.
The Lower Falls (a.k.a. Enfield Falls) is a hot spot for summer fun. It's easy to spend hours jumping off the diving board into the cool pool below the falls. Don't worry, there's a lifeguard on site during peak summer hours.
When you're not practicing your swan dive, tighten your laces and hike along one of the park's six trails. They wind through the craggy walls of the gorge, around other hypnotizing waterfalls, and into dense woods. The easy Lower Rim Trail offers an unbeatable view of Lower Falls from above.
Insider's tip: Don't miss the park's second most fabulous cascade: the 115-foot-tall Lucifer Falls.
4. Hudson River Valley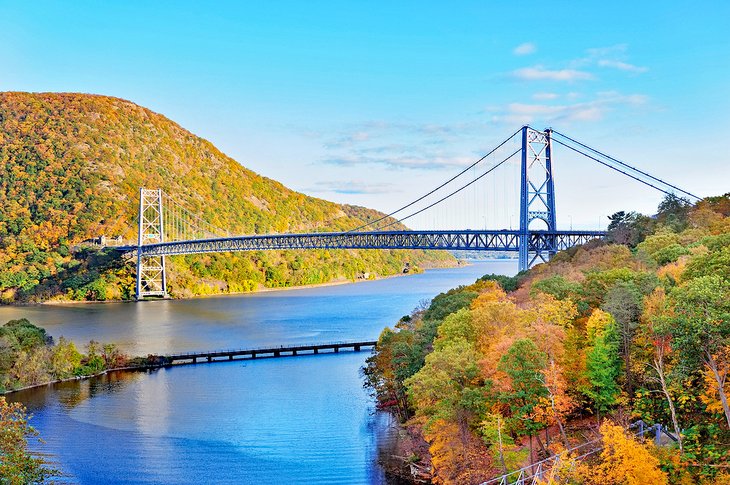 Technically another National Heritage Area, not a park, this breathtakingly gorgeous region stretches 150 miles along the famed Hudson River from Albany (in the north) to New York City.
In addition to unbeatable vistas (we're talking about the hike- and climb-worthy Catskills and Shawangunk mountains and sparkling lakes), the region is rich in history. It's the perfect place to enjoy a city break.
The 300-mile-long river served as an essential corridor, aiding colonies during the 17th and 18th centuries. It also played an important role during the American War of Independence.
Today, you'll find remnants of the area's historic significance in the form of preserved Victorian mansions once owned by New York's elite (we're talking Roosevelts, Vanderbilts, and Rockefellers), and museums like the Franklin D. Roosevelt Presidential Library and Museum. You'll also find delectable farm-to-table restaurants, farmers markets, and vibrant cultural scenes among the area's 10 counties.
America's first art school, the Hudson River School was formed here. With such stunning backdrops, it's easy to see where the talented painters got their inspiration.
5. Rockefeller State Park Preserve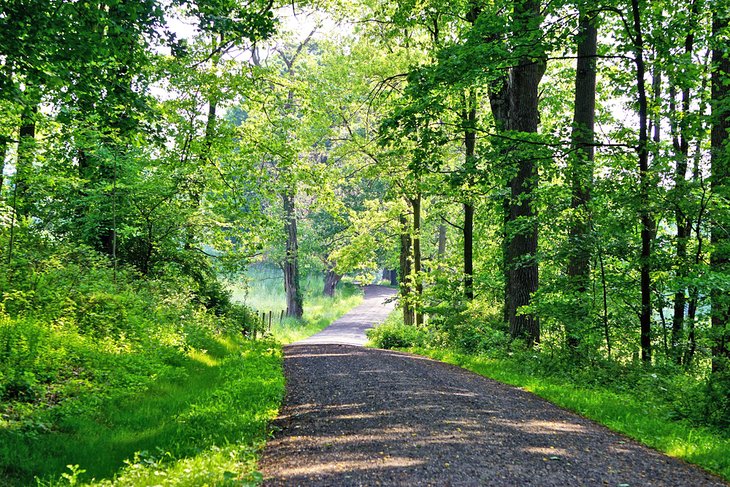 Visitors to Westchester County's Rockefeller State Park Preserve are greeted by 40 miles of trails running through over 1,770 acres of idyllic countryside. Donated by the Rockefeller family in 1983, the trails consist of crushed stone that was laid out by John D. Rockefeller Sr. and Jr. during the early 1900s.
Whether you choose to walk, bike, jog, or ride a horse, you'll be graced with a sweet caress of lovely views. Swan Lake and the Pocantico River sparkle in every season, and the adorable bridges present perfect photo opportunities. They can be found on the 13 Bridges Loop Trail.
Insider's tip: Pack your binoculars, as the preserve is home to more than 200 bird species.
Fittingly located in Pleasantville, a visit to this pretty pastoral park is well, pleasant. You'll be lulled by the calming sound of birdsong, refreshed by a dip in the lake (or river), and energized by a snowshoe through the forest during the winter months.
6. Gantry Plaza State Park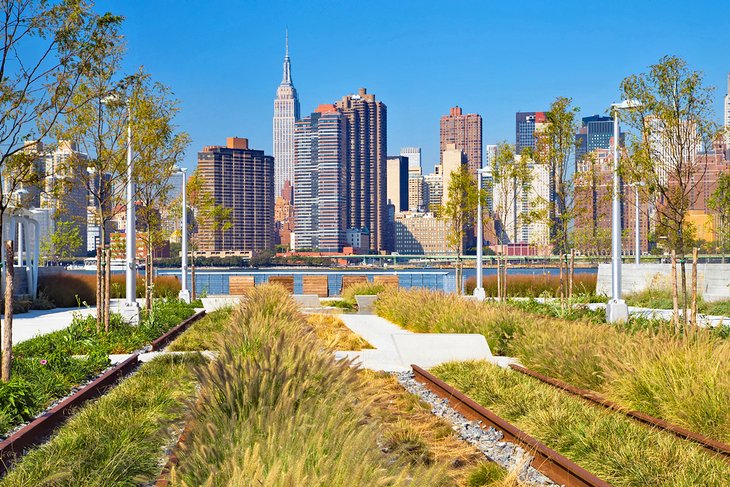 One of the smallest state and national parks on this list, Gantry Plaza State Park is located in Long Island City in the New York suburb, Queens. A more urban park than you may have expected, this fun venue offers incredible views of the mid-town New York City skyline. You won't even need to squint to see the Empire State Building or the United Nations.
You won't find massive waterfalls or a forested trail to hike here. Strolling along the East River, inhaling the sweet scent of the park's gardens, bopping along to outdoor concerts, and fishing off the pier, however, will help you forget that you're in a metropolis — at least for a little while.
Insider's tip: Look out for the two huge gantries (an apparatus that helped to load and unload cargo ships in the early 1900s) set at the water's edge. These inspired the name of the park and hold the famous Long Island sign.
7. Minnewaska State Park Preserve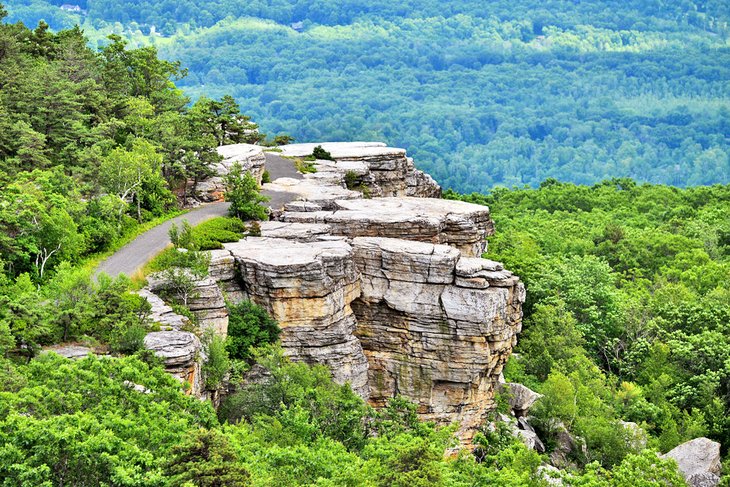 A spectacular highlight nestled in Ulster County, Minnewaska State Park Preserve is one of the best places to hike in New York. Winding trails lead visitors past tumbling waterfalls, clear lakes, verdant hardwood forests, and dramatic cliffs in this Hudson River Valley gem. It's hard to believe so much beauty can lie in one place.
Set in the Shawangunk Mountain Range, expect to gain spectacular vistas from atop the craggy cliffs. If you're up for adventure (and have experience rock climbing), pack some climbing gear.
With over 50 miles of trails to choose from, you can walk, hike, bike, or run your way through a spectacular array of terrain.
Insider's tip: The Samuel Pryor Shawangunk Gateway Campground lies just five minutes outside the park's entrance for those who'd like to spend even more time exploring this utopia.
8. Buttermilk Falls State Park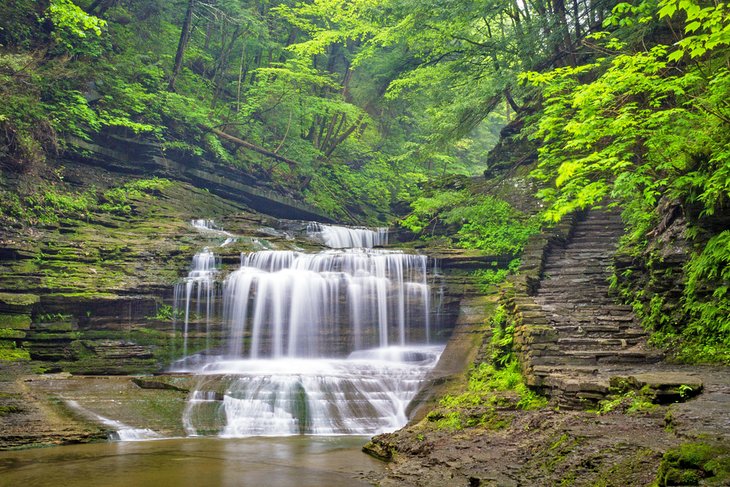 If you're a fan of waterfalls (and who isn't, really?) head to Buttermilk Falls State Park. It's named after the impressive waterfall that flows from bubbling Buttermilk Creek through the deep valley within the park's borders. A true natural beauty, this park is home to a multitude of unmissable sites.
First off, there's Buttermilk Falls. One of the best waterfalls in New York, this 165-foot spectacle is so pretty, you won't be able to stop yourself from photographing it. Next up is Larch Meadows, your best bet for wildlife encounters. A wetland graced by a winding nature trail, this peaceful spot is incredibly soothing.
The upper part of the park boasts a lake, trails that carve their way through forest, gorge, and rock rims, as well as picnic areas and playing fields. The lower section is where you'll find camping, as well as more playing fields and a natural pool. A 10-minute drive from Ithaca, this is a great day trip destination.
9. Bear Mountain State Park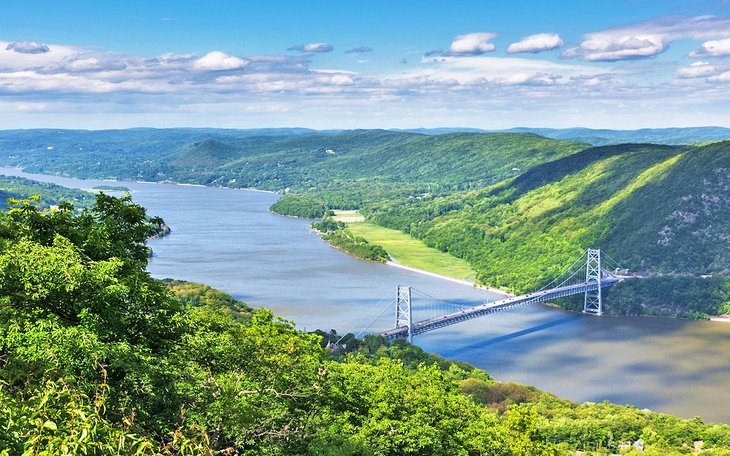 If you're looking for an unbeatable, stunning vista, you'll find it at Bear Mountain State Park. Sitting in the rugged mountains high above the Hudson River, this breathtaking park is more than worthy of a visit.
Bring the kids along to enjoy a picnic, bike ride, or hike through the Hudson Highlands. They'll love you forever for taking them to the park's Merry-Go-Round and Trailside Museums & Zoo. Then escape the summer's heat with a jump in the park's swimming pool. During the winter, try cross-country skiing through the trails, or twirl around the skating rink.
The best thing to do in Bear Mountain State Park is drive to the top of Bear Mountain. It's here that you'll find the Perkins Memorial Tower and the most incredible panoramic view of the Hudson River, Hudson Highlands, and Harriman State Park.
10. Saratoga Spa State Park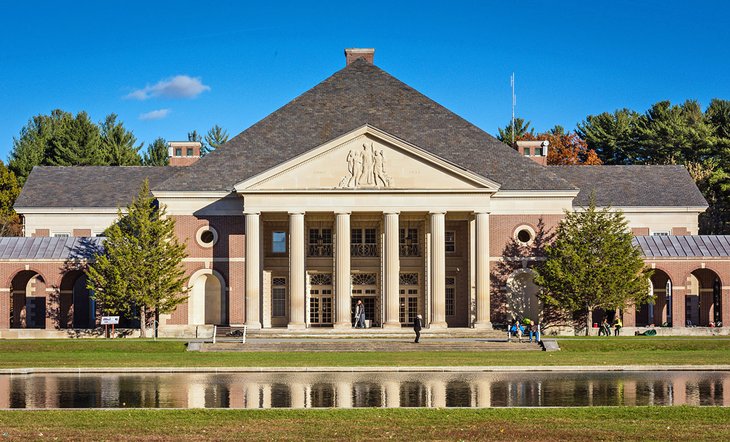 There are so many reasons to love Saratoga Spa State Park. Among the most interesting is the fact that drinking the water here is thought to heal what ails you. Believed by the Mohawk and Iroquois tribes to have healing powers, the water from the mineral springs was thought to cure everything from diabetes to heartburn. Despite there being no proof of this, many people rushed the area to bottle its water, sparking the state's creation of Saratoga Spa State Park in an effort to preserve the springs.
Today, the park attracts visitors hoping to do much more than sample its H2O. Miles of trails lead explorers on adventures through the verdant grounds, while two swimming pools entice smaller travelers to cannonball into the crisp water. Another bonus: two on-site golf courses.
On a more cultural note, the park boasts classical buildings and the Saratoga Performing Arts Center, as well as the National Museum of Dance, Spa Little Theater, and of course, the Roosevelt Baths and Spa.
11. Allegany State Park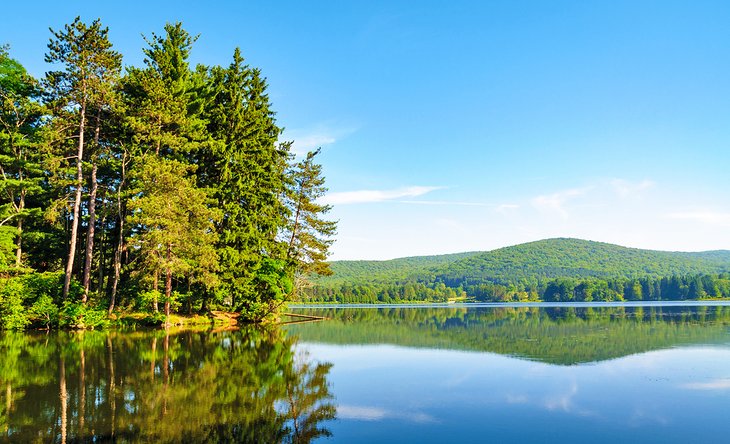 All the action at Allegany State Park revolves around the Red House Area. A picturesque Tudor-style building (a.k.a. the Administration Building) is home to a natural history museum, as well as a gift shop. Five miles of trails snake their way around the lake, offering bikers and hikers a respite from the sun's rays, and a more intimate view of the area's dense forest.
Thunder Rocks, a "city" made of bedrock, is especially impressive and not to be missed. Wandering through here is akin to walking into a fairy tale. Kids will love scrambling up the rocks and climbing to the top for a better view.
Visitors can camp, rent bikes and boats, play tennis, swim at the sandy beach, or fish. During the winter, cross-country skiing and snowshoeing are big hits.
12. Saratoga National Historical Park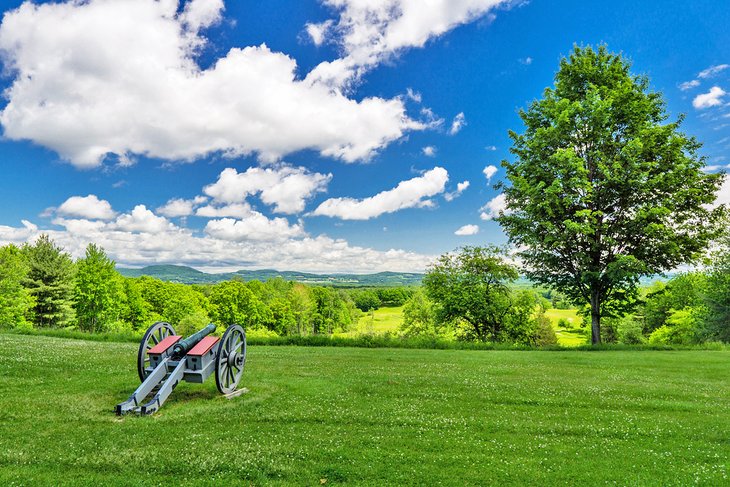 Four main parts make up Saratoga National Historical Park. The largest is the Saratoga Battlefield, the site where American forces defeated the British in the Battle of Saratoga during the American Revolution.
The restored Schuyler House is a charming reminder of the area's storied past. It was once lived in by Revolutionary War hero Major General Philip Schuyler, and visitors can learn more about the important impact he had on the course of American history.
The Saratoga Monument is impossible to miss. Standing 155 feet in height, this imposing stone obelisk was built in 1883 to commemorate British General John Burgoyne's surrender to General Horatio Gates on October 17, 1777. For an unsurpassable view of the Hudson River Valley, climb the steps to the top.
Victory Woods is comprised of a self-guided trail through 22 acres. It's set in the final camp used by the British Army prior to General Burgoyne's surrender.
Insider's tip: Park at the Saratoga Monument for easy access to the trail.
13. Point au Roche State Park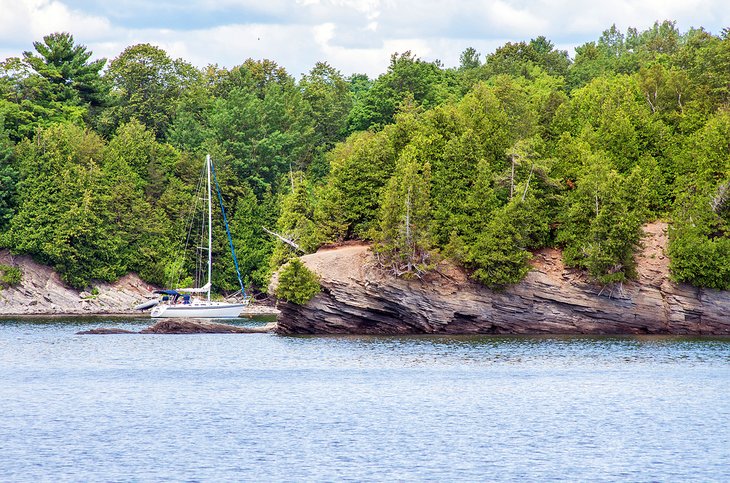 Set on the northwestern shore of Lake Champlain, this attractive, 856-acre park is situated super close to the Canadian border. Located in Clinton County, Point au Roche State Park is a great family-friendly destination in New York state. It features a soft, sandy beach where visitors spend their summer days lounging, playing volleyball, SUPing, or swimming in the sparkling lake.
During the winter, ice fishing, skating, and cross-country skiing top the list of popular activities.
Speaking of the lake, many visitors prefer to spend their days fishing in or boating upon it. The park makes this easy with the 60 mooring sites located in Deep Bay.
Need a break from the water? With various trails to choose from, it's easy to hike or bike off through the forest to explore the area's wildlife in a variety of environments. Or head to the Nature Center to learn all there is to know about the region.
14. Harriet Tubman National Historical Park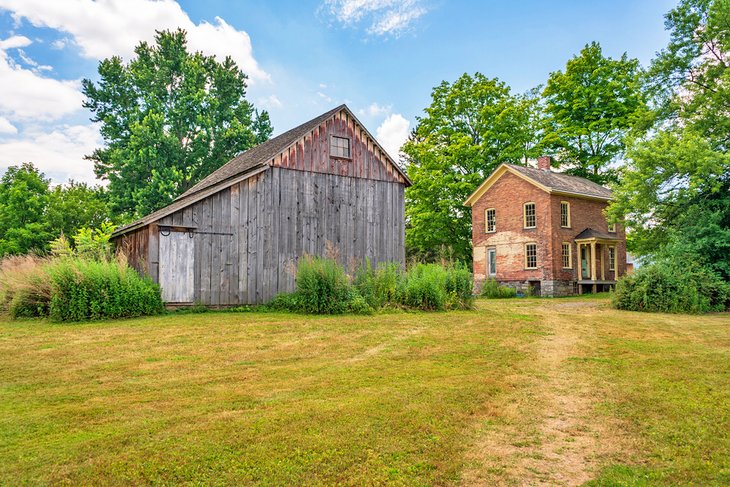 Harriet Tubman National Historical Park is a fairly new national park located in Auburn. As such, sections of it may be under renovation, depending on when you visit.
This important landmark preserves and recounts the history of Harriet Tubman, an incredibly brave woman who freed herself from slavery and then became a conductor on the Underground Railroad, emancipating many other slaves throughout her life.
The park is home to three main buildings: the Tubman Home for the Aged (access is by tour only), which Tubman founded in 1896; Harriet Tubman's house (at the moment this can only be viewed from the outside); and the Thompson Memorial African Methodist Episcopal Zion Church, which was built due to her fundraising abilities.
More Related Articles on PlanetWare.com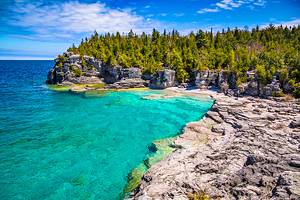 More National Parks to Explore Whether you're hoping to learn more about American history, scale a mountain, or swim at the bottom of a waterfall, you'll find plenty to keep you busy at these awesome national parks in the USA. Looking to head a bit further afield? Why not cross America's northern border and check out these spectacular and breathtakingly gorgeous national parks in Canada?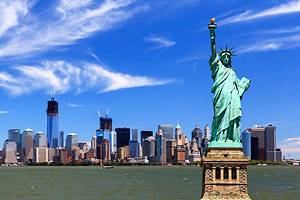 More Things to Do in New York The Empire State is packed with things to do. Hoping to shop 'til you drop? Spend a weekend in New York City. Want to laze away a day on the beach? Head to one of these incredible strands — they're the best beaches near Manhattan. Hoping to whoosh down a mountain? Check out these best ski resorts in New York.