12 Best National Parks in Canada
We may earn a commission from affiliate links ()
With over 328,000 square kilometers of protected natural land, Canada is lucky to benefit from a world-class national park system. In fact, Canada was the first country in the world to establish a national park service — so it's safe to say that it knows a thing or two about amazing parks.
Truth be told, each and every one of Canada's national parks deserves a spot on this list. That's the thing with Canada: it's a big country with a huge variety of landscapes, each with its own unique geological features, outdoor activities, and epic photo ops.
It wasn't easy whittling this list down to just a dozen parks, but rest assured that each of the featured parks rightfully earned its spot by offering something that's particularly spectacular. From the tallest mountain in the country to the shores of a Great Lake to an old-growth forest by the ocean, these national parks feature some of the most unique attractions in a country that is rich with natural beauty.
In other words, you should really, really make a point of visiting at least a few of these amazing Canadian landmarks. Discover the top options with our list of the best national parks in Canada.
Note: Some businesses may be temporarily closed due to recent global health and safety issues.
1. Banff National Park, Alberta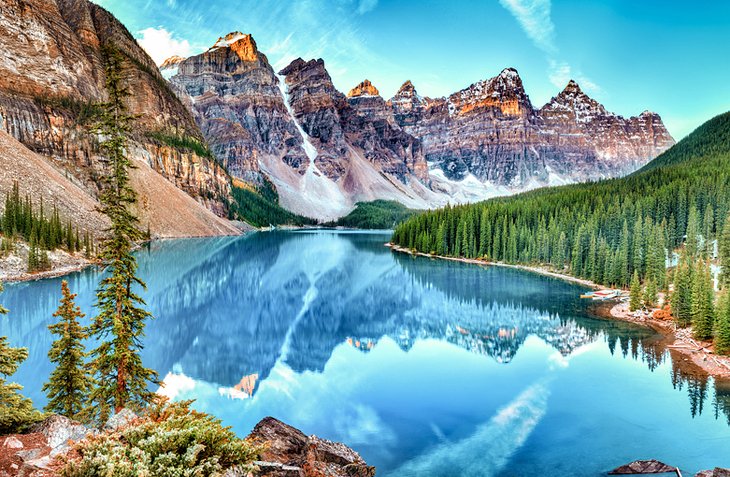 Fun fact: Canada's most popular national park was also the very first national park in the country. Banff is an iconic national park that is on almost every world traveler's bucket list — and for a good reason.
In the heart of the Rockies, the park's rugged mountains are undoubtedly the main attraction. There are plenty of ways to explore them, from a guided tour on horseback to a summer hiking trip (there are over 1,600 kilometers of trails!) to skiing, snowboarding, and other winter activities.
The bluer-than-blue waters of Lake Louise and Moraine Lake also tend to draw the attention of park visitors. Head to either lake early if you're hoping to snap a pic with no one else in the frame — but resist the urge to take a dip, as these glacier-fed lakes are freezing cold! If you really want to take a swim, check out the Banff Upper Hot Springs instead, also located in the park.
Interested in camping? There are plenty of options for that, from rugged campsites in the backcountry to fully serviced campgrounds close to the town of Banff, offering easy access to restaurants, shops, and even spas (did somebody say glamping?)
There are plenty of opportunities for wildlife sightings throughout the park, including bears (black and grizzly), elk, wolves, and foxes. Keep your eyes open — and if you are lucky enough to spot an animal, be sure to give it plenty of space by observing from a distance.
Accommodation: Where to Stay in Banff
2. Cape Breton Highlands National Park, Nova Scotia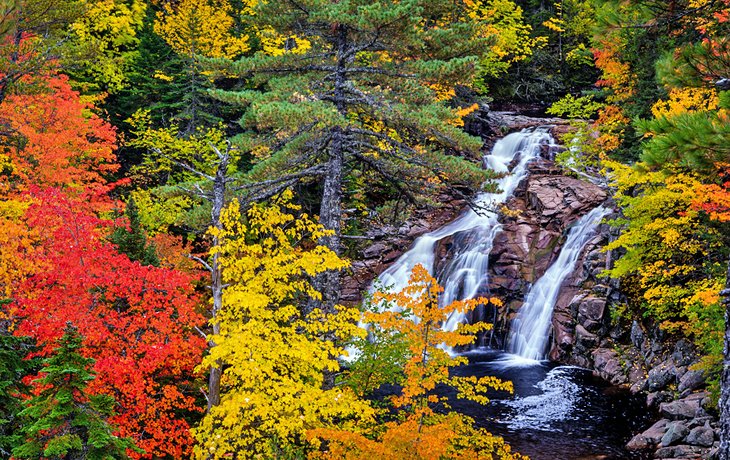 Surrounded by the sparkling waters of the Atlantic Ocean, Nova Scotia's Cape Breton Highlands National Park features some of the most beautiful landscapes you'll find in the entire country. The world-famous Cabot Trail winds through the park, so you can experience the rolling vistas without ever leaving your car.
Of course, you'll want to pull over every so often to walk a few of the park's 26 hiking trails, which range from short and easy boardwalk loops to more challenging hikes up to 12 kilometers long.
Be sure to put the Skyline trail at the top of your must-hike list: this trail is on the longer side (8.2 kilometers for the full loop) but is relatively easy, leading you out to viewpoints over some extremely daunting — but beautiful — cliffs overlooking the sea. It's also a popular hike for moose-spotting, although you have a chance of spotting moose just about anywhere in the park.
Accommodation: Where to Stay near Cape Breton Highlands National Park
3. Pacific Rim National Park Reserve, British Columbia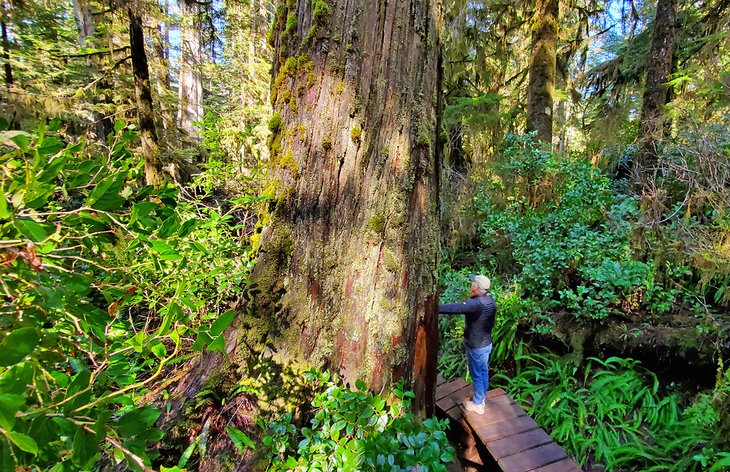 Near the resort town of Tofino, on the rugged west coast of Vancouver Island lies Pacific Rim National Park Reserve, stretching along the shores of the Pacific Ocean. If you want to be awed — and perhaps a little humbled — by Mother Nature, this is a national park you won't want to miss.
The weather in Pacific Rim National Park can be summed up in one word: wet. It rains a lot, but this helps keep the old-growth forests green and rich. Summers are beautiful, but each winter brings wild storms, causing huge waves that draw experienced surfers willing to brave the cold (even in the summer months, dry suits are needed to withstand the cold ocean water).
The park is home to some lovely hiking trails. One of the most legendary multi-day hikes in Canada is located in Pacific Rim National Park Reserve: the 75-kilometer West Coast Trail, a backcountry trek that winds through footpaths originally established by the First Nations peoples that was later used by survivors of shipwrecks attempting to navigate their way back to safety. Reservations are needed if you want to give this challenging — but highly rewarding — hike a go.
Accommodation: Top Resorts near Tofino
4. Gros Morne National Park, Newfoundland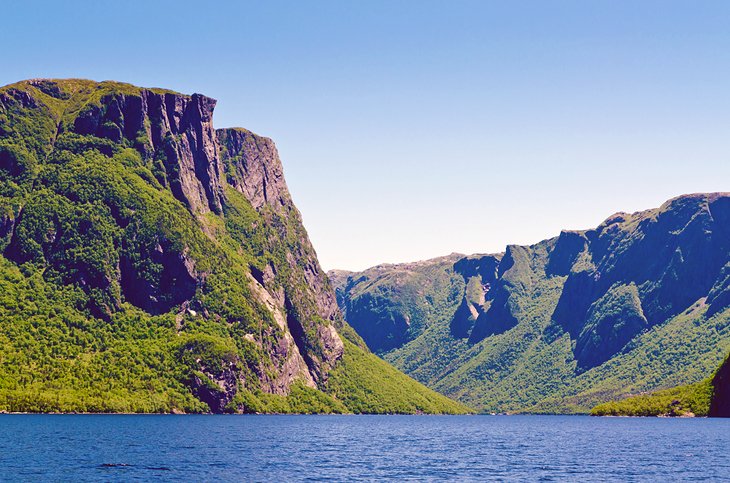 A UNESCO World Heritage Site, Gros Morne National Park features 1,805 square kilometers of incredible scenery on the west coast of Newfoundland. One of the most recognizable vistas from the park is the Western Brook Pond Fjord, which you can access either by hiking a multi-day trek or by catching a boat ride and taking a shorter three- to four-hour hike up to the famous lookout spot.
There's lots more to explore in Gros Morne; for instance, thanks to the park's unique geology, the Tablelands offer the rare opportunity to hike right along the Earth's mantle (you know, that layer typically found way below the Earth's crust). There are also hikes that will take you down the water's edge or up to the highest point in the park on Gros Morne Mountain. Grab a park map or head to the park's information center to strategize on how to fit in as many hikes as you can.
5. Fundy National Park, New Brunswick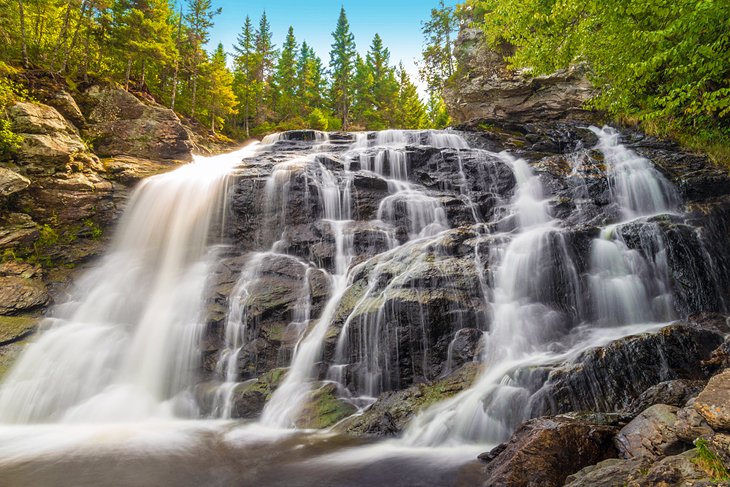 There's something seriously cool about exploring the muddy ocean floor, only to step back and watch the water levels rise 12 meters in a matter of hours. That's the kind of magic you can experience in New Brunswick's Fundy National Park, home to the world's highest tides.
Moving inland, there's a wide network of hiking trails to explore in the park, many of which feature spectacular waterfalls. Most of these trails can be hiked in a day (or even in just a few hours), or you could link them up to try the Fundy Circuit — a 48-kilometer-long journey that connects seven different hiking trails, with a few different options for backcountry camping along the route. Happy trails, indeed!
6. Waterton Lakes National Park, Alberta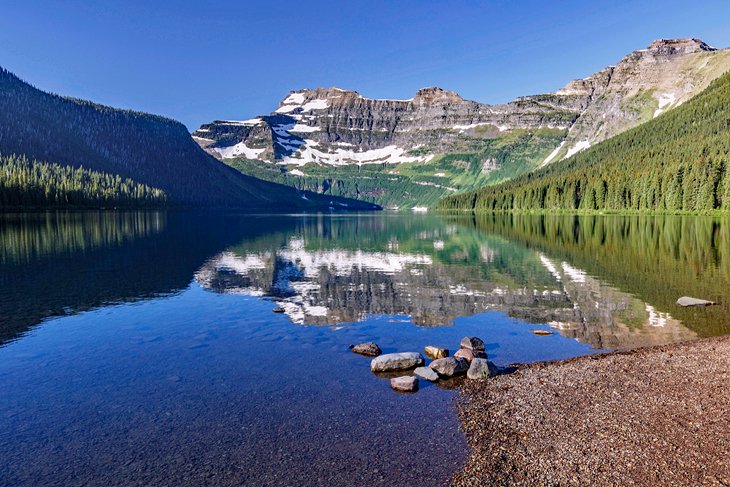 Not all of Alberta's national parks focus solely on the Rockies — just look at Waterton Lakes National Park, nestled in the south end of the province and featuring the beautiful prairielands (of course, the Rocky Mountains looming in the background certainly paints a nice picture).
As the park's name suggests, there are plenty of lakes in Waterton Lakes National Park begging to be enjoyed, whether on a canoe, kayak, or paddleboard. If you're feeling brave, you can jump in for a swim — but the water is pretty chilly, even in the summer. However, there's no better way to cool down quickly after a strenuous hike.
Speaking of hiking, with over 200 kilometers of trails to choose from, there's something for just about everyone, from beginner hikers to experienced pros. The best season to hike is in the summer, as the snow can start to fall in the autumn and tends to stick around well into the spring.
Across the Canada-USA border from Waterton Lakes National Park is Glacier National Park, Montana. Combined, these parks make up Waterton-Glacier International Peace Park.
7. Kluane National Park, Yukon Territory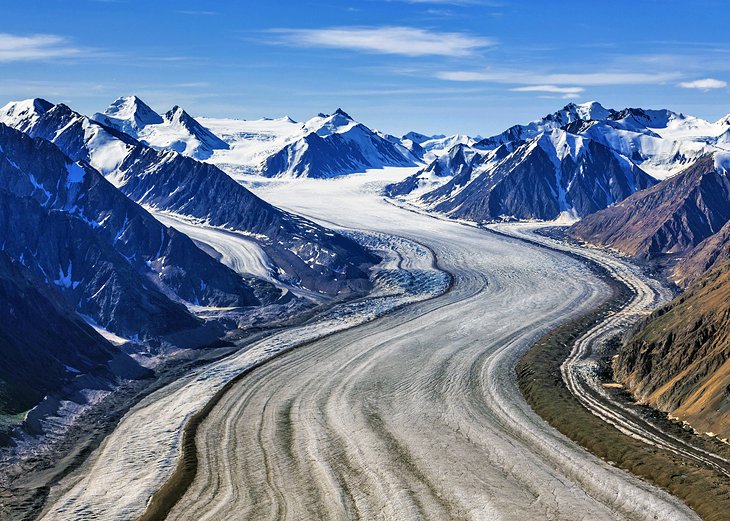 Kluane National Park's claim to fame is that it's home to the highest peak in the entire country — that would be the 5,959-meter Mount Logan, nestled deep into the park and typically only hiked by experienced mountaineers.
But there's so much more to the park, from hiking the King's Throne to boating on Kathleen Lake to catching a flight to see the vast icefields from above. This last activity, known as "flightseeing," lets you hop aboard a plane or helicopter to see Mount Logan up close and personal. There's even the opportunity to camp overnight at the Icefield Discovery base camp — which is, quite possibly, the coolest camping experience in Canada in every sense of the word.
8. Prince Edward Island National Park, Prince Edward Island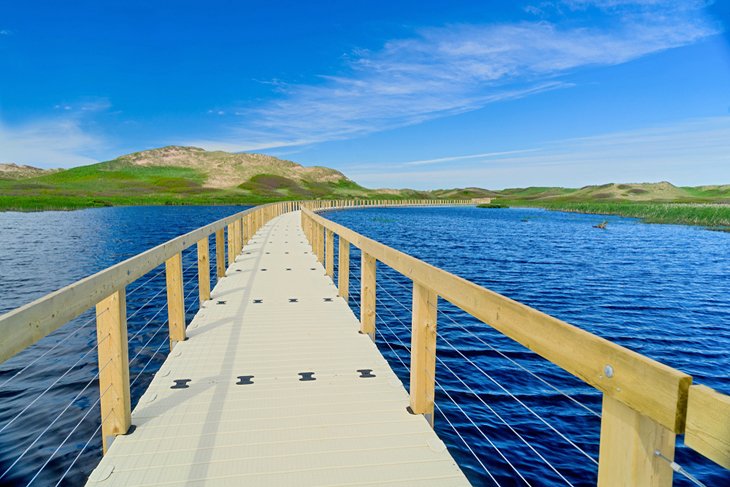 Just about every view from Prince Edward Island National Park is postcard perfect, from the iconic lighthouses to the red, sandy seashore. This national park is all about the ocean, with world-famous sandy beaches that provide endless hours of entertainment. Whether you're building a sand sculpture, swimming in the Atlantic, or walking the trail system, you'll find it easy to fill a day (or more) at PEI National Park.
While many of Canada's best national parks are geared towards those seeking epic adventures, Prince Edward Island National park is well-suited to families with young kids. Most of the trails are easy, with plenty of options for shorts walks that can be done in less than an hour. Playing on the beach is one of those activities that can be enjoyed by all ages, and there are plenty of facilities at the parks (washrooms, picnic areas, etc.) that are open seasonally from late spring until early fall.
9. Bruce Peninsula National Park, Ontario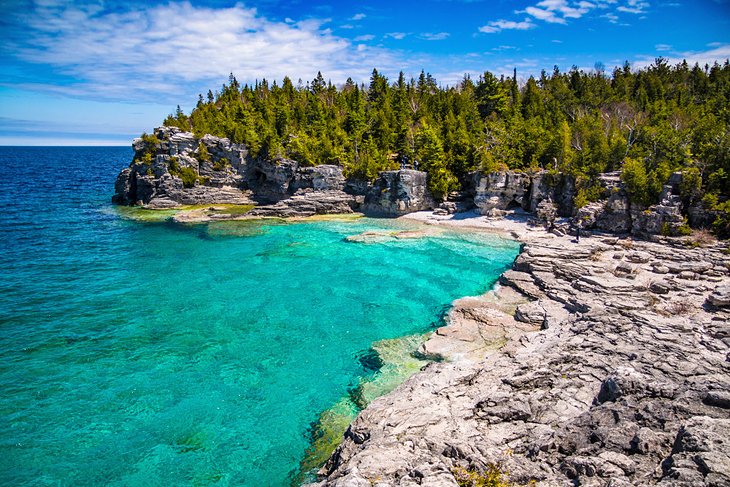 Though Canada's coastal provinces tend to attract the most buzz from nature-lovers, there are some hidden gems throughout the rest of the country, including Ontario's Bruce Peninsula National Park.
With picturesque cliffs and water so blue you'd swear you were in the Caribbean, the Bruce Peninsula offers plenty of opportunities to play in and around Lake Huron. The park is just 3.5 hours from Toronto, but the hustle and bustle of city life will be the last thing on your mind as you explore the rocky Georgian Bay shoreline and tackle the area's trails.
If you've got several days and are up for an adventure, a portion of the famous 782-kilometer Bruce Trail — Canada's oldest and longest footpath — runs through the park. Otherwise, there are several shorter trails for those who prefer a day trip.
One attraction that's not to be missed is the Grotto, a huge sea cave on Lake Huron that you could easily spend hours exploring. It takes about 45 minutes (each way) to get to the cave. If you're planning on making the trip in the summer, leave early — the Grotto is a hot spot for tourists.
10. Jasper National Park, Alberta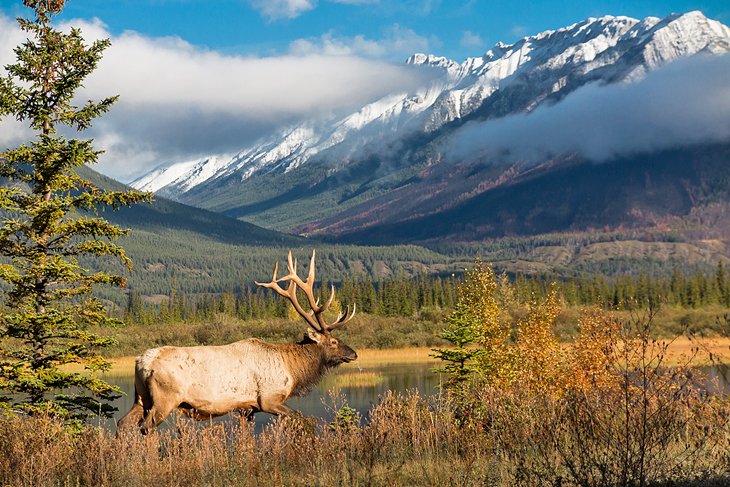 Part of UNESCO's Canadian Rocky Mountain Parks World Heritage Site, Jasper National Park is rugged, wild, and incredibly large (11,000 square kilometers, to be exact). This is the Canadian wilderness at its finest, whether you're visiting in the sunny summer months or the cold and snowy winter season.
The park is busier in the summer, but there are countless trails to hike or bike, campsites to visit, and rivers and lakes to play in. It can get cold — very cold — in the winter, but you can warm up quickly by exploring the park on snowshoes, cross-country skis, ice skates, or even ice cleats for a one-of-a-kind tour of a frozen ice canyon.
The mountain town of Jasper serves as a great home base for all of your outdoor adventures, or you can choose to set up camp at one of the many front-country or backcountry campsites in the park. If you're planning on camping in the summer, it's wise to reserve a campsite ahead of time.
Accommodation: Where to Stay in Jasper
11. Yoho National Park, British Columbia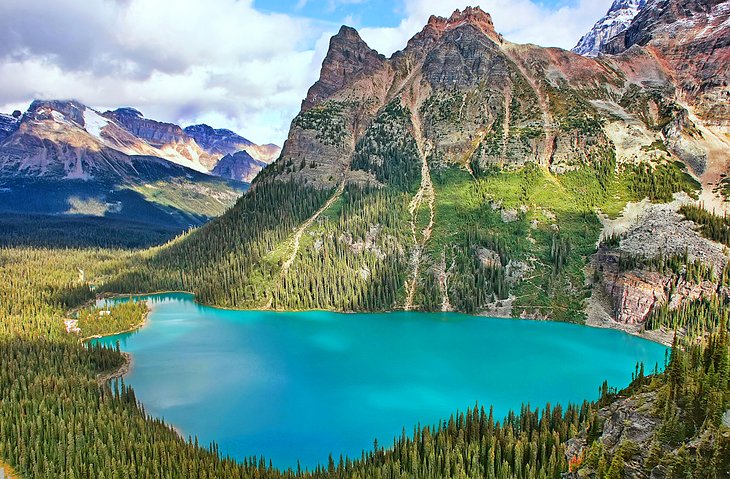 If you like waterfalls, pristine lakes, and towering mountains, then you must make a point of visiting Yoho National Park. On the BC side of the Canadian Rockies, Yoho offers all the best elements of the Rocky Mountains: hikes that will get your heart beating fast, crystal-clear alpine lakes, and all kinds of flora and fauna — with a few little extras.
One of those coolest extras is the Burgess Shale fossils. A UNESCO World Heritage Site, the Burgess Shale fossils are over 500 million years old and offer a glimpse into pre-dinosaur-era critters that you probably never knew existed. A guided hike is the way to go, and the park offers both family-friendly tours and trips that are more physically challenging. These guided hikes take place most days in the summer, but reservations are recommended.
12. Forillon National Park, Quebec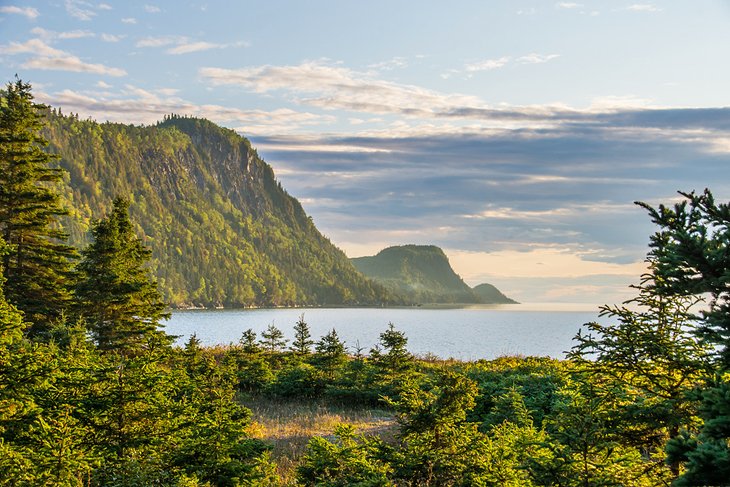 The Gulf of St. Lawrence is a mecca for marine-based adventures, from scuba diving to snorkeling to stand up paddleboarding. But the coolest attraction of Forillon National Park has to be the whale watching, where — if you're very lucky — you could catch a glimpse of a blue whale, the largest animal in the world.
Sea kayaking is another fantastic way to experience the shorelines of Gaspé Bay. Although you'll likely be mesmerized by the stunning cliffs and the thousands of seabirds soaring overhead, be sure to keep watching the water, where you're likely to spot seals and, of course, whales!