4 Best Ski Resorts in Banff, 2023/24
The world-class ski destination of Banff, Alberta has been drawing legions of skiers since 1926, when a rudimentary ski run was cut through the forest on Norquay Mountain. Today, Banff boasts four major ski resorts within an hour's drive.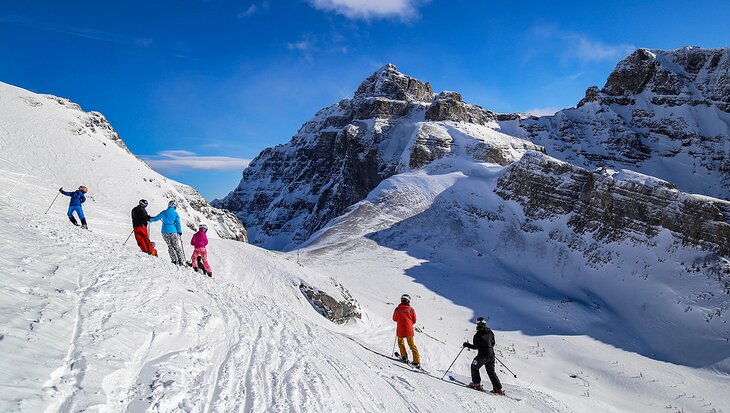 The resorts range from world-class operations that have hosted Olympic Games events and World Cup downhill races right through to family-friendly destinations with endless blue cruiser and beginner runs.
The four ski resorts each have their own look, feel, and vibe, so be sure to plan a visit to at least a couple of them. Banff Sunshine Village Resort is up high above the tree line with incredible vistas; Lake Louise is set more among the trees, with the Fairmont Chateau Lake Louise standing proudly across the valley; Norquay is a local's mountain with great facilities and non-existent lift lines; and Nakiska is ideal for the intermediate looking to advance.
Looking for something a bit more adventurous? Cat skiing for you and 13 of your closest friends is available on the old Fortress Mountain Resort runs.
If you are traveling with small children and are looking for daycare, you are in luck. Many of the resorts accommodate the youngest of the clan while mom and dad carve out some child-free turns and remember what skiing used to be like.
In addition to the ski resorts, the town of Banff is also a highlight of Alberta. Set dramatically against the peaks of the Rocky Mountains and bisected by the cobalt-colored waters of the Bow River, this picturesque town still retains much of its original charm. You'll find a wonderful main street just perfect for strolling after a day on the slopes. Banff also has a good selection of restaurants, ranging from casual fare right through to white tablecloth fine dining at one of the upper-end hotels.
While Banff townsite attracts much of the attention, the neighboring town of Canmore is also worth exploring, especially for those on a budget. The picturesque main street is filled with a variety of restaurants and shops, and it's easy to get around on foot.
Getting to Banff from Calgary is easy. If you are flying internationally, it's only a 1.5-hour drive from Calgary International Airport. If you'd prefer not to drive, shuttles leave the airport on a regular basis as do private pre-arranged luxury transfers.
Plan your time on the slopes with our list of the best ski resorts in Banff.
1. Lake Louise Ski Resort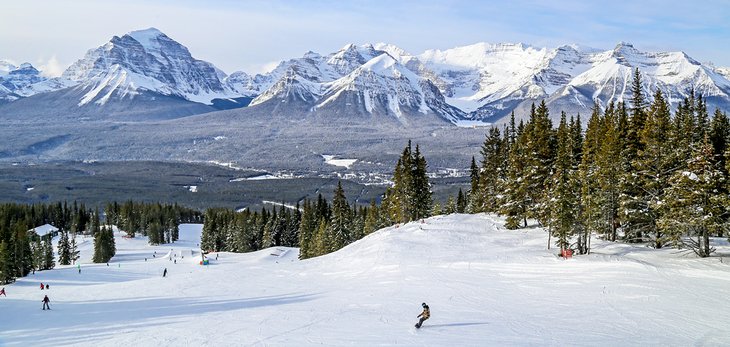 Famous for hosting the men's and women's downhill races over the past number of years, Lake Louise is one of Canada's most notable ski destinations and one of Alberta's best ski resorts. Lake Louise is an easy drive of about 40 minutes from downtown Banff along a divided highway and is located in Banff National Park.
If I'm skiing with a group, it's always Lake Louise that I head to. Spread over four mountains, the resort has a bit of everything for everyone making skiing with different levels of abilities easy and fun. Those who love to cruise down long, wide blue runs will be in their element checking out the runs on Whitehorn and Larch Mountains. Crave endless bumps? Drop off the back side of Whitehorn under the Paradise chair and pound down until your knees or quads give out. If you are looking to explore some high alpine bowl action, take the brand new Summit Quad and drop into the newly opened West Bowl.
Lake Louise Ski Resort's gondola opened in 1959 and since then, the resort has expanded to have 11 lifts, including the aforementioned gondola, seven chairs, and three surface lifts. All this uphill capacity services 160 named runs. In 2022, Lake Louise Ski Resort opened the brand new Juniper Quad Chair. This lift leaves from the base area and is perfect for families and beginners moving from the bunny hill to longer and slightly steeper runs.
Work is underway for a new chair called Upper Juniper. Shovels are in the ground and the addition of this new quad lift featuring heated bubble chairs would be a welcome addition. The resort anticipates it being completed for the 2024/25 season.
Note that almost every chair has either a beginner, intermediate, or advanced run leaving from it, so practically the entire mountain is accessible to everyone. And there's lots to explore, over 4,200 acres of skiable terrain ensures that you'll have your own space to shred, even on the busiest of days.
Lake Louise receives just shy of 15 feet of natural snow each year and supplements that with a robust snowmaking operation.
You'll definitely work up an appetite from all your exploring, and fortunately the resort has you covered. Temple Lodge, set at the base of Larch Mountain is a spectacular wooden frame building set in a bucolic alpine setting. I always make a point of popping in here to warm up after a long descent from the top of Larch. If the sun gods are smiling, I snag a prime patio spot and chow down on one of the legendary burgers grilling at the outdoor BBQ.
If you are on the front side, stop in at the Whitehorn Bistro and grab a spot by the windows to soak up the incredible views across the Bow Valley. At the base area is the impressive Lodge of the Ten Peaks, where you can sit and watch the skiers descend down the front slopes.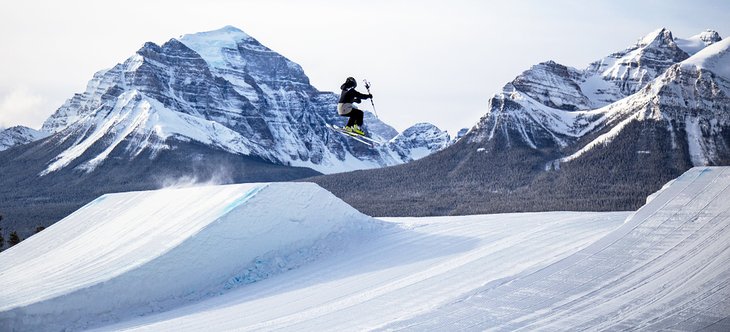 If you or members of your crew are looking for something besides skiing, consider a trip over to one of the four terrain parks. Each park is targeted to a specific skill level: Elbow is for beginners, Triple Bridge for beginners moving to intermediate, Easy Street is for intermediate to advanced, and Boulevard for advanced to expert. Over 40 different features are on offer, ranging from jumps and rails to boxes and whatever else the park crew can dream up.
A fun family activity at Lake Louise Resort is tubing. Swing over to the Sunny Tube Park where all ages can slip and slide down the groomed run. If you have a group, you can connect up to five tubes together and all go down at once. The tube park is open to those three years and older and a separate ticket is required, but those with ski lift tickets receive a discount.
Like any resort, crowds at Lake Louise can be a problem if a decent dump of snow occurs. If the forecast is for lots of snow, be sure to head up as early as you can to avoid the bottleneck at the base area lifts. Parking is free, and getting a spot is rarely an issue as the lots are massive.
Lake Louise is part of the IKON pass program and the Mountain Collective pass program.
Official site: https://www.skilouise.com/
2. Banff Sunshine Village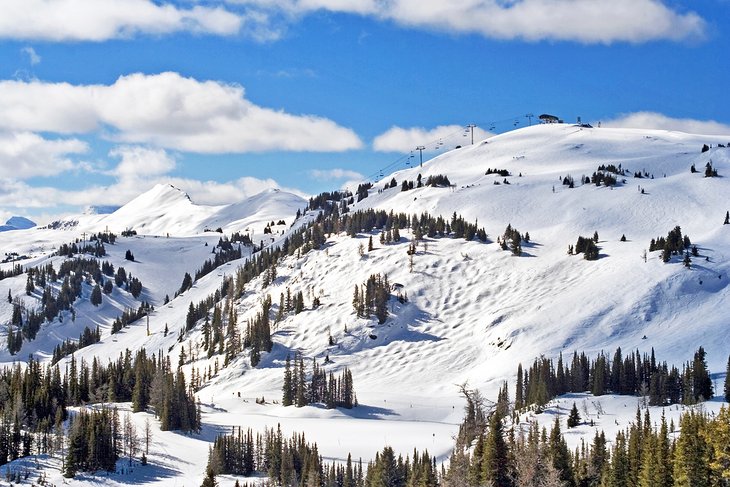 Set high in the Rocky Mountains, Banff Sunshine Village Resort is unlike any of the other ski resorts near Banff. The main base area is located up high at 7,200 feet in an alpine bowl area, reached by a gondola, where you'll find most of the main lifts, accommodation, and skier facilities. The skiing here is primarily above the tree line and on a clear blue-sky day, the views are stupendous.
The resort makes the impressive claim that they have Canada's best snow - and they may be right! It receives an incredible 30 feet of snow each year, and you'll be assured of good conditions across a seven-month season that starts in November and ends in late May. All this snow is spread across a 3,358-acre alpine playground.
A vertical drop of 3,415 feet is serviced by 12 lifts: one gondola, two regular quad chairs, six high-speed quad chairs, one high-speed heated bubble quad chair, and two surface lifts. If it's particularly cold, not an uncommon occurrence up high in the mountains, take a ride up on Teepee Town – the lift is heated. You'll know it by its distinctive orange bubble tops. The lift capacity has increased exponentially since 1945 when the first permanent lift was installed and driven by a V8 car engine.
Pick any one of three mountains to do your skiing here: Mount Standish, Goat's Eye, and Lookout Mountain all have something to offer the skier. Mount Standish is the most gentle of the three, with long cruising runs and easy beginner routes off the Strawberry Chair. This is the area where I like to start my days to get the quads warmed up and any bugs worked out of my technique.
Strong intermediates will want to head up to Lookout Mountain and those looking to do some extreme skiing should ride up to the top of Goat's Eye Mountain to see how brave they really are. No matter where you choose to ski, 137 named runs await your presence.
In addition to the runs, Banff Sunshine Village resort has four terrain parks that are considered some of the best in the province. Each park is a bit different and offers the snowboarder and freestyler a smorgasbord of adrenaline hits. Strawberry Park is the park for those who enjoy technical riding, with tricky rails and jibs to test the very best; Great Divide is for those who want to catch a bit of air and hit a few boxes and rails.
For truly massive air, head to Grizzly Park for a seemingly never-ending line of jumps ranging in size from medium through to extra large; Springhill Park is for those looking to progress to the larger features of the previous three. In addition to these four, the Wolverine Kids Play Park has baby rails, jumps, and boxes for those just beginning their riding.
Banff Sunshine is part of the IKON pass program and the Mountain Collective pass program.
Official site: https://www.skibanff.com/
Accommodation: Top-Rated Resorts in Banff
3. Mount Norquay Ski Resort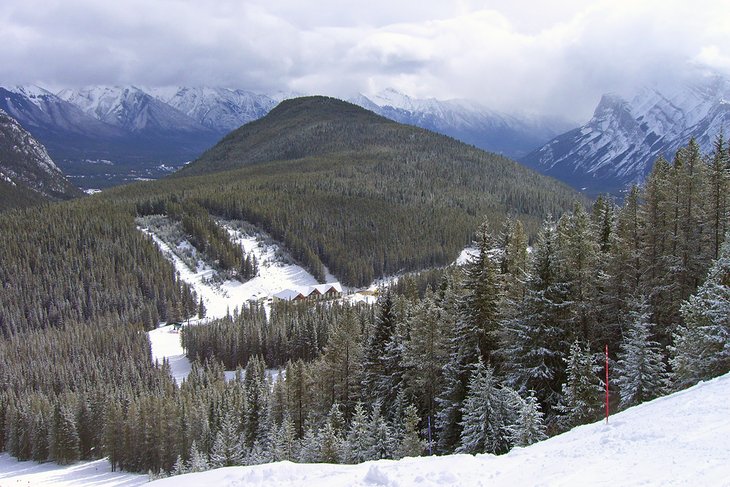 The oldest of the resorts near Banff is Mount Norquay. It was originally created by some adventurous souls in 1926 who thought the slopes looked pretty good and decided to cut down some trees and hope for the best. Well, their dreams were far exceeded, as Mount Norquay came into existence and is still going strong nearly 100 years later.
Today's Norquay is a far cry from the original. Five modern and efficient lifts (one high-speed quad, two fixed-grip quads, one double chair, and one surface lift) whisk skiers back up to the top in minutes flat, while a fleet of grooming machines ensures the snow is in tip-top shape. The resort receives on average 10 feet of snow each year and has snowmaking coverage on 85 percent of the mountain, ensuring a good blanket of the wonderful white stuff.
The 190 acres of skiable terrain is home to 60 named runs and provides a vertical drop of 1,650 feet. You'll find a mix of runs for every level of skier, but about half the runs are for advanced and expert skiers. There is plenty of room to spread out on the mountain. Even if it does get a bit crowded, don't worry too much – Norquay is a locals mountain, and the vibe here is friendly and relaxed.
Norquay's terrain park, known as Banff's Backyard, is legendary and home to the Bow Valley Freestyle Team. A wide variety of jumps, 15 in total, will have you catching legendary air. Looking for rails? You'll find them here, as well, in all shapes and sizes. Don't worry if you are new to the sport, the park has smaller versions available for you to practice on.
If you've been shredding the slopes and terrain park all day and want more, you might be in luck, depending on the day of the week. If it's a Friday or Saturday, you can keep on going; the lifties flick the lights on at 5pm and keep them on until 9pm, so you can enjoy some night skiing.
Norquay isn't all about skiing and snowboarding. It is also home to Alberta's longest snow tube lanes. Anyone four years and older is welcome to grab a tube and go ripping down the slope either on your own or in a grouping of multiple tubes. The tube park is lit and open long after the rest of the mountain shuts down. Swing on over and purchase a ticket for a little post-dinner slip-sliding fun.
Mount Norquay is the closest resort to Banff, only six kilometers away. Count on a 15-minute (or less) drive. Don't worry if you don't have a car; public transport runs right from the townsite to the hill on a regular basis.
Mount Norquay is part of the IKON pass program.
Official site: https://banffnorquay.com/
4. Nakiska Ski Area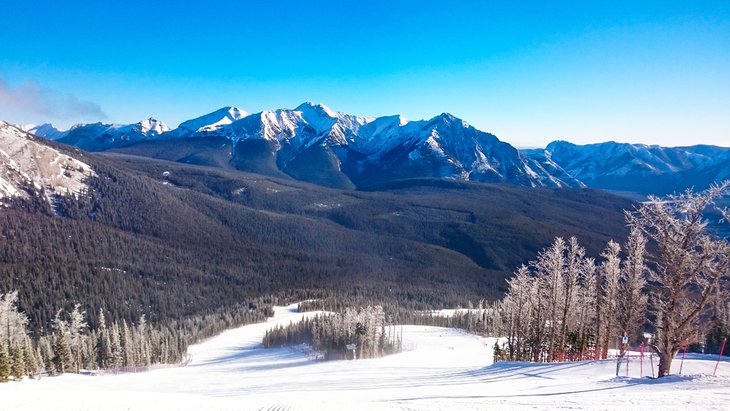 Although Nakiska is not in Banff National Park, it still gets an honorable mention because it's less than an hour away. Home to several of the alpine events in the 1998 Winter Olympics, this family-friendly resort is a beginner and intermediate skier's paradise.
Nakiska has a state-of-the-art snowmaking system that allows it to start the season early and keep the slopes covered late into the spring. Combine that with just over eight feet of natural snow, and you'll always have lots of white stuff to ski on.
The slopes are serviced by six lifts (three high-speed quad chairs, one double chair, and two surface lifts) and with a vertical drop of 2,412 feet and 79 named runs, you'll likely run out of energy before you run out of places to ski. The resort prides itself on offering wide-open, long blue cruisers coupled with an excellent selection of green runs. In fact, 72 percent of the runs are graded either intermediate (59 percent) or beginner (13 percent).
In addition to skiing and snowboarding, Nakiska also has the Wanidu Tube Park. Grab the family and head out onto the chutes; you can go by yourself, in a group, or race to the bottom all at once. If it's cold, which it can be, especially in late January and early February, head inside the main day lodge at the base to warm up with a hot chocolate while your toes defrost.
Nakiska is located in the Kananaskis Country area, and a Kananaskis Conservation Pass is required to access the ski hill. Passes are available online for the day ($15) and year ($90); buy yours in advance.
Official site: https://skinakiska.com/
Other Skiing Options in the Banff Area:
KPOW Cat Skiing at Fortress Mountain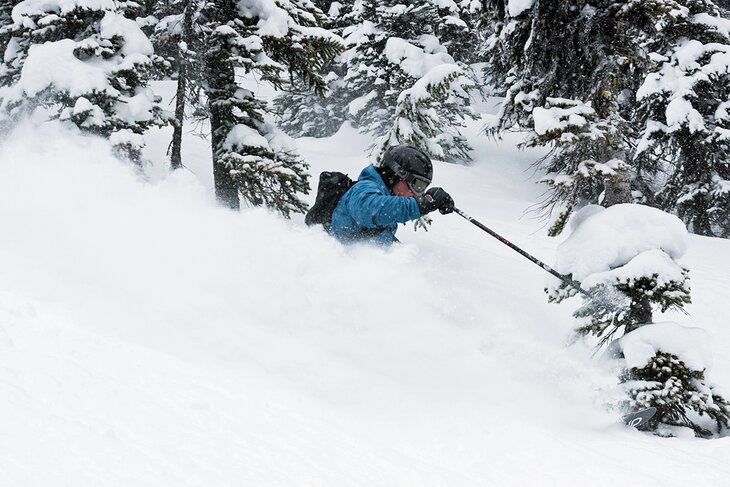 If you've ever wanted to ski down untracked powder snow but don't have the budget for a Heli-ski vacation, KPOW Cat Skiing is a good option. Some enterprising entrepreneurs have set up at the former home of Fortress Mountain in Kananaskis Country for this pursuit. Sign up on your own or with 13 of your best ski buddies and have the place to yourself.
Pile into the back of one of these behemoths and be transported to the top of the mountain. At this point, choose your run and enjoy the feeling of floating on air as you make fresh tracks down the mountainside. Each ride is as different as you want. Feel like the wide-open runs? No problem. Looking for a bit of an adrenalin rush? Pop off some buried trees to get maximum air or head into the glades to find the deepest powder stashes.
Fortress receives up to 30 feet of snow a year so conditions are usually good. Skiers should be strong intermediates to experts and be able to handle all kinds of snow conditions.
Lunch is included, usually on the hill. Trips run from Wednesday to Sunday throughout the season.
Official site: https://www.skifortress.com/kpow-cat-skiing
When is the Best Time to Ski in Banff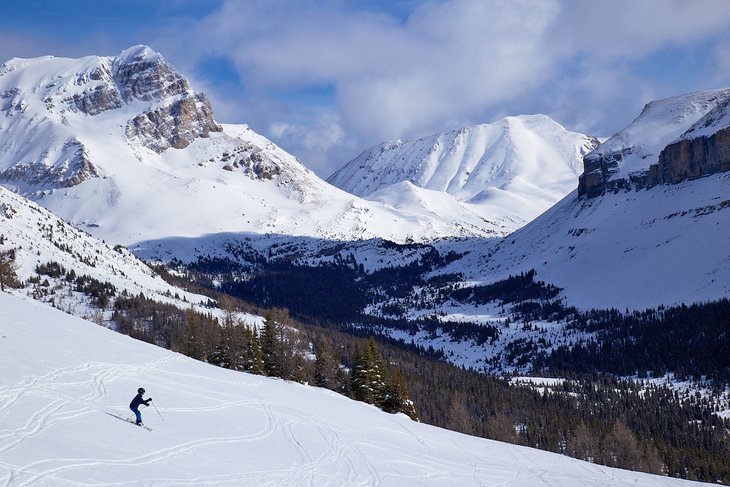 Sunshine Village, owing to its high location and copious quantities of snowfall, has the longest season. Lake Louise has the second longest season, followed by Norquay. Nakiska is the lowest in elevation of all the ski resorts and has the shortest season.
The ski resorts around Banff all have slightly different opening and closing times. As a general rule, the resorts try and open fully by the third week of December. However, this is early-season skiing, and conditions can be sketchy depending on the year. They generally close by late March, the only exception being Sunshine, which can open in late November and stay open until June if it's a big snow year.
Your best bet for prime skiing is late February and early March. At this time, the temperatures have moderated somewhat – you'll get some great early spring, sunny "bluebird" days. March is also notorious for large dumps of snow when systems track up from the Pacific Northwest.
January and early February generally have good snow but can be bone-chillingly cold and windy. Plus the days are very short, with your ski day ending at around 3pm.
Map of Ski Resorts in Banff
Banff, Canada - Climate Chart
Average minimum and maximum temperatures for Banff, Canada in °C
J
F
M
A
M
J
J
A
S
O
N
D

-5

-15

0

-11

4

-8

9

-3

14

2

19

6

22

7

22

7

16

3

10

-1

1

-8

-5

-14

PlanetWare.com
Average monthly precipitation totals for Banff, Canada in mm.

31

23

20

33

58

61

51

51

43

31

31

36

Average monthly snowfall totals for Banff, Canada in cm.

38

30

27

26

17

2

0

0

7

19

34

44
Average minimum and maximum temperatures for Banff, Canada in °F
J
F
M
A
M
J
J
A
S
O
N
D

23

5

32

12

39

18

48

27

58

35

66

42

72

45

71

44

61

37

50

30

33

17

23

7

PlanetWare.com
Average monthly precipitation totals for Banff, Canada in inches.

1.2

0.9

0.8

1.3

2.3

2.4

2.0

2.0

1.7

1.2

1.2

1.4

Average monthly snowfall totals for Banff, Canada in inches.

15

12

11

10

6.7

0.7

0

0

2.8

7.4

13

17