11 Top-Rated Things to Do in Windermere, BC
The town of Windermere, scenically located on the east shore of Lake Windermere, is situated between two mountain ranges: the Purcells on the west and the Rockies on the east. In 1902, this place was named Windermere because it is so reminiscent of Windermere in the Lake District of England. Tourists visit this resort town in the Columbia River Valley to enjoy all the things to do on or near the lake in a glorious mountainous setting.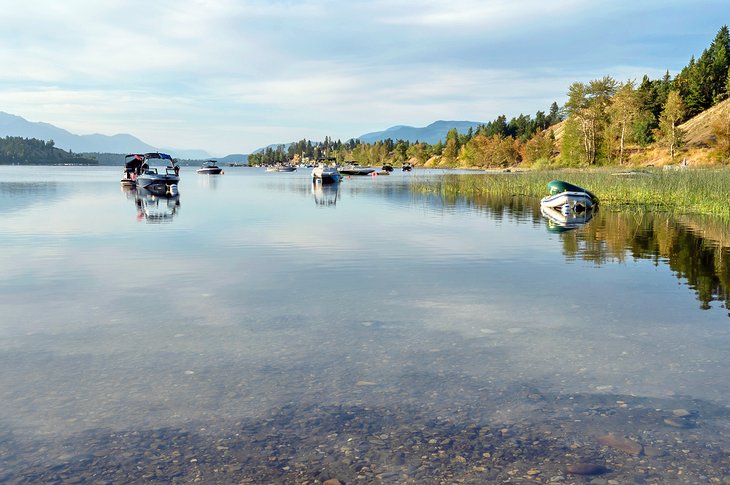 During your visit to Windermere, be sure to check out the public beach for a refreshing dip in the lake and a picnic in the mountain air. The vistas across the water are outstanding and may tempt you to explore the far shore of the lake. It's easily done with a short drive to the provincial park, local marina, or various outfitters, where you can arrange to rent the boat or board of your choice. You can also make like an eagle with a gliding experience over the lake and mountain peaks.
Take a tour of Windermere's heritage buildings to learn more about the history of this community. Go mini-golfing or regular golfing, take the family to a bowling alley, watch glassblowers create fine works of art, and restore yourself with a soak in the hot springs. Find out more about these and other fun places to visit with our list of things to do in Windermere.
1. Visit Windermere Public Beach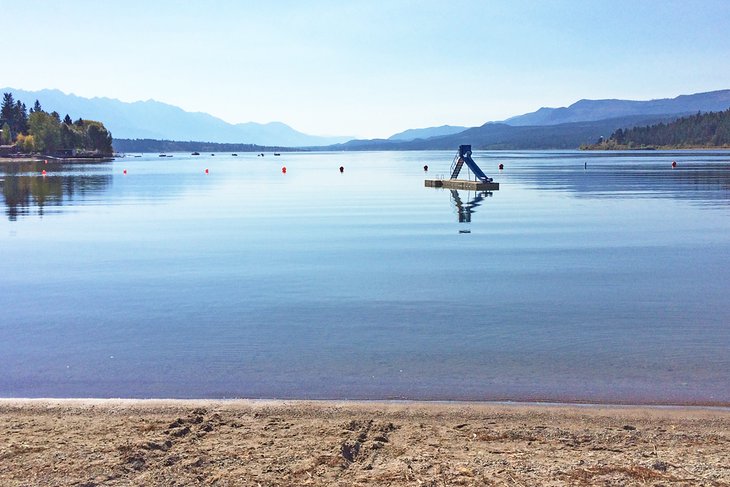 Given the size of Lake Windermere, you would be right in assuming it has a few beaches, one of which is located in the town of Windermere. Cool off and enjoy the view at the popular public beach located on the east shore of Lake Windermere. This beach offers grassy shaded spots for picnics, a dock and raft for swimmers, moorage for boats, an ice-cream float boat, and washrooms.
Swimming is popular here because the shallow water is warm, and the swimming zone is roped off to separate it from boat traffic. There are two other beaches on Lake Windermere: Kinsmen Beach in nearby Invermere is popular. Another beach and children's playground is located at James Chabot Provincial Park, a day-use-only park in nearby Invermere.
Address: Selkirk Street, Windermere, British Columbia
Read More: Top-Rated Lakes in British Columbia
2. Soak in Hot Springs: Fairmont and Radium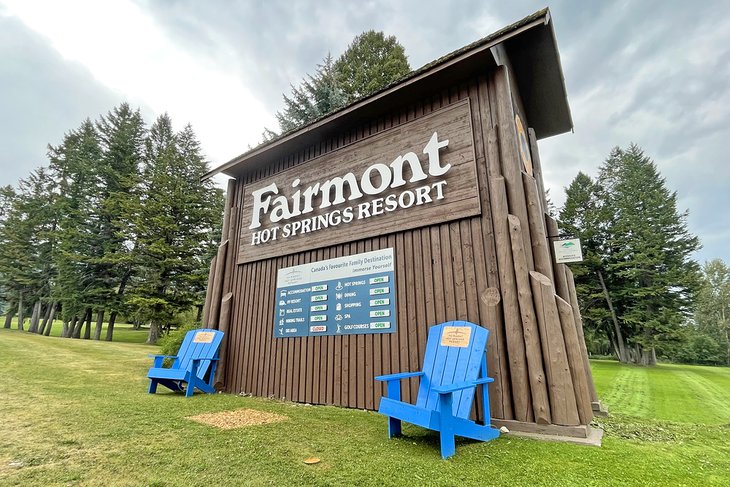 Within half an hour's drive from Windermere, you can soak in your choice of hot springs: There's Fairmont Hot Springs Resort to the south and Radium Hot Springs to the north. Each one is about 20 kilometers away from Windermere, so one option is to do both.
Fairmont Hot Springs Resort has the largest mineral hot spring in Canada, plus a swimming pool, dive pool, and spa. The hot pool temperature is maintained at 39 degrees Celsius (102 degrees Fahrenheit), while the swimming pool is several degrees cooler. Activities at Fairmont can be combined with a short hike on the Hoodoo Trail (and other trails), Mineral Mountain Ziplines, Funtasia fun park, golf, mini-golf, horseback riding, and stand up paddleboarding.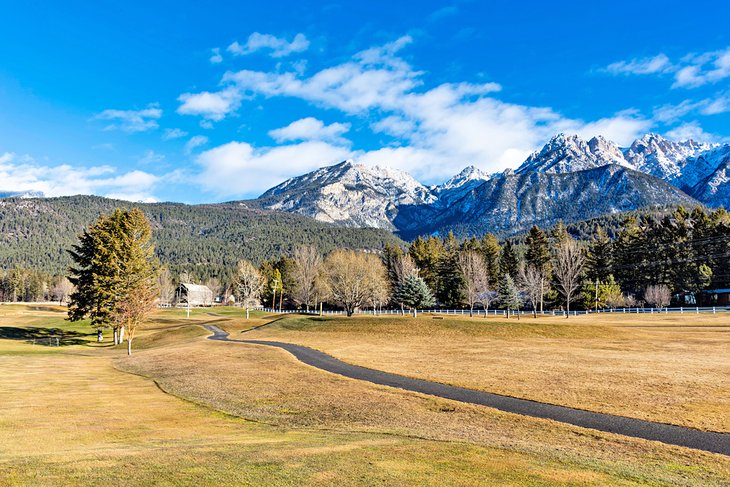 Radium, located within Kootenay National Park, has one large hot pool and a two-thirds size Olympic swimming pool. The aquacourt at Radium, constructed in 1951, is listed as one of Canada's Classified Federal Heritage Buildings. Radium might have the edge over Fairmont for visitors who want more options for shopping, restaurants, golf courses, and things to do.
Fairmont Hot Springs Resort
Address: 5225 Fairmont Resort Road, Fairmont Hot Springs, British Columbia
Radium Hot Springs
Address: 7556 Main Street East, Radium Hot Springs, British Columbia
Read More: Top-Rated Hot Springs in British Columbia
3. Take the Windermere Historical Tour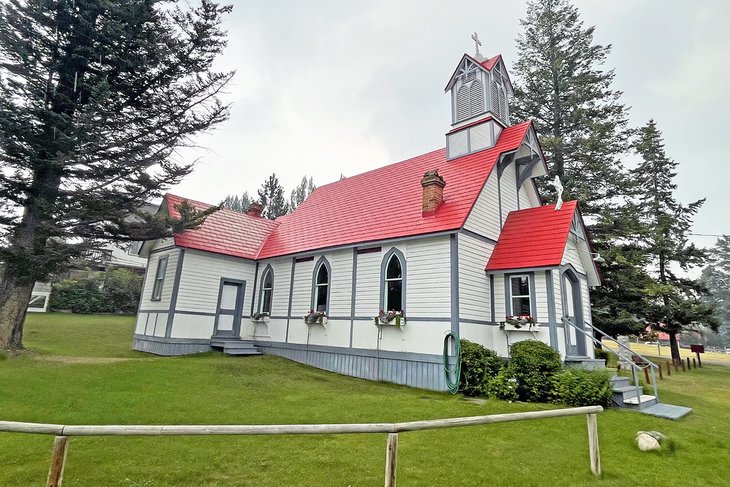 Windermere, an East Kootenay community, has been around since well before the turn of the 20th century. You can walk around town on your own, but a tour created by the Windermere Valley Museum can help enhance your appreciation of the area's culture and history. The tour includes 10 buildings and properties, all of which are located close to the lake.
Washington D.C. has one and so does Windermere, BC — a White House. The first RCMP barracks in the Rockies, established in 1886, is another stop on the tour. Dating back to 1886 and 1899 is the Windermere Hotel, the oldest structure in town. Pitts General Store and Stone Power Plant were both built in 1912.
The most famous old building in Windermere might be the "Stolen Church" (aka St. Peter's Church). The story goes that a woman who lived in Donald, BC missed the church she used to attend. Lo and behold, around the turn of the century, her husband took it upon himself to dismantle her beloved church and ship it by train to Golden.
It was then transported by wagon and steamship to a plot in Windermere not far from the cemetery (another stop on the history tour), where the first pioneers were buried in 1886. Unfortunately, the original church's 600-pound bell didn't reach its final destination — members of a congregation in Golden snatched it for their church.
4. Rent a Boat at Windermere Lake Park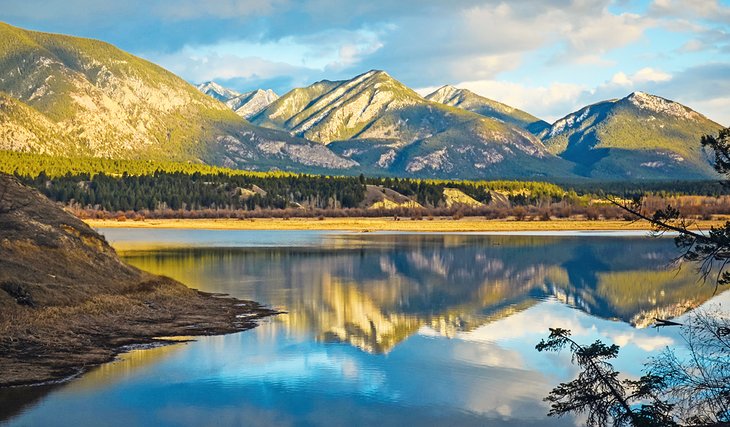 From Windermere, you can drive to Windermere Lake Park within half an hour to explore it by motorboat, kayak, and canoe. Rentals are available if you don't have your own boat, skis, or board. Start at the boat launch and quietly approach the marshlands to avoid disturbing the birdlife. Another option is to head straight for the main lake, which has 36 kilometers of coastline for you to explore.
The 220-hectare park was created to protect grasslands habitat, as well as the riparian zone — the sensitive environment where a body of water meets its shore and banks. Windermere Lake is around 18 kilometers long, but not deep, averaging 4.5 meters. Because it is so shallow, swimmers will discover that it is one of the warmer lakes in the Kootenay region. Bring your binos and keep your eyes peeled for birds and wildlife.
5. Glide over the Rockies from the Invermere Soaring Centre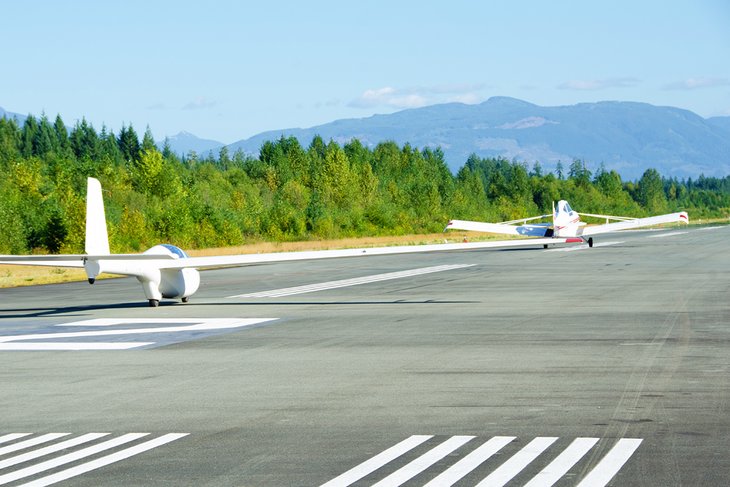 Everyone has a bucket list, and for the most adventurous among us, gliding might make the cut. Within a 10-minute drive from Windermere, you can be at the Invermere Soaring Centre, signing yourself up for the ride of a lifetime.
Ideally, soaring season is May to September, and this is where you can really get away from it all. Catapult yourself into the picture-perfect scenery of the Canadian Rockies for an experience you'll never forget.
If you choose a standard mountain flight, the most popular option, your ride will probably last up to an hour. It all depends on the afternoon thermal updrafts that generate the heat needed to gain altitude. On a custom flight, the experience could be even longer.
If conditions are right, you might fly as high as 3,600 meters (12,000 feet) or more. Soar over peaks, glaciers, lakes, and wetlands. Revel in the silent beauty that envelops your once-in-a-lifetime glide over the Rockies.
Address: Airport Road, Invermere, British Columbia
6. Watch a Glassblowing Demo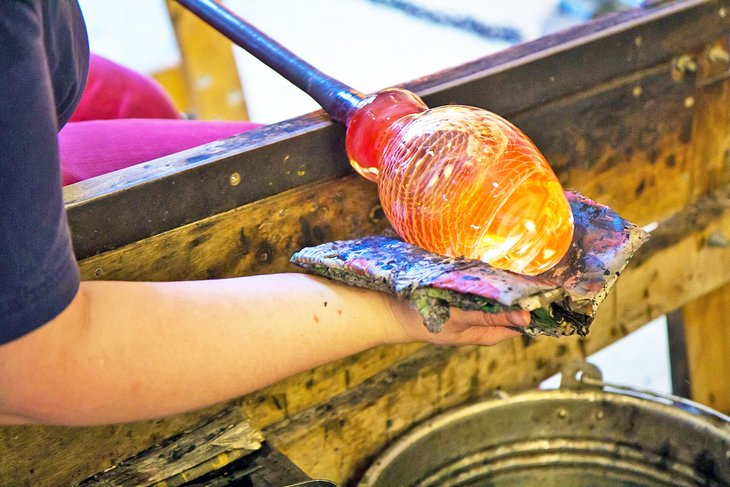 Arrange to see a demonstration of glassblowing at Bavin Glassworks, a family-owned hot glass studio and gallery that has been in business since 1988. You'll be dazzled by the skill that's required to transform molten glass into beautiful works of art.
From multi-colored bowls and vases to iridescent fish, marvel at the color and creativity that goes into every piece. It took the family a decade to perfect the techniques that go into the making of a fish.
Glass isn't the only medium on display. Other regional artisans work with metal and clay. The gallery sells ceramic and glass-beaded jewelry and show-stopping works of art. If you're looking for an exquisite gift or a gorgeous enhancement to your home, you'll find it here. If you don't see it, Bavin Glassworks will do custom work and commissions.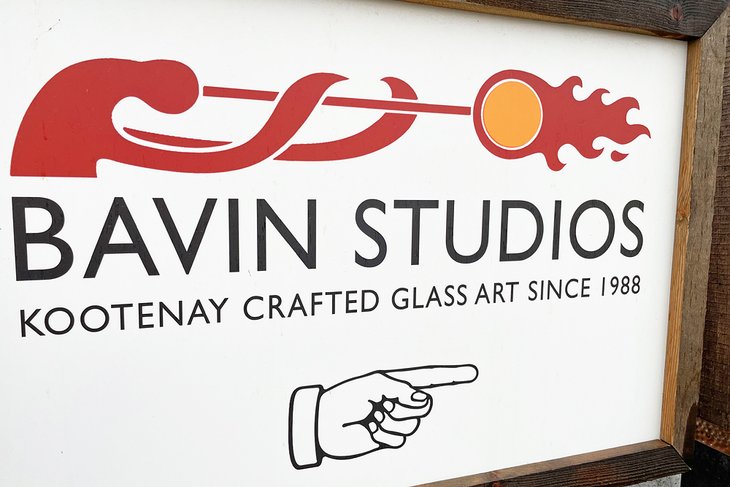 Glassblowing sessions typically take place throughout the spring, fall, and winter (although it's recommended to call ahead to confirm the schedule). The gallery is open on Fridays and Saturdays.
Address: 4884 Athalmer Road, Invermere, British Columbia
7. Float the Columbia River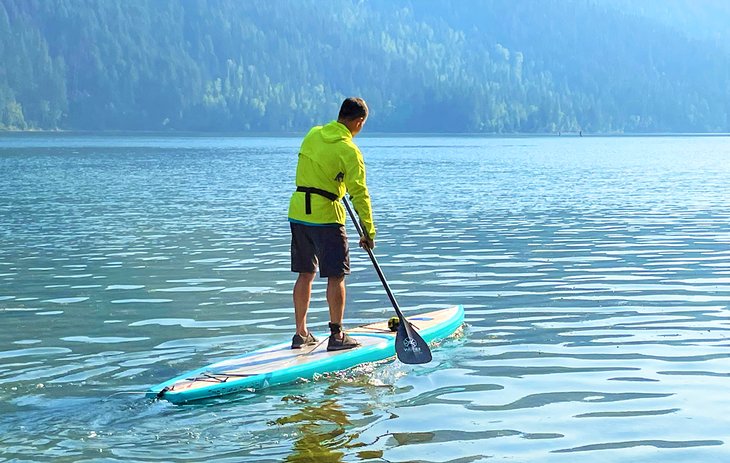 The Columbia River flows north from Invermere to Radium Hot Springs, a trip that takes about three hours if you paddle by canoe or kayak. Allow local outfitters Far Out Gear Rentals (7514 Main Street East, Radium) or Columbia River Paddle (25 Laurier Street, Athalmer) to help you sort out equipment and shuttle arrangements. A number of packages are available, including self-guided floats or a trip with a guide.
Instead of a river float, you can also rent a paddleboard, canoe, or kayak for varying periods of time (two hours to a full day) to explore Windermere Lake and its wetlands. Guided paddles and lessons are available. Check out your options and make reservations for a half-day of adventure on the water. Pack yourself some snacks or takeout from a café in Radium.
8. Take the Family Bowling at Valley Alley Bowling Centre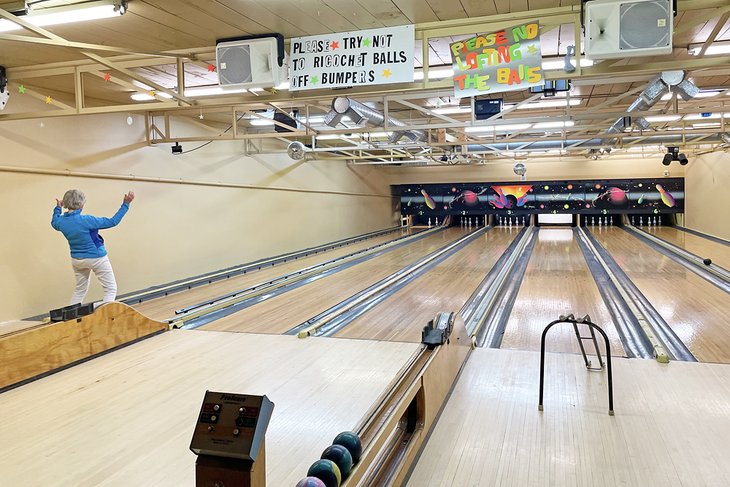 The "boomer" generation grew up during the heyday of bowling in the 1950s and 1960s. Since then, bowling alleys (along with drive-in movie theaters) are making a comeback, although they're still not the standard fixture of every community that they once were. A game of skill and an opportunity to socialize, a date at the bowling alley practically guarantees a good time.
Take a trip down memory lane at the Valley Alley Bowling Centre — look for a replica of BC's largest cougar on the roof. This place is the real deal, complete with disco balls and neon lights. Occasionally, you can groove on a glow bowl with black light bowling.
Bowling is the perfect activity, especially if the weather isn't the best, or you just want some indoor fun. It doesn't matter whether you are an experienced bowler. Bring the whole family for an hour or two of five-pin bowling.
Valley Alley is not open every day, so call ahead to reserve one of the six lanes. After you've tallied your scorecards, trundle over to the ice cream counter and replace all the calories you just burned up.
Address: 1113 Swansea Road, Windermere, British Columbia
9. Try Go-Karting at Ozzie's Amusements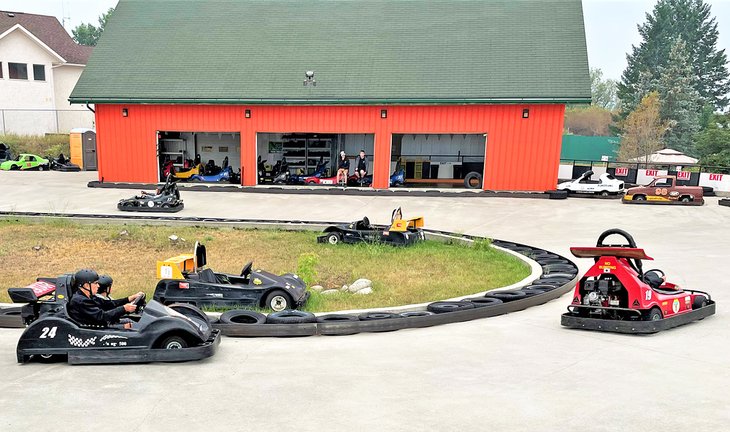 If you and the kids are looking for a fun place to visit in Windermere for a couple of hours, make tracks for Ozzie's Amusements. Children are always up for mini-golf, and here they'll find an 18-hole course where they can practice their driving and putting skills while navigating water features.
If they crave an activity that's a bit more exciting, take it up a notch and go go-karting. Double carts are available for a child and an adult, with a ride lasting eight minutes. All drivers seem to emerge from the experience with a happy face at this popular family-friendly tourist attraction.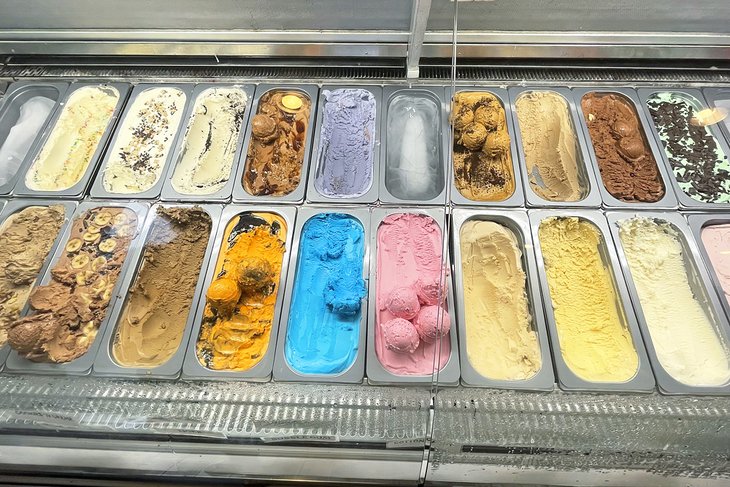 After a rousing game of mini-golf and whizzing around the go-kart track, get ready to choose something sweet from Stolen Church Gelato, served on-site. It makes more than two dozen flavors, including unicorn — a purplish combination of bubblegum and cotton candy with sprinkles (a popular lick among kids).
Everything is made locally in small batches to maximize freshness. Enjoy a scoop on the deck or one of the picnic tables in the backyard with shade umbrellas. Suddenly your sunny day got even better! When you're in Invermere, you can also visit Stolen Church's cafe for a great cup of coffee and even more gelato.
Address: 4818 North Street, Windermere, British Columbia
10. Check out Fairways at Windermere Valley and Copper Point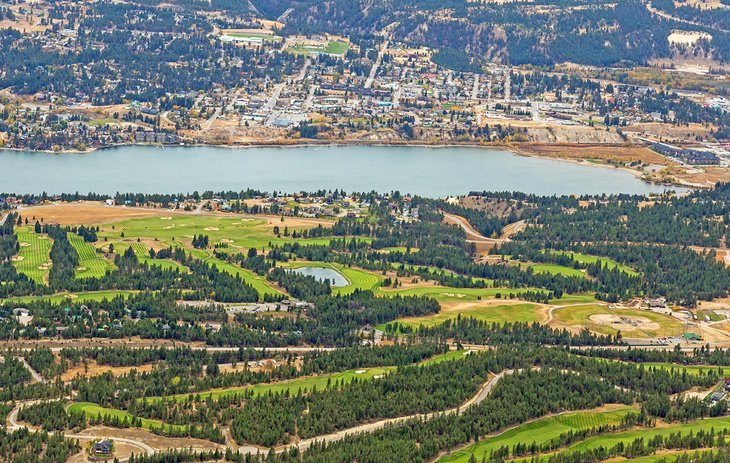 Windermere Valley Golf Course is located in a quiet setting just outside the town of Windermere. You can tee off here from fairways that have views of the surrounding mountains that you see on postcards. Stay alert on this 18-hole course because the scenery could distract you from making your best shot. All skill levels are welcome to check out this intriguing course and enjoy a memorable golfing experience in the East Kootenays.
If you're in the area for more than a day and want to try another course, drive a few kilometers north of Windermere on Hwy 93/95. Here, you'll find Copper Point Golf Club, also on the east side of Lake Windermere. Its devotees praise the long fairways and multi-putt challenges of golfing on the scenic point. The attraction offers both a master's style and a championship course.
Windermere Valley Golf Course
Address: 1881 Windermere Loop Road, Windermere, British Columbia
Copper Point Golf Club
#651, Hwy 93/95, Invermere, British Columbia
11. Charter a Boat at Shadybrook Marina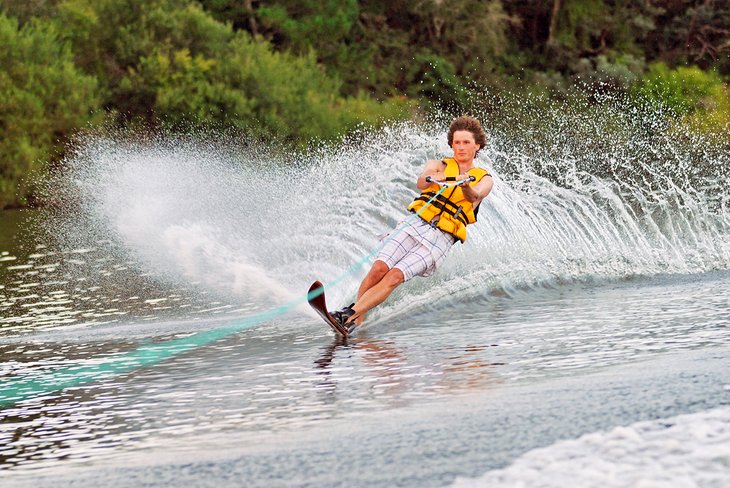 You want to get out on Lake Windermere, but don't have a boat; nor do you wish to rent one. There's another option that lets you enjoy all the fun stuff without the hassle of arranging insurance. You can charter a boat from Shadybrook Marina. It also offers a full-service shop chock-full of boating gear and accessories.
Lake Windermere is actually a widening of the Columbia River. For that reason, it was (and still might be) known as Lake Columbia by old-timers who have been around as long as Shadybrook Marina. These guys have been in business since 1967, so they know their way around how to ski on water.
If you're looking to take water sports lessons, get in touch with Nauti Watersports. The school and boat charter services used to be part of Shadybrook Marina, but are now owned by one of the company's former coaches. It offers instruction and all the gear you need to try water skiing and wakeboarding.
Address: Access via Lake Street, Windermere, British Columbia
Map of Things to Do in Windermere, BC