13 Top-Rated Lakes in British Columbia
There are more than 20,000 lakes in British Columbia. It would take an awful lot of time and effort to visit each and every one, so we've gone ahead and whittled it down to the best lakes in BC.
This assortment of lakes represents some of the most beautiful lakes in BC. Some are cold, others are warm; some are easy to access, others require you to put in a little more legwork – but each one offers something extraordinarily special.
From swimming to stand up paddleboarding, from fishing to houseboating, there are so many ways to explore BC's incredible lakes. Find your next travel destination with our list of the best lakes in British Columbia.
1. Garibaldi Lake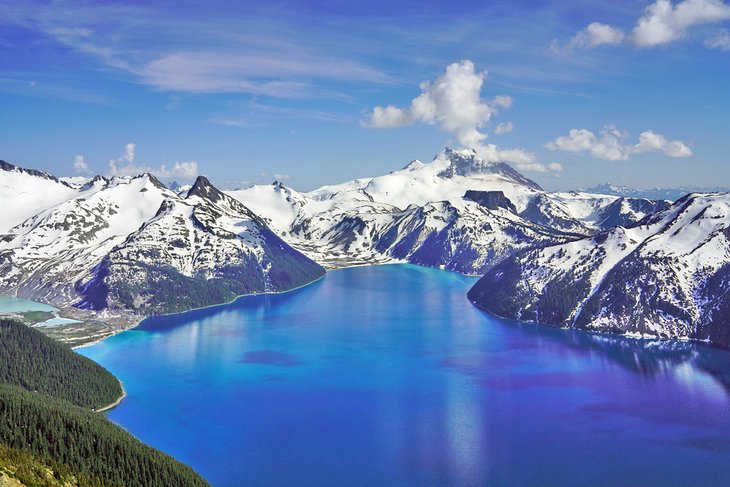 One of the most spectacular lakes in British Columbia is Garibaldi Lake. This large, turquoise blue expanse of water is flanked by mountains, creating an absolutely jaw-dropping vista – but there are two catches.
First catch: you're going to have to work to get here. Situated in Garibaldi Provincial Park between Squamish and Whistler, Garibaldi Lake requires a nine-kilometer hike up, and we do mean up: you'll gain 820 meters of elevation as you follow the trail of switchbacks through the forest. You'll likely work up a good sweat on your trek, which brings us to our next point...
Second catch: this glacier-fed lake is freezing cold! While a quick splash in the lake may feel rejuvenating after a hike, you won't want to linger long in the water. The fact that the lake is glacier fed is what gives it its distinct coloring – but it also makes it, quite literally, ice cold.
Garibaldi Lake is best for simply sitting back and enjoying all its beauty. If you want to take your time enjoying the view, book a campsite along the lake through BC Parks. It's a popular spot to pitch a tent, so the earlier you book, the better. Mid-week is generally less busy than weekends, and holiday weekends are even busier.
Read More:
2. Okanagan Lake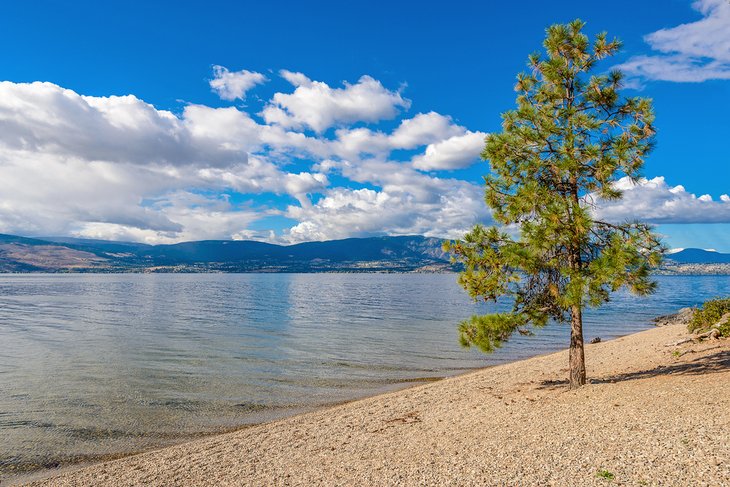 If you're looking for a lake with plenty of recreation opportunities, look no further than Okanagan Lake.
Kayaking, canoeing, stand up paddleboarding, sailing, wakeboarding, water skiing, snorkeling, or good old-fashioned swimming – if you can think of a fun water activity, you can probably do it on Okanagan Lake.
The city of Kelowna serves as a great home base for exploring Okanagan Lake, but there are plenty of other communities along the lake that are well worth checking out, including Peachland, Summerland, Vernon, and Penticton.
There are more than 30 beaches along the shores of the lake, and although many people flock to the lake, there is plenty to go around: spanning 135 kilometers from tip to tip, there are lots of places to go that feel more secluded, especially if you're traveling by boat.
While you're playing in the water, keep your eyes peeled for mysterious lumps and bumps on the horizon. Legend has it that a mysterious water monster, dubbed Ogopogo, calls Okanagan Lake home!
Accommodation: Best Resorts in Kelowna, BC
3. Joffre Lakes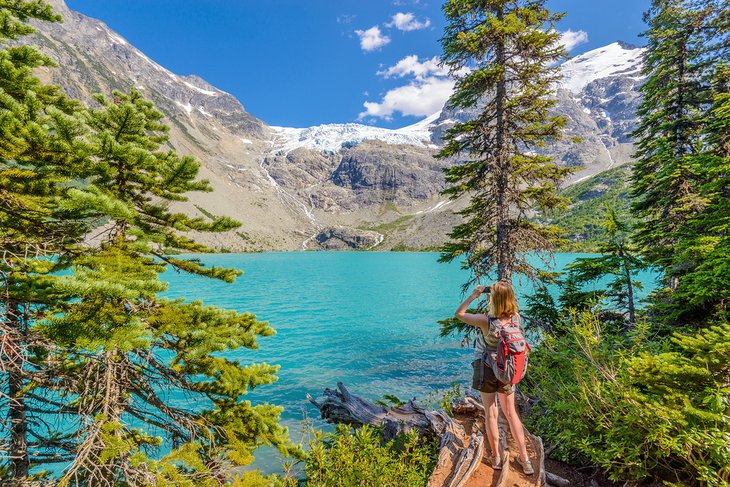 What is often referred to as "Joffre Lake" or simply "Joffre" is actually three distinct lakes: Lower, Middle, and Upper Joffre Lakes.
All three are located just north of Pemberton, BC. Joffre Lakes require a little effort to access, but good news: they're much easier to get to than Garibaldi Lake. It's a five-kilometer hike (one way) from the trailhead to Upper Joffre, the farthest of the three lakes, and the total elevation gain is a challenging but tolerable 400 meters.
The first and easiest lake to access is Lower Joffre Lake – an easy five-minute hike along a flat, gravel trail. Middle Joffre Lake is about three kilometers into the hike; most of the elevation gain of the entire trail occurs in those three kilometers. Upper Joffre Lake is another two kilometers past Middle Lake. The climb through this section isn't bad, but the trail becomes a little more technical, so watch your step.
Although all three lakes are freezing cold and are generally not swimmable, that doesn't stop the masses from hiking to the lakes to snap an Instagram-worthy photo. The "secret" of Joffre Lakes spilled a few years ago, resulting in a spike in visits and a lot of traffic on the trail.
In recent years, the trail has been redone, and the parking situation has improved. Still, expect crowds in the busy summer months, plan your trip and abide by parking regulations, and be a good trail steward: leave absolutely no traces behind!
4. Eva Lake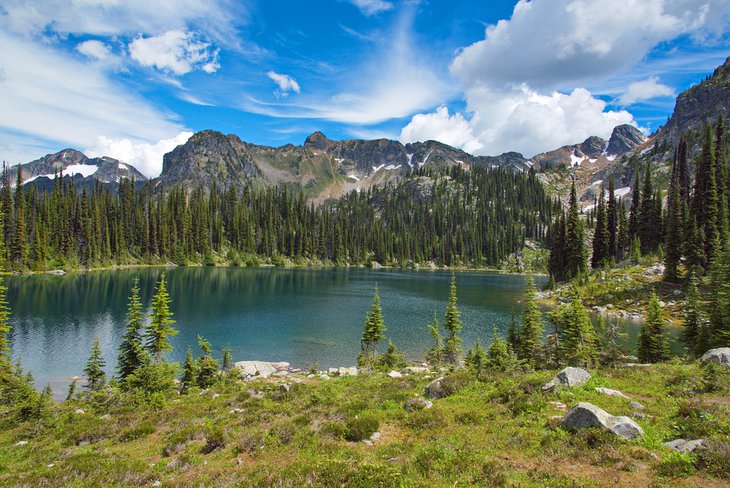 There are many beautiful lakes in BC, but Revelstoke's Eva Lake just might take the cake – especially if you visit in late summer, when Mount Revelstoke National Park's colorful wildflowers are in full bloom.
It's about six to seven kilometers (each way) to hike to Eva Lake – shorter if you opt to take a shuttle from the parking lot, longer if you plan to walk the extra kilometer to the trailhead. From the start of the trail, the hike is a real treat, with forested sections, bountiful subalpine meadows, and breathtaking views over the Columbia River in the distance.
The highlight of the hike is, of course, the epic Eva Lake. The sparkling lake is surrounded by trees, with imposing mountain ranges in behind.
If you're lucky enough to nab one of the four backcountry campsites along the lake (which can be reserved through Parks Canada), you can enjoy the million-dollar view from the door of your tent.
5. Emerald Lake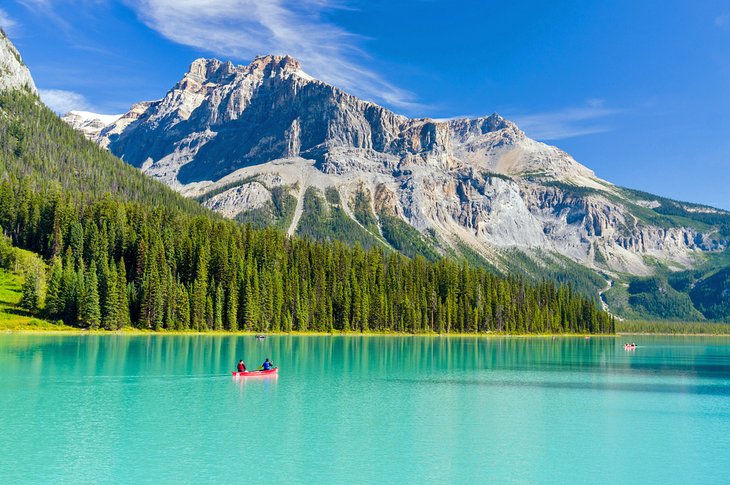 It's not difficult to figure out how Emerald Lake got its name: its vibrant green hue is incredible in photos, but even more stunning in real life.
The water in Emerald Lake comes from the melting snow on the surrounding mountains, which carry powdered limestone (also called rock flour), creating the lake's spectacular emerald color.
As the largest body of water in Yoho National Park, the lake is also one of the park's biggest attractions. The 5.2-kilometer hiking trail that loops the lake is a popular draw, allowing tourists to take in the lake from all angles. About half of the trail is flat and easily accessible, providing a great out-and-back option for those in wheelchairs, with strollers, or who just prefer a more mellow hiking experience.
You can rent a canoe or rowboat to easily explore Emerald Lake from out on the water. In the winter months, cross-country ski and snowshoe rentals are available. The water is a wee bit cold for a swim, but fishing is a popular activity – brook char and rainbow trout are some of the more common catches.
If you can't get enough of Emerald Lake with its Rocky Mountain backdrop, treat yourself to a room at the Emerald Lake Lodge. Perched on the shores of the lake, this resort offers the opportunity for some peace and quiet (read: there's no cable or Wi-Fi!)
6. Lake O'Hara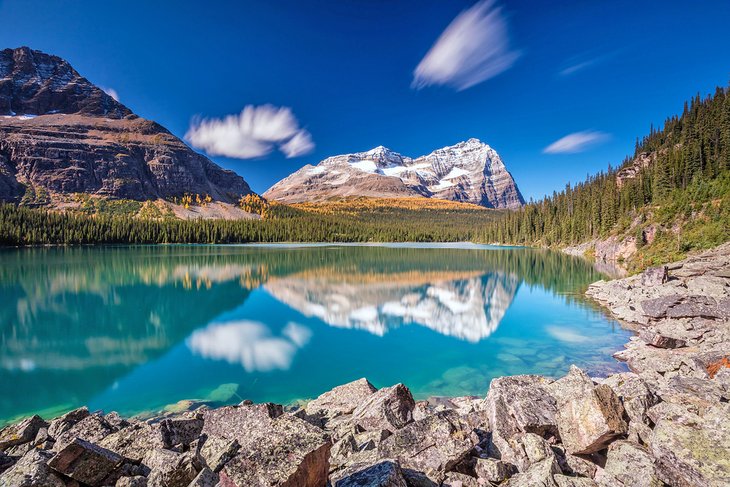 In terms of lake experiences, Yoho National Park's Lake O'Hara is somewhat of a VIP destination.
To protect the sensitive ecology and preserve the pristine wilderness factor that makes the lake so enticing, Parks Canada limits the number of visitors who can access Lake O'Hara via shuttle bus on any given day. To book a spot on the bus, visitors must enter the random draw to try to secure a seat, but be warned: the draw only takes place once per year, and reservations are non-transferable. If you manage to secure a spot, it's nearly as satisfying as winning the lottery!
You can also opt to hike the 11-kilometer route (each way) to the lake. It's longer and more challenging, but the reward is the same: the opportunity to witness amazing Lake O'Hara in person.
7. Shuswap Lake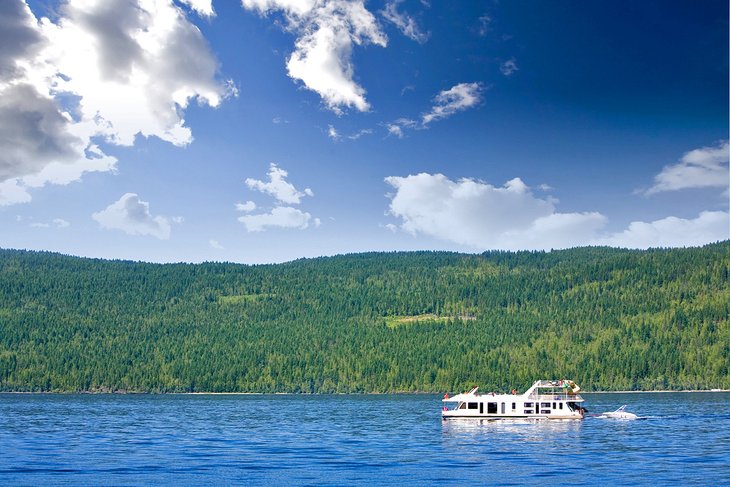 With a total surface area of nearly 310 square kilometers (that's about 120 square miles), there's lots of fun to be had in and around Shuswap Lake. The lake is super popular in the summer months, when a refreshing dip in the water is the perfect reprieve from a hot summer day.
Unlike many of the other lakes on this list, Shuswap Lake is comfortable to swim in throughout the summer season.
One popular activity on Shuswap Lake is houseboating. Whether traveling with friends, family, or both, renting a houseboat is a great way to explore the water and check out the beaches. Each night, you can dock at a different designated beach and be lulled to sleep on your boat. Boats range greatly in size and in amenities offered, with many featuring spiraling water slides and sprawling sun decks.
8. Berg Lake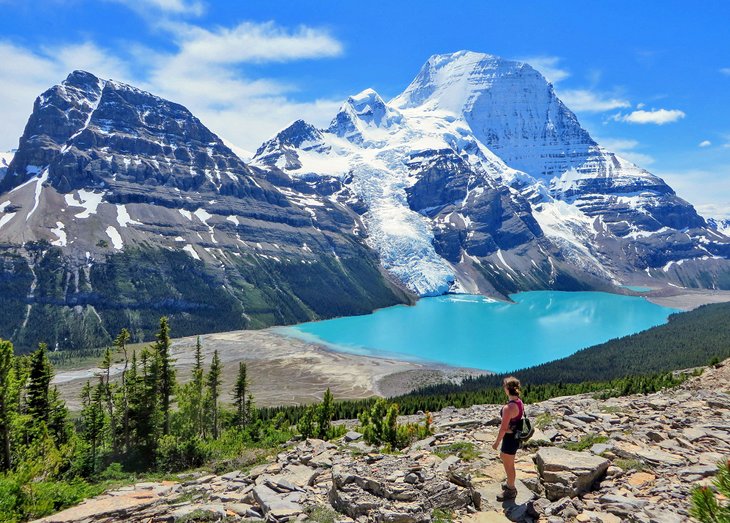 You're going to have to work hard to get to Berg Lake in Mount Robson Provincial Park: it's a 21-kilometer hike (each way) to get to the lake, and that's if you can secure a coveted camping permit, which must be reserved in advance. But like many things in life, the harder you have to work for it, the more you'll appreciate the natural beauty of Berg Lake.
The hike to the lake is full of incredible sites, from the picturesque Kinney Lake to the rushing Emperor Falls. But most would argue that Berg Lake is the real highlight of the hike, with Mount Robson looming in the background of the blue-green glacial lake.
Hiking out to the lake and back in a single day is doable, but be mindful that the distance covered is the same as a marathon – plus 800 meters to climb on the way up and descend on the way down. If you're fit and an avid hiker, it can be done, but it makes for a very long day.
9. Osoyoos Lake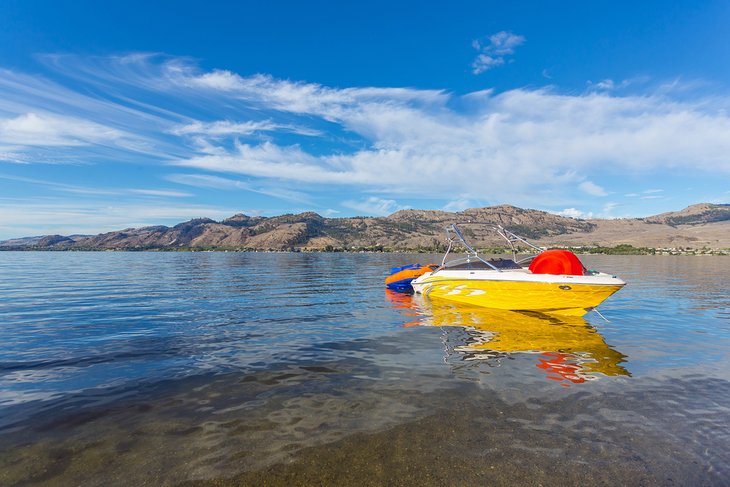 Looking for a glorious lake where you can enjoy a swim without freezing? Osoyoos Lake boasts the title of being the warmest lake in BC – and it's actually the warmest freshwater lake in all of Canada, too!
The average summer temperature hovers around a pleasant 24 degrees Celsius (that's 75 degrees Fahrenheit), making it a refreshing way to cool down on a sunny day.
The total area of the lake is just over 23 square kilometers (nearly nine square miles) and there are lots of beaches and parks along the shore just begging to be explored. Gyro Beach is a popular sandy beach situated in downtown Osoyoos, while Legion Beach offers a slightly more secluded experience (with a designated dog beach, too!)
Beyond swimming, visitors can also partake in stand up paddleboarding, kayaking, boating, and many other fun water activities. When you're ready to dry off, there's plenty to do on land – including exploring Canada's only true desert.
10. Williston Lake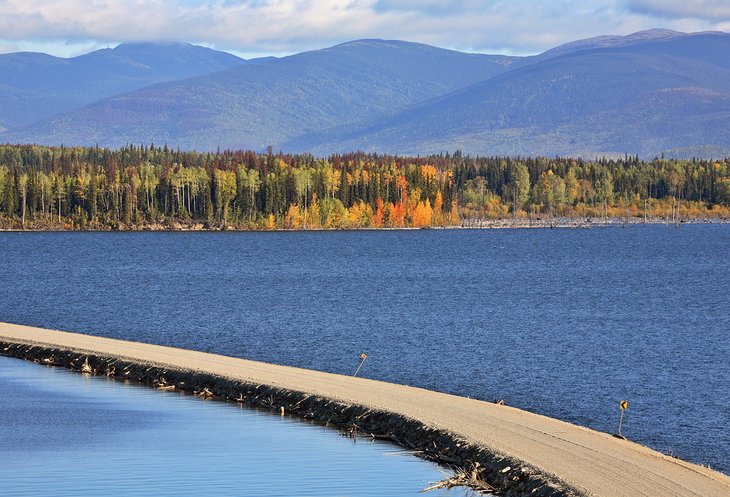 There's a lot of debate over which is the best fishing lake in BC, but Williston Lake is one of the top contenders. Of all the lakes in the province, Williston Lake also boasts the title of being the largest lake in British Columbia.
With a surface area of 1,761 square kilometers (680 square miles), Williston Lake is an angler's dream. Brook trout, northern pike, lake trout, bull trout, rainbow trout, kokanee – these are just a few of the fish you might catch out on the water.
There are several fishing camps around the lake offering everything from single-day fishing trips to longer excursions. Accommodations range from basic campsites to rustic cabins to well-equipped cottages. In other words, there's something for just about everyone.
11. Cultus Lake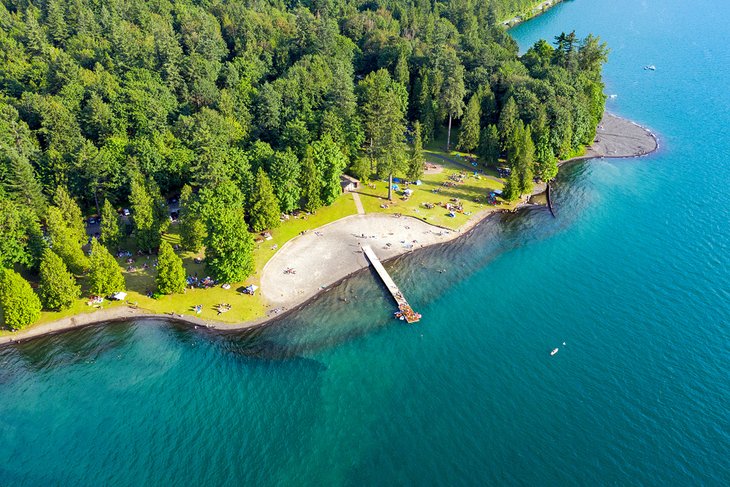 Cultus Lake is one of the most family-friendly lakes in British Columbia. Just an hour and a half from Vancouver, Cultus Lake features natural beauty and entertaining attractions for all ages.
On the water, there's swimming, stand up paddleboarding, kayaking, water skiing, sailing, fishing, and power boating. On land, there's hiking, golfing, exploring local parks, or lazing around the sandy beaches. In other words, you won't get bored.
When you start to feel lake-d out, check out Cultus Lake Adventure Park. Part theme park, part water park, Cultus Lake Adventure Park offers a variety of rides, ranging from gentle to high-thrills. It's a great treat for kids (and adults, too!) and a fun change of scenery for when you've reached your fill of lakes.
12. Harrison Lake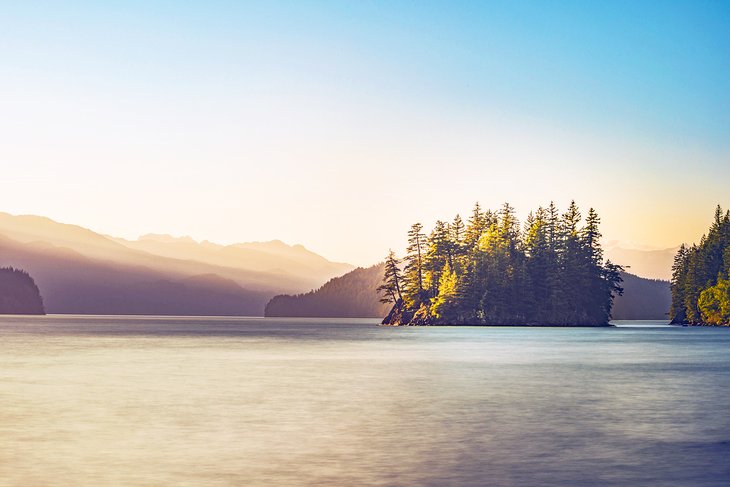 Harrison Lake is a perfect spot to head to for a weekend getaway from Vancouver. Ringed on three sides by towering mountains, this 60-kilometer-long lake is truly spectacular.
A visit here generally includes the town of Harrison Hot Springs, famous for the sulfur-laden hot water that gushes forth from the ground. Here, you'll also find one of the best beaches in British Columbia.
But if you crave a bit of solitude and have a taste for adventure, head on up to the lake, and you'll soon leave all signs of civilization behind. Try and keep your eyes on the lake as you motor northwards; however, the towering peaks of Mount Breakenridge, Mount Clarke, and Grainger Peak make for alluring distractions.
13. Kootenay Lake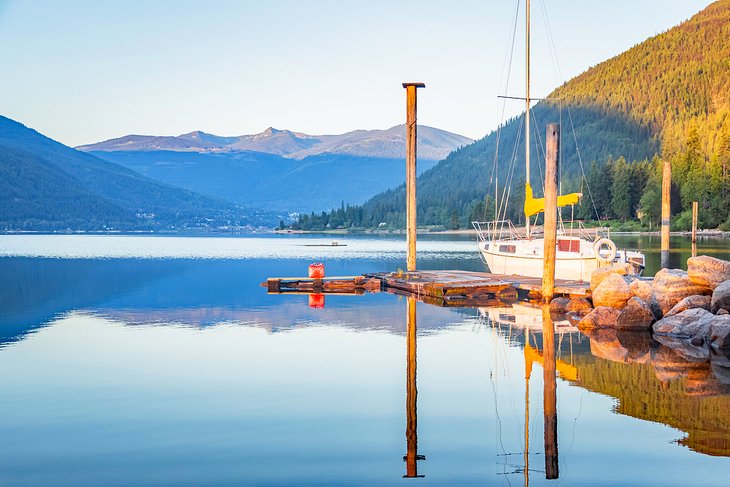 This long, narrow lake in the British Columbia interior is one of the best lakes in the province for the sheer number of things to do both on and off the water.
On the water, your ability to explore the north and west arms is practically unlimited. You can fish, swim, water-ski, sail, dive, kiteboard, or just plain laze about on a floating air mattress.
Off the lake, you can explore any of the treasures of the Selkirk and Monashee mountain ranges. Here, you'll find a number of provincial parks, beaches, hiking trails, hot springs, and, of course, the funky and fun town of Nelson.
Map of Lakes in British Columbia