17 Top-Rated Attractions in Kelowna & the Okanagan
The Okanagan Valley is a wonderfully scenic area in southern British Columbia that has long been a go-to vacation destination for generations of Canadian families. Lakes and surrounding mountains create the perfect setting for outdoor recreation, the area's main attraction. Boating, swimming, sandy beaches, hiking, biking, downhill skiing, and great dining are just some of the things to do in this area of the BC interior.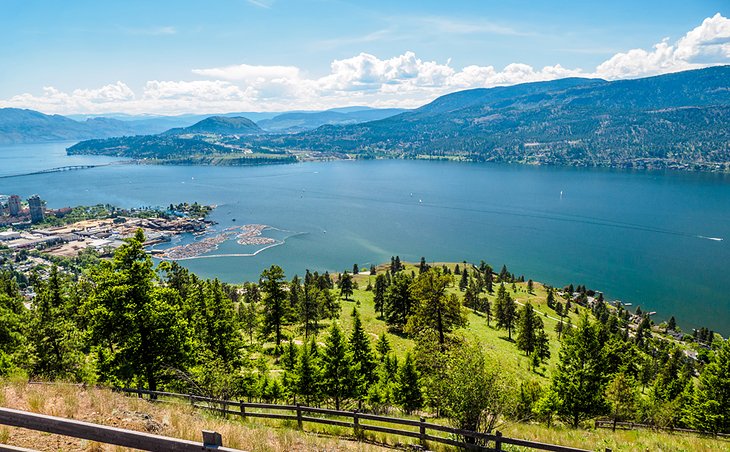 This area is one of the warmest places in Canada in winter and has a relatively mild climate throughout Canada's colder months. Summers are dry, hot, and sunny, making the Okanagan Canada's orchard. In season, you can stop at roadside stands to buy the fresh produce of the fruit trees planted all over the valley floor and its terraced slopes.
Located on the eastern shore of Okanagan Lake (the largest in a chain of lakes), Kelowna is a beautiful lakeside community. Over the years, the city has developed into a popular resort thanks to its beaches and more than 2,000 hours of sunshine each year. In winter, the region attracts skiers, who come to experience some of Canada's best resorts.
Visitors often base themselves in Kelowna and explore the surrounding towns, like Peachland, Summerland, and Penticton, as well as the nearby resorts of Silver Star and Big White. For ideas on how to spend your time, see our list of top tourist attractions in Kelowna and the Okanagan.
1. Okanagan Lake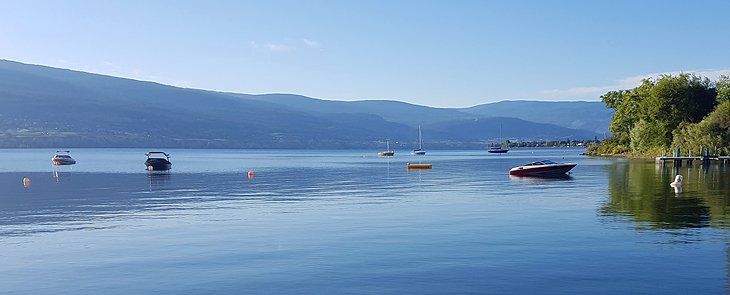 The largest in a chain of ancient fjord lakes, Okanagan Lake, which you'll also hear called Lake Okanagan, touches the shorelines of most major Okanagan communities, including Vernon in the north, Kelowna in the center, and Penticton to the south.
The lake is the main recreation playground for locals and visitors alike, offering sailing, houseboating, power boating, parasailing, swimming, and sandy beaches, plus many scenic drives along its shorelines.
The lake is over 135 kilometers long and plunges to depths of 232 meters at its deepest point. Getting out on the lake is an ideal way to truly appreciate the spectacular surroundings. Tour boats ply the clear waters and offer a variety of cruise options, including afternoon and dinner/sunset trips complete with musical entertainment.
2. Big White Ski Resort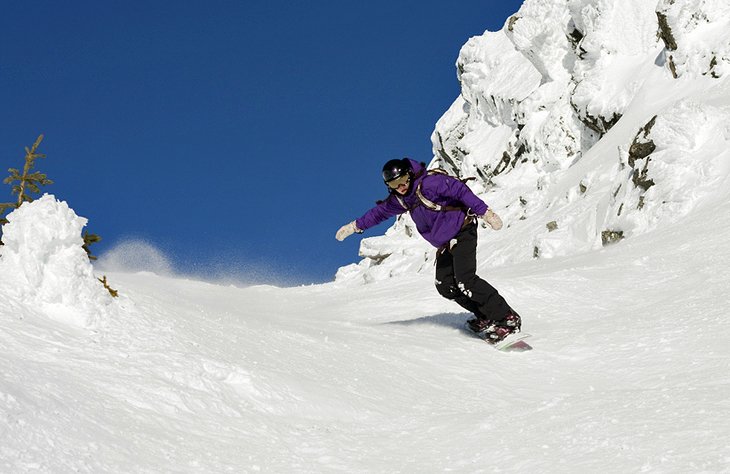 Just 60 kilometers east of Kelowna in the Monashee Mountains, Big White (2,319 meters) is one of Canada's most spectacular ski resorts. The mountain is known for its copious quantities of snow, an average of about 7.5 meters of the glorious white stuff falls each winter.
Situated at an elevation of 1,511 meters, the family-friendly Big White Ski Resort offers a range of ski runs, winter activities, accommodations, and dining. Big White has also gained the nickname "Big White Out," a reference to the fog and cloud that sometimes blankets the mountain, making conditions challenging at times.
Big White is just one of three ski resorts within easy reach of Kelowna. Silver Star Mountain Resort is a short drive north, near Vernon, and Apex Mountain Resort is just south, near Penticton. A great family ski vacation can easily be planned with trips to all three ski hills using Kelowna as your main base.
Address: 5315 Big White Road, Kelowna, British Columbia
3. Silver Star Mountain Resort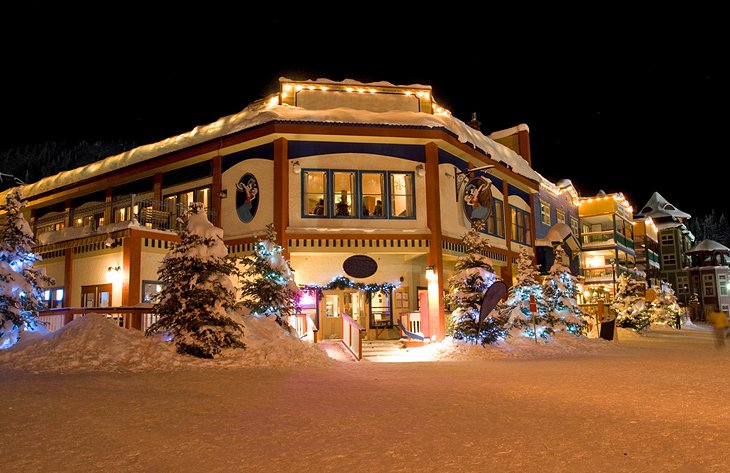 Near Vernon, Silver Star Mountain Resort is one of BC's best family-friendly mountains. Boasting a vertical drop of 760 meters and ski-in, ski-out access to the various hotels, a trip here is easy. No commuting from your hotel to the hill and getting all your gear on. Just park the car and walk with your ski gear on right to the lifts. Need a lunch break? Grab a bite on the hill or head back to your room or condo and make your own.
Although Silver Star has a reputation for being a family-oriented mountain with a large number of easy green runs, don't get too comfortable with that description; some of the steep options will more than get your heart racing.
The pedestrian-only resort village has a pretty Victorian, almost postcard-perfect, architectural style. Restaurants, a grocery store, and several retail outlets provide everything you need.
In summer, a gondola provides access to 22 kilometers of hiking trails. In addition, a high-speed chairlift accesses the bike park. A recently added summer tubing ride is located near the top of the gondola.
Address: 123 Shortt Street, Silver Star Mountain
4. Kettle Valley Rail Trail in Myra-Bellevue Provincial Park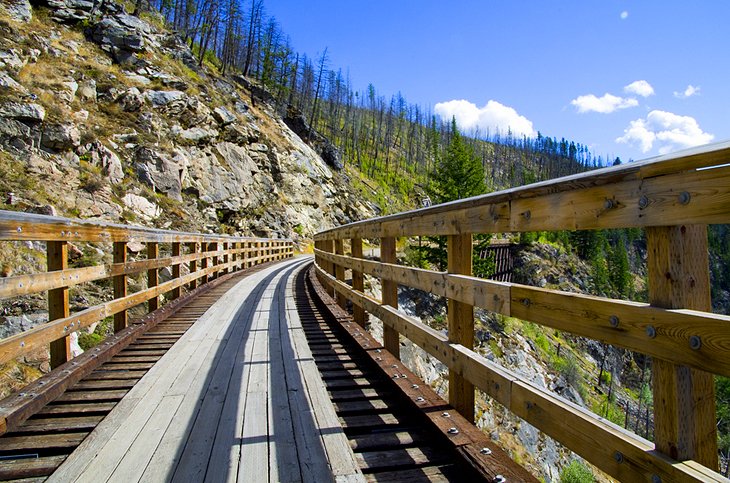 The Kettle Valley Rail Trail is a 650-kilometer system stretching from Hope to Castlegar. Fortunately for visitors to Kelowna, the section near town is one of the most impressive portions of the entire route.
A series of restored historic trestles and tunnels were refurbished and rebuilt over the years, and now they have become a popular trail for biking, hiking, and walking. The section through Myra Canyon crosses over 18 trestles and passes through two tunnels carved from the canyon walls.
This is a popular family outing, and the views over the surrounding landscape are quite spectacular. Access the most scenic part of the KVR by parking at either the Myra Station parking lot or the Ruth Station parking lot. If you want to do the entire distance one way, two cars are required, or you can take a tour or a shuttle from Kelowna.
The park is about 25 kilometers from downtown Kelowna, approximately a 40-minute drive, some of which is on a well-graded gravel road.
5. City Park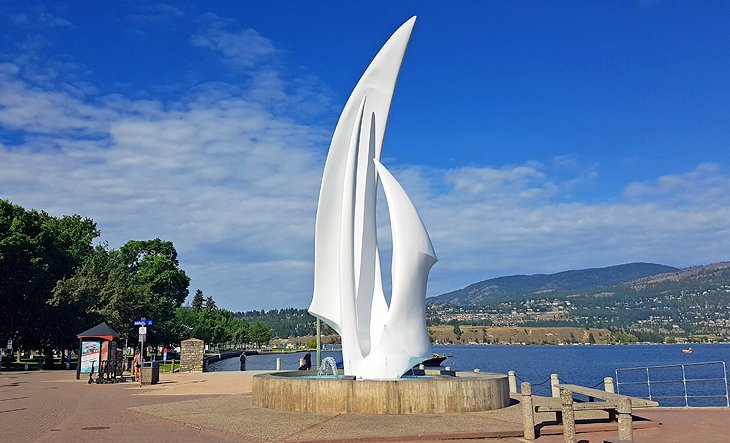 Kelowna's City Park is a leafy 32-acre park set on the waterfront. It's a perfect place for a fun family outing in summer. Wide sandy beaches, offshore swim platforms, playgrounds, and a water park are sure to keep youngsters entertained.
Walkers and joggers will enjoy the wide paved trail that winds its way along the waterfront and provides spectacular views over the lake. Just back from the water are large green spaces, ideal for a picnic or impromptu game of tag or Frisbee.
For those looking for a bit of competitive activity, tennis courts, a soccer field, lawn bowling, and sand volleyball courts are available for use.
6. Downtown Kelowna & the Farmers' and Crafters' Market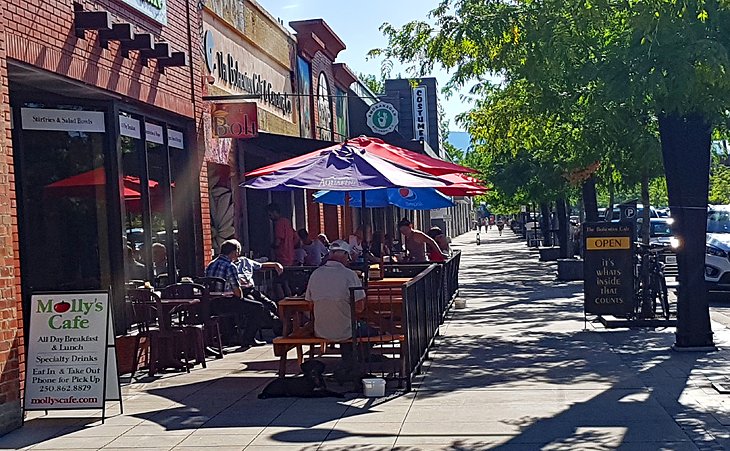 Just steps from City Park and the waterfront, you'll find downtown Kelowna. This area hums with activity, and the area is full of restaurants and unique retail shops. You can stroll the wide sidewalks to do a bit of window shopping and then stop in at one of the many outdoor patios for a bite to eat. In the evening, head to this area to enjoy some nightlife.
Every Sunday in June, July, and August, a Farmers' and Crafters' Market takes place from 9am to 2pm on St. Paul Street. Pick up some home baking, knitting, or fresh fruit, or grab a fresh-brewed coffee and check out the scene.
7. Waterfront Park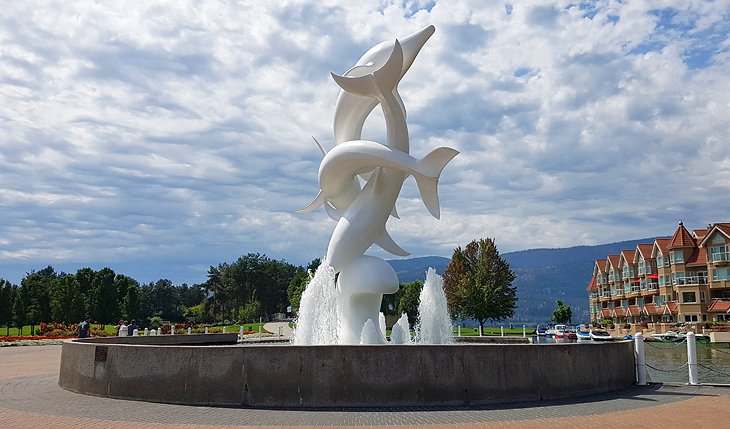 This 18-acre park in Kelowna looks small from the street, but once you walk in a ways, you'll find expansive grounds and plenty of space. Waterfront Park is easy to spot-just look for the spectacular water feature of entwined white dolphins called Rhapsody across from the Convention Center.
Wonderful gardens, mature trees, and a variety of public art are found in the park. For the kids, a sandy beach and concession stand serving quick bites is available.
The boardwalk runs along the water and connects with City Park. Combining a walk along here with a diversion to the shops of downtown is a great way to spend an afternoon.
8. SS Sicamous Okanagan Heritage Museum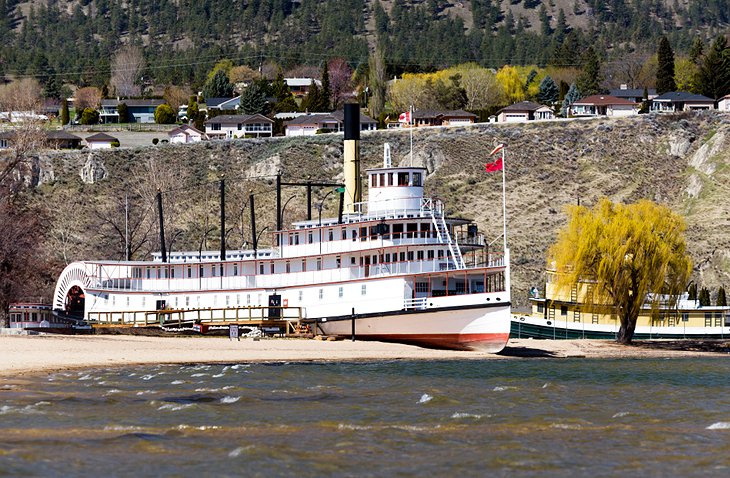 Situated on the Penticton waterfront, the SS Sicamous has been restored to her full 1914 glory and operates as a climb-aboard museum. A visit here takes you back over 100 years to the era of luxury steamboat travel.
Highlights of the interior of the ship include the mahogany Grand Staircase, the engine room with its maze of colorful piping and massive boilers, and the Gentleman's Saloon with its plush red carpeting.
Be sure to check out the scale model of the Kettle Valley Railroad, located below deck in the engine room. There are other historic vessels in the park, including the 1914 SS Naramata Tugboat and a 1907 steamship, the SS Okanagan sternwheeler.
Address: 1099 Lakeshore Drive W., Penticton, British Columbia
9. Kangaroo Creek Farm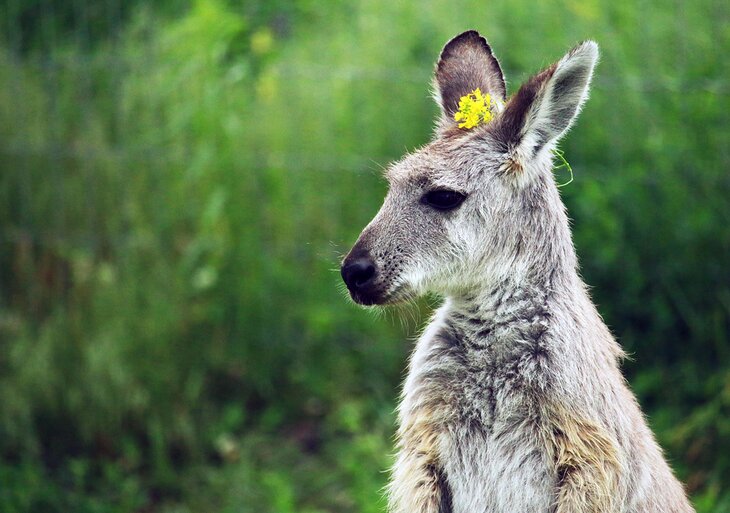 One of the most enjoyable family outings in the Okanagan near Kelowna is a trip to Kangaroo Creek Farm. As the name suggests, the farm has the cutest assortment of kangaroos, wallabies, and sugar gliders that will melt your heart.
The animals here love children and are always happy to accept a pet or two and, of course, a treat. In addition to the hopping variety of animals, the park also has capybaras, potbellied pigs, goats, llamas, parrots, and emus. Strutting around freely and showing off their fancy colors are peacocks.
Kangaroo Creek Farm operates only in the spring, summer, and fall. Note that the last admission is at 2:45pm.
Address: 5932 Old Vernon Road, Kelowna, British Columbia
10. Knox Mountain Park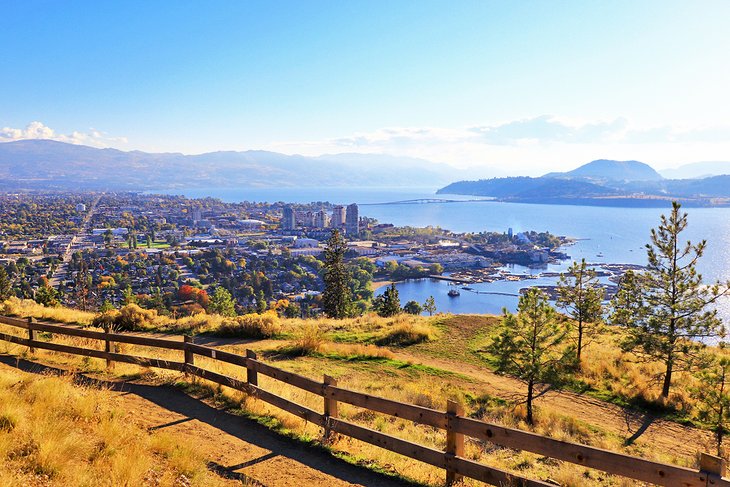 For the best view of Kelowna, head to the top of Knox Mountain Park. The panorama from the top pergola 300 meters above Lake Okanagan is spectacular. Fifteen trails for walking, hiking, or biking wind their way through the park, passing through different flora ranging from scrub brush to stately Douglas Fir trees.
Should you prefer an effortless way to soak up the view, just take Knox Mountain Drive to the top, but note the road does not open to vehicles on Sunday until 12 noon.
11. Kasugai Gardens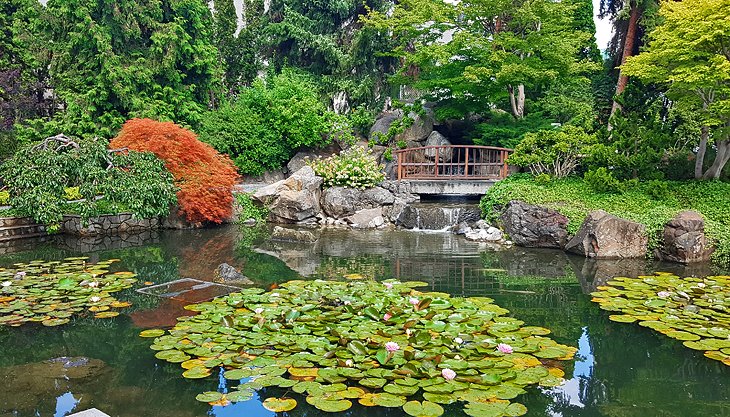 If you are wandering around downtown Kelowna and need a break from the hustle and bustle, be sure to stop in and take a time out at Kasugai Gardens. This lush garden is an oasis of calm and quiet in the heart of the city.
Beautiful flowers, ornate trees, decorative lanterns, and ponds of slow-swimming koi create the perfect atmosphere for contemplation. This free attraction in Kelowna is located behind City Hall on the eastern side. Note that the park is closed in the winter, beginning in late October or early November.
12. Mission Creek Regional Park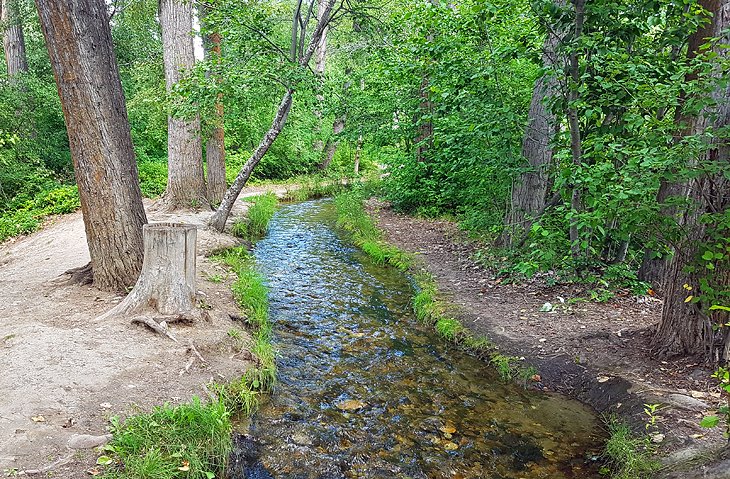 Mission Creek is a fun family attraction in Kelowna and a great place to visit to get a little exercise. Play structures, a shallow stream, and plenty of green space to picnic or play games is on offer.
Extensive walking trails through the trees and along the small stream are well-marked and level, perfect for bike riding or pushing a stroller. Mission Creek Regional Park is part of the Mission Creek Greenway, a 16.5-kilometer-long trail that follows the creek into the surrounding mountains. Depending on the time of year, you may be lucky enough to see fish spawning in the creek.
13. Summerland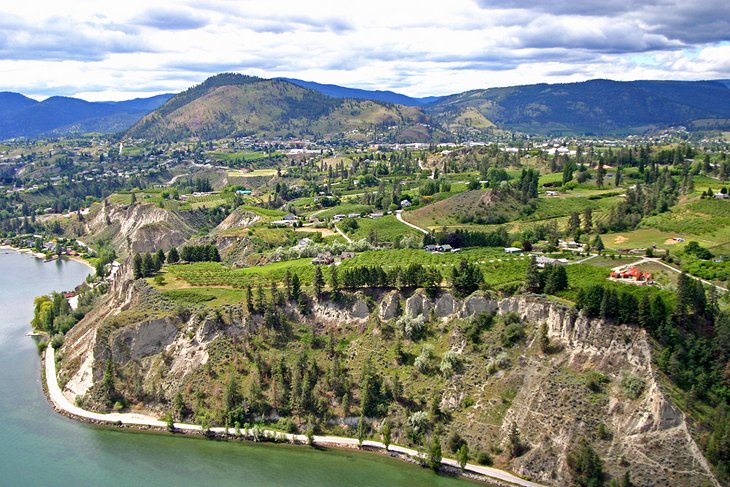 Summerland is a scenic community on terracing above Okanagan Lake, set amid fruit trees. The orchards provide the main industry in the town, with a history that dates back to the 1890s. Visitors can sample from roadside fruit vendors that line the highways in the summer, or head to Summerland Sweets for tastings.
For a beautiful view of Okanagan Lake, head to Giant's Head Park, atop Giant's Head Mountain. A road leads through the park with lookouts along the way, or you can choose to hike to the top.
Summerland is also the home of the Kettle Valley Railroad Steam Train, where you can ride the rails behind a restored locomotive from 1912 as it puffs and steams its way along a 90-minute route.
14. Vaseux Lake Provincial Park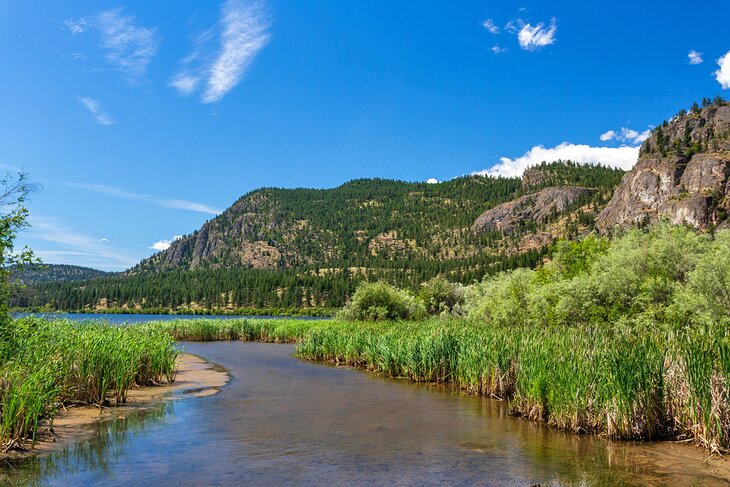 Just south of Penticton and with a small campground and provincial park, four-kilometer-long Vaseux Lake is a bird sanctuary, where Canada geese nest, and rare Trumpeter Swans make a stopover during migration. The park has well-placed viewing platforms that provide the best chance of seeing the resident wildlife.
The lake itself is home to a variety of fish, such as bass, carp, and rainbow trout, making it a popular fishing location. Other wildlife in Vaseux Lake Park include beaver, deer, muskrat, rabbit, and more. Bighorn sheep and mountain goats are frequently found among the rocks.
The campground has 12 first-come, first-served sites, some of which are near the lake. Comfort stations are pit toilets, and drinking water is available from a central tap.
15. Oliver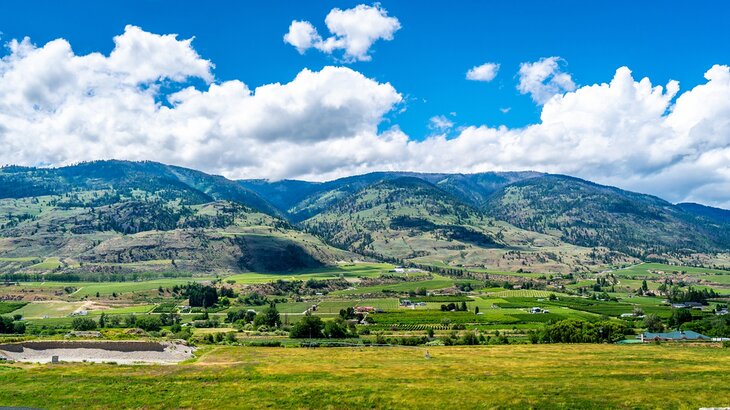 Surrounded by orchards, the scenic little town of Oliver came into being after the First World War, when the Canadian government gifted returning soldiers with irrigated land.
One of the attractions worth visiting in the town is the Oliver and District Heritage Society Museum, which has rotating displays exploring the natural history of the Canadian desert, pioneer days, or the old mining town of Fairview (1887 to 1906). The museum is a good place to begin a tour of the region.
A short walk that provides a bit of history and offers nice views up and down the valley is the Golden Mile Stamp Trail. This short jaunt takes you up the valley side to the site of an old stamping mill, dating from 1895, and crosses Tinhorn Creek.
If you find yourself in Oliver in the winter, head up to Baldy Mountain Resort for some incredible skiing. This is a low-key resort due to its diminutive size, but that doesn't bother the locals. They are more than happy to have Baldy and its copious snowfall, short lift lines, and incredible glades to themselves. New in 2021, the resort is opening summer weekends with lift access providing access to the high country.
16. Peachland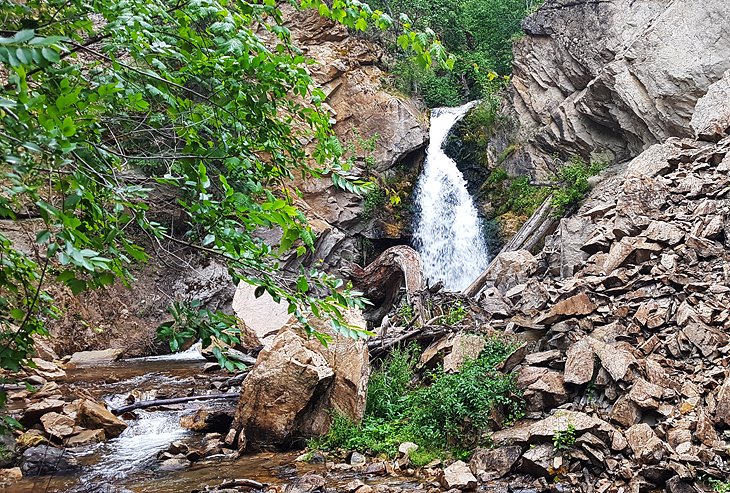 Peachland is a picturesque community of 5,000 people set on the shores of Okanagan Lake, between Kelowna and Penticton. It's a popular tourist destination, known for its thriving orchards. Stop in along the way here at one of the many fresh fruit stands for just-picked cherries, apricots, and of course, peaches.
To get a glimpse of the local history and also for the chance to see the inside of an eight-sided former church, stop in at the Peachland Museum located on Beach Avenue in town. The walk to Hardy Falls is a favorite local excursion and is wheelchair accessible.
Other things to do in this area of the Okanagan include golfing, boating, hiking, horseback riding, restaurants, and shopping.
17. Skaha Bluffs Provincial Park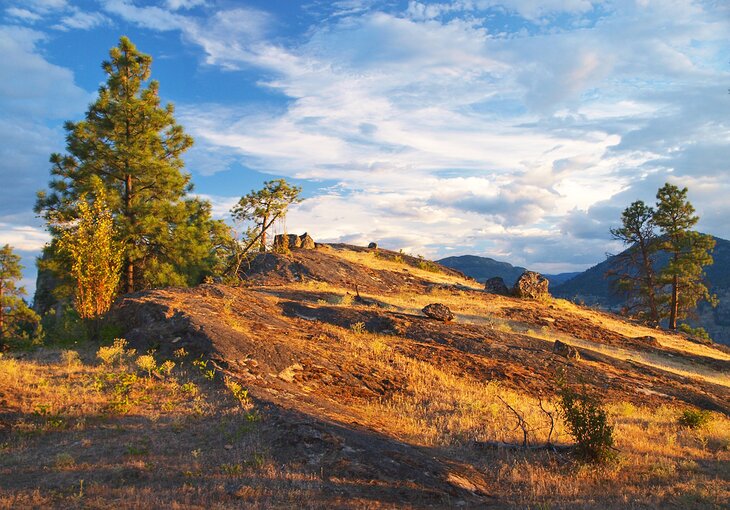 One of the most popular provincial parks in the region, Skaha Bluffs Park is a hot spot for those who love the outdoors. The park is especially favored by those who love rock climbing for its 1,000 plus routes up the steep cliff faces.
In addition to rock climbing, the park also has a good selection of hiking and mountain biking trails that wind their way through the picturesque landscape. Skaha Bluffs is also a great place to visit for wildlife spotting. If you are lucky, you'll see the resident bighorn sheep grazing peacefully on the hillside.
Map of Attractions in Kelowna & the Okanagan
More Related Articles on PlanetWare.com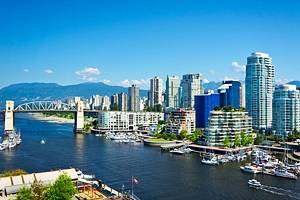 Exploring BC: British Columbia is a beautiful area to visit any time of year. To start planning your vacation, see our list of top attractions in British Columbia and discover the best places to visit. If you are starting off in Vancouver, be sure to see our guide to this beautiful city, and if you plan on heading over to Vancouver Island, have a read through our list of top attractions in Victoria.