8 Best Campgrounds in Kamloops, BC
The splendid scenery and semi-arid climate in Kamloops make it an ideal place to camp most of the year.
Kamloops is blessed by its location where the north and south branches of the Thompson River converge. This setting would be bountiful by anyone's standard, but there's so much more that encourages visitors to praise Kamloops as a camping destination. It is close to Kamloops Lake and many other good fishing lakes.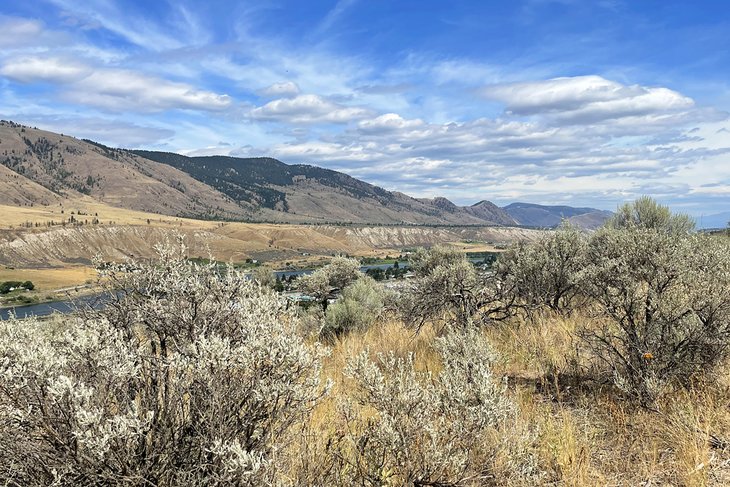 Factoring in hot summers and scant rainfall, plus all the things to do (swimming, boating, fishing, hiking, biking), Kamloops is pretty much the ideal camping environment. Surrounded by an abundance of water, Kamloops is a camping oasis in the Okanagan Desert.
Several campgrounds are located in or close to the city, so you don't have to go far to restock the pantry of your camper or the grocery tote box in your vehicle. Some of the most popular campgrounds are located on a lake or shore of the scenic Thompson River.
Pick your spot with our list of the best campgrounds in Kamloops.
1. Paul Lake Park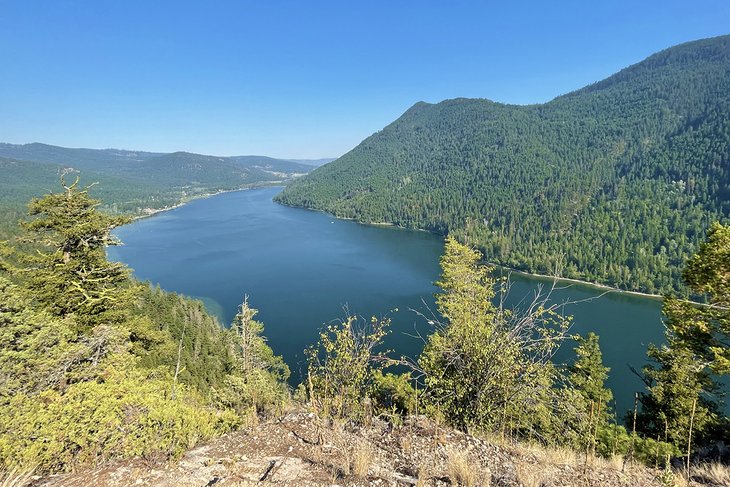 The most scenic campground in the Kamloops area is Paul Lake Park, 23 kilometers northeast of the city — about a half-hour drive. Campers can choose from 90 campsites with shady trees that are as precious as potable water when the sun is full-on.
Reservations for campsites are recommended during the peak season because this popular park fills up. Make reservations from May to September. Sites are offered on a first-come, first-served basis if they're not occupied.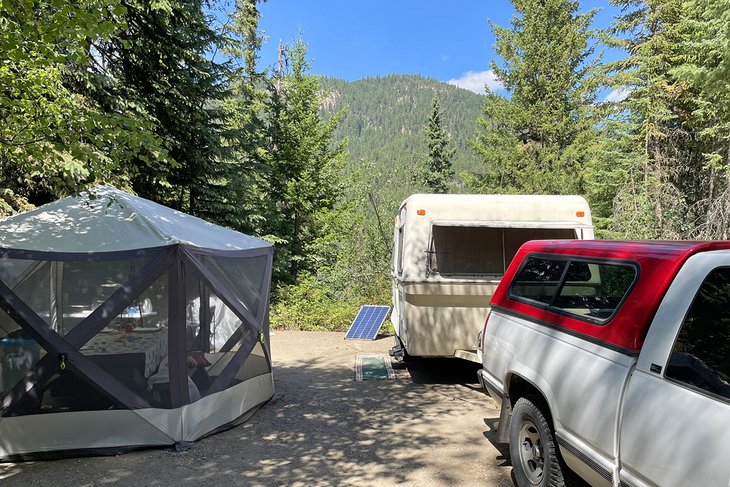 Picturesque Paul Lake has been drawing campers and visitors to this large provincial park of 728 hectares since it opened more than 60 years ago. The day-use area has a long sandy beach, and there's a dock nearby. If you want to get out and about in a boat but don't have your own, ask the park operator or host about renting one.
Enjoy bragging rights for bagging the peak of 900-meter-high Gibraltar Rock. The trail to this rocky outcrop begins on the west side of the park, beyond the day-use area. The first kilometer is a constant incline. The last one-third of a kilometer is steep, so you'll give thanks that most of the trail is shaded by Douglas fir, pine, and aspen trees.
The reward at the summit is panoramic views of Paul Lake (6.5 kilometers long) and Harper Mountain. Perch here for a few moments and listen for the iconic cry of the loon. When you hear it, you'll know you have arrived on top of one of the best hiking trails in Kamloops.
This is a remote park, so stay alert for sightings of birds and wildlife. You could see a falcon or a coyote. Black bears are resident here and nothing to fear as long as you don't surprise them or come between a mama bruin and her cub. Make noise to alert bears to your presence, and they are likely to head for the hills.
Paul Lake is stocked with rainbow trout so it's not a stretch to think about frying up fish for dinner. Be sure to obtain the appropriate license if you wish to go fishing or angling in British Columbia.
Read More: Top-Rated Lakes in British Columbia
2. Kamloops Riverview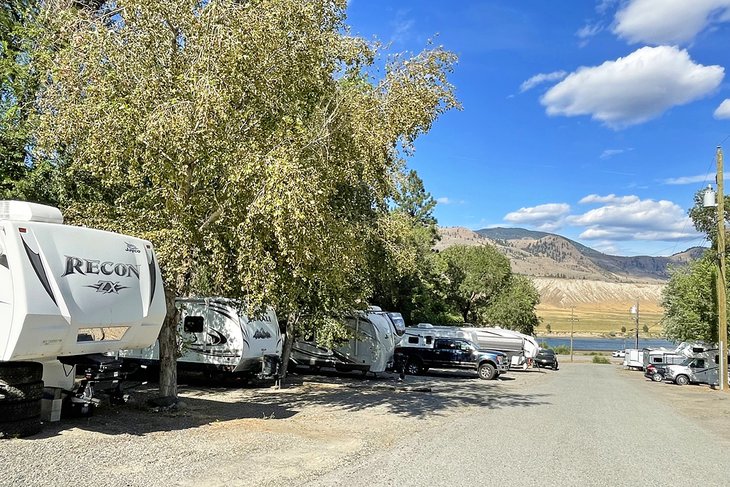 RV campers can bring big rigs to Kamloops Riverview campground, easily parking their motorhomes in pull-throughs and private back-in sites. As the friendly manager says, "every size of RV fits." Riverview (also known as Kamview Heights) is a full-service campground perched on a hill above the mighty South Thompson River and Trans-Canada Highway.
Forty RV sites are available, offering 30- and 50-amp power, water, and septic in addition to Wi-Fi and cable. There are laundry facilities. If you're traveling with a dog, both of you will be glad to know that the campground is pet-friendly.
The campground is less than 10 kilometers from downtown. Walk from your campsite and hop onto a trail behind the campground that takes you to a panoramic ridge. This campground is equidistant to two popular nature trail systems that are only five kilometers away: Valleyview Nature Park and Dallas-Barnhartvale Nature Park. These parks enable you to access sensitive environments of endangered grasslands, hoodoos, the majestic Thompson River, and mountain views.
Kamloops Bike Ranch, popular with mountain bikers and BMX enthusiasts, is also nearby. If golf is your game, you're in the right place. Only steps away from your campsite, you'll find the rolling greens of Pineridge Golf Course — an 18-hole executive course with exceptional views of the river.
Address: 4395 Trans-Canada Hwy E, Kamloops, British Columbia
3. Knutsford RV Campground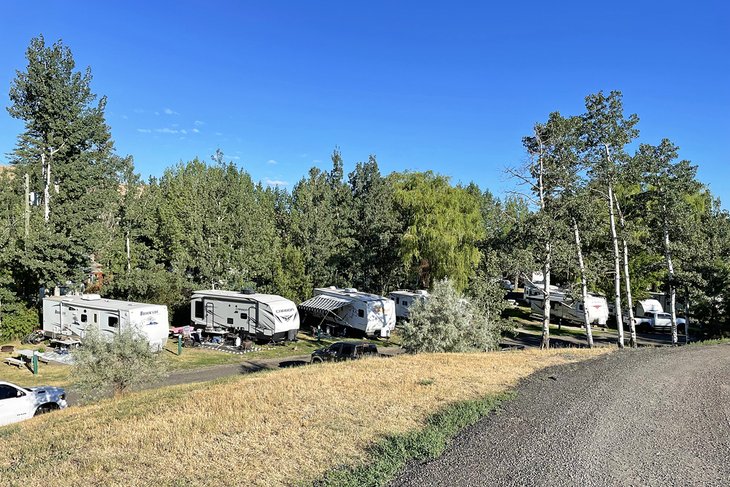 Knutsford RV Campground has a quiet valley location with large trees and a seasonal clear mountain creek. The access road leads to a diversity of camping options for RV campers, tenters, and campers seeking a group site. Some sites are shady, while others enjoy sun. All have picnic tables and fire pits. RV campers can opt for full service (15 and 30 amps of power), half-service, and unserviced sites. A sani-dump is on-site.
Amenities include Wi-Fi, heated washrooms with coin-operated hot showers, laundry facilities, and a children's playground. Buy necessities such as ice and firewood at the convenience store inside the log cabin office. It's a cute little place with welcoming chairs, opposite an island in the road made festive with a fountain, flowers, and small statues. Leashed pets are welcome, but the campground does not allow pit bulls on the property.
Campsites are reservable and fill up quickly, so bookings are recommended. The campground is 11 kilometers south of Kamloops off Highway 5A. After checking into your campsite, enjoy one of the most scenic drives in the area by continuing south towards Merritt. You will encounter wide-open vistas of grasslands, lakes, and ranch country.
Address: 10-2741 Hwy 5A South, Knutsford, British Columbia
4. Silver Sage RV Park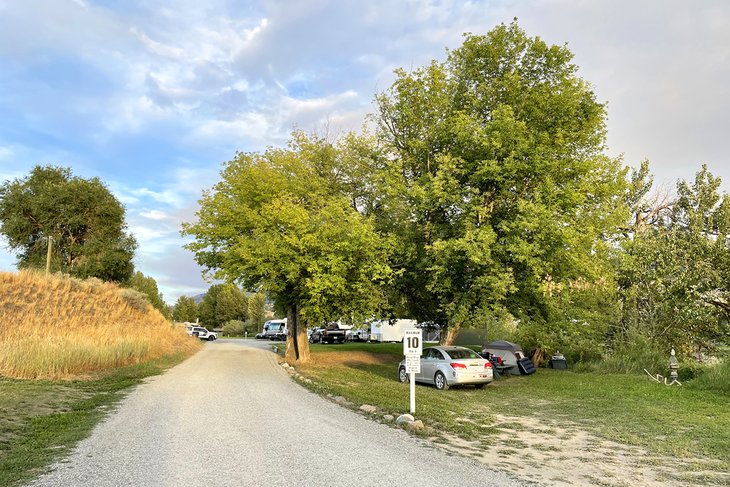 Tenters may not have all the perks of a fancy camper van, but they definitely have the choicest spots at Silver Sage RV Park. Pitching their tents in shady grassy sites right beside the South Thompson River, tent campers are no doubt the envy of everyone else in the campground.
In this location, five minutes from the landmark red bridge that crosses the river into downtown Kamloops, you can literally watch the world float by. As the advertising sign says, you're close to the city with all the quiet of being in the country.
RV campers at Silver Sage have access to 30-amp power, water, and a sani-dump. There are a laundromat and full-service washrooms, including showers. Pay daily, weekly, or monthly rates, and then you're free to be a happy camper in Kamloops. You don't have to look far to see that Kamloops is a relaxing and fun place to explore while you're camping at Silver Sage.
Take your dog for a romp on the section of beach at Riverside Park that is dog friendly — you can see this beach across the Thompson River from your campsite.
Get wet with a swim in the river or dodging jets at the waterpark. Paddle the boat of your choice. Try your luck at fishing. Go horseback riding and inhale deeply to catch what the wind brought in. The smell of silver sage circulating on hot desert air is a touchstone to camping in Kamloops.
Address: 98-771 Athabasca Street E, Kamloops, British Columbia
5. Kamloops RV Park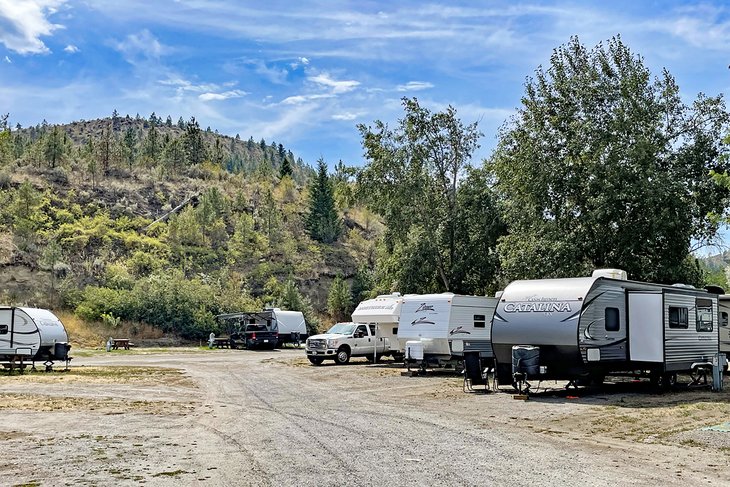 If you're driving into Kamloops from the east, the first RV campground you'll come to is Kamloops RV Park. One of the benefits of camping here is easy access off the Trans-Canada Highway, 20 kilometers from downtown. The campground is located on a slope overlooking the South Thompson River that runs parallel to the highway.
Check-in at the office and store for maps and information. Peruse the exchange shelves for a book or DVD while you munch on an ice cream bar that you can buy from the friendly manager. Enjoy your soft landing to the experience of camping in Kamloops.
Kamloops RV Park is big-rig friendly, with large pull-through sites and all the amenities needed for full-size motorhomes. All 84 RV sites are reservable and have 30- and 50-amp service, and a sani-dump. Wi-Fi and cable hookups are available. Washrooms and free showers are wheelchair accessible. Other amenities include laundry, a dog run, on-site security, and fax and photocopy service (if you need to take care of some work on your getaway).
Right next door to the campground is BC Wildlife Park — one of the top things to do in Kamloops. BC Wildlife Park is a non-profit organization for animals that cannot be returned to the wild (due to injury or being orphaned). Animals in care include large mammals and birds of prey.
The kid-friendly attraction offers bird of prey flight demonstrations, animal encounters, a playground, a splash park, a geothermic discovery center, and short train rides through the park.
Another attraction to campers who visit semi-arid Kamloops is the opportunity to play on one or more of a dozen golf courses, including Eaglepoint Golf Resort, a five-kilometer drive south. It's considered to be one of the prettiest golf courses in Kamloops.
Address: 9225 Dallas Drive, Kamloops, British Columbia
6. Copper Quarter Campground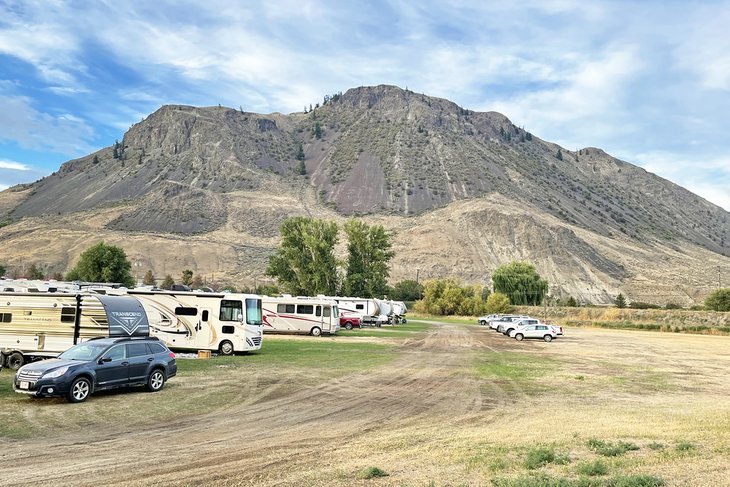 Copper Quarter Campground is located off Highway 5N on the grounds of the Kamloops Agri Centre — a working horse barn and racetrack where agricultural events take place.
At this full-service campground with space for 45 RVs, sites have 30-amp power, water, sewer, and Wi-Fi. The campground can accommodate RVs up to 24 meters. Tucked away on a plot of grass beneath cottonwood trees, there's also room for tenters. Showers are available from May to September. Keep in mind that campfires are not allowed here.
The campground has a relaxed country vibe, perhaps owing to the proximity of handsome horses running about Sage Bush Downs, located adjacent to the sizable campground. In the other direction, campers face the scenic backdrop of imposing Mount Paul.
As a city campground, Copper Quarter is close to the attractions of Kamloops. If you're into golf, Mount Paul driving range and golf course are directly across the road from the campground.
Address: 485 Mount Paul Centre Way, Kamloops, British Columbia
7. Lac Le Jeune Park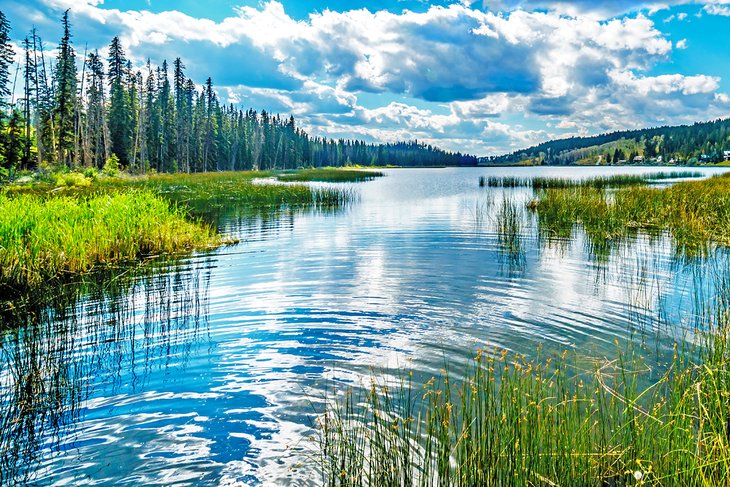 Established in 1956, Lac Le Jeune Park is a popular recreation destination and jumping-off point for fishing for rainbow trout in Stake and Walloper Lakes. Encompassing 180 hectares, this large provincial park has 144 campsites.
Medium to large RVs can fit in most of the sites. Reservations can be made online for the main camping season, which runs from mid-May to late September. The park also offers first-come, first-served sites.
Campground amenities include a sani-station, flush toilets, a children's playground, and two horseshoe pits. At lunchtime, you can snag one of the campground's 34 picnic tables, some of which are shaded by large fir trees.
There is a boat launch and a wheelchair-accessible dock for fishing. Other activities include hiking, cycling, and bird-watching. The park protects marshlands important to birds and is located 37 kilometers south of Kamloops.
8. Sunnyside Heights RV & MH Park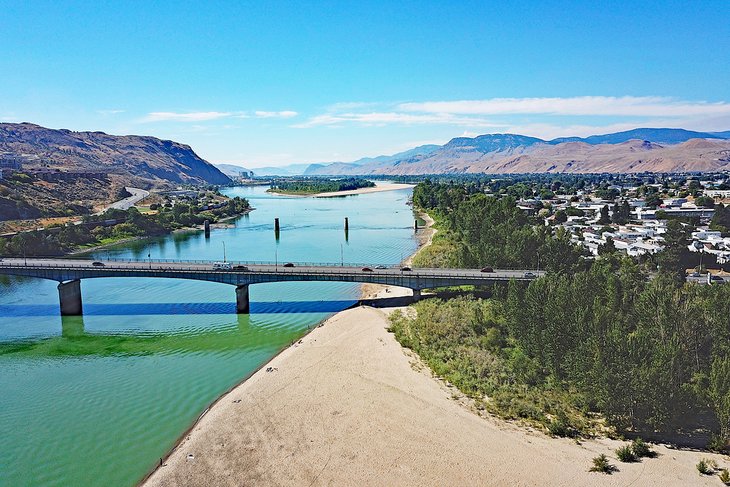 Most sites at Sunnyside Heights RV & MH Park are permanent, although there are a few set aside for modern RVs. Full hookups are available (30 to 50 amps of power, water, septic) plus cable TV, Wi-Fi, heated washrooms, and coin laundry facilities. Pets are allowed but must be on a leash.
Campers at Sunnyside Heights are conveniently located close to stores and urban amenities. The location is about 10 minutes from the airport or downtown. And just five minutes away by car, the Fun Factor Family Fun Centre has a ton of entertainment for families, including bowling, video games, laser tag, and bumper cars — the perfect attraction for making the most of a rainy day when you're camping.
One of the top trails in Kamloops is Mara Trail, located just down the road from the RV park. Access the trailhead by Ord Road and Tranquille Road, a distance of 10 kilometers.
Address: 1440 Ord Road, Kamloops, British Columbia
Map of Campgrounds in Kamloops, BC