13 Top-Rated Things to Do in Revelstoke, BC
The cat's out of the bag: Revelstoke is one of the best ski resorts in Canada. For a while, this BC mountain town managed to stay under the radar, keeping its incredible snow conditions, moderate temperatures, and stunning scenery a relatively well-kept secret. However, in recent years, adventurers have been flocking to Revy in summer and winter alike.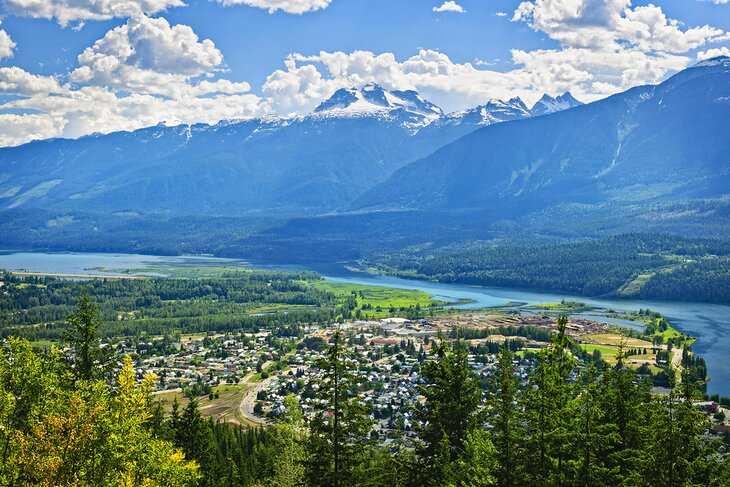 There are plenty of awesome things to do year-round, the best of which we've listed for you here. Known as a must-visit destination for avid skiers and snowboarders, the magic of the mountain is not to be missed in the winter months. But there are also lots of activities in Revelstoke that don't require a ski or snowboard, like exploring the local trails via dog sled or relaxing in a nearby hot spring.
Come summer, camping and hiking are the most popular things to do. There are several campgrounds in Revelstoke and tons of different trails to choose from, with a wide selection catering to all levels of ability and experience. Whether you're walking a short boardwalk loop or summiting a mountain, there's nothing better than spending time immersed in nature.
In between the incredible array of outdoor activities, Revelstoke also has some cool man-made attractions. Have you ever visited a gold rush era ghost town? How about taking a tour in a magical forest? You'll be surprised at just how many things there are to do in and around this relatively small mountain town.
Plan your trip with our list of the top things to do in Revelstoke.
1. Ski or Snowboard at Revelstoke Mountain Resort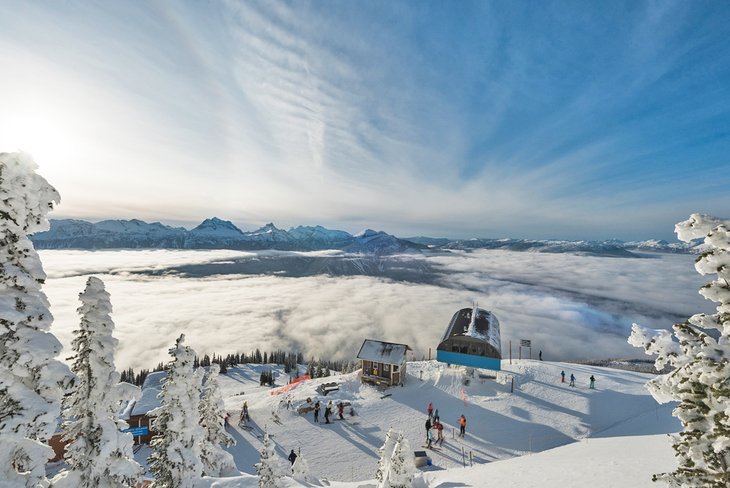 Let's get the obvious out of the way: if you are in Revy during the winter months and aren't skiing or snowboarding at Revelstoke Mountain Resort, then you need to seriously reconsider your plans.
Home to the most vertical elevation in North America (a whopping 5,620 feet), you'll get major bang for your buck as you ski lap after lap on the resort's 3,121 acres of terrain. The snow is almost always perfect, and chances are good you'll get lots of it; in fact upwards of 30 feet a year fall here on average. In other word, it's pretty much a dream destination for a skier or snowboarder.
If you've never skied or snowboarded in your life, don't count yourself out. Let a pro help you pick out the right rental equipment, register for a lesson at the resort's Snow School, and learn the ropes on one of BC's finest mountains.
Fair warning: any resort you ski in the future will have big shoes (ski boots?) to fill!
Read More: Best Ski Resorts in British Columbia
2. Upgrade to a Cat Ski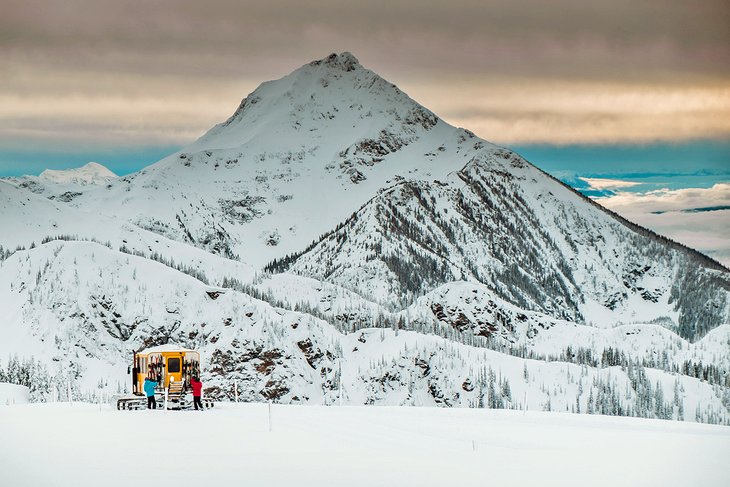 Let's say you're not new to skiing. Let's say the ski and snowboarding scene is exactly what brought you to Revelstoke in the first place, and you are eager as can be to experience the fluffy pow firsthand.
If that sounds like you, then may we suggest skipping the lift lines and making your own fresh tracks on a cat skiing trip?
To be sure, a backcountry cat skiing trip is more expensive than a day at the resort, but if this is an item on your bucket list, there's arguably no better place to do it than Revelstoke.
Swapping the chair lift for a cat ski means you'll get to access remote, untouched terrain with a small group of like-minded shredders. With such great snow - in both quantity and quality - it will be a day you'll never forget. (Actually, you can make it several days you'll never forget if you book a cat-skiing, backcountry-lodge combo.)
Different cat skiing operators are geared to different types of adventures and skill levels - do your research and book a tour that best suits your needs.
3. Go All Out in a Helicopter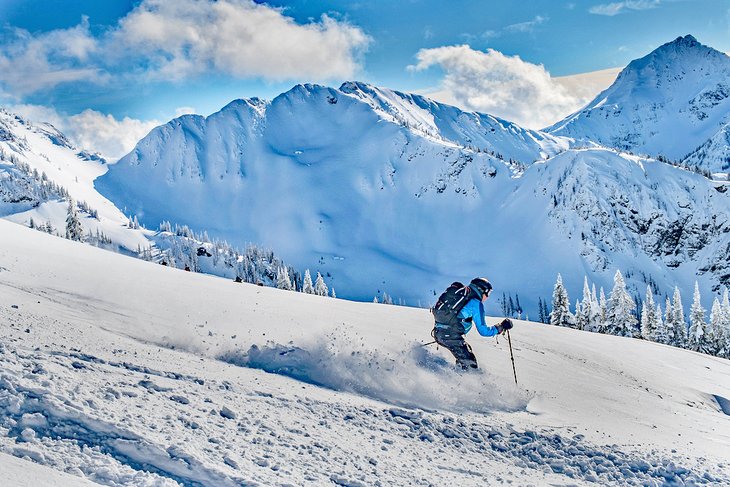 If cat skiing is one level up from resort skiing, then we'd say heli-skiing is one level up from cat skiing.
Shuffling into a helicopter and being whisked deep into the backcountry is the creme de la creme of ski or snowboard experiences. Packing in lap after lap of deep, glorious powder will leave you with sore legs and a permanent grin pasted to your face. If you're ready to go big or go home in Revelstoke, then heli-skiing is a no-brainer.
Make no bones about it: heli-skiing is expensive. Running a helicopter isn't cheap, so expect to drop a pretty penny to partake in this adventure. Day trips start at over $1,000 (in Canadian currency) per day.
Having said that, you'll be hard-pressed to find a better ski area than the Revelstoke backcountry. If you've always wanted to try heli-skiing, this is definitely the place to do it.
4. Walk the Giant Cedars Boardwalk Trail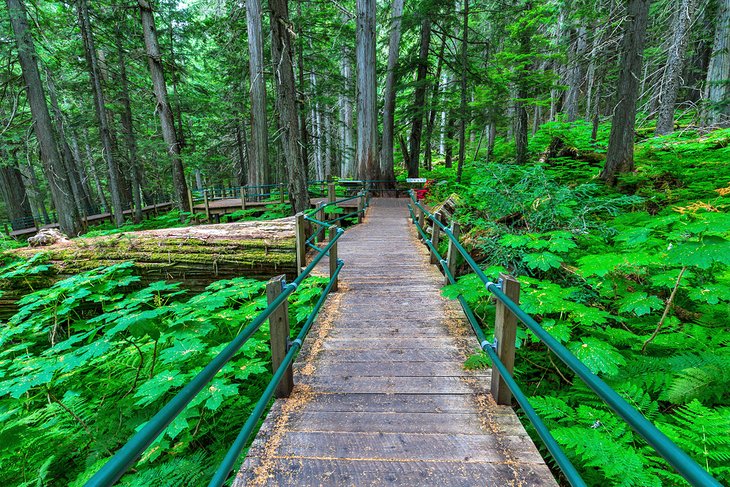 Not all Revelstoke activities require nerves of steel. The Giant Cedars Boardwalk Trail offers the perfect opportunity to immerse yourself in the temperate rainforest in an easy, accessible way. Located just off the highway, the loop trail is only 0.3 kilometers long (just shy of 0.2 miles), but it features awe-inspiring giant cedars the entire way.
The well-maintained trail features interpretive panels along the path, so you can learn more about your surroundings as you make your way through the forest.
Kids love checking out this trail, and on-leash dogs are welcome, too. You can extend your visit by packing snacks and enjoying them at the picnic area before or after your walk.
If you're passing through the area, this is a fun place to visit to stretch out your legs and enjoy some one-on-one time with Mother Nature.
5. Take the Kids to the Enchanted Forest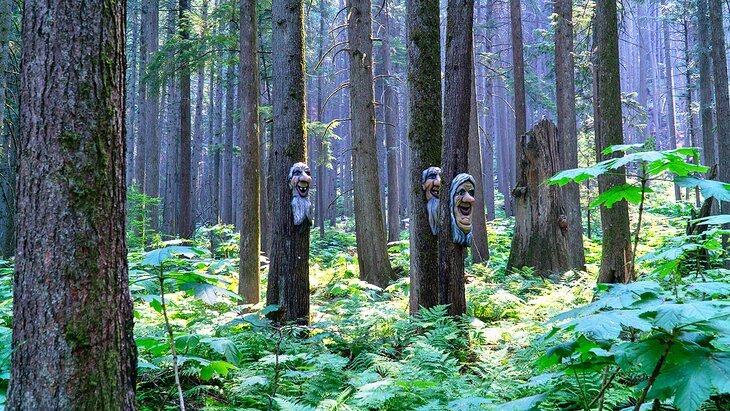 Just outside of Revelstoke, the Enchanted Forest is every child's dream come to life. Whimsical cottages, mystical woodland creatures, and sparkly lights galore - it's a real-life fairy tale.
The story behind the Enchanted Forest is as charming as the attraction itself: in the 1950s, a retired couple took it upon themselves to craft a magical getaway in the woods. Since the Enchanted Forest opened to the public in the 1960s, it has undergone much growth and development, but the winsome nature of the place remains the same.
Children will love romping through the woods, spotting familiar scenes and characters from their favorite fables and legends - and adults will likely feel a pang of nostalgia, too. This is a sweet family activity that is certainly out of the ordinary, in the best of ways.
6. SkyTrek Adventure Park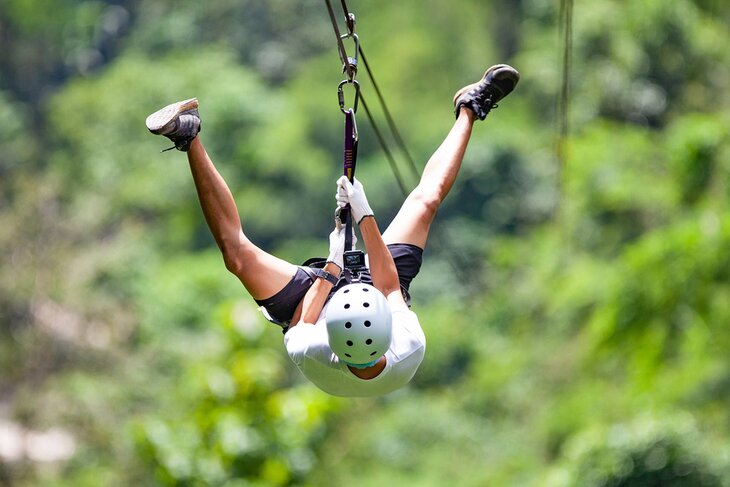 If you've had enough of fairy tales and cute homes in the woods and are looking for a bit of adventure, walk right next door from the Enchanted Forest to the SkyTrek Adventure Park. Here, you'll find a treetop rope and obstacle course suspended up to 40 feet off the ground. Each trip is escorted by fun-loving guides.
Kids are catered to here as well. A specific kids' course (not quite as high in the air!) is also available. To enjoy this adventure, you need to be five years old.
All that high-wire adventure may leave you craving more fun, and if that's the case, sign up for the Sky Lines Zip wire ride. It's designed so you race against your partner, either in a traditional zipline-style harness or on a skateboard or even a GT Snow Racer.
7. Mush a Dog Sled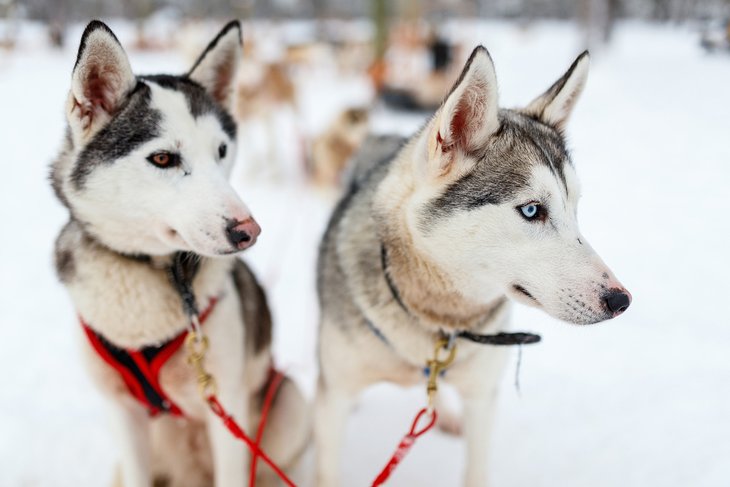 It's simple math: cute energetic dogs + a magical winter wonderland = the perfect recipe for an unforgettable excursion.
Dog sledding through the trails of Revelstoke is an insanely cool experience. Whether you're nestled in the cozy sled and enjoying the ride or trying your hand as a musher, feeling the energy of the dogs in such a gorgeous setting is simply spectacular.
In addition to getting the chance to tour Revelstoke's scenic forests and trails, you'll get to learn about the history of dog sledding and the finer details of the sport. You'll also become acquainted with your team of Alaskan racing huskies, getting to know them by name and discovering the unique role each dog plays.
There's no real skill required to join a dog sled tour - you just have to bring a sense of adventure and some warm clothes.
8. Hike in Mount Revelstoke National Park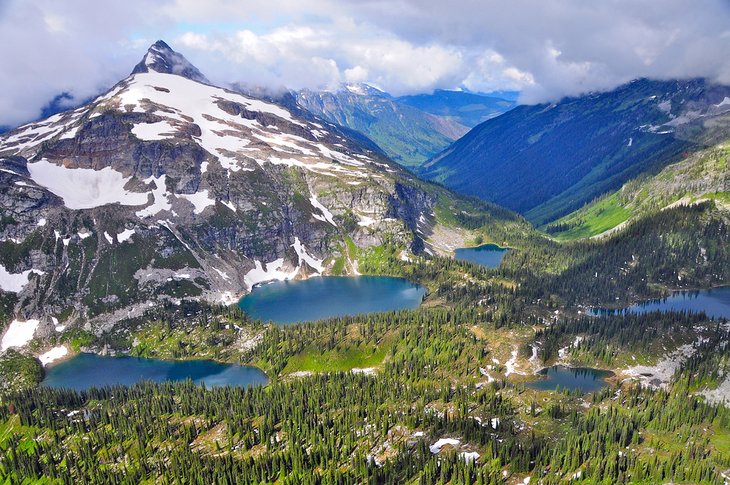 No snow? No problem. Even if you aren't visiting Revelstoke in the winter, there are still lots of ways to enjoy the beauty of the backcountry - like hiking, for instance.
Mount Revelstoke National Park is the optimal setting for a hike, featuring a wide range of trails up mountains, through forests, and into subalpine meadows in full bloom.
For beginners looking for something scenic but simple, there are more than a dozen hikes rated easy. Some, like the walk around Heather Lake, can be done in less than 15 minutes. Others, like the Inspiration Woods loop trail, take closer to an hour.
There are five intermediate trails, ranging in length from one kilometer to six kilometers. These trails feature slightly trickier terrain and elevation gains in the 100- to 200-meter range.
Looking for a bigger challenge? Jade Lakes is a nine-kilometer trail (one way) that will lead you over the Jade Lake Pass, climbing 428 meters. At eight kilometers (one way), Lindmark is a slightly shorter trail but it covers more than twice as much elevation, totaling 982 meters. The Summit trail takes you up to the summit of Mount Revelstoke, covering 10 kilometers each way as you gain 1,353 meters in elevation.
9. Check Out the 3 Valley Gap Ghost Town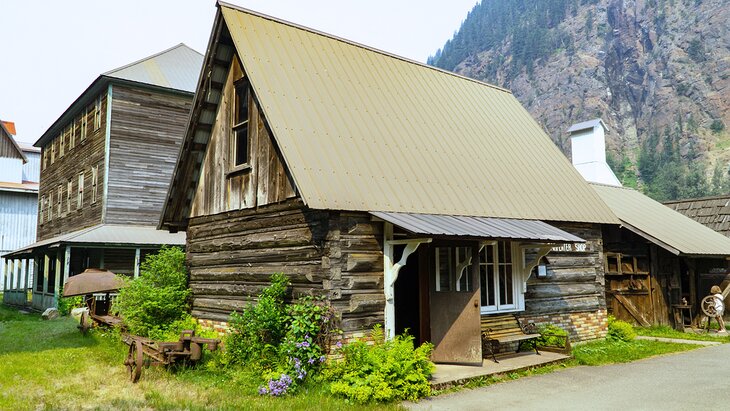 Open seasonally from late spring to early fall, the 3 Valley Gap Ghost Town is a bona fide blast from the past. The short-lived gold rush in the late 1800s left a few ghost towns in its wake, including this one.
A visit to 3 Valley Gap Ghost Town will take you back to the pioneer days, with authentic shops and buildings from the era. You can check out the old school house or peek inside the blacksmith shop - or even hop aboard the ghost train.
Other attractions at 3 Valley Gap include an antique automobile museum and a lovely garden - perfect for stretching your legs and getting some fresh air.
10. Explore the Revelstoke Railway Museum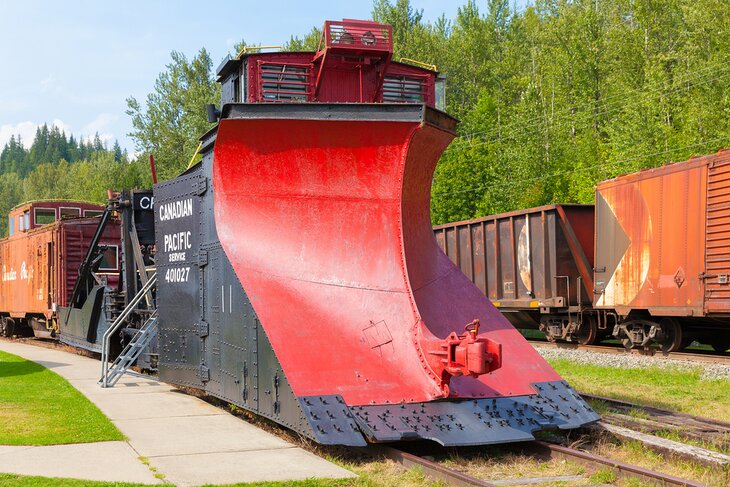 The Canadian Pacific Railway plays a major role in Canada's history - and one of the museums that best tells the story of the railway is situated right here in Revelstoke.
Since 1993, the Revelstoke Railway Museum has offered visitors the chance to discover the history of the railway through immersive, interactive exhibits. Museum-goers can explore an old steam locomotive from the 1940s and tour the interior of a business car that was built in 1929. There are even more exhibits if you head outdoors, including a coal car, diesel locomotive, and road repair car.
While visitors will get hands-on interaction with the machinery, they'll also get to wander the educational exhibits to learn more about the history and the people involved with the railway. The history of the Canadian Pacific Railway isn't all glitz and glamor: for instance, Chinese workers played a crucial role in the railway's development, but were subjected to some horrific conditions and shameful treatment.
As fun as it is to see the trains up close, it is equally important to learn from the errors of the past. The Revelstoke Railway Museum provides a balanced experience that is approachable and informative, no matter how old you are.
11. Soak Up the Local Hot Springs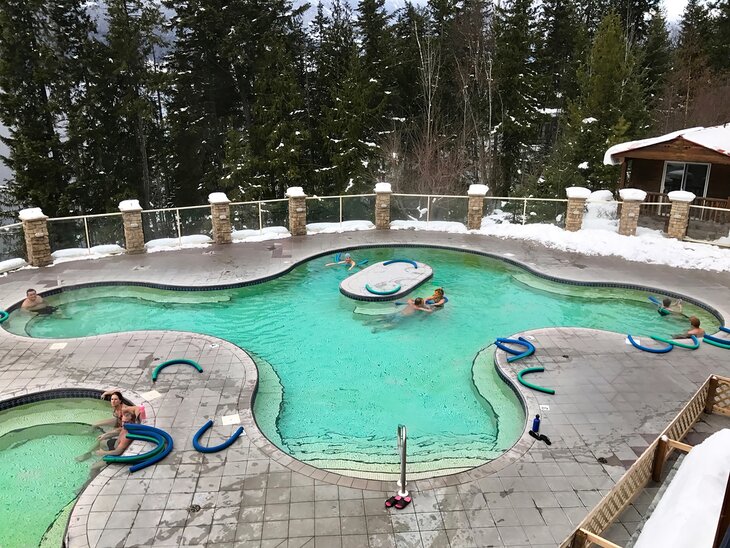 There's nothing cozier than slipping into a hot spring or pool, especially after a day spent playing in the snow. Revelstoke just so happens to have several hot springs in the surrounding area, making this luxurious activity surprisingly accessible.
Hot springs aren't just relaxing; they offer fantastic benefits like soothing sore muscles and minimizing inflammation. In other words, this is a must-do activity after a day of adventure.
Canyon Hot Springs is only half an hour from Revelstoke and features two mineral pools surrounded by trees - perfect for a serene swim.
Halfway Hot Springs offers a natural take on the hot spring experience. Perched on the side of the river, these hot springs are the real deal, but they're not so easy to get to. The bad news is that you cannot access them by car in the winter; the good news is that the trip is doable by snowshoe!
Finally, Halcyon Hot Springs is one of the most popular in the area. Just over an hour south of Revelstoke, this is the place to visit for the full resort experience.
12. Slide Down the Pipe Mountain Roller Coaster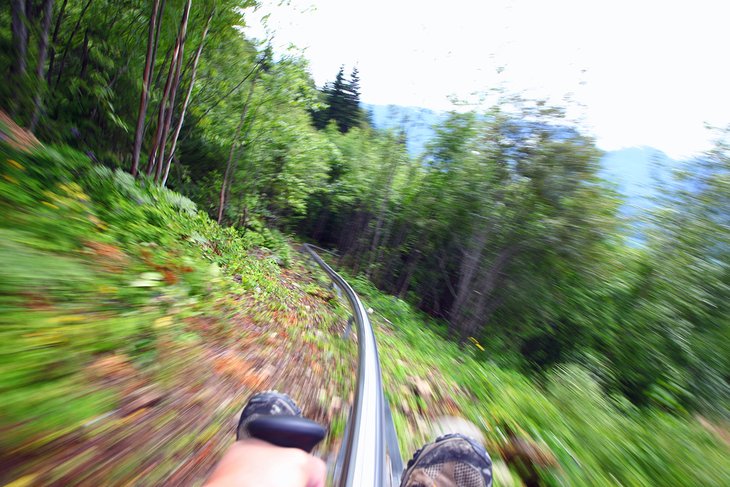 Take it from us: Revelstoke's mountain roller coaster is ridiculously fun. This summer activity involves riding the gondola to the top of the track, then settling into your individual roller coaster car and whizzing down the 1.4-kilometer track.
You'll clock some serious speeds, reaching up to 42 kilometers per hour as you navigate twists, turns, and tunnels. Not feeling the need for speed? The brake allows you to control your speed if you prefer to take it easy.
Solo riders need to be at least eight years old, but kids between the ages of three to 12 can join their parents as passengers. Riders of all ages are encouraged to hoot and holler the entire way down.
13. Meadows in the Sky Parkway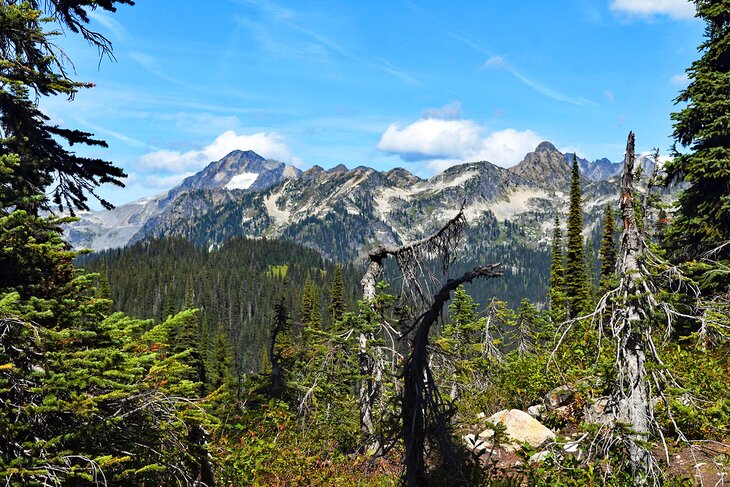 The entire Revelstoke area is set in some of Canada's most magical scenery, and none more beautiful than the area along the Meadows in the Sky Parkway.
This well-maintained 26-kilometer route (one way) takes you high to wide-open alpine meadows and beautiful Balsam Lake. From the parking area, a shuttle bus will take you to the top, where you'll find a restored fire tower. Pack your walking shoes. Several short and longer trails leave from this area.
The best time to take the drive is in mid to late July when you'll see a carpet of colorful wildflowers. Note that the Meadows in the Sky Parkway is located in Mount Revelstoke National Park and a fee is charged to access the route. Also, sadly for Fido, dogs are not allowed anywhere in the park, even in vehicles.
Revelstoke - Climate Chart
Average minimum and maximum temperatures for Revelstoke, Canada in °C
J
F
M
A
M
J
J
A
S
O
N
D

-3

-9

1

-6

6

-3

13

1

19

6

23

9

25

11

25

11

18

7

10

3

3

-2

-2

-7

PlanetWare.com
Average monthly precipitation totals for Revelstoke, Canada in mm.

109

86

66

53

56

74

66

61

66

79

112

125

Average monthly snowfall totals for Revelstoke, Canada in cm.

133

87

28

4

0

0

0

0

0

1

60

132
Average minimum and maximum temperatures for Revelstoke, Canada in °F
J
F
M
A
M
J
J
A
S
O
N
D

27

16

33

20

42

27

55

33

66

41

72

48

77

52

76

51

64

44

50

36

37

28

29

20

PlanetWare.com
Average monthly precipitation totals for Revelstoke, Canada in inches.

4.3

3.4

2.6

2.1

2.2

2.9

2.6

2.4

2.6

3.1

4.4

4.9

Average monthly snowfall totals for Revelstoke, Canada in inches.

52

34

11

1.7

0

0

0

0

0

0.6

24

52
Map of Revelstoke, BC - Top-Rated Things to Do