10 Best Hiking Trails in Kamloops, BC
A place of extremes, Kamloops is cold in the winter, hot in the summer, and semi-arid all year round. It has a true grit personality, shaped by the reputation of hardscrabble ranch farmers and inspiring Indigenous legends. Nowadays, however, you are likely to see locals sporting hiking shoes rather than cowboy boots. The profusion of biking and hiking trails in Kamloops means that you no longer need a horse to take to the trails in this high-country grassland.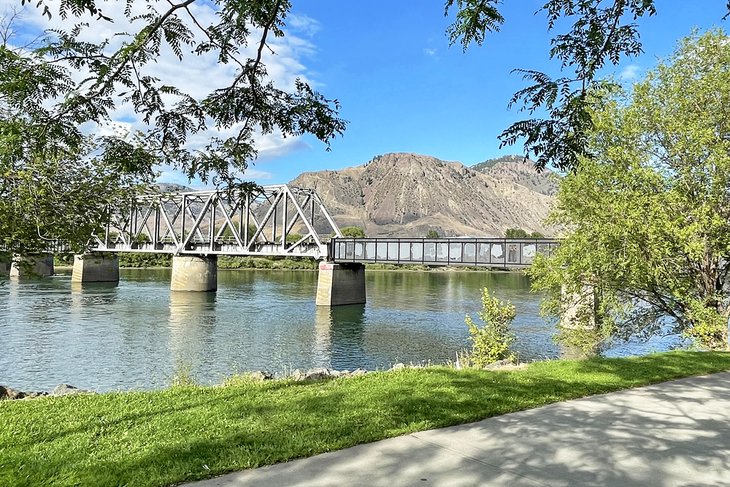 After a rare summer rain, you know that you are in Kamloops because of what you smell: sagebrush. The rolling hills and grassy headlands that surround you tug on your spirit and get you moving. An early morning amble on the Rivers Trail downtown stretches your legs and focuses you on what defines Kamloops: the meeting of the rushing North and South Thompson Rivers. The Interior-Salish community of the Tk'emlups Te Secwepemc ("people of the confluence") gave Kamloops its name.
Refreshed from this meander and with morning coffee in hand, find a place in Riverside Park to spread out your map and pinpoint hiking trails that are right for you and your schedule. Set your coordinates on where you want to wander with our list of the best hiking trails in Kamloops, BC.
1. Tower Trail, Kenna Cartwright Park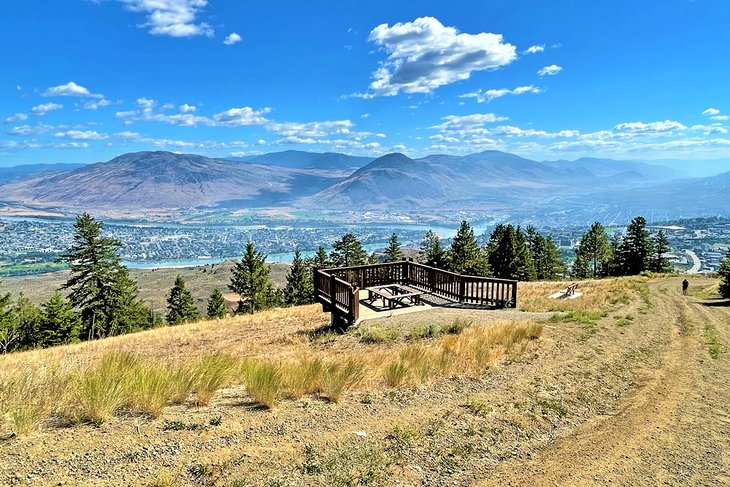 When searching for words to describe what you see in and around Kamloops, superlatives come to mind: big sky views, endless rivers, and an ocean of stars. Kenna Cartwright Park inspires thoughts of a massive playground. When set aside from development in 1996, it became the largest municipal park in all of British Columbia.
Comprising almost 800 hectares with more than 40 kilometers of gentle trails on the slopes of Mount Dufferin, Kenna Cartwright Park is a natural choice for hiking in Kamloops.
The Tower Trail is eight kilometers west of downtown. This trail is one of the most popular routes for you to consider. It's 3.4 kilometers return with a manageable elevation gain of 145 meters. Hiking here introduces you to features in other areas of the park: Sweeping views of the city and rivers, and colorful closeups of wildflowers during warmer months. Near the turnaround point, there's an observation deck and bench to catch your breath, eat a snack, and take in the panorama.
Some hikers extend the hike to complete the Ridge Trail for more elevated views. Instead of returning down from the ridge the way you came up, you can loop back to the parking lot on the Ponderosa Trail. This 5.1-kilometer loop trail starts and ends at the trailhead parking lot on Hillside Road. In addition to parking and a pit toilet at the trailhead off Hillside Drive, a freshwater spigot can be used to fill water bottles (and supplied buckets for your dog).
2. Tom Moore Loop Trail, Peterson Creek Park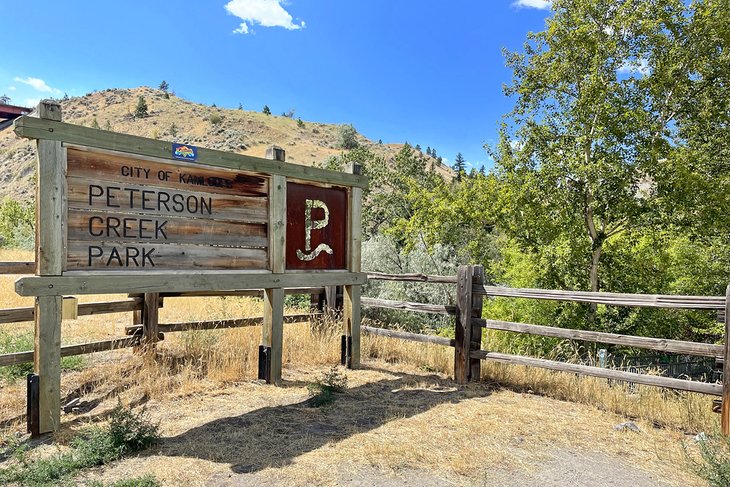 For something moderately difficult, starting from the south end of downtown, the 4.8-kilometer Tom Moore Loop Trail kickstarts your passion for exertion and scenery. Park your car in the large trailhead parking lot at the end of Glenfair Drive, accessed from Columbia Street.
Once on the trail, you enter a deep gulch into the heart of 100-hectare Peterson Creek Park. It's easy to feel like you're leaving behind the city because natural grasslands surround you.
This trail rises to a height of 229 meters by way of single-track switchbacks. From the creekside oasis of cottonwood trees at the beginning of the trail to ponderosa pines farther up, you will be rewarded by bird-watching opportunities and elevated views of downtown and the Thompson Valley. There are breathtaking inclines where the trail narrows, so watch your step and stay on the path.
Bridal Veil Falls is a challenging spur off the Tom Moore Trail and a highlight of Peterson Creek Park. The natural attraction also has a popular 1.7-kilometer paved path named Xget'tem' (which translates to "deep valley" in Secwépemc). It links the Sahali neighborhood with downtown Kamloops. You can read more about the oral tradition of this Indigenous community on the signs at either entrance of the trail.
Enjoy a post-hike picnic in the quiet and intimate parkette across the footbridge from the trailhead parking lot.
3. Rim Loop Trail, Valleyview Nature Park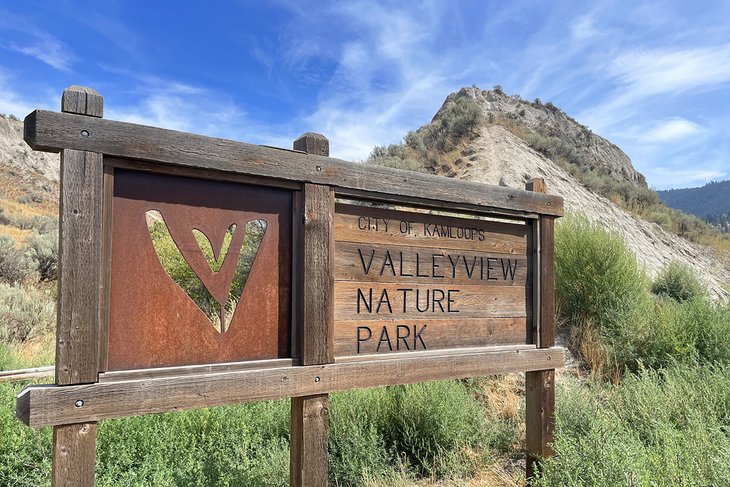 Venturing six kilometers east of downtown, explore the 2.5-kilometer Rim Loop Trail. From the trailhead at the Valleyview Arena parking lot, take the half-kilometer Sagebrush Trail to connect with the Rim Loop on your left. There are more strenuous trails to climb in the park, but the Sagebrush Trail and Rim Loop are rated as easy. Plus, you should be able to maintain cell service throughout the hike.
The Rim Loop Trail takes you along the edge of cliffs, so be mindful of your step and consider a different hike in Kamloops if heights make you nervous or you're traveling with young children.
Atop the trail, you will welcome the panorama looking east and west along the South Thompson River. You also get a different perspective of downtown from this elevation while observing the convergence of the South Thompson and North Thompson Rivers. Like many trails in Kamloops, there is minimal shade for protection on sunny days.
Valleyview Nature Park is located less than a kilometer south of the Trans-Canada Highway off Highland Road. Follow signs to Valleyview Arena. Adjacent to the park is the Kamloops Bike Ranch. This is where mountain bikers jump, flex, and grind on steep silty pitches and ramps.
4. Dallas-Barnhartvale Nature Park Loop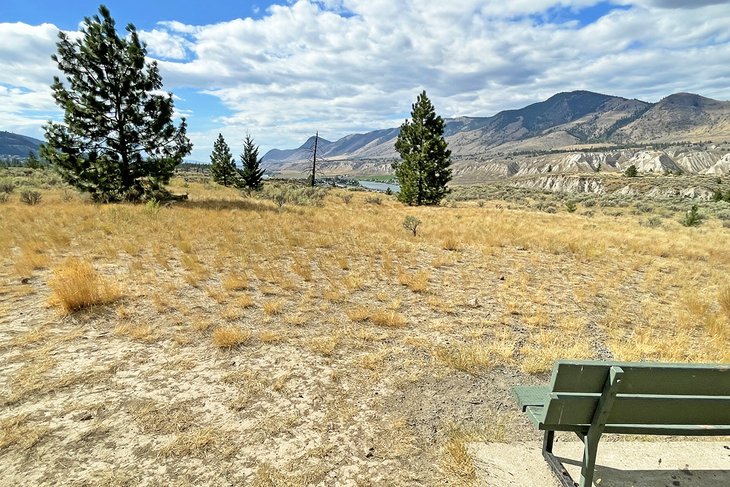 Farther east on the South Thompson River, almost 15 kilometers from downtown, Dallas-Barnhartvale Nature Park offers a variety of trails. The loop trail is a scenically rewarding six-kilometer hike. Modify your routing to shorten or extend your time in this special park.
With a moderate elevation gain of 183 meters, this loop explores hilly grasslands dotted with ponderosa pine. The trail brings you to bluffs overlooking the South Thompson River. Keep your eyes peeled for hunting raptors or a burrowing owl protecting its nest in an abandoned marmot den.
A short way down the hill from the trailhead parking lot, you come to a preserved wetland that is a magnet to birds and other wildlife. The picnic gazebo beside this oasis of bullrushes and lily pads is the perfect place to take cover in the shade and cool down over lunch or a snack. Enjoy the sounds of ravens as they wing from tree to tree. Native flowers attract nature's pollinators. Milkweed supports the next generation of threatened monarch butterflies.
Take the Dallas-Barnhartvale exit off the Trans-Canada Highway, drive four kilometers uphill on Barnhartvale Road to Eliza Road, and follow the signs to the nature park where you will find ample parking and a pit toilet.
The Benchlands Trail is an ideal alternative if you are tight for time or simply want to enjoy a stroll in the grasslands. The easy 3.6-kilometer trail is among the best hikes in Kamloops for kids. Benchlands allows you to experience some of the same features, including beautiful views of the Thompson Valley.
5. Mara Trail, Lac Du Bois Grasslands Protected Area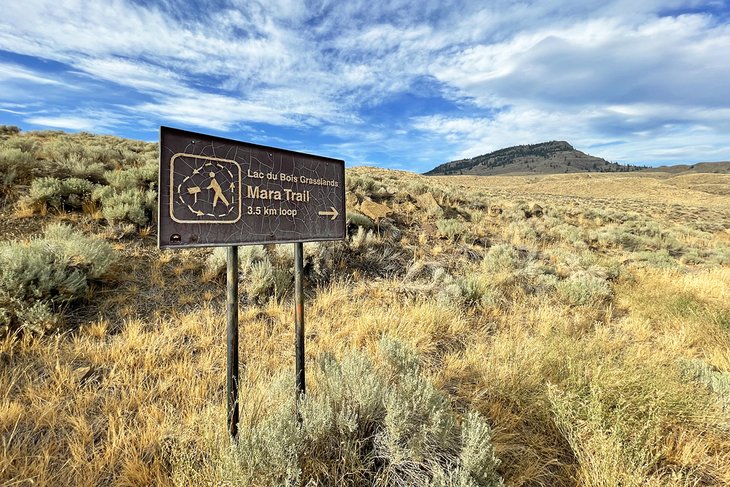 The Mara Trail introduces you to the semi-arid Kamloops landscape of the Lac Du Bois Grasslands Protected Area. This 3.5-kilometer loop is rated easy, yet still gives you a lift of 221 meters in elevation. While you can go either direction, hiking counterclockwise is typically the recommended route.
With little shade, plan to hike when the sun is less intense, and carry plenty of water. The Mara loop is especially enjoyable during cooler spring and fall seasons. Throughout the hike, take notice of the lower grassland plants, like cacti, pine trees, sagebrush, and a mix of grasses.
Established in 1996, Lac Du Bois Grasslands encompasses 15,712 hectares of conservation in the city's backyard. In addition to expansive views of rolling hills and rocky outcrops, you will be knocked out by stunning vistas of the Thompson River.
In this protected area, diverse ecological zones come together with remarkable natural features: Hoodoo formations and cliffs, endangered grasslands, ponderosa pine and Douglas fir woodlands, a range of wildlife and plants, and vital sources of running water including creeks and lakes.
After hiking the Mara Trail, you might feel motivated to explore other corridors in the protected area such as the nearby 5.3-kilometer Battle Bluff Trail. Another option is the 4.25-kilometer Cinnamon Ridge Trail. It takes you up a ridge, partly up Mara Hill, and offers impressive views of the hoodoos.
The trailhead for the Mara Trail is 17 kilometers northwest of downtown. Head in the direction of the Kamloops Airport on Tranquille Road. After passing the turnoff to the airport, keep driving six kilometers past the golf course until you see the sign for the Mara Trail on the right side of the road.
6. Gibraltar Rock Trail, Paul Lake Provincial Park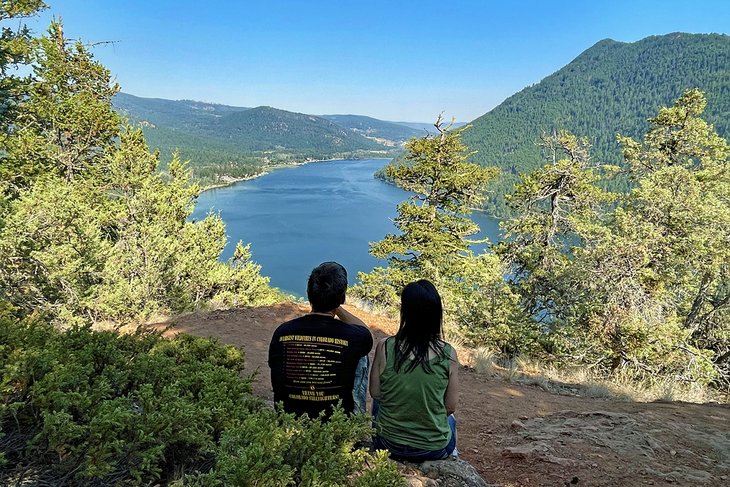 A visit to Paul Lake Provincial Park is a wonderful way to experience the natural beauty of Kamloops in a forested lakeside retreat. Many people come here to enjoy overnights under the stars in the Paul Lake Campground—one of the best places to camp in Kamloops. Whether camping or just out for the day, a hike up Gibraltar Rock leads you to an eagle's view of Paul Lake and its narrow slip of water that reflects a brilliant blue sky on a sunny day.
Less than 25 kilometers northeast of downtown Kamloops, Gibraltar Rock is the imposing monument that rises from the lake's north shore. Within this popular provincial park, you have a few options to ascend this monolith on foot.
The Gibraltar Rock Trail is the easiest route for a gradual climb of 182 meters in elevation. Hiking a distance of 2.6 kilometers return, you start and end the trail near the park boat launch. Running mostly parallel to the shore within a forest, you are protected from the sun.
Fortified by plenty of drinking water on hot days, families enjoy hiking this trail. Toward the end of the trail, you'll face a slightly steep climb, but there are places to sit, rest, and admire views along the way. Gibraltar Rock rewards all hikers who reach the summit with an outstanding vista of Paul Lake and a photogenic backdrop for selfies.
On the way down, you may opt to take the slightly longer trail through the campground to your start near the boat launch. You can also cool off at the park's 400-meter-long beach, which has a designated swimming area.
7. McArthur Island Loop Trail, McArthur Island Park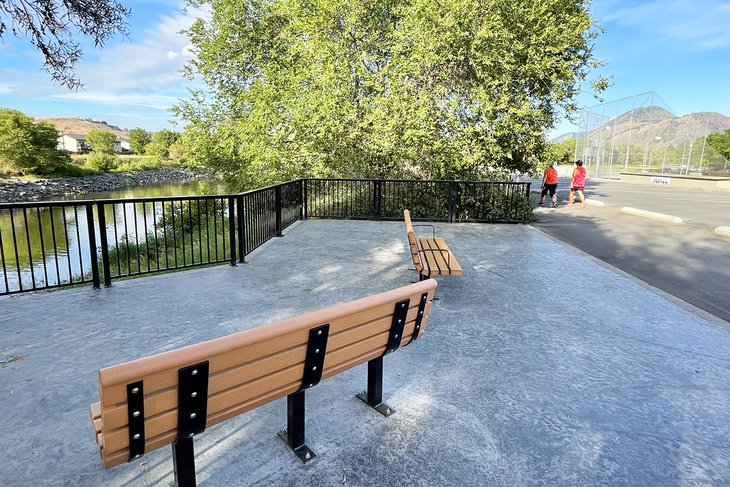 McArthur Island Loop Trail, part of McArthur Island Park, is an easy paved trail with delightful surprises around every corner. The south bank of this 3.4-kilometer trail follows the westward flow of the Thompson River. The protected back channel that separates the island from the North Shore neighborhood of Kamloops is a tranquil nature sanctuary.
During sunny days, you will be grateful for the trees that line the path and riverbank. Park benches are provided for taking rests and letting wildlife come into focus. You are likely to see shorebirds in the shallows and pollinating insects in the open-air Gregson Butterfly Garden.
Other wildlife such as deer and marmots make this park their home. You might not spot one of these furry critters, but chew marks on bark and downed trees are reminders that you are in the land of beaver.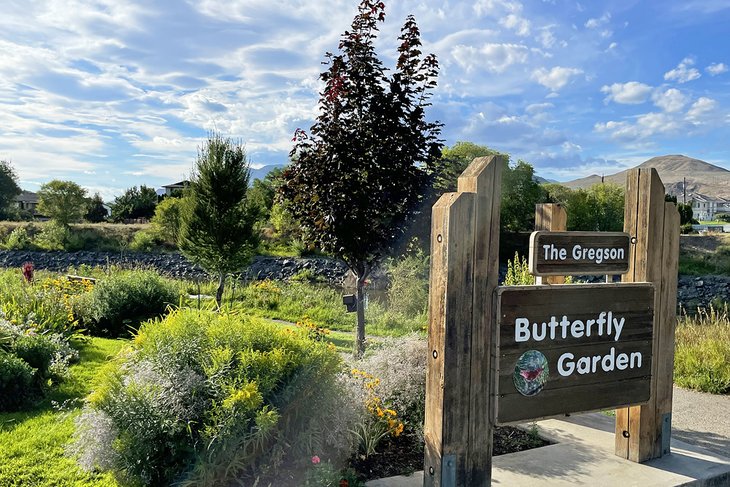 This trail not only follows the perimeter of the island, but it also loops around the epicenter of Kamloops recreational facilities and playfields. Expect to see soccer and baseball matchups, and locals playing a round of mini-golf or frisbee golf.
During the winter, McArthur Island is where sports fans go to watch hockey games and curling bonspiels. In summertime after sunset, couples cozy up in the front seat of convertibles or outfitted loungers in the beds of pickups to catch the latest release at the Twin Rivers Drive-in. You might find that your late afternoon hike evolves into hours of things to do!
8. West Highlands Park Loop Trail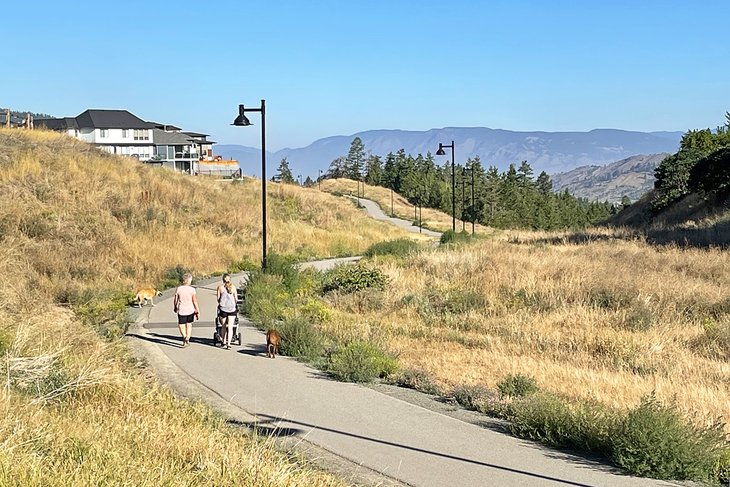 For an after-dinner stroll, West Highlands Park Loop is an easy 1.8-kilometer paved trail in a suburban neighborhood with nice views of the city lights after the glow of sunset. Even after dark, streetlights safely illuminate your steps and help you locate a park bench to sit and soak in the view.
You will share this trail with locals walking their leashed dogs, getting fresh air, completing a morning run, or winding down the day with a late-afternoon jog. The trailhead with nearby restrooms is located off Pacific Way, up the hill two kilometers from the Trans-Canada Highway. It's only a 10-minute drive from downtown. Plus, it's wheelchair accessible. This is a Kamloops hike for everyone.
9. McConnell Lake Trail, McConnell Lake Provincial Park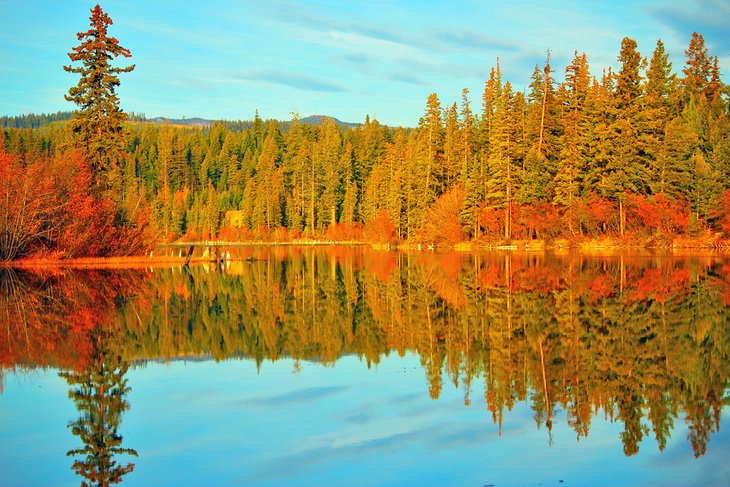 In such an arid environment, a lakeside hike is uncommon in Kamloops. McConnell Lake Trail loops around a popular watering hole for locals who come here to fish trout. The trail is within the day-use provincial park of the same name, located 35 kilometers south of downtown.
Hiking the McConnell Lake Trail is ideal during the summer or fall, when trail conditions are dry and perfect for a refreshing post-hike swim. Access the park and trailhead from the pretty byway of Lac le Jeune Road that runs parallel to Highway 5 (Coquihalla). As you might expect, this 3.7-kilometer hike closely follows the shore. Other than steep short inclines above the lake, the trail presents virtually no elevation gain.
10. Isobel Lake Interpretive Trail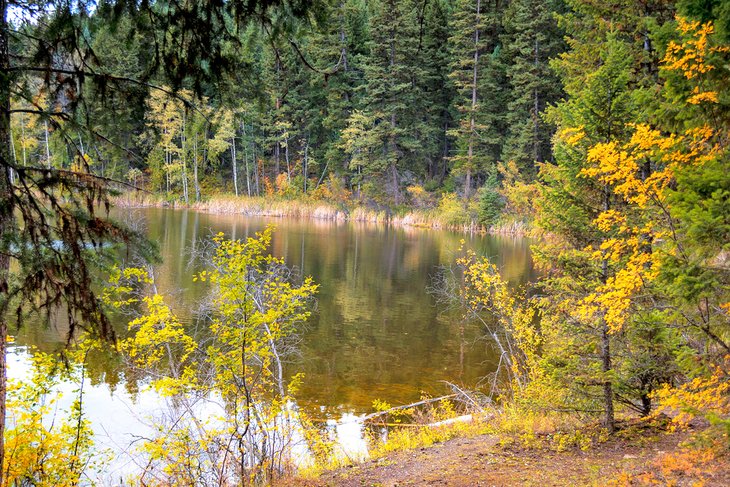 Families with young children or people seeking a nature trail in the country suitable for wheelchairs and strollers should consider making the scenic 27-kilometer drive north of downtown to the Isobel Lake Interpretive Trail. This 2.9-kilometer loop can be easily completed in an hour.
Isobel Lake is an appealing option for a lunch stop. Lakeside amenities include a picnic shelter, pit toilets, and benches. Rustic overnight camping is also available at the Isobel Lake Recreation Site.
Local volunteers dedicated thousands of hours to create a level, hard-surface, and boardwalk trail. You will have views of the lake, surrounding wetlands, and nearby mountains.
Expect plenty of bird life housed in marsh and forest habitats. Observation docks enable hikers to take a closer look at aquatic features that attract fish, birds, and mammals, such as beaver. For more information about plants and wildlife, check out the interpretative signs on the trail.
Map of Hiking Trails in Kamloops, BC