8 Best Campgrounds in Salmon Arm, BC
Salmon Arm is centrally located between Vancouver and Calgary and in one of British Columbia's most popular recreational destinations. People are drawn to seek out the best campgrounds in Salmon Arm because of Shuswap Lake, one of the top lakes in British Columbia. Other appealing factors to visitors are the clean environment and a climate that supports camping for much of the year.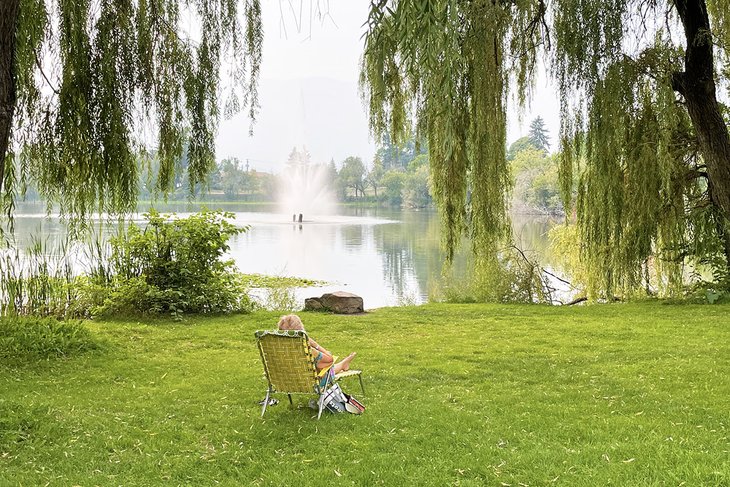 Shuswap Lake has inspired generations of residents and tourists alike to live on houseboats, rent shoreside cottages, and go camping. Salmon Arm has 400 kilometers of navigable shoreline and a lush setting of mountains and valleys. Given all the activities that people can enjoy on the lake, the community promotes "lifestyle in harmony with nature." This slogan pretty much sums up the experience of camping in the Shuswap.
Numerous campgrounds — including public provincial parks and recreation sites, and private properties — dot the vast shoreline and surrounding hills of Shuswap Lake. Cast an eye on our list of the top campgrounds in Salmon Arm and reel in the best one for you.
1. Herald Park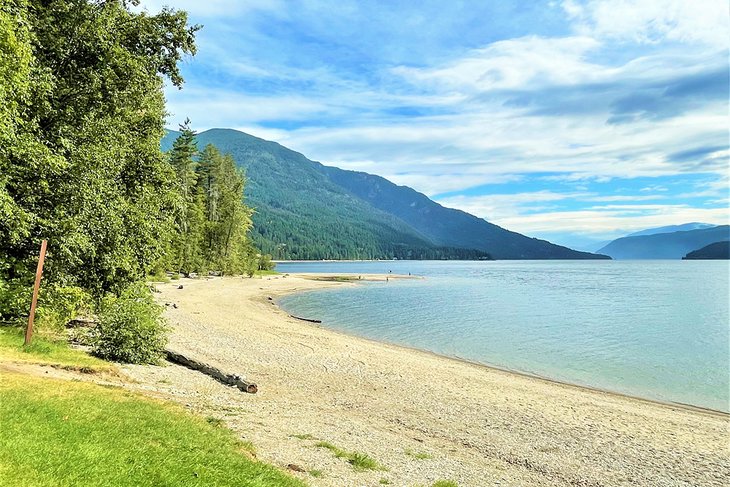 More than a century ago, Herald Park was a farm that restored the health of Dr. Dundas Herald, a Vancouver physician suffering from living on the damp west coast. The property was in the Herald family for 70 years until it was sold to the Province of British Columbia in 1975 and became a popular public park and campground in Salmon Arm.
There are three camping areas in the 79-hectare park, which includes 13.5 hectares of foreshore. The smallest, Bastion Mountain campground, has 15 sites, including one for the camp host.
Reinecker Creek flows through Reinecker and Homestead campgrounds. Reinecker is the smaller of the two, with 35 campsites, while Homestead boasts 67 spots to spend the night in the great outdoors. The sound of water is soothing, and it encourages the presence of wildlife.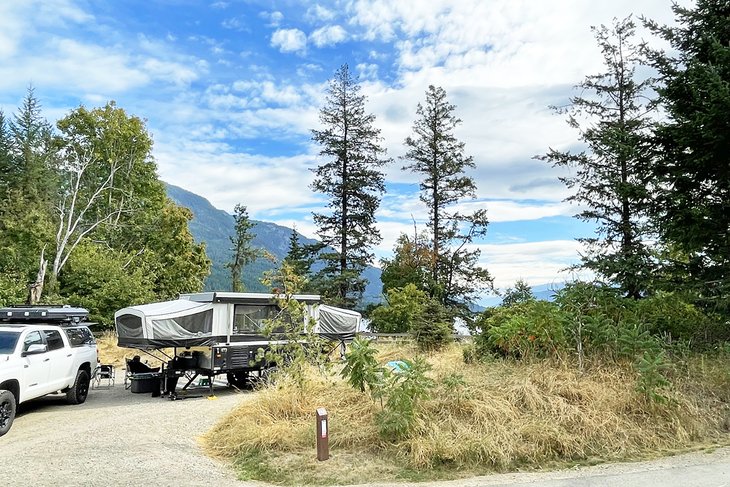 Swimming, fishing, and boating are popular activities, supported by the boat launch on-site. A children's playground keeps kids happy when they're not in the warm, shallow water. A large day-use area invites people to picnic.
The oldest of the Herald children was a nature lover who documented 70 species of birds on the property. To this day, bird-watching is a rewarding activity in the park. Birds flock here for water, habitat, plus good things to eat such as the cherry plums that grow at site 119 and apple trees in the vicinity of Orchard Lane.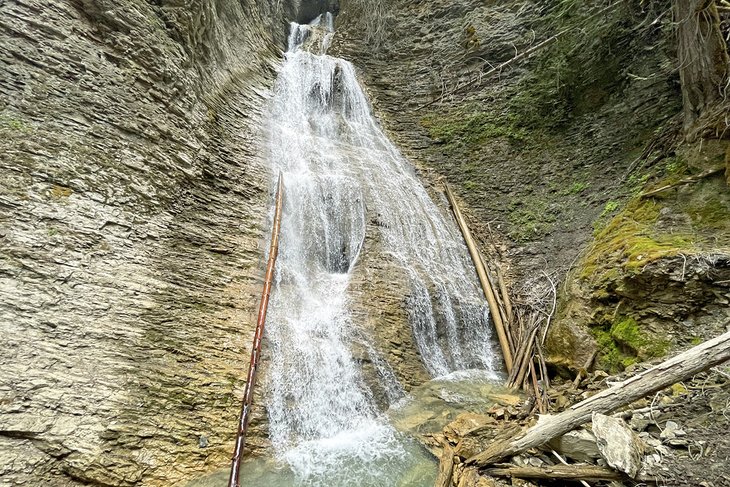 The park is an excellent base camp for exploring activities in the Shuswap. Start with an easy 2.5-kilometer hike through a scenic canyon to the awe-inspiring cascade of Margaret Falls. Although it feels like a world away from city life, Herald Park is located only 26 kilometers north of Salmon Arm.
The campground is 100 percent reservable online. If reservations are not available, sites are first come, first served.
2. Salmon Arm Camping Resort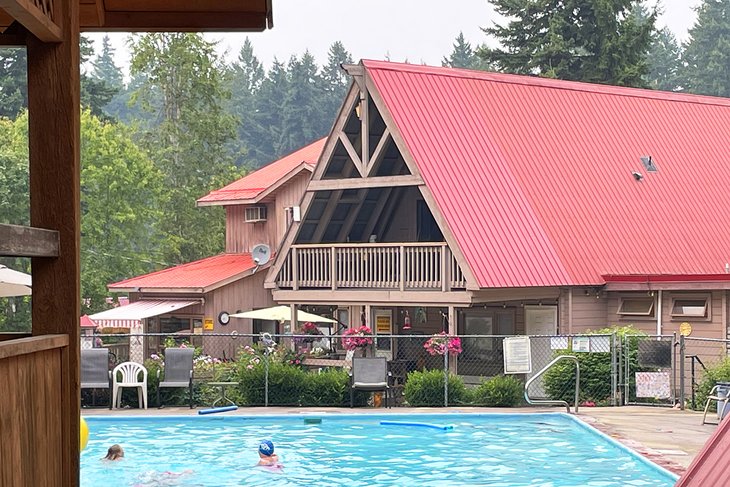 Salmon Arm Camping Resort is a family-oriented campground in Salmon Arm that has been around since 1970. The office and store with the red roof and hanging flower baskets provide a homey focal point to the property. (Camper tip: Go to the store for a treat of ice cream and cappuccino.) The grounds are nicely landscaped, and mature trees provide welcome shade when it's hot.
Among the popular features of this large resort in high season is a 15-meter heated swimming pool. The campground also offers a slew of things to do for people of all ages. A "friendship fire pit" encourages campers to gather around and share stories. Mini-golf and a playground are fun options for families with energetic kids. Adults get their exercise at the basketball and pickleball courts. Groove to live entertainment, movies in the pavilion, talent shows, dance parties, and lawn games. Readers will enjoy the selection of books.
RVers have easy access to pull-throughs and back-in sites serviced by 30-amp power, water, and septic. A two-day minimum is required to make a reservation, although holiday weekends and special events may change the minimum stay requirements. Tent sites are non-reservable, first come, and first served. During high season, the resort is mostly full, although a small number of sites are available for drop-in campers.
Campsites have fire pits (that can be used when campfires are permitted) and picnic tables. Other amenities include flush toilets, heated showers, coin laundry, and Wi-Fi close to the office. For swimming and picnicking, it's a seven-minute drive to Canoe Beach on Shuswap Lake.
Address: 381 Hwy 97B NE, Salmon Arm, British Columbia
3. Hidden Valley Campground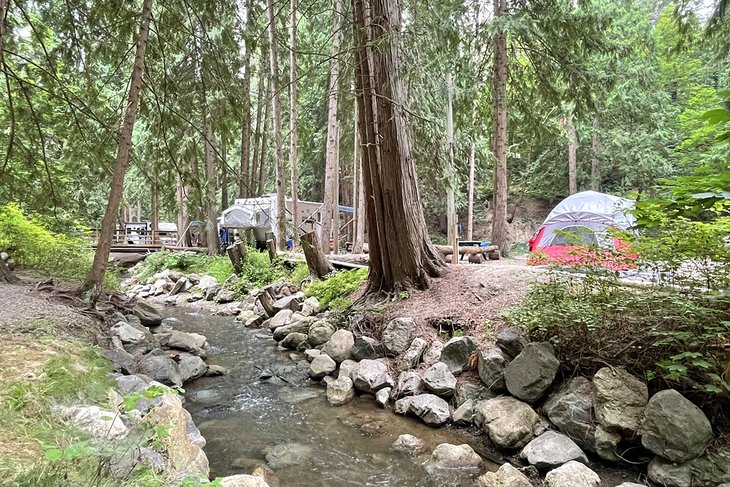 Conveniently located off the Trans-Canada Highway nine kilometers northeast of Salmon Arm, Hidden Valley Campground is immediately recognizable by the large statue of an elk beside the sign.
Once you enter the nearly 4-hectare campground, you'll see several replicas of its wildlife relations from the bear family. The manager is fond of these winsome characters and so are kids. One of the largest bears presides at the children's playground, an elaborate collection of bridges, monkey bars, and structures to climb.
The property bills itself as "family-friendly," and with a security gate at the top of the hill accessing the RV sites, families can feel confident that they will be camping in peace.
Campers who descend the hill into the "hidden valley" below have several options. All sites have a picnic table, and most have fire pits; two are described as being very private; six sites have privacy fences; seven sites are located along a salmon creek. Fourteen sites are without services and reserved for tenters. All told, there are 38 sites.
Camper amenities include a Sani-Station, heated washrooms, coin showers, flush toilets, and Wi-Fi. Coin-operated laundry facilities include three washers and two dryers. There's also a small convenience store where you can get ice, fresh coffee, and some groceries. The "friendly fire pit gathering area" is another feature of the lower campground.
All sites require a reservation — there are no first-come, first-served sites. Larger sites book well in advance, so don't delay if you have your heart set on camping at Hidden Valley Campground.
Address: 6670 Trans Canada Hwy NE, Salmon Arm, British Columbia
4. Sky Blue Waters Resort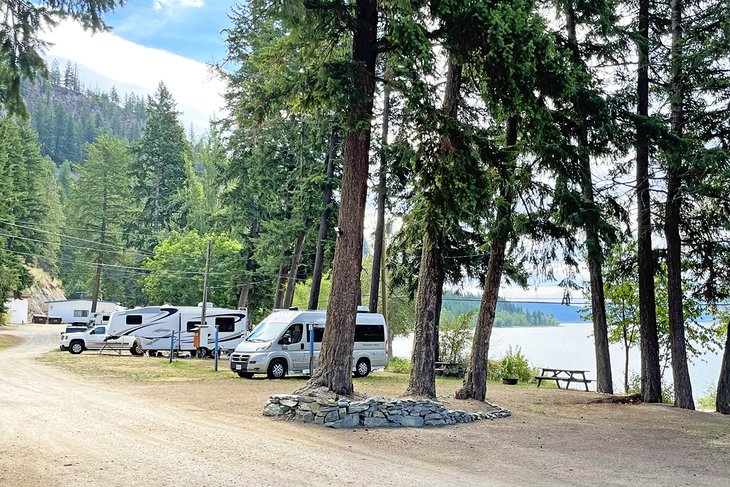 With 500 feet of lakeshore and every site having a lake view, campers are constantly reminded of the name of the resort: Sky Blue Waters Resort. A boat launch and dock add to the overall enjoyment of this rural campground beside the lake.
The campground is home to a total of 33 sites with full or partial hookups (15- and 30-amp power), all reservable. Tenters set up on a grassy area that is completely separate from RVers, yet everyone has the same splendid view. Every site also has a fire pit and picnic tables. Amenities include coin-operated showers and laundry.
Local activities include bird-watching, especially of the osprey nests atop the hydro poles that are visible from the campground. Boating is another favorite pastime. You can also soak up the sun on the beach.
Off-site, one of the closest natural attractions is magnificent Margaret Falls, located in nearby Herald Provincial Park. Sunnybrae Community Park, with its own beach and playground, is just a few steps down the road. The resort is located near Tappen — 16 kilometers west of Salmon Arm and two kilometers away from the Trans-Canada Highway.
Address: 3463 Sunnybrae Canoe Point Road, Tappen, British Columbia
5. Pierre's Point Campground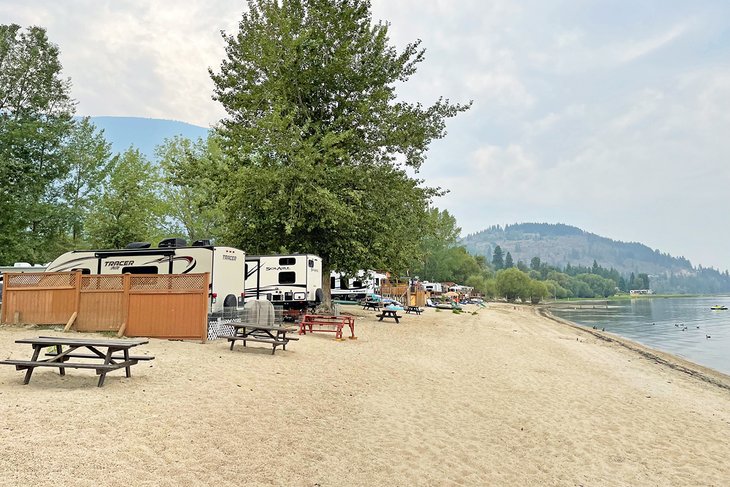 Location is a big part of the appeal of Pierre's Point Campground, nine kilometers northeast of Salmon Arm, on Shuswap Lake and right next door to Sandy Point Campground. (Pierre's Point and Sandy Point are both owned and managed by the Adams Lake Indian Band.)
The clean lakefront has a long sandy beach that is ideal for campers to swim in one of two designated areas, jump off the dock, and play alongside the shoreline. Completely separate from the long sandy beach is a beach designated for pets. The scenery features a fabulous view of Bastion Mountain.
Recreation options abound, with a playground for kids, mini-golf for the family, and hiking and boating for grownups. If you don't have a boat, you can rent one nearby.
Motorhomes and tents are accommodated on the property, which has large shade trees and pull-through sites for RVs — up to a maximum of 15 meters. All sites have power and water, septic service is available at some sites, and there's a sani-dump. Picnic tables and fire pits are provided. Amenities include coin-operated hot showers, a laundromat, convenience store, boat launch, and boat storage.
Several dozen sites are available, with some for RVs and others for tenters. Six of these sites are located on the beach — a fabulous location for campers who love plenty of sunshine. Reservations must be made using the online booking system.
Address: 2569 Campground Road, Salmon Arm, British Columbia
6. Salmon Arm Elk's Hall & Park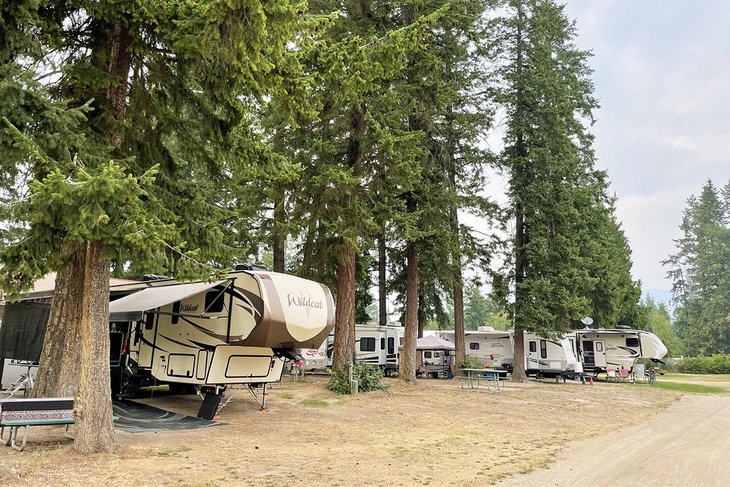 Salmon Arm Elk's Hall & Park is located five kilometers from downtown Salmon Arm and a three-kilometer drive off the Trans-Canada Highway. The campground has 24 full-service sites with 30-amp service. Motorhomes up to 14 meters can be accommodated. There's also plenty of space for tenters. A covered kitchen and gazebo provide protection from the elements.
Among the amenities, there is a playground for kids, washrooms, and showers. One perk of staying at this campground is that you can play baseball in one of the adjacent playfields. For a refreshing swim or to launch your boat, it's a seven-minute drive to Canoe Beach on Shuswap Lake. Reservations can be made over the phone but are not required.
Address: 3690 30 Street NE, Salmon Arm, British Columbia
7. Sandy Point Campground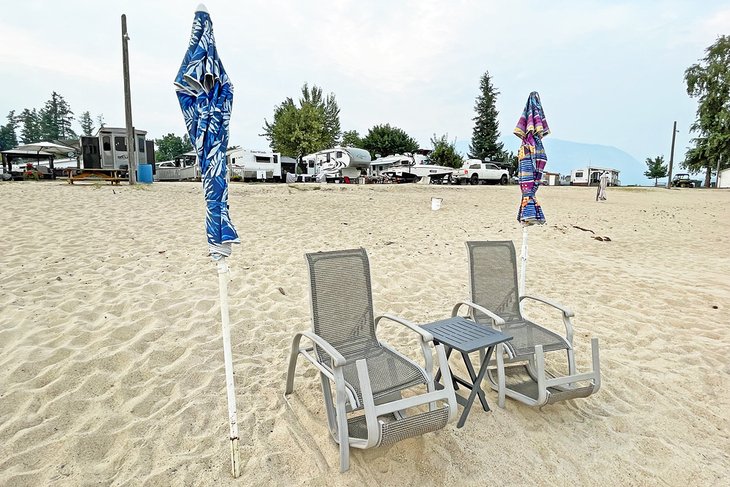 Enjoy fabulous views of Salmon Arm, Mt. Ida, and Bastion Mountain from Sandy Point Campground, managed by the Adams Lake Indian Band. The campground has about 75 sites, half of which are for RVs, and the other half for tenters and camping units set up for dry camping. Additional space is available in an overflow area. All sites are reservable. Large units up to 15 meters can be accommodated.
Services vary according to the site, and if you don't have full service, there's a sani-dump. The spacious property includes room for boat and trailer parking — a big draw with many campers here. There's a covered cookhouse, children's playground, washrooms with hot showers, and a convenience store.
The property fronts a sandy beach and swim area with a dock and boat launch. Pets are not allowed at the campground, which is located nine kilometers north of Salmon Arm.
Address: 2100 Sandy Point Road, Salmon Arm, British Columbia
8. ViewPoint RV Park & Cottages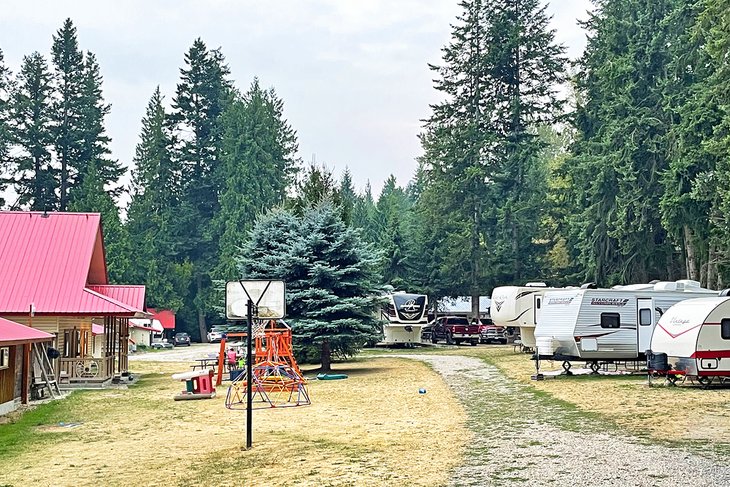 If you're camping for a special event such as a family cookout, birthday party, or wedding, ViewPoint RV Park & Cottages has 13 RV sites on gravel pads separated by grass. Motorhomes up to 13.5 meters and pull-throughs can be accommodated on sites serviced by power (15, 30, and 50 amps), water, septic, and free wi-fi. Pets are allowed for RV campers.
Tent campers have access to six sites in a grassy treed area. Amenities include Wi-Fi, complimentary solar-heated showers, a picnic shelter, and a community fire pit with free firewood. A children's playground keeps the kids happy.
One of the perks of this campground is its cottages, which allow tourists who don't feel quite as comfortable spending the night in nature to stay at the campground. Each of the seven self-contained cottages offers a full bathroom, bedroom, living room with a futon, and full cable TV. They can accommodate up to four adults, along with babies and toddlers. Pets are welcome in some cottages, and cottages 1 through 4 have air conditioning.
There are plenty of good spots nearby if anyone fancies swimming and water sports on Shuswap Lake. If you want to walk to local waterfalls, one option is a short 20-minute walk along the Syphon Falls and Gayle Creek trail.
Campers are encouraged to plan their camping trip to coincide with a special event. For example, consider a visit during the annual salmon run at the beginning of October. Temperatures are cooler then, and it's less crowded. All sites are reservable — there are no first-come, first-served sites. The property is located 10 kilometers northeast of Salmon Arm.
Address: 6871 Trans-Canada Highway NW, Salmon Arm, British Columbia