8 Best Campgrounds in Kelowna, BC
Three things come to mind when people think about Kelowna: a lake, fruit orchards, and summer fun. Now is the time to add camping in Kelowna to this list. There are a lot of opportunities to camp in and near the city, and campgrounds make the most of the natural assets available to them: Beaches, sunshine, water and land activities, and scenery.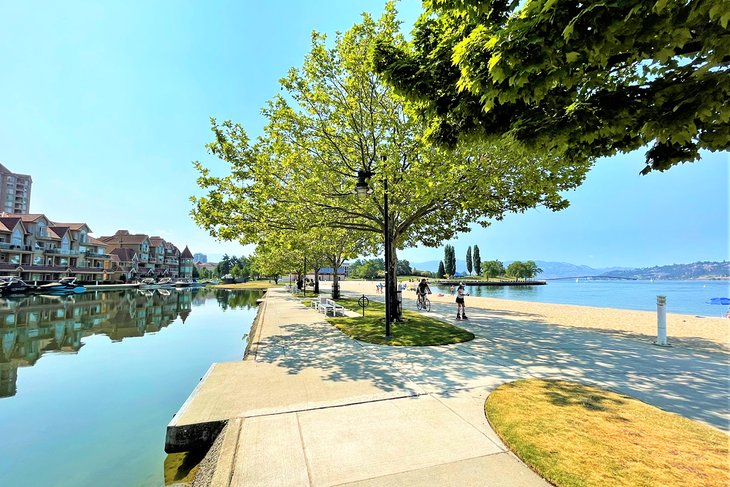 Making Kelowna the base camp for your vacation in the Okanagan Valley makes a lot of sense. It's the epicenter of Okanagan Lake, the largest freshwater lake in the entire valley. Given its size, Kelowna has something to offer all tastes—including juicy, fresh fruit in season.
Parks come in all shapes and sizes. They offer plenty of things to do, whether you are inclined to stroll in an urban landscape or have a passion for limitless adventures on rugged trails in the wilderness.
When needing a place to pitch and go, a tent site awaits you with a hot shower at the end of a day of exploring in Kelowna. There are also campgrounds to slide your big rig into an adequate space with full hookups. If glamping is your idea of how to boost rest and relaxation, Kelowna has a spot for you.
One of the emerging trends in hospitality these days is the ability to stay overnight on a farm. Like adding more fresh peaches into a bushel basket for you to enjoy, we have included some of these farm stays on our list of favorite campgrounds in Kelowna, BC. Choose the one that most appeals to you!
1. Bear Creek Park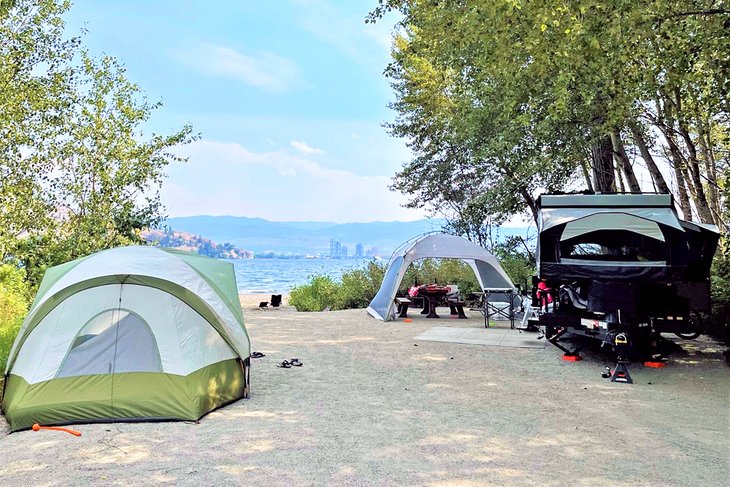 One of the most popular corners to camp in the Okanagan Valley during summertime, Bear Creek Park is located on the Okanagan Lake and only 11 kilometers north of Kelowna.
Spread out over 158 hectares, the park includes a campground that satisfies the requirements of most RV and tent campers: a feeling of peace with nature, access to more than five kilometers of scenic forest and canyon trails, and 400 meters of beach for swimming and other daytime activities. Facilities and services needed for the best possible camping experience can be found here.
Reserve your campsite online as soon as the reservations system opens each calendar year to improve your chances of rolling into your preferred site. Otherwise, campsites are available on a first-come, first-served basis. If you arrive in your RV without a reservation and the campground is full, be sure to ask park staff to accommodate you in the designated overflow parking area for the night.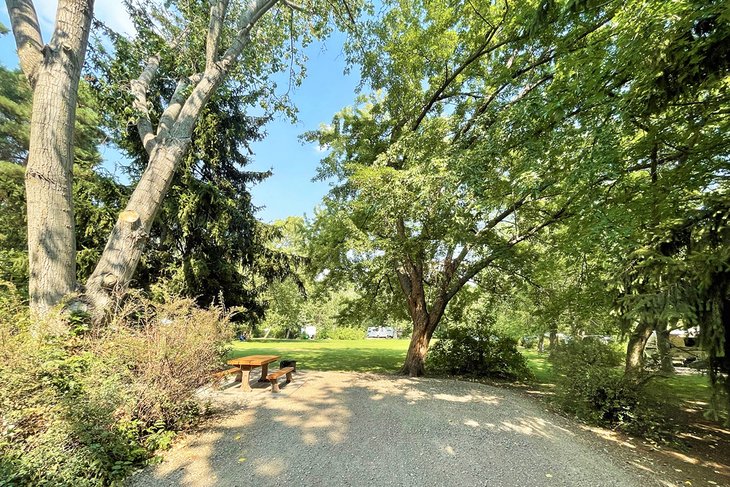 Campsites feature a gravel or cement pad for RVs and tents, and some sites offer more direct sunshine in this leafy campground. Included in all 143 sites (of which 18 are doubles) is a picnic table and fire ring. There are 14 campsites with a 30-amp service for an electrical hookup only, and seven pull-through sites that are paved with 50-amp power, septic, and water.
Taps with fresh drinking water are located throughout the campground and in day-use areas. The campground washroom facilities provide campers with flush toilets and hot showers at no extra charge. For a fee, campers can discharge waste at the sani dump station.
Such a large campground is made more inviting by its layout in three large loops, each with its own facilities, green space, and access points to a creek and lakeside trails. The lakeside playground is popular with children.
From Wednesday through Sunday, gear rentals are available at the kiosk on the beach to enhance your fun and exercise on the water. Rent a paddleboat, stand up paddleboard, open kayak or canoe, and head out on the blue waters of Okanagan Lake. You can also set up afternoons of waterskiing or jetskiing 10 minutes north of the park at Lake Okanagan Resort.
2. Canyon Farms RV Park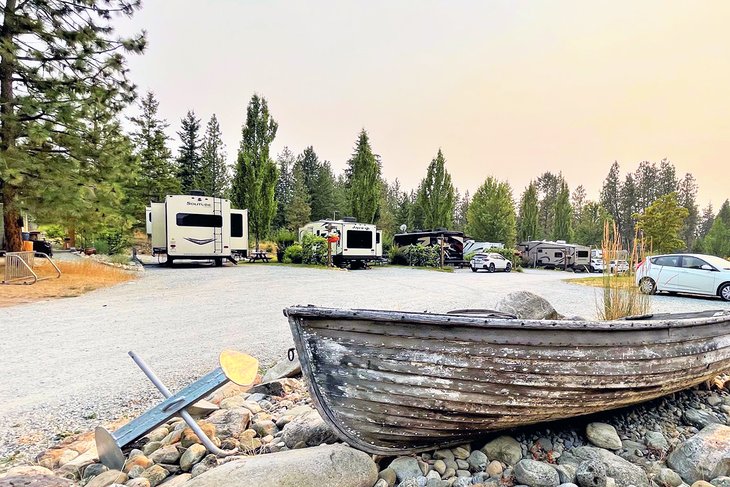 By virtue of its small size, you immediately feel a sense of welcome at Canyon Farms RV Park. Once past the gate, you drive alongside the corral of chickens, garden crops, and a grass volleyball court to reach a landscaped campground. Each graveled campsite is large; well-spaced; and separated by a cultivated mix of flowers, grass, shrubbery, and trees.
The campground accommodates big rigs up to 13.5 meters in eight pull-through RV sites with enough room to park a tow vehicle. All campsites are reservable and provide a range of 20-, 30-, and 50-amp power, and water and septic services. Tent camping is not available.
Fully equipped washroom facilities and a laundromat are on-site along with free Wi-Fi. Well-behaved and leashed pets are welcome.
Canyon Farms is 14 kilometers southeast of downtown Kelowna. Two highly rated golf courses are located right next door at Gallagher's Canyon and will keep your swing in perfect form. Choose from the 18-hole championship course or a quick game at the nine-hole course. The trailhead for Scenic Canyon Regional Park is also just a few steps away.
Address: 4020 Field Road, Kelowna, British Columbia
3. Apple Valley Orchard & RV Park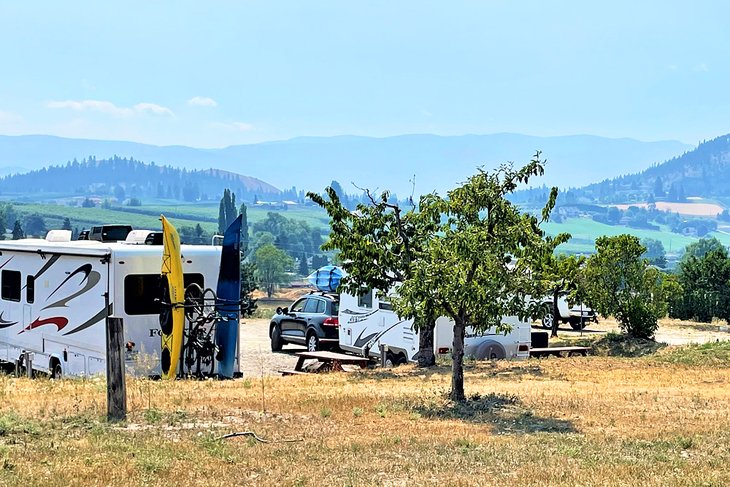 Located only eight kilometers from Kelowna's urban core, Apple Valley Orchard & RV Park gives the remarkable feeling of being on the farm in the country. For a reasonable price, you are encouraged to pick seasonal fruit that is ripe and only a short walk from your RV—perhaps from the tree outside your dinette window! The cornfield northeast of the campground completes the vision of camping in a pastoral setting.
Set on a hill, Apple Valley Orchard offers a panorama of Knox Mountain and glimpses of Lake Okanagan beyond the skyline of Kelowna.
This tidy campground is terraced and accommodates small and large RVs with 30- and 50-amp full-service, pull-through, and back-in sites on paved and gravel sites with patches of grass. The longest site tops out at 20 meters. A Sani-dump is available from May through September if you need to empty your holding tanks.
Tent camping is not permitted at this Kelowna campground. It also does not accept first-come, first-served campers, so be sure to reserve your site prior to arrival.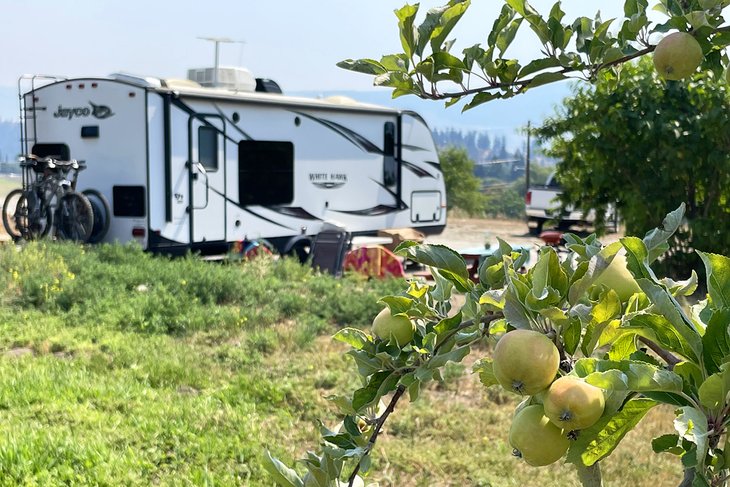 No open wood fires are permitted in Kelowna, but feel free to use the propane fire pit or barbecue you've brought with you. Expect a Wi-Fi signal, washrooms with hot showers, and a coin-operated laundry in the main building. There's also a small, enclosed area of grass with a play set for children. This campground is pet friendly with some restrictions, and dogs must be kept on a leash throughout your stay.
Address: 1980 Union Road, Kelowna, British Columbia
4. Kelowna Urban Farm and RV Park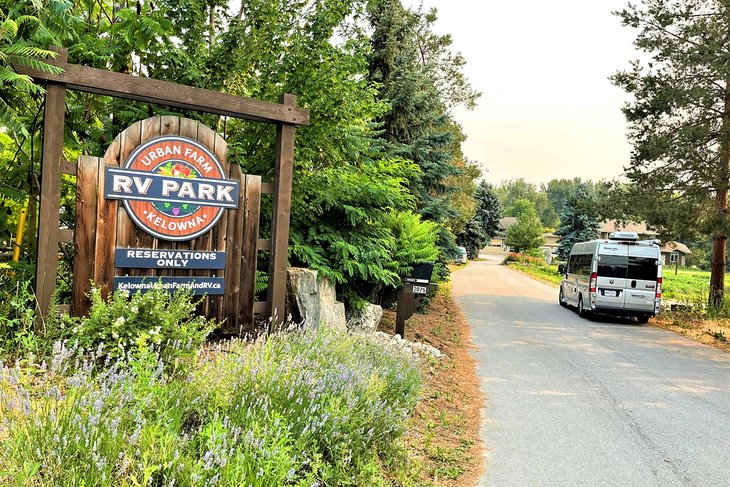 A little more than six kilometers south of downtown, Kelowna Urban Farm and RV Park is a farm that incorporates a small RV campground alongside its expanded market garden. Campers can make a physical connection here to what they eat and how it's grown. Its location and name say urban, but the feeling is all country.
Designed with large and small RVs in mind, each 20- by 9-meter site provides the full range of 20-, 30- and 50-amp power, water, septic, and Wi-Fi services. Landscaped gravel, grass, trees, and shrubs separate each pull-through site for RVs.
This is a popular campground and reservations are recommended. If you have no reservation, drop by the park to see if there is room for you. The campground offers bathrooms with hot showers and a laundry. In addition to propane barbecues that you can rent, the park provides a free propane fire pit at each site. Propane is available for sale at the campground.
Morning coffee in hand, campers and leashed pets can step into the immersive experience of farm life. You might not need to drive anywhere for fresh produce that is grown just steps from your camper. There are also fresh farm eggs, free-range chickens, and honey extracted from the on-site apiary.
Bordering Mission Creek Greenway, the Kelowna Urban Farm and RV Park offers access to the level foot and bike trail that leads you five kilometers to Lake Okanagan. The park's own tennis court enables players with equipment to practice their backstroke. If you brought your golf clubs, the lush and intimate 18-hole Mission Creek Golf Club is just a farm field away.
Address: 2075 K.L.O. Road, Kelowna, British Columbia
5. Farming Karma RV Park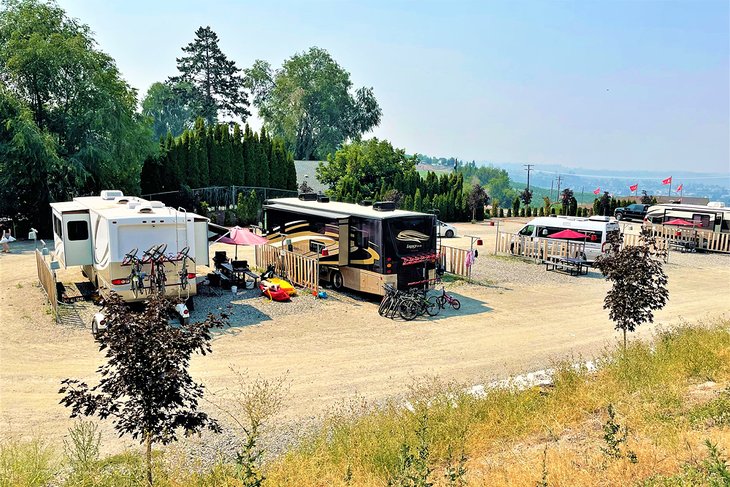 After more than 30 years of operating an orchard, the family owners of Farming Karma RV Park expanded operations to include hospitality and beverage production. This RV park—11 kilometers east of downtown—is not only a place where you stay overnight. It's also an inspired tourist attraction that enables you to see, feel, and taste Kelowna life in the countryside. Just up the road is access to wilderness trails at Sntsk'il'ntən Regional Park (also known as Black Mountain Regional Park).
The RV park is integrated within an orchard of cherry trees that has panoramic views of the city, Okanagan Lake, and valley hills. There are nine level pull-through gravel sites that accommodate big or small RVs up to 13 meters. Each site is reservable and equipped with 30- and 50-amp electrical hookups, water, and septic. While there is no tent camping at Farming Karma, RV campers will be pleased to see ample space to park additional vehicles.
There is no charge for Wi-Fi, and each campsite has a picnic table. Shared washrooms with hot showers are included. Pets are not only welcome but have their own fenced park to romp around. You will also love the deluxe "Dog Wash and Dry Station" on-site, which is complimentary for guests. For the protection of quail families and other birdlife in the campground, pets should be leashed at all times outside the dog enclosure.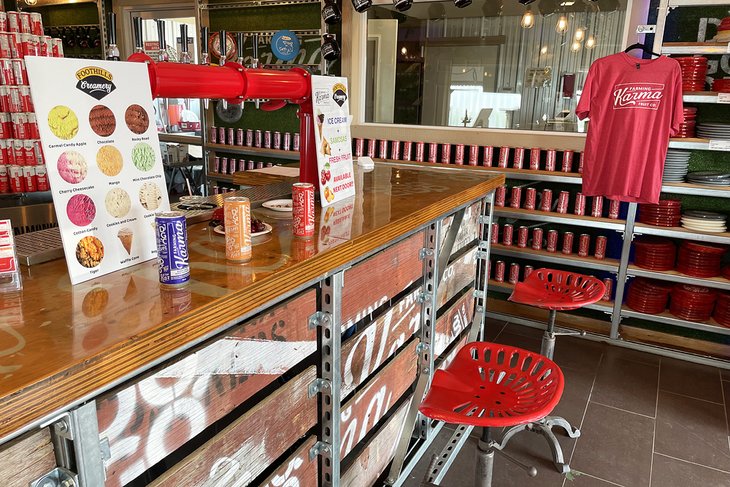 Other unique amenities include a three-hole disc golf course in the cherry orchard where you can sample the fresh crop in season. Take a seat at the Farming Karma tasting bar to savor the flavor of non-alcoholic cherry, berry, apple, and peach sodas. Campers can also complete a self-guided tour of the soda production facility.
Address: 1160 McKenzie Road, Kelowna, British Columbia
6. Holiday Park RV & Condo Resort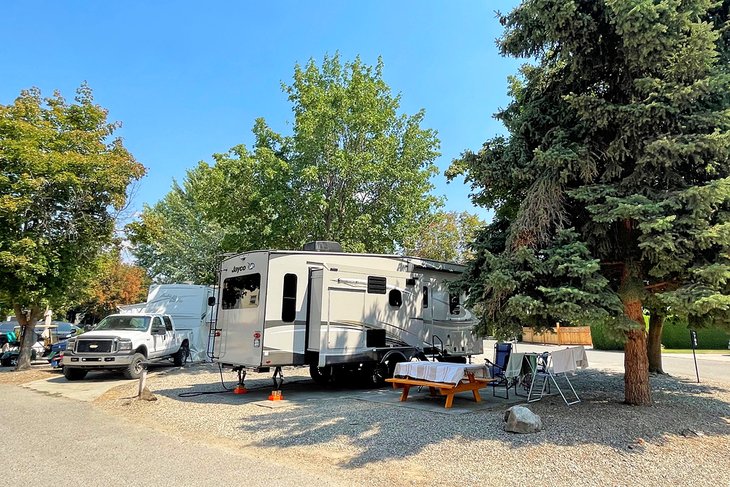 Aptly named given the range of things you can do while parking your RV here, Holiday Park RV & Condo Resort provides full-service campsites and an inclusive resort community experience. Located on Ellison Lake 22 kilometers north of Kelowna, Holiday Park is the kind of place you can bring your family knowing that there is something here for everyone. Even your pets are welcome at its dedicated off-leash dog park, and there's no additional charge for four-legged guests.
This resort is large enough to feel like you've booked into a holiday village. Many full-time residents get from A to B in golf carts on streets with names that remind you why you are here: Idle Way, Play Street, Frolic Avenue, and Leisure Lane. No matter the size of your RV, it will be accommodated in a spacious 2,000-square-foot campsite with a 50-amp full-service hookup that includes cable TV.
All campsites at Holiday Park are privately owned. When not occupied by their owners, sites can be reserved through the resort as early as January prior to the summer season. There's a two-night minimum when staying here. The campground welcomes up to six people per site.
When you arrive, back your RV onto a level concrete pad and set up camp with a picnic table and patio on-site. There is no availability for tents and tent trailers, but RVs as long as 13.5 meters can be accommodated. While wood campfires are not permitted, you can use your propane fire pit and barbecue. Washrooms with showers and a coin-operated laundry facility are available.
The resort complex is fully operational in the summer season with its heated outdoor pools and hot tubs, 25-meter lap pool, pickleball and tennis courts, and six-hole three-par golf course.
Children can release their energy in the playground, and creativity in the craft shop. There is an adult recreation center featuring an indoor pool, hot tub, sauna, fitness center, dance/aerobics floor, and a well-stocked library of books and DVDs. It also offers indoor games (including billiards) and outdoor activities such as pickleball, horseshoes, and shuffleboard. Bikes, non-motorized boats, and other sports equipment can be rented from the resort's activity center. There's also an electric vehicle charging station just inside the main entrance gate.
If you're looking for a change of pace, you can rent one of the condos, which include fully furnished studios, one-bedroom, and two-bedroom units.
Address: 1 - 415 Commonwealth Road, Kelowna, British Columbia
7. Scenic View RV Park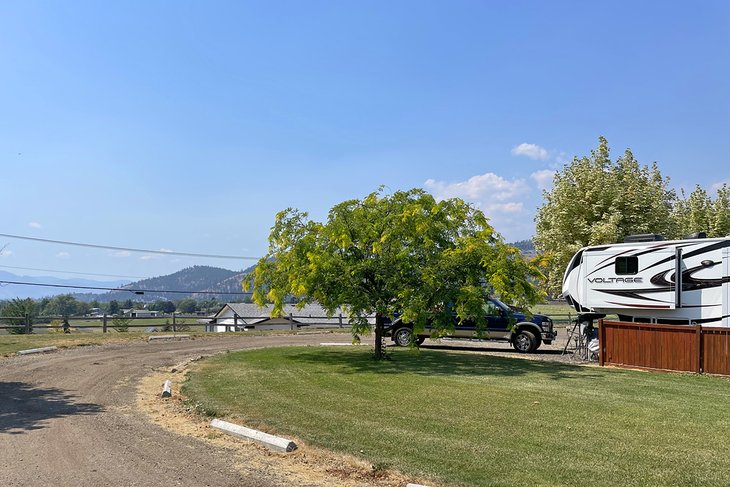 Set on a gentle rise and surrounded by orchards and farm fields, Scenic View RV Park is located nine kilometers northeast of downtown. There are 10 large 8- by 22-meter pull-through and back-in sites that accommodate the largest rigs on the road. Full-service hookups with 50- and 30-amp power, water, and septic come with free Wi-Fi and cable TV for an additional fee.
Advance reservations are required and made online. Each site can accommodate up to two vehicles.
Wooden fences, trees, and patches of grass help to separate campsites and provide privacy. Each site has a picnic table. A coin-operated laundry is also available on-site. Campers are welcome to bring leashed dogs if they comply with park rules. The campground does not tolerate excessive barking.
In addition to other Kelowna attractions that you will want to see and enjoy, bird-watchers in your party will be lured to Robert Lake Regional Park just over a kilometer away. Spread over two hectares, this salt lake and conservation area attracts more than 140 bird species, so bring your birding checklist.
Address: 2360 Scenic Road, Kelowna, British Columbia
8. Orchard Valley RV Park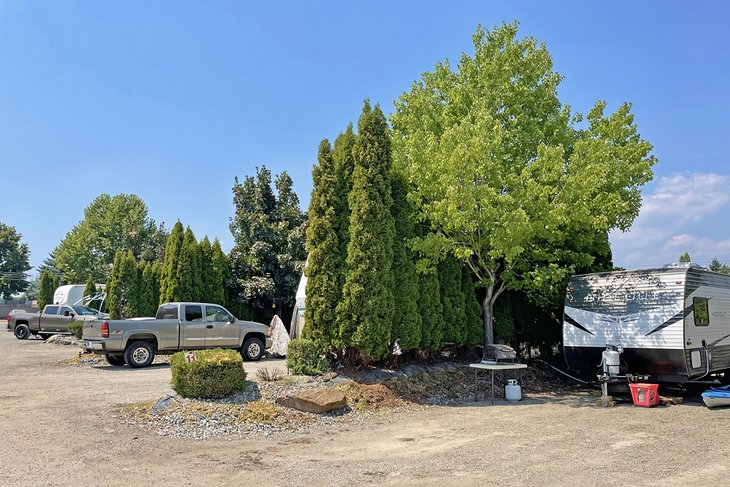 Set back from city noise and highway traffic, Orchard Valley RV Park is one of Kelowna's quietest and most peaceful campgrounds. In every direction, you see fruit orchards. The park is situated less than nine kilometers northeast of downtown. Campsite reservations are required prior to your arrival.
With 10 RV sites, each encircled by trees and mature privacy hedges, this park includes all the services you might need, including 30- or 50-amp power, water, and septic. Big and small rigs back into campsites featuring a level gravel pad that is approximately eight meters wide and 17 meters long.
In addition to a picnic table at your site, expect free Wi-Fi and a cable TV connection. A separate building contains washroom, showers, and laundry facilities that are available for campers to use.
There's a friendly, family-run country market at the foot of the RV park's entrance where you can purchase fresh local produce and other grocery items to save yourself a trip into town.
Note that Orchard Hill RV Park next door has a similar name but is a different campground. It could be another spot to consider camping in Kelowna if Orchard Valley RV Park has no vacancy.
Address: 2389 Rojem Road, Kelowna, British Columbia
Other RV Camping Options near Kelowna
There are other options for RV camping on farms 10 kilometers or more north of Kelowna. These campgrounds each offer 10 full-service sites:
Map of Campgrounds in Kelowna, BC