11 Best Campgrounds in Christina Lake, BC
Many people go camping at Christina Lake because it is known to be the warmest tree-lined lake in Western Canada. Not only does this large lake have warm water, it's surrounded by the majestic Monashee Mountains.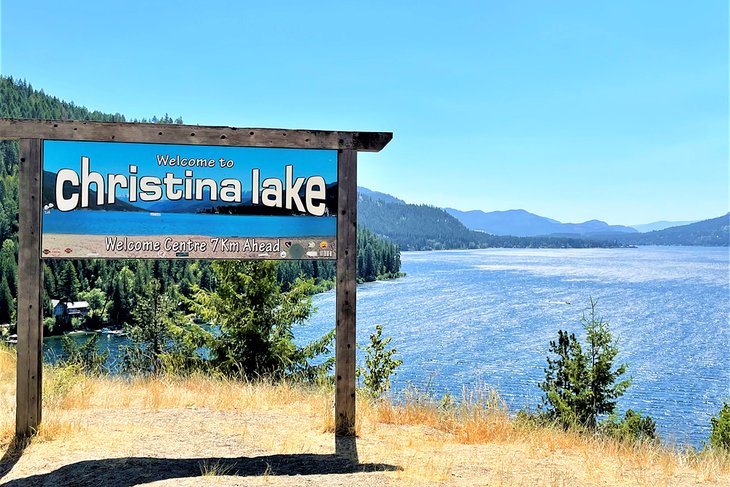 Within a three-hour drive of the super-busy Okanagan Valley corridor, Christina Lake is not as undiscovered as tourist brochures might lead you to believe. It's more relaxed than the Okanagan, the attractions are mostly natural, and there are plenty of things to do. Come to a campground here and experience adventure in such a supernatural setting, your kids won't be lobbying to go to an amusement park.
Campers have plenty of options near Christina Lake: A provincial park, former tent court, converted farm, campground beside a river, campgrounds in town, RV parks combined with motels, and cowboy camping at a horse ranch.
Choose the perfect option for you with our list of the best campgrounds in Christina Lake.
1. Texas Creek Campground, Gladstone Park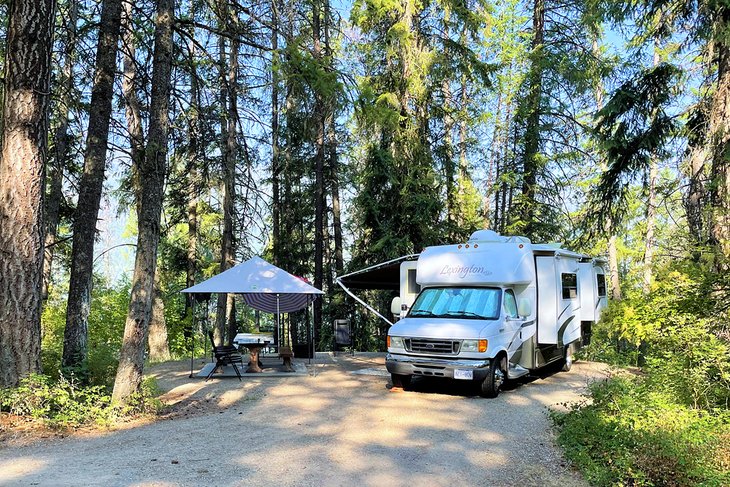 There are two provincial parks in the Christina Lake area, only one of which has a campground. Camping is available at Texas Creek in Gladstone Park, located 12.5 kilometers from downtown on the east side of the lake. Established as a provincial park in 1995, Gladstone is scenically located within the Monashee Mountains, away from the cluster of campgrounds in town.
Getting out of town might be the one good reason you choose to go camping at the provincial park. The park's more distant location enhances the getaway intention, and you will likely feel like you've got more space and privacy.
Reason #2 are the pocket beaches accessible through walking trails from the campground. Shrubs and cottonwood trees separate the coarse sand beaches, making it feel like you have the place all to yourself.
The third reason is that with more than 48 kilometers of trails (such as Deer Point), there are plenty of hiking opportunities in the park. Deer Point takes you up and away to magnificent views. These views mean that the trail is steep at the start, but do as much as you fancy and return the same way because the trail is 22 kilometers return. Wear sturdy hiking shoes and carry water. Along the way, keep your eyes peeled for edible berries such as thimbleberries and saskatoons - a taste of bliss.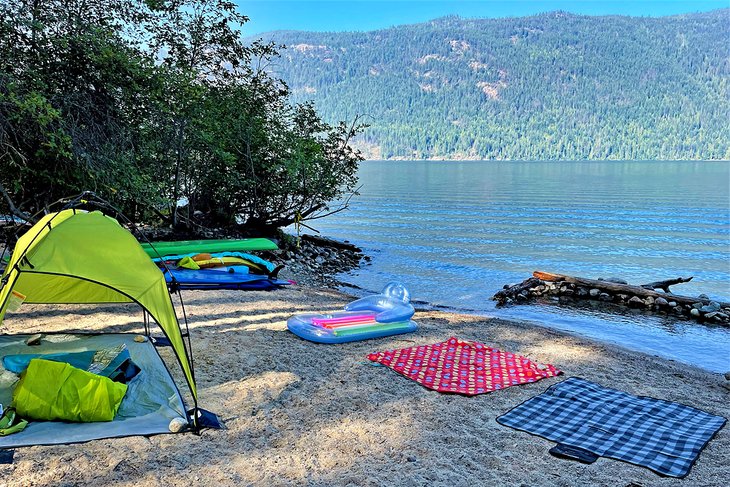 Most of the 62 vehicle-accessible campsites are large, and shaded by Douglas fir, larch, and ponderosa pine. Seven double sites range from medium to small. Shrubs, such as ocean spray, offer privacy between sites. You can reserve campsites online. Otherwise, camping is first come, first served. Sometimes you can luck out if a camper departs early. There is no group camping or day-use picnicking at Texas Creek Campground.
Some BC provincial parks have rustic facilities, but here there are complimentary hot showers, flush toilets, and a dishwashing station with two large sinks and hot water. Firewood and ice can be bought from the park host.
More reasons why Gladstone is a choice that could make you glad: There's a free boat launch at Texas Creek Campground. Campers can fish in the lake for kokanee, rainbow trout, and smallmouth bass. Nine wilderness campsites, accessible only by boat from the public launch, are located on the west side of the lake. Some of these sites can be seen from scenic viewpoints along Deer Point Trail.
2. Christina Lake Golf Club & RV Park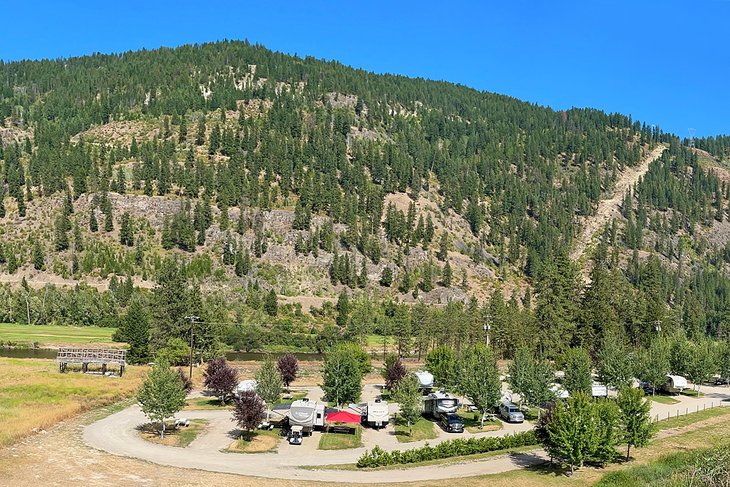 One of the most scenic places to camp in Christina Lake is a campground hiding in plain sight. That's because it's hidden away beside the Kettle River within putting distance of Christina Lake Golf Club, an 18-hole championship golf course. While exploring this area, perhaps looking for Cascade Falls and one of the longest trestle bridges along the Canadian Pacific Railway, you'll see a sign that says: RV Park.
You might think Christina Lake Golf Club & RV Park is a private attraction or that you have to play golf to stay here. Surprise, surprise, it's open to the public and it doesn't cost top dollar. If you want to golf during your camping vacation at Christina Lake, this place offers stay and play packages.
Because the campground is not in any of the usual places, you might not need a reservation, even in the middle of the summer, although they're recommended. Roll on in, even with a big rig, and set up home in one of the 27 pull-through sites.
Grassy patches between sites are soothing to bare feet, and mountain views in all directions are a tonic for the spirit. Twenty-five of the sites have 30-amp service, and two sites have 50-amp service. All have picnic tables and these complimentary amenities: washrooms, sani dump, Wi-Fi, and carts for transportation between the campground and clubhouse. Clean hot showers are coin-operated.
Address: 230 2nd Avenue, Christina Lake, British Columbia
3. Christina Pines Campground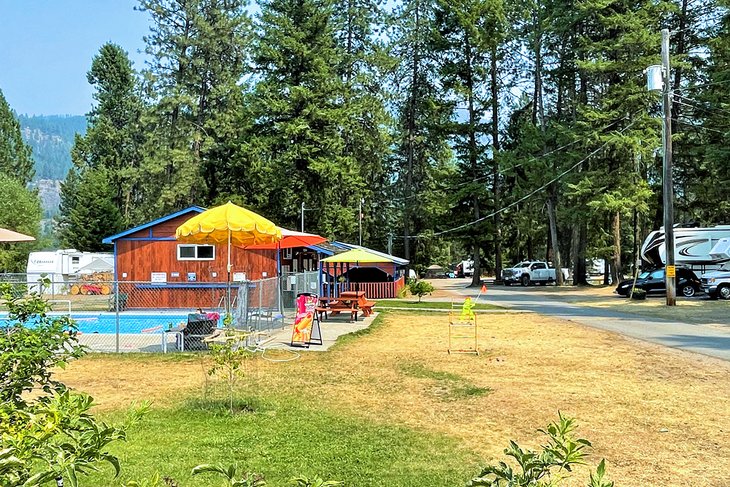 Christina Pines Campground has hosted campers on its 2.5-hectare site since 1969 and is under new ownership as of April 2021. The friendly owners are keen to ensure guest comfort by providing clean and tidy facilities. They also offer a program of engaging things to do to keep campers entertained whenever they're not at Christina Lake beach - a distance of 15 minutes on foot.
A sample weekend program in mid-July includes: Book sales, pool games, and Aquafit in the heated pool, two movie nights in the covered picnic area, crafts, lawn games on the field between the pool and the office, ice-cream sales, and a team scavenger hunt with prizes.
At the picnic shelter, campers can play board games and cards, check email, and enjoy ice cream or snacks for sale. Ask about equipment for lawn games at the office. A mini golf course keeps kids and families happily occupied. When clothes get dirty, there are laundry facilities.
Christina Pines accommodates RV campers in motorhomes up to 13.5 meters. RVers have access to 72 full-service sites with 30 and 50-amp power, water, and septic service. Tenters can set up camp on eight sites with water access. Some sites have fire pits to enhance the evening experience of camping beneath the stars. If fires are not permitted, rent a propane fire ring from the office.
Address: 1528 Neimi Road, Christina Lake, British Columbia
4. Schulli Resort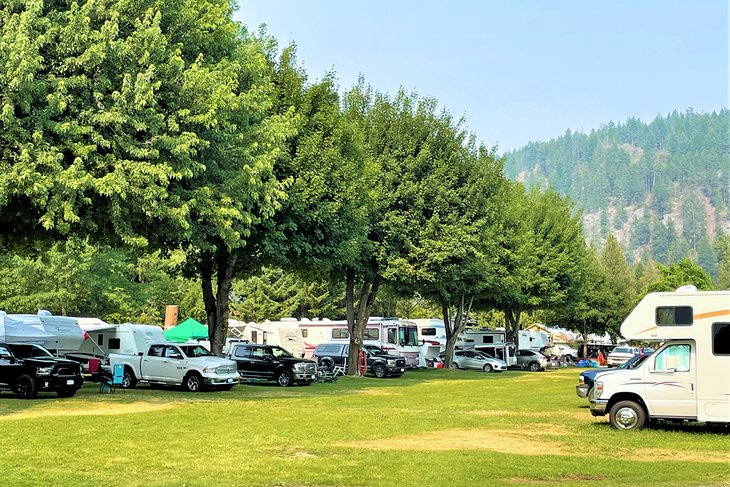 Schulli Resort is a family-owned campground that has been operating since 1934 on the southeast shore of Christina Lake. Historic cabins and a farmhouse that once operated as a tent court are now part of Schulli Resort.
It sells out quickly because this campground has a beach, swimming areas with a dock, and a boat launch. Like early birds catching the worm, campers can snag first-come, first-served reservations and moorage at the beginning of April.
Upon arrival at the resort, the first thing you see are boat trailers and boats. This is your tip-off that campers are welcome to bring their boats. Most motorhomes will fit into the 7 x 12-meter sites. Four sites are waterfront, offering 30-amp service, water, and access to a sani dump. Many sites also offer 50-amp service. Picnic tables are provided.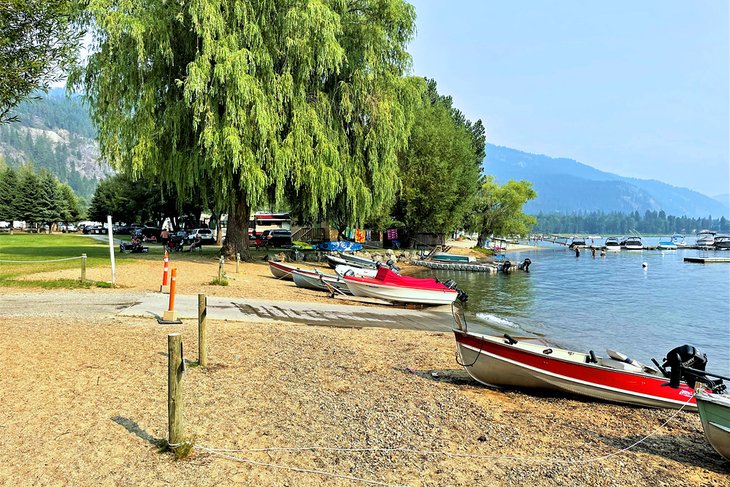 Tenters can occupy one of the coveted waterfront spots or camp on grassy sites. There's a wash-up area for dishes, coin-operated hot showers, and Wi-Fi. A grassy area invites campers to play games such as frisbee, badminton, and horseshoes.
Address: 1865 Bakery Frontage Road, Christina Lake, British Columbia
5. Skands Court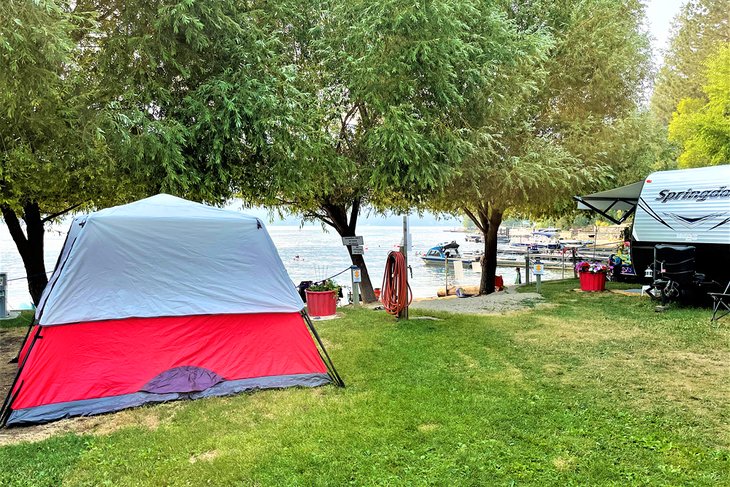 Once a farm, Skands Court has been a campground since 1970. It has a designated swimming area with a swim dock. Supervised children can play along the shore of the sandy beach, and when water fun is done, families can enjoy a picnic. If you bring a boat, 20 moorage spaces are available for rent. Another popular area is the horseshoe pit.
Campsites at Skands Court are reservable from April 1 through September 30, and can be booked by phone or email. Of the 84 campsites, 40 are "turnover" sites on 9 x 9-meter lots although large rigs (up to 11 meters) can be accommodated. RV sites are fully serviced with 30-amp power and water; some have septic service. The grassy shaded area above the beach suits people who like to camp and lounge in close proximity.
Tent sites have access to power and drinking water. The laundry room has two washers, two dryers, and a large sink for dishwashing. Washrooms have coin-operated showers. Wi-Fi access is also available.
Address: 64 Johnson Road, Christina Lake, British Columbia
6. Owl Mountain Ranch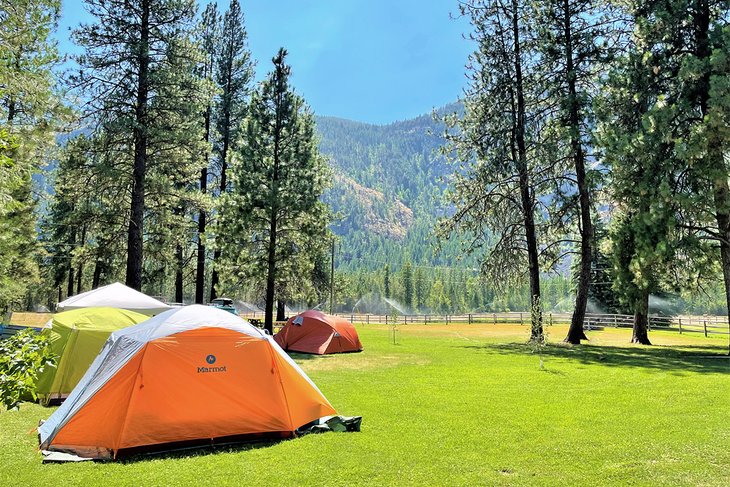 And now for something completely different: Owl Mountain Ranch is where you can go cowboy camping and ride into the sunset on a horse. In addition to seven well-loved horses, there's a mini-equine named Rascal that loves to be patted.
Miniature Nigerian goats, ducks, and chickens add to the fun with animals. If one of the owners has time, kids get a lesson about how to gather eggs. There's a barn for special events and his and hers gardens: His is a U-pick veggie plot. Hers is a "secret garden" that, in the words of the gardener, gives hummingbirds, bees, and butterflies "a place to thrive."
Camping is a relatively new feature for the capable couple who have lived at Owl Mountain for more than 20 years and spent decades in the trail riding business. Located on an estimated 40 hectares on the Cascade border of B.C. and Washington State, the ranch is a peaceful oasis in the thriving landscape of Christina Lake tourism.
This is one place where you won't have to worry about crowding. Make a reservation if you want, but with all the space available at the ranch, it probably isn't necessary. The focus here is on quality, not quantity: "We are happy to keep numbers low so that folks have lots of room to spare." This is good news for people who want to camp with a large group and are likely to be accommodated.
Six grassy sites with shade are available for tenters, although more can pitch their canvas shelter. Sites are separated by brush for privacy. Tenters can use a well-maintained cute and cozy log cabin to prepare food, wash dishes, play board games, check Wi-Fi, and escape bad weather. There are hot showers and - as you might expect as a cowboy camper - an outhouse in the ponderosa piney woods.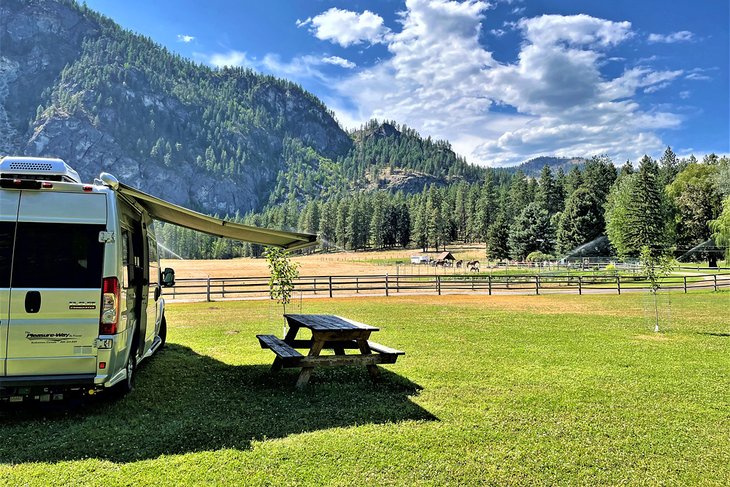 RV campsites have a view of the 30-meter face of Owl Mountain. Set up at one of seven sites with picnic tables, fire pits, and young shade trees. Arrangements can be made to fill water tanks and pump out black water. Because the campground is unserviced, campers are encouraged to bring generators to operate their air-conditioners during the intense summer heat. Fortunately, the sun sets behind Owl Mountain around 7pm, and cool evening air follows hot days.
The ranch has four kilometers of forest walking trails, but the main draw is trail rides, escorted in small groups of four people by an experienced rider who loves nothing more than being in the saddle. Book a one-hour loop ride that is four kilometers long, or the two-hour river crossing that includes a swim at a sandy beach. You can also ride a horse to nearby Cascade Falls, trotting along narrow pathways and rocky slopes throughout the journey.
Looking for another peak experience that's not on a horse? There's always rock climbing! If golf is your game, it's a two-minute drive to the Christina Lake Golf Club. For a refreshing swim, the beach at Christina Lake is six kilometers away.
Address: 701 Border Road, Christina Lake, British Columbia
7. Barefoot Villas
Formerly known as Park Lane Resort campground, Barefoot Villas offers motel rooms and cozy cabins on a hectare of cedar forest within strolling distance of a Christina Lake beach.
This is a great option for outdoors lovers who want to stay close to nature without sleeping in a tent or an RV. Barefoot Villas' seven motel rooms have a rustic atmosphere with wood paneled walls and simple, nature-inspired decor. Some accommodations include kitchenettes, fire pits, and barbecues. There are also three private cabins, each of which has two bedrooms.
The spacious park-like setting includes a playground for children and hiking trails for the whole family. Dogs are welcome.
Address: 31 Kingsley Road, Christina Lake, British Columbia
8. Camp Beverly Hills Resort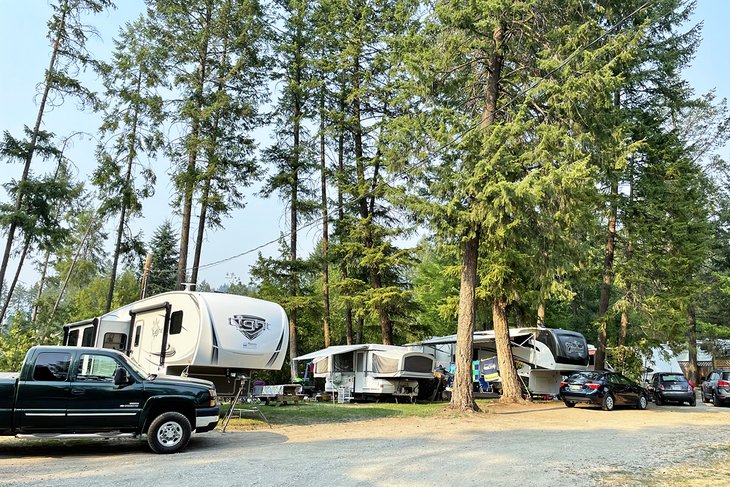 Just because it's called Camp Beverly Hills Resort, don't think this resort has palm trees, although it can be sultry during the dog days of summer. There was a "Bev Hill" in the 30-year history of this campground, and that's where the name came from.
Located one block from Christina Lake and the public beach, this campground is relaxed and social, a place where one of the owners greets everyone by name. "Relax" says one of the signs at the office. Another one reads: "Enter as strangers, leave as friends" — the campground's motto.
You can sleep under the stars, pitch a tent, or park your motorhome if it fits. The maximum length is 12 meters, which is described as "pushing it." The property is mostly grassy with large perimeter trees for shade. An RV rental is available, and there are also motel rooms and cottages for guests who want to sleep indoors.
Amenities include Wi-Fi, a children's playground, and coin laundry. Ice and firewood are available for sale.
There's a yard for volleyball and basketball, movie nights, and at any given moment, there's always the possibility that a water fight could break out. In the summer, when it gets so hot that you want to run through every sprinkler you see, a water fight is just another perk.
Address: 40 Kingsley Road, Christina Lake, British Columbia
9. Totem Motel & Resort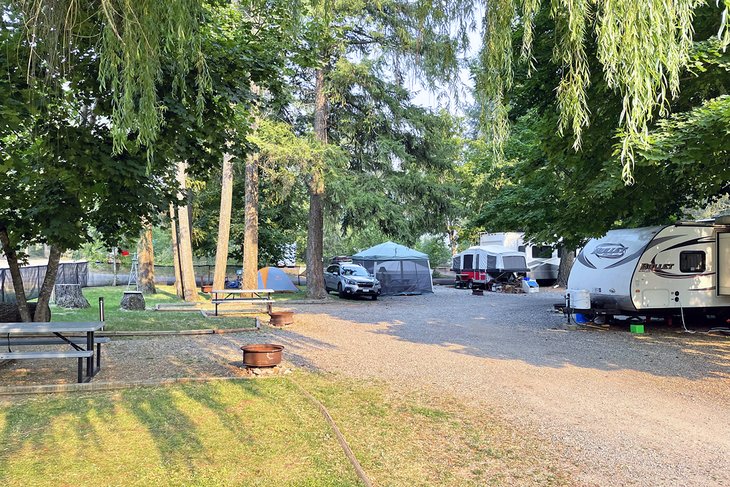 Totem Motel and Resort, located off the main highway in a treed location, can accommodate RVers and tenters, as well as folks who prefer motel digs. This setup means you can go camping with friends or family. Everyone gets to pick the best spot to park their pillows and weary heads.
One feature that sets this property apart from others that offer such choice is the 6 x 12-meter heated swimming pool - especially popular with kids.
The property is tidy and nicely landscaped with shrubs (such as a rhododendron and a rosebush) and flowering tiger lilies. Mature willow, pine, and maple trees keep the property shaded on hot days. Hanging baskets of flowers and a clawfoot tub full of petunias add splashes of color.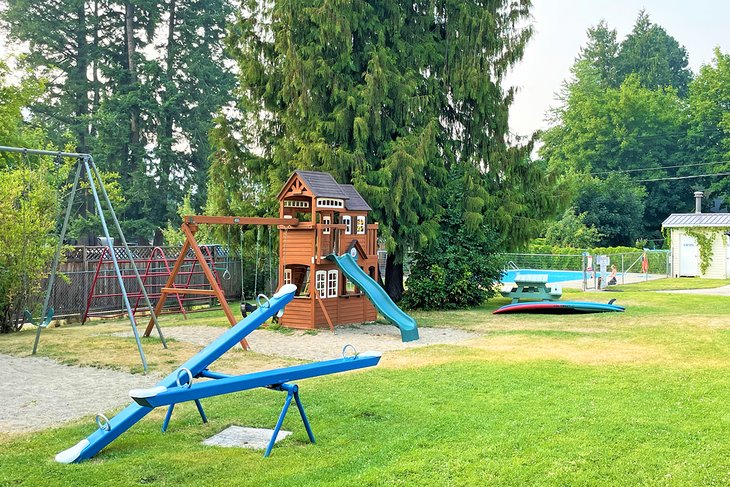 RVers to a maximum length of 11 meters are accommodated in 21 sites with full hookups and fire pits. Tenters have three shaded camping sites with grass and picnic tables.
Amenities include Wi-Fi, laundry, washrooms, and showers. There is a children's playground with swings and a slide, a basketball hoop, and basketballs. It's only one block to a small beach for swimming. If you want to camp here, be sure to make a reservation.
Address: 61 Kingsley Road, Christina Lake, British Columbia
10. Blue Mountain Lodge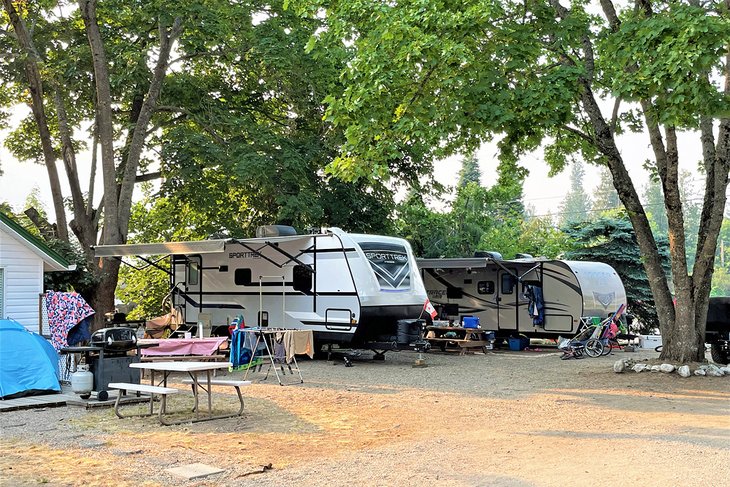 Blue Mountain Lodge has a mix of accommodation for families that might wish to be together, not necessarily with everyone in a campsite. Here, you can enjoy a camping experience in your RV while others in your group stay in a lodge suite, cabin, or cottage. At night, gather around a fire pit; by day, hang out in the lawn chairs on the grass. Blue Mountain is a treed, one-hectare property located one kilometer from downtown.
Relax with the family, or play outdoor games in the large grassy area. If you didn't bring your own, no problem, lawn and board games are available. Have a rousing match of badminton. Rent video games by the hour or daily.
Children will be drawn to the shady play area that includes a sandbox with toys, a playhouse, and a place to climb. A refreshing dip in the lake - for you and your dog - is only half a block away.
Address: 81 Kingsley Road, Christina Lake, British Columbia
11. Christina Lake Motel and RV Park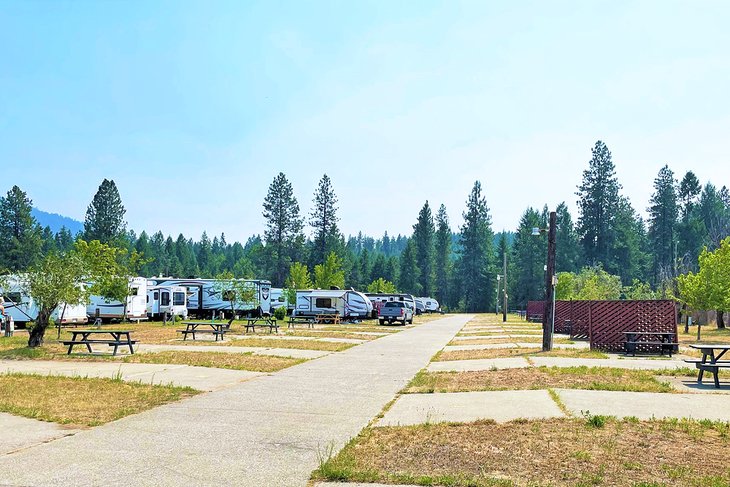 Located a short walk from Christina Lake Park, Christina Lake Motel and RV Park has 48 RV sites with 15- and 30-amp hookups for power and water at each site. Motorhomes up to 12 meters can be accommodated. A sani dump, showers, and washrooms are located on-site.
Campers who don't own a motorhome but would like to try out the lifestyle can rent a travel trailer for a week. Seven sites are set aside for tenters. There's space to park your boat, or you can rent one from the marina. Amenities include picnic tables, a children's playground, access to Wi-Fi, and firewood for purchase. Well-behaved dogs are welcome.
Address: 19 West Lake Drive, Christina Lake, British Columbia
Map of Campgrounds in Christina Lake, BC