10 Top-Rated Things to Do in Sandpoint, Idaho
Author Brad Lane lives in the Pacific Northwest and always enjoys a visit to Sandpoint.
In the Idaho Panhandle, 50 miles south of the Canadian border, Sandpoint is a great mountain town with major tourism appeal. It sits on the northern shore of Idaho's largest lake, Lake Pend Oreille (pronounced "pond oh-RAY"), surrounded by Rocky Mountain peaks.
Among the standout scenery, the Selkirk Mountains provide a dominant backdrop to the north, extending into British Columbia.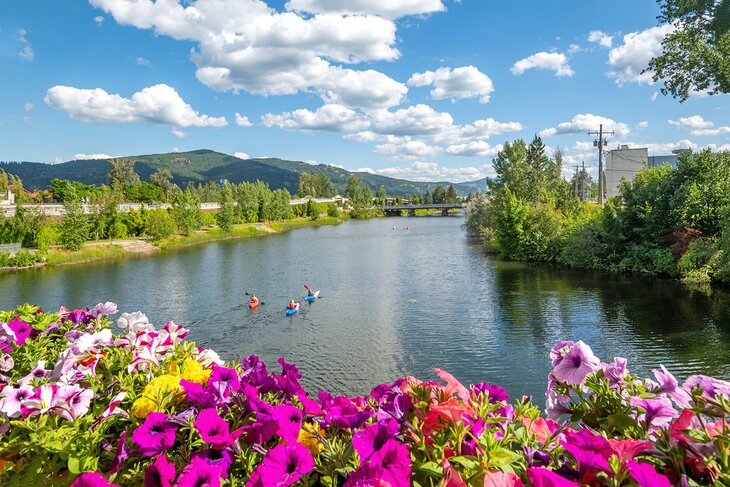 These postcard-perfect landscapes define much of the charm of Sandpoint. It also lends to the most prevalent thing to do while visiting: exploring the Great Outdoors. From iconic mountain hikes to late-night cruises on Lake Pend Oreille, Sandpoint is fun to explore no matter the means of recreation. And with Idaho's largest ski resort, Schweitzer Mountain Resort, right at the backdoor, adventure extends throughout the year.
The city is also well-known for its embrace of community and art. The city's downtown district exemplifies this reputation, with several local shops, restaurants, art galleries, and cultural attractions lining the streets. And, significant annual events, like The Festival at Sandpoint, also attract like-minded visitors to participate in the community spirit.
For more ideas on places to visit in this scenic lakeside town, read our list of the top things to do in Sandpoint, Idaho.
1. Soak in the Scenery at Sandpoint City Beach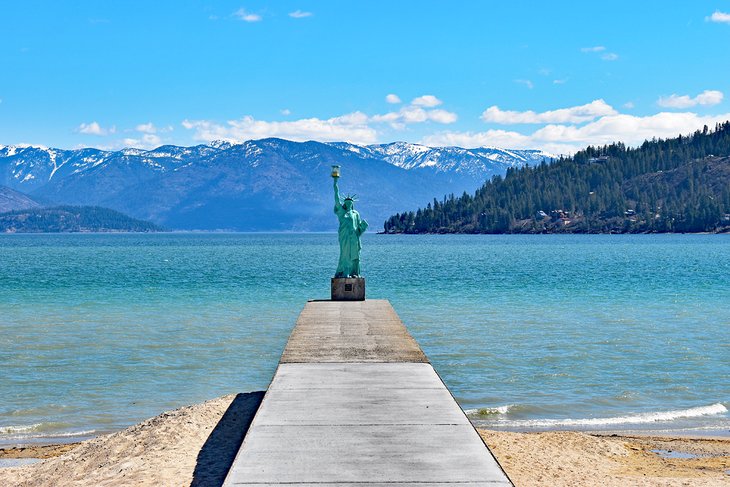 When the sun is shining in Sandpoint, head to Sandpoint City Beach Park. This sprawling public space is next to downtown. It features stunning views looking across Lake Pend Oreille—one of Idaho's best lakes. And true to its name, a wide sandy beach and swimming area circles the entire waterside park, complete with lifeguards in the summer. The view from this sandy expanse is worth the visit alone.
Alongside the panoramic outlook, the park also has abundant lawn space filled with things to do. A playground at the park is popular with young families, and several picnic amenities cater to outdoor meals. The park also features tennis courts, basketball courts, horseshoe pits, and volleyball nets.
Sandpoint City Beach also offers ways to get on the water or cast a line for fishing. The Sandpoint Marina and the city-owned Windbag Marina are on either side of City Beach Park. Each offers boating supplies and available docking throughout the summer. Lake Pend Oreille Cruises is on the southwest side of the park, offering guided cruises throughout the spring, summer, and fall.
2. Shop and Dine in Downtown Sandpoint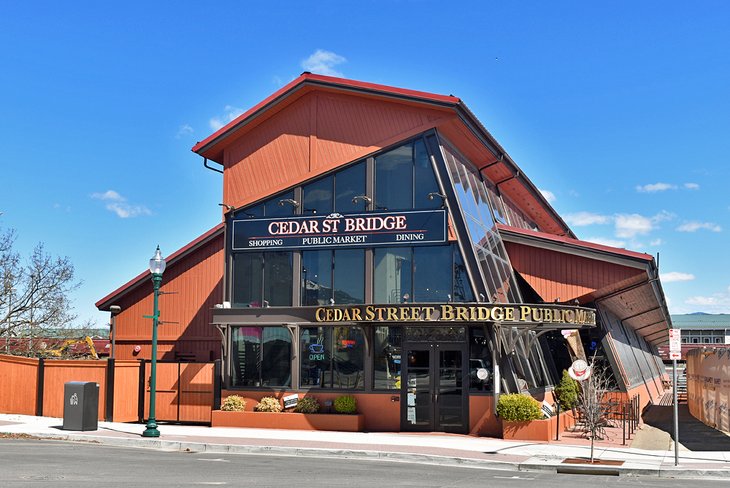 An essential part of any Sandpoint vacation is strolling about the charming downtown district. This area of local shops and restaurants is near the lakeshore and very pedestrian-friendly. It has a central free public parking lot, so you can ditch the car and roam free. And other signature areas like Sandpoint City Beach Park and Long Bridge are a short walk away.
Downtown Sandpoint serves all three meals of the day. Places like Di Luna's offer an excellent breakfast and lunch menu with seasonal produce from local growers. Other spots downtown, like Baxters on Cedar and the nearby Trinity at City Beach, are also community staples with a short waitlist most evenings.
Alongside an excellent selection of local flavors, boutique retail space also lines downtown. From stylish attire to one-of-a-kind antiques, browsing the downtown window selection takes up at least a half-day. The Cedar Street Bridge Public Market is an excellent place to visit, with a dense selection of local food and craft.
And Sandpoint's artistic reputation is also on display downtown. Alongside a growing public art collection, this commercial district also houses over a dozen galleries to peruse. On N. First Avenue, the Art Works Gallery is one such creative space filled with regional artwork.
3. Ski at Schweitzer Mountain Resort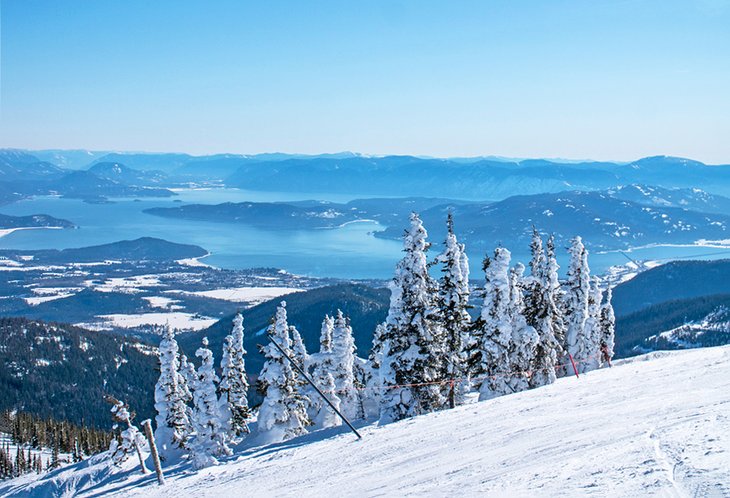 Some of the best skiing in the Pacific Northwest is less than 12 miles from downtown Sandpoint at Schweitzer Mountain Resort. This independently owned downhill destination has over 2,900 acres and 300 inches of annual snowfall. Various terrain at the resort caters to a range of abilities, making Schweitzer a trendy place to visit for family ski vacations.
It's not just the bowls and abundant tree runs attracting skiers and snowboarders from across the region. The resort has a notable community feel, with several dining and shopping opportunities on the mountain and at the village at its base. And the whole experience of visiting is backdropped by the Selkirk Mountains and a general sense of winter excitement.
Schweitzer also offers other winter recreation, including Nordic skiing and downhill tubing. The Nordic trail system features 32 kilometers of groomed paths to follow. And the Hermit's Hollow Tubing Center has two tubing lanes, each stretching over 300 feet. After the snow melts, the resort offers scenic lift rides that open a world of hiking and mountain biking throughout the summer.
Address: 10000 Schweitzer Mountain Road, Sandpoint, Idaho
Accommodation: Top-Rated Resorts in Idaho
4. Hop aboard a Lake Pend Oreille Cruise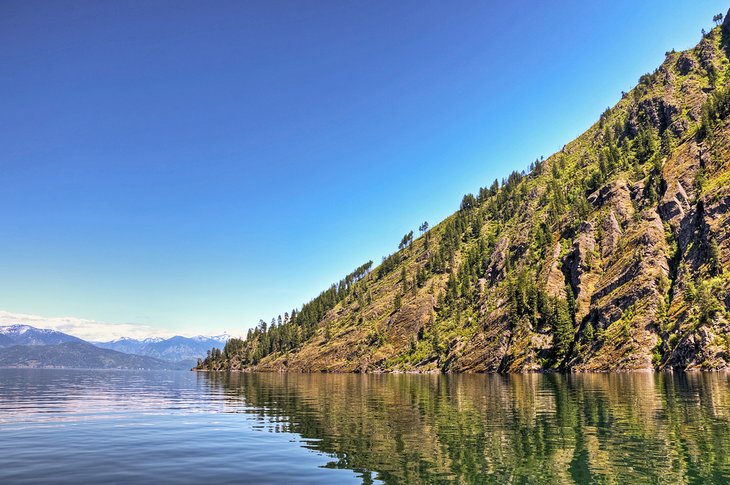 One of the best ways to enjoy Lake Pend Oreille is to hop aboard a guided ride provided by Lake Pend Oreille Cruises. This local outfit departs from two different locations depending on the season. In the spring and fall, trips depart from the eastern shore and the town of Hope. Throughout the summer, visitors can hop aboard near Sandpoint Marina, on the backside of Sandpoint City Beach Park.
Several guided cruises are available throughout the spring, summer, and fall. Some sample itineraries include a Clark Fork Delta Cruise, a 4th of July Fireworks Cruise, and a Full Moon Dessert Cruise. Trips range from 90 minutes to three hours in length. And each pleasure cruise comes with a narrated history of the lake and almost guaranteed avian wildlife sightings.
For those looking to be the captain of their boat, Sandpoint has several public launching areas near town. Mooring is also available at the two marinas surrounding City Beach. In-town places like Sandpoint Boat and RV Rentals or Action Water Sports have vessels for daily or hourly rent.
Read More: Top-Rated Lakes in Idaho
5. Hike the Mickinnick Trail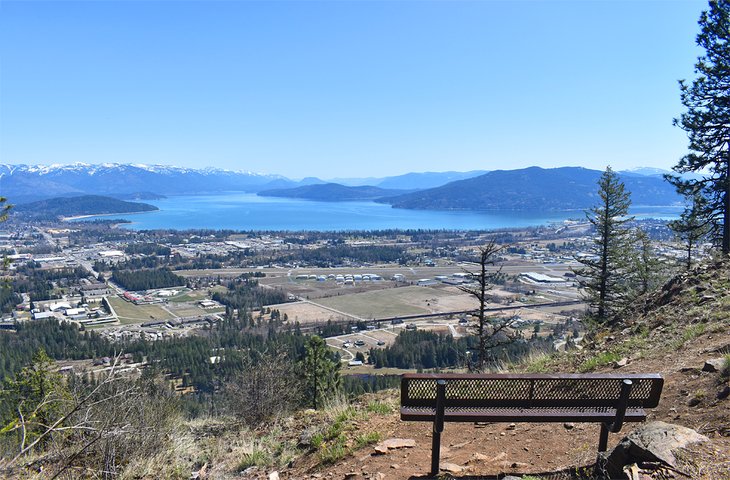 Thanks to the surrounding Idaho Panhandle National Forests, Sandpoint is well known as an outdoors town. The dramatic northern shoreline of Lake Pend Oreille also adds to this natural reputation. And one of the best ways to take in the Sandpoint scenery is hiking on a trail.
A classic Sandpoint hike, and one close to the city, is the seven-mile round trip on the Mickinnick Trail. The trailhead is north of downtown, accessible from Ponderay. It offers a challenging, switchbacking trail that opens up incredible views of Sandpoint and Lake Pend Oreille.
It's 3.5 miles, one-way, to reach the top of the Mickinnick Trail, gaining over 2,000 feet along the way. This steady elevation provides sore muscles even for the most experienced hikers. But the route has several panoramic views and benches on its way up, offering different turning around points for easier treks.
The Mickinnick Trail is just the tip of excellent hiking trails near Sandpoint. Another notable route close to town includes the Mineral Point Trail, southeast of the city near Garfield Bay. This relatively flat and short interpretive trail offers outstanding views near the shoreline. And less than an hour drive east of Sandpoint, near the Idaho and Montana border, Scotchman Peak stands as a challenging summit climb and one of Idaho's best hiking trails.
Read More: Best National Forests in Idaho
6. Take a Scenic Drive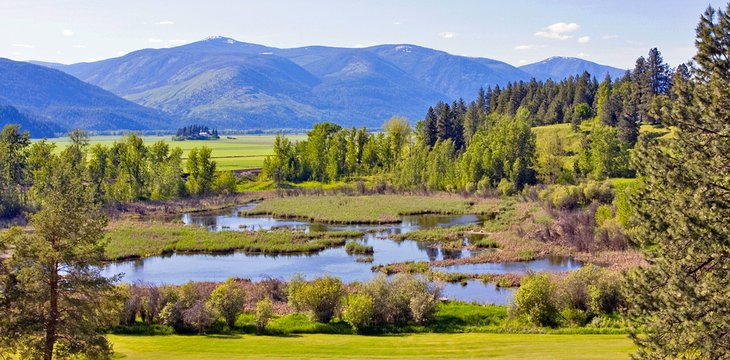 Scenic driving stems from all sides of Sandpoint. The city is on the southern half of the International Selkirk Loop—one of the most fantastic driving routes in either the United States or Canada. This 280-mile (450-kilometer) loop circles the Selkirk Mountains of Idaho, Washington, and British Columbia. And it offers stunning mountain scenery the entire way.
Sandpoint connects with the International Selkirk Loop via Highway 20, also known as Panhandle Historic Rivers Scenic Byway. This scenic road stretches for 28 miles between the Washington border through Priest River, and ends at Sandpoint. It provides a beautiful drive on its own. The 48-mile Wild Horse Trail Scenic Byway continues north of Sandpoint as the Selkirk Loop up to the Canadian border.
An alternative scenic drive is the Pend Oreille National Scenic Byway extending east from Sandpoint along the shoreline. This 33-mile drive covers the distance between Sandpoint and the Montana border and offers spectacular views much of the way. The route also passes by several trailheads, campgrounds, and interpretive areas.
7. Catch a Show at the Panida Theater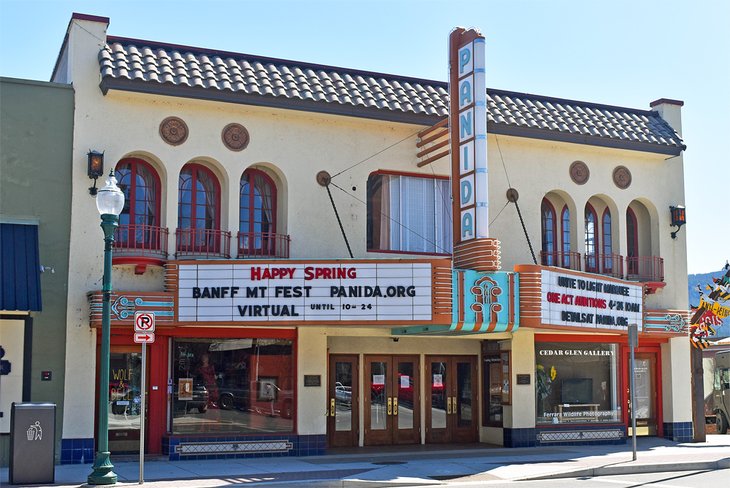 In downtown on North First Avenue, the Panida Theater first opened as a Vaudeville movie house in 1927. Today, this decorative theater now acts as a multi-use venue for movies, musical acts, and community gatherings.
The name Panida comes from its location in the Panhandle of Idaho. And thanks to massive restoration efforts, this community keystone has been restored to its early 1900s grandeur. This ambience includes a distinct Spanish Mission-style interior. The theater is now on the National Register of Historic Places for its landmark importance.
Seating capacity at the Panida reaches about 500 patrons. And these seats often sell out fast for popular performances in the summer and throughout the year. Shows range from internationally touring film festivals to big and small names in live music. Check the official website for upcoming events.
Address: 300 N First Ave, Sandpoint, Idaho
8. Visit the Bonner County Historical Society & Museum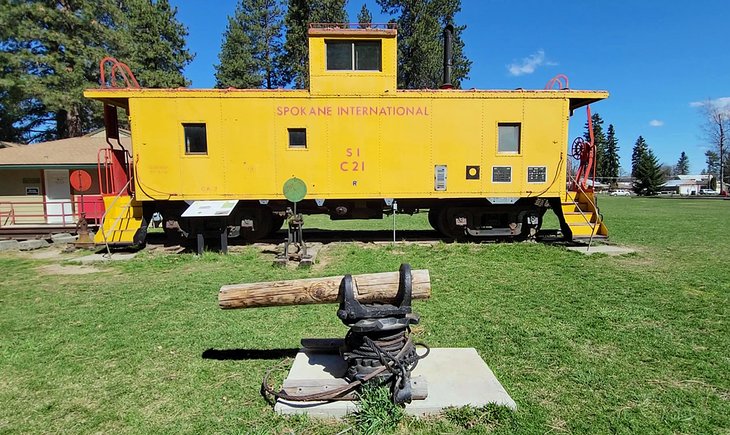 For some historical context on the region, the Bonner County Historical Museum sheds light on the area's earliest inhabitants. Covering topics from the native Kalispell and Kootenai peoples to settlers and the birth of the logging and timber industry, this small museum displays the county's history in detail. The museum has over a million artifacts, many of which are on rotational display throughout the year.
The Historical Museum is on the south side of town, surrounded by the 12-acre Lakeview Park. This public park, complete with a large playground and grassy lawn, offers a fun place to hang after visiting the museum. Other park amenities include tennis courts, picnic facilities, and a seasonal boat launch. The park is also home to a North Idaho Native Plant Arboretum with a shaded path lined with interpretive information.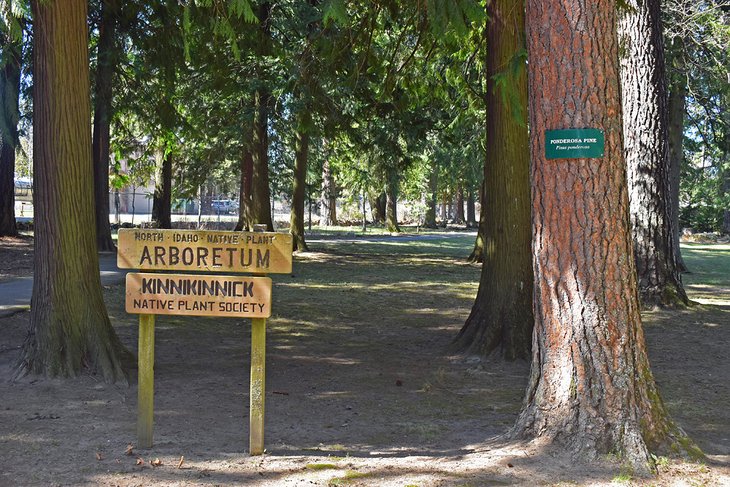 And next to Lakeview Park, War Memorial Field also offers community appeal. This multi-sport complex is home to several high-school games and league play. It's also home to Sandpoint's annual The Festival at Sandpoint. And beyond the outfield wall, two active osprey nests also draw the attention of local and online bird spotters.
Address: 611 S Ella Ave, Sandpoint, Idaho
9. Camp at Farragut State Park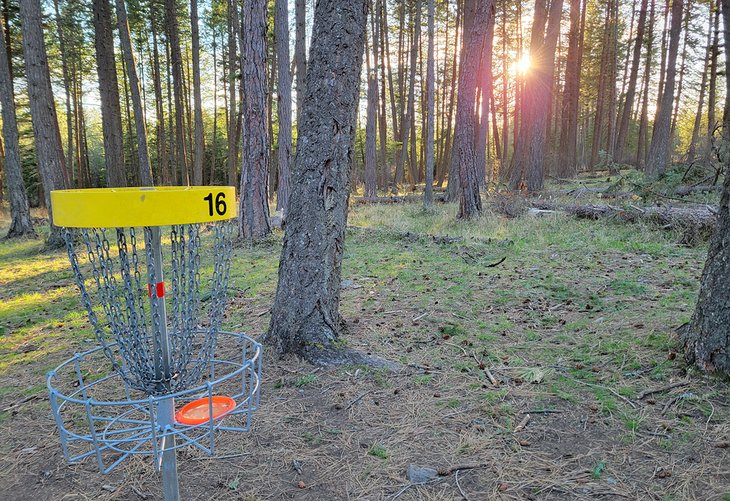 Farragut State Park, one of Idaho's best state parks, is a 30-minute drive south from Sandpoint. This sprawling state park encompasses a staggering 4,000 acres and over 220 campsites to spend the night. Several activities draw visitors throughout the year, including the park's exciting history as a World War II-era naval training center.
The Farragut Naval Training Center was constructed in 1942 in response to the 1941 attack on Pearl Harbor. Over 160 million dollars went into its construction, and nearly 300,000 recruits attended basic training over its four years of operation. Today, several remnants of this naval history remain, especially at the park's Museum of the Brig (open Memorial Day to Labor Day).
But it's the outdoor appeal and activities that draw such a crowd to Farragut. Alongside great boating and water access, the park is renowned for its collection of disc golf courses. Four 18-hole professional disc golf courses stem out from a single parking lot in the park, as well as an 18-hole chip and putt course. The park is home to the Farragut Open PDGA tournament every autumn.
Read More: Best Places for Camping in Idaho
10. Attend The Festival at Sandpoint
Sandpoint attracts over two million visitors a year. And while the outstanding natural surroundings add to the city's popularity, annual events also draw big crowds. Festivals and community gatherings fill Sandpoint's calendar throughout the year. These reasons to visit range from celebrations of food, art, and mountain culture to special happenings at Schweitzer Mountain Resort.
One of the best Sandpoint events to circle on the calendar is The Festival at Sandpoint. This eight-day music festival typically occurs within the first two weeks of August. It always provides a memorable soundtrack beneath the stars. The concerts take place at War Memorial Field near Lakeview Park. The seating capacity is approximately 4,000 fans, making for more intimate shows than a typical music festival.
Other events throughout the year include rodeos, car shows, and the Long Bridge Swim—which entails participants swimming 1.76 miles across Lake Pend Oreille next to the Long Bridge. And throughout the summer months (June through early September), ArtWalk takes place in local downtown businesses. For winter events, check out the Sandpoint Winter Carnival.
Sandpoint, ID - Climate Chart
Average minimum and maximum temperatures for Sandpoint, ID in °C
J
F
M
A
M
J
J
A
S
O
N
D

0

-7

3

-5

8

-2

13

1

18

5

22

8

27

10

27

9

21

5

13

1

4

-2

0

-6

PlanetWare.com
Average monthly precipitation totals for Sandpoint, ID in mm.

100

88

72

57

70

63

41

36

41

58

121

121

Average monthly snowfall totals for Sandpoint, ID in cm.

58

36

12

1

0

0

0

0

0

1

17

60
Average minimum and maximum temperatures for Sandpoint, ID in °F
J
F
M
A
M
J
J
A
S
O
N
D

32

19

38

23

46

28

56

34

65

41

72

47

80

50

80

49

70

41

56

33

40

28

32

21

PlanetWare.com
Average monthly precipitation totals for Sandpoint, ID in inches.

3.9

3.5

2.9

2.3

2.8

2.5

1.6

1.4

1.6

2.3

4.8

4.8

Average monthly snowfall totals for Sandpoint, ID in inches.

23

14

4.7

0.4

0

0

0

0

0

0.4

6.8

24