14 Top Things to Do in Winter in Idaho
Author Brad Lane lived in the Idaho/Montana region for nearly three years, and enjoyed skiing the slopes of his favorite mountains come winter.
Rugged mountains, wild rivers, and thermal hot springs make Idaho an adventure mecca. This status doesn't change come winter, and the snowy season offers new things to do to in the varied terrain. From skiing through powder to feeding a woodstove in a backcountry yurt, winter in Idaho is anything but stagnant.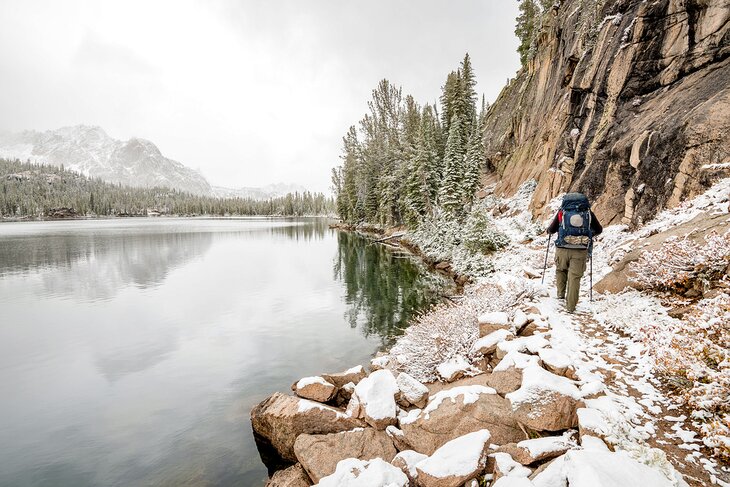 Major winter destinations like Sun Valley cater to snow sports. And like McCall and Stanley, other winter hot spots enable activities like soaking in hot spring and attending a winter carnival. And throughout Idaho state parks and national forests, thousands of miles of groomed trails enable winter exploration.
Several cities in Idaho put on extravagant winter events to capture the seasonal spirit. The Winter Garden aGlow, at the Idaho Botanical Garden, lights up every season as a top thing to do in Boise in winter. Like the Idaho Potato Drop on New Year's Eve, other events in Boise also ring in the winter with energy and excitement.
Looking for more ideas on the best events and places to visit during the colder months? Check out our list of the top things to do in winter in Idaho.
1. Shred the Slopes at a Ski Resort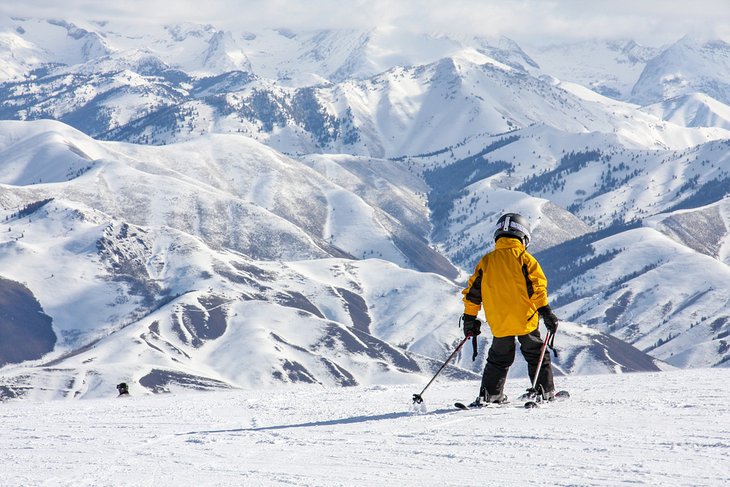 Idaho's biggest winter tourist attraction is the nearly 20 ski and snowboard resorts within the state. Each of these places to ski offers a unique personality and diverse terrain. Every local has their favorite place to shred, and a few Idaho ski resorts are a destination for skiers across the globe.
Sun Valley Resort is one such downhill destination. This laid-back mountain resort features over 2,000 skiable acres spread across two mountains. Including accommodations in nearby Ketchum, the resort also offers cozy places to stay warm on a long winter weekend.
Schweitzer Mountain Resort is another ski and snowboard destination worth visiting. Located in northern Idaho, near Sandpoint, Schweitzer has 10 chairlifts that service over 2,900 acres. With so much space to explore, and a somewhat remote location, Schweitzer is one giant powder stash come winter.
Twenty miles south of McCall, Tamarack Resort also contributes to the state's excellent skiing reputation. Alongside over 1,100 acres of skiable terrain, this full-service mountain resort caters to winter vacations with slopeside dining and lodging.
2. Cross-Country Ski or Snowshoe in the Countryside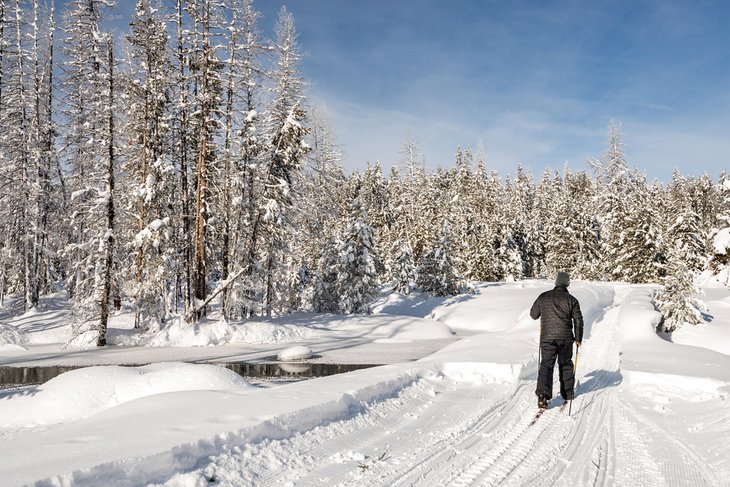 The state's snowy landscapes lend to more than just downhill pursuits. Cross-country skiing and snowshoeing are also prevalent in Idaho's snow-prone forests. Several trails are accessible from plowed Park N' Ski areas and within Idaho's snowy state parks. These cost-friendly ski areas are the best places to visit to take advantage of the long winter season.
Idaho has almost 20 Park N' Ski locations. A pass is required to leave a vehicle at these plowed parking areas, where miles of groomed trails branch into the adjacent forests. Park N' Ski locations touch every part of the state. While many sites lend to approximately five to 10 miles of trails, places like Banner Ridge Park N' Ski near Boise have over 20 miles to explore.
Many of the best state parks in Idaho offer groomed tracks in winter. Places like Ponderosa Pine and Farragut State Parks provide winding routes through wintry forests. These state parks also provide winter cabins for overnight adventures. Other state parks with cross-country ski trails include Priest Lake, Castle Rocks, and Lake Cascade.
For more information on Park N' Ski locations and cross-country skiing in Idaho State Parks, check out the state park's Nordic Page.
3. Soak in a Hot Spring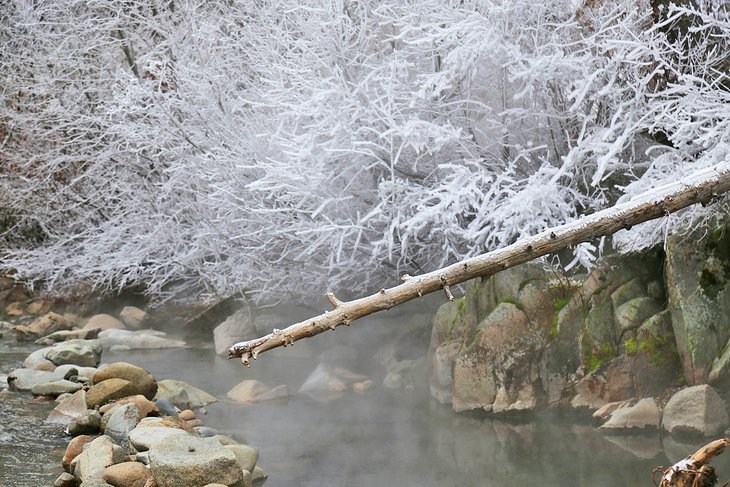 Idaho has more hot springs than nearly every other state. The central mountainous region of the state offers several roadside soaking pools perfect for winter. The same region also offers commercial facilities with large soaking pools and places to stay the night.
For natural hot springs in Idaho, the region around Stanley has several soaking spots. Boatbox and Sunbeam Hot Springs are both east on the Sawtooth Scenic Byway, within 15 minutes of Stanley. These roadside hot springs are only a short hike from the highway. Snowy conditions can make the short jaunt slippery.
West on the Ponderosa Pine Scenic Byway, places like Bonneville and Kirkham Hot Springs also offer ample shoulder room for winter soaking. These hot springs near Stanley receive steady crowds throughout the spring, summer, and fall. Come winter, expect some solitude amid the snowy landscape.
Three hot springs resorts surround McCall in Southwest Idaho. Zims, Burgdorf, and Gold Fork Hot Springs all offer big pools and indoor facilities to enjoy come winter. Visitors can drive to Gold Fork and Zims, but Burgdorf is only accessible by snowmobile this time of year. Visitors need to check local road conditions before traveling.
4. Attend the Winter Carnival in McCall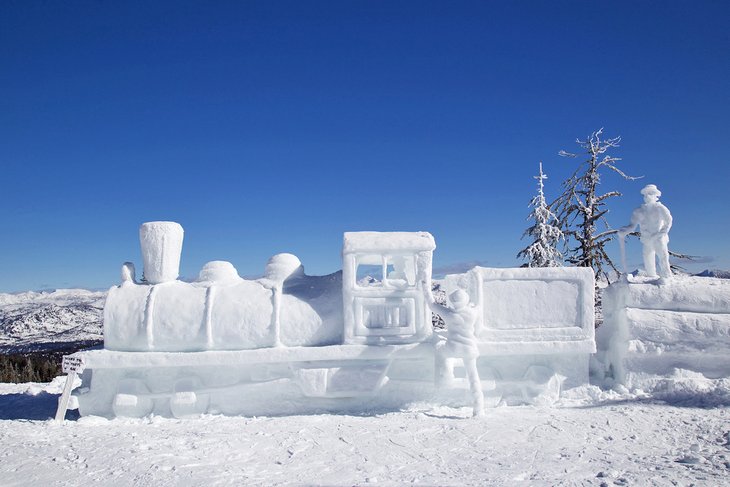 Inspired by the Payette Lake Winter Games, first held in 1924, the annual Winter Carnival in McCall is a time-honored tradition. Tens of thousands of visitors pack McCall's streets towards the end of January for this community event that spans two weekends.
The carnival boasts over 100 unique events in 10 days, ranging from theater productions to fireworks over Payette Lake. A Mardi-Gras style parade is a popular event that always takes place on the first weekend of the carnival. And live music on the Main Stage provides an upbeat soundtrack to the festivities.
The Idaho State Snow Sculpting Championships is a signature event of the carnival. Professional artists come from across the world to strut their stuff and design unique snow sculptures. The massive sculptures remain on display throughout the length of the carnival.
5. Take the Family Snow Tubing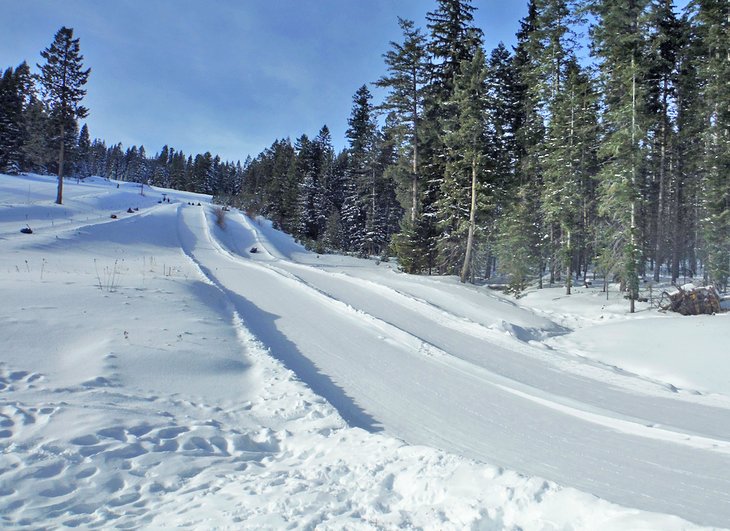 Skiing and snowboarding aren't the only ways to enjoy quick elevation changes in Idaho. Tubing offers an alternative and more family-friendly way to enjoy the slopes. Tubing is also a much more affordable downhill activity.
Several commercial tubing destinations pop up in winter across the mountainous regions of the state. And, several ski resorts also offer dedicated tubing areas. For example, Hermit's Hollow Tubing Center at Schweitzer Mountain Resort provides two lanes of downhill tubing next to their chairlifts. Bogus Basin and Silver Mountain Resort also offer exciting downhill tubing courses.
Another tubing destination in the state is McCall Activity Barn at Brundage Mountain Resort. This popular family destination features six 800-foot tubing lanes. The Activity Barn also has a great network of groomed cross-country skiing trails. Fat bike rentals are also available.
6. Go Eagle Watching in Coeur d'Alene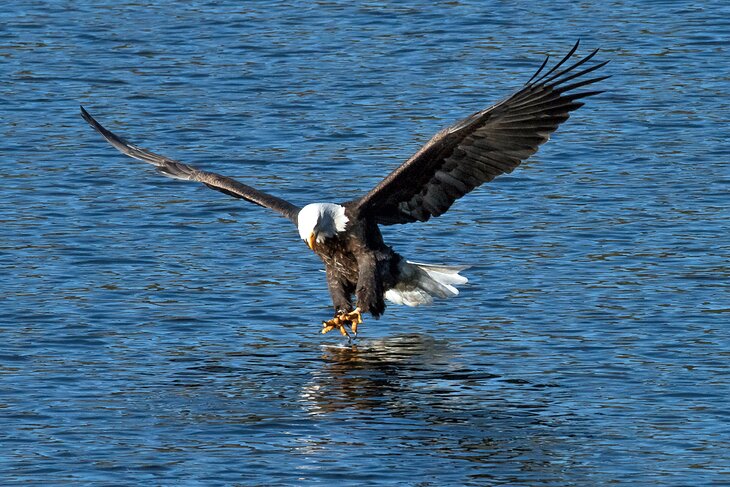 Spawning kokanee salmon make their way to Lake Coeur D'Alene every winter between November and as late as February.
This natural migration also attracts bald eagles year after year, looking for a winter feast. Adding to this cycle are bird-watchers and interested observers with binoculars aimed at these magnificent birds of prey. It's one of the top things to do in Coeur d'Alene.
Higgins Point and Mineral Ridge are the best places to view Coeur d'Alene bald eagles in winter. These two high vantage points overlook either side of Wolf Lodge Bay. Higgins Point is the easiest to access without hiking.
It's important not to disturb these massive birds. Binoculars or telescopic lenses are the best ways to get a good view.
7. Hop on a Snowmobile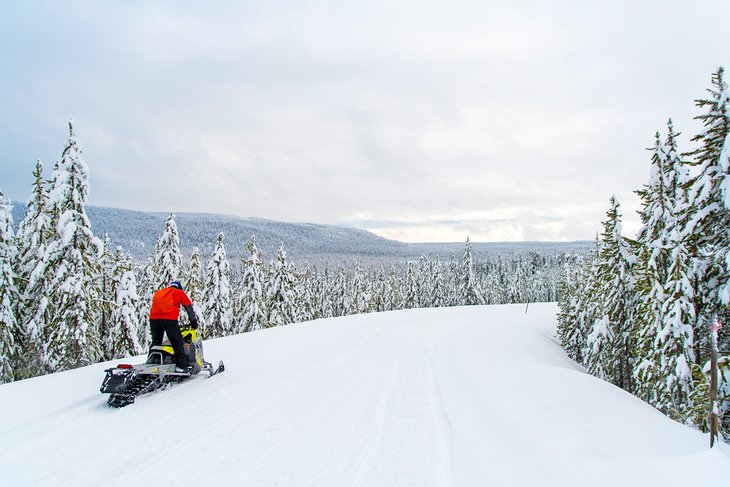 Operating a snowmobile is a popular way to navigate Idaho's winter countryside. Thousands of miles of interconnected trails wind throughout the many elevations of the state. Avalanche education and awareness are vital for backcountry travel on a snowmobile in Idaho. Guided tours are also available through many of the state's mountain towns.
In eastern Idaho, Island Park is a popular snowmobile and winter destination. Several groomed trails tour this frosty white forest next to Yellowstone National Park.
Bear Lake is also a popular destination near the southeast corner of the state, with over 350 miles of groomed trails.
Priest Lake, in northern Idaho, also has a massive snowmobile trail system. Many who visit Priest Lake prefer the wide-open powder fields accessible from the 400 miles of groomed trails. Resorts at Priest Lake, like Elkins Resort, cater to snowmobile vacations with rentals, lodging, and a restaurant.
8. Visit Boise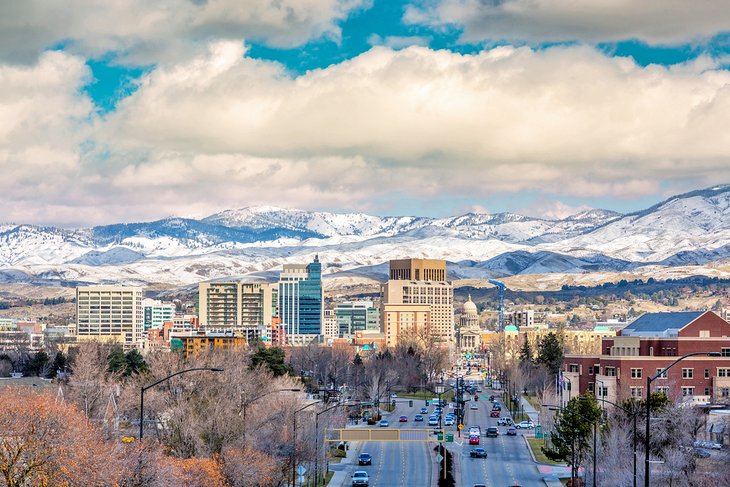 The largest city in Idaho, Boise, continues to be a cultural hot spot throughout winter. The short days of winter don't shorten the number of things to do in Boise at this time of year, whether it's a hot meal from the city's growing culinary scene or live music at an entertainment venue.
Boise is also a great basecamp for nearby winter adventures and sightseeing. The entire Boise National Forest to the north is ripe with activities like downhill skiing and snowshoeing. Bogus Basin is a nearby community mountain in the forest, offering 2,600 acres of non-profit skiing.
Winter Garden aGlow is one can't-miss winter attraction in Boise. The Idaho Botanical Garden hosts this illuminated event between late November and early January. Over 500,000 energy-efficient bulbs transform the botanical space into a winter wonderland of lights and color.
9. Ice Fishing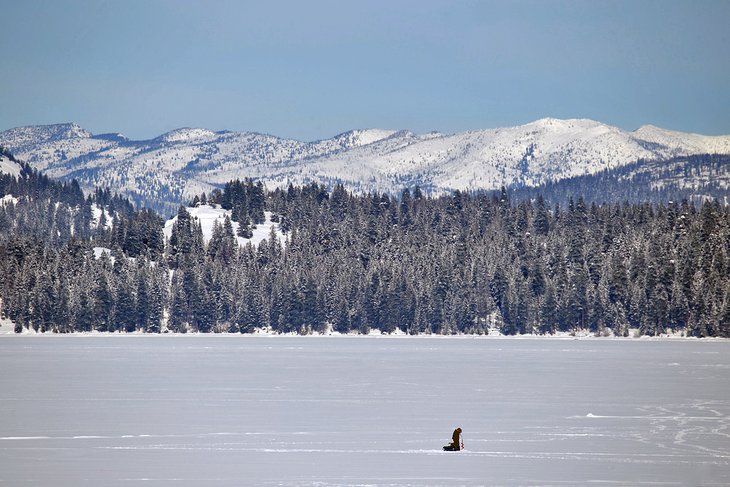 A little winter doesn't stop Idaho anglers from getting outside. You will find popular lakes in Idaho to drill a hole and drop a line. Some high-elevation lakes freeze over by late fall, but most ice fishing in Idaho starts in December or January. Come this time of year, certain lakes and reservoirs are as busy as ever.
One popular destination, Horsethief Reservoir, is an ice-fishing favorite near Lake Cascade, two hours north of Boise. A plowed road leads anglers right to the snowy shoreline, and the frozen boat launch makes it easy to drive ATVs onto the ice when conditions allow. The reservoir teems with stocked rainbow trout that have healthy winter appetites.
Conditions change rapidly on all frozen bodies of water in Idaho. Check local conditions before heading out onto the ice.
10. Stay in a Yurt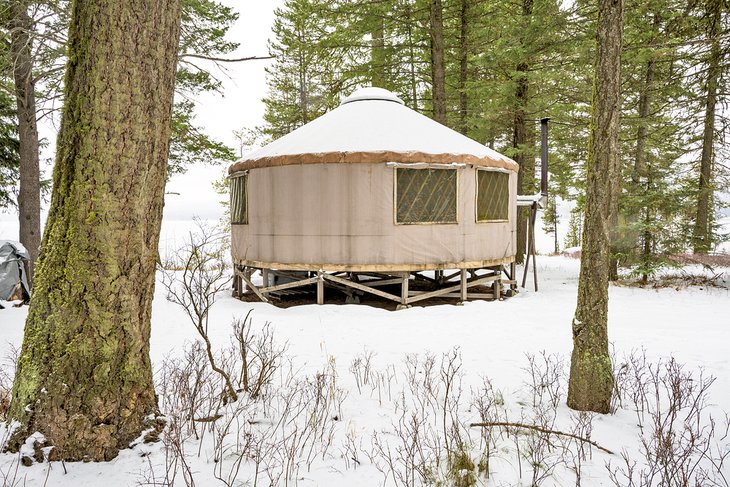 Staying in a yurt is a quintessential Idaho winter experience. Backcountry huts and cabins also have the same effect.
Idaho State Parks and the U.S. Forest Service offer several remote accommodations to stoke a woodfire and spend the night. Some backcountry cabins and yurts require quite the hike to get to, while others are accessible with a high-clearance vehicle.
Idaho's national forests offer several winter cabins to spend the night. With nearly 90 in total, these primitive places vary in size and comfort. All available cabins in the winter feature heating, cookware, and a sense of solitude.
Idaho State Parks operates the popular Idaho City Ski Trails and Yurts, 90 minutes north of Boise. This system of groomed trails and six yurts offers an awesome winter getaway for all skiing abilities. Reservations for the winter huts are available nine months in advance.
Sun Valley Guides also operates a popular backcountry hut and yurt system near the mountain resort. This exploration company offers guided trips to six different huts within its network. These trips often include all-day backcountry skiing in the surrounding remote mountains.
11. Take a Winter Cruise on Lake Coeur d'Alene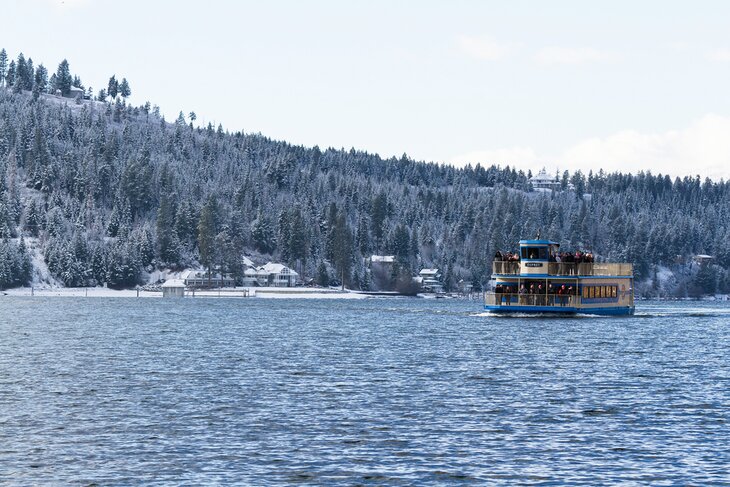 Lake Coeur d'Alene, one of Idaho's best lakes, is a massive body of water at the southern end of the Panhandle. It's the central attraction of the city of the same name, and hosts water sports throughout the year. While summer is certainly the most popular, winter offers its own seasonal appeal with scenic boat rides.
Lake Coeur d'Alene Cruises is the principal provider of scenic boat rides on the lake. Holiday light Shows, hot cocoa cruises, and eagle-watching expeditions fill their cruise calendar throughout the winter. Visitors are encouraged to wear warm layers for these seasonal adventures, which last anywhere between 40 minutes and two hours.
12. Celebrate the New Year in Boise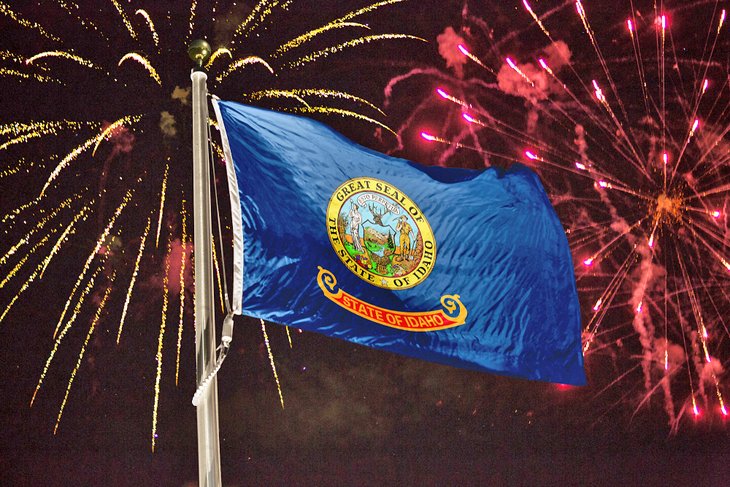 Idaho offers plenty of scenic places to ring in the New Year. But, no celebration stacks up to the Idaho Potato Drop in front of the state capitol in Boise.
This year-end event features all-day enjoyment with live music, professional wrestling, and ice sculpture presentations. At the stroke of midnight, a giant potato drops from the sky and transforms into french fries to mark the new year.
Every city in Idaho celebrates the New Year with festivities. Idaho's many ski resorts are also known to put on quite the shindig at the end of the year. Alternatively, for a more intimate New Year's Eve experience, nothing brings people closer together than a remote cabin in the woods.
13. Find Some Holiday Lights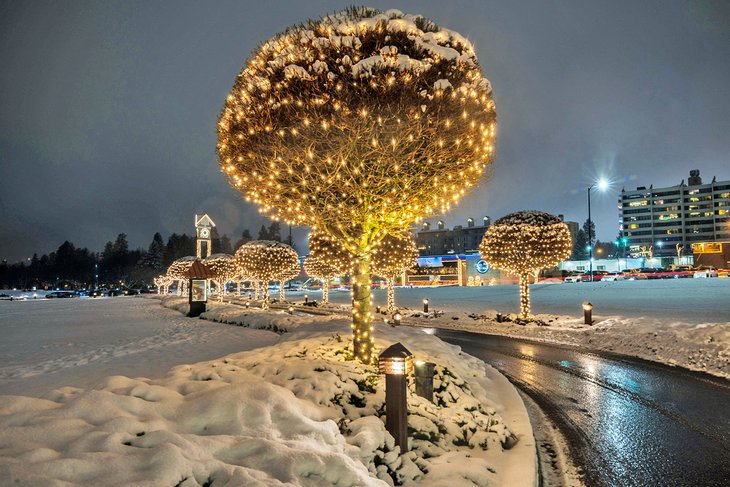 Holiday light displays across the state make it easy to bask in the winter season. These professional arrangements are a surefire family favorite to visit. Alongside a colorful display, holiday light celebrations also serve as a lively beacon for the community to gather.
The Coeur d'Alene Resort Holiday Light Show is a favorite in northern Idaho. This shining spectacle features over a million lights adorning the intricate landscaping of the resort. Alongside the illumination, the resort also offers lighted cruises and fireworks over the water on the weekends.
The city of Caldwell, 30 miles west of Boise, also transforms into a bright winter getaway. Over a million downtown lights flicker in Caldwell at the end of November. This illuminating event kicks off with a Winter Wonderland Carnival. Special happenings at the carnival include street performances, live music, and ice skating.
The Idaho Botanical Garden on Old Penitentiary Road also puts on a show for lighted attractions in Boise. Winter Garden aGlow transforms this botanical space from late November to early January with over 500,000 lights.
14. Idaho Sled Dog Challenge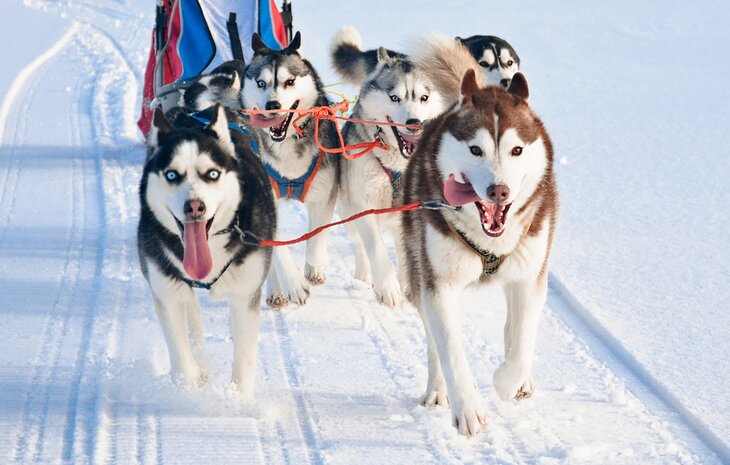 For some athletes in Idaho, winter is dog sledding season. The state hosts several competitive races throughout the season and throughout its varied winter landscapes.
The Idaho Sled Dog Challenge, near McCall, is perhaps the biggest of these four-legged events, occurring every year near late January. This multi-day event offers three different races, including a signature 300-mile race and Iditarod qualifier.
Map of Things to Do in Winter in Idaho