12 Top-Rated Things to Do in Stanley, ID
We may earn a commission from affiliate links ()
Stanley is an epicenter of adventure in Idaho. This charming mountain town is at the intersection of three scenic byways, with three different national forests on all sides. Stanley also borders the stunning Sawtooth Mountain National Recreation Area (NRA) – one of Idaho's best national parks.
The Sawtooth NRA is a staggering 750,000-plus acres of breathtaking mountain terrain. It includes over 40 mountains rising above 10,000 feet and hundreds of glistening high alpine lakes. This recreation mecca is Stanley's top sightseeing attraction, and the top things to do often take place in these wild mountain landscapes.
Arguably, the best months to visit Stanley are July through September for the summer season. However, the shoulder seasons have fewer crowds, and the winter offers a sense of solitude found at no other time of year.
It's an approximately 130-mile drive from Boise to Stanley along the Ponderosa Pine Scenic Byway. Other routes leading to Stanley include the Sawtooth Scenic Byway from the south and Salmon River Scenic Byway, which heads east. Whichever way you arrive, plan your trip with our list of the top things to do in Stanley.
Note: Some businesses may be temporarily closed due to recent global health and safety issues.
1. Day Hike to Sawtooth Lake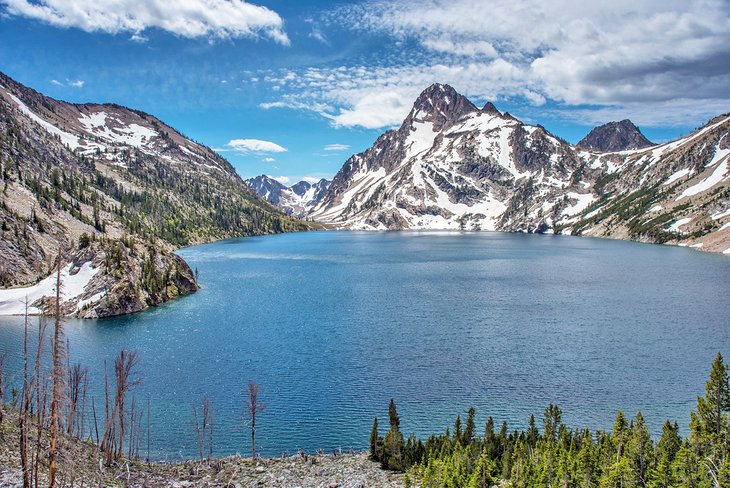 Day hiking is one of the most popular reasons to visit Stanley. Hundreds of trailheads are within a short drive, many leading to jaw-dropping views with only a few miles of hiking. Several of these routes stand out as some of Idaho's best hiking trails. Professional trekkers and new hikers alike gravitate toward Stanley for this abundance of beautiful paths to follow.
Sawtooth Lake is a memorable day hike for many visitors to Stanley. This approximately 9.5-mile out-and-back hike features just under 2,000 feet of elevation gain. The views of Stanley Lake and the inspiring mountain ridges along the way reward the uphill effort. The hike begins at the Iron Creek Trailhead, less than six miles from the center of town.
Sawtooth Lake is only one entry in a dictionary of day hikes surrounding Stanley. Other hiking points of interest include Bridal Veil Falls, Bench Lakes, and the Fishhook Creek Trail.
Prime hiking season spans between July and August. Users need to pack out any trash they bring into the woods and be prepared for outdoor conditions.
2. Stay at the Redfish Lake Lodge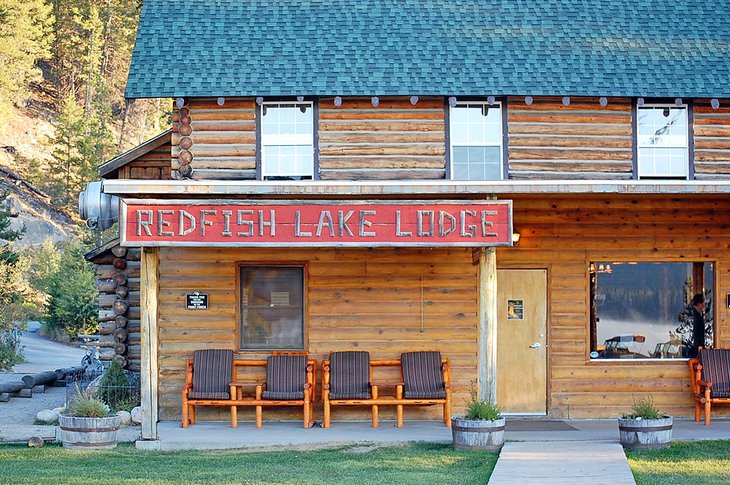 Redfish Lake is the largest lake in the Sawtooth NRA and a central natural attraction when visiting the area. It's located 15 minutes south of Stanley on the Sawtooth Scenic Byway. The stunning view of the mountains reflecting off the water is reason enough to visit. This mountainous atmosphere makes Redfish one of Idaho's best lakes.
The Redfish Lake Lodge, on the north shore, is the hub of attractions and things to do at the lake. Built in 1929, this timeless place to stay offers cabins, motel rooms, and lodge rooms. A historic ambience and woodsy character come alongside each overnight accommodation.
The lodge also facilitates all types of activities with a full-service marina and an equestrian corral. Boat rentals, guided horseback rides, and ferries across the water are available throughout the summer. Other amenities nearby include a sandy swimming beach, ample green space, and bicycle rentals.
3. Soak in a Hot Spring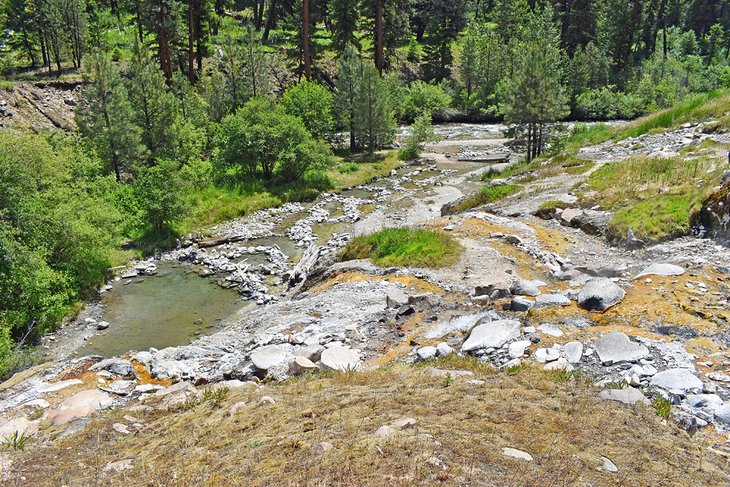 Several of Idaho's best hot springs are within a short drive of Stanley. These hot-water locales include roadside primitive soaking spots and commercial hot springs with concrete pools.
East of Stanley on the Salmon River Scenic Byway (Highway 75), Sunbeam Hot Springs is a popular soaking spot near the roadside. Nearby and closer to town, Boat Box Hot Spring is another well-visited public hot spring. This unique hot spring consists of a metal tub with piped-in natural hot water. With a capacity of two to three people max, Boat Box visitors are asked to limit their soaking time if others are waiting.
West of Stanley, on the Ponderosa Pine Scenic Byway (Highway 21), other natural spots like Bonneville and Kirkham Hot Springs are within an hour's drive. These two increasingly popular hot springs have Forest Service campgrounds connected by short hiking trails.
The Sawtooth Lodge is also on Highway 21, equipped with a geothermal pool filled by the nearby Sacajawea Hot Springs. Mountain Village Resort, within Stanley, also offers a commercial soak. This reservation-only, private, and semi-enclosed pool displays a gorgeous view of the mountains.
4. Paddle the Salmon River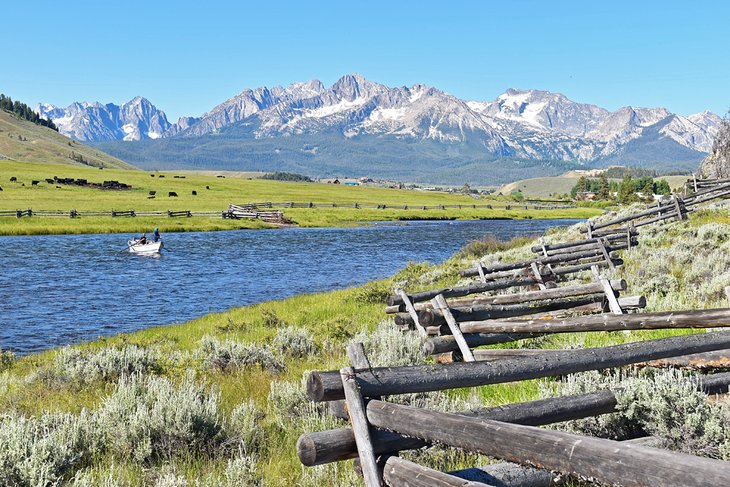 The Main Salmon River is a significant adventure source. It's a famous fishing river and one of the best places for white water rafting in Idaho. Expect several non-motorized boats on the river between June and September.
The river caters to all types of trips, from scenic floats to hold-onto-the-boat Class IV whitewater action. Personal vessels are welcome on this wild river. For those without a boat, several local outfitters are happy to take participants on the water.
Stanley guiding companies like White Cloud Rafting Adventures and The River Company offer various guided trips on the Salmon. Trips range from done-in-a-day expeditions to overnight adventures. Other commercial facilities, like Sawtooth Adventure Company, also provide scenic float trips with stand up paddleboards.
5. Take a Scenic Drive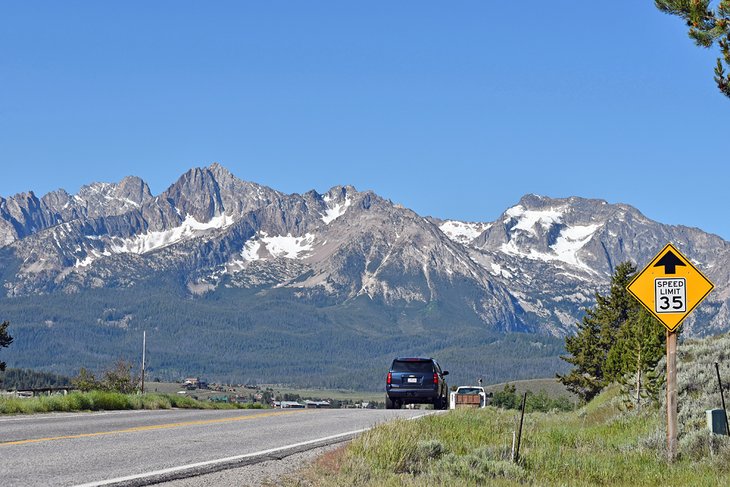 Stanley sits at the intersection of three designated Scenic Byways. This incredible junction lends to inspiring travel in all directions. The three highways are Ponderosa Pine Scenic Byway, Salmon River Scenic Byway, and Sawtooth Scenic Byway.
The Sawtooth Scenic Byway shoots straight south to connect with Sun Valley and Ketchum. Sun Valley is home to "America's First Destination Ski Resort" – Sun Valley Resort. The Sawtooth Mountains border the route to the west, and the equally stunning White Cloud Mountains are to the east.
Heading west from Stanley, the Ponderosa Pine Scenic Byway navigates through the bountiful Boise National Forest. Hot springs and hiking trails line much of this paved scenic route. It's the most common way to reach Stanley from Boise, with approximately a three-hour drive.
The Salmon River Scenic Byway follows its namesake source east from Stanley. Hot springs and riverside put-ins line this route, which connects to Salmon – another adventure mecca of Idaho.
6. Backpack the Alice-Toxaway Loop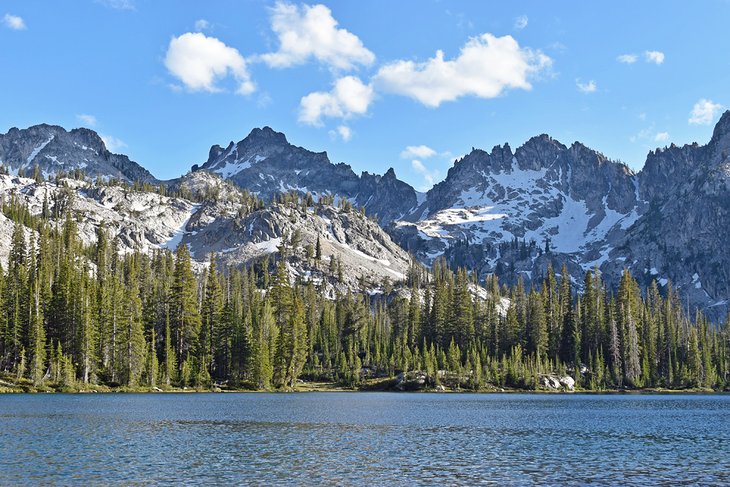 Stanley sits at the borders of three national forests, and hundreds of hiking trails lace each one. The Sawtooth National Recreation Area (NRA), south of Stanley and part of the Sawtooth National Forest, has over 700 miles of hiking trails on its own.
With hundreds of overnight routes available, the Alice-Toxaway Loop within the NRA is a well-trodden choice. This elevated 19-mile trek typically spans two to three days. The route navigates around two gorgeous alpine lakes with craggy mountains in sight much the entire way.
The Alice-Toxaway Loop is a postcard-perfect introduction for many first-time backpacking trips into the Sawtooths. However, the route includes at least 3,000-feet of elevation gain, not making it exactly a leisurely walk in the park.
This gorgeous loop is only a fraction of the backpacking routes available in the Sawtooths. The best time for hiking in this mountainous region is July through September. This time of year is when many of the high alpine routes are relatively free of snow.
7. Pitch the Tent or Park the RV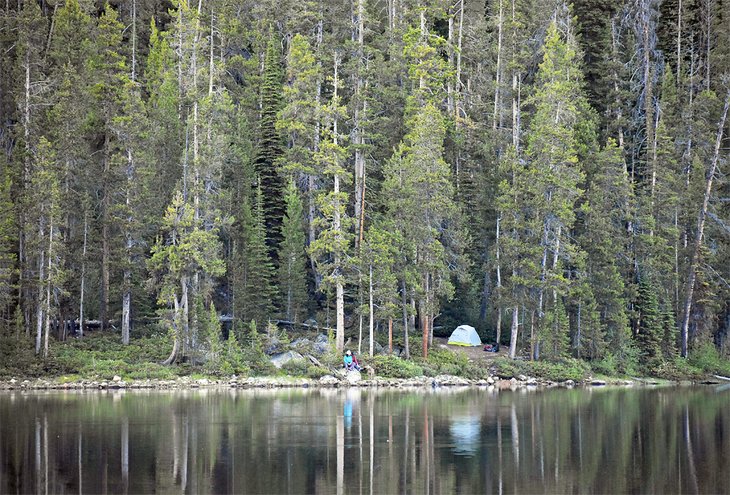 The area all around Stanley, including the Sawtooth NRA, are some of the best places to go camping in Idaho. The three national forests surrounding Stanley have both developed and primitive camping opportunities.
Closest to the town's center, several developed campgrounds surround Redfish Lake. Many of these campgrounds accept reservations ahead of time and are often booked the moment they become available. All U.S. Forest Service Campgrounds have basic amenities, like potable water and vault toilets. Some have electrical hookups. Check out www.Recreation.gov for more information on Forest Service campgrounds.
Developed campgrounds also line the three scenic byways leading into Stanley. Places to park and camp for free also stem from these highways. This type of "primitive" camping takes place in already dispersed areas along the roadside.
Primitive camping is free but has no amenities like water, restrooms, or garbage collection. To ensure campsites for generations to come, visitors need to leave each primitive spot better than they found it.
8. Grab a Bite to Eat between Adventures
The town of Stanley has a population of less than 100 full-time residents. This remarkably small population is surprising when considering all the places to grab a delicious bite to eat at the town center. It's the thousands of adventure-bound tourists that drive the appetite for these local eateries.
Most places to eat in Stanley are within a charming and western-inspired downtown district. This area is near the junction of the Salmon River and Sawtooth Scenic Byways. Many eateries are a few street corners from one another. Among the favorites are Papa Brunee's for pizza and Sawtooth Luce's for Kobe-beef burgers.
For breakfast connoisseurs, check out Stanley Baking Company. This aromatic café specializes in fresh breakfast entrees and delectable baked goods. Other notable eateries include the restaurants within the Sawtooth Hotel and the Redfish Lake Lodge.
9. Cross-Country or Backcountry Ski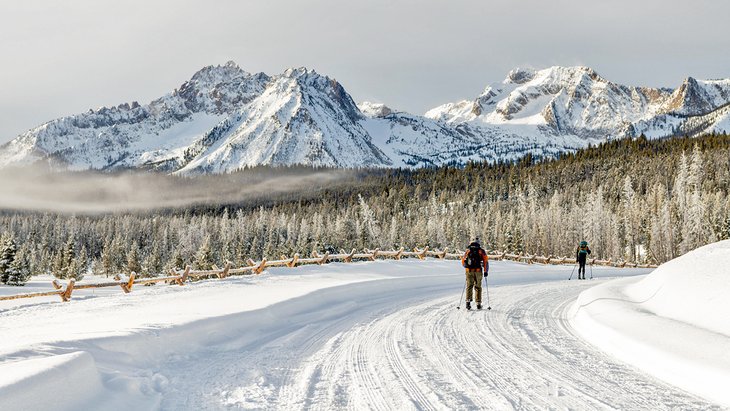 The rugged landscape around Stanley transforms into a winter wonderland during the colder months of the year. All types of snow recreation stem out from town, including snowmobiling and snowshoeing. However, cross-country skiing is one of the most popular means of winter travel.
The nearby Alturas Lake and Park Creek Ski Trails host the most groomed cross-country skiing in the area. Park Creek is closer to town and has approximately 16 kilometers of groomed routes.
Alturas Lake Trails are farther away, 25 miles south on the Sawtooth Scenic Byway. Here, an additional 16 kilometers of groomed trails lead right to the lakeside.
Backcountry skiing is also popular within the big mountain terrain near Stanley. These off-trail pursuits often include travel into avalanche country. The sport requires proper experience alongside the right gear and physical ability. For those looking to get into the sport, outfitters in Stanley like Sawtooth Mountain Guides lead winter trips into the backcountry.
10. Hire a Fishing Guide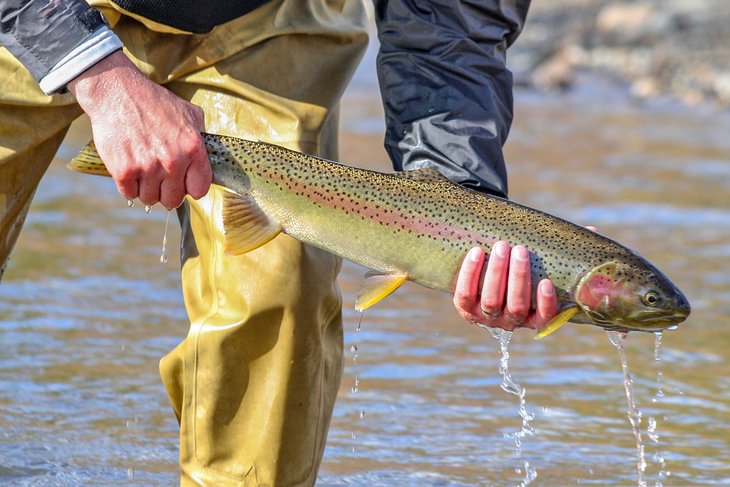 The region surrounding Stanley is synonymous with world-class fishing. That's much in thanks to the Main Branch and Middle Fork of the Salmon River – both easily accessible from Stanley. These two Blue Ribbon waterways provide miles of angling opportunities and some of the most scenic mountain backdrops seen in the sport.
It could take a lifetime to understand all the nuances of fly fishing on the Salmon. Luckily, there's a handful of fishing guides in Stanley that already know where to look. Places like Headwaters Fly-Fishing Guides and Salmon River Anglers provide various services, including half-day and full-day trips.
For some more local knowledge and a wide selection of gear, Stanley Fly Shop on Niece Avenue is the place to visit. Alongside tackle, rods, and reels, this local fly shop also has an extensive rod rental program.
11. Hop on a Horse
Nothing pairs better with overland travel than the steady trot of horse hooves. And with three national forests stretching in every direction, Stanley is a popular place to visit for equestrian pursuits. For those without steeds of their own, Stanley is also a central spot for horseback riding guides.
Mystic Saddle Ranch is one of the most popular outfitters in town. This local company runs hour-long trail rides from the Redfish Lake Corrals, as well as wilderness pack trips and guided hunts. The company also offers half-day and full-day trips into the surrounding Sawtooth Mountains.
Other reputable guides in the area include Pioneer Outfitters and Valley Ranch Outfitters. These two commercial facilities offer a wide range of horseback adventures. Pioneer Outfitters also has unique horse-drawn wagon rides. And Valley Ranch Outfitters offers a Spot Pack service that enables glorious backcountry camp setups.
12. Learn Something New at the Stanley Museum
On Highway 75, within a mile of town, the Stanley Museum offers a unique glimpse into the region's pioneering past. Housed in the retired Valley Creek Ranger Station, the building itself is an artifact of this rugged era.
The converted museum is open daily between Memorial Day and Labor Day. Exhibits vary throughout the building, but all focus on the early days of settlers in the region. Displays include photographs, artifacts, and interpretive information. Volunteers at the museum are also happy to elaborate on many of the exhibits.
The property also features a recently renovated Ice House. This antique structure reveals how settlers prevented meat spoilage before the age of refrigerators. Generous views of the countryside also span out in each direction from the museum, making for a photogenic pitstop.
Address: State Highway 75, Stanley, Idaho