12 Best Places for Camping in Idaho
Idaho has no shortage of scenic places to pitch a tent, or park an RV for that matter. From lakeside spots to campsites beneath jagged mountain peaks, camping in Idaho is the best way to explore the natural wonders of the state. Whether driving an RV or primitive camping away from the crowds, Idaho has thousands of campgrounds.
Camping in the different national forests of Idaho is always an excellent way to go. Designated campgrounds operated by the U.S. Forest Service punctuate these woodsy environments. Forest Service campgrounds generally have vault toilets, potable water, and some are available for advance reservations.
Dispersed camping is also popular in Idaho national forests. Dispersed camping, sometimes called primitive camping, is camping in the national forest outside of designated campgrounds. Generally, campers find dispersed camping on pull-offs from dirt Forest Service roads. Dispersed camping is free, but these areas offer no amenities like potable water or trash collection. Dispersed campers need to pack out anything they bring into the woods.
State parks in Idaho also provide excellent campgrounds. These campgrounds feature more amenities, like flushing toilets and shower facilities. Some state park adventures include massive sand dunes, 1,000-foot-deep lakes, and abundant wildlife sightings. Many campsites in the state parks are reservable six months in advance.
Find your next adventure with our list of the best places to camp in Idaho.
1. Sawtooth National Recreation Area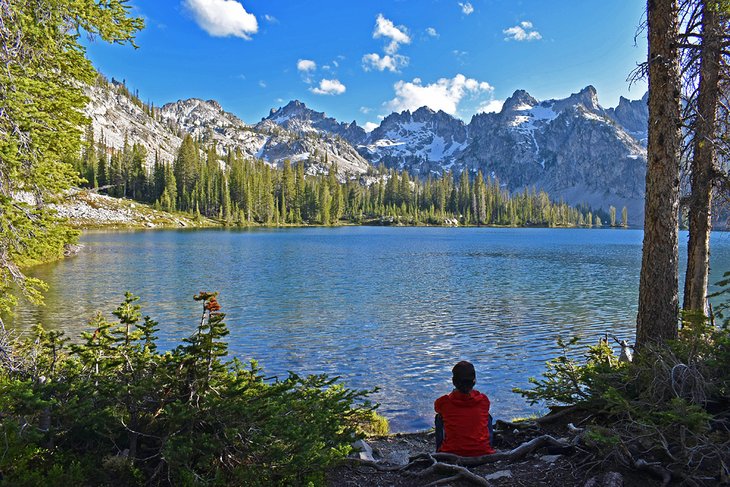 Sawtooth National Recreation Area contains over 750,000 acres of rugged mountain terrain in Central Idaho. Several designated and dispersed places to camp line the main thoroughfare of the recreation area, Highway 75. This highway is also known as the Sawtooth Scenic Byway. With thousands of sites to accommodate tents and RV camping, this bustling area receives a lot of due attention during the summer.
One of the most popular places to camp is Redfish Lake. It is the largest lake in the Sawtooths, and few other views of the Sawtooth Range rival the the lake's stunning backdrop. Glacier View is the largest campground at Redfish Lake, with 64 campsites available. Reservations are available for Glacier View Campground, and campsites often book up months in advance.
Other reservable campgrounds at Redfish Lake include Point Campground and Outlet Campground. Two more campgrounds at Redfish Lake, Heyburn and Sockeye Campgrounds, are available on a first-come, first-served basis. Many of the best hiking trails in Idaho stem from these scenic campgrounds.
Alturas Lake, Stanley Lake, and Salmon River Campground are also popular designated campgrounds. All reservable Forest Service campgrounds can be booked six months in advance. Generally, any reservable campsite will book out for the entire summer by March. Advance planning is required to secure a campsite reservation in the Sawtooths.
Dispersed camping is also abundant in the Sawtooth National Forest. Visitors need to stay within designated dispersed areas. Markers on the side of the road indicate dispersed camping areas. These primitive camp spots are generally accessible via dirt and variable condition roads, and no amenities exist at the campsites. Visitors need to pack out trash and bring their own water supply.
2. Lava Flow Campground, Craters of the Moon National Monument and Preserve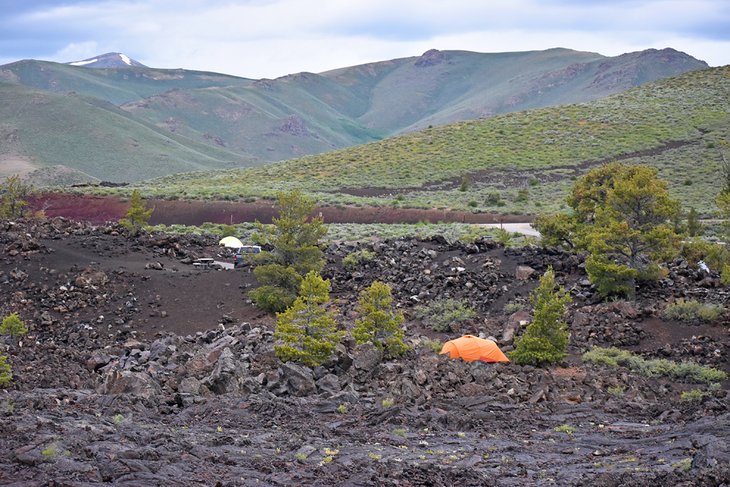 This aptly named national park highlights a volcanic history that occurred thousands of years ago. Today, this monument and preserve is among the best national parks in Idaho and is an otherworldly place to hike and camp.
The Lava Flow Campground at Craters of the Moon is one of the most unique places to camp in Idaho. The campground is within a relatively young lava flow and has flat spots among the molten basaltic rock. Campsites at Craters of the Moon accommodate tents and small trailers. Hiking trails and interpretive opportunities also stem from the campground.
Sites at Lava Flow are available on a first-come, first-served basis. The campground does fill up during the summer, and early arrival is the best bet to secure a spot. Not all sites accommodate trailers as well as others. The campground has a centrally located restroom facility and potable water spigots near every campsite.
Heavy winds blow through the campground in the afternoon, making it essential to tether anything to the ground that might fly away.
An amphitheater connects to the campground and offers free presentations on summer weekends. Other activities near the campground include a trip on the seven-mile Loop Road. This main thoroughfare of the park connects all the major hiking and caving opportunities at Craters of the Moon.
3. Bruneau Dunes State Park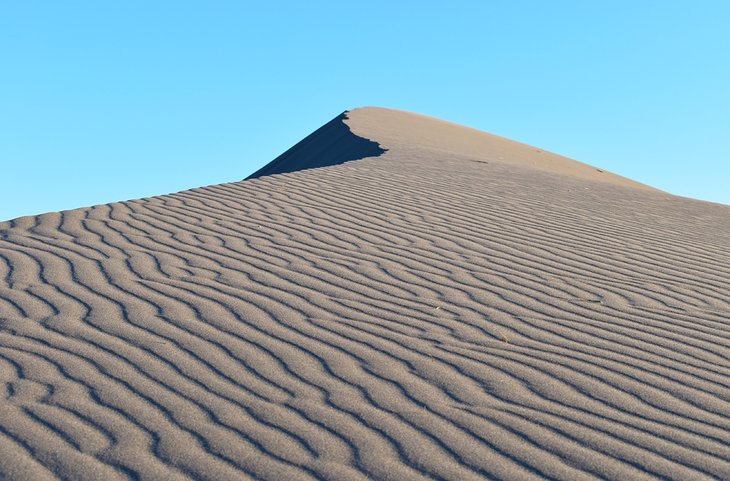 Over 60 miles southeast of the capital city, Bruneau Dunes State Park is also one of the best campgrounds near Boise. It's not just the proximity to the city that makes Bruneau Dunes popular, though. What draws heavy weekend visits is the tallest freestanding sand dune in North America. This shifting spectacle is fun to climb, photograph, and sled down.
Two large campgrounds at Bruneau Dunes accommodate tents and RVs. The Broken Wheel Campground has 50 campsites split between electric and non-electric sites. Many of the campsites have shade and wind shelters surrounding a picnic table. Down the road, the Eagle Cove Campground has an additional 50 sites with similar accommodations.
Both campgrounds at Bruneau Dunes State Park feature shower houses and flushing toilets. Both campgrounds are also within walking or short driving distance to the dunes. Visitors spend hours at the dunes, whether navigating the sandy landscape or fishing for bluegill in the adjacent ponds.
Near the dunes, the Bruneau Dunes Observatory is open to the public on the weekends. This public observatory allows campers to catch a better glimpse at the starry night sky and Milky Way that hovers over Bruneau.
Address: 27608 Bruneau Sand Dunes Road, Bruneau, Idaho
4. Farragut State Park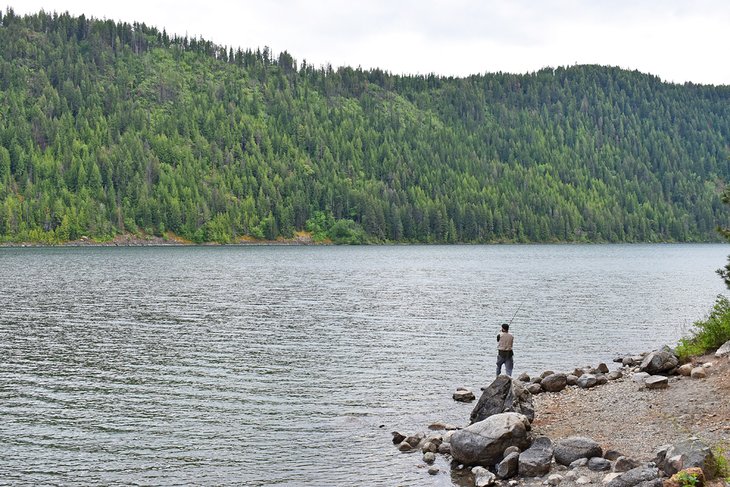 On the southern tip of Lake Pend Oreille, one of the best lakes in Idaho, Farragut State Park is a camping mecca in the northern part of the state. This massive state park has over 200 individual campsites spread throughout several campgrounds. It's not just the abundance of tent and RV camping that makes Farragut popular - the vibrant scenery of the park also entices heavy summer usage.
Ways to enjoy Lake Pend Oreille at Farragut include fishing, boating, and hiking the shoreline trails. Stemming from the lake, 40 miles of multi-use trails extend throughout the rest of the park. These trails are popular for hikers, bikers, and equestrians. Farragut State Park is also a disc golf mecca with five courses, all sharing the same parking lot.
Farragut State Park is the former site of Farragut Naval Training Station. The adjacent deep water of Lake Pend Oreille is still home to a submarine research station. Spread throughout the park is evidence of this military history, especially at the on-site Museum at the Brig.
Most campsites at Farragut are within one of four large campgrounds. Each campground caters to tents and RVs, and each has shower houses and flushing toilets. Reservations are available six months ahead of time and are recommended for summer weekends. Cabins, group campgrounds, and equestrian campgrounds are also available.
Address: 13550 ID-54, Athol, Idaho
5. Kirkham, Bonneville & Pine Flats Campgrounds, Boise National Forest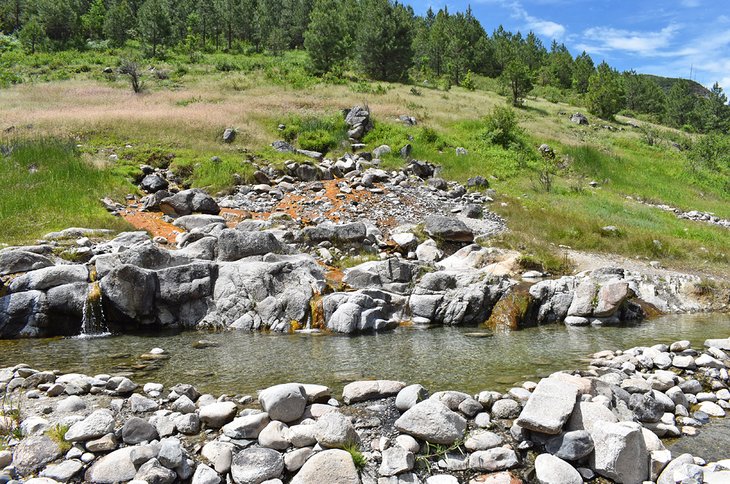 For those that enjoy a little soak alongside their camping experience, Boise National Forest is the place to go. The national forest has several enticing hot springs, and a few of the better-known soaking spots have campgrounds nearby.
Several of these hot spring campgrounds are on Highway 21, also known as Ponderosa Pine Scenic Byway, which connects Boise to Stanley. This lovely route is worth the drive alone. An alternative way to get to hot springs from Boise is Highway 55 through Horseshoe Bend.
The popular Kirkham Hot Springs has an adjacent campground with 16 sites available. East towards Stanley, Bonneville Campground connects to hot springs via a short hiking trail. Likewise, Pine Flats Campground and Pine Flats Hot Spring, west of Lowman towards Garden Valley, is also a popular hot spring destination.
These three hot spring campgrounds all feature sites for tents and RVs. Vault toilets and potable water are available to campers and day users. Reservations are available for these popular campgrounds and are recommended for the summer season.
For more thermal areas to enjoy in the area, check out our best hot springs in Idaho article.
6. Ponderosa State Park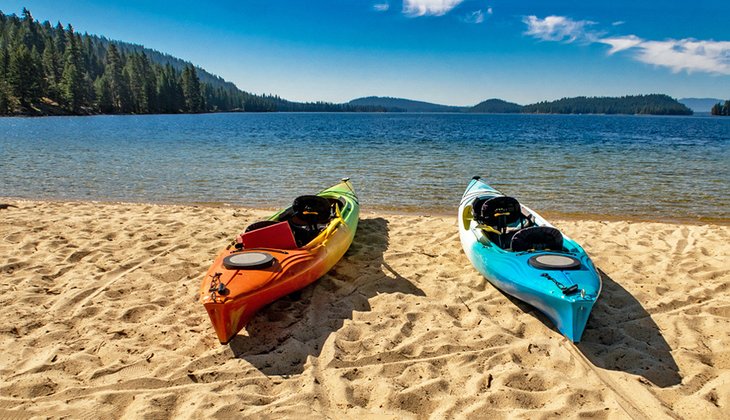 This scenic state park is on a peninsula jutting into Payette Lake outside McCall. The natural environments at Ponderosa State Park include shorelines, wetlands, and a lush density of tall trees. The outstanding nature of the park makes Ponderosa a hot spot for wildlife viewing.
Ponderosa State Park is also a great place to camp. Four different camping and overnight areas are within the park. The largest campground, Peninsula Campground, is near the park entrance and shore of Payette Lake. The campground has over 110 sites that accommodate tents and RVs, with electric hookups available. The RV Group Campground is also near the entrance of the park and has an extra 50 sites.
In the park's North Beach Unit, on the north side of Payette Lake, the Northwest Passage Campground is a popular spot for tent campers. This primitive campground has 22 first-come, first-served sites that offer a bit more solitude. Vault toilets and potable water are available at the Northwest Passage Campground.
Ponderosa State Park also features five deluxe lakeside cabins. These fully furnished cabins are stocked with supplies and bedding, requiring visitors only to bring the food they want to cook and eat. The largest cabin at Ponderosa State Park sleeps up to eight people.
Address: 1920 Davis Avenue, McCall, Idaho
7. Heyburn State Park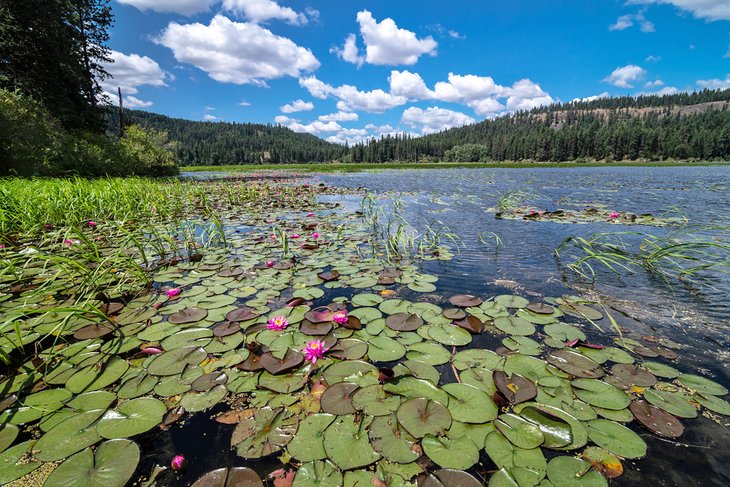 Established in 1908 and developed by the Civilian Conservation Corps in the 1930s, Heyburn State Park is the oldest state park in Idaho. Heyburn is in the north-central part of the state not far from the Washington border.
Three bodies of water surround the park: Chatcolet, Benewah, and Hidden Lakes. The ambling St. Joe River also makes its way across the eastern border of the park.
Boating and fishing are both extremely popular at Heyburn. The state park has several ways to access the water, including boat ramps, swimming beaches, and a marina. Inland activities are also abundant at Heyburn, with trails like the 2.2-mile Shoeffler Butte Trail providing gorgeous views.
Camping at Heyburn State Park takes place between three campgrounds: Hawleys Landing Campground and Benewah Campground have a mix of tent and RV sites with showers and flushing toilets. Chatcolet Campground at the state park is tent-only, with potable water but no showers. Reservations are available at Hawleys Landing and Chatcolet Campgrounds.
Address: 57 Chatcolet Lower Road, Plummer, Idaho
8. Falls Campground, Caribou-Targhee National Forest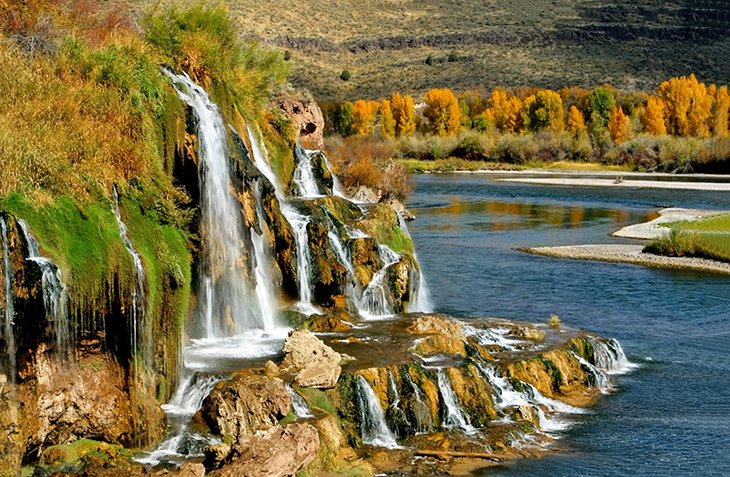 Caribou-Targhee National Forest covers much of Eastern Idaho and borders Wyoming. This lush area of forest and rivers is adjacent to Yellowstone and Grand Teton National Park.
The Forest Service operates several great campgrounds across Idaho's eastern border. Dispersed camping is also available throughout the forest.
Falls Campground is one of many quality campgrounds within Caribou-Targhee National Forest. The campground features 24 campsites within a lightly wooded Snake River riparian habitat. Campsites at Falls Campground cater to both tent and RV camping.
This beautiful campground's real appeal is the nearby Falls Creek Falls, one of the best waterfalls in Idaho, located a quarter mile down the road.
Several other campgrounds within Caribou-Targhee National Forest deliver on scenic appeal. A hot spot for camping and campgrounds in the forest is off Highway 26 coming from Twin Falls. Highway 20, heading towards West Yellowstone, also has several designated campgrounds.
9. City of Rocks National Reserve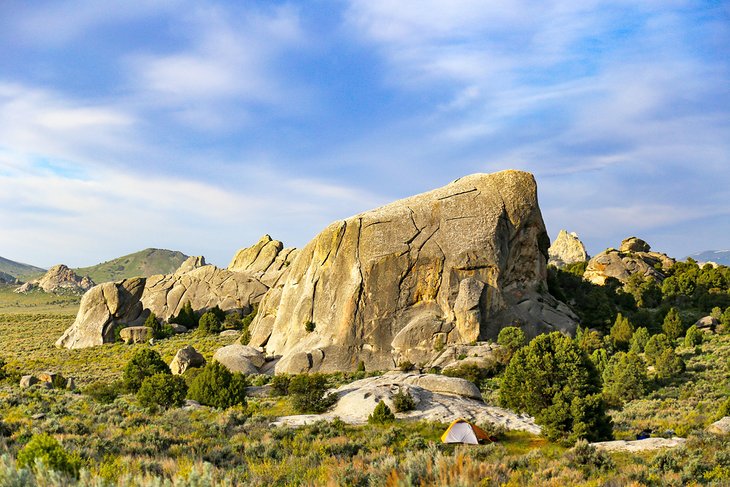 City of Rocks is a beacon for adventure in the southern part of the state near Utah. Giant boulders and unique rock monuments litter this 14,400-acre reserve. The eye-catching monoliths at City of Rocks were once a landmark for emigrants on the California Trail. Today, this state park attracts rock climbers and hikers from across the nation.
Camping at City of Rocks is a unique experience. The reserve has 64 sites in total, spread throughout different areas and pull-offs in the park. Every site offers unique perspectives on the rocky landscape. Campsites are primitive at City of Rocks, with only a picnic table and fire ring. Vault toilets are in central locations near the campsites.
Water is available at two different picnic areas in the park between April and October. Backcountry camping is also available in the Grove Area of City of Rocks. Permits are required to sleep in the backcountry.
Most campsites at City of Rocks are reservable six months in advance. The park sees a lot of visitors during the summer season, making reservations recommended.
More camping options are available at the neighboring Castle Rock State Park and Smoky Mountain Campground. These sites are more developed and have full hookups for RV drivers.
10. Wilderness Gateway Campground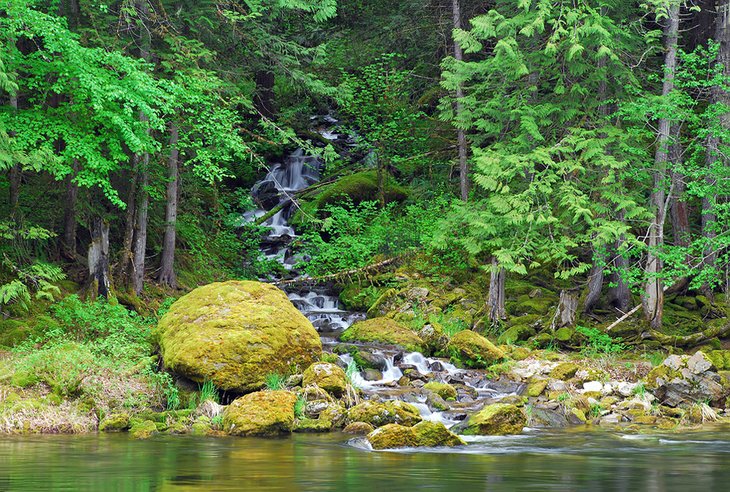 This true-to-its name campground in north-central Idaho is a launching point for hundreds of adventures. The campground is off the twisting and turning Highway 12, also known as the Northwest Passage Scenic Byway. The Wild and Scenic Lochsa River flows next to the campsites, and the massive Bitterroot-Selway Wilderness looms nearby.
The campground has 91 sites spread between different loops. Each campsite accommodates tents or RVs. No utility hookups are available. Vault toilets are throughout the campground loops, as well as potable water spigots. Some sites are reservable at the campground, while others are available on a first-come, first-served basis.
Popular things to do stemming from the campground include white water boating, fishing, and hiking. Stanley Hot Springs is a six-mile hike from a trailhead in the campground. Wilderness Gateway Campground is also a popular basecamp for trips into the adjacent Selway-Bitterroot Wilderness.
11. Priest Lake State Park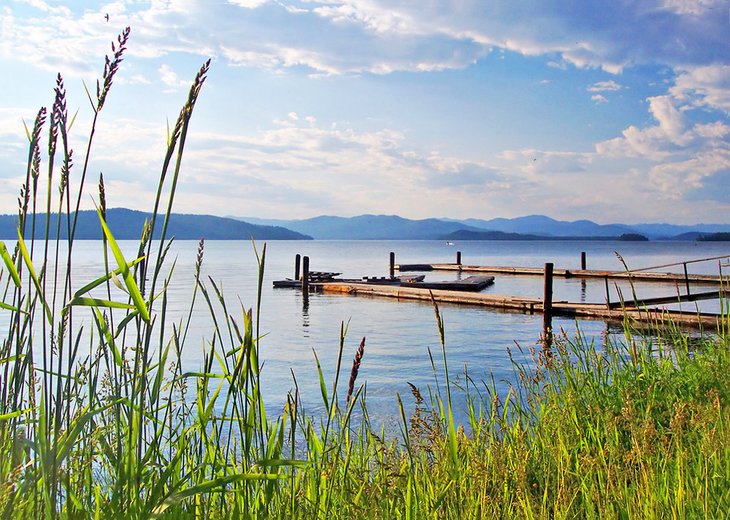 Less than 30 miles from the Canadian border in the Idaho Panhandle, Priest Lake offers a surplus of campsites surrounded by pure nature. The state park comprises three units spanning the east side of the 19-mile lake, and each unit has a campground that facilitates tents and RVs.
The Indian Creek Unit, near the center of the lake, is home to the park's visitor center and other amenities like a gas station and amphitheater. The Indian Creek Unit has over 30 campsites available, with a mix of electric and nonelectric spots.
To the north, the Lionhead Unit is also a popular camping spot within the park, with nearly 50 sites. Camping is also available south of the lake within the Dickensheet Unit.
The state park also has unique overnight opportunities. Six Lakefront Cabins in the Indian Creek Unit sleep five people and provide rustic accommodations. A large group camp is within the Lionshead Unit. The Lionshead Group Camp includes a cabin that sleeps 12, and enough RV and tent sites to accommodate 50 people. Advance reservation is required for the group camp.
Address: 314 Indian Creek Park Road, Coolin, Idaho
12. Lake Cascade State Park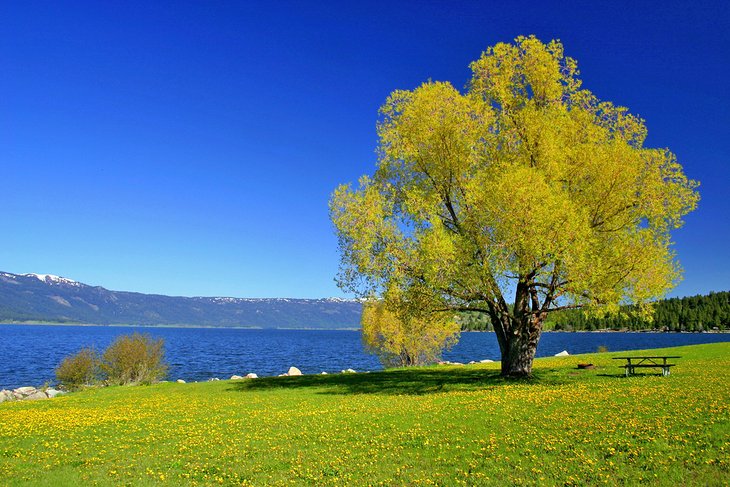 Thirty miles south of McCall, and 75 miles north of Boise, Lake Cascade is a year-round recreation destination. The eye-catching North Fork Mountains backdrop all 86 miles of shoreline. The reflective water attracts all sorts of activity, including boating, fishing, and windsurfing. The state park surrounding Lake Cascade operates a dozen different campgrounds with over 230 campsites in total.
Campgrounds at Lake Cascade are on the southeast and northwest side of the lake. Poison Creek and Ridgeline Campgrounds are the only two that offer full hookup RV spots. The rest of the developed campgrounds at Lake Cascade are nonelectric and cater to both tents and RVs. Lake Cascade also features group camps and dispersed camping areas.
Another thing that all campsites at Lake Cascade have in common is access to the water. All campgrounds have nearby boat docks, and many, such as Van Wyck Campground, have sandy beach swimming areas. Each campground also has restroom facilities and potable water. Sunsets from either side of the lake make a trip to Lake Cascade worth the visit alone.