12 Top-Rated Things to Do in McCall, ID
We may earn a commission from affiliate links ()
Born as a logging town in the late 1800s, McCall is now an adventurous mountain town that loves to host visitors. Approximately 100 miles north of Boise, McCall sits on the shores of Payette Lake with Rocky Mountain landscapes on all sides. These scenic surroundings lend to many postcard images and a world of adventure for anyone that visits.
Outdoor activities span the year in McCall. Hiking, boating, camping, and all types of fun in the sun dominate the summer months. The surrounding Payette National Forest is a real hot spot for adventure during this time of year. The summer season is also when the population of McCall triples as vacation homes and hotels fills up.
Winter is not the "off-season" in McCall. The McCall Winter Carnival best exemplifies this mentality with 10 days of cold-weather amusements. Annual activities at this celebrated winter event include a Mardi Gras Parade and fireworks over Payette Lake. Other ways to easily stay warm in winter include snowshoeing, snow tubing, and downhill skiing at two nearby ski resorts.
No matter the time of year, expect to encounter a laid-back and friendly community with any visit. Find your next reason to stay with our list of sightseeing ideas and top things to do in McCall.
Note: Some businesses may be temporarily closed due to recent global health and safety issues.
1. Enjoy Payette Lake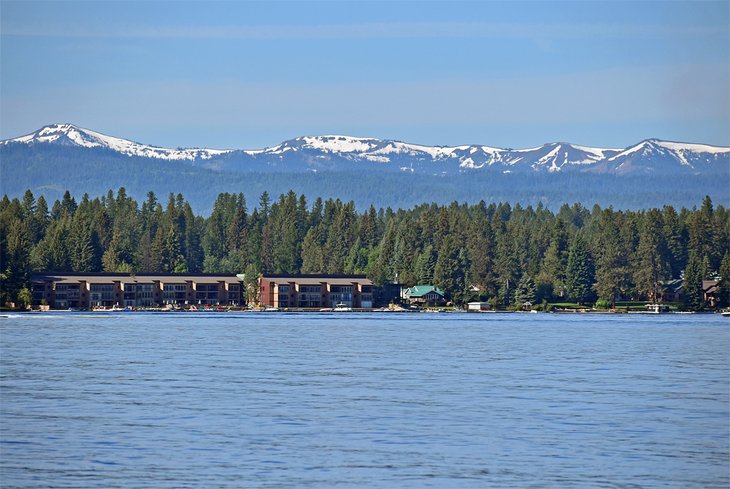 Payette Lake provides a beautiful northern backdrop to McCall. This glacier-carved body of water also provides tons of things to do close to the city. Popular activities include boating, fishing, and swimming from sandy beaches. And bounded by mountains, each lake activity comes with a view.
Ponderosa State Park protects half of the 5,330-acre lake, spanning from the southeastern shore. The state park provides several developed facilities, like hiking trails, campgrounds, and boat docks. Other popular city parks near the city's core offer similar ways to spend the afternoon.
McCall Lake Cruises is one unique way to get on the water. This charter company features various adventures aboard their 65-foot vessel, The IDAHO. The two-hour sunset cruise offered between May and September is one of the most popular. The Southern Idaho Sailing Association also hosts their annual regatta at Payette Lake every June.
Read More:
2. Soak in Some Hot Springs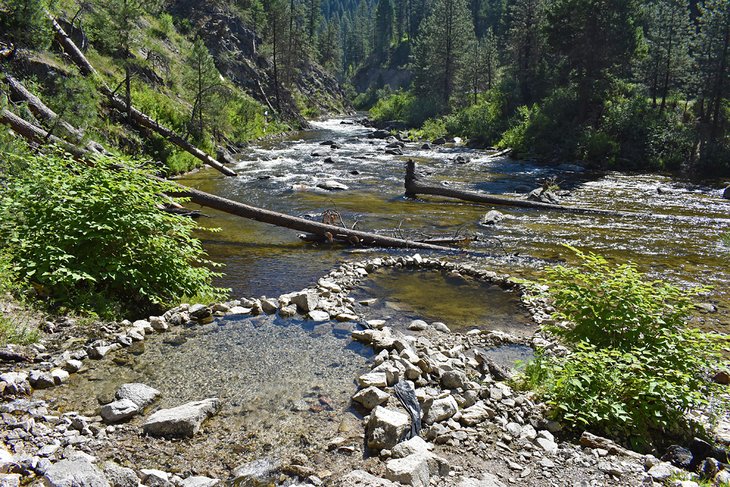 Several hot springs in the surrounding national forests offer a steaming reason to visit McCall. Primitive hot springs and commercial facilities are all within a short drive, and each offers its own unique, relaxing experience.
The three closest commercial facilities are Burgdorf Hot Springs, Zims Hot Springs, and Gold Fork Hot Springs. All three facilities are some of Idaho's best hot springs, and each is within a 30-minute drive. These commercial hot springs differ in style and amenities, but each offers facilities like locker rooms and a concrete pool.
Primitive hot springs are also readily abundant near McCall. These soaking spots sometimes require a hike to get to or a creek to cross. Unlike commercial hot springs, reservations are never needed for these natural thermal pools. An easy one to check out, two hours south of McCall, is Rocky Canyon Hot Springs on the Middle Fork of the Payette River.
3. Attend the McCall Winter Carnival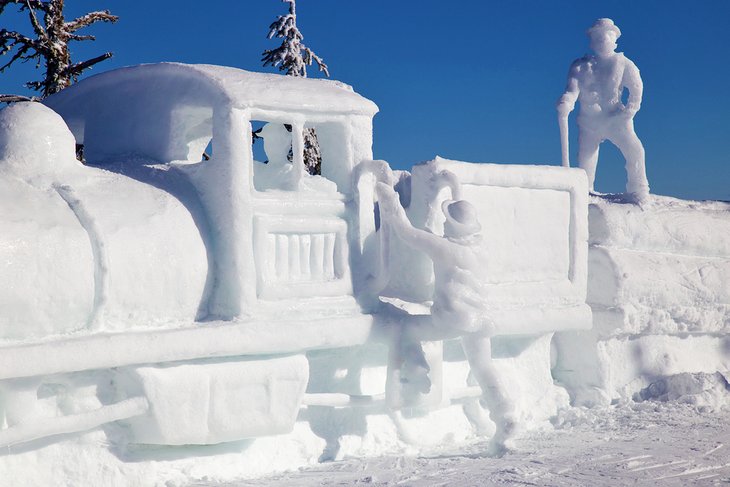 The McCall Winter Carnival is the best cold-weather celebration in the state. This 10-day event draws thousands of visitors from across Idaho and the Rocky Mountain region. Offering an excellent way to enjoy the short days of the season, the Winter Carnival ranks high as one of the top winter things to do in Idaho.
Inspired by the regional Payette Lakes Sports Carnivals of the 1920s, McCall Winter Carnival has been going strong since 1965. Today, the wide range of activities includes a Mardi Gras-style parade, live music in the evenings, and fireworks over Payette Lake. The Carnival is also host to the world-renowned Idaho State Snow Sculpting Championship.
Other unique events include pancake breakfasts, family bingo, and snowshoe golf. The carnival typically spans two weekends from late January into February. Several events and tourist attractions are free to enjoy.
Official site: https://visitmccall.org/events/winter-carnival/
4. Spot Some Wildlife at Ponderosa State Park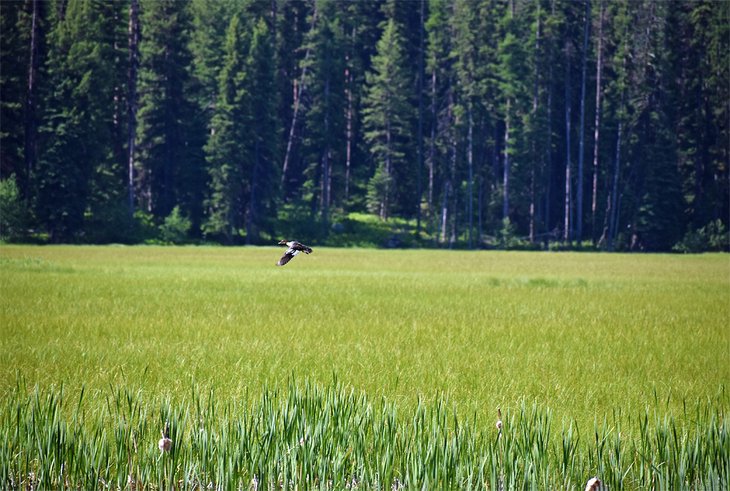 On the southeast shore of Payette Lake within city limits, Ponderosa State Park is one of Idaho's best state parks. Encompassing over 1,500 acres of a peninsula jutting into Payette Lake, this public space offers abundant grounds to explore.
Hiking is popular at Ponderosa, with an extensive network of trails touring the lakeshore and marshy environment. Wildlife is abundant along these trails, especially around Lily Marsh, where birds soar in all directions. Common wildlife sightings include bald eagles, Canadian geese, and mallards. The state park offers guided nature walks to help identify the local flora and fauna.
Ponderosa also has several options for spending the night. The large Peninsula Campground near the park entrance features over 100 sites with water and electric hookups. In the North Beach Unit of the park, the Northwest Passage Campground is more accommodating for tent camping. The state park also features five fully equipped deluxe cabins available for rent next to the water.
Official site: https://parksandrecreation.idaho.gov/parks/ponderosa
5. Stay at Hotel McCall
This historic hotel is downtown and lakeside. In operation since 1904, and with a few renovations along the way, Hotel McCall offers one of the most quintessential stays in town.
History resonates in Hotel McCall alongside the modern furnishings of recent renovations. Beautiful views of Payette Lake and the mountains come with many rooms, which are adorned with comfortable decor. The property is steps away from Legacy Park and the Payette Lake shoreline.
Overnight options at Hotel McCall range from lake-view condos to standard double queens. Each room is uniquely decorated with a curated touch. Other amenities include a heated indoor saltwater pool and spa services at the hotel's Spa del Sol. The on-site Rupert's Restaurant is a downtown favorite with a full dinner menu.
Official site: https://hotelmccall.com/
6. Ski at Brundage Mountain Resort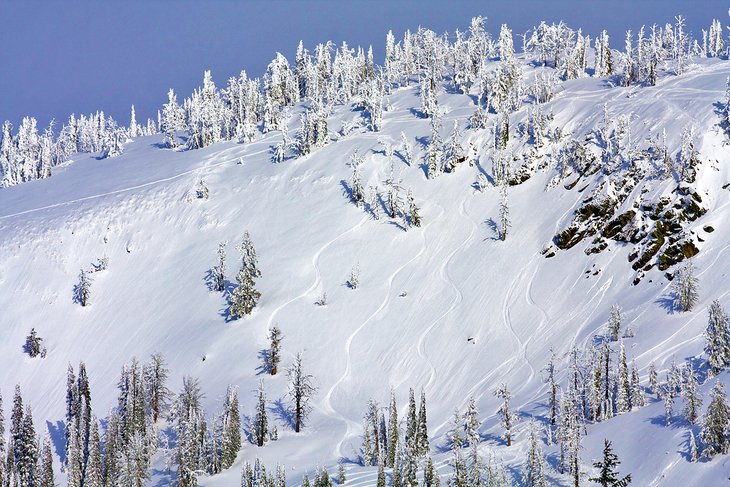 Brundage Mountain Resort delivers with downhill winter endeavors less than 10 miles from McCall. With 2,000 ski-lift-accessible acres, plus 18,000 backcountry acres accessible by snowcat, this family-friendly resort earns its reputation as one of the best ski resorts in Idaho.
Alongside 46 named routes, the ski resort also features tons of inbound snowfields and glades. And with an annual average of over 300 inches of snow, a deep winter attraction covers the resort the entire season. The resort also features non-downhill things to do, especially at the on-site McCall Activity Barn.
Brundage isn't the only nearby resort catering to downhill endeavors. Twenty miles to the south, near the western shore of Lake Cascade, Tamarack Resort features seven chairlifts and over 1,100 skiable acres nearby. This popular ski spot also features amenities like dining, daycare, and equipment rental.
Official site: https://brundage.com/
7. Hike in Bear Basin
The mountainous environment surrounding McCall offers several great hiking opportunities. The 2.3-million-acre Payette National Forest on nearly all sides of the town is the main venue for hiking adventures. One of the quickest ways from town into the forest is visiting the Bear Basin Trailhead, situated less than five miles from the city's central core.
At Bear Basin, a network of singletrack and retired forest roads meanders throughout the forested landscape. It's an excellent place for family hikes with a range of route options. The day-use area is also a popular place for mountain biking, and several trails are groomed throughout the winter for cross-country skiing and snowshoeing.
Bear Basin is only the tip of the iceberg when it comes to hiking trails near McCall. Bordering the city and Payette Lake, Ponderosa State Park is also a central location for family-friendly treks. Several alpine lakes near McCall are also accessible via hiking trail, including Josephine Lake, Deep Lake, and Boulder Lake.
8. Dine in Downtown McCall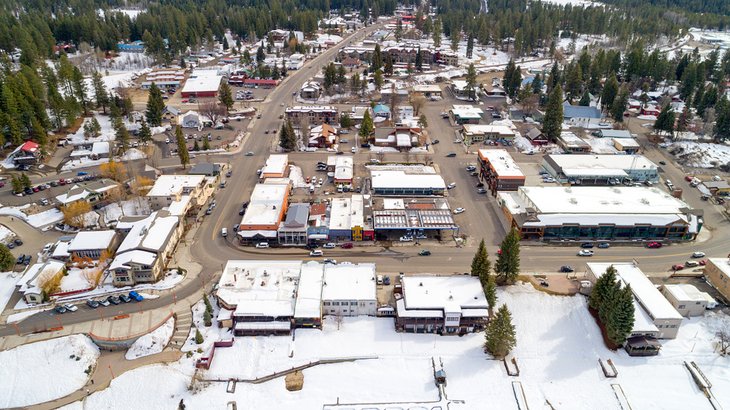 Plan on some time strolling about the scenic central core of the city when visiting McCall. This compact area expands from the intersection of North 3rd and East Lake Streets. The iconic Hotel McCall is at this intersection, alongside a long view of Payette Lake and the entrance to Legacy Park.
Several local eateries and Idaho license plates define this area of town and line the block. Places like Steamers Steak & Seafood and My Father's Place restaurants are some of the most popular, and Ice Cream Alley is the undisputed favorite ice cream dispensary.
Foglifter Cafe downtown is an excellent spot for a brewed beverage and breakfast entree. Farther south on North 3rd, the Pancake House is also well frequented by breakfast connoisseurs. For a slice and some live music downtown, head over to Crusty's Pizza on Lenora Street.
9. Mountain Bike at Jug Mountain Ranch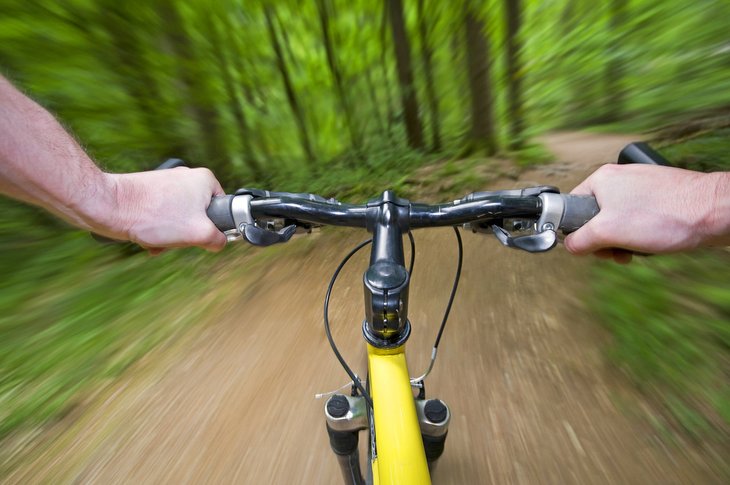 Surrounded by thousands of acres of national forests, McCall offers many mountain biking trails to explore. However, one of the most popular networks and family-friendly places to find some singletrack is the private residential community known as Jug Mountain Ranch.
Situated at the base of Jughandle Mountain, south of McCall near Lake Fork, nearly 75 percent of the ranch is preserved as open space. This open space includes the Jug Mountain Ranch championship golf course (also a popular activity from McCall).
A vast network of public mountain bike trails also meanders throughout the open space and forested property. Trails range from beginner-friendly to brake-inducing trails with serious flow.
Jug Mountain Ranch encourages visitors who use their trails to stop by the on-site Clubhouse Restaurant after their ride. The ranch also offers mountain bike rentals and clinics. A shuttle operates throughout much of the season to eliminate some uphill pedaling.
Official site: https://jugmountainranch.com/
10. Snow Tube at McCall's Activity Barn
McCall's Activity Barn is the place to visit for winter recreation. Part of Brundage Mountain Resort, the Activity Barn covers every other snow sport that isn't downhill skiing or snowboarding. These cold-weather endeavors include snow tubing, cross-country skiing, winter bicycling, and the occasional dogsled ride.
The six 800-foot snow tube lanes at the Activity Barn are a big hit with families. A three-mile Nordic trail loop for snowshoes, cross-country skis, and fat-tire bikes also begins and ends at the facility. The Nordic loop connects to the adjacent North Valley Rail Trail for extended adventures. The Barn offers snowshoe and fat bike rentals by the hour.
11. Explore the Central Idaho Historical Museum
The Central Idaho Historical Museum encompasses four acres near the southern shore of Payette Lake. The property maintains eight historical structures that members of the public can tour upon admission. Each of these antiquated buildings is on the National Register of Historic Places.
The Fire Wardens House is the crown jewel of the museum's collection. This three-story log building showcases an "American Rustic" design with intricate detail. There is a fee to tour the impressive interior of the historic house.
Other historic structures at the museum include a bunkhouse, machine shop, and pumphouse. The museum also features a bronzed "The Worker" statue representing the Civilian Conservation Corps' work in Central Idaho.
Official site: http://cihmuseum.org/
12. Picnic at a Park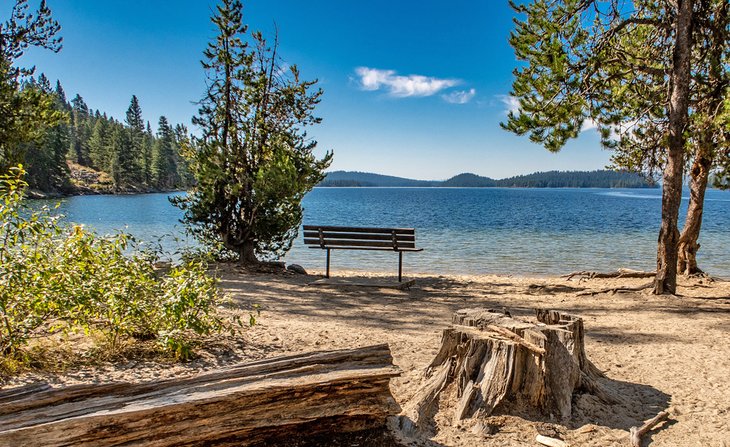 McCall has no shortage of public parks ripe for picnicking. Two of the most popular parks, Legacy Park and Rotary Park, are on the Payette Lake waterfront and afford many other pleasant ways to spend the day.
Legacy Park is on the southeast corner of Payette Lake, near the downtown shopping area and Hotel McCall. Alongside picnic tables, this well-manicured park features volleyball courts and a sandy beach. A boat ramp is also available to access the water.
West along the shoreline, Rotary Park also provides a pleasant public space overlooking the lake. This small park is popular with families thanks to the lovely little playground next to the shoreline, and a grassy area nearby is perfect for bringing a packed lunch. Like Legacy Park, the swimming beach at Rotary is unsupervised (no lifeguards on duty).
Another popular park on Payette Lake is Art Roberts Park, with several amenities to spend the whole day. Davis Beach and Brown Park are two other relaxing lakeside places to visit. Extending from the shoreline, Riverfront Park and Wildhorse Park offer less-crowded places to picnic away from the water.