12 Best Small Towns in Idaho
Author Brad Lane has spent several trips enjoying adventures and vacations throughout Idaho.
Idaho is known for its rugged topography. Among its scenic countryside are snowbound mountains, turbulent rivers, and dense forests. On the fringes of these wild environments, Idaho's best small towns are gateways to their vast surroundings.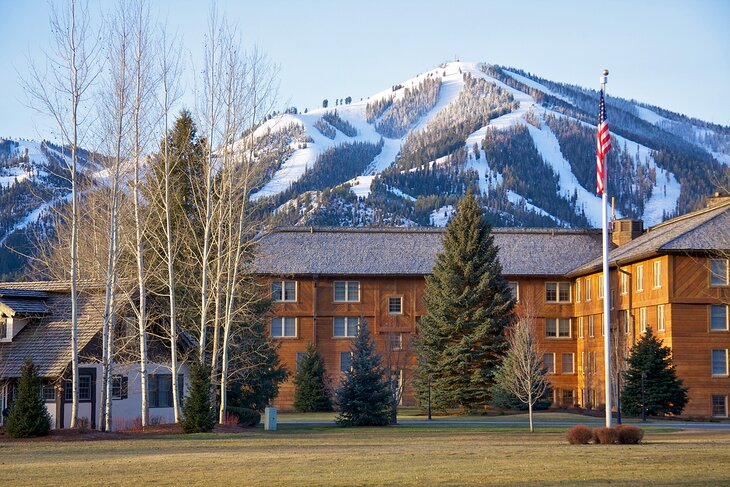 Merely making the drive to these small towns is a scenic endeavor. Other postcard activities include whitewater rafting, mountain climbing, and hot spring soaking. And visitors flock to these mountain towns come winter for some of the best skiing and snowboarding in Idaho.
Whether for a weekend visit or if you're looking to make a move, it's not just access to the outdoors that makes an excellent small town. All the best small towns exude a unique history that adds to an undeniable character. From silver mine inceptions to Olympic training grounds, these different stories add to the experience of visiting.
Discover a new story in the state with our list of the best small towns in Idaho.
1. Sun Valley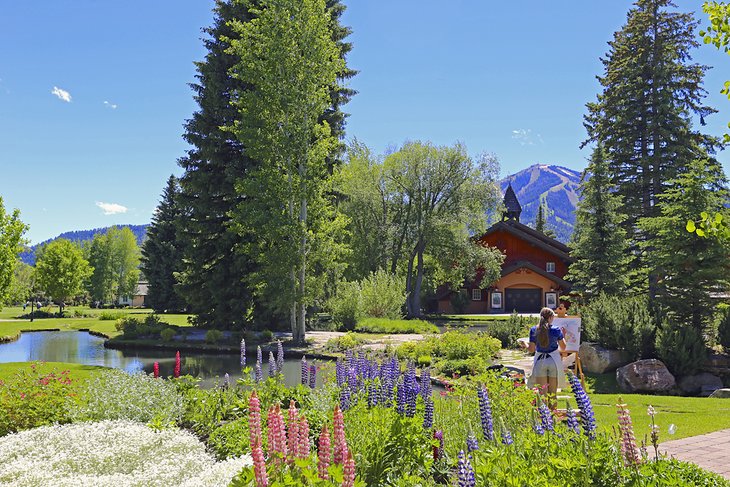 Surrounded by stunning Rocky Mountain landscapes in central Idaho, Sun Valley has a long history as a tourist destination. Sun Valley is home to "America's First Destination Ski Resort," which is still one of the best ski resorts in the US. But it's not just skiing and snowboarding that attracts citizens and celebrities alike to Sun Valley throughout the year.
The name Sun Valley, itself, is no accident. Blue skies saturate the encompassing Wood River Valley much of the year. This sunny forecast and the surrounding Sawtooth National Forest offer an overload of outdoor things to do. Everyday adventures include golfing, mountain biking, fly fishing, mountain climbing, trail running, and horseback riding (and that's just during the summer).
Alongside the neighboring community of Ketchum, the region offers several lodging options. The Sun Valley Lodge is always a popular spot to stay and is an old haunt of Ernest Hemingway. This legendary writer ended his career in Ketchum, and visitors today can visit his memorial on Sun Valley Road.
Accommodation: Top-Rated Resorts in Idaho
2. Sandpoint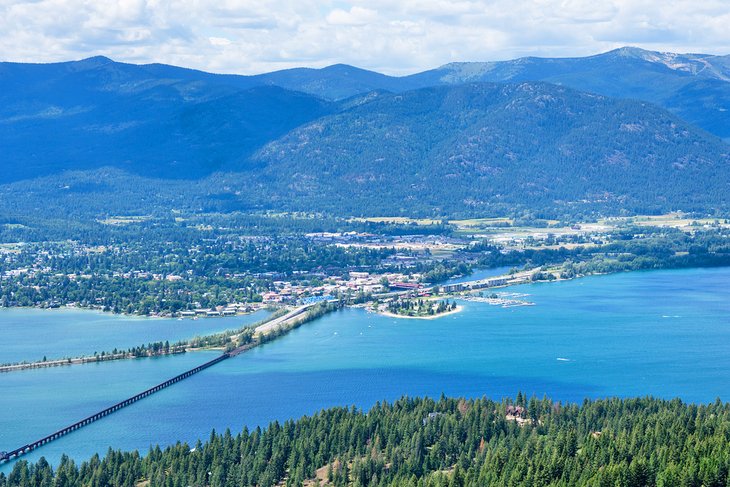 Sandpoint is a standout small town surrounded by three mountain ranges and situated on the shores of Lake Pend Oreille. Recreation and things to do span throughout the year in this beautiful mountain town. But what makes Sandpoint a year-round vacation destination is its friendly community filled with art and culture.
Summer activities include mountain biking, camping, and exploring the adjacent Lake Pend Oreille (pronounced "pond oh-RAY.") This lake is the largest in the state and one of Idaho's best lakes.
The Idaho Panhandle National Forest surrounding Sandpoint has thousands of acres to explore. In the winter, downhill skiing is popular at the nearby Schweitzer Mountain Resort less than 15 miles away.
Sandpoint offers plenty of lodging, dining, and shopping options for the millions of tourists that visit each year. The Festival at Sandpoint is one of the most significant events in the region, featuring eight nights of live music every August.
3. Stanley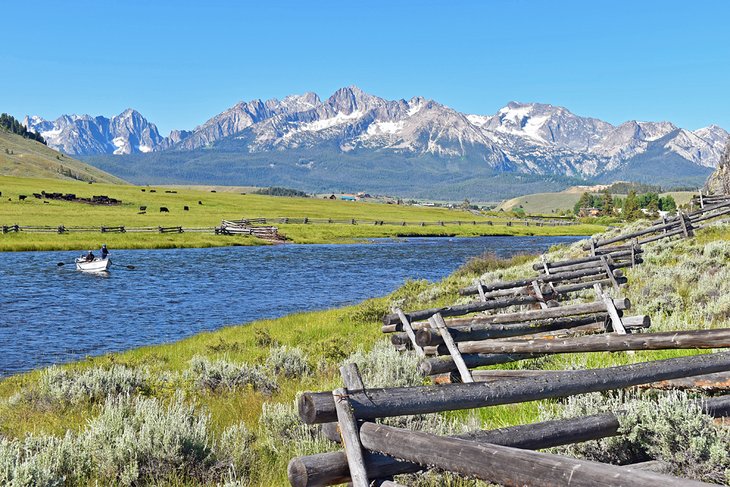 Stanley is one of the crown jewel mountain towns in the state, situated in central Idaho. Some of the most dramatic alpine landscapes in the country surround Stanley. This proximity provides fertile grounds for adventure and helps Stanley top every list regarding recreation in Idaho.
Outside Stanley's backdoor is Sawtooth National Recreation Area, one of the best national parks in Idaho. Over 700 miles of multi-use trails wind throughout this dramatic environment, with over 40 mountains taller than 10,000 feet. Alpine lakes run rampant throughout the recreation area, as does wildlife like bighorn sheep, black bears, and elk.
One of the first stops to make when visiting Stanley for the first time is Redfish Lake. This inspiring body of water provides a backdrop that reveals what makes the Sawtooth Mountains so special. It's also home to one of the most popular campgrounds in the Recreation Area, with sites booking out six months in advance.
The number of diverse and delicious places to eat in Stanley is surprising for a town of fewer than 100 residents. It's the massive tourist traffic that bolsters the many menus in Stanley. And that's what also drives the high number of resorts and cabins also available in the area.
Read More: Top-Rated Things to Do in Stanley, ID
4. McCall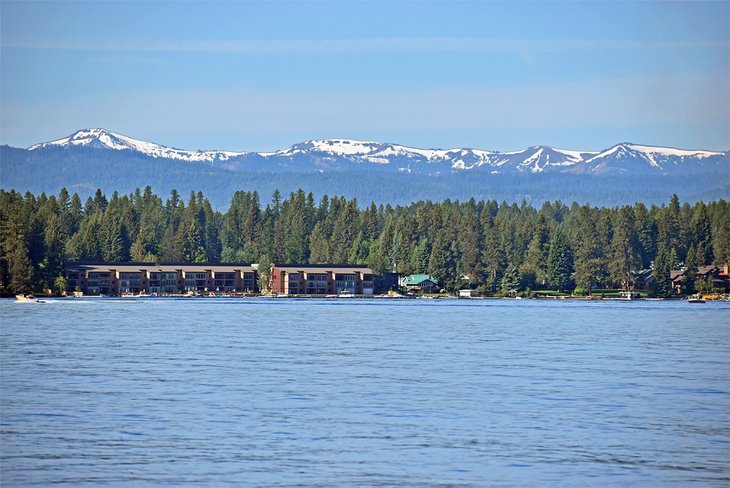 McCall is an adventure destination in Idaho. This small town of under 5,000 residents is on the shores of Payette Lake in the southwest part of the state. It's a popular weekend destination from Boise, just over a hundred miles from the capital city.
The sprawling Payette National Forest surrounds almost all sides of the town. Within these forested surroundings, visitors indulge in hot springs, backpacking, and downhill skiing. Other popular activities include day hiking, river fishing, and camping.
Alongside the national forest, McCall is also near two of Idaho's best state parks. Both Ponderosa Pine and Lake Cascade State Parks feature access to water and a variety of campsites. Ponderosa Pine State Park is right at the back door of McCall, providing instant access to its 1,000-acre peninsula cutting into Payette Lake.
The summer season speaks for itself in McCall, but the winter is also a popular time to visit. McCall hosts the time-honored Winter Carnival at the end of January, including the Idaho State Snow Sculpting Championships. Other winter activities include skiing at the nearby Tamarack Resort or snowmobiling to Burgdorf Hot Springs.
Read More: Top-Rated Things to Do in McCall, ID
5. Wallace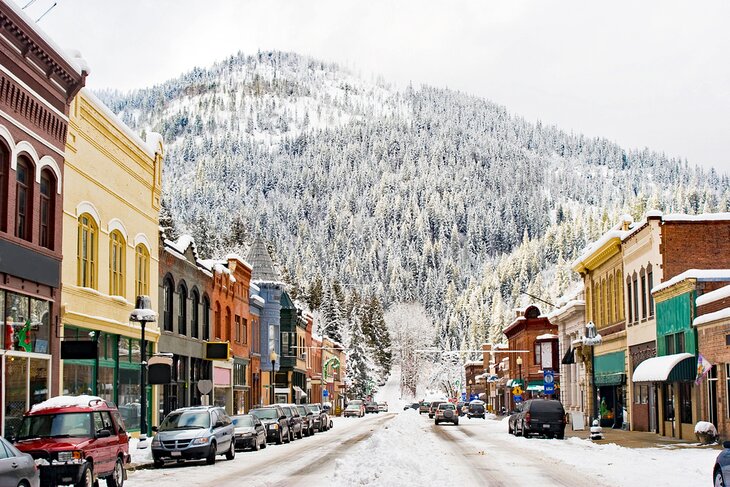 It's easy to glimpse this small town's historic character when driving by Wallace on Interstate 90 in northern Idaho. That's because every downtown facade in Wallace is on the National Register of Historic Places. This historic charm makes Wallace a postcard place to visit, alongside the surrounding lush mountain valley.
It's the easy access to adventure that also makes Wallace a popular destination. Idaho Panhandle National Forests surrounds all sides of the town, providing thousands of miles of trails and retired mining roads. For bicyclists, the renowned Route of the Hiawatha starts 20 miles east of Wallace. The 73-mile Trail of the Coeur d'Alenes also runs through town.
The town's history begins in the silver mining industry of the late 1800s. Through a long saga of booms, busts, and "the Big Burn," Wallace today is one of the wealthiest mining towns still in existence. Visitors can experience this history with guided mine tours, mining museums, and strolls through the historic downtown district.
Read More: Best National Forests in Idaho
6. Salmon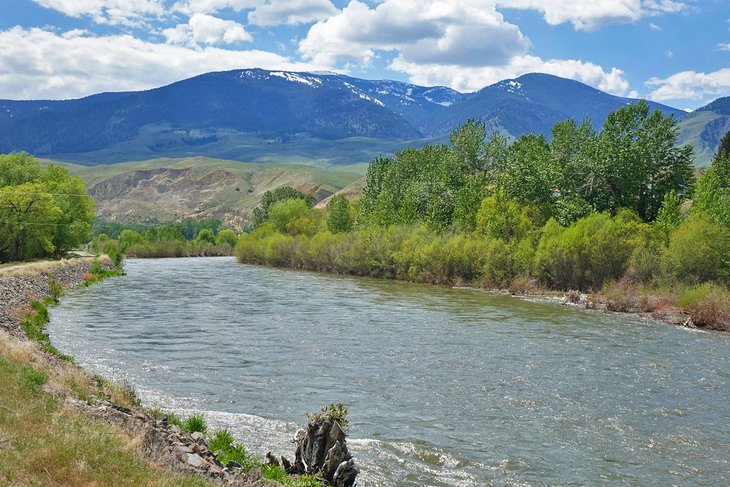 Salmon is a base camp for adventure in central Idaho near the Montana border. The "River of No Return" runs right through town, on the outskirts of the massive Frank Church-River of No Return Wilderness. Alongside backyard access to beautiful mountain environments, Salmon also offers a cultural enclave for moments between adventures.
The Salmon River running through town is sought after by rafters and anglers as one of Idaho's best rivers. Several guided trips offered by Salmon outfitters explore all portions of this impressive waterway. Guided excursions include multi-day trips on the renowned Middle Fork of the Salmon. Local guides also accommodate fishing trips up and down the river.
It's not just the river that draws tourists to this town of under 4,000 residents. Significant natural landscapes surrounding Salmon provide some of the best hiking, mountain biking, and horseback riding in the state. And winter is just as active. Salmon covers every activity associated with snow, including downhill skiing at the nearby Lost Trail Powder Mountain (one of Montana's best ski resorts).
Read More: Top-Rated Things to Do in Salmon, ID
7. Driggs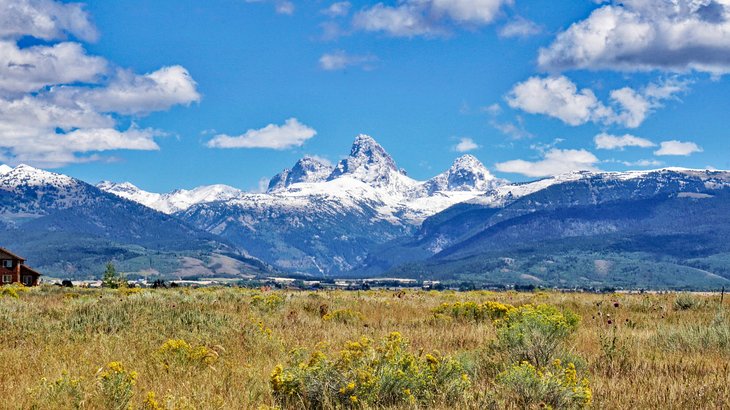 This small town is a central destination within the Teton Valley, also known as the Idaho side of the Teton Range. Teton Valley is also referred to as the "quiet side of the Tetons." But in terms of things to do and big landscapes to explore, Teton Valley is amplified with outdoor attractions throughout the year.
Visitors to Driggs access the back side of Grand Teton National Park by heading up Teton Canyon. Here, colorful environments like Table Rock and Alaska Basin offer postcard views of the standout range. Several other multi-use trails in the surrounding Caribou-Targhee National Forest also provide memorable mountain snapshots.
Driggs is the closest town to Grand Targhee Ski Resort. This Wyoming ski resort is renowned for the average 500-plus inches of snow it receives each year. Driggs is a welcoming basecamp for the ski resort, 12 miles west of the slopes, and across state lines. Vacation rentals are abundant in Driggs, and the town also has a handful of hotels and cabins.
8. Bonners Ferry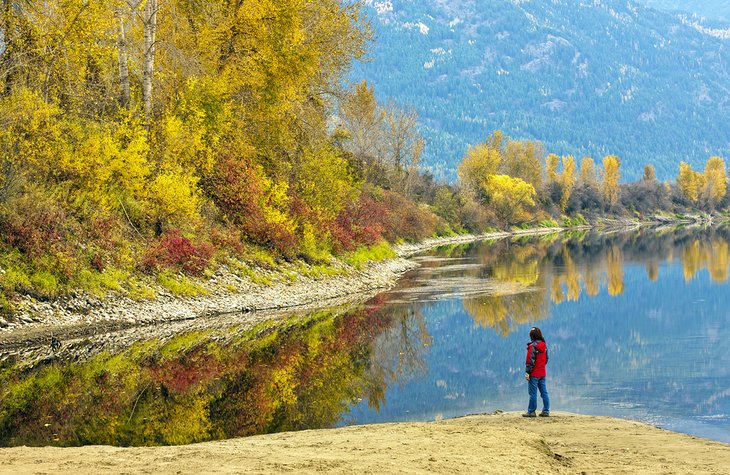 Halfway between Sandpoint and the Canadian border, Bonners Ferry is an international getaway. The Kootenai River runs right through the historic downtown, and three mountain ranges ring the immediate region. Adventure activities are nearly endless in this small mountain town of under 3,000 residents.
Everyday outdoor activities from Bonners Ferry include fishing, mountain biking, and scenic driving. Other popular outlets for adventure include camping, boating, and enjoying uncrowded conditions. The Kootenai Wildlife Refuge is within a 10-mile drive and offers several animal sighting opportunities.
The historic downtown district of Bonners Ferry has a good selection of local restaurants and shops. Near downtown, the Boundary County Museum is on the banks of the Kootenai River. This engaging non-profit museum provides an exciting insight into the history of the area. This quintessential roadside attraction is open Thursdays through Saturdays throughout the year.
9. Island Park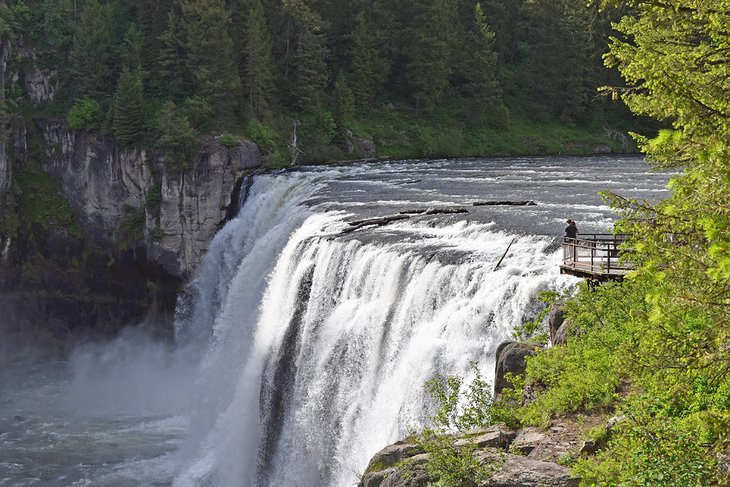 Island Park is part of the larger Greater Yellowstone Ecosystem in eastern Idaho. The massive Island Park Caldera, one of the largest volcanic craters in the world, surrounds the entire small town. This once-explosive landscape now offers vibrant forestland and a welcoming Yellowstone base camp.
Island Park is a popular stop on a Yellowstone vacation. The town is a 30-minute drive from the park's western entrance, and places like local restaurants and hotels in Island Park cater to overnight visitors. But Yellowstone isn't the only landscape to explore from Island Park.
Caribou-Targhee National Forest surrounds all sides of Island Park. And other hot spots for an adventure, like Harriman State Park, aren't far away. Mesa Falls Scenic Byway starts south of town and leads to one of Idaho's most scenic waterfalls. North of town, Henrys Fork of the Snake River is a free-flowing river popular with anglers and floaters.
10. Priest River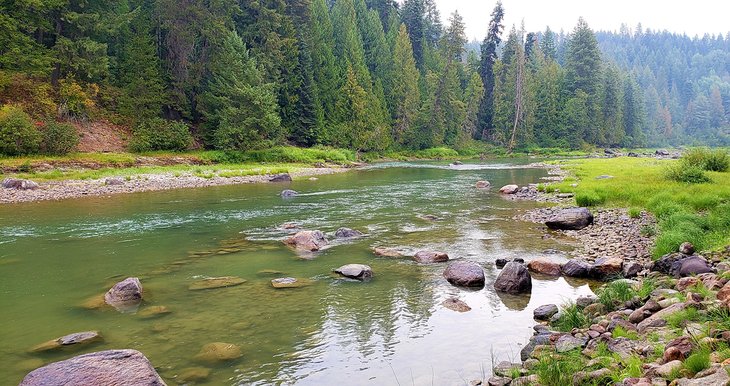 Priest River is a scenic town in northern Idaho near the Washington border. The adventurous Selkirk Mountains backdrop the city, and the namesake Priest River runs next to downtown. And bordering the southern city limits, the massive Lake Pend Oreille adds even more appeal to this quiet getaway.
Outdoor adventure drives tourism in Priest River. The town offers a more hidden gem quality than other outdoor destinations in the state. Uncrowded and wide-open landscapes define recreation in Priest River. Popular activities include fishing, boating, hiking, and backpacking.
Priest River is also one of the southernmost stops on the International Selkirk Loop. This 280-mile scenic drive crosses into Canada. Other nearby activities include golfing, rock climbing, and exploring the Priest River Experimental Forest. During the winter, Priest River becomes a central hub for snowmobile traffic.
11. Idaho City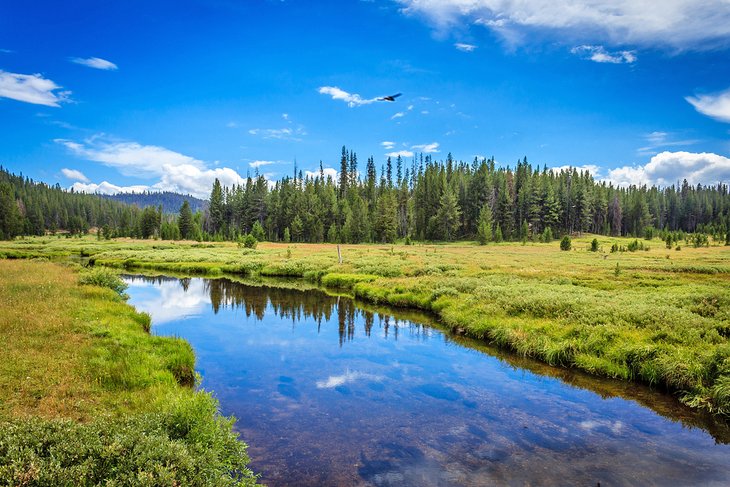 Founded in 1862 during the Boise Basin Gold Rush, this mountain town was first known as "Bannock." Thousands of prospectors filled the streets intending to strike it rich. Near its start, Bannock was one of the largest settlements in the Pacific Northwest.
Bannock met its bust before the turn of the 1900s. Today, the almost ghost town is known as Idaho City. It offers a glimpse into this history with a unique weekend trip. The former gold town is less than an hour from Boise, following a route along the Ponderosa Pine Scenic Byway. This scenic drive is worth the trip alone.
For being nearly abandoned, with a population of fewer than 500 residents, Idaho City has a surprising number of visitor resources. Shopping for handmade, locally crafted, and antique wares is a popular way to spend the day. The small town is also a gateway to many big adventures in the surrounding Boise National Forest.
Read More: Best National Forests in Idaho
12. Garden Valley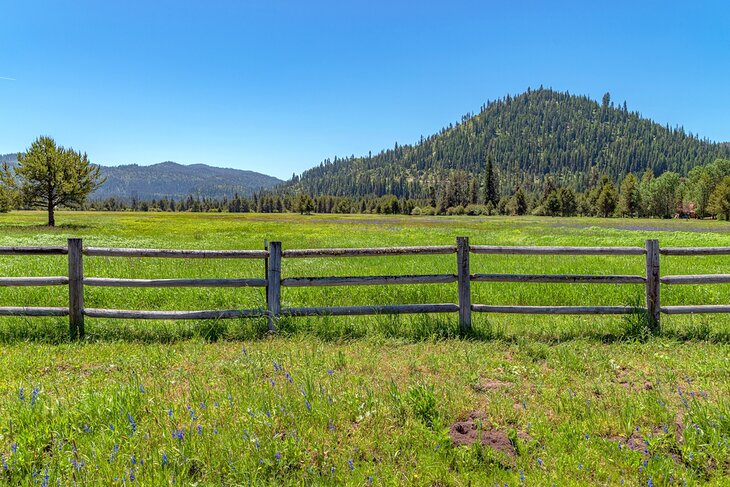 Garden Valley is an adventurous community in central Idaho surrounded by Boise National Forest. This community of fewer than 500 full-time residents is on the incredibly beautiful Banks-Lowman Road, not surprisingly, connecting the communities of Banks and Lowman. This 35-mile road is also known as Wildlife Canyon Scenic Byway.
The drive to Garden Valley is a scenic adventure on its own. But upon actually arriving, alongside a small selection of convenience stores and restaurants, a whole world of recreation awaits on all sides. From mountain biking to hot springs and fishing, Boise National Forest is at the back door of this mountain community.
Services are limited in Garden Valley, including its neighboring community of Crouch, but there are groceries and a few restaurants around. Garden Valley is often a day-trip destination, especially coming from Boise, just over an hour's drive away. Camping in the surrounding Boise National Forest is the most common way to spend the night.
Map of Small Towns in Idaho