18 Best Ski Resorts in the USA, 2023
We may earn a commission from affiliate links ()
The United States has some of the best ski resorts in the world. If you want to create the ultimate skiing bucket list, this is the place to start. Most of the world-class ski resorts are found in the West, but if your travel plans take you to the eastern states, you can still find fantastic places to ski and board.
In the West, the towering Rocky Mountains and surrounding ranges create a veritable playground of snow-covered slopes, offering skiing opportunities for every level of skier. Endless runs and frequent powder days make this a skier's dream destination.
Colorado and Utah each have a large concentration of top resorts to choose from, but you can also find incredible skiing in Wyoming's Tetons, home to Jackson Hole; the Sierra Nevada Range around Lake Tahoe, where you'll find Palisades Tahoe; and the Sawtooth Range in Idaho, home of Sun Valley. Head farther north to Montana and set your sights on Big Sky. And these are just some of the possibilities for skiing in the West.
When it comes to skiing in the East, you'll find plenty of choices, but a couple of ski resorts stand out above the others. Vermont is one of the top choices for skiing in the eastern United States.
Most skiers will agree that the skiing and snow conditions are the most important factors when planning a ski vacation. But the towns or ski villages at the base of the mountains is where you'll spend your time off the slopes and is also an important consideration when it comes to deciding on a destination. The après-ski opportunities, atmosphere, and customer service at the resorts have been taken into consideration when compiling this list.
And while all these resorts have expert terrain, they were selected based on their ability to accommodate a range of skiing and snowboarding levels, not just experts. For an overview of our top picks, see our list of the best ski resorts in the United States.
1. Vail Ski Resort, CO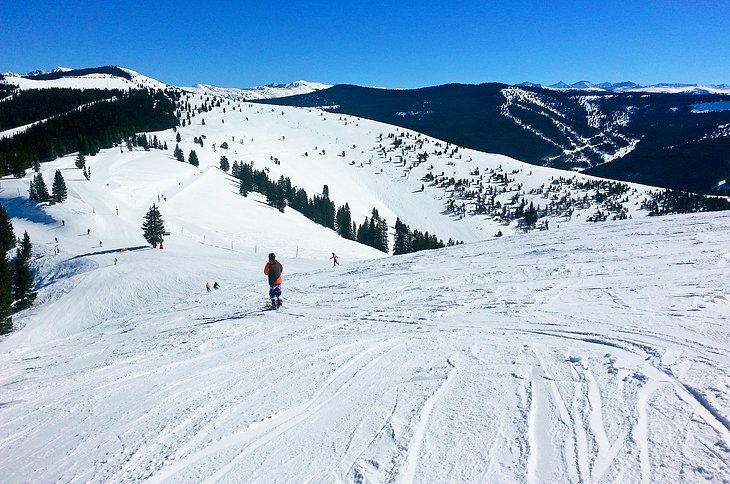 Long reigning as one of the top resorts in America, Vail is what most skiers dream of when they think of skiing in America. If you're looking for bowls, glades, groomed runs, fresh powder, and extensive terrain, Vail is the place to come. Spread out over 5,317 acres and with nearly 30 feet of snow each year, Vail is a must-visit ski resort.
The ski area sprawls over several mountains and provides whatever type of challenge you're looking for. Wide-open groomers, endless moguls, and seven big bowls where you can create your own tracks entice you to try something new.
Vail is fortunate to be the recipient of two new lifts in 2022/23. The new Sundown Lift will be positioned near High Noon Express and will significantly reduce the bottleneck in this area, especially on busy days. The Game Creek Bowl lift will be upgraded from its current format as a quad to a six-passenger version, increasing the uphill capacity by 50 percent.
Vail is ideally positioned to catch snow on a regular basis, leading to a deep base. When Pacific storms roll through, the snow falls fast and furious creating beautiful powder days.
At the base, you'll find the thriving and lively town of Vail, packed with restaurants, shops, and a range of entertainment options, from an ice-skating rink to live music. Vail is known for its posh hotels and high-end boutiques, but it's more than just a destination for wealthy skiers and boarders. This is a great place for families, groups, couples, or solo skiers and boarders.
Vail is less than a two-hour drive from Denver and there are several ways to get from Denver to Vail.
2. Aspen/Snowmass, CO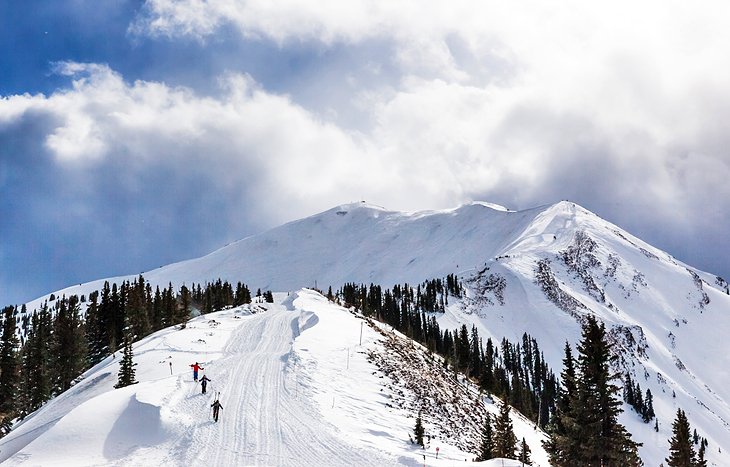 Aspen has been drawing an international jet set of skiers for decades. Although people talk about the scene in town, the real action is on the mountains. Aspen has four ski areas: Snowmass, Buttermilk, Aspen Mountain, and Aspen Highlands. At the base of the mountains are the town of Aspen and Snowmass Village.
These resorts provide an incredible number of runs across a massive area of skiable terrain, and the area receives roughly 25 feet of annual snowfall. First-class amenities and an impressive assortment of lifts will make your ski day one to remember.
Snowmass has recently brought into operation a brand new 10.7-million-dollar high-speed quad chairlift that has replaced the old Big Burn lift. In addition to the new lift, several new restaurants, base area upgrades, a snowmaking capacity increase, and additional high alpine lift improvements have been completed and are ready for the 2022/23 season.
The regional airport servicing Aspen/Snowmass has over 150 flights a week in ski season across the major carriers. The airport is five minutes from town, and many hotels provide free airport pickup. Denver International Airport is less than four hours away by car but there are several ways of getting from Denver to Aspen.
3. Snowbird, UT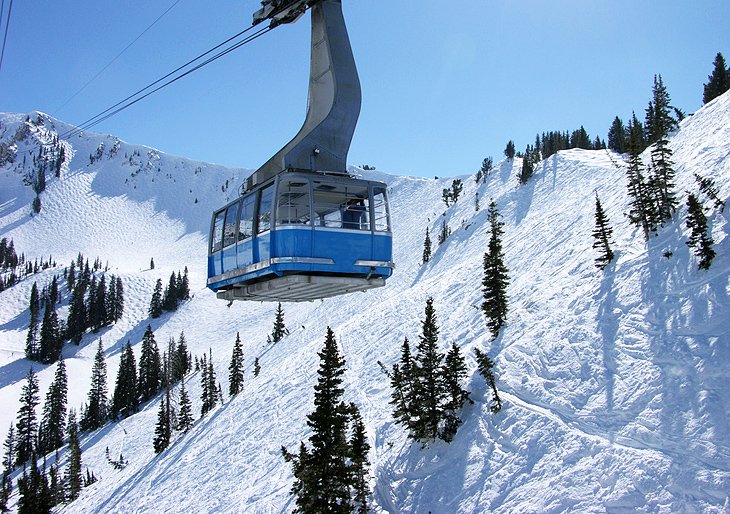 The Wasatch Valley is one of the best places in the US for consistently light, dry snow, and it's where you'll find Snowbird and Alta. Moist air gets funneled up this valley, and more than 41 feet of snow falls here annually, on average. The jagged peaks and alpine scenery at Snowbird also make this the most scenic resort in Utah.
Snowbird offers outstanding terrain, great conditions, and is the only choice for groups or families looking to accommodate both skiers and snowboarders. Alta does not allow snowboarding. Snowbird also has the only ski tunnel in North America, allowing you to ski through the mountain and emerge on the other side.
Snowbird and Alta operate as separate resorts but its easy to ski from one to the other. A combined ticket is a good idea if you are spending several days skiing in the area or if you are here for spring skiing. Between the two resorts, you can usually find good conditions at any time of day in the spring.
To cap it off, Snowbird is only 45 minutes from Salt Lake City International Airport. Many people stay in the city where the evening scene is livelier and there are more things to do when you are not skiing.
Snowbird is part of both the IKON and Mountain Collective Pass programs.
4. Park City Mountain Resort, UT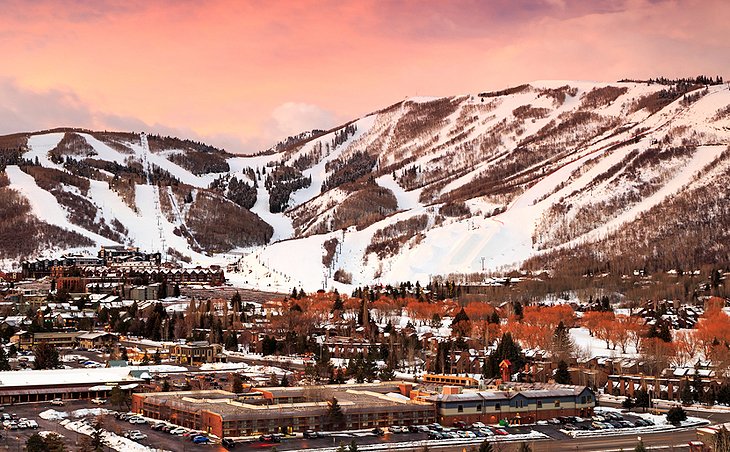 Park City is one of the largest ski resorts in the United States. Spread over an incredible 7,300 acres and 17 peaks, this behemoth of a ski resort has almost unlimited options. Although you can easily find expert terrain here, the skiing skews towards intermediate and beginner. If you love long, rolling groomed runs, you've come to the right place.
The town of Park City is also an added bonus to skiing here. A real town, dating from 1884, with a historic main street packed with restaurants and shops provides a laundry list of options for après ski activities. If you are taking a day off from skiing, you will have no trouble finding things to do in Park City.
Park City is less than an hour from Salt Lake City. If you are on a budget, consider staying in Salt Lake City, where the accommodation is plentiful and cheap, and commute to the ski resort.
5. Telluride Ski Resort, CO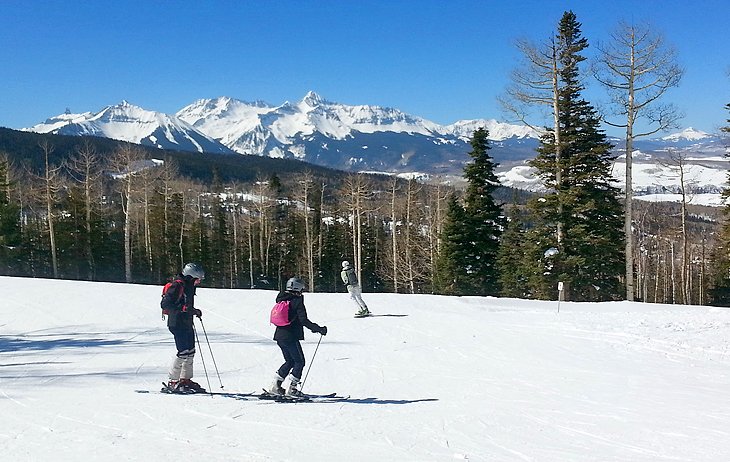 Telluride wins one of the top spots for its diverse terrain, great selection of lodging on and off the mountain, and the charming ski town of Telluride right at the base of the mountain. You can ski down at the end of the day and not have to worry about driving to a nearby town.
Telluride is tucked off on its own at the end of a valley in southwest Colorado. This works as an advantage and a disadvantage. The great part is short lift lines and less crowds, but it takes a while to get here, and accommodation is expensive. It's worth the effort if you've got the budget.
Telluride gets about 23 feet of snow each year. If you time it right, you can expect some great powder days. This is also a wonderful place for a family ski vacation, as roughly 60 percent of the terrain is targeted towards beginner and intermediate skiers and boarders.
Telluride has recently added a new lift called the Plunge Express. The new high-speed quad chair will service primarily strong intermediate and advanced skier terrain. You will find it an easy ride up over 2,000 vertical feet in elevation. How you get down through the gnarly terrain to the base will be the difficult part.
The resort offers ski-in/ski-out accommodation. The gondola is free and is open to skiers and non-skiers. Telluride is part of the EPIC pass program; however, daily tickets are not limited like they are at Vail and Park City because Telluride is not owned by Vail Resorts. Only resorts wholly owned by Vail resorts have this limitation.
6. Jackson Hole Mountain Resort, WY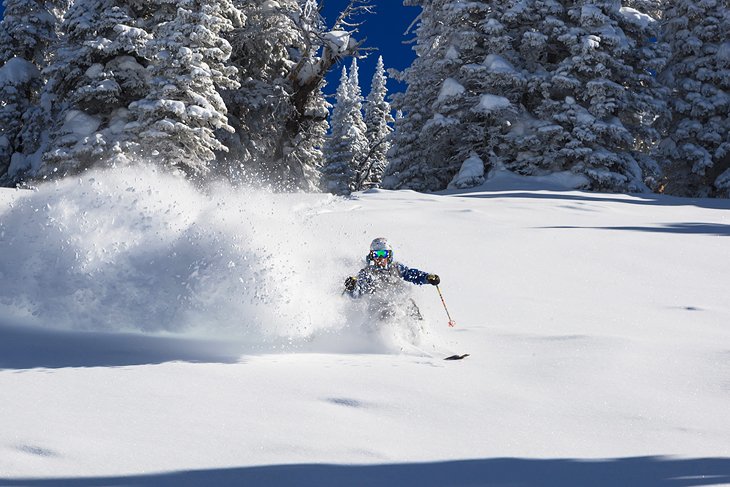 Jackson Hole is a true skier's mountain. The mountain is heavily skewed towards intermediate and advanced skiers, with very little beginner terrain, and the most challenging terrain will test the skills of even expert skiers.
As you ride the tram to the top with 100 of your new friends, you'll feel a palpable sense of anticipation and excitement looking out at the runs beneath your feet. Be on the lookout for Corbet's Couloir on the ride up. This extreme double black diamond run is a rite of passage for expert skiers.
New lift capacity for 2022/23 will be significantly improved with the replacement of the 28-year-old Thunder Chair. The new Leitner-Poma quad chair will cut the ride time in half, from seven minutes to 3.6, basically doubling the uphill capacity.
In recent years, Jackson Hole has averaged about 38 feet of snow annually. The resort has 2,500 acres of terrain and 133 named runs, as well as multiple terrain parks. Among the infrastructure improvements in the last number of years is the impressive Solitude Station mid-mountain facility, housing two new restaurants and the Mountain Sports School.
The ski resort is located 20 minutes from the Western themed town of Jackson. Here, you'll find air connections from across the states, and excellent accommodation options.
7. Breckenridge Ski Resort, CO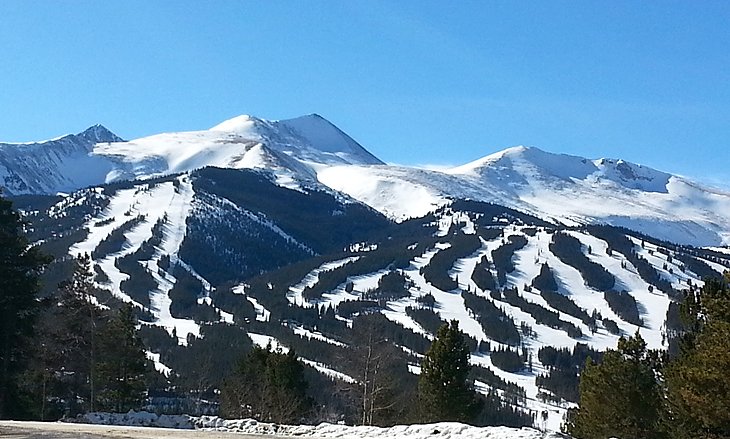 Breckenridge gets an average of about 30 feet of snow annually and keeps much of it until late in the season due to its high elevation. You can expect this resort to be open well into May. Home to the highest chairlift in the USA at 12,840 feet, this resort will literally take your breath away.
The lower parts of the ski resort are perfect for beginners and families. The gentle inclines of the wide runs provide plenty of space to move. The open bowls at the top of the peaks offer awesome opportunities for more advanced skiers. In April and May, while skiers are enjoying spring skiing conditions near the bottom, the peaks are still enjoying full winter conditions.
The new chair on Peak 7 called the Freedom SuperChair is now up and running. This will help eliminate delays currently being experienced when trying to board the Independence SuperChair. Over at Peak 8, the old fixed-grip double chair has been replaced with a high-speed quad on Rip's Ride. This new high-speed quad will increase the uphill capacity by a stunning 70 percent over the old chair.
The historical town of Breckenridge at the base is an enjoyable mountain town with fun après-ski options. It has a wonderful assortment of restaurants and shops along with a picturesque main street, perfect for strolling. You'll also find a wide assortment of places to stay in Breckenridge, from large resorts right through to small BnBs and condos for rent.
Denver International Airport is just under two hours away. Several options exist for transport between Denver and Breckenridge.
8. Beaver Creek, CO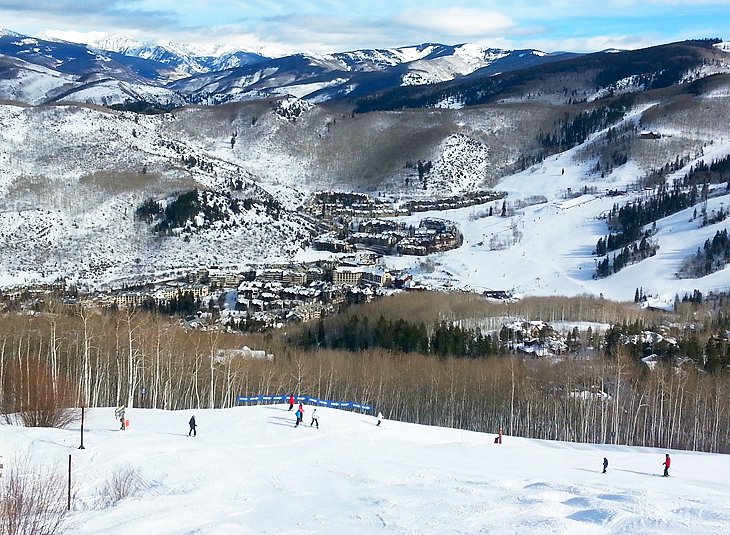 Miles of groomed corduroy are what you'll find each morning at Beaver Creek. This luxurious ski resort takes grooming to the next level. Each night, a massive team of snowcats takes to the mountain and shapes it into a cruiser's dream. After skiing hours of beautiful corduroy, you may start to wonder if chasing powder is only for fools.
Beaver Creek is not all about manicured runs. On Grouse Mountain, the moguls and steeps will push any skier to their limits. This is a mountain the entire family can enjoy. Beaver Creek has just installed two brand new quad chairs. These new lifts will service the McCoy area of the mountain and provide quicker access to high altitude terrain for intermediate and beginner skiers.
Customer service is paramount at Beaver Creek, and this includes things like having resort personnel ready to carry your skis for you at the base when you come off the last run of the day and free fresh-baked cookies every day at 3pm.
9. Deer Valley, UT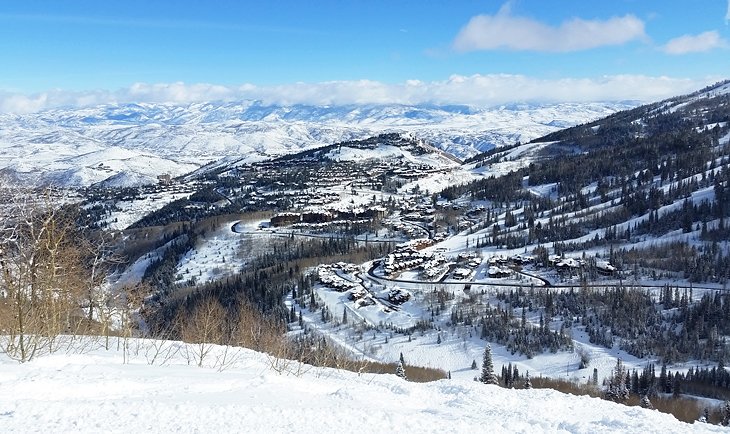 If you want to experience true luxury skiing, head to Deer Valley, but be aware, this mountain resort does not allow snowboarders. Just up the road from Park City, this high-end resort is definitely worth a visit. Beautiful lodges, fantastic food, modern lifts, and uncrowded slopes are what you can expect to find here.
To enhance the guest experience, Deer Valley limits the number of skiers on the mountain to ensure the lift lines never get too long. Deer Valley is spread out over six mountains and if there's a dump of snow, head to this resort.
2022/23 is all about making skiing easier for beginners to the tune of 16 million dollars. The new 10-million-dollar Burns Express Chairlift will be in operation in the Wide West beginner ski area and will run from the Snow Park base area to Little Baldy Mountain, providing easy access to more gentle slopes.
In addition, the Snowflake chairlift will be upgraded, and the entire ski school and beginner area graded and surface lifts reconfigured. This work is estimated to cost an additional six million dollars.
Deer Valley has, for quite some time, put limits on skiers allowed on the ski hill each day. As a result, powder stashes and untracked descents remain here longer than at other resorts.
10. Steamboat, CO
Steamboat is located north of most of the main ski resorts in Colorado and is about a 3.5-hour drive from Denver. As a result, it's off the radar of many skiers who focus on the closer resorts, like Breckenridge, Vail, or Beaver Creek. The upside of this is fewer crowds and more time spend skiing or boarding.
On average, roughly 26 feet of snow falls each year, leading to great conditions across the 165 trails. Uphill capacity is comparable to other major resorts with 18 lifts, including an eight-passenger gondola. The resort has recently opened an additional 355 acres of new terrain in its Pioneer Ridge area. The famous Hazie's restaurant has been completely overhauled and upgraded with new infrastructure and seating.
The new terrain and restaurant renovation is just the tip of the improvement iceberg at Steamboat. As part of their "Full Steam Ahead" program, the mountain's owner, Alterra, is investing over $200 million in new infrastructure over the next four years. When they are done in 2024/25, Steamboat will truly be one of North America's finest ski resorts.
For 2022/23, you'll notice that many of the old buildings in the base area, including the old gondola building and the Snowsports center have been demolished and rebuilt and now house new and innovative shops and restaurants.
Steamboat Square has been reimagined, with a skating rink, and the new Wild Blue gondola will be operational to mid-station. The Christie Peak Express Lift base has been moved, and the mini golf and mountain coaster ride permanently removed.
A bit farther up the mountain, the 14-acre Greenhorn Ranch Learning Center will be all brand new with a chairlift, four magic carpet surface lifts, and its own dedicated snowmaking guns. Layer on all these improvements with two new groomers, new snowmaking capacity, an upgrade to the Sunshine Express lift, and it will be hard to find something that isn't new!
It's not all about infrastructure though, the rental shop will be receiving $500,000 in new equipment, and the hardworking Ski Patrol will be getting new outfits and gear.
The town of Steamboat Springs is what makes a visit here extra enjoyable. The real cowboy culture and friendly locals in this small town make you feel instantly welcome.
Not far from town are Strawberry Hot Springs. These natural outdoor pools are a delight to visit on days when you're giving your legs a break.
11. Big Sky Resort, MT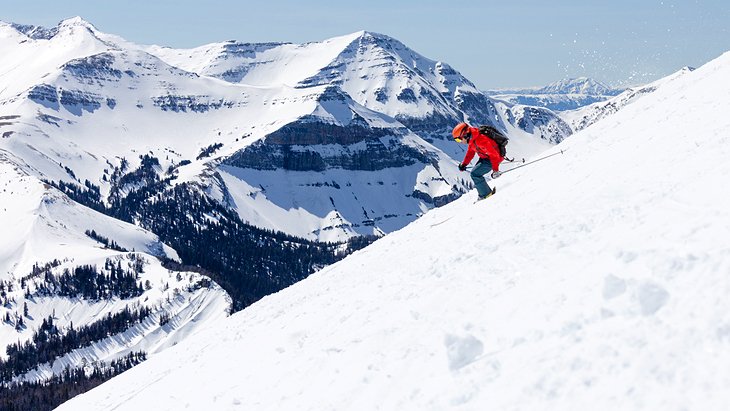 Big Sky Resort is Montana's premier ski area. Everything about this place is big: big mountains; big lifts, including a tram; big snowfall at 33 feet; and big, wide-open spaces. In fact, the only thing small here are the lift lines.
The resort does not see big crowds. Big Sky is spread out over 5,850 acres, and that means even on the busiest of ski days, you'll likely have over two acres of snow-covered bliss all to yourself.
One advantage of skiing at Big Sky Resort over the ski areas farther south is related to elevation. Here, you'll ski at lower elevations. For those coming from sea level the effects of high altitude (headaches, tiredness, shortness of breath) are less. You can hit the slopes for longer and feel stronger!
You'll need that additional stamina to keep your legs pumping because of the recent installation of a six-passenger, heated high-speed quad, called the Big Sky Blue Bubble. It's the fastest chairlift in North America and means you'll be back at the top in no time flat.
In the winter, daily direct flights arrive into Bozeman Yellowstone International Airport from approximately twenty major population centers across the USA.
12. Palisades Tahoe Ski Resort, CA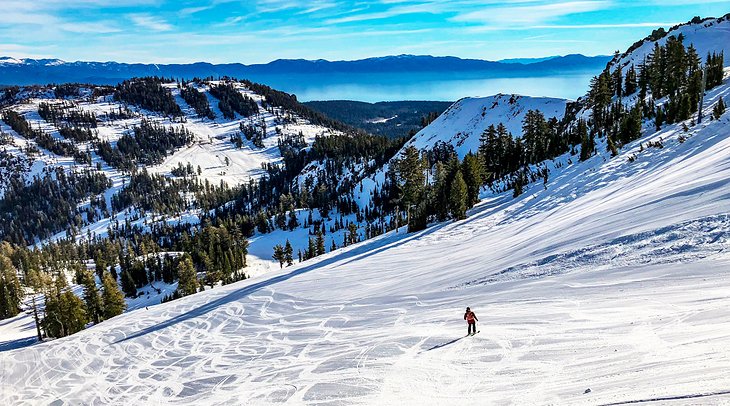 This iconic ski resort at Lake Tahoe was home to the 1960 Winter Olympics (then known as Squaw Valley) and is one of California's top ski resorts.
For 2022/23, both resorts have finally realized a dream: they are now connected by the Base to Base Gondola. This 2.4-mile-long gondola goes up 2,000 vertical feet to the top of Mount KT-22 and makes going from one base area to another easy. The ride takes 16 minutes and will have four stops along the way. In addition to this, the Red Dog chairlift is being completely replaced with a six-passenger chair.
The great thing about skiing at Palisades is the sun. This area gets over 267 days of clear blue skies, and the view from the slopes is amazing. But don't let that fool you. The resort typically receives over 37 feet of snow each year and you can expect some incredible powder days if you time it right.
Palisades Tahoe is an ideal family resort, with 70 percent of the terrain classified as either beginner or intermediate, and certain areas designated as beginner only. Despite this, experts will have no trouble entertaining themselves on the chutes, couloirs, and bowls.
Access from San Francisco is along Interstate 80, and the resort is just over a three-hour drive from San Francisco International Airport.
13. Sun Valley, ID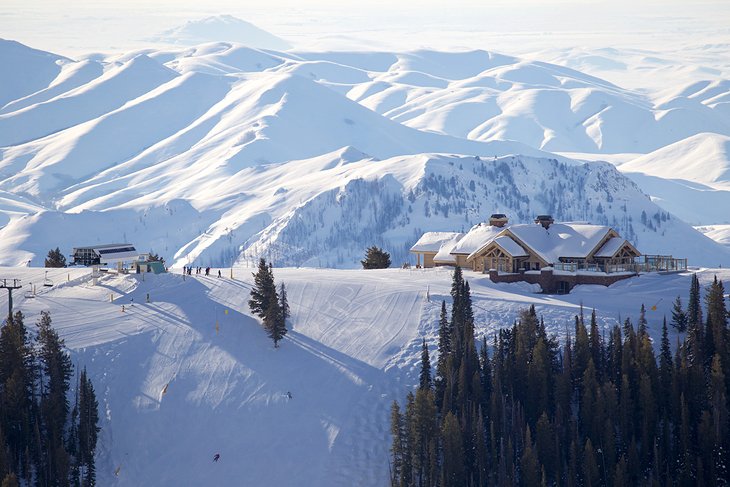 Sun Valley, Idaho is an ideal destination for those looking for a good all-around mid-size resort. Here, you'll find 121 runs spread across Bald and Dollar Mountains. The views from the top are spectacular, looking out to fields of snow covering the mountains.
On average, Sun Valley receives about 18 feet of snow each year but also has extensive snow making capabilities. It's a good family destination, with runs skewed more towards beginner and intermediate levels. They also do extensive grooming and with the resort being off the radar of many people, the corduroy lasts longer into the day.
Sun Valley has recently undertaken some of the most significant expansion in the resort's history. The new Broadway lift is a high-speed quad chair that opens up 380 acres of spectacular new terrain in the Sunrise zone.
Sun Valley is known as the haunt of some big-name celebrities. Also of interest, it was here that the chairlift was invented way back in 1936.
14. Taos Ski Valley, NM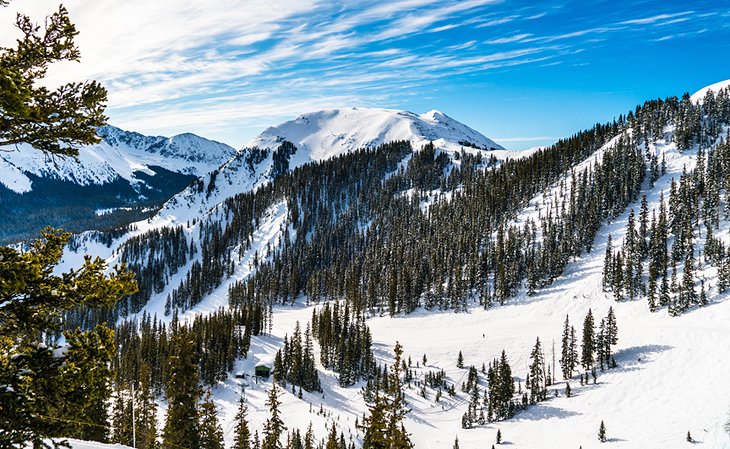 Located a couple of hours from Santa Fe, New Mexico, Taos is an old-school ski resort that has slowly been modernizing. It was taken over by a multimillionaire, who has invested $300 million in upgrades over the past several years. The changes have been a source of controversy, but the resort is now more focused on skier experience and customer service.
Taos currently offers a great mix of old school with touches of the 21st century here and there. But regardless of these changes, the terrain is still the terrain and the skiing is fantastic, particularly for more experienced skiers looking for challenges.
Novice skiers are sometimes intimidated by the mountain they see before them at the base in front of the main lodge. But this is just one area of the resort, and if you talk to staff, they will direct you to the areas designed for beginners and intermediate skiers.
A new base area gondola has made getting around easier, and The Blake at Taos Ski Valley, a new hotel, provides modern accommodation within walking distance of the lifts.
Taos is less than a two-hour drive from Santa Fe Regional Airport and just under three hours from Albuquerque International Sunport.
15. Keystone, CO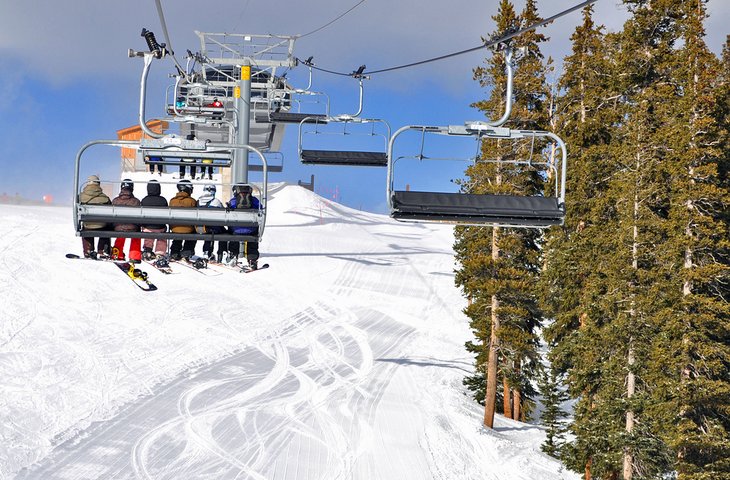 As you drive up Interstate 17 from Denver, one of the major turns is at Silverthorne. Up this road are two incredible resorts: Arapahoe Basin and Keystone.
The first of the two is Keystone, and you will be sorely tested not to veer off and try it out. Take your choice of runs from a smorgasbord of 128 green, blue, black, and double black runs spread out over six different mountains. A good rule of thumb is that the farther back you go, the more difficult the runs and terrain become. Keystone is a family-friendly resort with a great ski school and reasonably priced condo accommodation nearby.
Keystone receives nearly 20 feet of snow each year, and approximately 20 percent of the mountain is covered by an impressive snowmaking operation. As with other nearby resorts, the base area of Keystone is set at a high elevation, in this case 9,280 feet. This helps ensure a long season but can also be a challenge for those coming from sea level.
The mountain is spread out over 3,148 acres, and the vertical drop of 3,128 feet is serviced by an incredible 20 lifts.
16. Purgatory Mountain Resort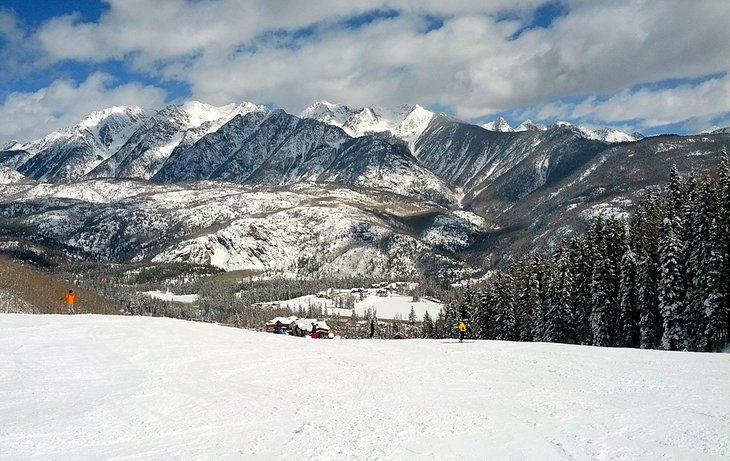 For a bit of skiing action in the San Juans, head to the southwest corner of Colorado and the family-friendly Purgatory Mountain Resort. Known locally as "Purg," this low-key ski resort has a wide variety of terrain suitable for skiers of all abilities.
More affordable than many of the other larger Colorado resorts, Purgatory is one of the best cheap ski resorts in Colorado. It has reasonably priced lift tickets, plus, kids under 12 ski free (and can mountain bike in the summer for free, too!) Adding to the value allure is the cheap accommodation in Durango, a fun mountain town just down the road.
17. Stowe, VT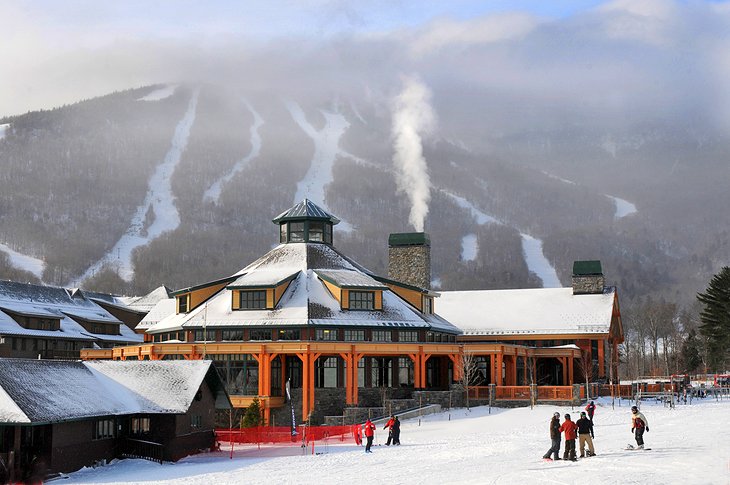 Stowe is located on Mount Mansfield, New England's highest mountain, and catches approximately 26 feet of snow each year. If Mother Nature needs a bit of help, Stowe has snowmaking capabilities on 83 percent of the ski hill.
For 2022/23 Stowe, is getting a brand new chair called Sunrise, it will replace the old triple chair. The number of skiers being uploaded uphill will increase substantially as the new lift will be a high-speed six-pack chair.
Uphill capacity is up to the task of handling the crowds. About 15,516 people can be whisked up to the top on 12 lifts, including two gondolas. The small resort town of Stowe is a lovely place to stay, with stellar restaurants, cozy inns, and good shopping.
The only downside to skiing at Stowe is the new charge for parking on Friday, Saturday, and Sunday, which is substantial at $30/day. If you have four people in your car, it's free.
18. Sugarbush Resort, VT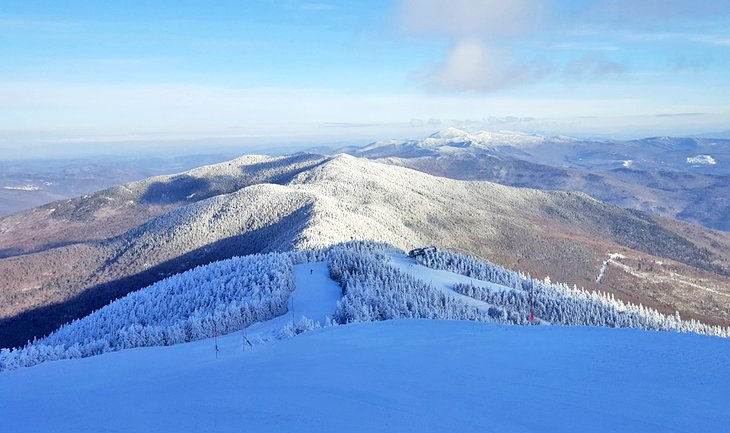 Sugarbush Resort, in Vermont, has 111 ski runs spread over 4,000 acres. The runs wind their way down through the trees on two mountains to multiple base areas. Just jump on any one of the 16 lifts and head back up to the top to tackle the varied terrain. New in 2021/22 is a T-Bar called KRBA.
Should you wish for a bit of out-of-bounds fun, CAT skiing is available on a per person basis, minimum six people required.
You'll find a quaint village at the bottom of Lincoln Peak, with a pedestrian-only area lined with restaurants, spas, and retail shops.
More Related Articles on PlanetWare.com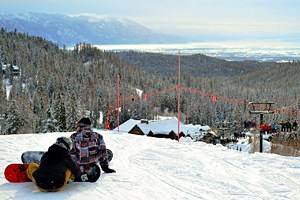 Best Ski Resorts for Budget Skiers: If you are looking for a cheap ski trip, where lift tickets are a reasonable price and lodging and other amenities are good value, have a read through our list of cheap ski holidays in North America.
You can find deals in some unexpected spots. For example, on the East Coast, you may not have thought about skiing in North Carolina, but these sunny slopes offer long runs, cheap lift tickets, and hotel prices that won't break the bank.
In the West, consider skiing in Montana to discover smaller resorts known for great snow and good prices. And in the Southwest, don't rule out the best ski resorts in Arizona, where if you're lucky, you can have a great powder day at places like Arizona Snowbowl.