17 Best Lakes in Colorado
It's hard to pick the very best lakes in Colorado when the state is home to more than 4,000 bodies of water, both natural and manmade. From high alpine lakes that require a hike through the backcountry to massive reservoirs outside major cities like Boulder and Denver, there are opportunities for all sorts of water sports, from sailing to boating to jet skiing. Fishing is also revered in Colorado lakes, and, best of all, it is a sport that can be done all year, with ice-fishing popular on many of the lakes listed here come winter.
Beyond getting into the water, lakes offer opportunities to hike, as well as beaches for sunbathing, picnic tables, campsites, and, often, cabins. Whether you are into boating or fishing or just absorbing all the natural beauty, this list checks out some of the very best lakes in Colorado.
1. Grand Lake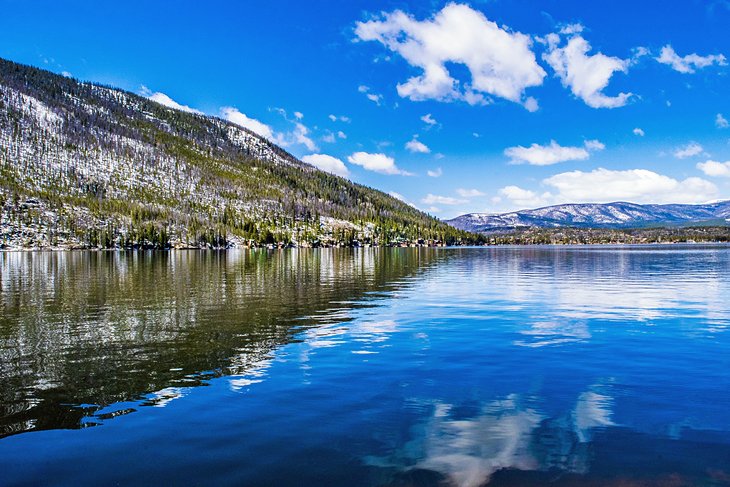 Colorado's largest natural body of water, Grand Lake is a deep blue beauty sitting in a high alpine location of 8,369 feet. The surrounding mountain scenery is equally beautiful.
The lake is adjacent to the town of Grand Lake, which serves as the western gateway to Rocky Mountain National Park. In summer, you can drive between it and Estes Park on the other side via Trail Ridge Road, which is the highest paved road in the US. It closes in winter.
Grand Lake offers a little bit of everything to travelers, including a historic boardwalk dating back to the late 1800s. Head to the Grand Lake Marina if you are planning to explore the lake by boat. You rent various kinds of boats here, as well as stand up paddleboards. There are also opportunities for water sports like waterskiing and wakeboarding.
Although the water stays chilly even in summer, many brave the temps for a swim, and there is a swimming beach area with picnic tables. There is also good fishing on Grand Lake.
2. Crater Lake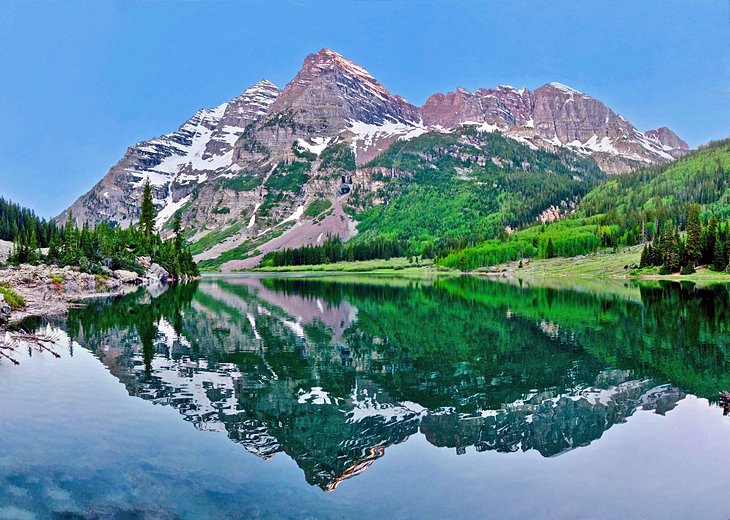 Backed by the purple-hued Maroon Bell peaks that rise regally behind it and are mirrored in its glassy surface, Crater Lake is easily one of Colorado's most stunning natural tableaus. To reach Crater Lake, just outside Aspen, you'll have to hike in and out via a 3.8-mile, round-trip trail.
Moderately difficult with a 692-foot elevation gain, the hike is best in summer and early fall - by November the trail will be snow-covered. In early October, when the aspen trees surrounding Crater Lake are turning golden, the scenery is even more brilliant. This is a good time to photograph the lake as well.
3. Horsetooth Reservoir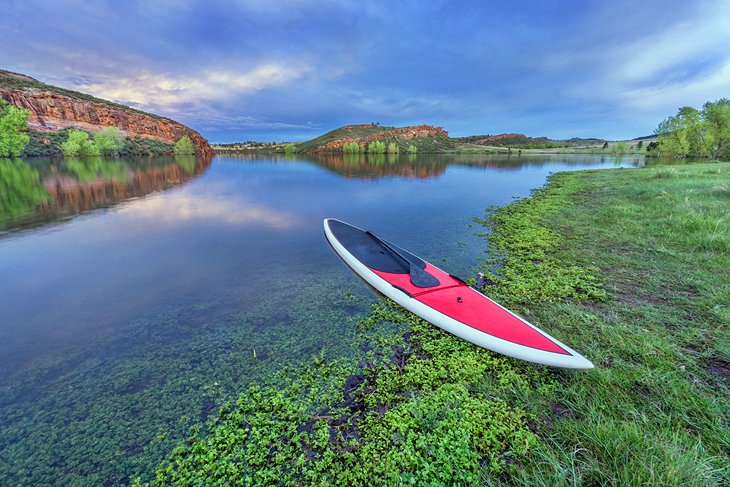 If you're looking for water sports and swimming, then Colorado's numerous reservoirs are often where to head, especially on hot summer days. Horsetooth Reservoir just west of Fort Collins is one popular option. The large manmade lake is a favorite with swimmers, boaters, and anglers.
In summer there is swimming at the specially designated Swim Beach. You can fish from boats or from the shore and there are also hiking and cycling trails around the lake itself. To rent boats, paddleboards, or kayaks head to the local marina. Waterskiing is also allowed here.
Finally, should you wish to stay, there are campsites and cabins open year-round. There are also picnic tables.
4. Lake Granby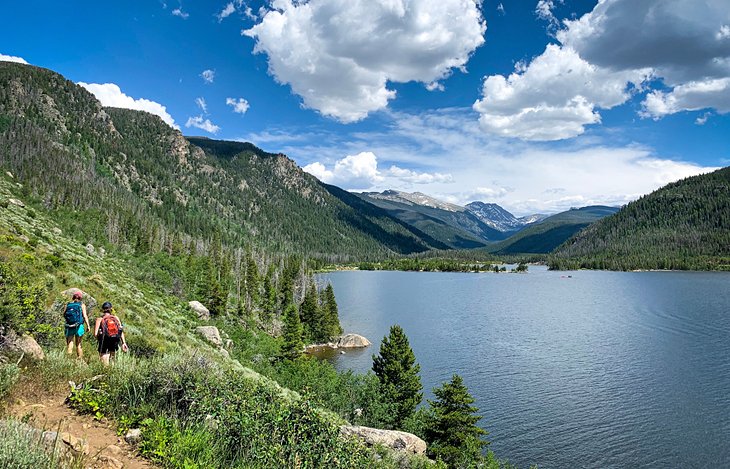 Just five miles outside the town of Granby, Lake Granby is right on the Colorado River and also right by Grand Lake. Created in 1950, when the Granby Dam was built, it is the third largest body of water in Colorado, with 40 miles of shoreline.
One of the best fishing lakes in Colorado, Lake Granby is stocked with trout and kokanee salmon. You can fish from shore or take a boat out. There are three boat launches and the Lake Granby Yacht Club here.
The area around the lake is popular with hikers in summer and snowmobilers in winter.
5. Boulder Reservoir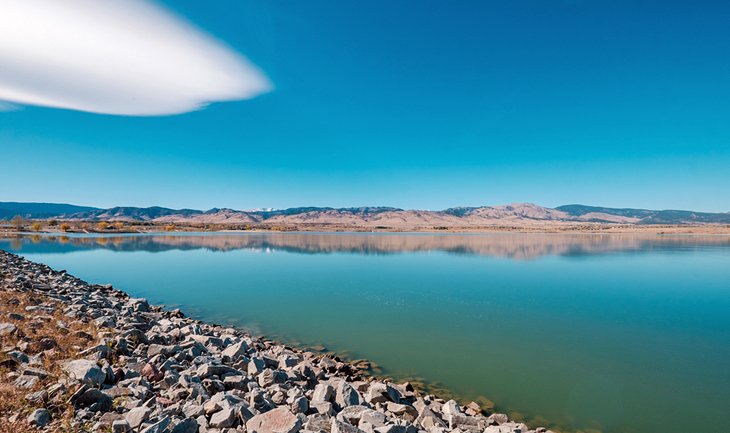 With fantastic views of Boulder's signature flatirons, the manmade Boulder Reservoir is another revered local lake. It's one of the best spots in Colorado for boating, fishing, swimming, and other recreation. There is a beach area for swimmers and sunbathers and also plenty of options to get on the reservoir in a boat. Community Sailing of Colorado offers sailing classes and rentals if this is something you'd like to try.
You can also rent pontoon boats from Rocky Mountain Paddleboard and spend the day fishing and chilling on the lake. There is also good fishing for bass, catfish, crappie, rainbow trout, and walleye, among other species, from the fishing dock or by following the Boulder Reservoir Loop Trail to find a quiet spot of your own. You must have a Colorado fishing license. These can be purchased online in advance.
6. Steamboat Lake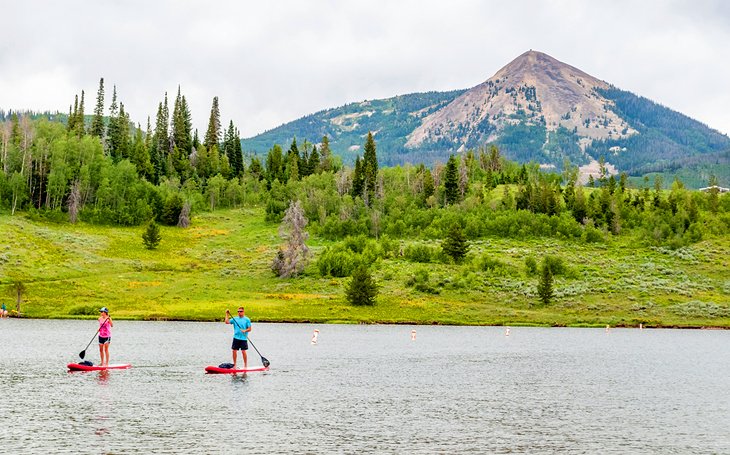 In northwestern Colorado, north of the town of Steamboat Springs, is Steamboat Lake. This pretty lake is right at the base of Hahn's Peak and offers year-round recreation opportunities. It also has cabins and yurt rentals, even in winter.
During winter, when the lake freezes over, it is popular with ice-fishing enthusiasts. In summer, activities range from jet skiing and fishing to boating, canoeing, and stand up paddleboarding. There are also hiking trails around the lake and opportunities for horseback riding and mountain biking.
7. Dream Lake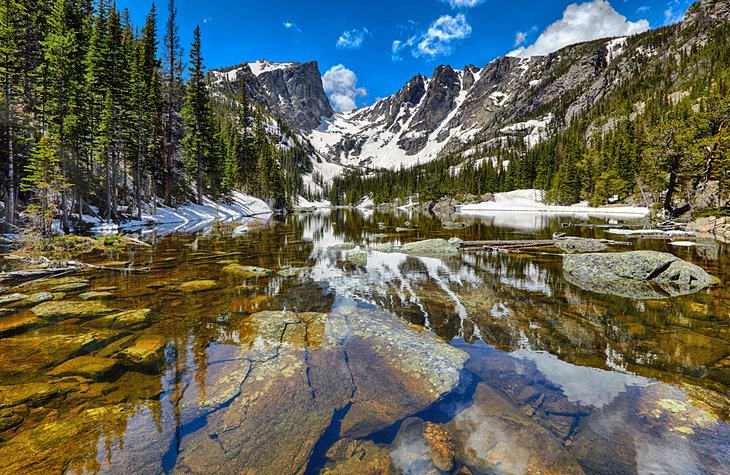 In Rocky Mountain National Park, Dream Lake is positively dreamy in the early morning, when the rising sun turns it pink and purple. As such, it is one of the most popular destination hikes in the park. It's also an easy hike, making it popular with families.
The trail is just 2.2 miles out and back and starts at the Bear Lake trailhead. Along the way, you'll pass the pretty Nymph Lake, but make sure to continue on to Dream.
If you want to experience Dream Lake with few to no other people, then pay a visit in winter. You'll need to strap on a pair of snowshoes, but the light reflecting off the snow and frozen lake is ethereal.
8. Shadow Mountain Lake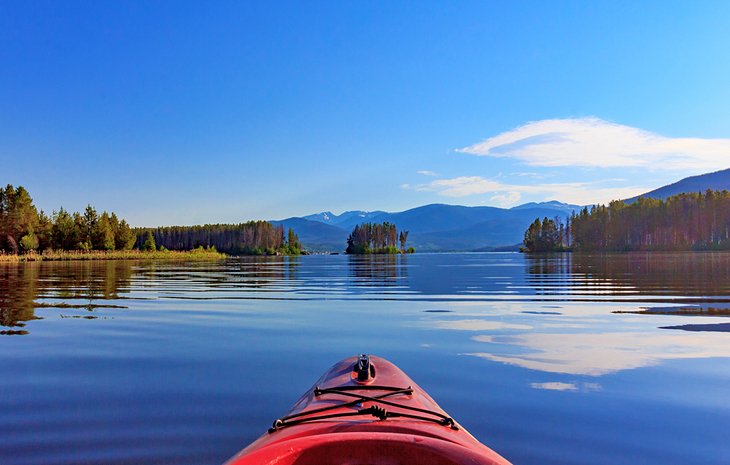 Connected to Grand Lake by the Colorado River, Shadow Mountain Lake is the third sister in a group of high alpine bodies of water (Granby Lake is the other) set against the beauty of the Rocky Mountains. Shadow Mountain Lake has great fishing, including brown trout, rainbow trout, and salmon. There are also opportunities for fly fishing on many of the surrounding creeks or the Colorado River.
Boating is popular in summer, as well as jet skiing, waterskiing, sailing, and kayaking. There are plenty of lodging options in the nearby towns of Grand Lake and Granby.
9. Blue Mesa Reservoir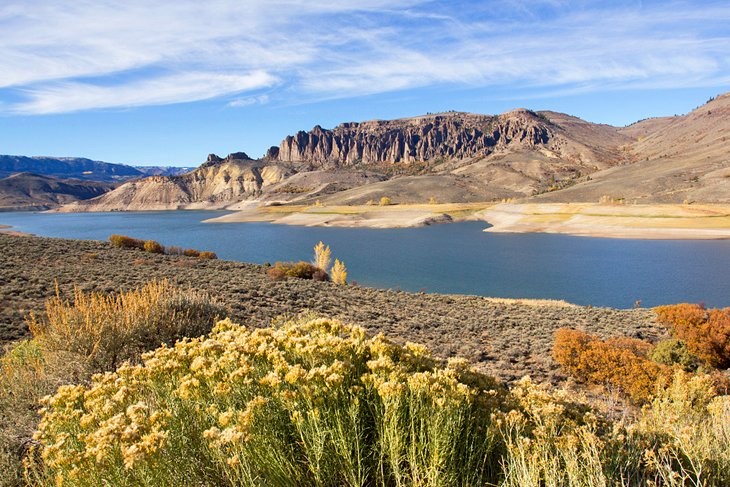 Near Gunnison in western Colorado, Blue Mesa Reservoir is Colorado's largest body of water, although it is not a natural lake. Covering 20 miles and boasting 96 miles of shoreline, Blue Mesa is a lot of fun in summer. There are two full-service marinas, where you can rent powerboats, as well as kayaks and stand up paddleboards.
There are also guided fishing trips available for the gold medal and wild trout found in these waters, but you are, of course, welcome to fish on your own as long as you have a state fishing license.
While at the lake, grab lunch at Pappy's Restaurant, which has a picturesque location facing the lake. Grab a seat on the patio and indulge in Colorado comfort food, including local trout.
10. Lake San Cristobal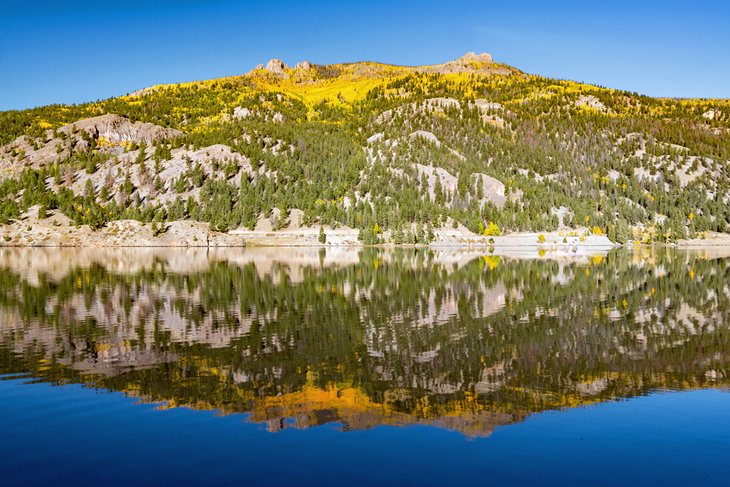 Colorado's second largest natural lake, Lake San Cristobal outside of Lake City, shimmers like reflective glass, especially in the early morning or at sunset, when the mountains and colors playing across the sky are mirrored in it.
The lake is stocked with a variety of trout, and you can fish from any of the public access points along the shoreline. Or you can take a boat out and fish from the surface. You can purchase a fishing license at the lake or in Lake City.
There is a public boat ramp, dock, and parking area on the west side of the lake, and fishing boats, kayaks, canoes, and stand up paddleboards can all be rented in Lake City.
11. Two Rivers Lake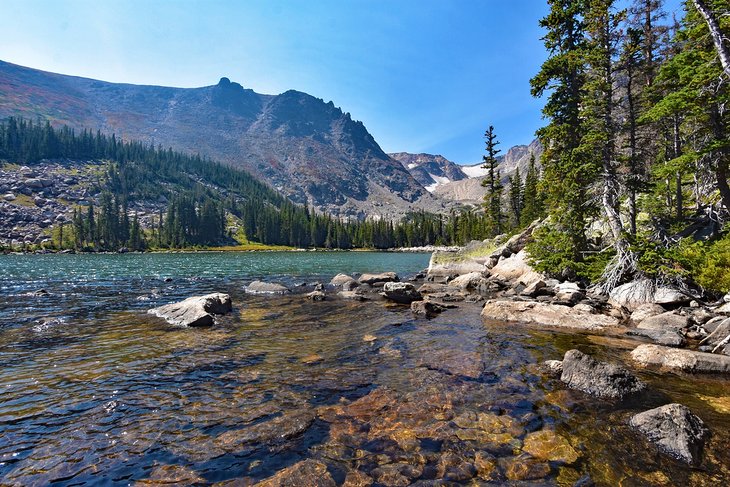 One of the most spectacular lakes inside Rocky Mountain National Park, Two Rivers Lake is at the headwaters of Mill Creek just below the Continental Divide. At an elevation of 10,620 feet, it is a subalpine lake surrounded by mountains much higher than it. On a clear day, the lake is like mirrored glass, and you can see 12,129-foot Notchtop Mountain reflected in the shallow basin.
All this beauty comes at a physical excursion cost, however. You can't just drive here. Instead, you'll need to hike in and out via the Fern Lake or Bear Lake trails. Bear Lake is the easier of the two and is 5.6 miles round-trip. It is still moderately difficult, however, gaining 1,150 feet in elevation on the way to the lake.
12. Monarch Lake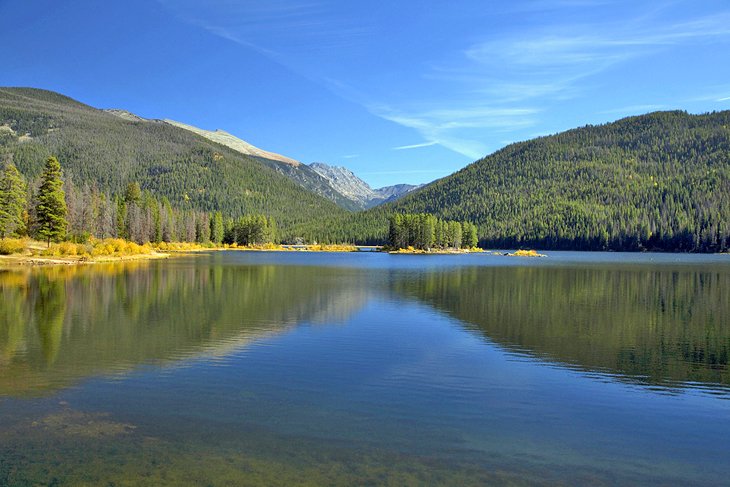 It is an easy, four-mile loop hike to Monarch Lake in the Indian Peaks Wilderness just south of Rocky Mountain National Park by the town of Granby. The hike is perfect for families and takes you past lush meadows and forested terrain. There are also opportunities to spot all kinds of wild creatures, from fox to moose, elk, and deer.
Once you reach the lake, there is good fishing for trout. You will need a Colorado fishing license, however.
13. Chasm Lake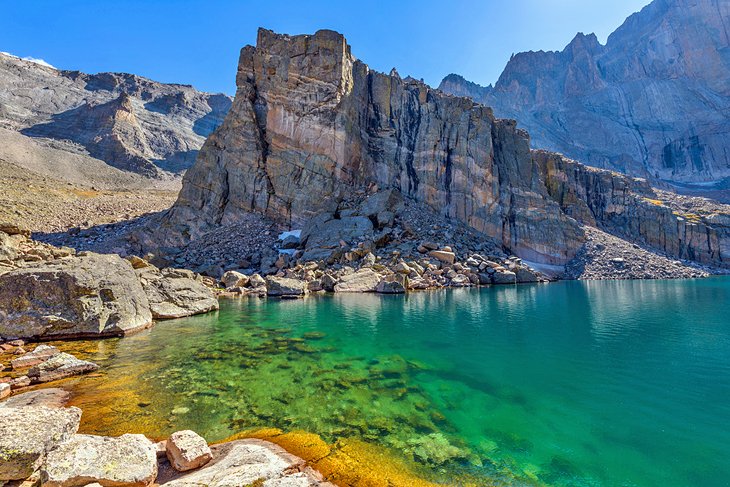 In beautiful Rocky Mountain National Park, Chasm Lake is located at 11,803 feet and requires a strenuous 4.2-mile hike to reach from the Longs Peak Trailhead - and then the same distance back out. The hike gains more than 2,300 feet in elevation and takes you past upper and lower Columbine Falls and through open tundra before reaching the dramatic alpine lake that sits in a basin at the base of Longs Peak, Mt. Meeker, and Mount Lady Washington. The views are well worth the effort it takes to get here. There is also the backcountry Battle Mountain campsite a few miles from the lake.
14. Dillon Reservoir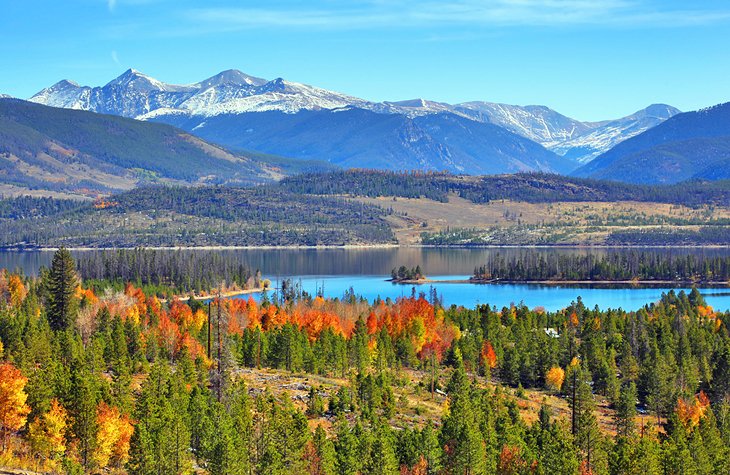 Also known as Lake Dillon, this large reservoir in Summit County actually supplies Denver with its drinking water and is owned and operated by that city's water utility, despite being two hours away. It is also a popular recreation area, with 26.8 miles of shoreline that is close to the ski resorts of Keystone and Breckenridge.
The reservoir stays open year-round. In summer, you can take out motorized and non-motorized boats from two marinas and fish from the shoreline or on the water. In winter there is ice fishing, as well as nordic skiing around the lake.
The lake is between the towns of Frisco and Dillon, both of which have numerous lodging options - catering especially to budget-focused travelers and families with kids - as well as a variety of restaurants.
15. Lake Isabelle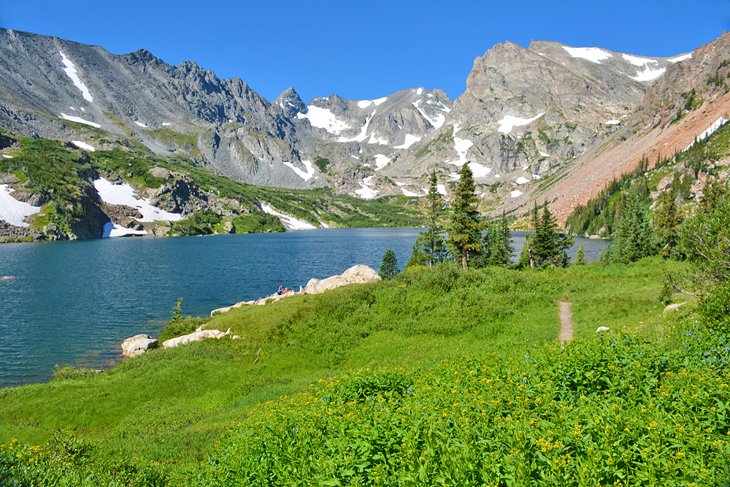 Not far from the eclectic mountain town of Nederland, Lake Isabelle requires an 8.6-mile out-and-back hike to reach. Gaining 987 feet in elevation, the hike is moderately strenuous and is best undertaken between June and October, when the snow has mostly melted. In October, when the leaves are changing colors, it is absolutely breathtaking.
The trail begins in the Brainard Lake Recreation Area, which requires a $12 fee to enter, although most of the hike is in the Indian Peaks Wilderness.
16. Green Mountain Reservoir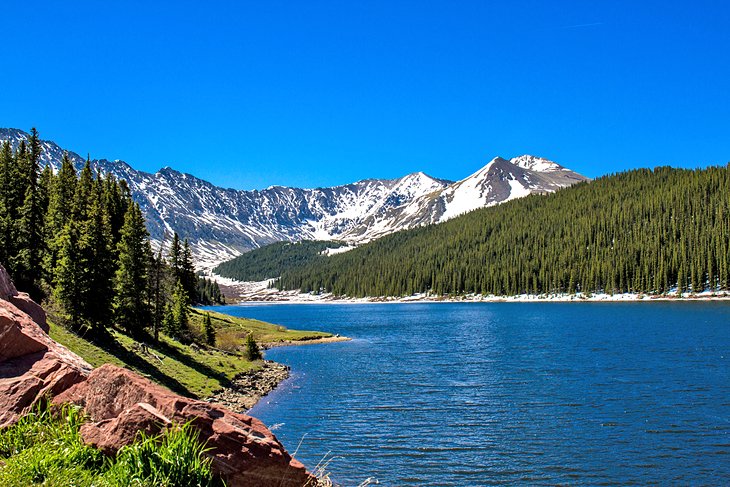 At the north end of Summit County along the Blue River, manmade Green Mountain Reservoir is a fun place to plan a summer camping trip on the water with a group of friends or family. It can actually get quite crowded June through August on weekends, when Colorado residents come from the cities to stay in its high alpine camp sites and cabins or make use of the RV hookups. There is plenty to do, including a swimming beach and area, fishing, boating, and hiking in the surrounding mountains.
17. Gross Reservoir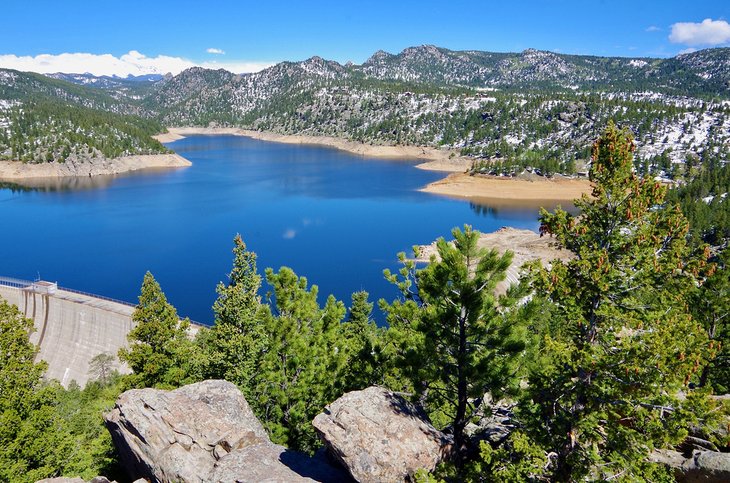 Gross Reservoir is a high alpine lake atop Flagstaff Mountain just a short drive from Boulder. It has 11 miles of shoreline, which you can hike around. One of the most popular hikes is the four-mile out-and-back Forsyth Canyon Trail that follows a stream up to a small waterfall. The lake is also popular with SUP boarders, kayakers, and other non-motorized watercraft, from Memorial Day to September 30.
The scenery here is absolutely stunning, with views of the craggy peaks of the Rocky Mountains. Note that this lake sits at an elevation of 7,500 feet, and the weather here can change very quickly due to the lake's proximity to the Continental Divide – the water remains cold year-round as well. Late afternoon summer thunderstorms are common, and you'll want to keep an eye on the sky and make sure you aren't too far out if you are boating under fast-moving clouds. Swimming in the 440-acre lake is prohibited.
If fishing is your sport, anglers will find many game species in Gross Reservoir. These include rainbow, brown and lake trout, kokanee salmon, and tiger muskie. You will need to have a fishing permit to cast a line here. Camping spots are also available.
Map of Lakes in Colorado
More Related Articles on PlanetWare.com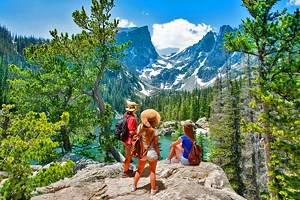 Colorado Outdoors: Nature lovers can find a world of opportunities for adventures in this beautiful state. Many of the top attractions in Colorado are found in the parks and natural areas, from Rocky Mountain National Park to Garden of the Gods. Even if you are only visiting Denver, you can find many nearby hiking trails that will take you to some outstanding scenery. If you are looking for a smaller community to base yourself, where you can get out and enjoy nature, consider Durango, home to great hiking, biking, white water rafting, and much more.