From Denver to Vail: 5 Best Ways to Get There
The Bavarian-style mountain town of Vail is located just off I-70 just under 100 miles from Denver, and there are a number of ways to get between Colorado's capital city and this beloved ski town.
The Eagle County Regional Airport services Vail, but it is located in the town of Gypsum, about a 35-minute drive west. In winter, there are direct flights from some 14 cities on American Airlines, but in summer, these options drop to just Denver and Dallas, and only Denver has flights year-round.
Additionally, flights tend to be more expensive. Most travelers opt to fly into Denver International Airport and then make their way by land to Vail.
From Denver, it is just under a two-hour drive to Vail via I-70, depending on weather and traffic (the latter can be heavy on weekends during ski season). Note that winter driving conditions between Denver and Vail can be intense. Snow usually starts falling in the area in November, and major storms can be expected through April.
When winter weather hits, you can expect to encounter whiteout conditions and very slippery roads, especially on the mountain passes. I-70 may also shut down due to accidents or blizzard conditions. See the Denver to Vail by Car section for more on winter driving.
If you don't want to drive yourself (and really there is no reason to do this if you are just staying in Vail, as public transport takes you everywhere, and parking is pricey) you can book a shuttle or private car service, or even hop on public transport from the Mile High City.
Really, how you cross the Front Range of the Rocky Mountains separating Denver from Vail will depend on your budget and travel priorities. But if you enjoy checking out stunning scenery on road trips, we recommend making the journey by land.
1. From Denver to Vail by Private Limo Transfer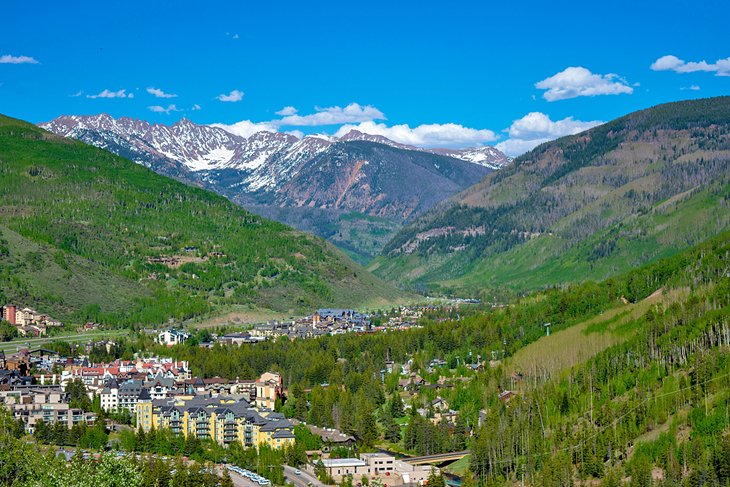 For VIP, door-to-door service, skip the rental car and book a Private Limo Transfer from Denver International Airport directly to your hotel in Vail. These transfers keep your stress level at a minimum since they'll meet you inside the airport terminal, assist you with getting your bags to the vehicle, and then take you up to the mountains in a stylish luxury SUV or limo. You also won't have to share the drive with anyone outside your group, and you'll be able to play music over bluetooth along the way.
All the drivers are Colorado residents, and passengers are encouraged to ask them questions about the area. You'll also have a selection of drinks and snacks for the ride. If you need to stop for a bathroom break, just ask.
2. From Denver to Vail by Shuttle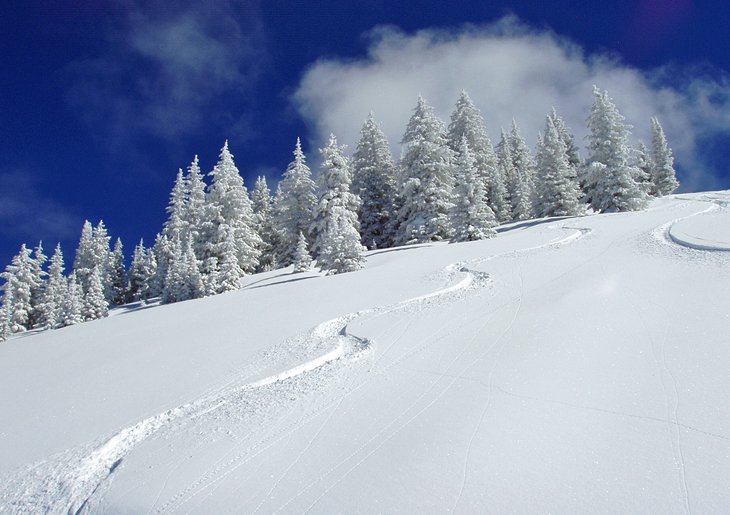 Another choice, if you don't want to drive yourself but don't want to splurge for a private service, is to take the shuttle transfer offered by Epic Mountain Express. The company does multiple daily transfers in small vans between DIA and most Vail area hotels and resorts. These shuttles can seat up to 10 people and depart frequently in both directions.
The trip takes just over two hours. The vans are comfy but, depending on your drop-off order, tend to take a bit longer than the private vehicle transfers where only your party is riding.
3. From Denver to Vail by Car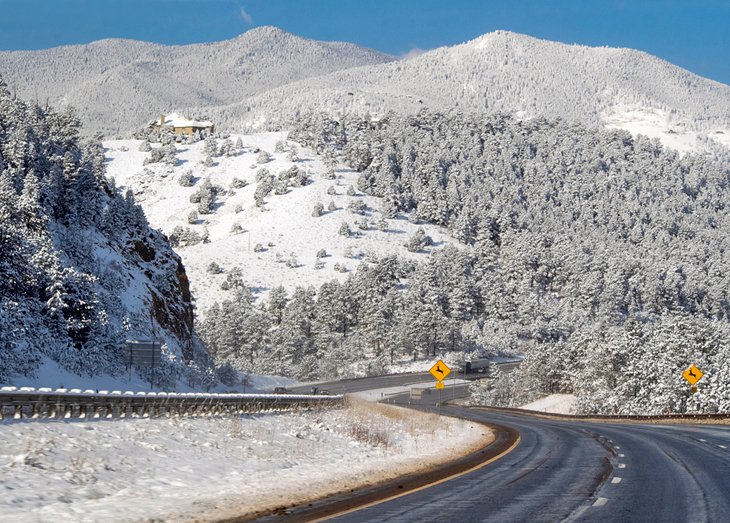 Parking in Vail is expensive, and unless you are staying in one of the outlying towns like Edwards or Eagle, driving yourself to Vail may actually be less convenient and more pricy than taking one of the shuttle options mentioned above.
This is because Vail Village itself is car-free, so you'll have to park in a lot or at your hotel. There is also a free public transport system, with buses that run frequently between East and West Vail, Vail Village, and Lionshead, which are where most of the accommodation and dining options are located and where you'll find the ski lifts.
If you are staying in one of the outlying towns, however, or you want to explore outside of Vail, then driving a car makes sense, and it is quite easy.
Rental cars can be obtained at Denver International Airport or from various outlets around the city center, depending on your starting point. The drive is around 100 miles and a direct shot on I-70 westbound - you can see Vail on the left side of the highway coming over Vail Pass. It takes less than two hours unless you run into weather or traffic conditions.
Note that if you are traveling on I-70 during the weekends in ski season you are likely to encounter significant traffic. This stretch is home to some of the best ski resorts in Colorado. There is an option for a toll lane that moves slightly faster for portions of the drive.
It is important to know when renting a car in winter that Colorado has strict winter driving traction laws. These go into effect when it snows heavily, and when they are in effect, you will only be able to drive a car that is equipped with either 4WD or all-wheel drive or winter driving tires or, in some cases, both. Attempting to drive without is both dangerous and illegal – the fines are high if you get caught.
By comparison, summer driving conditions between Denver and Vail are much more pleasant. Although traffic can quickly pile up on weekends, days are usually sunny. But always be prepared for the unexpected – quick snow squalls are not unheard of on Vail Pass in July and August.
4. From Denver to Vail by Bus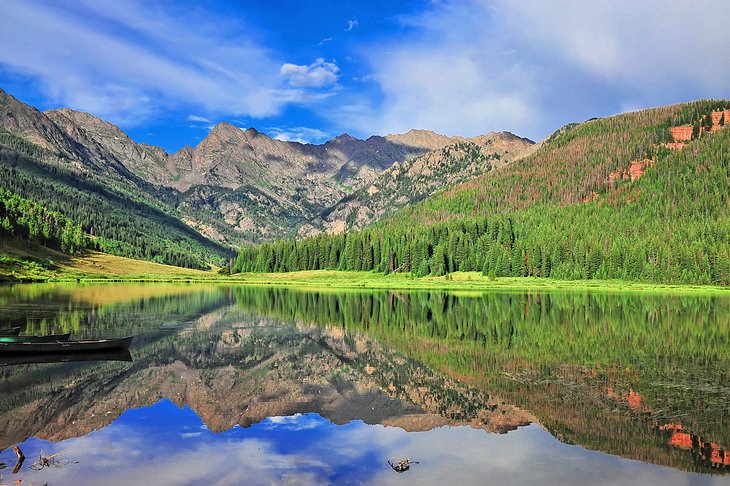 The cheapest way to get between Denver and Vail is to take public transportation utilizing the Colorado Department of Transportation's Bustang system. This option costs just $17 each way.
From Union Station in downtown Denver, you will take the CDOT West Line bus (departs twice daily at 7am and 5.40pm) west to the Vail Transportation Center. The trip takes just 2.5 hours. From here, you can walk or catch the free Vail bus to a stop near your hotel. If you are staying farther out, you may have to book an Uber or Lyft to your hotel or resort from the bus stop.
5. From Denver to Vail by Air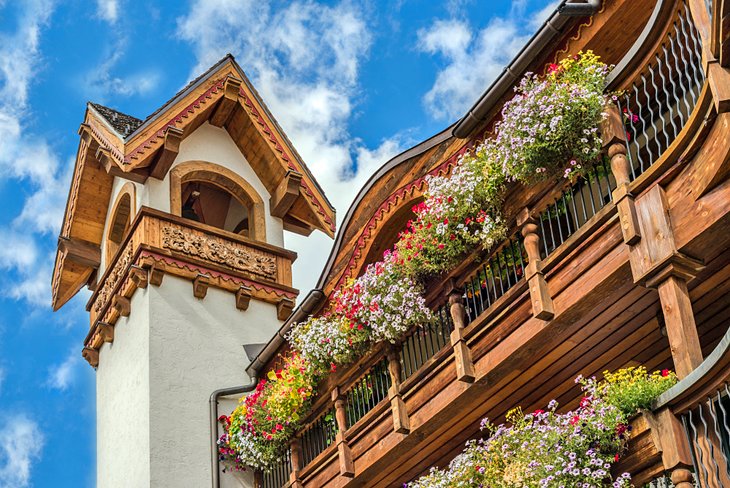 You can also fly between Denver International Airport (DIA) and Eagle Country Regional Airport, which is about 35 minutes west of Vail. There are direct flights on American Airlines. In winter, these direct flights operate between Eagle and 14 different cities, including San Francisco, Los Angeles, Phoenix, Dallas, Chicago, Miami, and New York.
In summer, however, there are only direct flights between Eagle-Vail and Dallas, and in the fall and spring swing seasons, American drops the flight options to just Denver (although you can connect through Denver from nearly anywhere).
Vail - Climate Chart
Average minimum and maximum temperatures for Vail, CO in °C
J
F
M
A
M
J
J
A
S
O
N
D

-3

-17

0

-14

3

-10

8

-6

14

-1

21

1

24

4

23

4

19

0

12

-5

2

-11

-3

-16

PlanetWare.com
Average monthly precipitation totals for Vail, CO in mm.

42

42

47

54

46

33

57

38

42

39

40

40