16 Best Christmas Towns in Colorado
We may earn a commission from affiliate links ()
Christmas in Colorado is a magical time, with historic small towns and vibrant cities lit up with twinkling holiday lights set against a snow-draped Rocky Mountain backdrop. From sleigh rides to torchlight parades down ski resort slopes and tree lighting ceremonies to Santa runs, Colorado excels at putting on a show each festive season.
Whether you are a couple looking for a romantic getaway with good skiing and top-notch dining or a family whose kids just want to take a train to see Santa at the North Pole, choose a place to celebrate this holiday season with our list of the best Colorado Christmas towns.
Note: Some businesses may be temporarily closed due to recent global health and safety issues.
1. Durango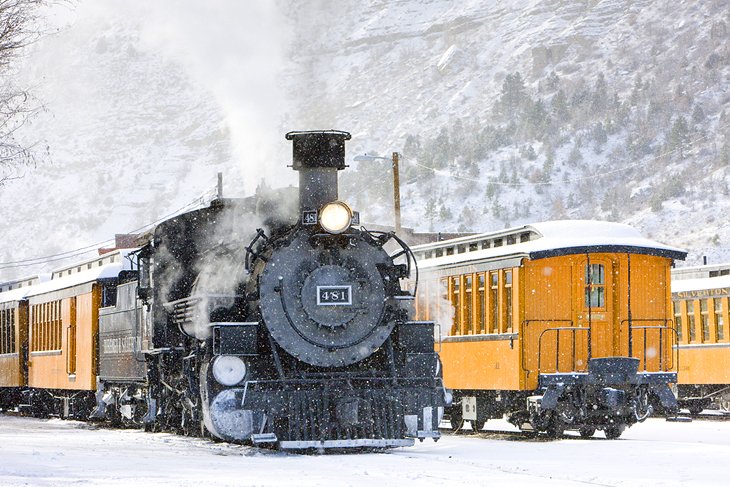 Durango is picture-perfect at Christmastime and a wonderful place to plan a family vacation at this time of year. The mountain town in Colorado's southwest corner features a wonderfully decorated, small downtown lit with thousands of lights throughout the season. There is an arts and crafts festival held the first weekend of December to kick off holiday shopping, and many of Durango's boutiques sell unique Colorado made gifts.
For children, the most beloved Christmas tradition is riding the Polar Express Train to the "North Pole," which is operated by the Durango & Silverton Narrow Gauge Railroad. On the ride to the North Pole, your little one will get to listen to the Polar Express story while sipping on hot cocoa.
After meeting Santa and his elves and reindeer at the North Pole stop, he boards the train for the return ride and delivers a special gift to each child while carols are sung. Most kids wear pajamas for the trip, which runs nightly between mid November and early January.
2. Breckenridge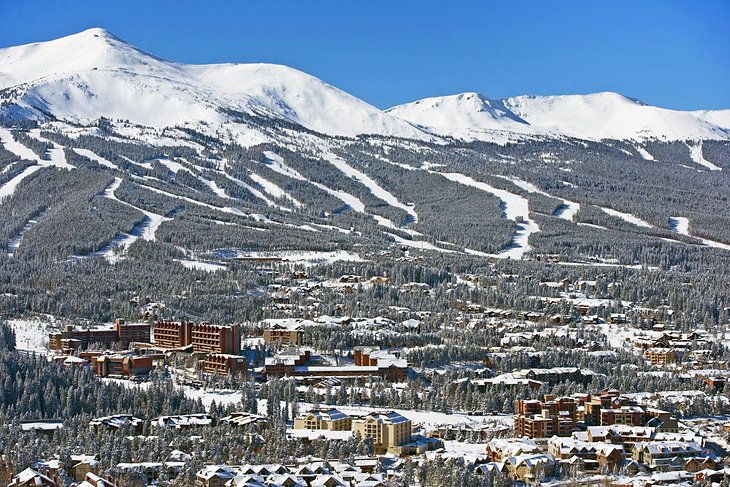 If you can make it up to Breckenridge on the first Saturday in December, you can experience its most unique Christmas event: Race of The Santas. That's when hundreds of people dressed in Santa suits and sneakers hit Main Street for a 5K race. It is quite a spectacle. The Santa race is just the start. There is also a Holiday Dog Parade for pups and the Lighting of Breckenridge, when the city flicks the switch on its holiday light display.
A true blue mining town dating back to the 1800s, Breckenridge looks the part of a Victorian-era Christmas town, with historic homes and lampposts, and is a charming place to spend the holidays. There is much to do, from sleigh rides to dog sledding to, of course, world-class skiing at Breckenridge Ski Resort.
Breckenridge also has a reputation as a family-friendly vacation spot, and a lot of the lodging here is of the multi-room condo variety, making the town perfect for a multi-generational vacation.
3. Telluride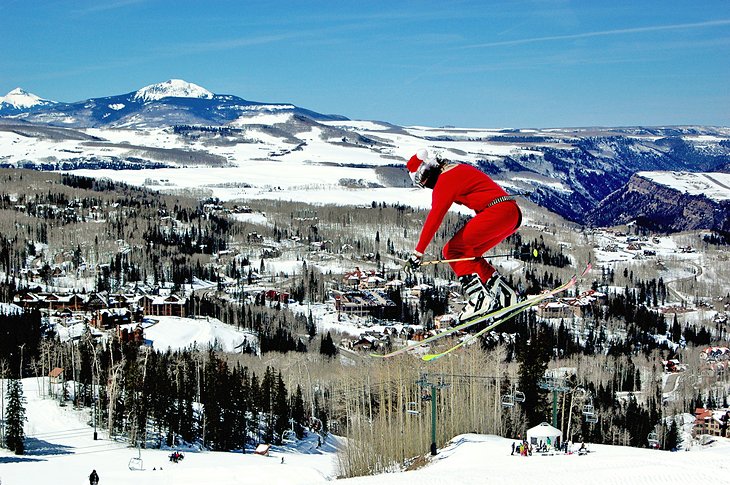 The rugged mountain town of Telluride, in a remote location in Colorado's San Juan range, is another quintessentially perfect Colorado Christmas town. Not only is the valley floor location picture-perfect, but the town also pulls out all the stops to celebrate the holiday season–both on and off the ski slopes.
Everything kicks off with the Holiday Prelude, which is a weekend packed with events to get visitors into the festive spirit. There is free ice-skating, hot cocoa, crafts for kids, a Santa workshop, and holiday movies shown at locations throughout town.
Telluride also lights its town Christmas tree this weekend. On Christmas Eve, the action moves to the ski slopes, which are lit up thanks to a gorgeously choreographed Torchlight Parade down the mountain by ski school employees carrying blazing torches. They are illuminated even further by a fireworks display above the mountain.
4. Aspen
Running for the last 12 days of December annually, the 12 Days of Aspen celebration makes this former mining town another favorite Christmas destination. Although in winter Aspen and neighboring Snowmass are most definitely famous for their fantastic skiing and snowboarding on varied terrain, there is plenty to do off the slopes as well, especially around Christmas.
During the 12-day celebration, you'll find everything from kids ornament workshops and stocking decorating to story hours and cookie-making classes. There are also film screenings, magic shows, ice-skating, and fireworks.
If you're trying to have a romantic Christmas for two, there are plenty of adult-themed events as well, including private snowcat tours, set-course gourmet dinners, and live music.
Aspen's legendary slope-side hotel, The Little Nell, celebrates its 30th birthday this holiday season as well. As such, the five-star resort has events planned throughout the festive and winter season. The celebrations kick off with a Dinner Through the Decades event.
5. Georgetown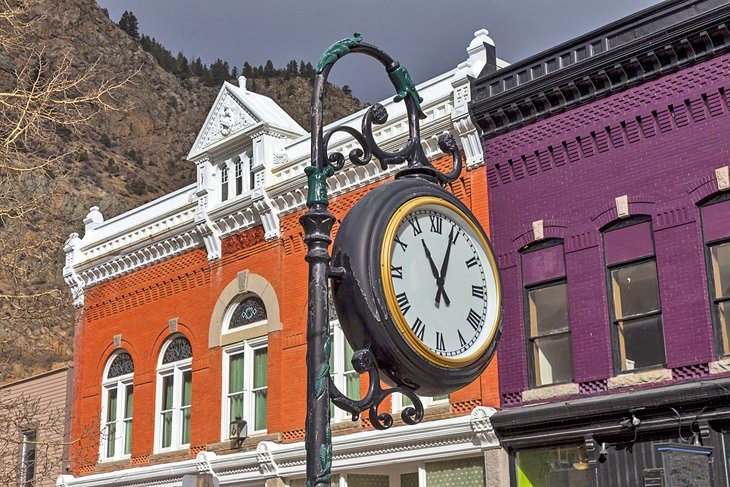 The sleepy mountain hamlet of Georgetown puts on quite a show for Christmas. During the festive season, Georgetown, located just off I-70 and surrounded by towering mountains, transforms into an old world European Christmas market town–there are even chestnuts roasting on an open fire and plenty of carolers in Victorian garb.
The Annual Historic Georgetown Christmas Market also features unique handcrafted gifts and ornaments, horse-drawn wagon rides through the historic small town, live music, dancing, and plenty of food vendors.
Christmas at the Hamill House is another cherished Georgetown holiday event. It requires tickets and includes a Victorian feast and caroling. Most people visit Georgetown for the day–it's less than two hours from Denver.
6. Estes Park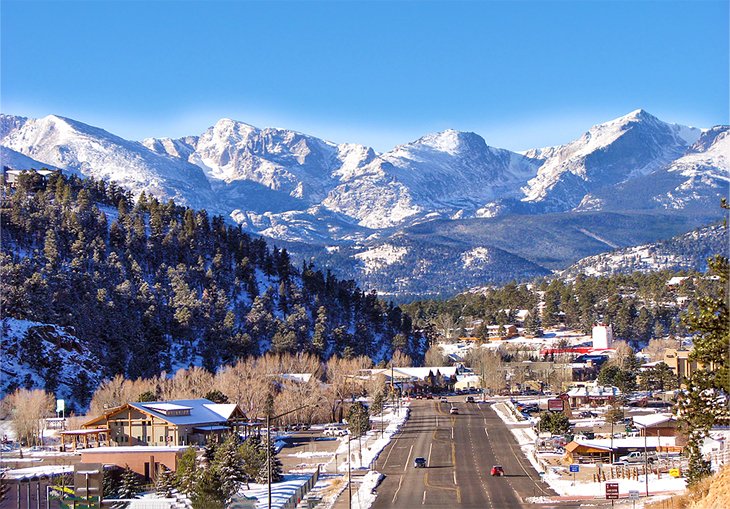 Estes Park is another charming Colorado Christmas town. The town kicks off the festive season the day after Thanksgiving with its Catch the Glow Parade and Celebration featuring floats, marching bands, dancing, and live music. The town hosts holiday events every weekend in December, including a Breakfast with Santa event.
Estes Park also serves as the gateway to Rocky Mountain National Park, which stays open year-round. Winter is a special time to visit. There are fewer crowds, and you can explore the snow-covered landscape on cross-country skis or snowshoes. Estes Park is also filled with hotels and restaurants, including The Stanley Hotel, the famous hotel that inspired Stephen King to write his horror classic The Shining.
7. Colorado Springs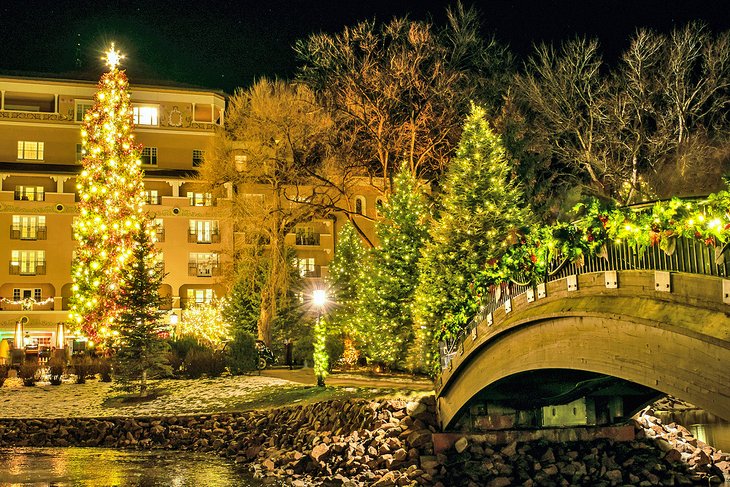 Colorado Springs kicks off the Christmas season with an annual Festival of Lights Parade through downtown Colorado Springs. This is far from the only event, however. The city at the base of Pikes Peak twinkles with holiday lights and festive events throughout the season.
If you have children, book a trip on the Santa Express Train to the North Pole to meet Santa and his elves. Kids usually wear pajamas for the train ride, which departs from the Royal Gorge Railway depot in Canon City south of Colorado Springs. Cookies and hot chocolate are served, and there is Christmas music playing.
The Broadmoor is also magical around Christmas. The five-star resort is decked out with thousands of holiday lights, a luxuriously decorated tree, and an extensive gingerbread house collection displayed around the elegant interior. The resort also puts on a holiday show with live music and dinner.
Accommodation: Where to Stay in Colorado Springs: Best Areas & Hotels
8. Salida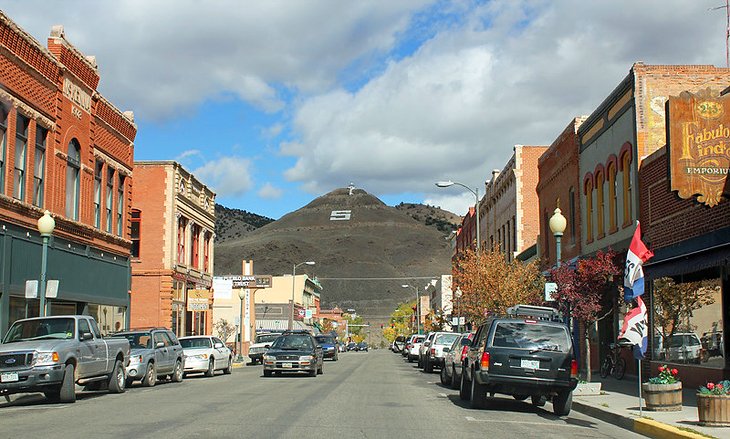 The mountain town of Salida celebrates Christmas a little differently than most towns, choosing to decorate a mountain instead of a Christmas tree. Every holiday season, hundreds of brightly colored lights are strung up on Tenderfoot Mountain to create the outline of a massive–750-feet to be exact–Christmas tree. The lighting ceremony includes a fireworks display and an outdoor and indoor festival with free cookies and hot chocolate.
Another celebration takes place at the nearby Monarch Ski Area when Santa comes to ski on Christmas Eve and the day before. The mountain is open for skiing and riding, and kids have a chance to interact with Santa.
9. Frisco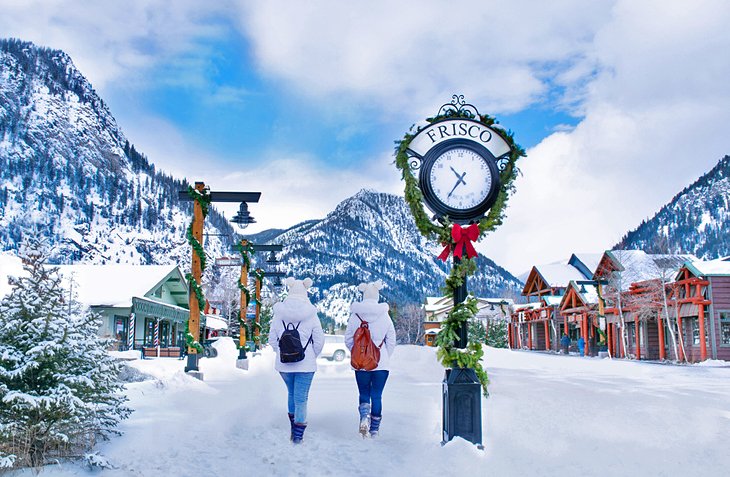 If you plan to ski Keystone, Breckenridge, or Arapahoe Basin resorts this holiday season, then the cute mountain town of Frisco makes a perfect base with a strategic location between the some of the best ski resorts in Colorado. It also puts on a show for Christmas, beginning with a town tree lighting the weekend after Thanksgiving.
Then in the days leading up to Christmas, families will appreciate a number of opportunities for kids to meet Santa, as well as activities like free sleigh rides and tubing at the Frisco Adventure Park. If you're looking for affordable lodging large enough for a family, Frisco also wins with rates lower than Breckenridge.
10. Steamboat Springs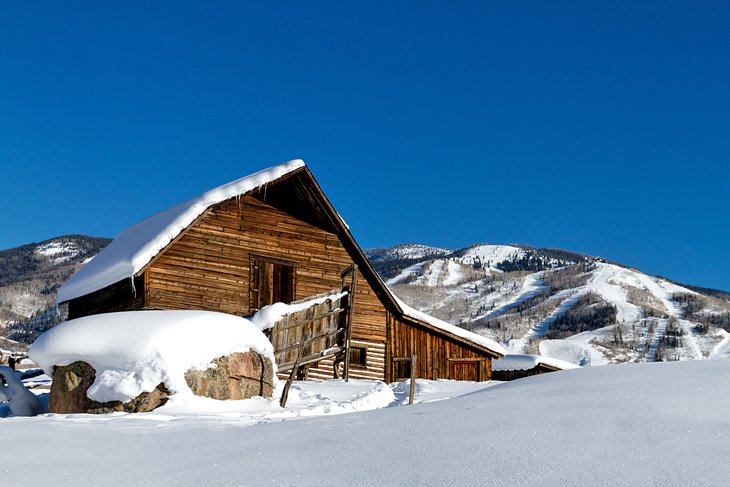 The northern Colorado ski town of Steamboat Springs celebrates Christmas in Wild West style each year. Held a few days before Christmas, the day-into-night event begins with Santa riding down the ski slopes on horseback before heading to his workshop to hang out with his reindeer friends and any children who want to visit.
The event takes place at the base of the ski resort. It also includes cookie decorating and live music. After the sun sets there is a torchlit parade down the mountain and fireworks, and the resort is open for night skiing.
11. Manitou Springs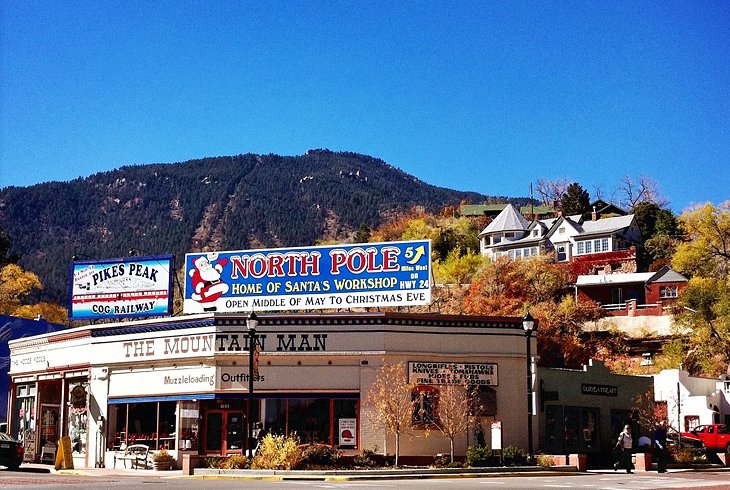 Located just eight miles west of Colorado Springs in a canyon at the very base of Pikes Peak, Manitou Springs is a charming little town. The main street is lined with shops–some are specifically Christmas focused, with numerous ornaments and other decor–as well as restaurants and plenty of attractions for families, including a penny arcade that kids love.
Manitous's most famous festival happens just after Christmas in late January, when the town holds its famous Manitou Springs Great Fruitcake Toss. It's a super quirky affair, where homemade catapults are used to toss leftover holiday fruitcakes, and whoever sets the record wins a prize.
Just west of Manitou Springs on Hwy 24 at the entrance to the Pikes Peak Toll Road is Santa's Workshop at the North Pole. The attraction stays open year-round but is obviously most magical for kids around Christmas time. You can visit Santa's house here and see the "North Pole," which is an actual ice-covered metal pole. There are also more than two dozen family- and kid-focused amusement-park-style rides that are included in your entrance fee.
12. Ouray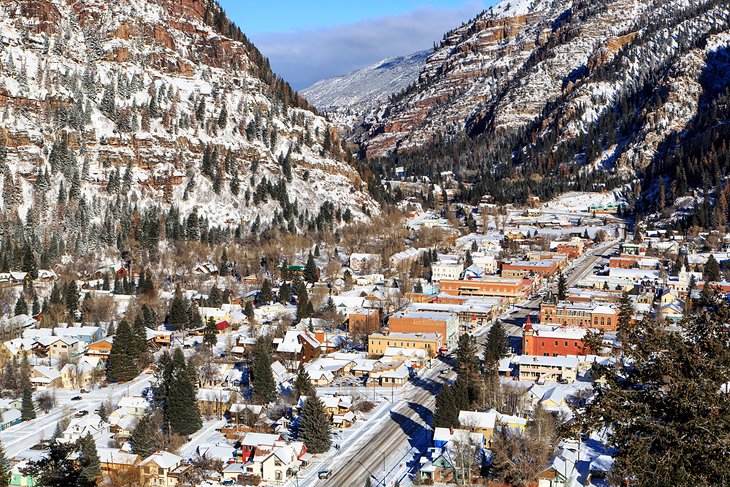 In a stunning natural location between the towering granite walls of a box canyon, Ouray is another classic Colorado Christmas town. Here, the celebrations begin the weekend after Thanksgiving with Light Up Ouray, when the city turns on its Christmas light displays.
It also heralds the start of the seven-week-long Ouray Ice Festival, and there is a different event each weekend. This includes everything from a Yule Day & Night Christmas Parade to gingerbread house decorating workshops, holiday concerts, and movie nights at the town opera house.
13. Glenwood Springs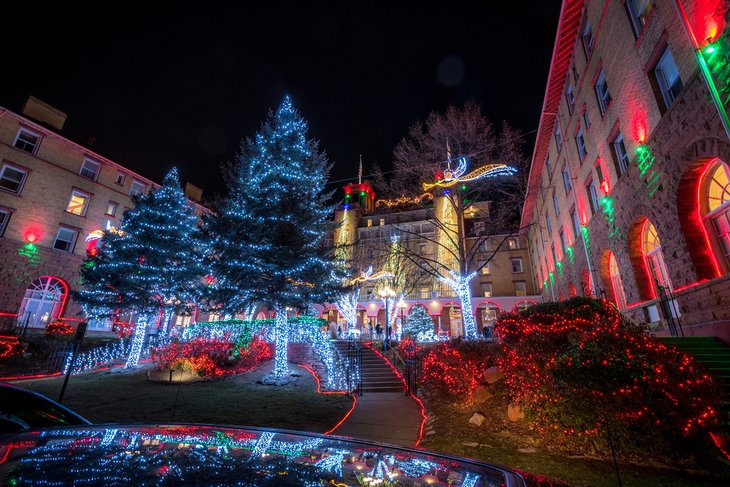 In Glenwood Springs on Colorado's Western Slope, you can soak in a natural hot spring swimming pool while watching twinkling Christmas lights glow all around you. The historic Glenwood Hot Springs is far from the mountain town's only festive season light show.
Trees along Grand Ave, the main street through downtown, are also illuminated by colorful lights. And both towers of the landmark Hotel Colorado are lit up–one is red; the other is green. The towers are just part of a dazzling light show the hotel puts on every year.
14. Denver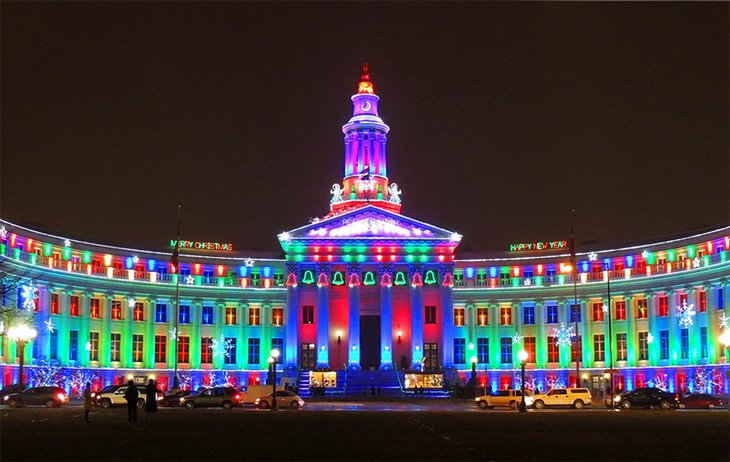 Colorado's capital city is magical come Christmas-time. Denver puts on a number of events throughout December, including dazzling light displays at its city and county buildings, gold-domed state capitol, and other downtown buildings. Also downtown is the new Mile High Tree, which is a 110-foot-high, immersive art installation that you can view from the inside or out.
The Parade of Lights is another Denver Christmas tradition, with floats and marching bands, that winds its way through downtown the first weekend in December. With multiple theater and stage venues, Denver also puts on holiday-themed performances like The Nutcracker.
Accommodation: Where to Stay in Denver: Best Areas & Hotels
15. Keystone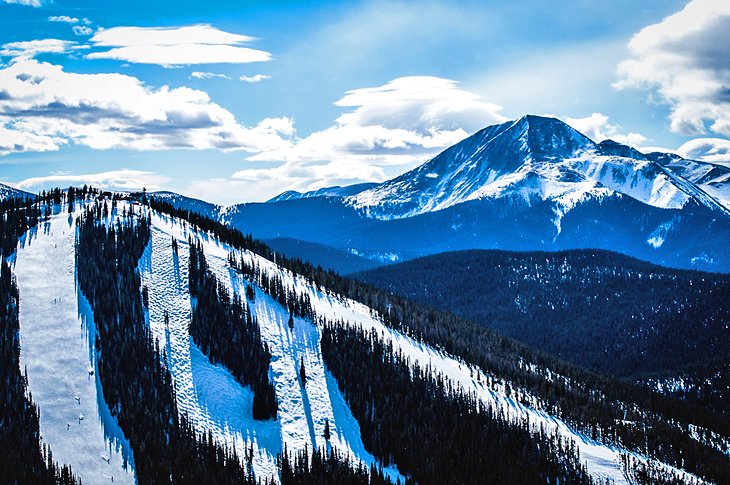 The ski town of Keystone also lights up for the holiday season. Besides the usual holiday lights and decorated Christmas trees, there is a giant snow fort with mazes and slides for kids. There are also horse-drawn sleigh rides and ice-skating and snow tubing. The ambience is wholesome and fun and definitely family focused.
Also make sure to stop in at the Keystone Lodge and Spa to check out their famed Chocolate Village. It features 7,000 pounds of chocolate, including a working chocolate gondola and train, the creation of the resort's pastry chef. New additions are added to the handcrafted tableau each season.
16. Vail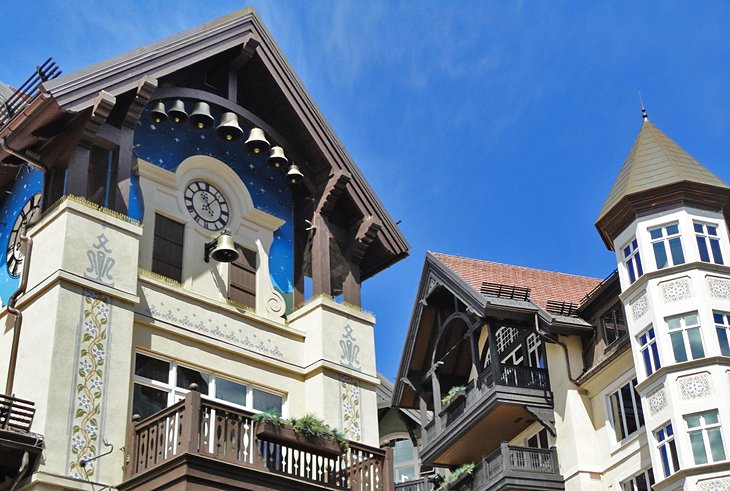 The Bavarian-style Vail also puts on a show for visitors each Christmas. Doorways, lampposts, shops, and restaurants around Vail and Lionshead Villages at the sprawling ski resort base area are all adorned with twinkling holiday lights, red bows, and garlands.
Beginning the first weekend of December, the town transforms into a holiday winter wonderland with Vail Holidays. The event kicks off with a tree lighting ceremony and doesn't finish until the new year is rung in on Jan 1. Events include the Vail Ugly Sweater 5K Fun Run and a Kris Kringle Market, where you can stock up on unique holiday gifts.