14 Top-Rated Attractions & Things to Do in Boulder, CO
We may earn a commission from affiliate links ()
Boulder has always prided itself on being unique, but this city, just 45 minutes northwest of Denver, also boasts stunning natural beauty thanks to its Rocky Mountain location.
Boulder residents tend to embrace healthy lifestyles, and when it comes to things to do, the city is definitely focused on outdoor activities, with more than 200 miles of hiking and biking trails, as well as lots of rock climbing opportunities. Boulder is also home to the University of Colorado at Boulder and has a lively student population.
There are two main areas that attract tourists: Downtown is anchored by the pedestrian-only Pearl Street Mall, which is filled with shops, art galleries, and restaurants that also spill out to the surrounding blocks. Farther south on Broadway (one of two main north-south drags through Boulder, the other being 28th Street) is The Hill, where the university is located. It is filled with more restaurants and shops.
However, many of Boulder's top attractions, like The Flatirons and Flagstaff Mountain, are located in the hills and parks surrounding this outdoorsy city.
Plan your sightseeing and find the best places to visit with our list of the top attractions and things to do in Boulder, Colorado.
1. Flatirons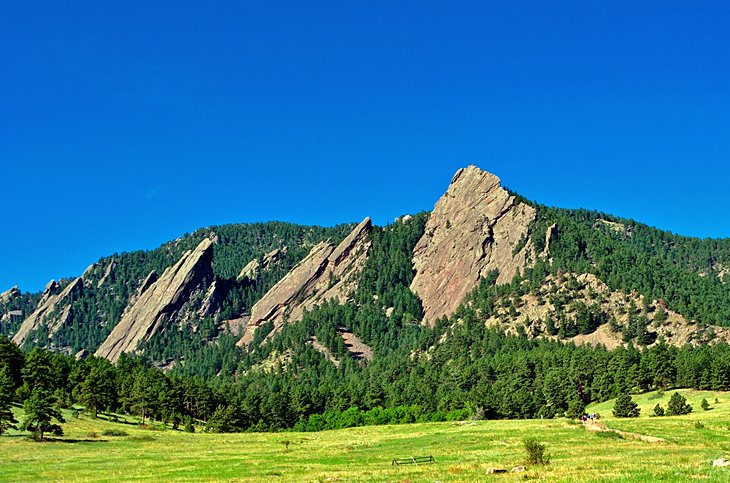 Visible from pretty much anywhere in town, Boulder's most distinctive feature is its natural backdrop, the Flatirons, which are a line of five huge, slanted slices of sandstone. One of the most popular rock climbing destinations in the city, the Flatirons area is also home to dozens of hiking trails that take tourists into the surrounding foothills, and one, the Flatirons Vista Trail, that leads right into the rocks.
The best place to begin admiring the Flatirons is the Open Space Mountain Parks area, a beautiful meadow space at the city's southwestern corner off Highway 93, where many of the hiking trails start. There is a paid parking lot on the west side of Highway 93.
2. Pearl Street Mall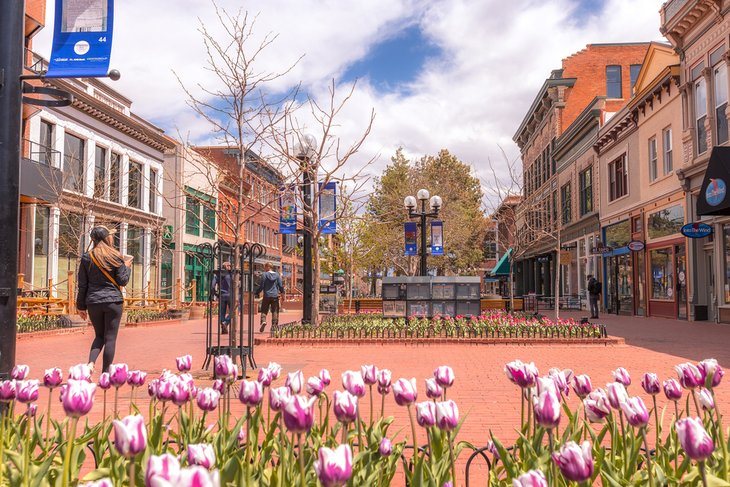 Boulder's most iconic man-made attraction is the Pearl Street Mall, which is definitely one of the top sightseeing spots in town. Running along Pearl Street for four blocks, the brick-paved pedestrian mall should be walked at least once while visiting. This buzzing area is filled with shops, both national chain brands and independent boutiques, as well as art galleries and dozens of restaurants.
There are benches where you can relax and do some top-notch people watching, and you'll usually stumble upon street performances. The Pearl Street Mall is the heart of Downtown Boulder, but not the only attraction here. The blocks surrounding the pedestrian-only walkway are home to more shopping and dining options and are equally popular with tourists.
If you're wondering where to stay in Boulder, this area makes a good base.
3. Chautauqua Park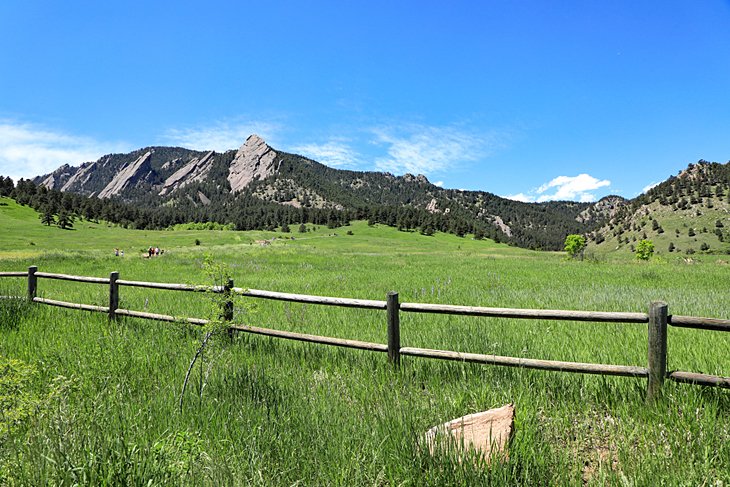 Boulder was the first city in the USA to specifically tax itself to preserve open space, and as such has a plethora of impressive city parks, including beautiful Chautauqua. The park, which is next to the Open Space Management Area, features stunning Flatirons views and plenty of hiking trails climbing up from its wide-open meadow setting.
It also has a cultural component. Chautauqua has been preserved as a historic landmark since 1898, when Boulder residents approved a bond issue to purchase the 80 acres it sits on.
4. Celestial Seasonings Tea Factory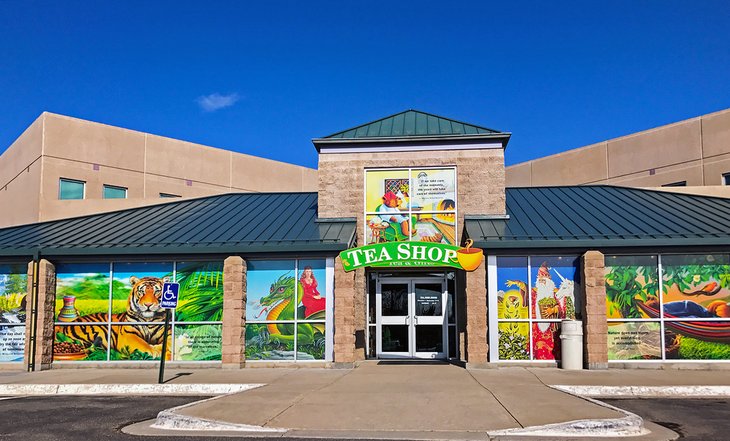 When locals take their family sightseeing in Boulder, a stop at the Celestial Seasonings Tea Factory is usually on the agenda. The company is the largest herbal tea producer in North America, serving up more than 1.6 billion cups of tea annually.
The Boulder factory packages more than eight million tea bags a day, and visitors can tour the facility for free daily. The 45-minute tours give you a behind-the-scenes glimpse into how the tea is made.
5. Eldorado Canyon State Park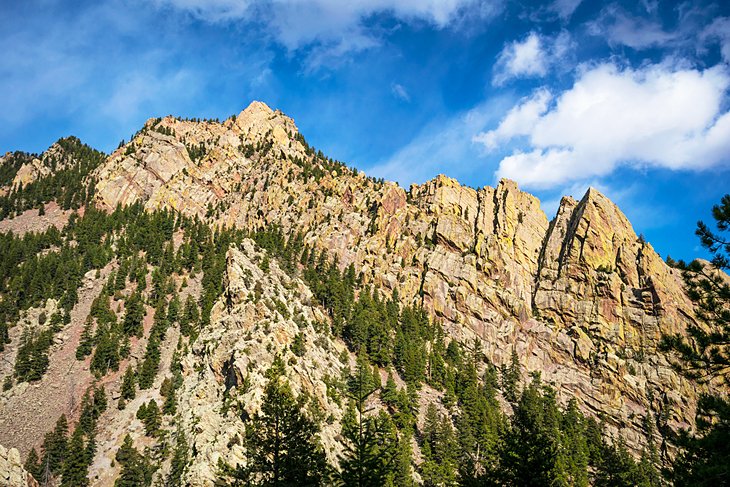 Part of Colorado's state park system, Eldorado Canyon is another top tourist attraction just outside Boulder. Home to soaring sandstone cliffs that are popular with rock climbers, the park boasts more than 500 technical climbing routes.
6. University of Colorado at Boulder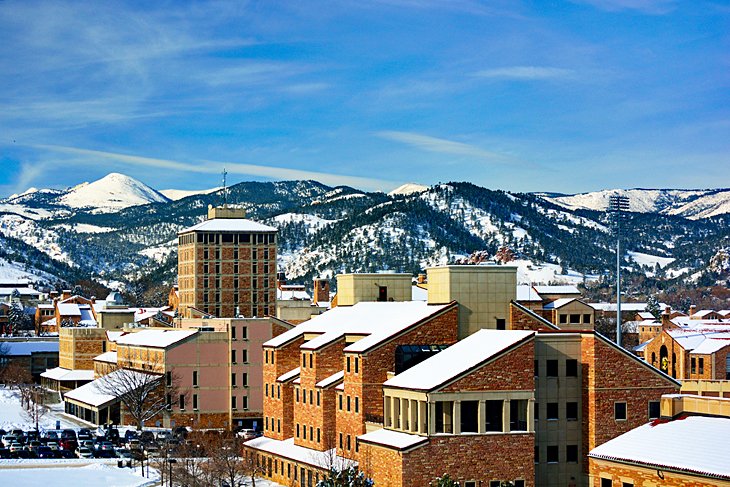 The CU Boulder campus is well worth a wander. It has plenty of impressive architecture, like the Old Main building, which was the university's first structure, dating back to 1876. The campus also boasts a number of attractions like the outdoor Mary Rippon Theatre, where the Colorado Shakespeare Festival performs in summer.
7. Fiske Planetarium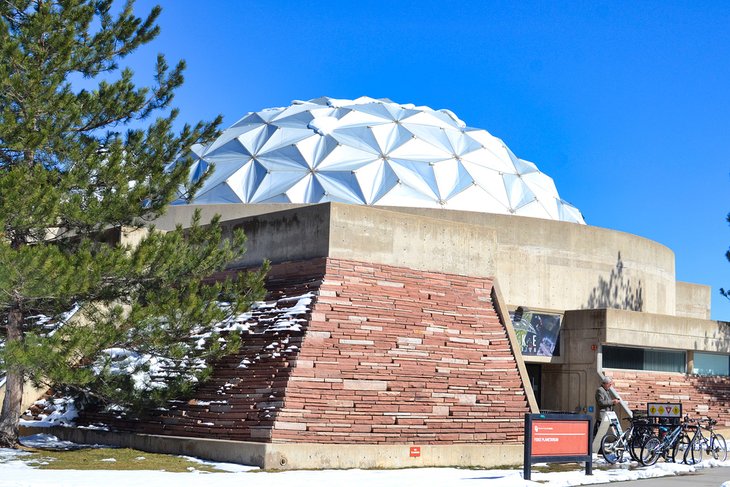 On the CU Boulder campus, Fiske is one of the largest planetariums between Los Angeles and Chicago and also one of the most impressive.
8. The Hill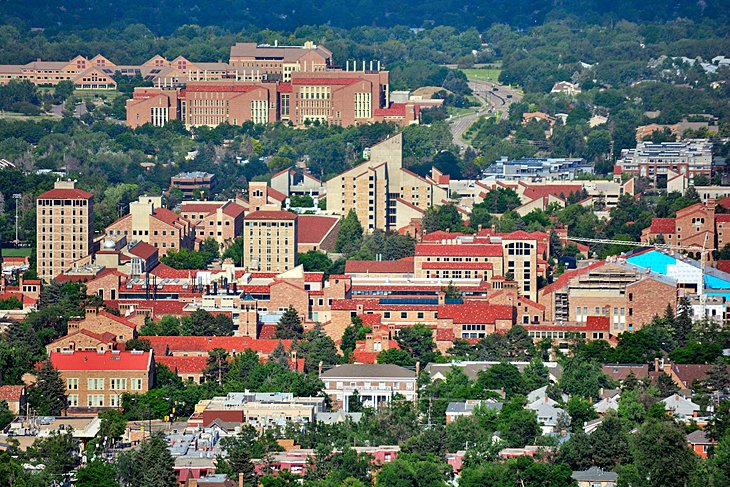 Directly to the west of the CU Boulder campus, The Hill is the city's college neighborhood and a buzzy place to wander when school is in session. Here, you'll find a number of student-focused shops and restaurants like The Sink, which has been attracting visitors for decades with its graffiti walls and delicious pizza. You'll also find live music entertainment venues like Fox Theatre.
Location: West of CU Boulder off University Blvd, Boulder Colorado
9. Flagstaff Mountain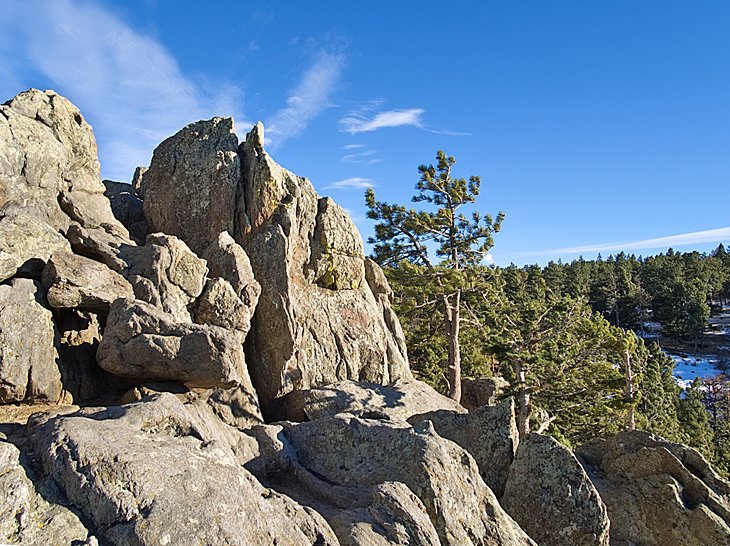 A favorite destination to watch the sunset, you can either hike up or drive to the top of Flagstaff Mountain, which offers stunning panoramic views of Boulder and behind from its 6,983-foot-high summit. Also at the top is the Flagstaff Summit Nature Center, where you can learn about the local flora and fauna.
To drive up the mountain, take Flagstaff Road to Flagstaff Summit Road. There is a $5 fee to park at the summit. If you want to hike to the top, depart from the Flagstaff Trailhead where Baseline Road turns into Flagstaff Road. It is a moderate to strenuous two-mile hike up to the summit.
10. Mount Sanitas Hiking Trail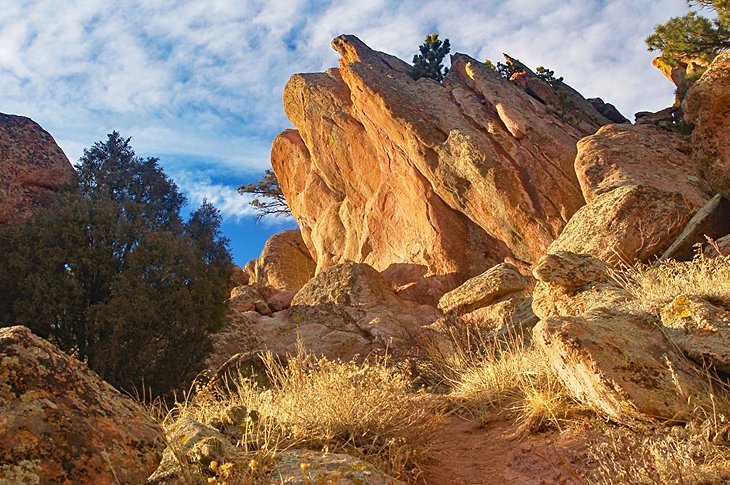 Winding up both sides of the ridge that leads to Mount Sanitas' summit, the Mount Sanitas Trail is a challenging but rewarding hike that's a local favorite - although many Boulderites choose to run the trail for a quick workout.
The climb is rated moderate to difficult, and if you're not used to the altitude, you will definitely feel it on the way up, with a 1,343-feet of elevation gain in just over 1.5 miles (it's a 3.1-mile round-trip). But make it to the top, and you'll be richly rewarded with beautiful views across the valley.
11. Valmont Bike Park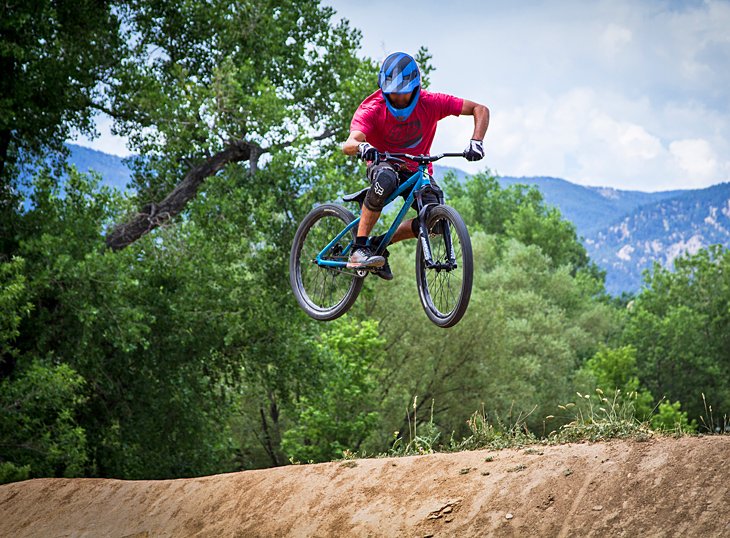 If mountain biking is your preferred outdoor activity, then you'll love Boulder's natural surface terrain park. Covering 42 acres, it offers a range of amenities for different skill levels, from beginner freestyle riders to cyclocross experts.
12. Boulder Museum of Contemporary Art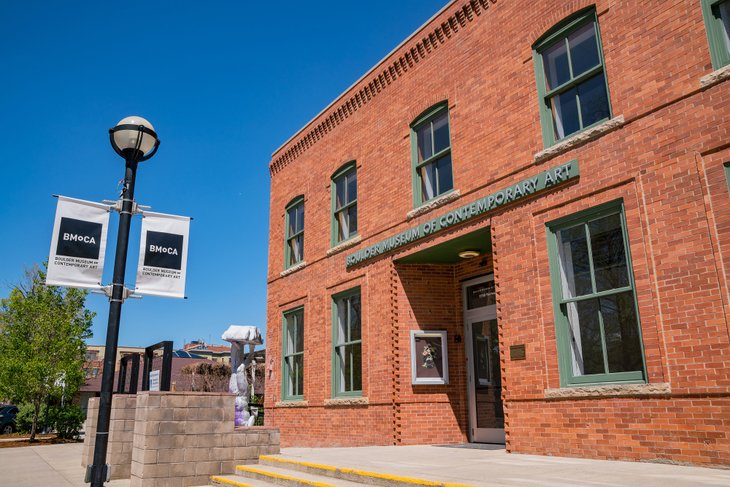 Located downtown, the Boulder Museum of Contemporary Art has been around since 1972 when it was founded by a group of local artists. Today, it is one of the top venues in the state to showcase contemporary art.
13. Dushanbe Teahouse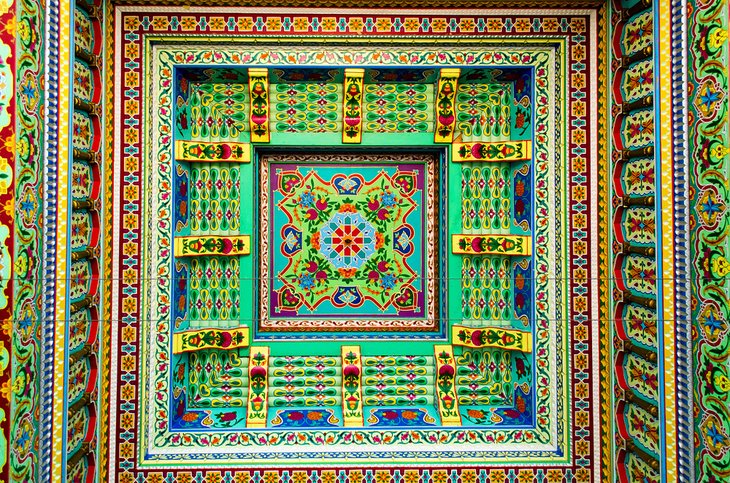 The most unique looking restaurant in Boulder, the Dushanbe Teahouse is an attraction in its own right. Set along the Boulder Creek just a few blocks from the Pearl Street Mall, this landmark property was a gift from Boulder's sister city in Tajikistan.
The ornate Persian teahouse is a 1,700-square-foot work of art created by a group of 40 Tajik artisans over a number of years. Hand-carved and painted, it was built in Tajikistan than disassembled and shipped in pieces to Boulder, where it was put back together.
Today it serves as a functioning teahouse and restaurant. There are more than 100 teas on its menu, including a signature Teahouse Chai that should not be missed. The menu is internationally influenced but includes some Tajik dishes.
14. Museum of Boulder at Tebo Center
In a striking brick and concrete building downtown, The Museum of Boulder at Tebo Center is dedicated to telling Boulder's story throughout the decades. It is home to numerous artifacts from the city's past and also displays current artistic accomplishments. Dedicated to showcasing community stories, the museum features rotating exhibits covering everything from health to the art of travel.
Where to Stay in Boulder for Sightseeing
More Related Articles on PlanetWare.com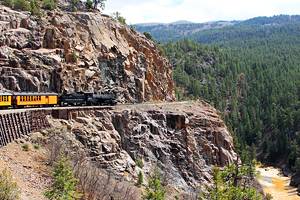 Colorado Towns: Colorado is full of great small towns and cities. Less than a two-hour drive from Boulder is Colorado Springs, where you'll find the Garden of the Gods, Pikes Peak, and a whole host of other attractions to explore. If your travels take you to the southwest corner of the state, check out our article on things to do in Durango, one of the best mountain towns around.