From Denver to Breckenridge: 5 Best Ways to Get There
The old silver mining town of Breckenridge is now one of the best ski resorts in Colorado and easily accessible from major Colorado cities like Denver and Colorado Springs, which are both under a two-hour drive. There are a number of ways to get between Denver and Breckenridge, which is located 80 highway miles away via I-70 and Highway 9.
Denver International Airport is the main air travel entrance point for Breckenridge. There is a small regional airport in Eagle County, which is west of Vail, but the drive is not much shorter than from Denver, and the flights in and out are generally less direct and more expensive. As such, it is best to go by land from the Mile High City to "Breck," as locals call this mountain town.
You can either rent a car and drive yourself between the two destinations, or you can allow someone else to do the driving and get there via public bus transport or with a group shuttle or a private luxury SUV service. You can even join an organized tour.
How you choose to get there will depend on your budget and personal travel preferences, but we can promise you this: the drive itself is magical. Get ready to be wowed by the towering peaks in all directions.
1. From Denver to Breckenridge by Organized Tour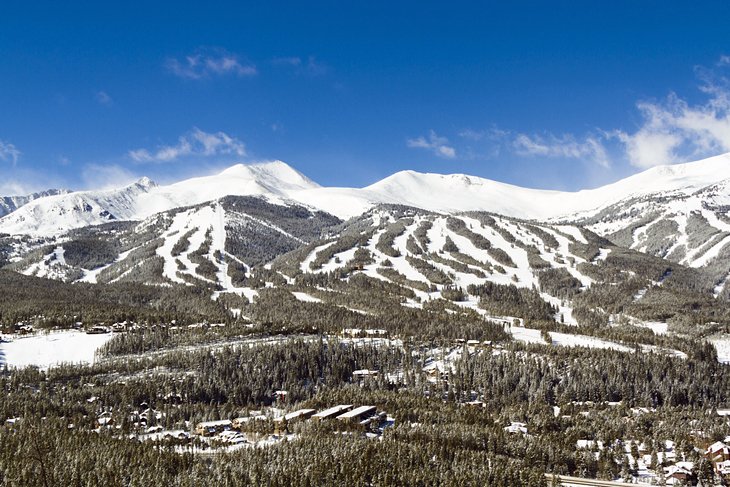 If you don't have time to stay overnight in Breckenridge - maybe you are in Denver for business and have an extra day to explore before flying out - then consider an organized tour. The Breckenridge Mountain Explorer day trip is an eight-hour adventure that takes you from Denver's Union Station to the old silver mining town and back with a few stops along the way.
First up, you'll pay a visit to the iconic Red Rocks Amphitheater, then stop for coffee in a mining town en-route to Breckenridge. Upon arrival, you'll have three hours of free time to explore.
Besides the ski mountain, which has year-round activities, Breck is also home to a vibrant Main Street with shops, galleries, and restaurants. There is also the Breckenridge Arts District, where you can watch artists work.
2. From Denver to Breckenridge by Car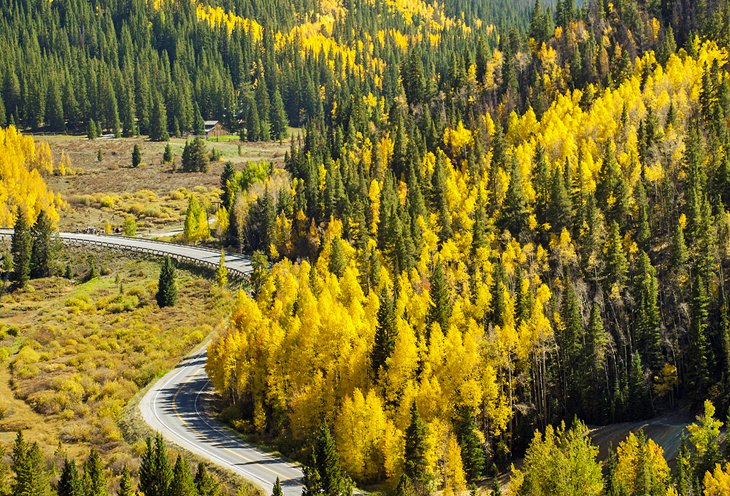 From Denver, it is a beautiful one-hour-and-45-minute drive (depending on traffic and weather it can be much longer) via I-70 and Hwy 9 to Breckenridge. The route takes you over the Continental Divide as you cross the Front Range of the Rocky Mountains and is stunning in any season.
It's easy to pick up a rental car at Denver International Airport or from one of a number of agencies around the city center depending on if you're arriving in the Mile High City by air or land. From the airport, you'll follow the signs to I-70 westbound and stay on this highway for more than an hour. Along the way, you'll drive through the Eisenhower Tunnel. You might notice a stark difference in weather between the sides of the tunnel as it goes through the Continental Divide.
After the tunnel, you'll continue west on I-70 to exit 203 and follow the signs to Highway 9 south. From here, it is a nine-mile drive to Breckenridge. Many people, especially during the winter ski season when prices are highest, don't stay in Breckenridge itself but book in one of the nearby feeder towns. These include Frisco, Dillon, and Silverthorne, which are all located just off I-70 (before you reach Breckenridge on Highway 9).
You can also take Highway 285 south from Denver to Highway 9 north. At 109 miles, this drive takes about 30 minutes longer than the I-70 route, however, on weekends, when I-70 gets very busy, you may save time going this way.
Driving yourself between the destinations will be a different experience in winter versus summer. Winter driving conditions between Denver and Breckenridge can be intense. The weather in Denver, for instance, may be sunny and mild, while in the mountains, heavy snow and whiteout conditions can exist.
Winter driving conditions usually begin in November and can run through the end of April; however, it can snow in the mountains at any time, even in the middle of July.
During the winter, expect icy roads at any time, especially going over the mountain passes. During blizzards, or if there is a bad accident, the department of transportation will often shut I-70 down for hours or even a day at a time. When this happens, getting between the city and the mountains, or even between exits in the mountains, can become impossible.
It is also important to understand when renting a car in the snowy season that Colorado has strict winter driving laws. During periods of heavy snow, these laws require your vehicle to be equipped with special tires or to be an SUV or AWD or, in some instances, both. If you attempt to drive in a vehicle that doesn't meet the requirements, you can face a steep fine (it is also really dangerous!).
3. From Denver to Breckenridge by Luxury SUV Charter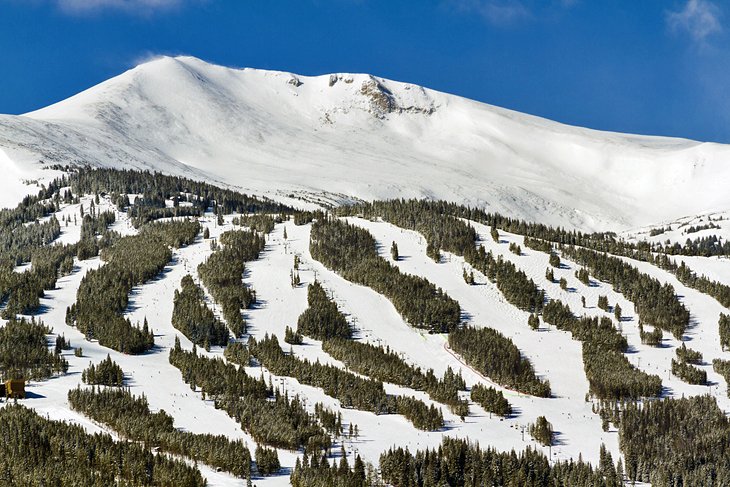 For luxe, door-to-door service, skip the rental car and book a luxury SUV charter Summit Express. The transfer service offers a private ride in a lux SUV with leather interior and a chauffeur that will meet you at the airport. The vehicles can accommodate up to five people, and pets are also welcome.
You'll be provided with bottled water for the ride, and if you want to make a stop along the way to take a picture or use the rest room, just ask your driver to pause. This service can be booked 24/7 as well, which makes it convenient for late or early flights, even if it costs more than a shared shuttle service.
4. From Denver to Breckenridge by Shared Shuttle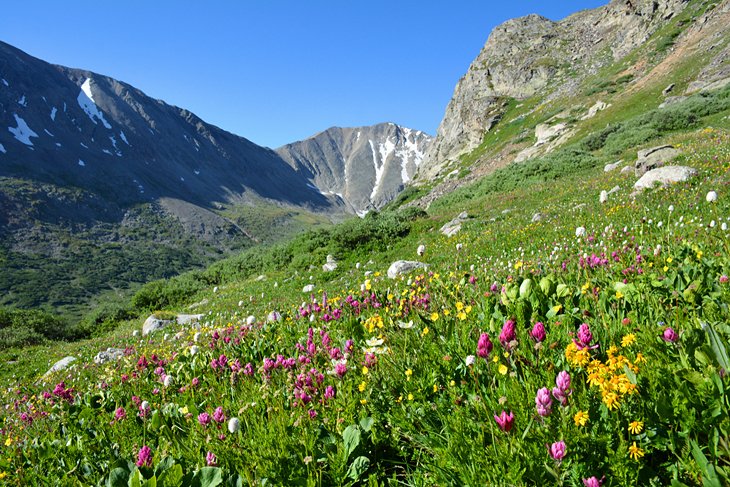 For a more affordable transfer between Denver and Breckenridge, book a ride with Epic Mountain Express. The company operates passenger vans that can seat up to 10 people and will take you from Denver International Airport to most hotels or condo resorts in Breckenridge.
The trip takes about 2 1/4 hours and the vans are comfortable. Shuttles depart frequently in both directions and can be booked online or you can try your luck by walking up to their booth at the airport - you may have to wait longer, however, if shuttles are running at full capacity.
5. From Denver to Breckenridge by Bus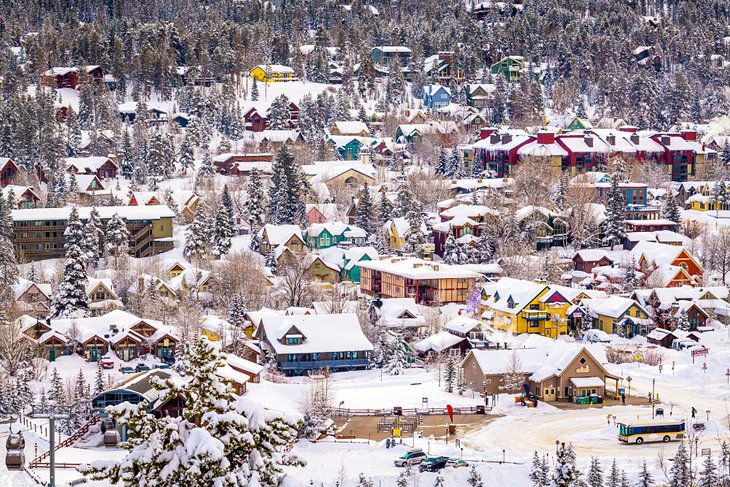 The cheapest way to get between Denver and Breckenridge is to take public transportation utilizing the Colorado Department of Transportation's Bustang system, although it is not completely direct.
From Union Station in downtown Denver, you will take the CDOT West Line bus (departs twice daily at 7am and 5.40pm) west to the Frisco Transit Center. The trip takes about one hour and 45 minutes. From here, you'll catch the Summit Express bus towards Breckenridge Station. The station is still a little ways outside of town, so you may need to take an Uber or Lyft to your hotel.
Breckenridge - Climate Chart
Average minimum and maximum temperatures for Breckenridge, CO in °C
J
F
M
A
M
J
J
A
S
O
N
D

-1

-18

1

-16

4

-12

8

-8

13

-3

19

1

23

4

22

3

18

-1

12

-6

4

-12

0

-16

PlanetWare.com
Average monthly precipitation totals for Breckenridge, CO in mm.

22

24

29

31

37

31

45

42

34

20

22

21

Average monthly snowfall totals for Breckenridge, CO in cm.

39

38

50

39

22

3

0

0

4

17

39

47
Average minimum and maximum temperatures for Breckenridge, CO in °F
J
F
M
A
M
J
J
A
S
O
N
D

31

0

34

3

39

11

46

18

56

27

67

34

73

39

71

38

64

31

54

22

39

11

32

3

PlanetWare.com
Average monthly precipitation totals for Breckenridge, CO in inches.

0.9

1.0

1.1

1.2

1.5

1.2

1.8

1.7

1.3

0.8

0.9

0.8

Average monthly snowfall totals for Breckenridge, CO in inches.

15

15

20

16

8.5

1.3

0

0

1.7

6.8

16

18