From Denver to Boulder: 4 Best Ways to Get There
The idyllic city of Boulder sits at the base of the Rocky Mountain foothills just about 30 miles northwest of Denver, and there are a few different ways to get between the two cities, which are two of Colorado's most vibrant urban areas. Many locals commute between Boulder and Denver, or one of the bedroom communities, like Westminster or Thornton, that sit between the two on U.S. Hwy 36.
It takes about 40 minutes, depending on what part of Denver you leave from, to reach Boulder via car when there isn't heavy traffic. The main route between the two cities is Hwy 36, which is also known as the Boulder Turnpike, but it is not the only road to connect the two. When traffic is heavy, or depending on which part of Denver or Boulder you are trying to get to, there are a few other routes to consider.
Driving is just one means of getting from Denver to Boulder. But it isn't always the best. You can also take a bus, which is cheap and doesn't require you to deal with the traffic that often plagues this commute. Or you can catch a shuttle bus, which is especially convenient if you are flying in from Denver International Airport and don't need a car in Boulder itself. And finally, you can book a ride on Uber, Lyft, or even a taxi cab, although the latter is much pricier.
How you choose to get between Denver and Boulder will depend on whether you need a car to get around and your budget. But these four options will help you decide by giving you the transport scoop between the Mile High City and the town affectionately known as the "Boulder Bubble."
1. From Denver to Boulder by Car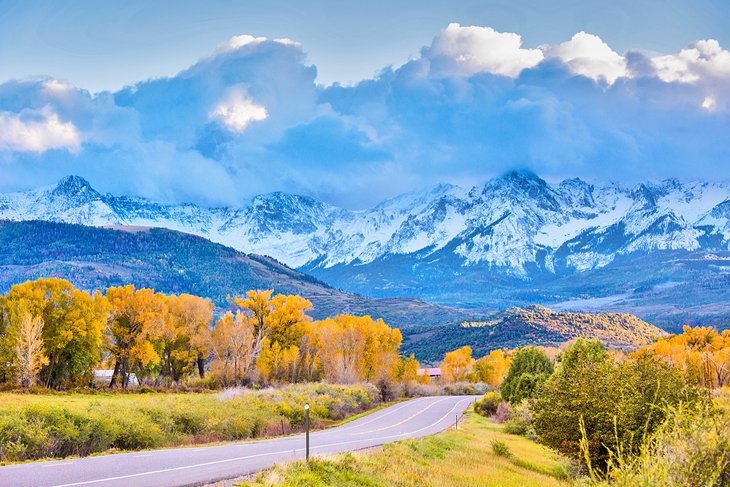 Although the traffic can sometimes be a nightmare, if you time your drive to avoid rush hour in the morning and evening, then a drive between Denver and Boulder usually takes around 40 to 50 minutes depending on how far south in Denver you begin and where in Boulder you are ending - the drive is about 30 miles from downtown Denver.
The most direct route from Denver to Boulder is via U.S. Hwy 36, which connects to I-25, the north-south interstate highway through Denver. You'll take I-25 north or south depending on your starting point to Hwy 36 and then continue on the Boulder Turnpike all the way into the city limits.
When you get into the Boulder city limits, Hwy 36 becomes 28th Street running through the city, which is one of the main north-south routes through Boulder. It also provides access to the Pearl Street Mall area, which is the heart of downtown Boulder.
The other main north-south route through Boulder is Broadway (Hwy 93), which runs parallel. If you're looking for the University of Colorado campus, you'll find it off Broadway in a neighborhood known as The Hill.
If you run into traffic on Hwy 36, there is an option to jump into a toll lane for the ride up to Boulder. But the toll lanes are not cheap, and depending on how far you take the toll lane, during peak hours the fee can be as high as $13.
Also note the weather before heading between Boulder and Denver. Although winter driving conditions are usually not as intense as when you are heading up into the mountains, when it is snowing heavily, roads can quickly ice over, and accidents will slow your transport time down as well.
It is extremely rare for the highways between the two cities to shut down due to snow, however. And there are no vehicle restrictions for non-4WD vehicles driving between Denver and Boulder in a snowstorm like you will find between, say, Denver and Vail in winter.
Summer driving conditions are usually smooth, except when there is a wildfire. The area around Boulder has seen many more wildfires in recent years, and these can shut the highways down. Just pay attention to wildfire alerts or smoke in the area.
2. From Denver to Boulder by Bus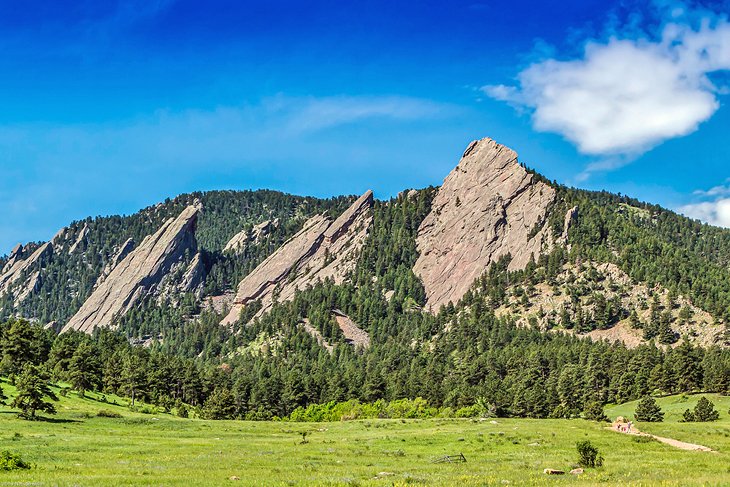 The most affordable way to get between Denver and Boulder (and best for the environment) is to catch the RTD bus between the two cities.
If you are coming from Denver International Airport (DEN), you'll want to take the SkyRide (AB2) bus that runs from the airport to Boulder. It makes two quick stops on the way into the city, and then once you are in Boulder, there are seven further stops to choose from, making it relatively convenient to at least get close to your destination. These stops include Downtown Boulder Station and Boulder Junction at Depot Square Station at the north end of the city, where service terminates.
When looking into options for public transport on the RTD website, you may see something about the University of Colorado A Line Train. The name is misleading, as this train does not go to the main University of Colorado campus in Boulder but instead, this is a train from the airport to downtown Denver and will not get you anywhere near Boulder. There is currently no train or light rail service out to Boulder from Denver.
If you are coming from downtown Denver and need to catch the bus to Boulder, you can do so from Union Station. You'll want to look for the FF1 bus towards Downtown Boulder All-Stations. The trip takes about one hour.
3. From Denver to Boulder by Shuttle Service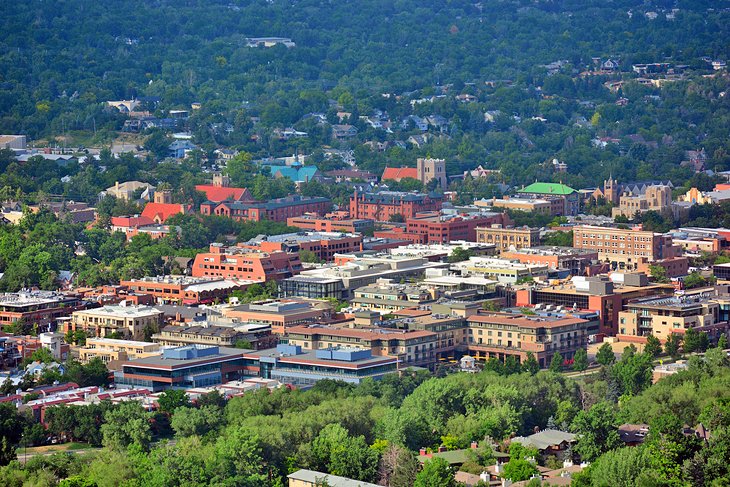 If you don't want to take the bus between DEN and Boulder, you can also book a ride with SuperShuttle or Green Ride to get between the two cities. Taking Green Ride is pretty cool because the Boulder-based company touts itself as a sustainable charter company that is working to offset greenhouse gases. They also promise to get you from Boulder to the airport or vice versa in one hour.
Taking a shuttle from the airport means you'll usually be able to get dropped off directly at your hotel, which can be convenient if you're not staying right next to a bus stop or have a lot of luggage. A shuttle service is also of use when traveling during hours the bus doesn't frequently run.
4. From Denver to Boulder by Uber or Lyft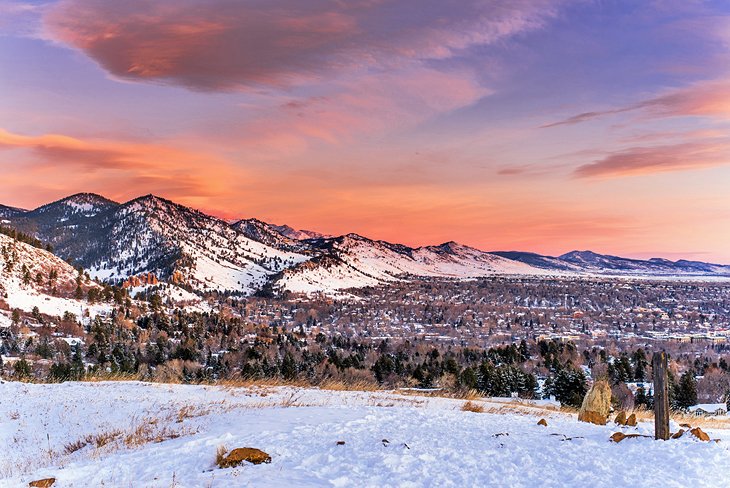 Another transport option between Denver and Boulder is to take an Uber or Lyft. While these app rideshare services cost more than a shared passenger shuttle, you can book a shared ride option with both companies that makes your ride time a little longer but is cheaper than taking a private car if you're traveling alone.
Regardless of whether you book a shared ride or not, Uber or Lyft also provide more convenience than a shuttle service, as they don't just make runs between the airport and a hotel but can be called from a restaurant in Denver, for instance, to take you to a restaurant in Boulder.
These are also a good option if you are staying outside of downtown Boulder and need to get from say the airport to a hotel in a suburb that the shuttle doesn't run to. And while Uber and Lyft will be more expensive than taking the bus or a shuttle, they are still cheaper than taking a traditional taxi cab or booking a private chauffeured car service.
Boulder - Climate Chart
Average minimum and maximum temperatures for Boulder, CO in °C
J
F
M
A
M
J
J
A
S
O
N
D

8

-7

9

-5

13

-2

17

1

22

6

28

11

31

13

29

13

25

8

19

3

12

-3

8

-6

PlanetWare.com
Average monthly precipitation totals for Boulder, CO in mm.

18

19

45

73

78

51

48

41

46

33

36

20

Average monthly snowfall totals for Boulder, CO in cm.

25

28

44

24

4

0

0

0

3

13

30

30
Average minimum and maximum temperatures for Boulder, CO in °F
J
F
M
A
M
J
J
A
S
O
N
D

46

19

49

23

56

28

63

34

72

42

82

51

87

56

85

55

77

47

67

37

53

27

46

21

PlanetWare.com
Average monthly precipitation totals for Boulder, CO in inches.

0.7

0.8

1.8

2.9

3.1

2.0

1.9

1.6

1.8

1.3

1.4

0.8

Average monthly snowfall totals for Boulder, CO in inches.

10

11

17

9.3

1.4

0

0

0

1.2

5.0

12

12
More Related Articles on PlanetWare.com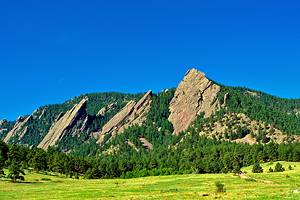 Exploring Boulder: Wondering what to do in Boulder? From shopping at Pearl Street Mall to rock climbing in the Flatirons, the options are extensive. See our guide to the top things to do in Boulder for more ideas on how to spend your time.