16 Top-Rated Attractions & Things to Do in Denver, CO
We may earn a commission from affiliate links ()
The Mile High City, so named because it sits at 5,280 feet above sea level or one mile high, Denver has been rocking since the late 1850s, when gold was discovered around Cherry Creek. Today, it is one of America's hottest cities to live and play in and a great place to visit.
With the Rocky Mountains as a backdrop and more than 300 days of sunshine per year, Denver is a visually appealing metropolis, filled with a variety of sights and attractions for everyone, from families to couples. Whether you are wandering the Denver Art Museum, doing some shopping and gallery hopping in Cherry Creek North, or visiting animals at the Denver Zoo, day or night, there is no shortage of things to do.
The city is also home to several parks, including Civic Center Park in the heart of downtown, Washington Park, Cheesman Park, and City Park in surrounding neighborhoods. Just outside the city limits is Denver's most famous park: Red Rocks Park & Amphitheater, which is one of the top outdoor concert venues in the U.S.
Learn more about the best places to visit in the city with our list of the top attractions in Denver.
See also: Where to Stay in Denver
1. Enjoy Live Music at Red Rocks Park & Amphitheater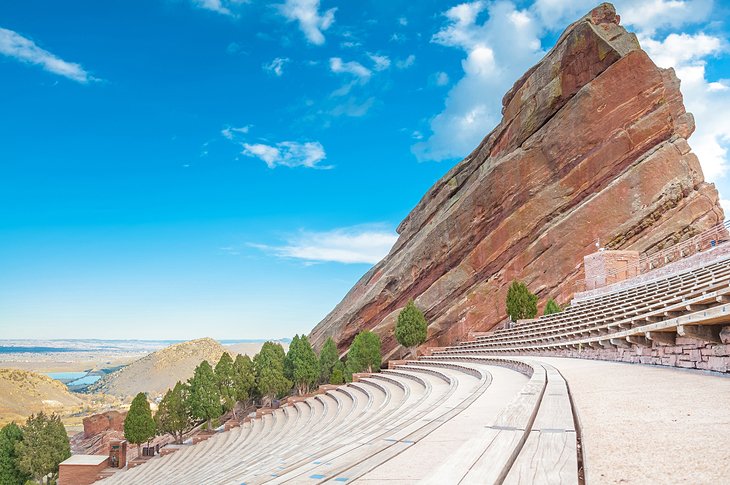 Red Rocks Park & Amphitheater is about 15 miles from the city center but is well worth the commute as this is the most revered attraction around Denver – and there is a shuttle to get you here should you not have a car. Red Rocks is both a live music venue and a city park owned by Denver. The name comes from the striking red sandstone rock formations found along the trails that also form the walls of the outdoor amphitheater.
2. Denver Museum of Nature & Science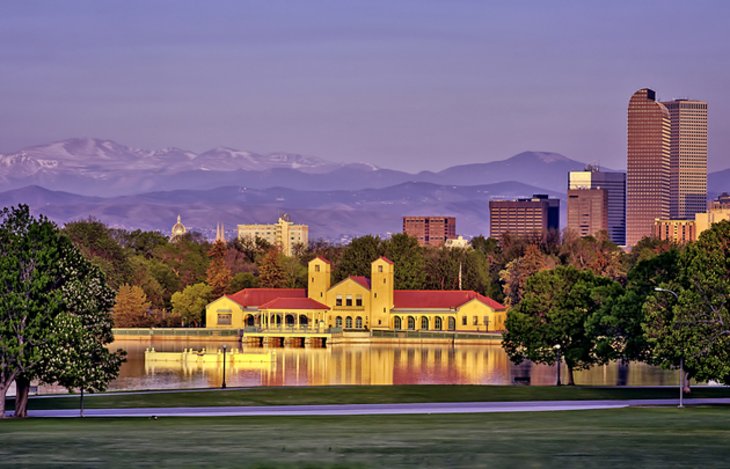 The Denver Museum of Nature and Science sits in City Park's southeast corner and is one of Denver's top cultural attractions. Among the most notable exhibits are the imposing dinosaur skeletons, remains of Ice Age animals, the collection of minerals presented by the Coors family, and one of the largest nuggets of gold found in Colorado.
The museum features changing exhibitions, so there is always something new to see. An IMAX theater and a Planetarium are also on-site. When you've finished wandering this museum, take time to check out City Park, which is popular with locals, and hosts a free summer jazz concert series.
3. See a Show at the Denver Center for the Performing Arts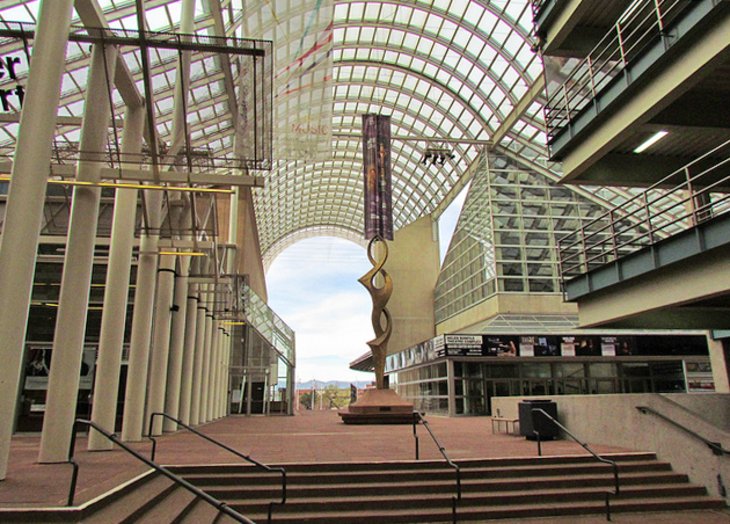 The Denver Center for the Performing Arts sits on the south side of Larimar Square and is a gigantic cultural center. The center consists of multiple venues, including the Boettcher Concert Hall, Auditorium Theater, and Ellie Caulkins Opera House. If you are looking for things to do in Denver at night, you can usually find something to entertain you here.
4. Denver Botanic Gardens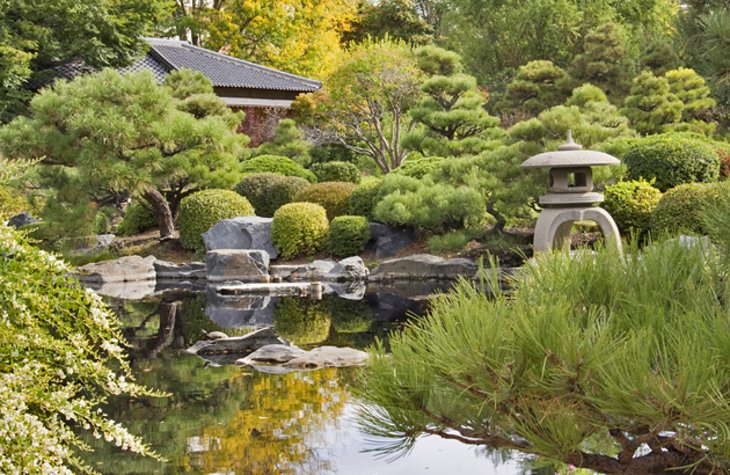 The Denver Botanic Gardens, first laid out in the late 1950s, is one of the largest botanical gardens in the United States, occupying 23 acres next to Cheesman Park. The garden emphasizes native plants and sustainable, environmentally responsible practices. However, the various gardens display plants from all over the world. There are 43 individual gardens, some of which are laid out in natural landscapes, others of which are in more formal gardens.
5. Kirkland Museum of Fine & Decorative Art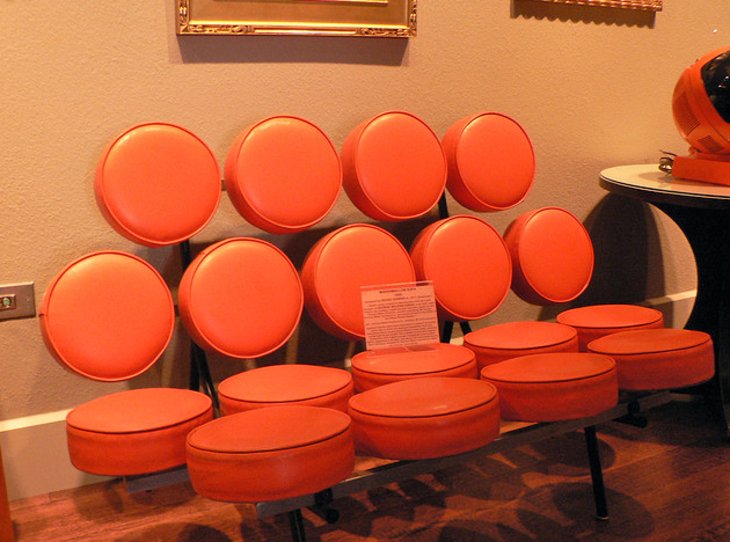 Kirkland Museum displays a major collection of decorative art from 1880 to 1980. Every major design period is represented, from Arts & Crafts to Pop Art. Regional modernist art, from 1875 to 1980, with a focus on Colorado, is also documented with hundreds of works.
6. Denver Art Museum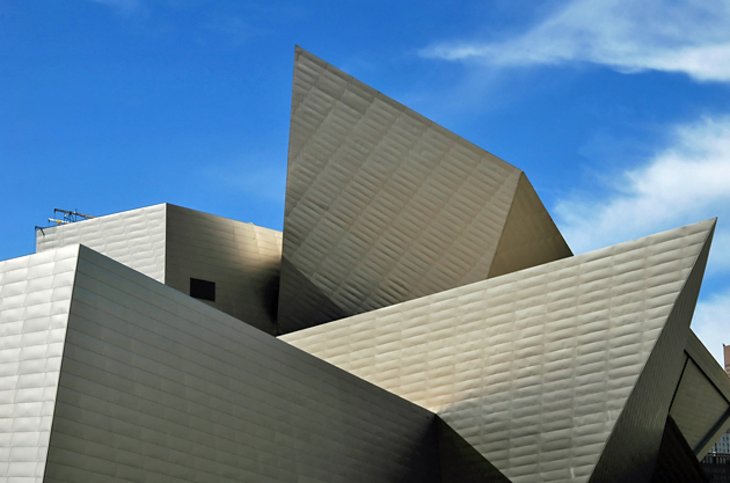 The massive, fortress-like Denver Art Museum has a vast collection, which includes American Indian, African, European, Asian, and Oceanic Art. Collections also include Spanish colonial and pre-Columbian works.
The remodeled Native American galleries are particularly impressive, covering a broad range of cultures and tribes from the United States and Canada. This extensive collection has gained a reputation throughout North America, with pieces that span 2,000 years of history.
The modern and contemporary art collection features both well-known names and emerging talent in a variety of media. Don't miss the separate gallery dedicated to photography. Also of note is the museum's African art collection.
7. Take a Tour or See a Game at Coors Field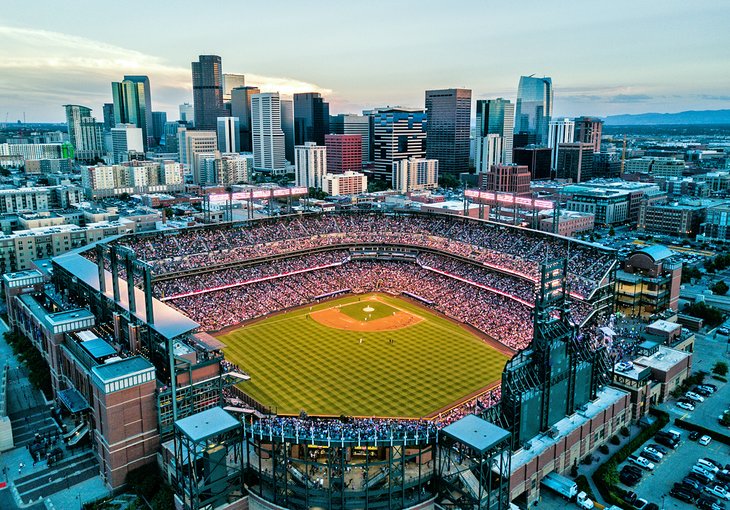 Coors Field is the home of the Colorado Rockies baseball club. The stadium, which opened in 1995, has a seating capacity of 50,200. From the seats along the 1st base line, it's possible to see the Rocky Mountains in the distance. Tours of the facility are available year-round and are a good way to learn about the stadium and see a bit of the behind-the-scenes action.
8. Denver Zoo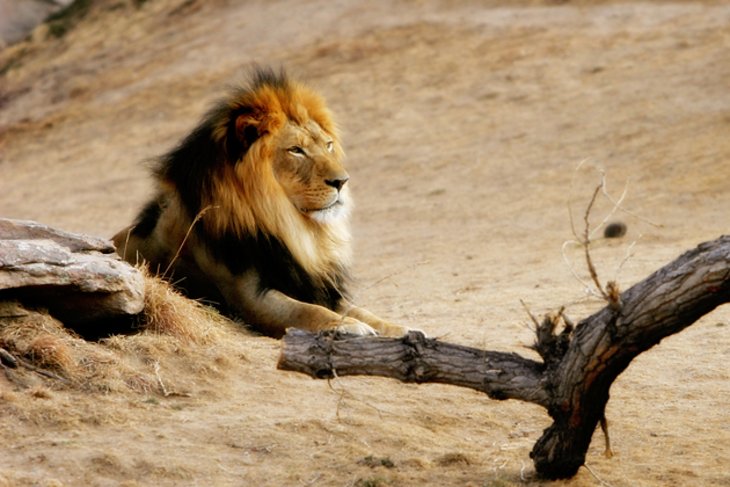 The Denver Zoo is beautifully laid out, with enclosures adapted to different species, from the polar bears' den to monkey island. The zoo was begun in the late 1800s and has a rich history of conservation. Over the years, it has managed to remain one of Denver's most popular tourist attractions.
9. Colorado State Capitol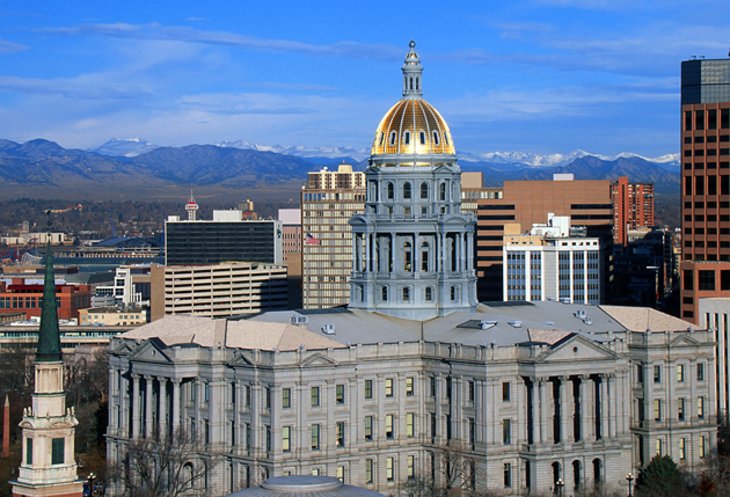 10. Denver Public Library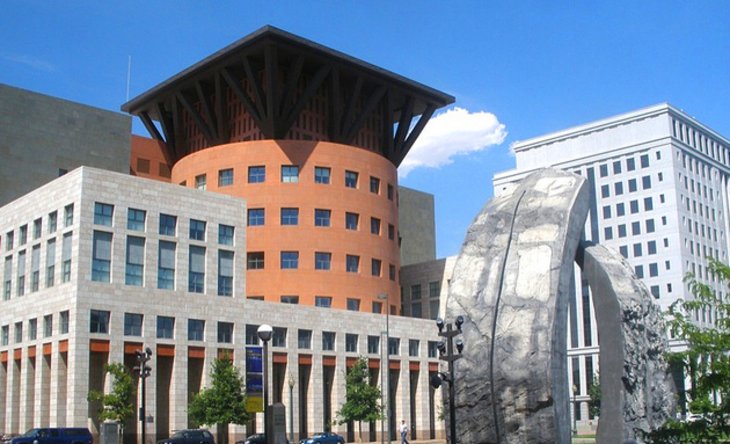 11. Larimer Square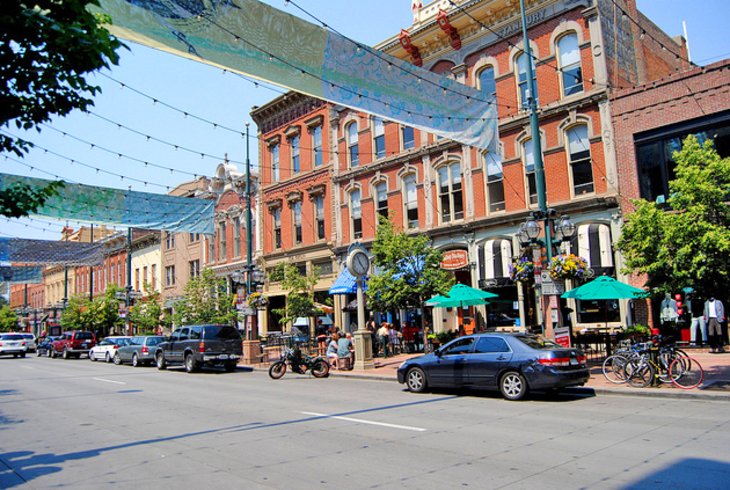 A successful example of urban refurbishment in Denver is Larimer Square, with well-restored buildings of the Civil War period. In 1971, Larimer Square became Denver's first historic district. Today, it is a major entertainment district. The area is home to art galleries, shops, cheerful restaurants, and gas lamps.
It continues to evolve and is popular with both locals and tourists. During the day, most people come here to shop. In the evening, this is a great place for dining or seeing some live entertainment, such as comedians or bands. This area is also famous as the place where Buffalo Bill lived at one time.
12. Stroll and Shop along 16th Street Mall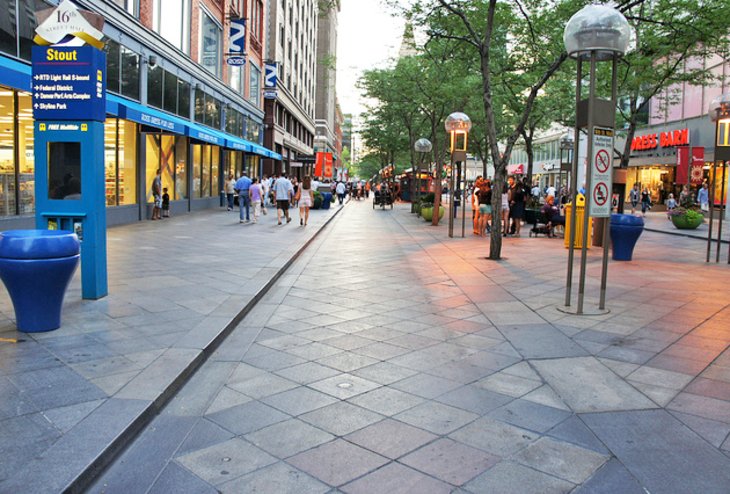 Running through the city center, the 16th Street Mall is a European-style pedestrian precinct, with shady trees, flowerbeds, and park benches. The only traffic here is a free shuttle bus. The street is lined with department stores, boutiques, souvenir shops, restaurants, and the stalls of street traders. Near the south end of the street are numerous modern and Post-Modern skyscrapers.
The mall was designed by the late world famous architect I.M. Pei, the same architect that designed the pyramid at the Louvre in Paris. At night, the mall is illuminated by over one million lights, making it an ideal place to stroll on a warm summer evening.
13. United States Mint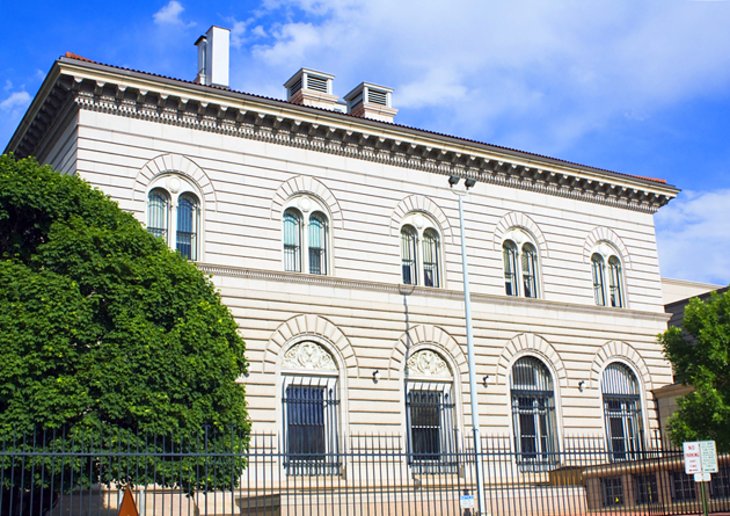 Immediately beyond the City and County Building is the U.S. Mint, one of the United States' six facilities. This is where the American currency is created and part of the country's gold reserves are stored.
14. Civic Center Park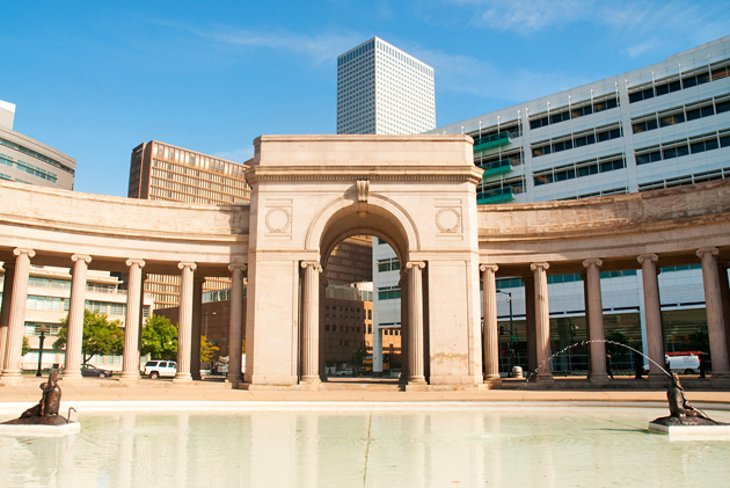 In the heart of Denver is the green and, in summer, agreeably shady Civic Center Park, laid out in Classical style with numerous monuments. Principal administrative buildings of the state of Colorado are scattered around the outskirts of the park. Along its north side is Colfax Ave, which is the longest street in America, running for 26 miles east to west through Denver.
15. Cherry Creek North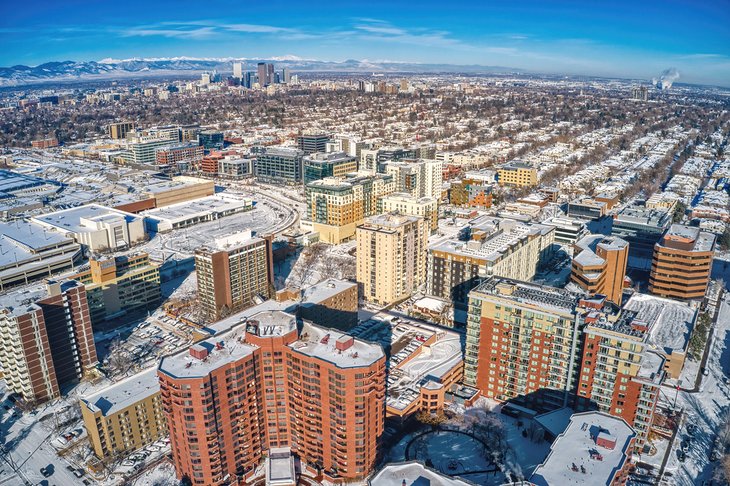 Located just south and east of the Downtown, Cherry Creek North is Denver's best known shopping district, especially if you're looking for luxury and boutique shops and art galleries. Covering some 16 blocks laid out in a square, the leafy and flower-strewn neighborhood is also home to numerous restaurants, offering cuisine from around the globe.
16. Clyfford Still Museum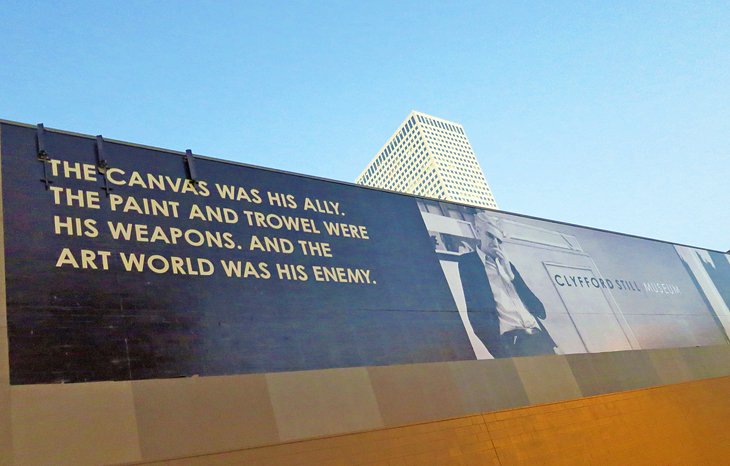 Where to Stay in Denver for Sightseeing
The best place to stay in Denver is right downtown in the heart of the action. This is where the main attractions are located, as well as the Convention Center, restaurants, and entertainment. Below is a list of highly-rated hotels in convenient locations:
Tips and Tours: How to Make the Most of Your Visit to Denver
Joining an organized tour is a great way to see all the highlights of Denver and its surrounding mountains without the hassle of finding your way around. Along the way, you'll learn fascinating stories about the city's history and the ecology of the surrounding areas. These tours include convenient hotel pickup and drop-off, saving you time and money. Below are some fun sightseeing tours and day trips that guarantee the lowest price:
More Related Articles on PlanetWare.com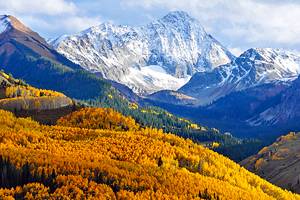 The Mountains: Denver is a gateway to the Rocky Mountains. Less than two hours away are some of the best ski resorts in Colorado, including Vail, Beaver Creek, Breckenridge, Keystone, and Arapahoe Basin. You can also find smaller and budget-friendly ski resorts near Denver. But you don't have to be a skier to enjoy the beautiful scenery. In summer, hiking, camping, biking, and sightseeing opportunities attract tourists from across North America.
Fun mountain towns you may want to include on your Colorado itinerary include nearby Boulder and Colorado Springs, and in the far southwest of the state, Durango and Telluride, where you'll also find excellent skiing and snowboarding, as well as hiking and biking in summer. Mountain bikers should look to Fruita and Grand Junction for some awesome rides. For more ideas, see our article on the top attractions and places to visit in Colorado.