A Visitor's Guide to Exploring Downtown Denver, CO
Author Carri Wilbanks lives near Denver and enjoys visiting the downtown attractions.
Whether you are visiting Denver for business, pleasure, a convention, a sporting event, or are coming to the city with kids, there are many ways to add onto your itinerary during your visit. Denver is booming, and it seems like new hotels, restaurants, and shops are opening every day, and the downtown landscape and neighborhoods are constantly evolving.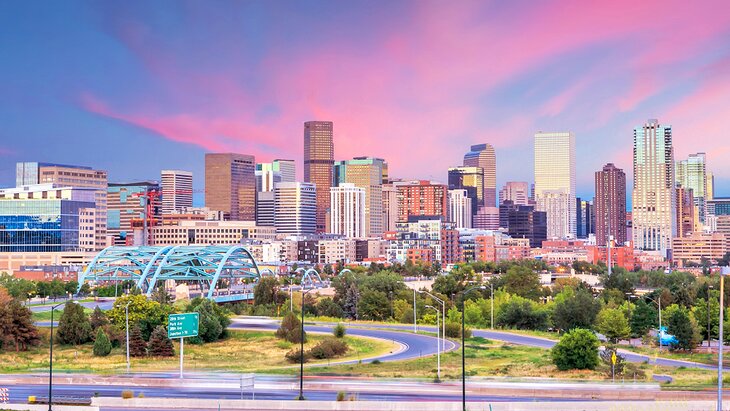 From what to do to where to eat, our visitor's guide to downtown Denver gives you the scoop on everything to see and experience in the Mile High City. Here, we take you on a tour of the hottest neighborhoods around the downtown area and introduce you to attractions and places to visit that will appeal to you whether you are a couple, a family, or on a solo holiday.
Things to Do in Downtown Denver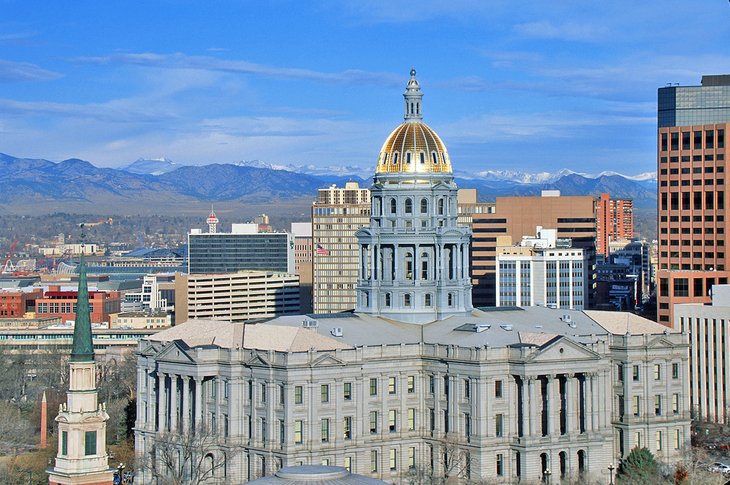 Anchoring downtown is the Beaux Arts Union Station, which is a working train station and also home to numerous shops, restaurants, and a hotel.
To survey the landscape from exactly one mile high, head to the Colorado State Capitol and climb to the 13th step on the west side of the marble edifice with its impressive 250-feet-high gilded dome. You can also take in awesome city skyline and Front Range mountain views from the viewing platform on the dome's drum.
The Capitol is adjacent to Civic Center Park, which is a long expanse of green with principal administrative buildings, including the City and County Building, which often puts on a great light show after dark, spread along its outskirts.
Denver is home to numerous parks, and another one is City Park, home to the Denver Zoo, which is one of the city's top attractions. The zoo has made a commitment to modernizing its exhibit spaces to make the experience as positive as possible for the animals. Popular exhibits include Predator Ridge and the Primate Panorama.
Larimer Square was Denver's first historic district and today remains the heart and soul of Lower Downtown (LoDo). It is home to numerous shops, art galleries, and restaurants. At night, the gas lamps lining its streets glow softly, and restaurants fill quickly. Also in LoDo is the Dairy Block, which is home to more shops and restaurants.
Also right downtown is the 16th Street Mall, a European-style pedestrian area with park benches, trees, and flowers. You can walk the distance of the mall, lined on either side with shops and restaurants, or ride up and down in the free shuttle bus.
Getting around Downtown Denver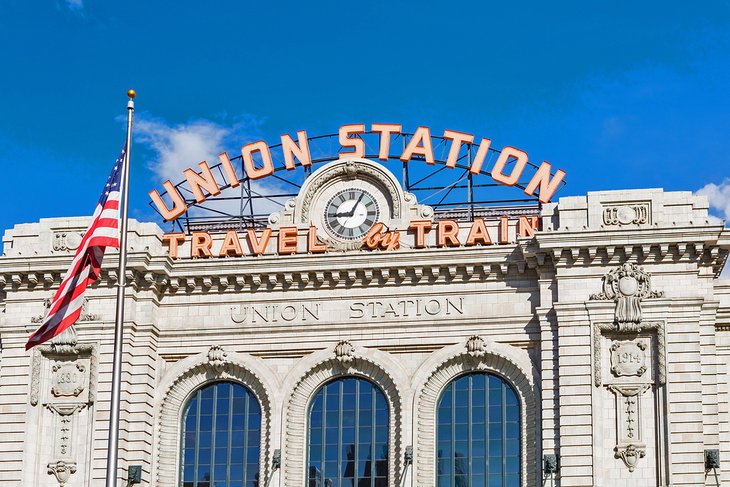 There is a train that runs from Denver International Airport to Union Station in the heart of downtown for just $10.50 each way. Trains leave every 15 minutes between 6am and 8pm and every 30 minutes outside these times.
Once downtown it is easy to get around on foot, bicycle or electric scooter. There are also various public transport options. The free 16th Street Mall Ride bus runs up and down the 16 blocks that encompass the pedestrian area downtown, making it very easy to get from the Colorado State Capitol to the east and Union Station to the west.
Denver also operates some 34.8 miles of light rail train tracks around the city and out into the suburbs. There are 36 stations and trains mostly follow I-25 into downtown with stops at Empower Field at Mile High (where the Broncos play NFL football), the Pepsi Center and Elitch Gardens Theme & Water Park. Additionally Denver has an extensive bus service called RTD that runs around the metro area.
Arts & Culture in Downtown Denver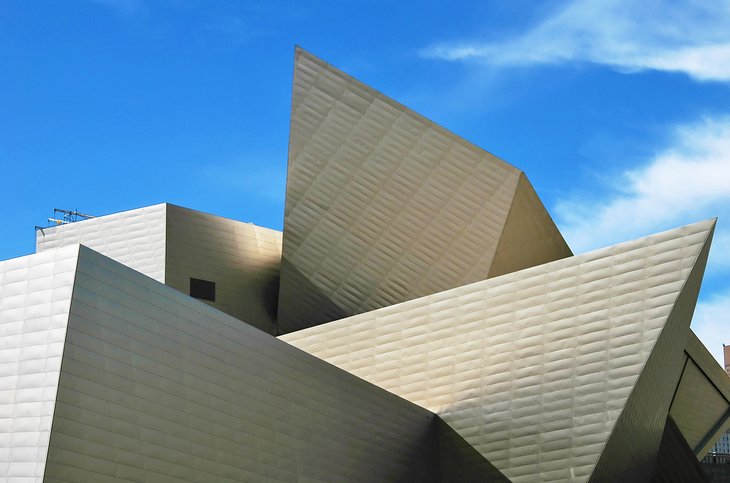 The Denver Art Museum is the city's top art museum and features a dramatic, futuristic-looking wing with architecture that contributes to the Denver downtown esthetic. The 146,000-square-foot Hamilton Building expansion was designed by architect Daniel Libeskind and inspired by the Rocky Mountains. The museum also has an impressive collection of some 70,000 pieces of art and features rotating exhibits that draw national attention.
Another top art museum in downtown Denver is the Kirkland Museum of Fine Arts. It features an expansive decorative art collection dating from 1880 to 1980. The collection also does an excellent job of representing all the major design periods, including Arts & Crafts and Pop Art.
Denver has a thriving performing arts scene, which is focused around the Denver Center for the Performing Arts on the south side of Larimer Square. Here, you will find multiple venues for different genres of music, dance, and theater, including Boettcher Concert Hall, Auditorium Theater, and Ellie Caulkins Opera House among others.
Denver's newest attraction is Meow Wolf | Convergence Station. This immersive art experience is the hottest ticket in town. The third installation from the arts collective founded in Santa Fe, New Mexico, Meow Wolf takes you on a trippy walk through experience of five different worlds with a story arc. Along the way, you'll experience mind-bending art in the form of larger-than-life sculptures, light shows, and numerous interactive rooms.
Meow Wolf also has a live music component on certain nights. The museum is suitable for all ages, although kids under seven might find it a little scary. Adults especially love Meow Wolf.
Finally, Denver has a number of arts districts, but the two closest places to visit downtown include the Santa Fe Arts District and the River North Arts District, which everyone knows as RiNo. Both are home to a number of galleries, as well as shops and restaurants, and RiNo is known especially for its street art.
A little farther east from downtown is Cherry Creek North. This neighborhood is home to dozens more art galleries, shops, and dining, and puts on the respected Cherry Creek North Arts Festival around July 4 each year.
Entertainment in Downtown Denver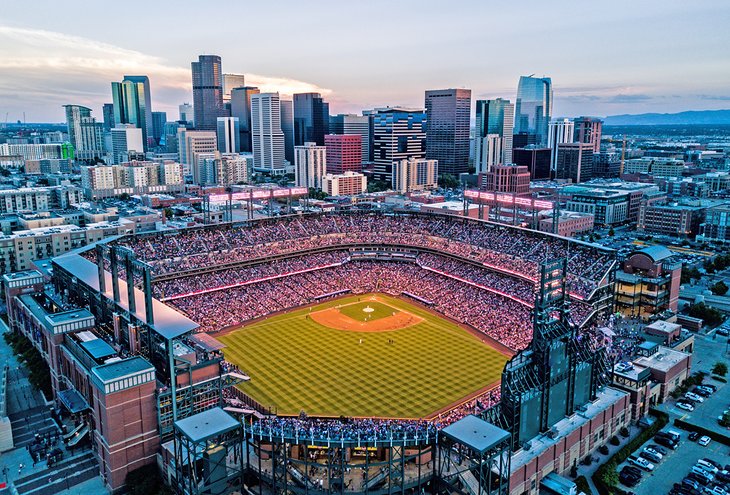 Denver hosts seven professional sports teams. These include the Denver Broncos, who play NFL football at Empower Stadium at Mile High, which is northwest of downtown just off I-25, and the Colorado Avalanche, who play NHL hockey at the Ball Arena, at the edge of downtown. For major league baseball, head to Coors Field in the heart of downtown. The stadium has a seating capacity of 50,200.
If you are looking for live music, Denver has plenty of concert venues. The Bluebird Theater on Colfax Ave is known for its intimate vibe and hosts a mix of local and national acts. The Ogden Theatre, which is also on Colfax Ave, is an ornate old theater that draws in big-name performing artists. The Pepsi Center is also a major concert venue drawing musical acts that can fill a stadium. Recent concerts included the Rolling Stones and Phil Collins.
The absolute top live music venue is about 15 miles from the city center but well worth the commute to reach. Red Rocks Park & Amphitheater is both a live music venue and a Denver park, and a shuttle runs from downtown to the park. The outdoor amphitheater's stage is set amid striking red rock formations that give it its name (and world-class acoustics). The concert lineup is impressive, with big name acts each week during the season.
Shopping in Downtown Denver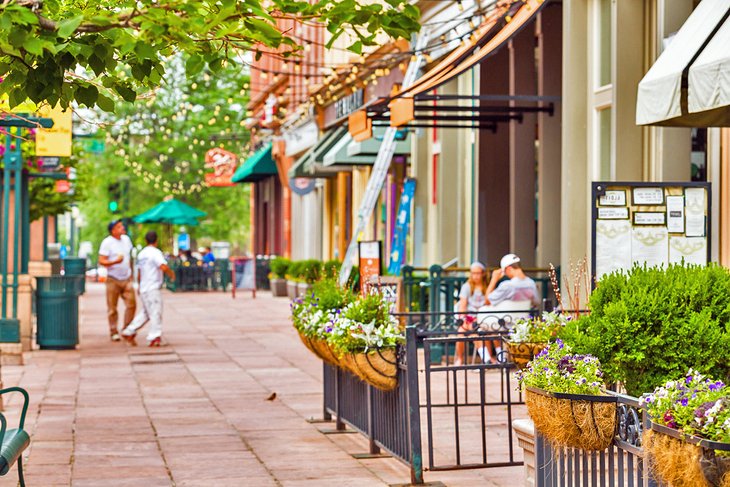 Denver is filled with one-of-a-kind boutiques and other shops that sell made-in-Colorado goods. Head to Larimer Square if you are looking for chic fashion from runway designers like Tracy Reese, Vivienne Tam, and Ted Baker. If you'd prefer more of a mall shopping experience right downtown then try the Denver Pavilions, which is home to multiple retail stores.
If you still read paper books, then Denver has a great local bookstore called the Tattered Cover. It has a multi-level store downtown near Coors Field and another smaller branch in Union Station.
Cherry Creek North has long been Denver's most famous shopping district. Here, you'll find the Cherry Creek North Mall with elite stores like Louis Vuitton and Tiffany & Co., as well as independent boutiques and even women's consignment shops like Rags Consignments with gently worn designer labels a plenty.
Getting Outdoors and Active in Denver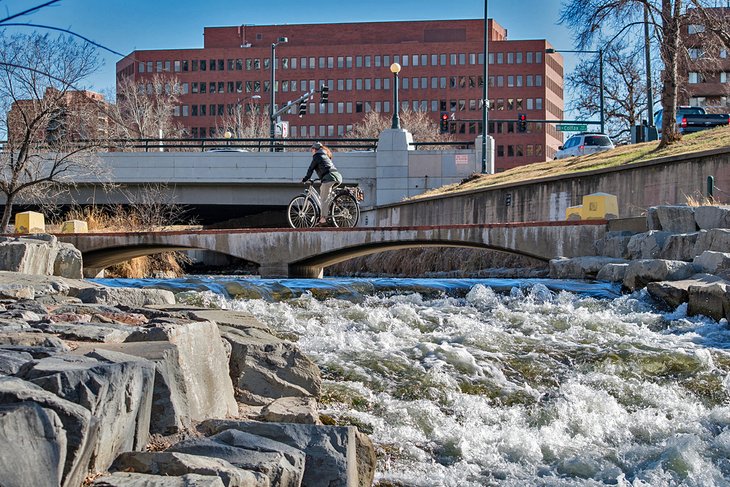 Denver is a very fit and active city, and there are tons of outdoor activities on offer in the city center itself. Begin with a visit to the flagship REI Store, which has a 47-foot-high rock climbing wall modeled after the Flatirons in Boulder that offers a chance for beginners to advanced climbers to try the sport for free.
Cycling is huge in Denver, and the city has a bike-sharing program called Denver B-Cycle. There are also hundreds of miles of dedicated bike paths running loops around the city, and you can ride for miles without hitting a roadway.
There are numerous hiking trails just outside the city as well. One favorite spot is around Red Rocks Park & Amphitheater, which also offers great views.
Dining in Downtown Denver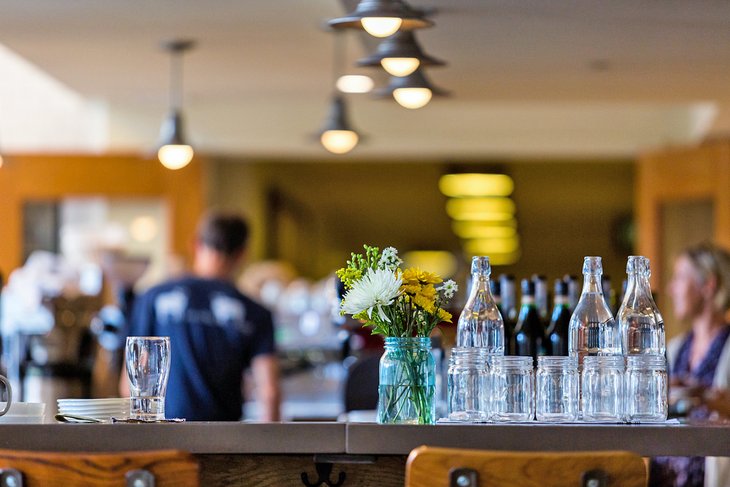 Denver has a constantly evolving food scene that is super trendy right now. One of our favorite restaurants is Citizen Rail on the lobby level of the Hotel Born, adjacent to Union Station. This chef-driven restaurant focuses on wood-fired grilled fish and meat. Everything is beautifully plated and tastes fresh and delicious.
Jovanina's Broken Italian is a contemporary Italian restaurant in Denver's Lower Downtown (LoDo) neighborhood. It offers a fresh, modern take on Italian cuisine with a Colorado twist. Owned by a husband and wife duo, Jovaina's cooks up vegetable-forward dishes, handmade pasta, wood-fired pizza, seafood, steak, and more, all incorporating the best local and regional ingredients by season.
For Mediterranean-inspired fare with innovative dishes, try Rioja. Located right on Larimer Square, it also has a romantic ambience at night, and the food is consistently good. On the 16th Street Mall, The Kitchen American Bistro serves organic and healthy American fare. The trendy atmosphere is also cool.
In Denver's upscale shopping and dining neighborhood of Cherry Creek North, Narrative is another top dining choice. It serves eclectic global fare and offers plates designed for sharing, as well as entrees in modern, book-themed environs.
For breakfast, everyone loves Snooze (there will be a line), which has a location in Union Station, among others scattered around the city. They are known for their varied selection of eggs Benedict, as well as their pancakes.
Denver - Climate Chart
Average minimum and maximum temperatures for Denver, CO in °C
J
F
M
A
M
J
J
A
S
O
N
D

8

-9

10

-7

13

-4

17

0

22

5

28

9

31

13

30

11

26

7

20

1

12

-5

9

-8

PlanetWare.com
Average monthly precipitation totals for Denver, CO in mm.

16

16

47

57

66

52

45

48

30

34

30

22