9 Best Cheap Ski Resorts in Colorado, 2021
We may earn a commission from affiliate links ()
Is it possible to ski and snowboard and not break the bank in Colorado? Absolutely! With a little effort, some of Colorado's best skiing can be had for less than half the cost of the big resorts.
In many cases, the drive times are less, the traffic is less, and the lift lines are almost non-existent. Layer on local charm instead of glitz, and friendly locals instead of competitive crowds, and the idea of trying somewhere new and saving money has a lot going for it.
Colorado's cheap ski resorts are fun. Their smaller size creates a relaxed atmosphere, and their old-school charm will draw you in and help you escape the stresses of everyday life. One thing that these resorts share with their more expensive cousins is plenty of snow, so why pay more for the same quantity of the wonderful white stuff?
If you're looking for cheap skiing in Colorado, you don't have to look far. Many of the most affordable ski resorts are closer to Denver than you might expect, and in many cases, closer than big name resorts.
Although the budget-friendly resorts may not have the fastest chairlifts, this is more than offset by the absence of lift lines. You may be surprised at the amount of vertical you can bag in a day, plus your legs will get extra rest time.
Colorado's cheap ski resorts are ideal for families, as they are a cost-effective way to make the most of your hard-earned dollars. Not only will you save on lift tickets, but you'll also save on parking, food, and accommodation.
Plan an economical ski getaway with our list of the best cheap ski resorts in Colorado.
Note: Some businesses may be temporarily closed due to recent global health and safety issues.
1. Sunlight Mountain Resort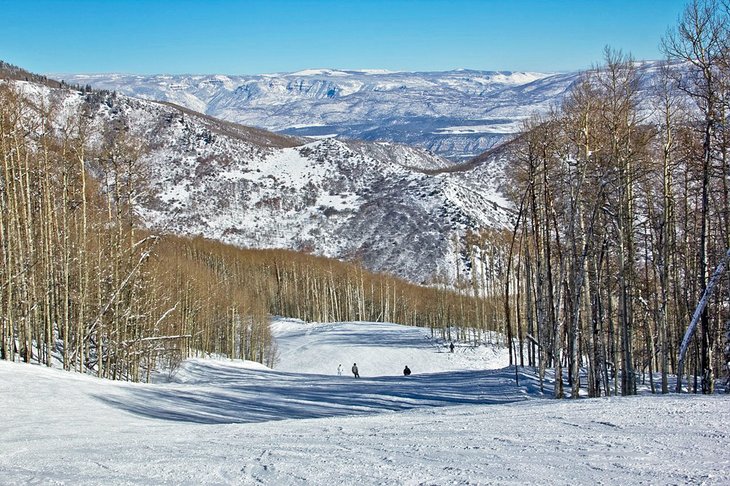 Just up the road from world famous Aspen is Sunlight Mountain Resort, where the value equation goes off the charts. A relatively large resort with a great mix of runs, Sunlight offers bargains galore. Sunlight is aptly named; they receive over 300 days of sunshine each year. Add to that 250 inches (nearly 21 feet) of snow per season, and you'll know why people enjoy this place.
Intermediate skiers will love it here. The mountain has 67 runs, many of which are long cruisers. For those looking for a bit more challenge, they can head to the glades. The snow in among the aspen trees stays deep and untracked for days after a storm.
Sunlight is an excellent family ski resort. The ski school offers many combos, including the Learn to Shine program, one of the cheapest ways to get your kids skiing.
The deals here extend off the mountain as well. Nearby, Glenwood Springs offers a wide variety of budget and mid-range accommodation options. Dining in town is also affordable, as you won't be paying ski-town prices; you'll just pay what the locals pay.
The incredible natural hot springs, available at two locations in town, will soothe your tired muscles and get you back on the slopes in no time.
Official site: https://sunlightmtn.com/
Accommodation: Where to Stay in Glenwood Springs
2. Eldora Ski Resort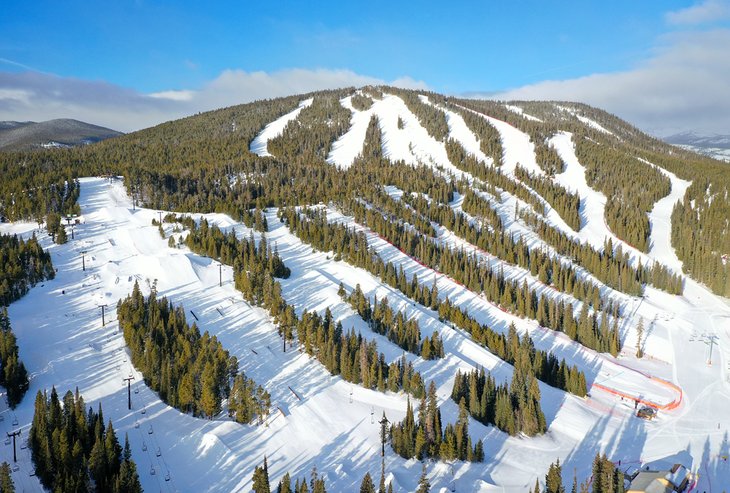 If you add up the cost of fuel, accommodation, lift tickets, and food on the hill, you'll see why Eldora ranks high on the list of affordable ski destinations in Colorado. The resort is only 47 miles from Denver and 21 miles from Boulder, meaning you can save on accommodation if you are day tripping from these or other nearby towns. You can pack your own lunch. And finally, lift tickets are cheap.
All these bargains add up to a great day on the slopes, especially for families with teenagers who love to snowboard or freestyle. The mountain has eight terrain parks with all the usual features, along with some crazy ones dreamt up by the mountain staff.
With an average snowfall right around 25 feet a season, you'll generally find good conditions across the 680 acres of skiable terrain. Eldora is one of the only ski resorts that has 100 percent snowmaking coverage.
Ten lifts, one of which is a six-passenger high-speed chair, get you back up to the top quickly and keep lift line wait time to a minimum.
For those who prefer cross-country skiing, Eldora has 40 kilometers of groomed trails of varying difficulty winding their way through the forest.
Official site: https://www.eldora.com/
3. Purgatory Resort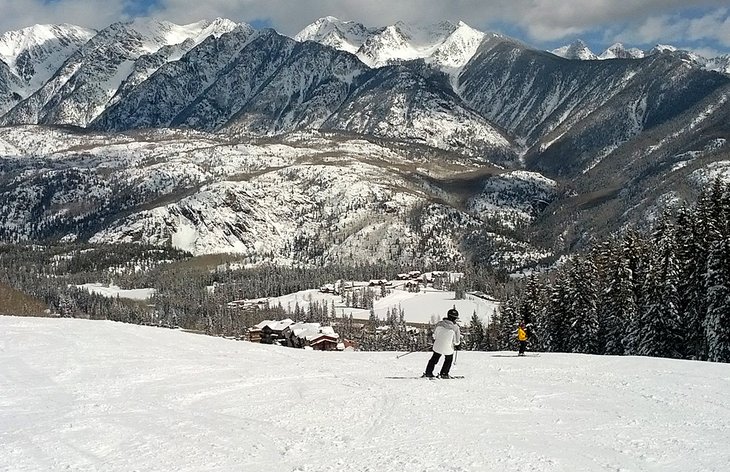 Purgatory Resort, located just outside Durango, is one of the larger ski resorts that those on a budget can appreciate. Purgatory, or "Purg" for short, is one of the top resorts in the San Juan Mountain range. Lift tickets here are more expensive than some of the other smaller bargain resorts but considering what you get for spending a bit more, skiing here is a worthwhile investment.
The resort receives a decent amount of snow each season and with much of the mountain facing north, the snow tends to stick around. Eleven lifts service nearly 100 runs and are spread strategically around the mountain. Lift lines here are a rare occurrence.
Accommodation is where you can really save money by skiing at Purgatory. An easy drive down the road from the resort is the lively town of Durango. A wide variety of hotels and inns are available to suit every budget.
With the town being home to Fort Lewis College, plenty of excellent budget eateries catering to students can be found. For those into self-catering, the large and well stocked City Market in the center of town is a good go-to grocery store.
Official site: https://www.purgatoryresort.com/
Accommodation: Where to Stay in Durango
4. Loveland Ski Area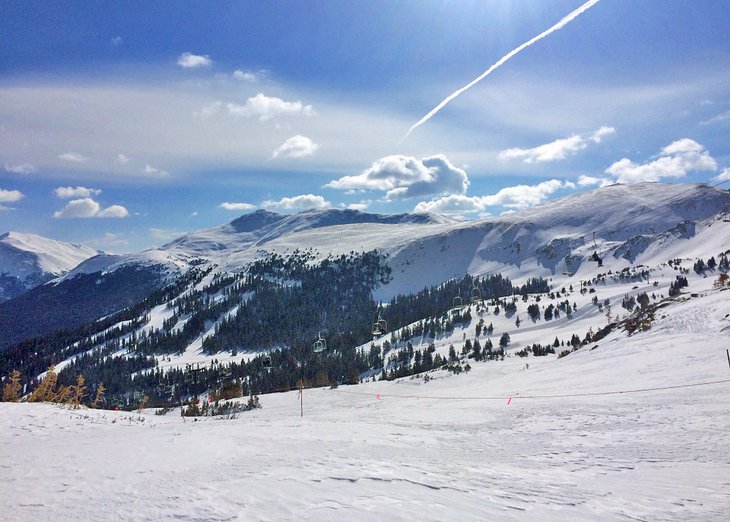 Loveland is only 53 miles from Denver, making it an easy spot to get to fast from the city or the Denver International Airport. While other folks are still on the highway heading to resorts a couple of hours away, you will be cruising down uncrowded, snow-filled slopes. With some of the best snow in the state, it's a great, cheap spot to ski or board.
Loveland has incredible deals on advance lift tickets, especially if you pre-purchase them in blocks of four. If that isn't enough, the resort also offers free snowcat lifts to more advanced terrain.
The mountain has 94 named ski runs spread out over 1,800 acres all serviced by nine lifts.
Loveland is a great budget ski destination for families, not only for its low-cost tickets but also because it's an excellent place to take lessons. The Loveland Valley area, separate from the rest of the mountain, has its own lift and is only for those just starting out. No need to worry about fast skiers buzzing by you as you are learning your turns.
For those more advanced skiers, the Loveland Basin area has a strong mix of intermediate through to advanced trails, including some exceptionally good wide-open bowl skiing.
Official site: https://skiloveland.com/
Accommodation: Where to Stay in Denver: Best Areas & Hotels
5. Cooper Ski Area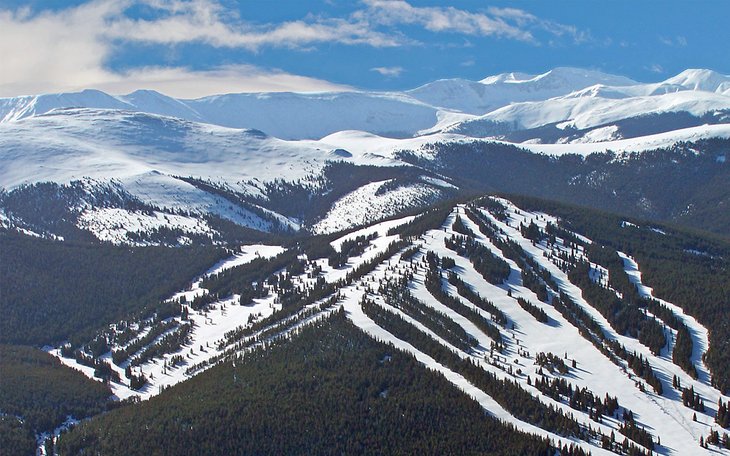 Cooper is in the same mountain neighborhood as Vail, Breckenridge, and Beaver Creek, so you'll get all the same amazing snow conditions but without the high prices. Cooper, in operation since 1942, is a friendly place with good facilities and great snow. Five lifts service 59 trails spread out across 470 acres. Lift tickets are an incredible bargain here; they cost half as much as the large resorts just down the road.
Cooper claims that their all-natural snow offers the softest snow surface in Colorado. You'll find terrain for all abilities, including the finest learning and beginner areas, up to epic powder and glades.
The fun and funky town of Leadville is just down the road. In town, you will be able to pile on more savings with reasonably priced accommodation and meals. The historic main street is worth a stroll to stretch out your legs after a day on the slopes.
Official site: https://www.skicooper.com/
6. Wolf Creek Ski Resort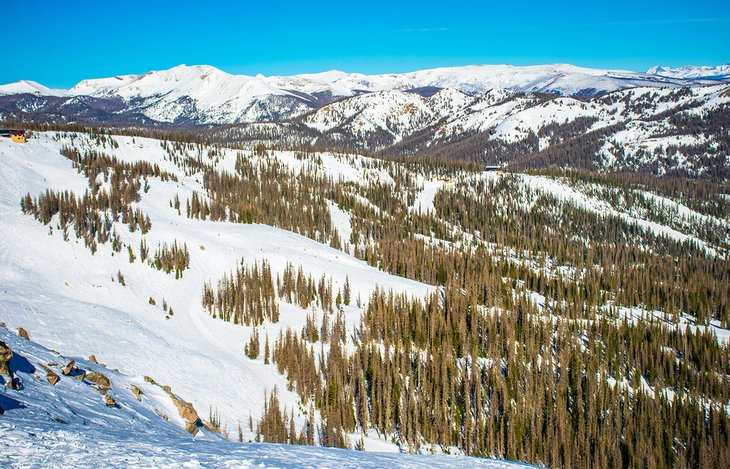 Located in the southern region of the state, Wolf Creek is all about snow, 430 inches, nearly 36 feet, in fact. Considering the resort gets the most snow in Colorado, and it's a budget place to ski, you might be led to believe the place is overrun with skiers. Fortunately, that is not the case. What you will find is a great small resort with 1,600 skiable acres.
The resort is spread out across the mountainside, and its position is ideal for catching snow. Runs are a mix of beginner, intermediate, and advanced, and the tree skiing here is excellent. Lift tickets are a relative bargain and on hill dining is cheap, filling, and tasty.
Good, reasonably priced accommodation can be found to the west of the mountain in nearby Pagosa Springs or to the west in South Fork. Both towns have good dining options and grocery stores for those who want to self cater. Pagosa Springs offers the bonus of being able to soak in the hot springs.
Wolf Creek is well positioned for skiers based in the southern portion of the state — those from New Mexico, and even people from Texas.
Official site: https://wolfcreekski.com/
Accommodation: Where to Stay in Pagosa Springs
7. Monarch Mountain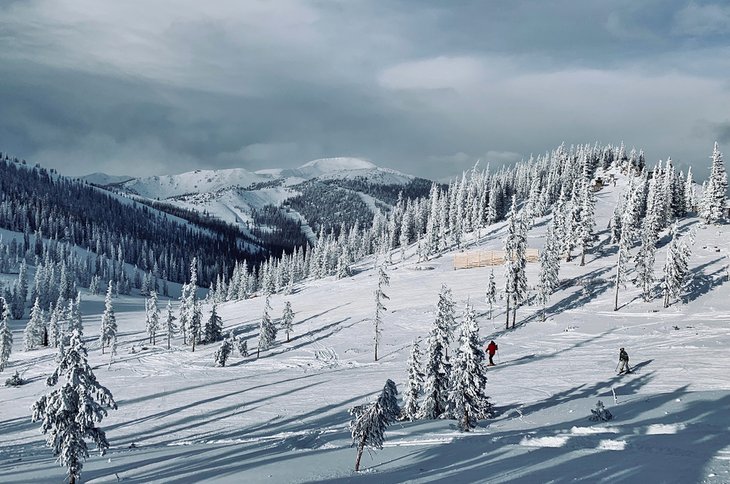 Off most people's radar, Monarch Mountain is an affordable destination that receives 350 inches (29 feet) of snow each year. The mountain has a good vertical drop of 1,162 feet, and with 66 named trails, lots of downhill options are available. This resort is a low-key place, with locals and visitors interacting and having a good time enjoying the beautiful surroundings.
The cost of a visit here is low due to reasonably priced lift tickets, well-priced food services, and cheap learn-to-ski packages. Boarders and freestylers will be able to rack up an impressive number of laps at the two terrain parks due to the non-existent lift lines.
Just like at Cooper, you might be tempted to try cat-skiing. Rides up can be booked with the resort and open another 1,631 acres of untracked terrain.
The nearby town of Salida is a budget-friendly option for accommodation. A wide variety is on offer, ranging from chain hotels to family-owned establishments. Dining here is also easy on the pocketbook, with local restaurants serving up large portions for a fair price.
Official Site: https://www.skimonarch.com/
Accommodation: Where to Stay in Salida
8. Winter Park Resort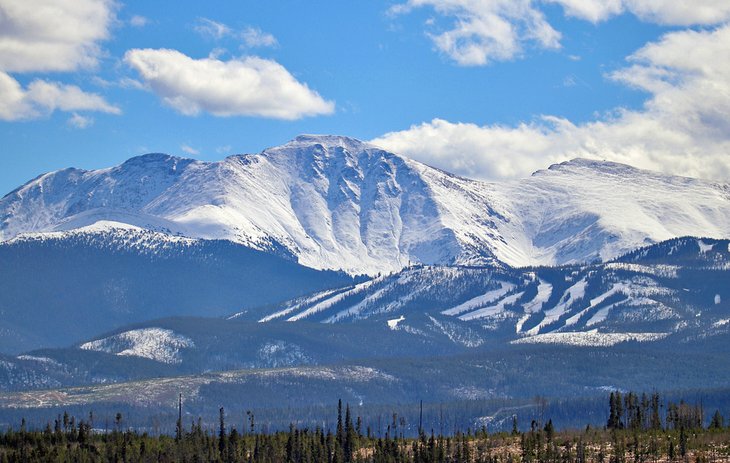 Only 67 miles from Denver, Winter Park has long been a popular choice for those looking to save money on fuel and get the most resort amenities for their buck.
This is one of the larger budget resorts. Winter Park basically reinvented itself in 2020 through investments of over 30 million dollars spread across critical infrastructure and new chairlifts. It's well worth a look if you haven't skied here in a while.
Winter Park receives around 27 feet of snow each season and supplements that with extensive snowmaking operations. The amount of terrain available for skiing here is extensive: 3,081 acres are just waiting to be explored. Named runs total 166, and they tilt towards the intermediate level skier. Your ski ticket dollar goes a long way here with 23 lifts, including a 10-passenger gondola.
A great way to ski at Winter Park and save even more money is to take the Winter Park Express Train to the mountain. Perfect for those in the heart of Denver and without a car, the train leaves from the historic Union Station. Enjoy the incredible scenery along the way, and don't worry about traffic or parking. At the end of the day, rest your tired legs as you recline and let someone else do the driving.
Official Site: https://www.winterparkresort.com/
9. Echo Mountain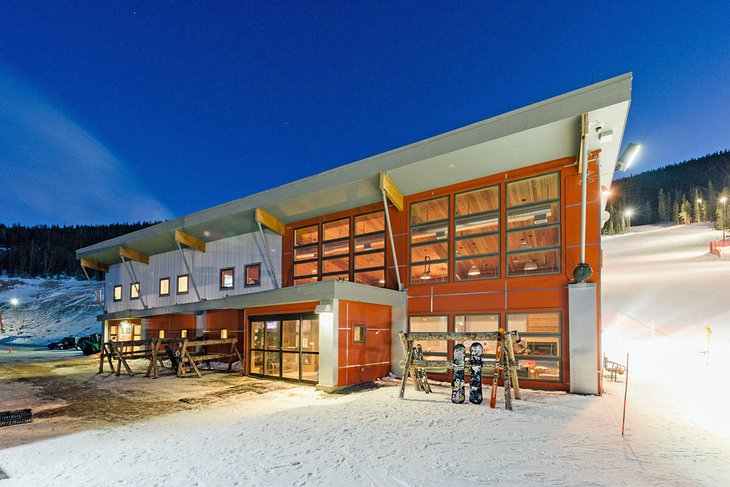 This is a small operation with just 13 runs, but that's okay because the price of a lift ticket is commensurate with the facilities. Echo Mountain is only 36 miles from Denver, making it an ideal day trip destination and a good option for saving on gas and accommodation. Snow here is plentiful, averaging about 23 feet a year, but the mountain also has extensive snowmaking capabilities.
A bonus at Echo is night skiing. Finish up your workday and a short while later, you'll be scoring laps in the terrain park or on the main intermediate runs. Echo also has a tubing park for those not interested in skiing.
Official Site: https://echomntn.com/