From Denver to Aspen: 5 Best Ways to Get There
The glitzy mountain town of Aspen, famous for its natural beauty, world-class Colorado skiing, and celebrity residents, is about 200 miles southwest of Denver, and there are many ways to get between the two destinations. While it is possible to fly directly to Aspen from your destination of origin, most travelers chose to fly into Denver, which offers many more flight options at more affordable prices, and then either drive or take a bus or shuttle service.
From Denver, it is about a 3-hour-and-45-minute drive to Aspen. Depending on the season, there are two different routes you can take. Both involve stunning scenery and climbing over multiple mountain passes.
If you are not interested in driving yourself between Denver and Aspen, you can still get there via a few other transport options, including taking a private luxury SUV transfer with a driver or taking a more affordable shuttle service.
Really, how you get between Denver and Aspen will depend on your budget, travel priorities, and timeframe, but if you enjoy road trips, we highly recommend making the drive in one form or another, as it honestly takes you through some of Colorado's most gorgeous Rocky Mountain scenery.
1. From Denver to Aspen by Car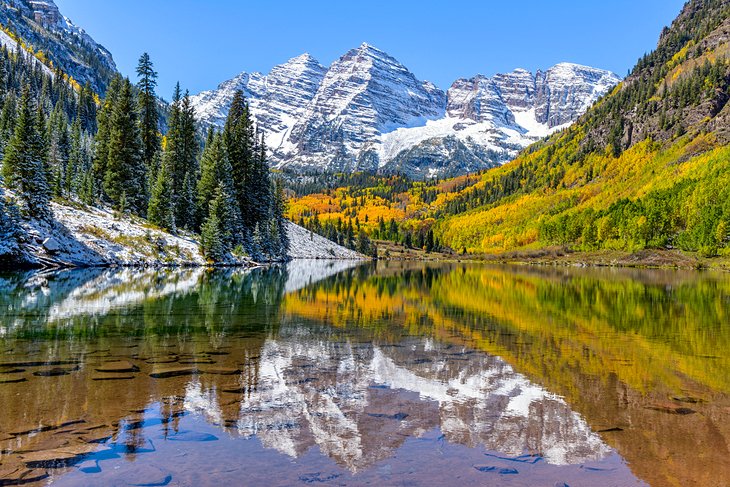 Driving from Denver to Aspen in a rental car means you'll have a mode of transport to get around once you are there. Rental cars can be picked up at Denver International Airport or from various outlets around the city center, depending on your starting point. The drive is around 200 miles and takes about four hours on the faster route.
It is important to note that if you are renting a car in winter, Colorado has strict winter driving traction laws that go into effect when it snows on the highway between Denver and Aspen. As such, you will need to make sure you rent a vehicle that is equipped with winter driving tires to avoid getting fined.
In summer, there are two different ways to get between Denver and Aspen: The most scenic route is via Highway 82 over Independence Pass, which is the highest paved state highway over the Continental Divide in Colorado. To get to Independence pass, you'll take I-70 from Denver to Highway 91 south to Leadville and then follow signs to Highway 82 and the pass.
It takes just under two hours to reach Leadville, which is a nice spot to stop for a coffee or lunch. From here, it is at least another hour over Independence Pass down into Aspen. Independence Pass is usually open between Memorial Day and Labor Day depending on snowfall. The drive up and down the pass features lots of hairpin turns, and you'll need to pay close attention when driving, and go slow. Make sure to pause at the top of the pass to snap a few pictures and marvel at the high alpine terrain.
The other route is open year-round. Leaving Denver, you will get on I-70 west and take it all the way to Glenwood Springs. The drive through Glenwood Canyon is quite stupendous, and if you have time and want to break up the drive, you can pause in Glenwood Springs for a soak at one of several hot spring resorts in town.
Glenwood Hot Springs Resort is the oldest, first opening in the 1880s. This resort can be seen from the highway, and it has a million-plus-gallon swimming pool fed by the Yampah spring, which is said to be the world's largest.
You can also check out the Iron Mountain Hot Springs Resort, which opened in the last few years and has 17 pools set along the Colorado River. The Yampah Spa is next to the Glenwood Hot Springs Resort and offers the opportunity to take a steam bath in a natural vapor cave. This is the only place in North America where you can do this, and it's a unique experience.
From Glenwood Springs, it is 40 miles to Aspen. You will take Highway 82. Follow the signs; the turns through town are well-marked.
2. From Denver to Aspen by Private Luxury SUV Transfer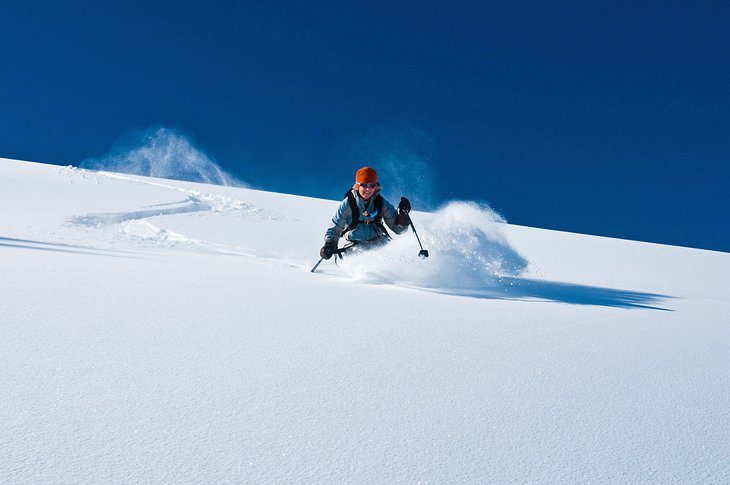 If you would rather not drive yourself and want to travel in style, book a Luxury SUV private transfer from DEN directly to your hotel in Aspen. These transfers are great because you won't share the vehicle with other guests outside your party, and you can schedule your pickup for immediately after you arrive at the airport.
The vehicles come with Bluetooth, so you can listen to your own music and just soak up the gorgeous Rocky Mountain scenery along the way. Snacks and beverages are also served, and the service includes a complimentary 20-minute rest stop to stretch your legs. If you need a child seat, these can also be arranged with advance notice.
3. From Denver to Aspen by Air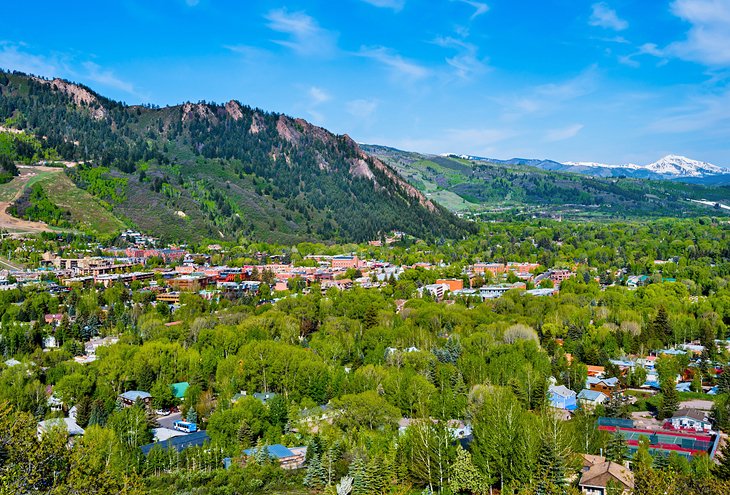 You can also fly between Denver International Airport (DEN) and Aspen Pitkin County Airport (ASE), with at least four daily nonstop flights on United Airlines that operate year-round. The flight from Denver takes just one hour, and ticket prices vary.
If you purchase tickets to Aspen from other parts of the country, it is usually more expensive than flying into Denver. However, check prices, as this is not always the case, and there are sometimes deals. Obviously, if you can find a flight that fits your budget, and your final destination is just Aspen or nearby resorts like Snowmass then flying to ASE, even with a connection flight, will still be the most convenient way of getting here.
4. From Denver to Aspen by Shuttle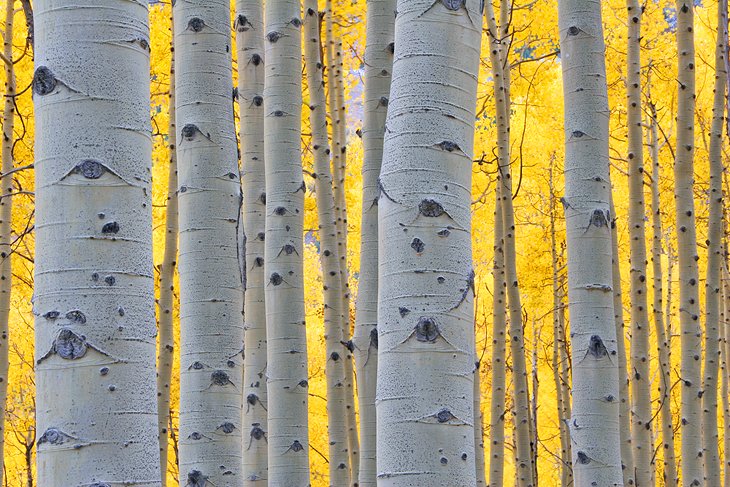 Another option, if you don't want to drive yourself but don't want to pay for a private transfer service, is to use the shuttle service offered by Epic Mountain Express.
The company offers frequent shared ride transport in small vans that can accommodate 10 people. These depart frequently from DEN, and will drop you at most hotels and resorts around Aspen. The trip takes a little over four hours, and the vans are comfortable, although you will be traveling with other passengers.
5. From Denver to Aspen by Bus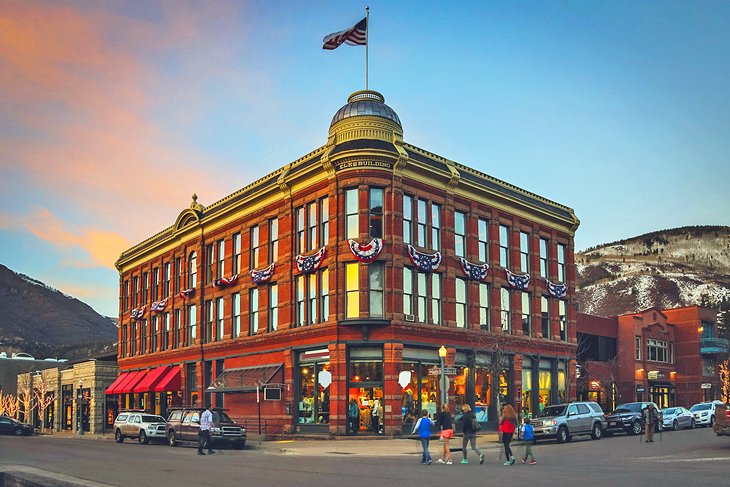 The cheapest way to get between Denver and Aspen is to take public transportation utilizing the Colorado Department of Transportation's Bustang system.
From Union Station in downtown Denver, you will take the CDOT West Line bus (runs twice daily) west to the West Glenwood Park and Ride in Glenwood Springs. This portion of the trip takes just under four hours.
Bustang has a mobile app users can download. The app allows users to buy tickets online in advance and provides easy access to them on the road. The buses are also family friendly. Seats have seatbelts that allow for car seats to be strapped in. The overhead storage bins are also roomy enough to fit strollers and other gear.
Once you reach the West Glenwood Park and Ride, you can catch the Roaring Fork Transit Authority (RFTA) bus L into Aspen. This portion of the trip takes about one hour. Depending on where you are staying, you may have to catch an Uber or Lyft to your hotel or resort from the bus stop.
Aspen - Climate Chart
Average minimum and maximum temperatures for Aspen, CO in °C
J
F
M
A
M
J
J
A
S
O
N
D

1

-14

4

-12

7

-7

11

-4

16

1

22

5

25

8

24

8

21

4

14

-2

6

-8

2

-13

PlanetWare.com
Average monthly precipitation totals for Aspen, CO in mm.

44

52

70

65

53

32

45

35

42

52

57

45