16 Best Small Towns in Colorado
Author Meagan Drillinger visited many small towns in Colorado and spent considerable time hiking in the surrounding areas.
Colorado is not a state of cities. Aside from Denver and Colorado Springs, which are certainly categorized as cities, the rest of Colorado is broken up into small towns or dramatic wilderness. You can thank the Rocky Mountains for that.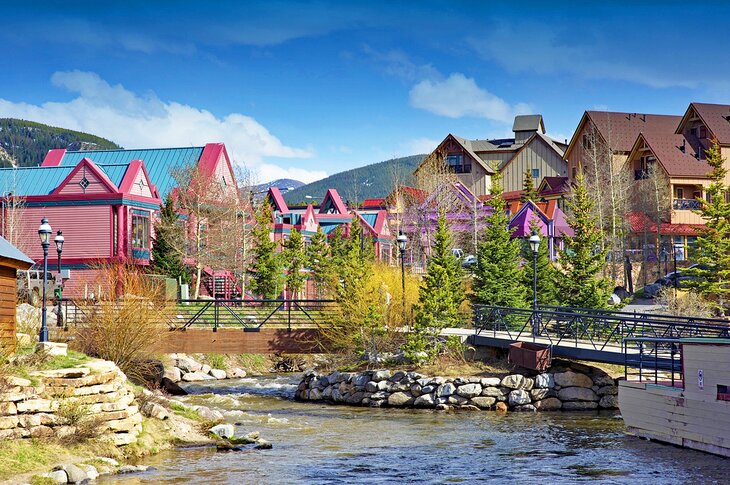 The Rocky Mountains are Colorado's greatest tourist asset, but also the biggest hindrance in developing larger cities. But its residents will tell you they certainly do not mind. The impenetrable mountains make it tough to traverse the state, save for one or two main arteries.
Colorado's mining history certainly plays a part in that, too. During the gold and silver rushes, mining towns sprung up all over the many ranges in the Colorado Rockies. Today many of those mining towns have survived and flourished into the top tourist destinations in the state. Some of them have transformed into world-class ski destinations, while other small towns were built specifically with recreation in mind.
Whether you've heard the names before, like Aspen or Vail, or whether they're farther off the beaten path, like Silverton and Paonia, Colorado is absolutely chock-full of charming and beautiful small towns, which are among the best places to visit in Colorado.
Read on to discover the best small towns in Colorado and what you can find when you get there.
1. Crested Butte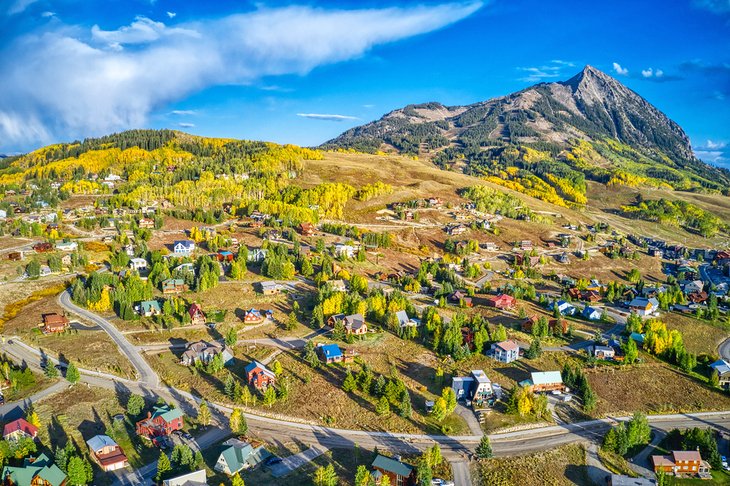 Crested Butte has the reputation of being Colorado's "Last Great Ski Town." And when you visit you'll soon discover why. Unlike other ski towns that are packed with five-star hotels and world-renowned restaurants, Crested Butte has been clinging to its original "good ole day" roots.
A sleepy Elk Avenue sports laid-back cafés, restaurants, and small boutiques housed in quirky Victorian storefronts. But you won't find the designer labels here that you may find in other parts of the state. Off the main drag, the town is wreathed in towering Rocky Mountains with 15 chairlifts and 2,775 verticals to explore.
Getting here is half the fun. Crested Butte is literally in the middle of nowhere, with no direct routes. Count on a long, but scenic drive from just about anywhere in the state.
Read More:
2. Breckenridge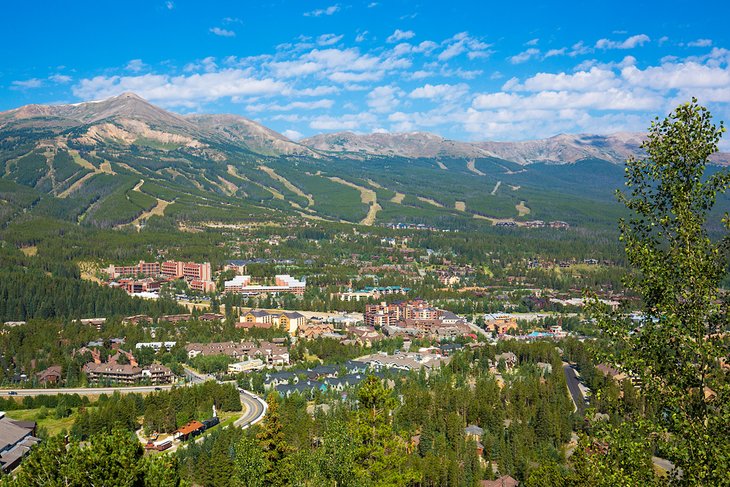 While Summit County has many beautiful small mountain towns, what sets Breckenridge apart is that it wasn't built for tourism. Breckenridge was built on the backs of miners, who scaled the peaks of Colorado more than 100 years ago. Today this Colorado small town retains its heritage, from the century-old storefronts to the overall frontier vibe.
Of course, tourism found Breckenridge, thanks to its world-class skiing, restaurants, boutiques, nature trails, and hotels. No matter the time of year, Breckenridge is packed with things to do, from miles of hiking trails through wildflower-strewn meadows, to skiing one of the many peaks in the Tenmile Range.
Breckenridge can also be used as a home base from which to go sightseeing in other nearby towns, like Frisco, Dillon, Silverthorne, and even Glenwood Springs, Aspen, and Vail.
Read More: Best Campgrounds near Breckenridge, CO
3. Lake City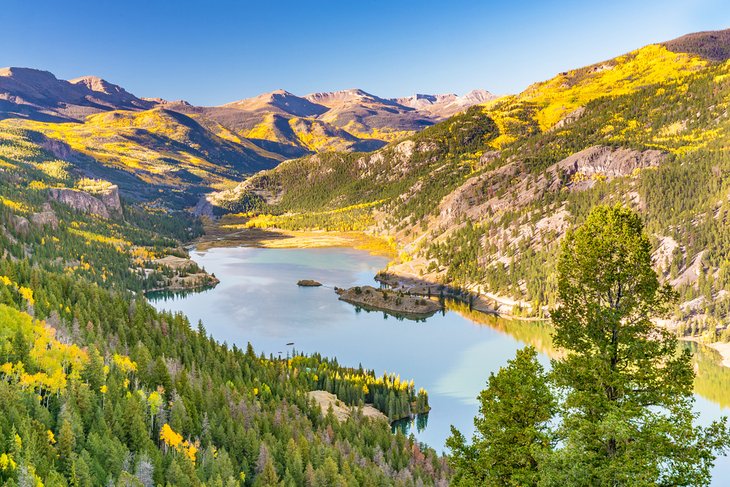 No matter how many times you see the Colorado Rockies, there is something about the San Juan Mountain Range that will always take your breath away. These rugged and wild peaks are the backdrop for the small town of Lake City.
You'll find Lake City along the Silver Thread Scenic Byway — one of the many spectacular scenic drives in Colorado. The town itself is just a few minutes from the breathtaking San Cristobal Lake, for which the town is named.
Historic Lake City was founded in 1874, and is known for its historic district, which happens to be one of the most comprehensive in the state. Like most mountain towns in Colorado, Lake City does not disappoint on outdoor activities, no matter the time of year. Summer brings meadows strewn with wildflowers, hiking, fishing, and exploring ghost towns, while winter is naturally prime ski season.
Today Lake San Cristobal remains the number one attraction in Lake City. The 340-acre lake, formed nearly a millennium ago, today is one of the best spots for boating and fishing in Colorado. Visitors also love to drive the 75-mile Silver Thread Byway, which runs from Lake City to South Fork along Highway 149.
4. Ouray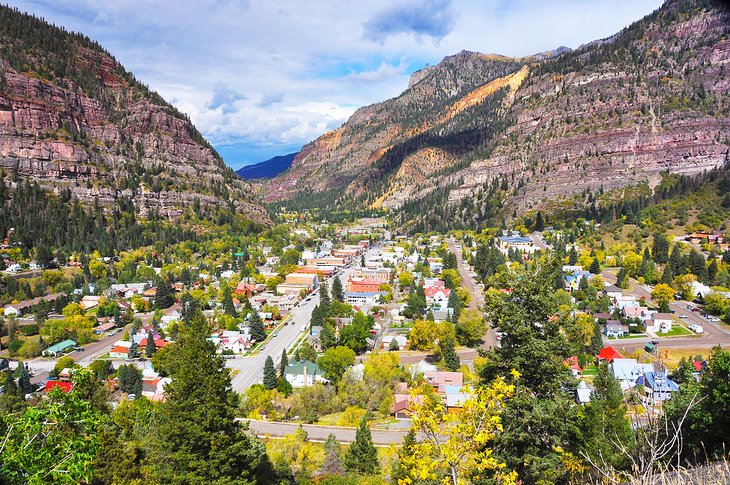 While everyone is skiing Telluride, the real move is to head about an hour northwest to Ouray. Ouray is one of those mountain towns that you have to see to believe. It's easy to understand why this historic mining town has been dubbed the "Switzerland of America."
Ouray sits in a river valley at almost 8,000 feet above sea level, wreathed in the towering San Juan Mountains. It offers the same breathtaking scenery as nearby Telluride — it's just over the mountain, believe it or not — but often with fewer crowds and a lower price point due to the fact that you have to drive to Telluride to ski.
But Ouray is no less spectacular. The small town was established in the 1870s and survived the test of time thanks to its abundance of natural hot springs.The Ouray Town Pool is one of the top places to visit in the town for both locals and visitors. You'll find dramatic waterfalls in Ouray, as well, like the Box Canyon Falls, which are just outside of town.
Ouray also sits along the Million Dollar Highway, a 25-mile road that carves through the mountains between Ouray and Silverton, and is one of the most beautiful drives in the country.
5. Glenwood Springs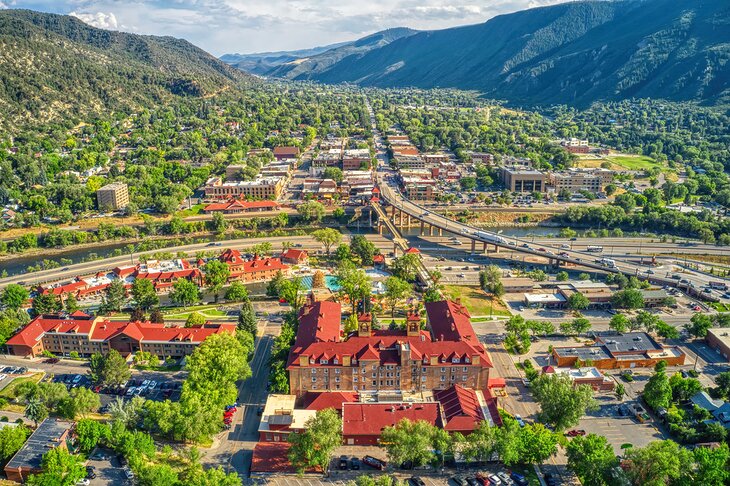 Just a bit beyond the Vail Corridor lies the pleasant small town of Glenwood Springs. There's something for everyone here. Love hot springs? Check that box with the incredible and historic Glenwood Hot Springs or Iron Mountain Hot Springs. Both places offer different versions of the same wonderful feeling of soaking in naturally warmed water while gazing up at the mountain scenery.
Perhaps action and adventure is more your thing? In that case head to Glenwood Caverns & Adventure Park with its underground and above-ground amusement park thrills for the whole family.
Glenwood Springs is ideally positioned for outdoor activities as well. A spectacular hike to Hanging Lake is one of the most popular things to do for young and old, as are fly fishing; whitewater rafting; and downhill skiing at Sunlight Mountain, one of the cheapest places to ski in Colorado.
If all that activity has you working up an appetite, head downtown and stroll along Glenwood Spring's vibrant main street until you come to Smoke, this restaurant serves up some of the finest BBQ in Colorado.
6. Paonia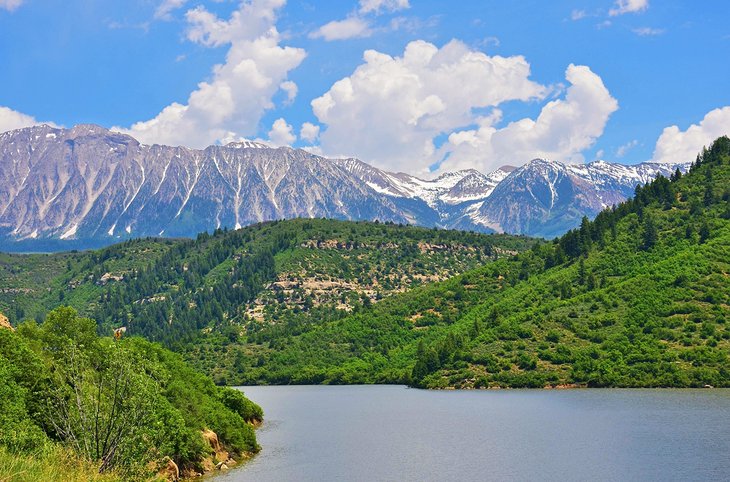 Colorado's Highway 133 is a gorgeous scenic drive through one of Colorado's many river valleys. It was named Paonia thanks to the explosion of peonies that bloom in the spring and summer. It also happens to be a historic mining town that today has grown to be a local favorite for fishing; hiking; and exploring Lost Lake, the Gunnison National Forest, and beyond.
Paonia was discovered in the 1850s as a passage through the Rocky Mountains during the mining days. But it wasn't officially deemed a town until 1880 and was incorporated in 1902.
Downtown Paonia is flanked with historic buildings that today house art galleries, restaurants, and boutiques. You'll also find Paonia State Park, as well as plenty of campgrounds, fishing along Muddy Creek and in the Paonia Reservoir, and, in season, Paonia provides access to the Kebler Pass, which leads to Crested Butte.
7. Telluride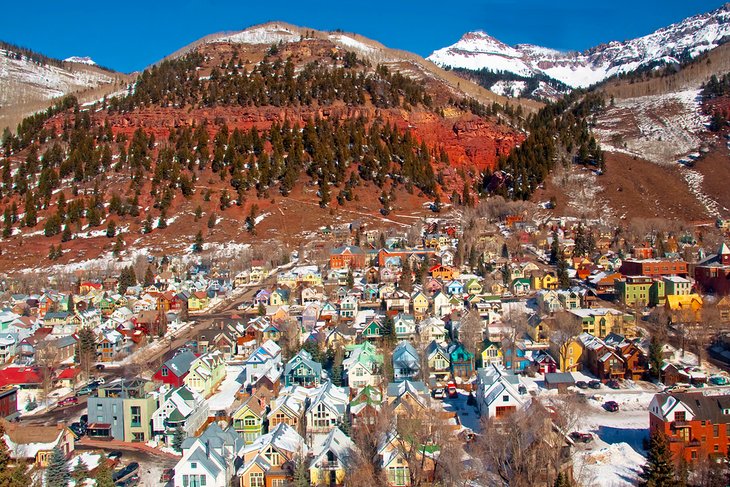 If you're looking for dramatic mountain scenery — even by Colorado's standards — then you'll want to hit up Telluride. Located in the San Juan Mountains, Telluride is about as close as you'll get to the Swiss Alps without having to hop a plane to Europe.
The old mining town was established in a box canyon and is surrounded on all sides by peaks that scale 14,000 feet. The downtown is small, just 12 blocks long and eight across. It was named a National Historic Landmark District in 1964, due to its gorgeous Victorian homes, Wild West storefronts, and heritage.
Today it is one of the most high-end travel destinations in the nation, with gourmet restaurants and fabulous hotels, attractions, art galleries, and parks. It also is one of the best ski destinations in the country, thanks to Telluride Ski Resort. The mountain village of Telluride sits at 9,500 feet above sea level and is accessible from the historic town via a gondola.
Read More:
8. Frisco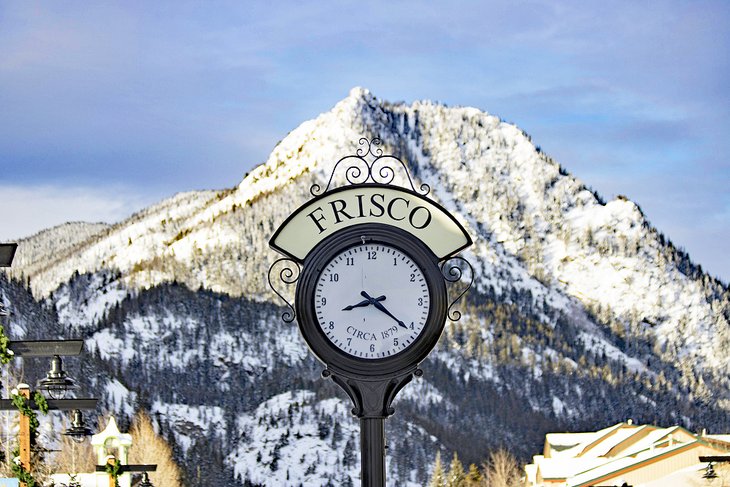 The small town of Frisco, Colorado has one of the best pieces of real estate in the entire state. Why? Because it is within a short drive to some of the premiere ski towns of Colorado, making it the perfect home base from which to explore many other different areas.
Frisco, located within Summit County, is tiny at just two square miles, but it is less than a half hour drive from six of the most famous ski resorts in Colorado, including Breckenridge, Copper Mountain, and Vail. The town also sits right on the banks of the Dillon Reservoir, which means it's a main destination for sailing, swimming, and relaxing.
Frisco was founded in the 1870s as a mining town, and remained a booming settlement until 1918. You can still see traces of its mining history with the historic storefronts and frontier vibe all along Main Street. But today, thanks to its many attractions and things to do, including great restaurants, boutique shopping, a world-class Nordic Center, and, of course, its proximity to other great towns, Frisco has quickly grown to become one of the best small towns in Colorado.
9. Aspen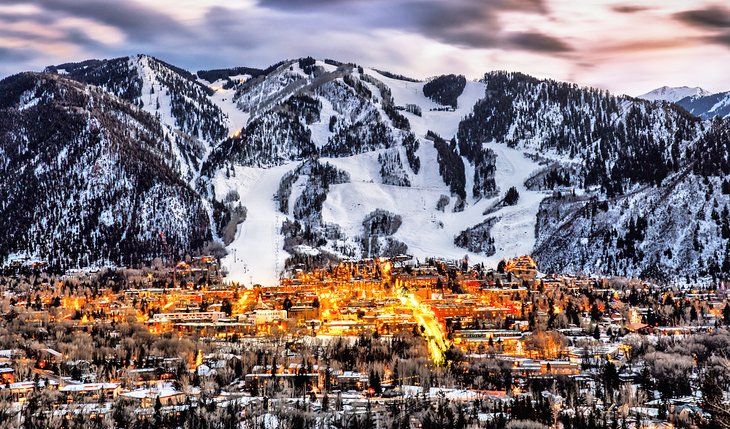 You cannot mention the best small towns in Colorado without mentioning Aspen. It is probably the premiere small town in Colorado, known for its world-class skiing, boutique hotels, fine dining, outdoor adventure, and superlative natural beauty.
Aspen's recent history, like many of Colorado's small towns, dates back to the late 1800s, when it was a booming silver mining town. Of course, the Aspen area had long been occupied by the native Ute Indians prior to the silver mining industry, but the mining industry is what brought settlers and eventually tourists.
Today the small town is known for the four ski mountains that surround both Aspen and neighboring Snowmass. Ajax is Aspen's most famous mountain, which offers ski-in, ski-out facilities directly from downtown. You'll also find Buttermilk Mountain and the Aspen Highlands, which have fabulous skiing and winter sports.
But summer brings its own beauty and adventure to Aspen, with hiking to world-famous mountains like the Maroon Bells. The town is also a cultural institution, known for its live music, events, and festivals.
Accommodation: Best Resorts in Aspen
10. Grand Lake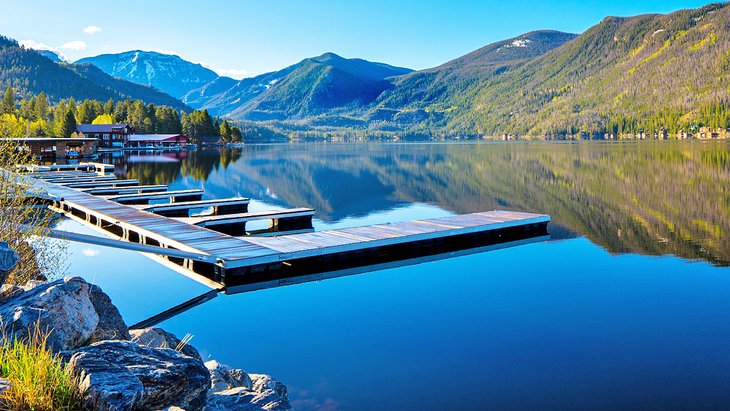 With a population of 282 full-time residents, Grand Lake is truly one of the best small towns of Colorado. Affectionately known as the "Western Gateway" to Rocky Mountain National Park, Grand Lake is brimming with gorgeous scenery and plenty of outdoor activity year-round.
When you pull into Grand Lake, you'll notice the reason for its name immediately — one of the largest natural lakes in the state, also called Grand Lake. Along the lake is a historic boardwalk that is lined with more than 60 shops, restaurants, and galleries. But being the "Western Gateway" to one of the best national parks in the United States means that Grand Lake has plenty of adventure to offer, as well.
In the summer, visitors to Grand Lake enjoy hiking, mountain biking, boating, and sailing, while in the winter, the trails are fresh with blankets of snow that are primed and ready for snowmobilers. Other winter activities are snowshoeing and cross-country skiing. And, of course, the park is always there to offer beautiful wildlife viewing no matter the time of year.
11. Estes Park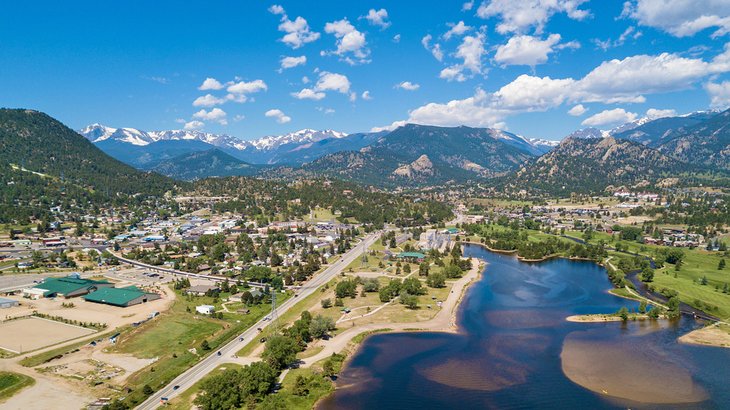 And then you have Estes Park, which is practically a base camp for Rocky Mountain National Park. A quick drive from Denver, Estes Park is famous for its close proximity to one of Colorado's most beloved national parks.
Estes Park was originally inhabited by the Ute tribe, and eventually Arapaho, Comanche, and Shoshone. The European settlers began arriving in the late 18th century, but it was officially settled in 1905, and much of the town's development is due to the steam car genius. F.O. Stanley. Stanley was the one who built The Stanley Hotel, a world-famous landmark that served as the inspiration for Stephen King's The Shining.
Today Estes Park is a thriving small town, packed with campgrounds, laced with hiking trails, and buzzing with things to do and downtown energy. You'll find so many wonderful small boutiques, great restaurants, art galleries, and the entrance to Rocky Mountain National Park all within a short distance from Denver and Boulder.
Accommodation: Best Resorts and Lodges in Estes Park, CO
12. Nederland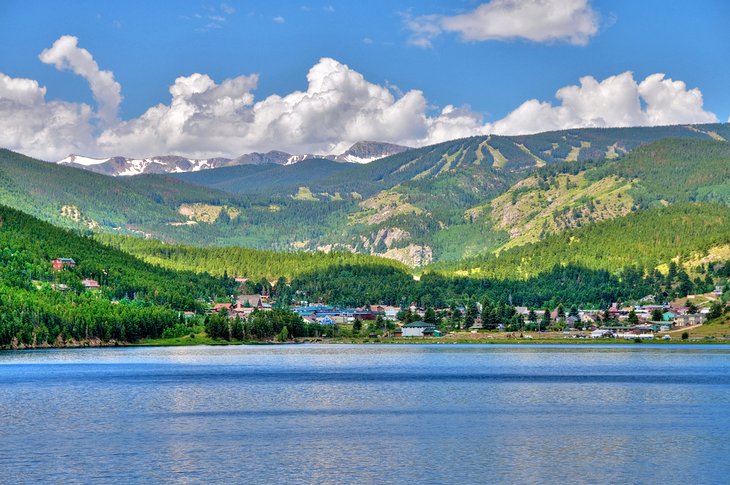 Seventeen miles from Boulder, at the entrance to the Indian Peaks Wilderness Area, sits the scenic mountain town of Nederland. Nederland was settled as a mining town to mill the silver ore that came out of what is now the ghost town, Caribou. Today it is one of the best small towns in Colorado.
Visitors pass through Nederland when they drive the gorgeous Peak to Peak Scenic Byway, but Nederland is absolutely worth a stop all on its own. First, it provides a jumping-off point for Eldora Mountain Resort, which is known for its skiing and other winter activity, as well as its hiking in the summer. Nederland also has fishing, camping, mountain biking, and a ton of local restaurants.
Strolling downtown, visitors to Nederland will often hear live music spilling out from cafés, as well as plenty of antiques, jewelry, and clothing from local boutiques. Don't forget to stop by the Carousel of Happiness, which is a restored 1910 carousel that has more than 50 hand-carved animals.
13. Silverton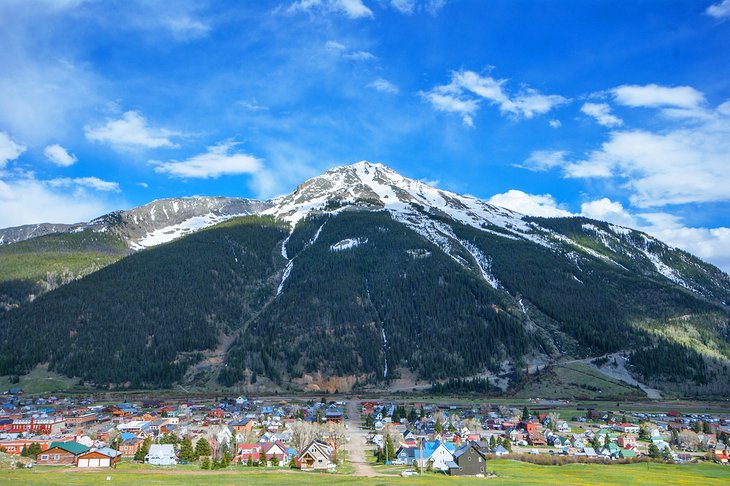 Along the San Juan Skyway, at one end of the historic Million Dollar Highway, is the town of Silverton. This once-mining town is now a remote tourist destination tucked deep within the San Juan Mountain range. It may be a trek to get here, but those who do are rewarded with one of the last great under-the-radar adventure capitals in Colorado.
The entire town of Silverton is a National Historic Landmark, and it will be easy to see why once you feast your eyes on the historic frontier architecture and historic streets that are wreathed in mountains. It is an adventurer's paradise here, from winter snowmobiling and skiing to backcountry hiking, rafting, ATV tours, and scenic drives along the Alpine Loop.
Silverton is connected to Ouray along the Million Dollar Highway, and is also a train ride away from Durango along the historic Durango & Silverton Narrow Gauge Railroad.
Read More: Top-Rated Things to Do in Silverton, CO
14. Vail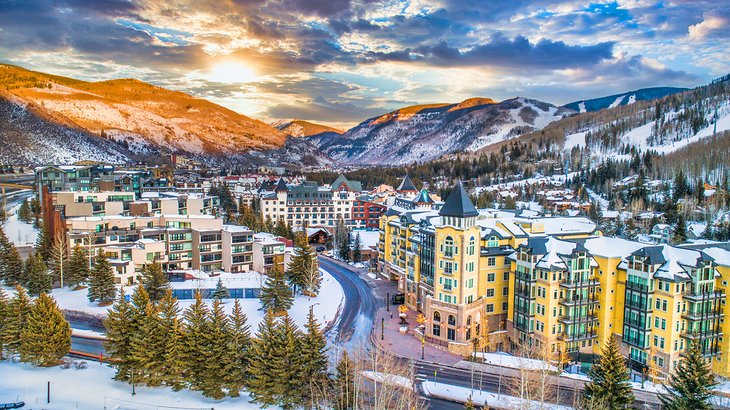 Although its name is an international icon, the ski town of Vail is actually one of the great small towns of Colorado. Despite receiving such a high volume of tourists year-round, Vail's population is actually less than 5,500 people. But those who do call it home are particularly lucky, because it is one of the most beautiful towns in Colorado.
Unlike other towns in Colorado, which were once mining towns now turned luxury ski resorts, Vail was actually built for skiing. It was incorporated in the 1960s after Vail Ski Resort opened. The name Vail comes from Charles Vail, who helped create I-70, Colorado's most famous highway. This was also the part of Colorado where the U.S. Army's 10th Mountain Division trained prior to World War II. The returning soldiers helped build Vail into what it is today: an alpine-style town right in the heart of Colorado.
Today that mountaineer energy permeates, but with an elevated twist. Vail has some of the most luxurious hotels in the state, as well as fine dining, gardens, hiking paths, bike trails, and so much more. But skiing is certainly the prime reason for visiting Vail, as it is home to the largest ski mountain in the entire state.
15. Leadville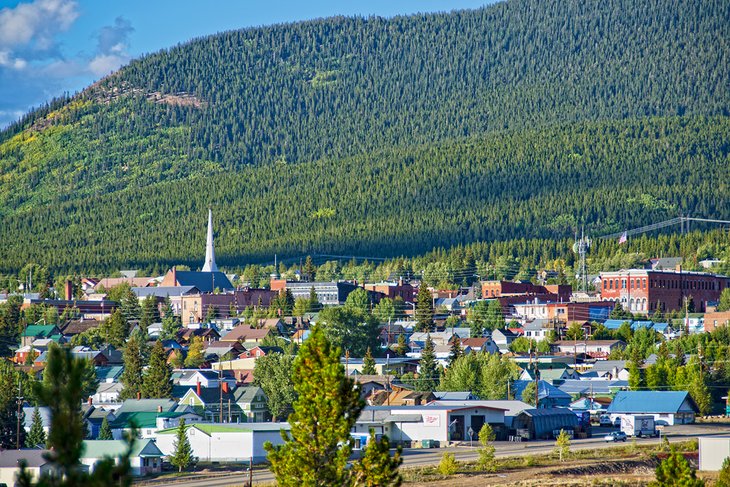 You think you've seen Colorado high country, but unless you've seen Leadville, you haven't seen anything yet. Leadville, at more than 10,000 feet above sea level, is the highest populated town in North America. Wreathed in the Rockies and steeped in mining history, Leadville is the definition of mountain living in Colorado.
Most people see Leadville from behind the windows of their car as they drive the 82-mile Top of the Rockies Scenic and Historic Byway that goes up and over Independence Pass. But Leadville is bubbling with charm and adventure all on its own, if you can handle the altitude.
Leadville is a hiking capital of Colorado, as it has a section of the 500-mile Colorado Trail. Come winter, 100 miles of winter trails come alive, perfect for cross-country skiing, snowshoeing, and snowmobiling.
You'll also find Ski Cooper and Tennessee Pass nearby for skiing, and, of course, Vail and Aspen are never very far away.
16. Manitou Springs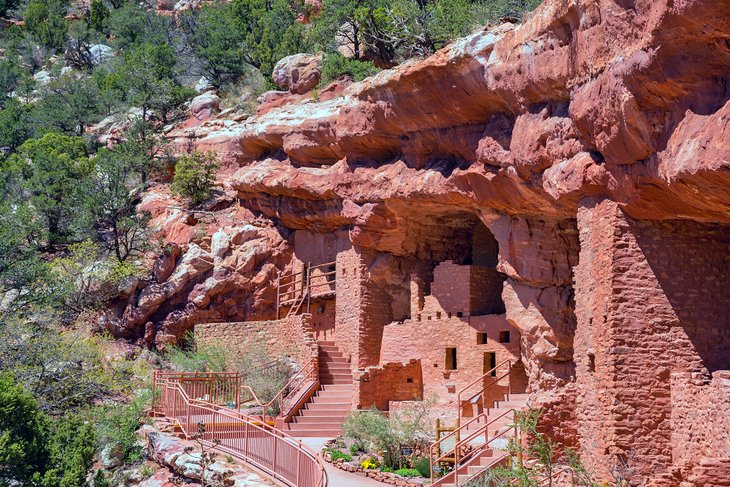 On one end you've got the humbling red rock formations of Garden of the Gods. At the other sits the looming gaze of Pike's Peak. Right in the middle sits Manitou Springs, one of the best small towns in Colorado, just outside Colorado Springs.
Manitou Springs is, in a word, delightful. It takes travelers out of the "big city" of Colorado Springs and puts them at the doorstep to some of the best adventure, wellness, and dining in Colorado, all with a population of just over 5,000 people.
The initial draw to Manitou Springs are the more than 10 mineral springs that bubble up from the earth's crust, making it a natural center of healing and wellness. The town also sits in the shadow of one of Colorado's most famous mountains, opening it up to hiking, biking, and winter sports.
Down the road sits the Manitou Cliff Dwellings, a nod to the Native American tribes that originally settled the area, as well. Manitou Springs is also a short drive to the world-famous Garden of the Gods, one of Colorado's most famous free parks.