11 Top-Rated Things to Do in Glenwood Springs, CO
We may earn a commission from affiliate links ()
One of the best small towns in Colorado, Glenwood Springs is a place to come for adventure and activities or simple relaxation. Things to do here include spectacular hikes to hidden lakes, adrenaline-pumping amusement rides, world-class fly fishing, and old-school downhill skiing. After your busy day, soak your tired body in one of the two hot springs as you gaze up at stars through clear skies.
The town of Glenwood Springs, founded in 1888, is situated at the mouth of Glenwood Canyon, where the Colorado River slices through the mountains. Here, you'll find a walkable, bustling small town full of great restaurants, interesting stores, shops, and historical sights.
Fill your days here with our list of the top things to do in Glenwood Springs.
1. Glenwood Hot Springs Resort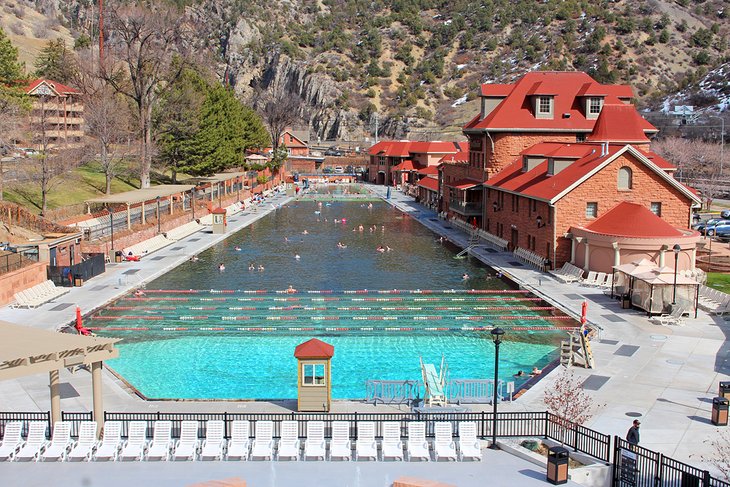 Surrounded by mountain scenery, Glenwood Hot Springs Resort is a wonderful place for a leisurely soak. Founded in 1890, these historic hot springs are home to the world's largest mineral hot spring pool. It's easy to find your own space.
Adjacent to the main pool is a separate area with a waterslide and a large splash pad, perfect for families looking for an outing with the kids.
Also part of the complex is the Spa of the Rockies, where they make full use of the mineral-rich waters in the soothing and rejuvenating treatments available. Glenwood Hot Springs Athletic Club, with all the latest machines and classes, is located in the same building. A restaurant serving fast food and snacks is located poolside.
2. Iron Mountain Hot Springs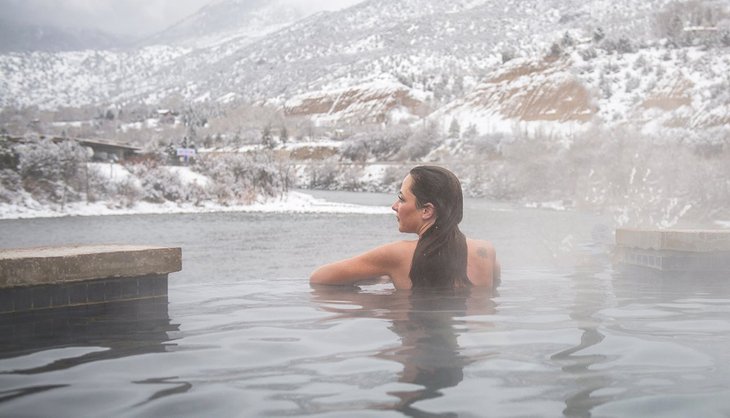 For a more sedate hot springs experience, the best place to visit is Iron Mountain Hot Springs. The 16 hot spring pools are set majestically on the side of a hill overlooking the Colorado River, with mountains as a backdrop.
You'll have your choice of pools to soak in; each has its own specific temperature, look, and feel. If you are feeling too hot, head to a cooler pool. Need a blast of heat? Pop over to another steaming pool at 105 degrees Fahrenheit. For something a little more social, try a large pool, or head to a smaller pool for a more intimate experience.
3. Glenwood Caverns & Adventure Park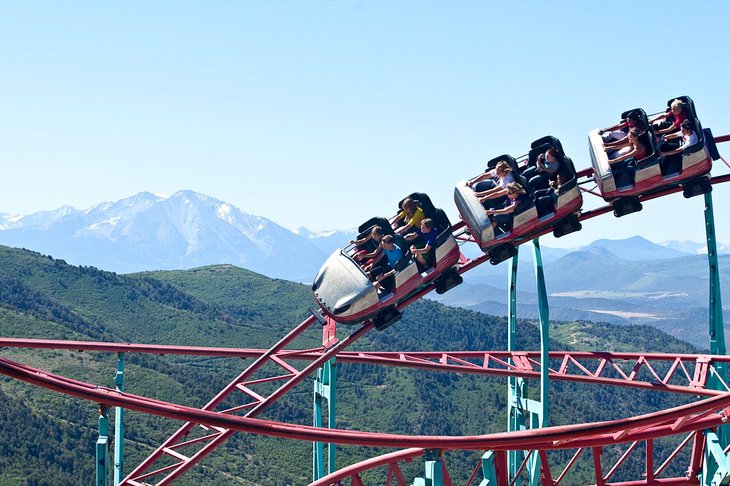 Although this is the top attraction in Glenwood Springs for families, you don't have to be a kid to enjoy it. Adults will love this place.
You may be surprised to learn that Glenwood Caverns and Adventure Park is located on a mountaintop, accessible only via gondola. Once you step off the gondola at the top, you will find yourself in a wonderland of fun.
The park has several highlights, but one of the main draws is the adventure rides, which include a roller coaster along the cliff edge, a ride called the Canyon Flyer that swings you round and round near the edge of the mountain, and a giant swing that sends you out over the Colorado River 1,300 feet below. If you still need some more fun try the Haunted Mine Drop. On this ride, they strap you in and drop you 110 feet straight down a mine shaft.
Other less anxiety-inducing rides include the ground level Alpine Coaster, the Soaring Eagle Zip Ride, and a 4D motion theater, among several others.
Not to be forgotten are the spectacular caverns. First discovered in 1885, the caves feature incredible rock formations. Two self-guided tours are available and included with your admission: Fairy Cave tour and the King's Row tour. For true adventure seekers, Wild Cave tours are available by reservation only and have an additional cost.
Official site: https://www.glenwoodcaverns.com/
4. Hanging Lake Hike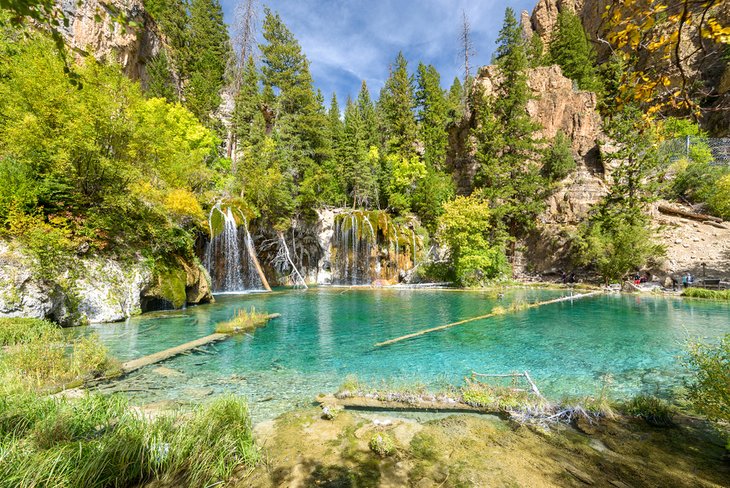 The hike to Hanging Lake is one of the most popular things to do in Glenwood Springs. The 1.2-mile trail climbs 1,000 feet to a lake set in a spectacular bowl. Bridal Veil falls tumble off a mossy ledge into the clear lake waters below.
One of the most unique sights near the lake is Spouting Rock, where water emerges from the side of a rock face seemingly from nowhere.
Due to the hike's popularity, access is limited via a permitting system. Your permit includes a shuttle from Glenwood Springs and plenty of time to do the hike. Restrooms and a drinking fountain are located at the trailhead.
Another option is to ride your bike to the trailhead along the Glenwood Springs Recreation Path. You can leave your bike at the trailhead, do the walk, and then ride back to town. The best part about this ride is that the return trip from the trailhead is downhill back to Glenwood Springs.
Note that dogs are not allowed on the trail.
5. Yampah Vapor Caves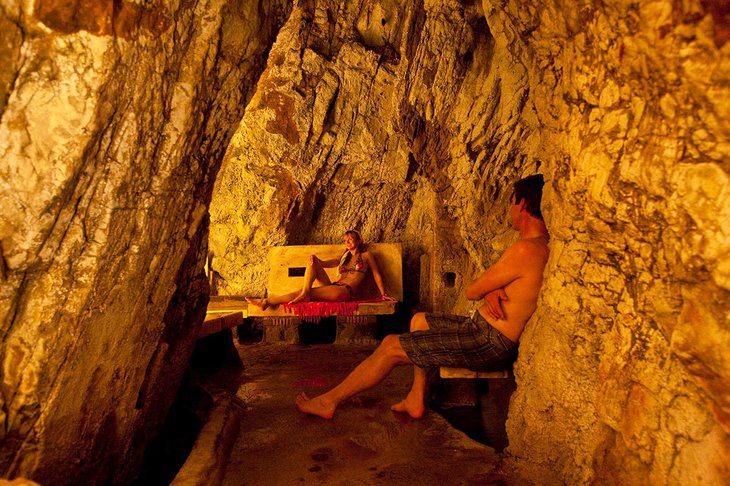 Another unique hot-spring-related activity is a visit to the Vapor Caves. These sauna-like natural caves are full of steam from the hot spring waters, which flow along a channel in the floor at 125 degrees Fahrenheit.
The caves themselves are about 110 to 112 degrees Fahrenheit, and marble benches and slabs are available to sit or lie down upon. Other spa services are also available for an additional fee.
6. Fly Fishing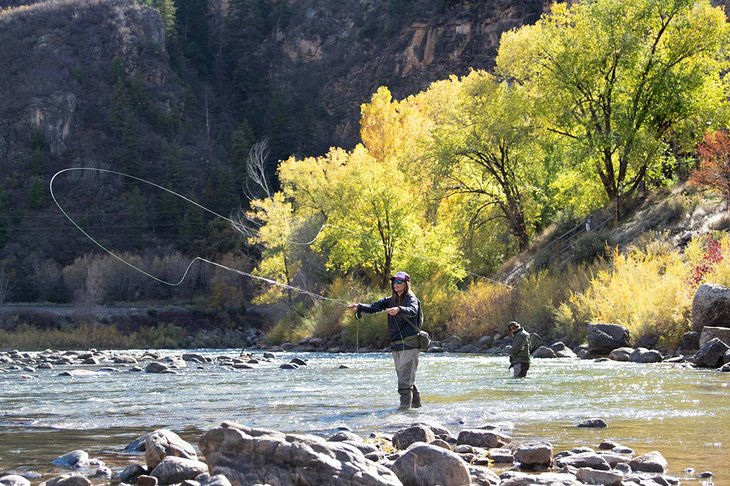 Glenwood Springs has two amazing rivers that provide ample opportunities to wet a line and catch a silvery prize. The rivers here, the Colorado and Roaring Fork, are pristine, and the portions near town are Colorado's longest stretch of Gold Medal water.
Fly fishing is the main type of fishing, and local guides can outfit you with all the latest gear in order to catch brookies, browns, cutthroats, and rainbow trout. If you have your own gear, access to the Colorado River is easy along the Glenwood Canyon Recreation Path. If you prefer to float the Colorado, put in at the Grizzly Creek boat launch.
Fishing is good year-round, but the season peaks from June through September. If you want the river to yourself, consider fishing in the winter.
7. Kayaking & White Water Rafting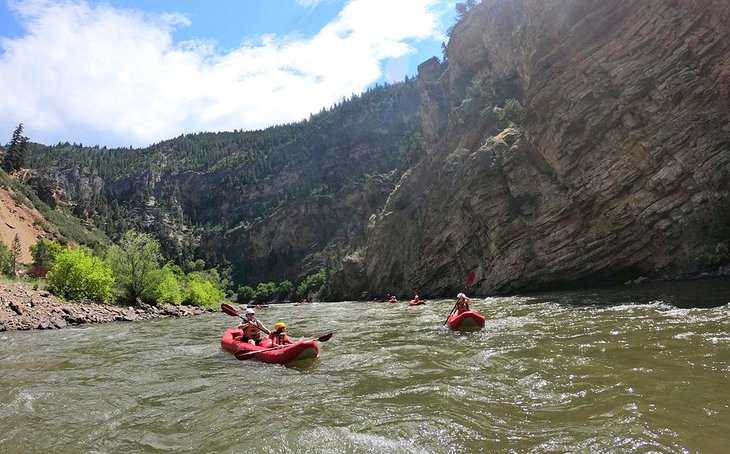 With two rivers meeting right in town and two hot springs, Glenwood Springs bills itself as the "Land of Water." Here, the rushing waters of the Roaring Fork and Colorado Rivers combine, leading to incredible opportunities to kayak, canoe, stand up paddleboard, or go whitewater rafting. Swimming is also an option, but the water is cold.
White water rafting is popular in the Glenwood Springs area, and the season is one of the longest in the state. The town has a dedicated Whitewater Activity Area. Here, you'll find a variety of water features, including a standing "G-Wave," a smaller standing wave, a "hole," and learning pools. If you've got some time, wander down and grab a seat in the viewing area to watch the kayakers do their tricks.
8. Exploring Downtown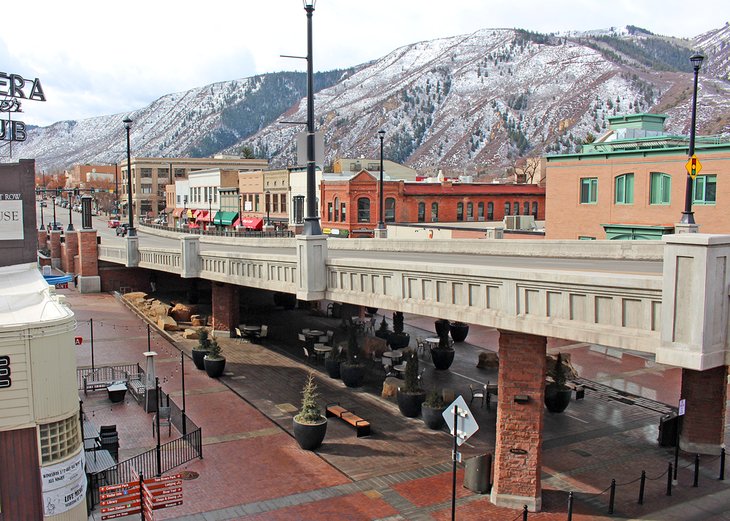 Downtown Glenwood Springs is a tidy and compact area full of restaurants, interesting retail shops, and museums. Park the car and walk up and down the wide avenues, perhaps hit a patio and engage in some people watching.
The downtown area has recently been revitalized with the completion of a new vehicle bridge. Running beside the new bridge is a pedestrian-only walkway over the Colorado River. The views from here up and down the river and towards the mouth of Glenwood Canyon are spectacular as are the views of the hot spring pools and the Colorado Hotel.
Glenwood Springs has some fantastic places to eat, one of which is Smoke. This restaurant features BBQ dishes inspired by different regions around the United States.
9. Sunlight Mountain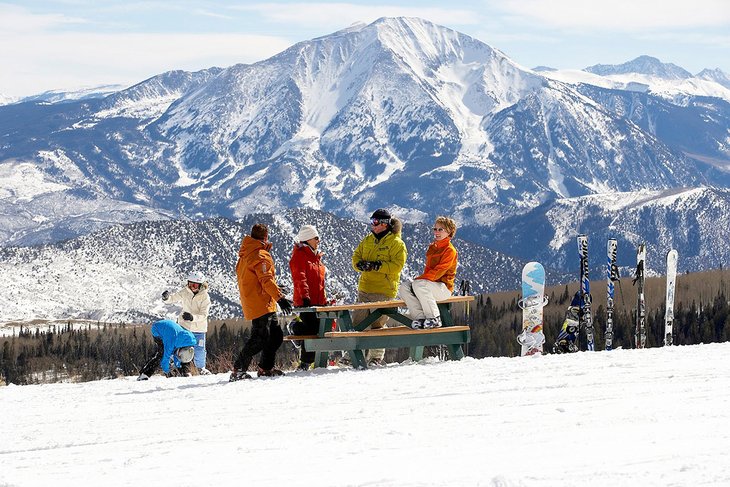 Just 10 miles from town, Sunlight Mountain is a perfect place to take the family for a fun day of skiing. Most of the terrain is at the beginner and intermediate levels.
Sunlight's Ski School is top-notch, and with the gentle terrain, this is a great place to learn. Should you wish to test your skills, head over to the East Ridge area where the runs are steeper and more challenging.
The resort has an old-school feel, with three lifts and 62 named runs. The base lodge is a comfortable place to gather, and since the majority of the ski runs funnel down to it, the people watching from the base area deck is great.
Sunlight gets an average of 250 inches (almost 21 feet) of snow each year, and since it's a local hideout, the powder lasts longer here. Lift tickets, lessons, and rentals are about half of what you'd pay at the resorts just down the road in Aspen.
Official site: https://sunlightmtn.com/
10. Linwood Cemetery & Doc Holliday's Grave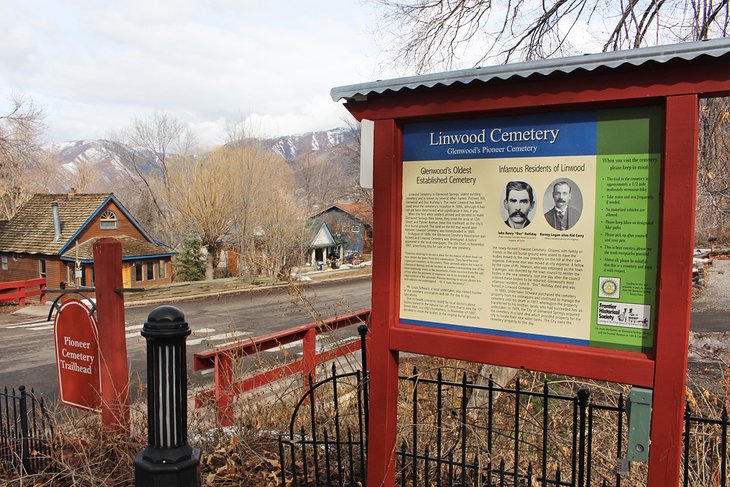 An easy, family-friendly outing in town is the walk to see Doc Holliday's Grave. This 0.7-mile excursion ascends gently along a well-graded and well-marked path to Linwood Cemetery. At the top, you'll find a memorial marker to John Henry "Doc" Holliday.
The marker is easy to find, and most of the time, it is adorned with mementos left by other visitors. Look for the famous statement: "he died in bed." The exact burial location in the cemetery of Doc Holliday's body is unknown.
Other historic figures are also buried here, including Harvey Logan, known as Kid Curry, along with historical figures from Glenwood Springs' founding.
For more Glenwood Springs history, check out the Glenwood Springs Frontier Museum. Spread out over two floors in a historic home, the collection includes memorabilia and historical photos from the town's early days. You'll find an eclectic mix of displays, including period pieces showcasing what life was like for the early pioneers. In addition, you'll also learn about the Ute Indians, mining, and ranching.
For even more history, pop into the lower level of Bullocks Department store, where you'll find the Doc Holliday Collection. An overview of the life and times of this figure from the Wild West along with related memorabilia is on display.
11. Biking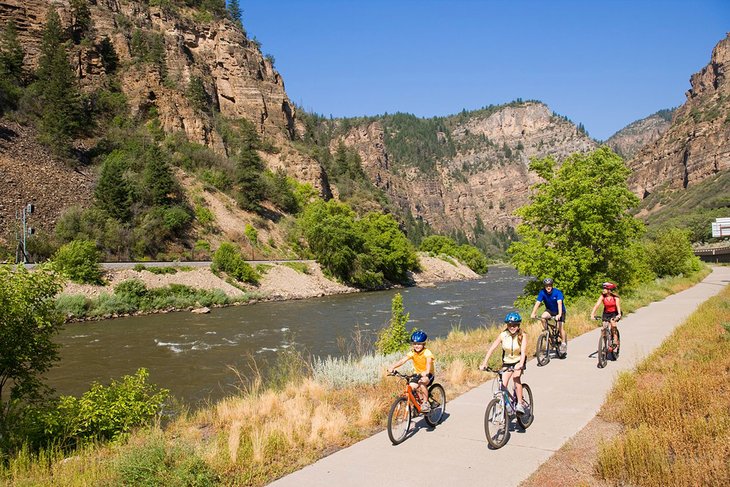 Glenwood Springs is an outdoor enthusiast's playground, and those with a passion for biking will be in their element. Hundreds of miles of trails exist for every kind of biker.
Those who prefer well-graded, paved paths will love the Glenwood Canyon Recreation Trail & Bike Path as it snakes its way 16 miles up through Glenwood Canyon along the Colorado River.
For a longer excursion, consider taking the 42-mile Rio Grande Trail from Glenwood Springs to Aspen. This former rail line, converted to a trail in 2008, has a gentle incline and is a family-friendly bike ride. You can choose to go all the way or do portions of the trail. A popular place to turn around is at the cute town of Carbondale.
Mountain bikers will find several heart pumping trails near town. Be sure to check out the following trails: Grandstaff, Wulfsohn, South Canyon, and Boy Scout. For a trail that is less intense and more suitable for families with kids, ride Babbish Gulch.
If you don't have your own gear or need repairs, bike rentals, shuttles, and advice are available at shops in town.
Where to Stay in Glenwood Springs
Luxury & Mid-Range Hotels: Located in a five-acre park-like setting, the Best Western

Antlers

hotel features large, beautiful rooms and inviting common areas. The hotel also has an outdoor pool and hot tub along with horseshoe pits and a children's play structure. This hotel is just a short walk to downtown, and the Glenwood Springs Adventure Park is just around the corner.

The historic Hotel

Colorado

, opened in 1893, stands proudly in front of Glenwood Hot Springs Resort and offers easy access to Glenwood Springs attractions. Rooms are small but well appointed and the elegant common areas feature interesting photos of famous guests who have stayed here over the years.

For a place right downtown in the heart of the action, try the fun and funky Hotel

Denver

. Each room is individually decorated. The hotel is conveniently located across the street from the Amtrak Station and is pet friendly.
Budget Hotels: If you are looking to save money, Glenwood Springs does have some budget hotels. The Glenwood Springs

Inn

is a popular choice for budget travelers. It has a convenient location, clean rooms, and a restaurant.

The Rodeway

Inn

is a good option for a night or two if you are on a tight budget. The hotel features a complimentary breakfast, hot tub, and refrigerators in each room.

Another good budget choice is the Silver Spruce

Inn

. This locally owned property has comfortable rooms, some with woodburning fireplaces.