10 Best Campgrounds near the Maroon Bells, CO
Discovering the Maroon Bells on a trip to Aspen or Snowmass will be something you never forget. In fact, these towering peaks are two of the most photographed mountains in North America and visiting the Maroon Bells is one of the best things to do in Colorado.
They are part of Colorado's 14ers, meaning they rise more than 14,000 feet above sea level, and are a popular area for hiking when in Aspen. What makes a visit to the Maroon Bells even more magical is camping nearby.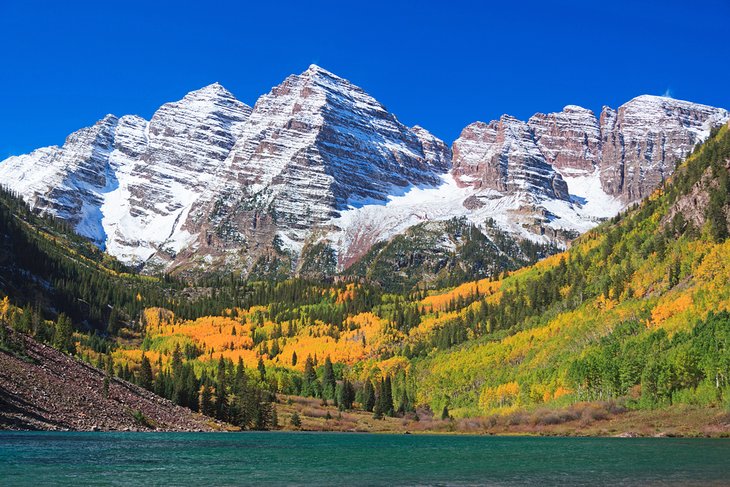 The Maroon Bells Scenic Area is accessed via Maroon Creek Road, which has several campgrounds along the way. These will be the closest campgrounds to the Maroon Bells. If you cannot get access to these - as reservations fill up rather quickly - you will be able to find ample camping near Aspen, Snowmass, and Carbondale, along with trail access to help you reach the Maroon Bells.
No matter where you choose to camp near the Maroon Bells, you will find a campground to suit your needs. Experienced campers can test their skills hiking the backcountry to Snowmass Lake, while campers who want to be as close as possible to the Maroon Bells can make reservations at sites along Maroon Creek Road.
Highway 82, between Aspen and Independence Pass, is another main camping artery that is chock-full of campgrounds. Most of the campgrounds in the area can accommodate RVs and trailers, but it is important to note that if you are coming via Independence Pass, your vehicle cannot be more than 35 feet in length - this includes both your vehicle and the trailer.
You are less likely to find campgrounds that have all the bells and whistles of RV resorts in this part of Colorado. Campers in the Aspen-Maroon Bells area tend to be a little more adventurous and tend to favor a rustic environment. Still, the creature comforts of Aspen and Snowmass are never very far away from any of these - unless, of course, you want them to be.
Note that reservations are required to enter the Maroon Bells Scenic Area. Visitors can choose between private vehicle trailhead parking permits between May 15 and October 31, or shuttle reservations from May 26 through October 22. Reservations are released on a rolling basis.
Read on to discover our list of the best campgrounds in Maroon Bells.
1. Silver Bar Campground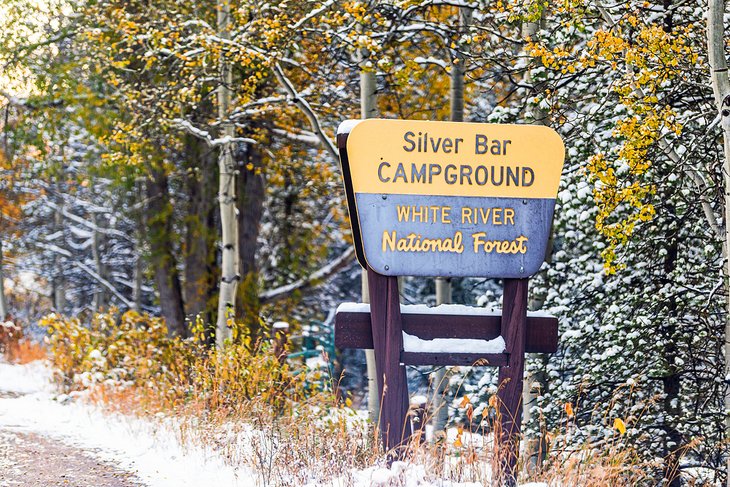 You cannot get much closer to the Maroon Bells than the Silver Bar Campground, which sits directly on the banks of Maroon Creek. Five miles from Aspen, and adjacent to the Maroon Bells Welcome Station, this basic campground may be short on flashy amenities, but it is big on views and proximity.
The small campground has only four tent-only walk-in sites, so reservations are imperative during open season, which runs May through October. You can make reservations, and the campground has a five-day stay limit.
As for amenities, the campground features vault toilets. Guests must bring their own water. Expect cool evenings, as the campground sits perched at nearly 8,500 feet above sea level. If fishing is on the agenda, licensed anglers can cast off in Maroon Creek, which runs along the campground.
The campground sits at 8,520 feet above sea level, which means campers will have warm summer days and cool (sometimes cold) nights. Pack for chilly weather.
Of course, the biggest attraction near the campground are the majestic Maroon Bells, so this is a must-book if your primary reason for visiting the Aspen area is to see these natural beauties.
Address: 806 W Hallam Street, Aspen, Colorado
2. Silver Queen Campground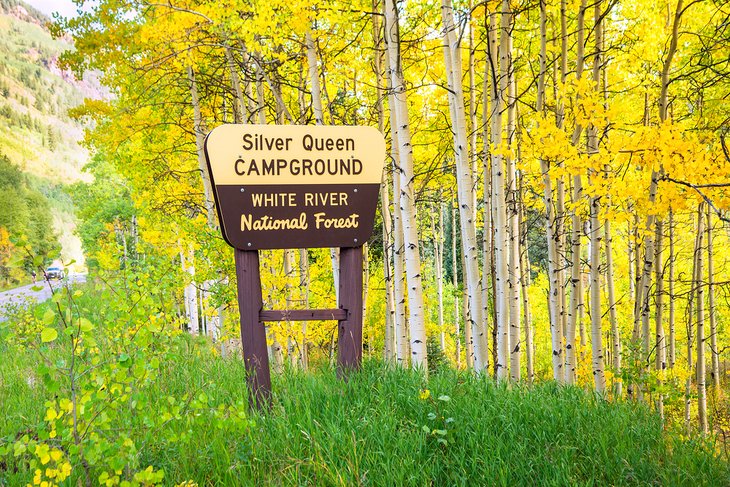 Not to be outdone, Silver Queen Campground is another excellent campground that puts you at the doorstep to the Maroon Bells. It's as close as you'll get to stepping into an enchanted forest, with the aspen groves and the babbling Maroon Creek. Let's not forget the towering 14,000-foot Pyramid Peak in the background, either.
Silver Queen is another small campground, with only five campsites. Like Silver Bar, the campground has a five-day limit. These sites are able to accommodate tents, trails, and RVs with a 30-foot limit. Each site has a picnic table and fire rings. The campground also has vault toilets and potable water. You will not find electrical hookups, however.
This lofty campground sits at 8,700 feet above sea level so, again, be sure to take that into consideration when you pack for overnights.
From the campground, it's an easy hop to the Maroon Bells-Snowmass Wilderness area, where trails abound. The campground is just a few minutes from the Maroon Lake parking lot, too, which is where you'll want to be to snap that classic Maroon Bells glamor shot.
Address: Maroon Creek Road, Aspen, Colorado
3. Snowmass Lake Campground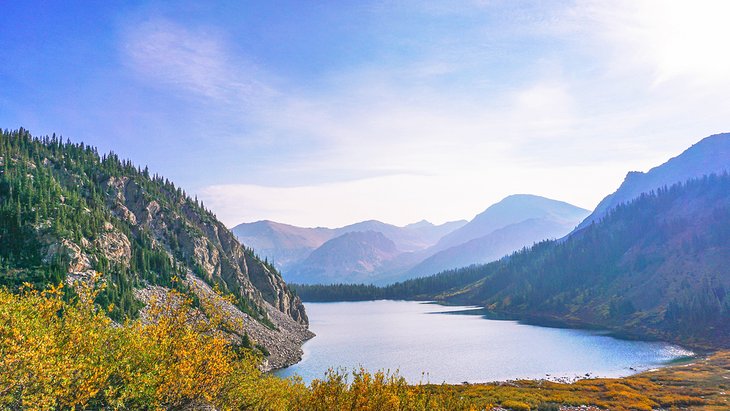 It does not get more alpine idyllic than Snowmass Lake. Nestled in the Maroon Bells-Snowmass Wilderness of the White River National Forest, the lake is perched at nearly 11,000 feet above sea level and is only accessible via a challenging — albeit remarkable — hike.
The trailhead sits at the end of Snowmass Creek Road. After about eight miles of hiking, the trail opens up to the turquoise-colored lake, surrounded by gorgeous mountain peaks. Along the way, you'll have views of flower-carpeted meadows, but bear in mind that there is considerable elevation change, switchbacks, and a few water crossings.
Many people make the hike only for the day, but campsites are certainly available. Camping is only permitted in the designated sites, and campers are instructed to bring bear-proof storage canisters.
Camping is free, and no reservations are required. Once at the lake, campers spend their time swimming in the lake (if they can brave the temperatures); viewing wildlife like deer, moose, and black bears; fishing; and, of course, hiking.
4. Weller Campground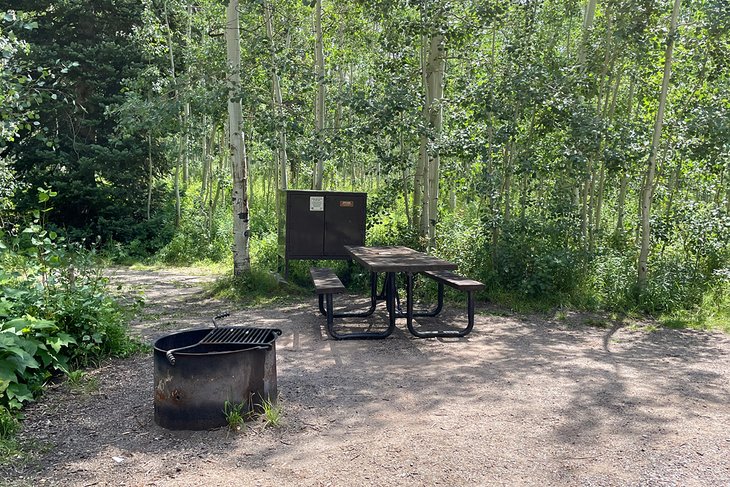 As you're cruising along Highway 82 between Aspen and Independence Pass, you will be absolutely spoiled for choice when it comes to campgrounds. Weller Campground should not be overlooked.
This small campground, with only 11 spots, is a first-come, first-served campground a few miles up the road, closer to Independence Pass. In fact, this tends to be the spillover campground when Difficult fills up. Instead of waiting to see if you can make it into Difficult, try Weller first. Its location near trailheads makes it a great option on its own, and it is not that much farther from the Maroon Bells.
The loop road that circles around the 11 campgrounds is shrouded in aspen groves, creating quite a magical environment. Amenities include vault toilets and drinking water, and you can even fit smaller RVs into some of the sites.
Just across the road from the campground is the Roaring Fork River, where guests and locals love to do a little fishing. You're also within a short distance from Weller Lake and the Collegiate Peaks Wilderness.
This campground has a five-day stay limit. Campgrounds permit no more than eight people with two car limit per campsite.
Address: 31035 CO-82, Aspen, Colorado
5. Difficult Campground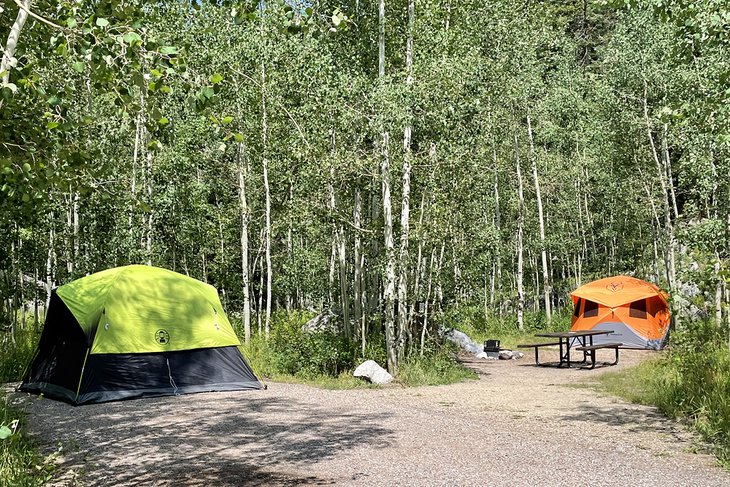 Within the White River National Forest, about half an hour from the Maroon Bells, is Difficult Campground. But don't let the name fool you — the campground is very easy to find and provides easy access to Aspen, Snowmass, and the Maroon Bells area.
The campground has 47 campsites and a group area that can accommodate up to 20 people. The grounds are open from May to October with a five-day stay limit. In addition to tent sites, Difficult Campground can accommodate trailers up to 40 feet, but have limited spurs.
Also keep in mind that if I-70 is closed, you will have to reach Aspen via Independence Pass, and vehicles longer than 35 feet are not able to go over the pass.
While at the campground, vault toilets, garbage areas, and water are provided for guests. The campground is also in a perfect location for hiking and fishing along the Roaring Fork River and the neighboring beaver ponds.
Reservations for Difficult must be made four days in advance and can be made up to six months in advance for standard sites. Group sites can be made up to a year in advance.
6. Lost Man Campground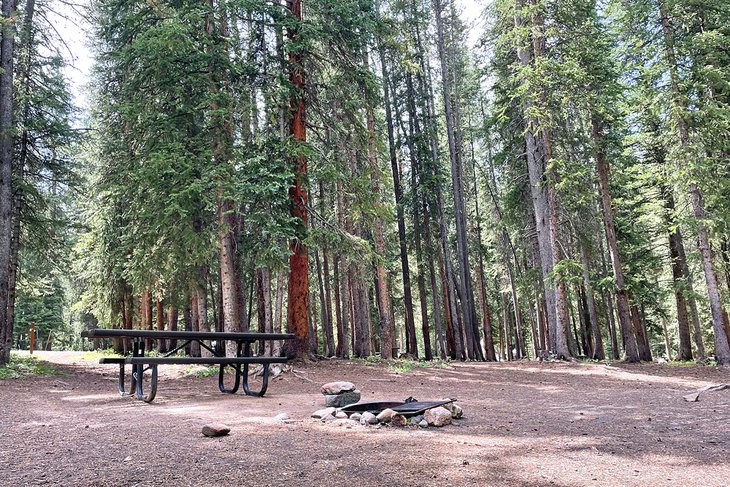 As we mentioned, the road between Independence Pass and Aspen is truly peppered with great campgrounds. Lost Man Campground is yet another option when looking for campsites near Maroon Bells.
Find the campground two miles east of the old ghost town, Independence, which can be seen from the road that runs between Aspen and Independence Pass. This is a great spot for a quick day trip from the campground, by the way.
The small campground has just 10 sites that are open on a first-come, first-served basis. Vault toilets and potable water are available, as well. The campground is open from June through October and gives guests prime access to the Hunter-Frying Pan Wilderness. Site amenities include fire rings and picnic tables. Pets are welcome at the campground.
You'll also find the trailhead for the Lost Man trail right here at the campground. The moderate hike crosses two scenic valleys and features some gorgeous alpine lakes surrounded by mountains.
Lost Man Campground is at about 10,500 feet above sea level and can be quite cold in the evening.
7. Avalanche Campground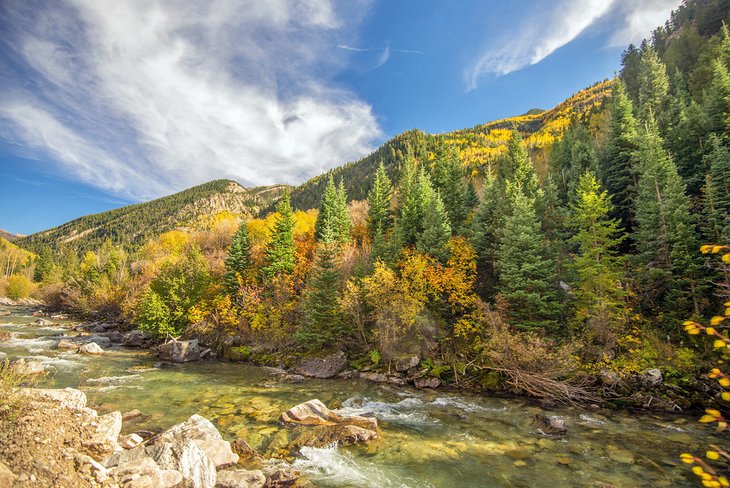 Avalanche Campground is a small, remote campground located next to Avalanche Creek, closer to Carbondale, Colorado. The six-site campground is popular among visitors looking to hike into the Maroon Bells-Snowmass Wilderness, as it is located near one of the major trailheads.
The intimate campground does not take reservations, and all sites are available on a first-come, first-served basis. Open season for this campground is in the month of May.
This is a great campground not only for hikers — it has ample opportunity for fishing, as well. Fishing is available in Avalanche Creek, as well as Crystal River, which is about three miles downstream.
Address: Avalanche Creek Road, Redstone Historic District, Colorado
8. Lincoln Gulch Campground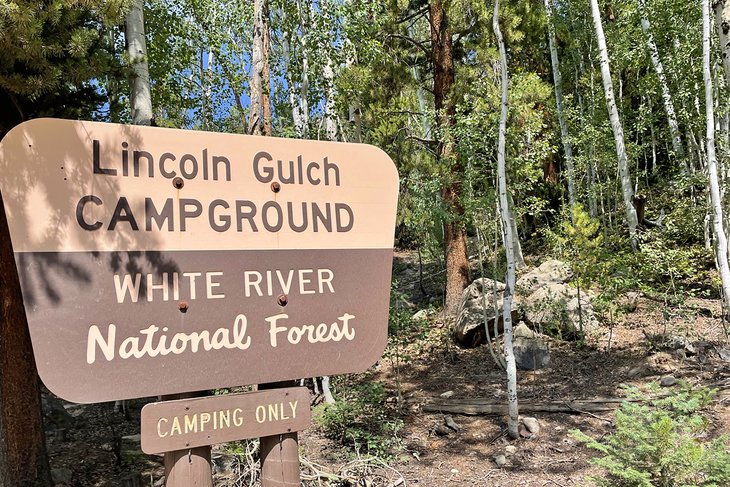 For rustic camping near Maroon Bells, Lincoln Gulch Campground is a small site built for the adventurous. The campground only has seven sites, but each is spacious and provides an excellent home base from which to explore all that Aspen and Maroon Bells have to offer.
From Aspen, the campground is about 11 miles toward Independence Pass to Lincoln Creek. You may need a four-wheel drive vehicle to reach the campground, which is two and a half miles down the bumpy, gravel road. There you will find the seven sites, a vault toilet, and potable water.
The sites are for public use and do not take reservations. They are open on a first-come, first-served basis from May through October. Keep in mind that the campground sits at nearly 10,000 feet - so pack accordingly.
Near the campground are the Grottos, which are less than half a mile away. The trail features a gorgeous waterfall, as well as the ice caves for which the trail is named. The Roaring Fork River also rushes through the campground, which becomes a popular spot for fishing.
9. Bogan Flats Campground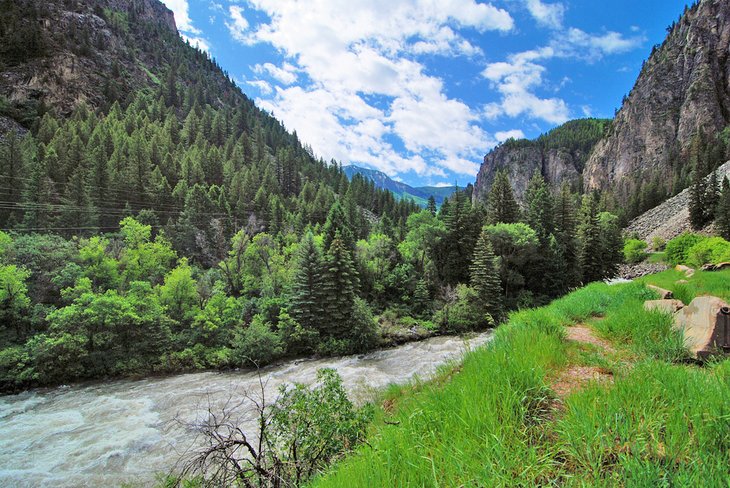 Bogan Flats Campground is another Carbondale campground, not far from the hiking trails to Maroon Bells. The campground features 35 campsites along the Crystal River. Within the campground are spots for trailers, pickup campers, motor homes, and tents.
The medium-sized campground outfits spots with tables and benches, as well as paved campground roads. That said, the campground does not have any hookups. Trailers and RVs must be a maximum of 40 feet in length.
The campground provides water and has a vault toilet and two composting toilets. Reservations can be made up to six months in advance for standard sites or a year in advance for group sites.
The campground is particularly scenic, which means it is often one of the most popular, so reservations far in advance are highly recommended. Reservations must be made four days ahead of arrival and can be made up to six months in advance. Groups can make reservations 12 months in advance.
10. Dearhamer Campground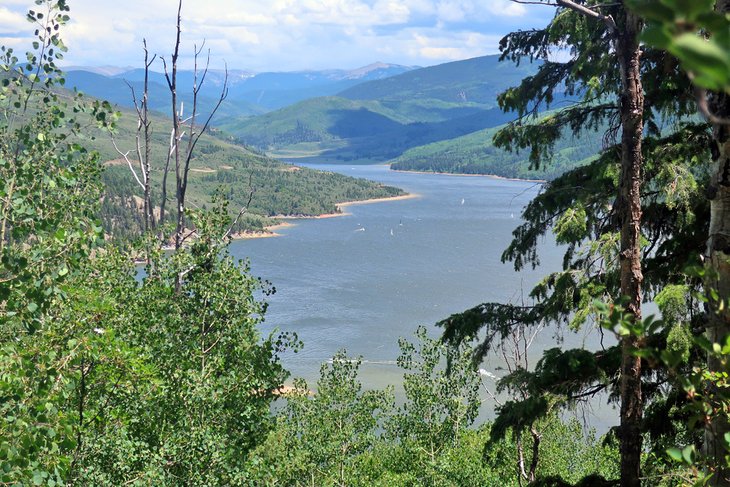 About 22 miles east of Basalt, Colorado, in the Maroon Bells-Aspen area, is Dearhamer Campground, which sits next to both the Fryingpan River and Ruedi Reservoir. Dearhamer Campground has 13 standard sites for tent camping, trailers, and RVs, where the maximum length is 35 feet.
The sites each have picnic tables and campfire rings, as well as vault toilets and potable water. The campground, however, does not have electrical hookups.
This gorgeous, rustic campground is located within the 2.3-million-acre White River National Forest. Spending a night here puts you at the doorstep of some of Colorado's most beautiful wilderness and wildlife, from bighorn sheep and elk to rivers leaping with rainbow trout.
In fact, the Frying Pan River is known for its fly fishing, and a stretch of the river has been designated as "Gold Medal Waters" by the Colorado Wildlife Commission. The area is also the starting point of the Ruedi Trail, which summits Red Table Mountain.
Reservations must be made three days ahead of arrival and can be made up to six months in advance. The open season is May through October.
Map of Campgrounds near the Maroon Bells, CO