9 Best Campgrounds in Glenwood Springs, CO
The best campgrounds in Glenwood Springs put you at the doorstep of the stunning natural beauty of the destination. Glenwood Springs is a haven for outdoor adventure, surrounded by the Rocky Mountains, White River National Forest, and Glenwood Canyon. If you're visiting Glenwood Springs, chances are you love the great outdoors, which means you'll be looking for some of the area's best campgrounds.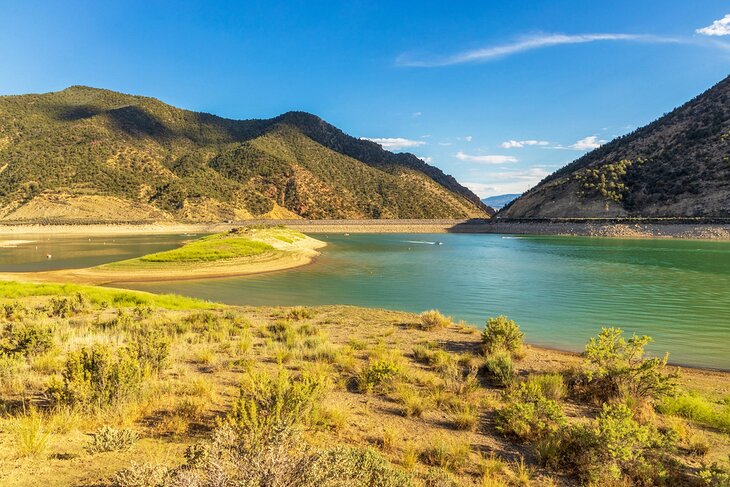 Glenwood Springs has plenty to suit those who want to sleep under the stars. You'll find campgrounds within Rifle Gap State Park, as well as others within the White River National Forest. For those more interested in camping with amenities, rather than rugged spots to "rough it," Glenwood Springs makes a great home base. This Colorado hot spot has many RV parks and camping "resorts" that are chock-full of amenities, like Wi-Fi, flush toilets, showers, pools, and hot tubs. Glenwood Springs even has two KOA sites close by, which are great for KOA members who like to reap the loyalty rewards.
When planning a camping trip, take into consideration that summer in Glenwood Springs is peak season, so reservations are rather important. It's best to book as far in advance as possible. You'll also want to check to make sure Glenwood Canyon is open, as sometimes this route closes depending on weather.
You'll find many great things to do in Glenwood Springs. You can explore the world-famous hot springs, or hike to the iconic Hanging Lake, one of the best places to visit in Colorado. Glenwood Canyon is within a short drive from other nearby mountain towns, as well. You can even take the trip into Vail or Aspen, which are both about an hour away.
The first step is to decide where to make camp for your visit. See which ones may be right for you with our list of the best campgrounds in Glenwood Springs.
1. Ami's Acres Campground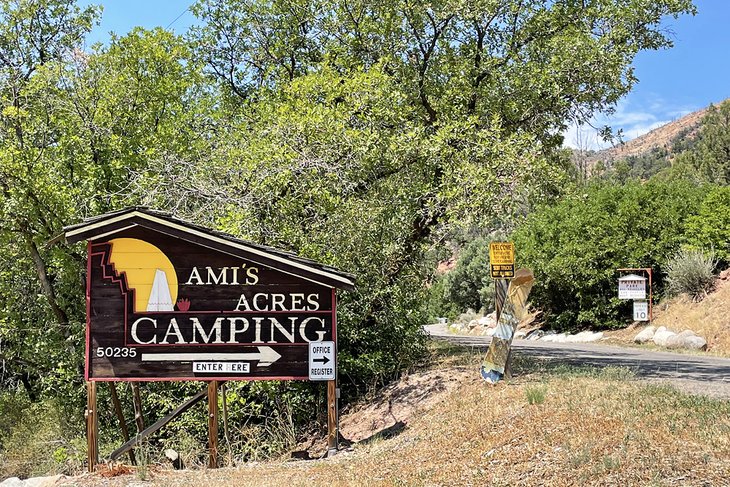 Family-owned and operated since the 1970s, Ami's Acres Campground sits tucked in a valley at the base of the looming Storm King Mountain. The campground has several types of campsites available, from traditional to group to RV. Its location puts it at the doorstep to some of the best things to do in Glenwood Springs, as well.
Not far from downtown Glenwood Springs, Ami's Acres has beautiful views of the mountains, as well as the Colorado River. Campsites have space for large RV parking, as well as full hookups and pull-through access for vehicles up to 42 feet. Smaller RV sites are available with electric and water hookups.
Tent camping is available in more secluded spots, with even a few walk-in sites. Other amenities include Wi-Fi and showers. Drive-in tent sites are the most convenient options, though walk-in sites are only a maximum of 200 feet from your car. Still, that short distance opens up to pretty amazing views. Most sites are equipped with a fire pit.
Guests can even book one of the basic cabins, which have electricity, a bed frame, a table, and chairs.
Address: 50235 US-6, Glenwood Springs, Colorado
2. Glenwood Springs West/Colorado River KOA Holiday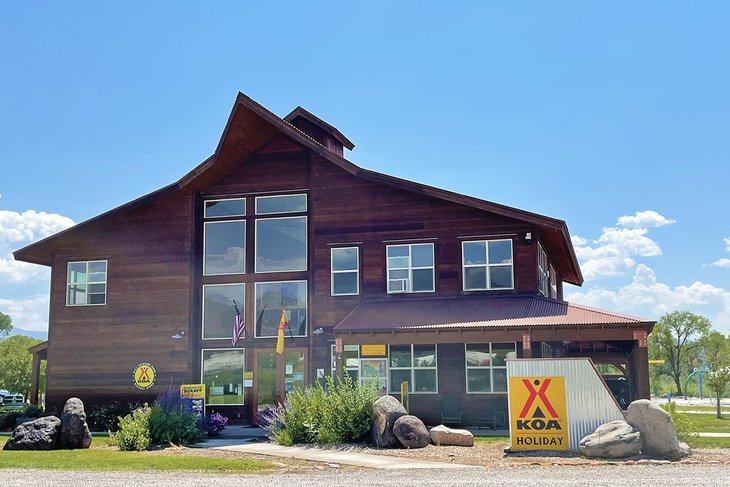 Not far from Glenwood Springs, near the town of Silt, Colorado, Glenwood Springs West/Colorado River KOA is a gorgeous spot for comfortable camping within the Colorado Rockies. The campground sits where the Colorado River meets the Little River, and offers beautiful views of both from the campsites.
The KOA features RV sites, deluxe camping cabins, tent sites, plus teepees. From the grounds, you'll also have views over the Roan Plateau, the Mamm Peaks, and Battlement Mesa. This will be a great spot from which to venture off into Glenwood Springs or explore the western reaches of Colorado. You'll also be within a close drive of Aspen and Vail, making this one of the most centrally located campgrounds in the state.
The RV sites here are both back-in and pull-through, with full hookups, and 50/30/20 amps. Some of the RV sites feature patios. Lodging includes camping cabins, both with and without bathrooms. Teepees, without bathrooms, are also available. The teepees can sleep six with a queen bed, a double futon sofa, and two single mattresses. They even have electricity.
Tent sites feature electricity and have gravel tent pads. Tent sites can accommodate up to four people.
The KOA has a slew of amenities, as well, such as Wi-Fi, propane, a seasonal pool, snack bar, hot tub, sauna, laundry room, and splash park for kids.
Address: 629 River Frontage Road, Silt, Colorado
3. Elk Creek Campground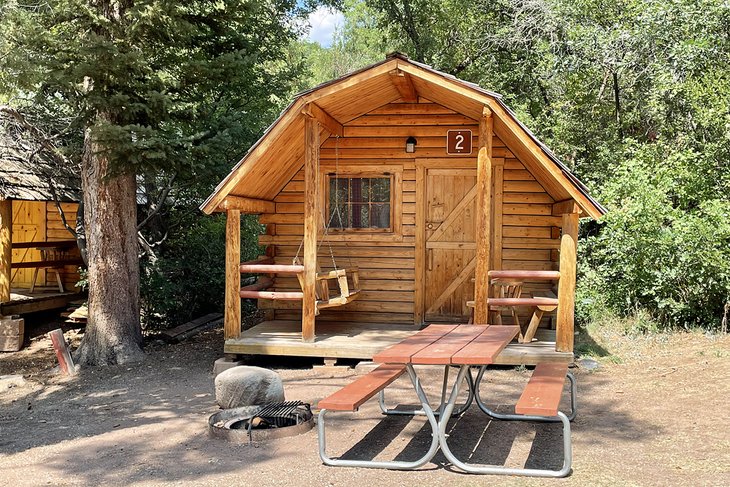 With four decades under its belt, Elk Creek Campground is one of the best campgrounds in Glenwood Springs. Located just 15 minutes from downtown, the campground is close enough to enjoy the services of Glenwood Springs, but far enough removed to put campers at the doorstep of hiking, hot springs, and rafting on the river within the Flattops Wilderness Area.
Elk Creek Campground has 67 sites that range from cabins and RVs to traditional tent sites. It even has a group site that can host 10 small tents. All the trailer and RV sites have full hookups, with both 30 and 50 amps. Back-in and pull-through sites are both available. As for the tents, 20 of the 22 sites have electricity. Plus, the campground features bathrooms and showers.
You'll even find 14 cabins at Elk Creek. Eleven are considered "primitive," though they still feature electricity. Two cabins are "upgraded" and include a bathroom and shower. One cabin features a small refrigerator, microwave, and en suite bathroom.
Address: 581 Co Road 241, New Castle, Colorado
4. Carbondale/Crystal River KOA Holiday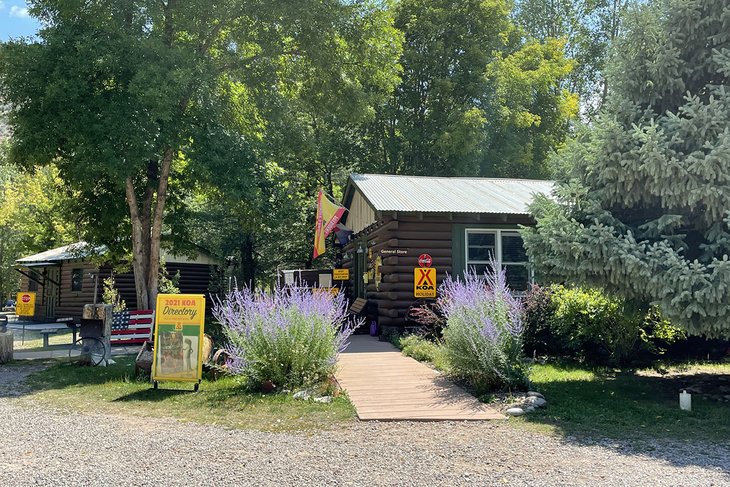 Not far from Glenwood Springs, in the neighboring town of Carbondale, is the Carbondale/Crystal River KOA. Tucked at the base of the 13,000-foot Mt. Sopris on the banks of the Crystal River, the Carbondale/Crystal River KOA features 13 log cabins, 24 RV sites, and 15 tent sites.
The campground puts visitors at the doorstep of some of the best Rocky Mountain activities, like hiking, whitewater rafting, jeep tours, golf, and fly fishing. The Crystal Valley Trail is located right alongside the campground, which is a paved path for walking and biking. This links up with the Rio Grande Trail that runs from Glenwood Springs all the way to Aspen.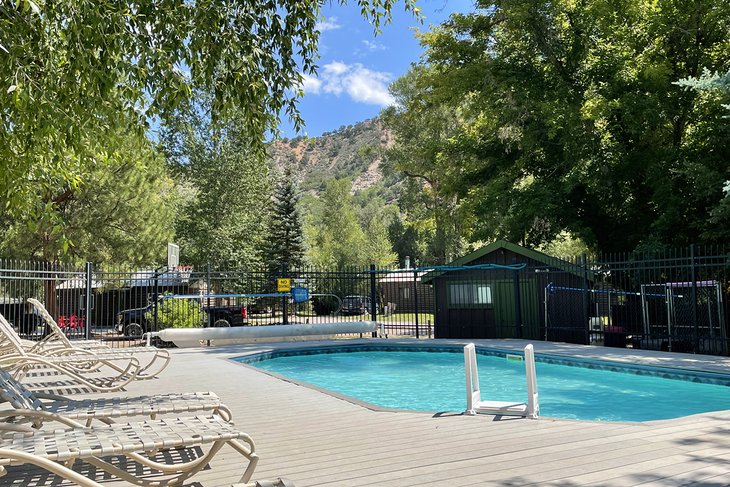 The RV sites are both back-in and pull-through and have electric and water hookups. You can purchase RV sewer service, as well. The deluxe sites have patio settings with patio furniture, charcoal grills, and a separate fire pit seating area.
Guests can rent teepees, an airstream, or cabins that feature full bathrooms. Individual tent sites do not have any hookups, but all have picnic tables, fire rings, and sand tent pads.
Amenities at this KOA include Wi-Fi, bike rentals, bathrooms and showers, and a sauna.
Address: 7202 CO-133, Carbondale, Colorado
5. Coffee Pot Spring Campground
Within the White River National Forest, just outside of Glenwood Springs, is Coffee Pot Spring Campground. This small campground features 10 developed sites, each with a fire ring and picnic table. RVs are welcome, as long as the total length is less than 30 feet long.
What is great about Coffee Pot Springs is the setting. The campground is more than 10,000 feet above sea level, facing south toward three lofty peaks, nestled amid fir forest and aspen groves. The campground has three vault toilets, but few other facilities, so be sure to pack it all out. Regulars report that Broken Rib Spring, about three miles up Coffee Pot Road, is used as the source of water for the campground.
Coffee Pot Springs Campground makes a home base from which to explore much of the wilderness here at White River National Forest. The campground is close to several four-wheel-drive roads, as well as hiking and horseback riding. Try the Broken Rib Trail or the East No Name Trail. Not far from the campground, you'll also have a beautiful view down into Deep Creek Canyon.
6. The Hideout at Glenwood Springs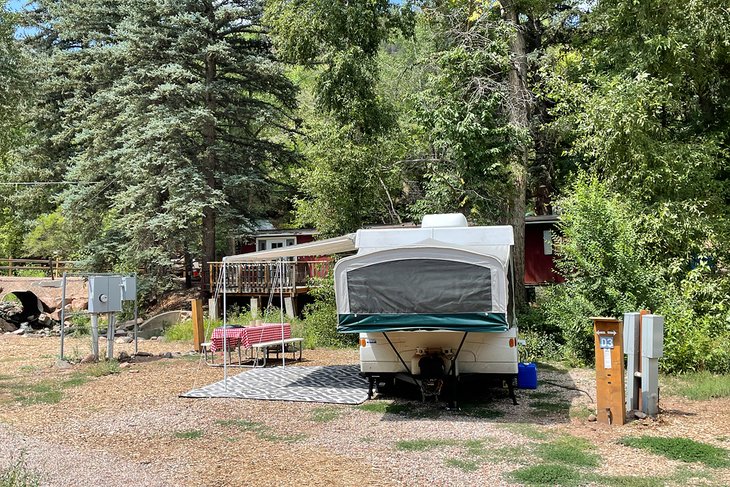 Nestled between the White River National Forest and downtown Glenwood Springs, The Hideout at Glenwood Springs is a campground that features RV spaces, historic cabins, and tent sites. You'll find an intimate campground along the banks of Three-Mile Creek, just a few minutes from downtown.
The eight campsites feature fire rings and picnic tables, as well as electric hookups. All sites are back-in only if you're bringing your RV or trailer. Some of the camp amenities include Wi-Fi, a clubhouse, and coin-operated laundry.
What's cool about The Hideout is its history. The park was actually founded at the end of the 18th century by fur traders. Today the nine-acre park still retains much of what the original pioneers fell in love with: privacy, outdoor space, and close proximity to the hot springs.
The park is also home to long-term residents, so if you're looking for something more than just a weekend camping trip, The Hideout may offer what you're looking for.
Address: 1293 Co Rd 117, Glenwood Springs, Colorado
7. Rifle Gap Campsites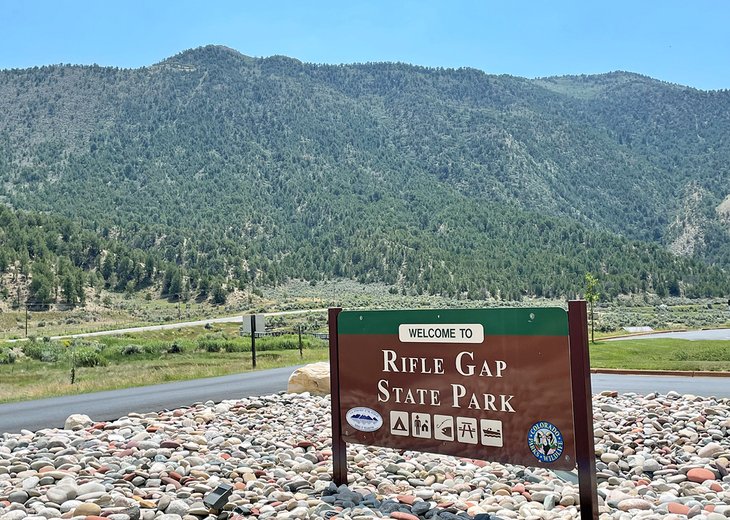 Peppered along the northern shore of Rifle Gap Reservoir are several campgrounds that are picked for the views of the water and mountains, plus the proximity to Glenwood Springs and all its attractions. Rifle Gap State Park has five campgrounds that provide a total of 89 campsites. Campers should have a camping permit and a park entrance pass to reach the campgrounds.
Cottonwood Campground is right on the banks of the reservoir and has spaces available for tents, small trailers, motor homes, and pickup campers. These sites include electrical hookups, coin-operated showers, and flush toilets. Water facilities are also available within the campground.
Lakeview Campground has a hillside perch and offers views of both the lakes and the mountains. The campground has RV and tent sites, as well as walk-in tent sites. The paved RV and tent sites have full hookups, as well as picnic tables and fire pits. The walk-in sites are much more rustic, with picnic tables and fire pits, plus plenty of foliage to add another level of privacy. The campground has flush toilets and coin-operated showers.
Also up on the hill, Cedar Campground has campsites with electric hookups and shared water facilities. It has back-in and pull-through sites, as well as space for tents and small trailers. Flush toilets, vault toilets, and showers are in the center of the campground.
The two remaining campgrounds are Sage and Pinyon. Both have basic campsites, as well as spaces that can fit small trailers and larger motorhomes. Sites include picnic tables and fire pits, and vault toilets are in the center of the campground.
8. Glenwood Canyon Resort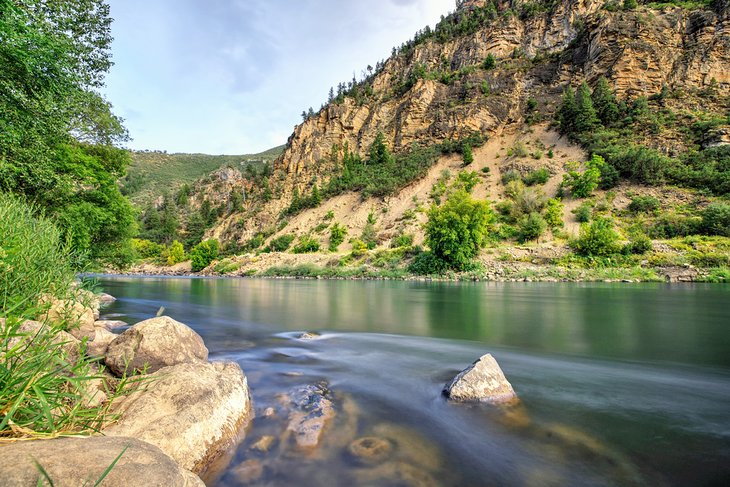 Don't let the name fool you — Glenwood Canyon Resort is certainly equipped for camping. Located east of Glenwood Springs, right on the banks of the Colorado River and not far from the iconic Hanging Lake, Glenwood Canyon Resort has a little bit of something for everyone.
Not only does it have fully equipped cabins, suites, and cottages, but it also features riverside tents and RV sites. The grounds are within walking distance to the Glenwood Canyon Recreational Trail, as well, and within a short distance of the Hot Springs Pool and Hanging Lake Trail – two things that make Glenwood Springs particularly unique in Colorado.
River tent sites have views over the Colorado River, as well as campfire pits, picnic tables, and access to a private boat ramp. RV sites include riverfront and off-river, as well as sites that can accommodate big rigs. Each riverfront site has 15-, 30-, and 50-amp electric service and can accommodate vehicles up to 32 feet in length. Dump stations are also available. Big rig sites have full hookups
Facilities at the resort include showers and bathrooms, laundry, an activity center, and Wi-Fi.
Address: 1308 Co Road 129, Glenwood Springs, Colorado
9. Deep Lake Campground
High up within the White River River National Forest, Deep Lake Campground is one of the highest-elevation campgrounds in the area. At a staggering 10,580 feet, the subalpine campground is perched on the banks of the 37-acre Deep Lake.
Deep Lake Campground has 35 campsites, each with a picnic table, fire ring grills, and gravel driveways that can host RVs with a maximum of 35 feet. The campground does not have potable water but it does have a vault toilet.
The campground does not accept reservations. It's first come, first served, but be sure to get there early, as Deep Lake Campground is one of the most popular in the area.
Address: Forest Road 6003E, Gypsum, Colorado
Map of Campgrounds in Glenwood Springs, CO
Best Time to Go Camping in Glenwood Springs
Glenwood Springs is a year-round destination, but the best time to camp is in the spring and summer when the snow melts and the weather becomes sunny and warm. Average daytime temperatures in April are around 61 degrees Fahrenheit. In May, that climbs to 71 degrees. Bear in mind, though, that evening temperatures in early spring can get as low as 32 degrees Fahrenheit or lower. June, July, August, and September are the optimal months for camping, with daytime temperatures climbing as high as 89 degrees.