9 Best Campgrounds in Steamboat Springs, CO
Steamboat Springs, Colorado is surrounded by spectacular nature, with scenery that spans soaring mountains; expansive grasslands; babbling rivers; and thick, verdant forest. Some of the best options for campgrounds can actually be found right in the heart of the wilderness around Steamboat Springs, in the two national forests that surround the city.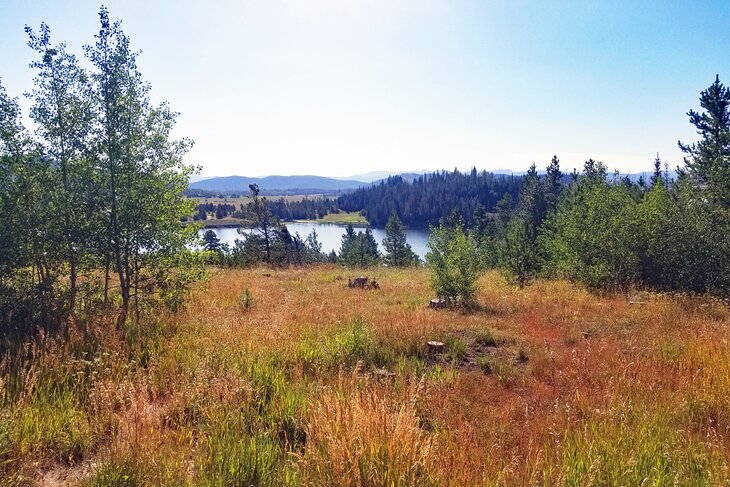 Campgrounds include dispersed camping in the national forests, dedicated campgrounds, recreation sites, and RV parks. While camping within the Steamboat Springs city limits is rather limited, you'll find several high-quality options anywhere from eight to 30 miles outside of town. In fact, Steamboat Springs is one of the best places to camp in Colorado if you're looking to get off the grid.
Most of the campgrounds are small near Steamboat Springs, with typically less than 30 individual campsites. Sites like the Kampgrounds of America (KOA) within Steamboat Springs are much larger, and offer something for every style of camper — though campgrounds of this size in this area are not the norm.
Dispersed camping or campgrounds within the national forests are primarily first come, first served. Private campgrounds, however, are reservable and should be booked well in advance. You'll find that many of the campgrounds are out of cell service range, so it's always good to plan ahead. The campgrounds that are a bit closer to town offer much more in terms of connectivity.
Where you decide to camp may depend on what you want to do in Steamboat Springs, whether it's biking, fishing, sightseeing, or tackling one of the best hikes in Steamboat Springs.
To sort through the possibilities, scroll through our guide to the best campgrounds in Steamboat Springs.
1. Steamboat Springs KOA Holiday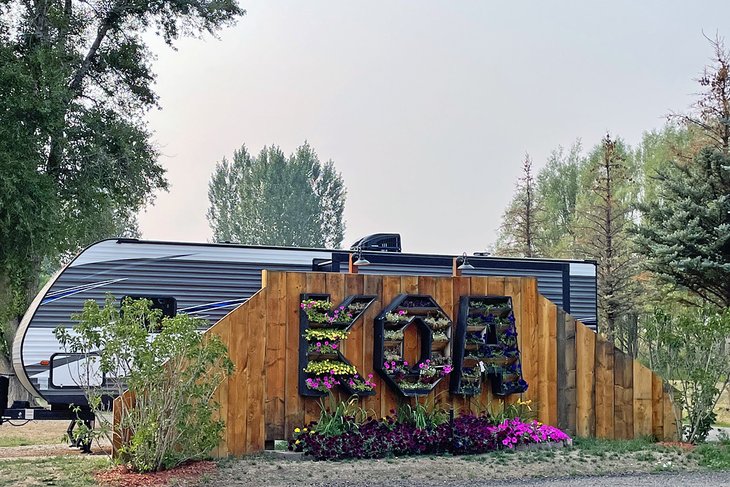 The Steamboat Springs KOA Holiday is one of the more centrally located campgrounds within the Steamboat Springs city limits. It also happens to be the only campground in Steamboat Springs proper that accepts RVs.
The campground is open year-round and features amenities like a pool, mini golf, biking rentals, propane, and even Wi-Fi.
The campground is impeccably clean, with a combination of tent sites, cabins, and RV hookups. The maximum RV hookup is 50 amps here. The tent sites are kept separate on the other side of the Yampa River from the RV sites, so you can choose whatever vibe you like. Note: No tents are allowed on cabin or RV lawns, and only one tent is allowed per site.
The cabins require a two-night minimum stay when making reservations because they tend to be very popular. In the center of the campground are the facilities, like the playground, mini golf, pond, and pool. Steamboat Springs KOA Holiday features full-service washrooms.
Bear in mind that Steamboat Springs sits at an elevation of 6,732 feet above sea level, which means nights up here can be cool in seasons other than summer. During the summer, the cooler evenings are rather refreshing after the beating, dry heat of the day.
The campground is open year-round, so you can enjoy the lovely grounds in any season. That said, the pool is only open between Memorial Weekend and Labor Day Weekend.
Address: 3603 Lincoln Ave, Steamboat Springs, Colorado
2. Eagle Soaring RV Park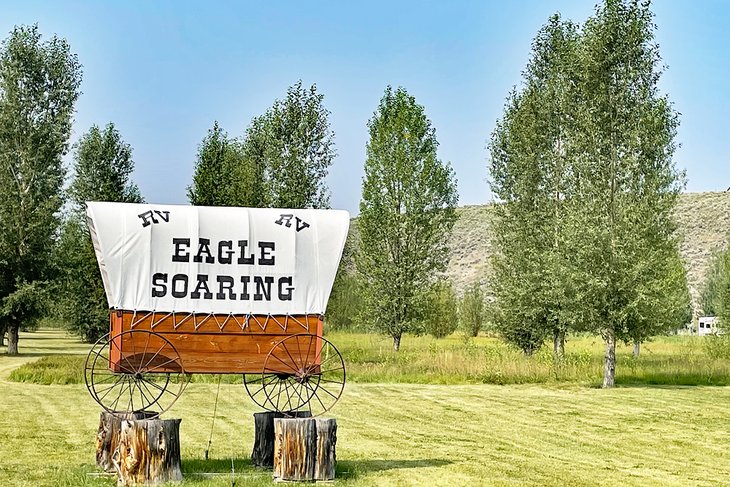 For another RV camping option near Steamboat Springs, Eagle Soaring RV Park is located just west of downtown with 27 acres of space for RV hookups, nestled in the foothills of the Rocky Mountains. The park is located about seven miles outside Steamboat Springs along Route 40.
The RV area has spectacular views of the Steamboat Ski Area and features 25 sites that can accommodate vehicles that are 70 feet long. All sites have 30/50-amp power, state-approved drinkable water, and easy sewer hookup. The park has showers, Wi-Fi, and decent cell phone service. You can even find a small washer and dryer.
Additional amenities include picnic and barbecue areas, a full-service bathroom, and showers. Reservations are required, and a two-night deposit is required. You can reserve a space up to a year in advance, but not within two days of arrival. For reservations, a two-night deposit is required. Rates start at $50 per night and $52 per night over holidays.
Address: 25250 US-40, Steamboat Springs, Colorado
3. Dry Lake Campground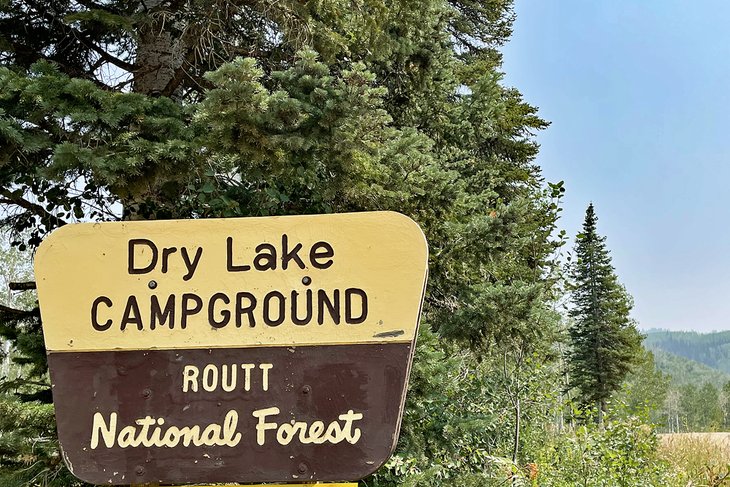 Eight miles northeast of Steamboat Springs sits Dry Lake Campground within the Medicine Bow-Routt National Forests. It is just off Buffalo Pass Road in a grove surrounded by flickering aspen, spruce, and fir trees. The campground has seven campsites with plenty of space between them, all with tables and fireplace grates, though only a few of the sites are suitable for trailers.
The campground is open from mid-June through late October. It has a few spaces available for trailers with a maximum length of 20 feet. The campground features a single vault toilet, but no water. The campground has a maximum of 14 days for a stay.
Many of the campgrounds here are not available for early reservations and are offered on a first-come, first-served basis. Other campsites are released for reservation on a rolling basis.
Dry Lake provides easy access to hiking and biking along the Spring Creek Trail. The elevation at Dry Lake is more than 8,000 feet, which is quite different from Steamboat Springs proper, so be sure to pack warm enough clothing for the nights, which will certainly be cool.
4. Meadows Campground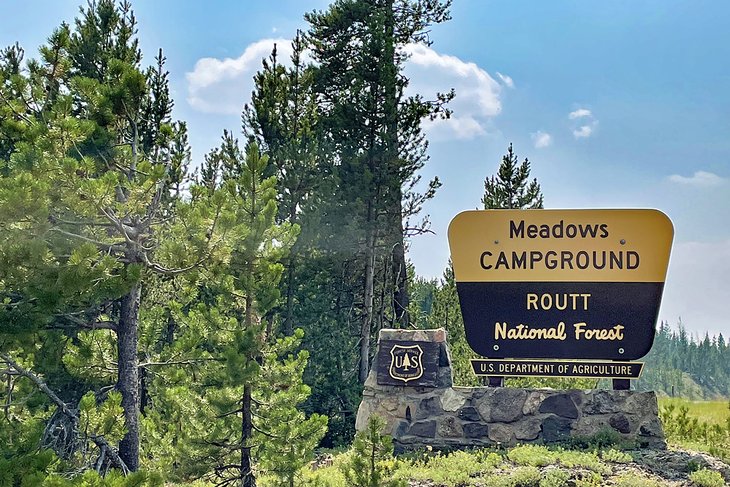 Moving up the mountain, you'll discover Meadows Campground, which is located on Rabbit Ears Pass just outside Steamboat Springs. The 30 campsites are shrouded in tall evergreen trees and offer a combination of pull-through, back-in, and walk-in tent sites. Each site has a table and a fire area.
The campground is at an elevation of more than 9,000 feet, which means prepare for climate changes and perhaps even some weather. The campground is open seasonally depending on the weather and does not take reservations. Open from late June through mid-October, the campground has five vault toilets but does not supply water.
Nearby activities include stream fishing, hiking, and mountain biking. A short walk through surrounding meadows can often yield quite the huckleberry crop, depending on the season.
The campground sits 15 miles outside of Steamboat Springs. Most of the southern sites overlook the meadows, as well. It's a wonderful campground if your aim is to view wildlife. The quiet environment, surrounded on all sides by nature, means that this is a good place to spot local moose, among other creatures.
5. Medicine Bow-Routt National Forest Camping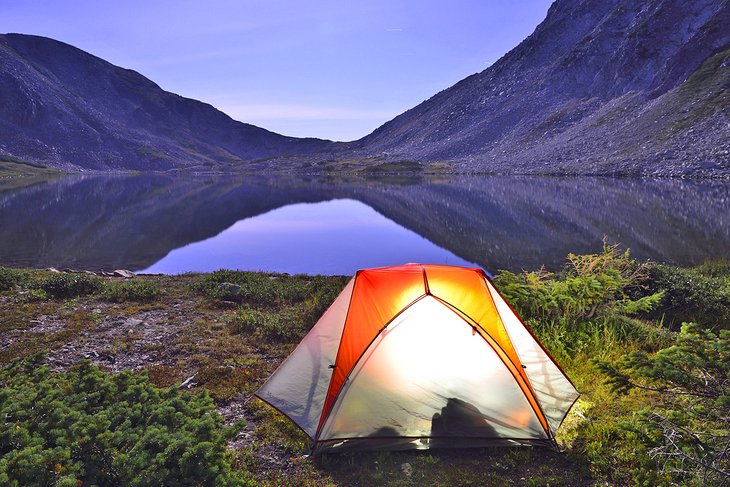 Camping next to a lake in the Medicine Bow-Routt National Forests Steamboat Springs has the great benefit of being surrounded by lush, thick national forest - two of them, to be exact. The Medicine Bow-Routt National Forests surround Steamboat Springs, which means it is brimming with opportunities for dispersed camping.
Within the Routt National Forest are many dispersed camping sites, each of which has a 14-day-stay limit of 30 days. Sites to be picked must be ones that have been used before, rather than creating new ones. Within Routt National Forest, dispersed camping is allowed in California Park, Mt. Zirkel, North Routt, and the Steamboat areas. In the Medicine Bow National Forest, the stay limit is 16 days.
The diverse area includes the Thunder Basin Grasslands, as well as many mountain ranges and is a prime destination for hunting, fishing, hiking, and horseback riding. Most of the campgrounds within the national forests are first come, first served. Some of them, however, do accept reservations.
6. Dumont Campground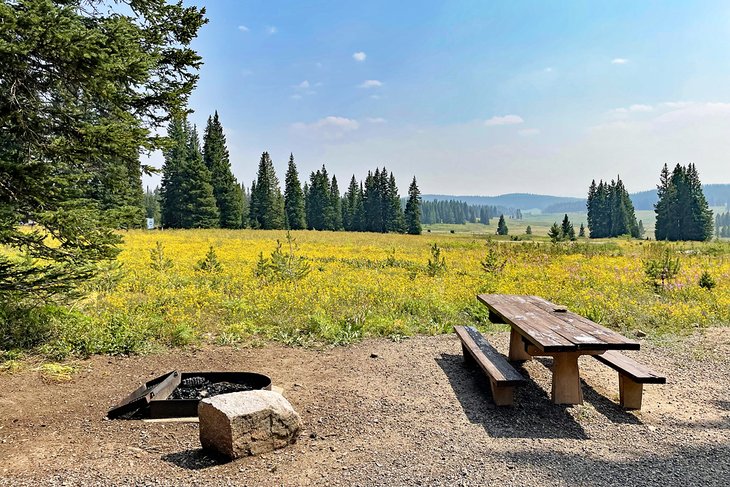 Dumont Lake Campground offers up spectacular scenery from its 22 (accessible) campsites. The campground features a combination of pull-through and back-in sites, as well as three vault toilets and a pump for water.
The campground is open between June and October, weather dependent, and is about 22 miles from Steamboat Springs. The area is pristine and beautiful, with plenty of access to hiking, backpacking, and mountain biking. The area sits on the Continental Divide, as well, which means unparalleled views — but also substantial altitude (9,620 feet), so pack accordingly.
Of course, you can't forget to visit Dumont Lake itself, which is located a short walk from the campground. The lake itself is 50 acres and is surrounded by stunning peaks and thick forest.
Reservations can be made ahead of time. A maximum consecutive stay of 14 nights is allowed within a 30-day period. Individual sites operate on a six-month rolling basis. Availability is released from June 30 through September 18.
7. Granite Campground
Located on the Fish Creek Reservoir, Granite Campground is a small camping area just outside Steamboat Springs. The campground has eight campsites that include four walk-in tent sites and four drive-up sites.
Open from late July until Late October, the campground features a vault toilet, but does not have water available. Campsites are first come, first served.
Some of the most popular activities at this campground include fishing and non-motorized boating along the reservoir, as well as hiking, biking, and ATV. The campsite recommends high clearance vehicles to access the campground, which sits at nearly 10,000 feet above sea level, as well — one of the highest in the area.
Address: Rcr 310, Steamboat Springs, Colorado
8. Summit Lake Campground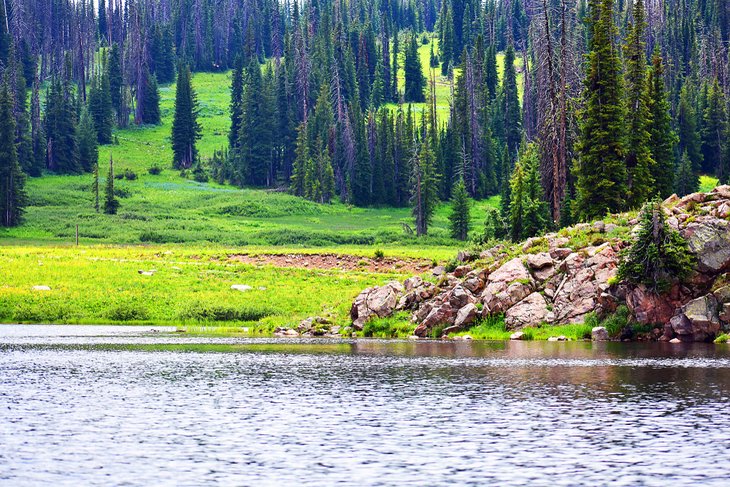 It's a bit of a drive to the Summit Lake Campground from Steamboat Springs (about an hour or so), but visitors are rewarded with epic, backcountry scenery. The Summit Lake Campground opens in mid-July and is located on Buffalo Pass. It will stay open, weather permitting, through mid-October.
Here, you will find nine back-in campsites and six walk-in tent sites. Each one has a table and a fire grate. Campsites can accommodate tents, trailers, and RVs. No reservations are required - the sites are first come, first served. The site offers vault toilets for guests, and there is no potable water available.
Thanks to its location up near Granite and Dry Lake campgrounds, visitors to Summit Lake can enjoy similar activities, like canoeing, biking, ATVing, hiking, and fly fishing, among many of the other fantastic outdoor activities offered in Steamboat Springs. If you're interested in backcountry exploration, the campsite is near the Mount Zirkel Wilderness area.
Rates start at $10 per night for a single unit or $5 for day use.
9. Hahns Peak Campground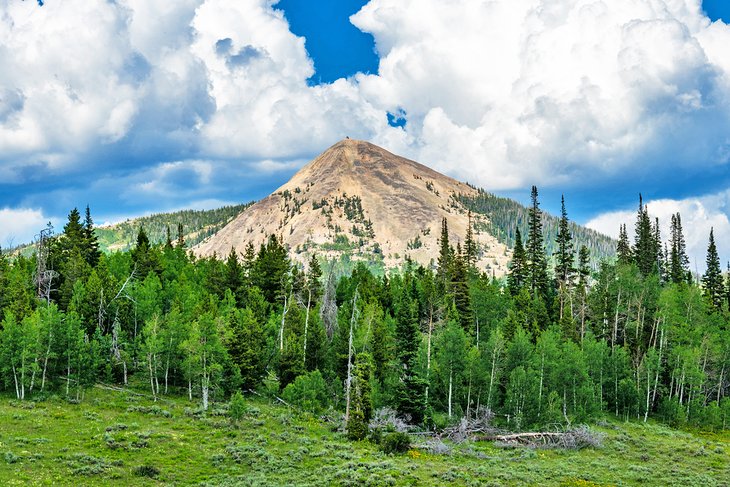 About 30 miles north of Steamboat Springs sits Hahns Peak Lake Campground. As the name suggests, the campground sits on the shore of the lake at an elevation of 8,500 feet. From the grounds, you'll have stunning views over the forest and lakeshore, as well as the 10,774-foot Hahns Peak.
Near the campground are trails for hiking and mountain biking, and fishing is popular in the 160-acre lake, as well. The campground features 23 single-unit sites and three double sites. Campsites have plenty of space between them for privacy.
Within the campground are four vault toilets. The campground does not provide potable water. The campground opens from late June through late September and reservations are accepted.
This is a wonderful campground for those who want to disappear into nature. The Medicine Bow-Routt National Forests and Thunder Basin National Grassland cover almost three million acres between Wyoming and Colorado. Wildlife is abundant, from black bears and bobcats to coyotes, elk, and moose.
Address: Forest Road 486, Laramie, Colorado
Map of Campgrounds in Steamboat Springs, CO