8 Best Campgrounds in Estes Park, CO
Estes Park is an adventure-packed city in northern Colorado and an excellent base camp to explore the state's great outdoors. You'll find plenty of things to do here throughout the year. It is one of the gateways to Rocky Mountain National Park, sprinkled with lakes and blanketed in thick forest. Come summer, Estes Park becomes a hot spot for travelers from all over the world, and weekend trippers from nearby Denver. During this time of year, campgrounds become the places to be in Estes Park.
Estes Park has many wonderful campgrounds within a 15-minute drive from downtown. Some are more rustic and geared towards avid outdoors people, while others cater to those who need a few more creature comforts, like the Elk Meadow Lodge & RV Resort or Yogi Bear's Jellystone Park. Most of the campgrounds, however, are within a stone's throw from the entrance to Rocky Mountain National Park, as well as the trailheads that lead up into the coveted mountains.
Most campgrounds have the standard amenities, like fire rings, picnic tables, and parking spaces. Others also include Wi-Fi, shower houses, hookups, and even swimming pools. The national park has several campgrounds, as well, which are much more rustic, but have the very best locations if the national park is your primary reason for visiting Estes Park.
Unless a campground is first-come, first-served, it is best to look into reservations as soon as possible, as these sites tend to fill up rather quickly the closer it gets to the summer season. And, of course, you can always look into hotels and resorts in Estes Park, as well.
Find your next best place to spend the night with our list of the best campgrounds near Estes Park.
1. East Portal Campground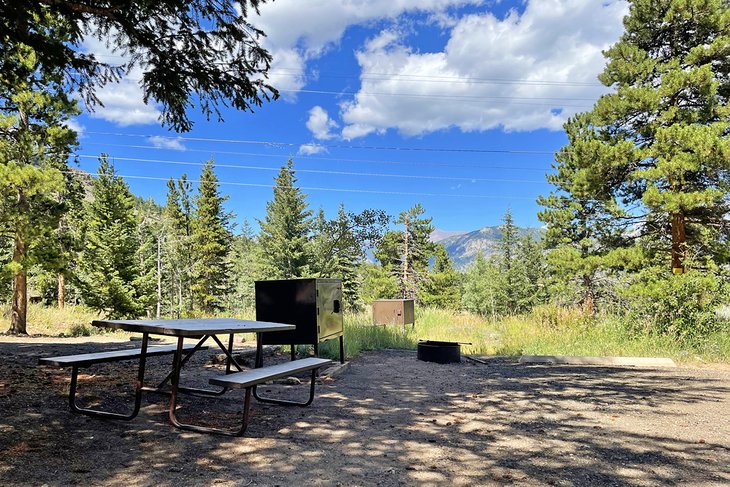 What is so magical about the Estes Park Campground at East Portal is that it is close enough to the energy of Estes Park, but feels like it is truly tucked back into another world. The campground is one of the most popular in the area because of its location, so reservations in advance are highly recommended.
Located at 8,300 feet, just west of town, East Portal is wreathed in the snowcapped peaks of Rocky Mountain National Park. In fact, it is one of the closest campgrounds to the national park, and is quite close to the East Portal Reservoir, which is great for fishing.
The campground itself is a double loop and has shady sites for tenters, as well as spots that can accommodate RVs and trailers that are less than 22 feet in length. Near to the campsite is, of course, Rocky Mountain National Park. In fact, many of the park's trailheads begin right from the campground.
Keep a lookout for wildlife – elk and deer are particularly common. So are black bears and foxes, which is why food storage is particularly important.
The campground has 66 sites, each of which has a picnic table and campfire ring. Some of the sites are ADA accessible, and all have access to drinking water, flush toilets, showers, water and electric hookups, a dump station, and a playground for kids.
Address: 3420 Tunnel Road, Estes Park, Colorado
2. Hermit's Hollow Campground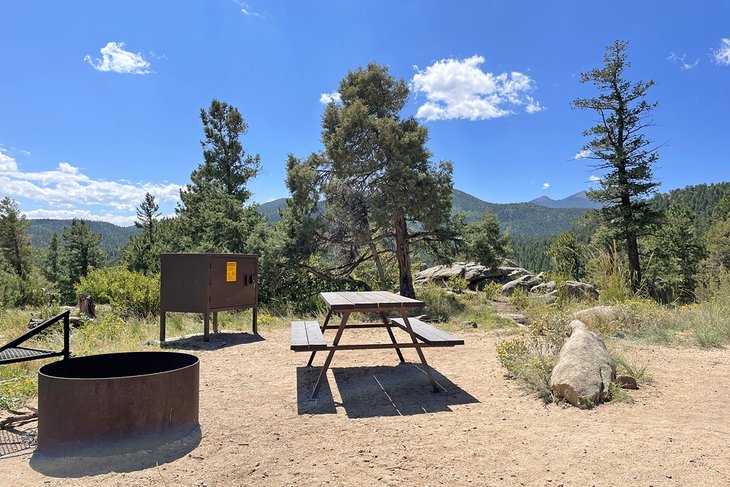 Tucked into the mountains surrounding Estes Park, just a quick trip outside of downtown, is a sprawling open camping space known as Hermit Park. Hermit Park is designated as an "open space" with sites for tent camping, cabins, and RVs. The park area also features hiking trails, wetlands, tracks for mountain biking, horseback riding trails, and a pavilion for groups to rent out.
But the campground is truly lovely, with campsites nestled into various foliage-covered nooks, allowing for ample privacy and a rustic feeling, all while not being more than two miles from town. Note: You'll find other campgrounds within the park, like Bobcat Campground and Granite Gulch.
Hermit's Hollow Campground has 42 sites. While RVs are welcome, the campground does not offer any hookup, but it does provide drinking water and has vault toilets. What's wonderful about Hermit's Hollow is that the campground provides ample distance between campsites. It's totally possible to feel like you've got the place to yourself, even though chances are you will be far from the only ones there.
The landscape is also quite appealing, with plenty of rocky outcrops, trees, and brush. It gives that outback experience without having to be in the backcountry, and the drive up the mountain towards the campground has lovely views along the way.
Address: 17 Hermit Park Road, Estes Park, Colorado
3. Elk Meadow Lodge & RV Resort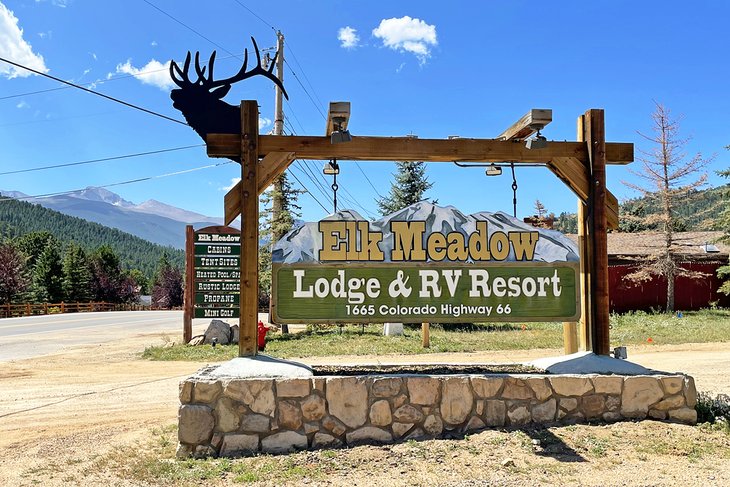 En route from Estes Park to Rocky Mountain National Park, you will pass the Elk Meadow Lodge & RV Resort. It makes for a great home base if the national park and the town highlights are on your agenda for your trip to Estes Park.
The 30-acre compound is nestled in the foothills of the Rocky Mountains, making for an unbeatable backdrop of snowcapped peaks and lush, rolling pine forest. Accommodations include 169 full hookup RV sites, as well as one- and two-room cabins, dry camping sites, and teepees.
The park is chock-full of amenities, as well, including a heated swimming pool, hot tub, mini golf, playground, space for group campfires, Wi-Fi, cable TV, and even a game room. Plus, as mentioned, the park is adjacent to the entrance to Rocky Mountain National Park. It's one of the best located places to stay within Estes Park.
Address: 1665 CO-66, Estes Park, Colorado
Official site: https://elkmeadowrv.com/
4. Yogi Bear's Jellystone Park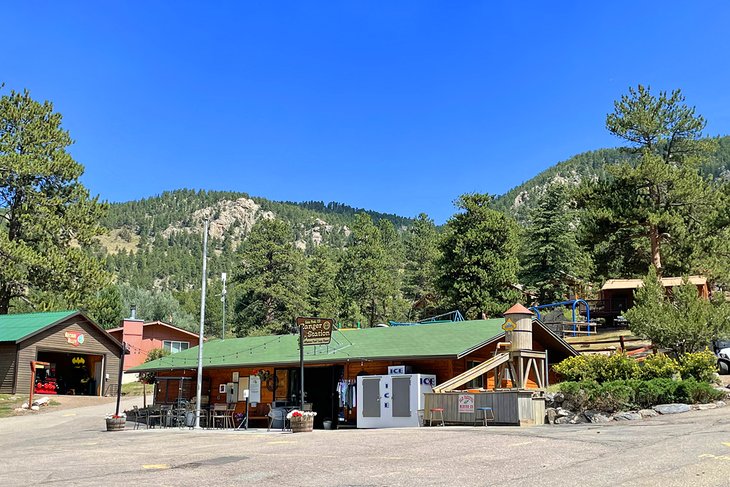 You'll find great camping accommodations, and a touch of whimsy, at this fun-for-the-family camp park in Estes Park. Yogi Bear's Jellystone features tent sites, cabins, and RV sites just off Route 36 leading into Estes Park.
You'll be spoiled for choice at Jellystone with all the different types of sites available. The campground features 30 RV sites and 40 tent sites. Sites with full hookups can accommodate motorhomes, travel trailers, and 5th wheelers up to 40 feet. These sites have 20/30/50-amp electric, as well as water and sewer. The sites also have a fire pit and picnic table.
Premium sites include outdoor carpeting and a charcoal grill. Smaller sites can accommodate homes up to 25 feet, pop-ups, and tents. Regular tent sites have 20-amp electric hookup, as well as water hookup, a fire pit, and picnic table.
Then, of course, you can splurge on the cabins, which can accommodate five to 14 people over a variety of floor plans – some are more rustic, while others are more like private villas than cabins.
Additional amenities include showers, flush toilets, a pool, and playground area, a dog park, and Wi-Fi, and it's just a few minutes' drive into Estes Park.
Address: 5495 US-36, Estes Park, Colorado
Official site: https://www.jellystoneofestes.com/
5. Estes Park KOA Holiday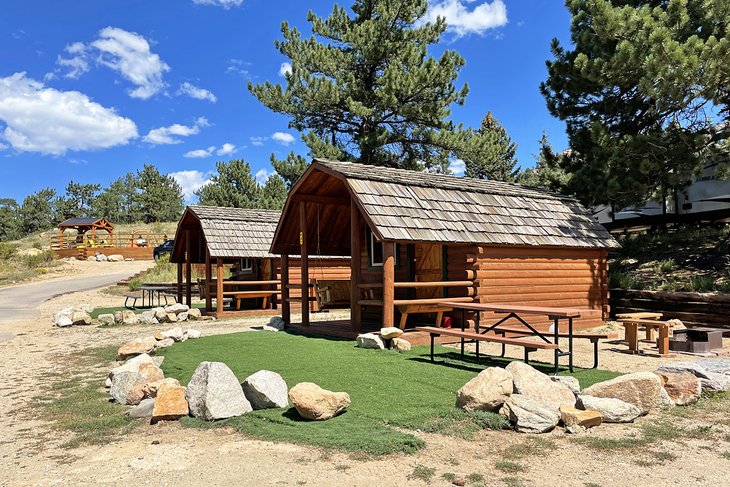 If you're traveling with a smaller RV or trailer – and are a KOA loyalist – you'll be happy to know that the Estes Park KOA Holiday is just five miles from Rocky Mountain National Park in Estes Park.
The Estes Park KOA has RV sites, lodging, and tent sites. RV sites are all back-in sites, some with 50 amps and full hookups, while others are 30/20 amps with only water and electricity. The KOA features cabin rentals, as well. Some cabins feature full bathrooms and showers, while others do not have a private bathroom. You can also book a tent site, all of which feature an electric hookup, fire ring, picnic table, and parking spot.
KOAs are known for their amenities, and the Estes Park KOA is no exception. Expect Wi-Fi, cable TV, KampK9 for pets, a pavilion, showers, laundry room, bathrooms, and a free shuttle that goes directly to town and to Rocky Mountain National Park.
Across the street from the campground is Lake Estes and the Big Thompson River, which are both known for their fishing. You can even rent a pontoon boat, paddleboards, or bicycles, or sign up for a trail ride at the nearby Sombrero Ranch.
Address: 2051 Big Thompson Ave, Estes Park, Colorado
Official site: https://koa.com/campgrounds/estes-park/
6. Rocky Mountain National Park Campgrounds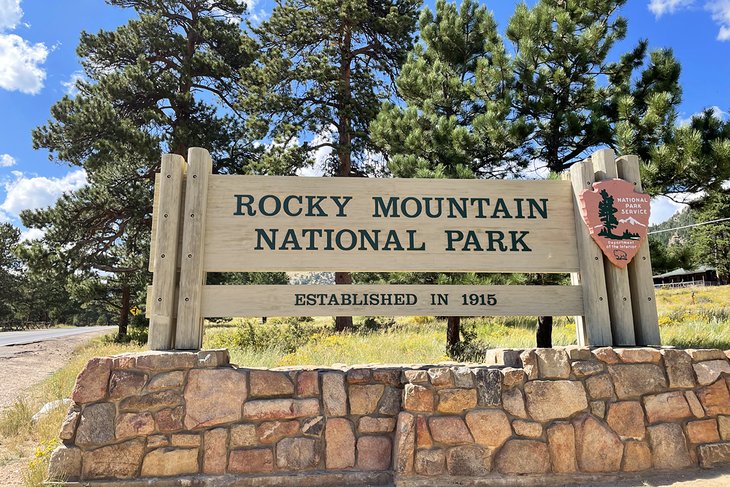 Of course, you can choose to stay within Rocky Mountain National Park itself – which is an absolute must for those who want to semi slip off the grid and escape into the raw and rugged beauty of the Rocky Mountains. What's fabulous about camping within the park are the different types of camping experiences you can arrange, depending on your level of comfort with the wilderness.
Campgrounds are abundant within the park. The reservable campground within the park include Aspenglen, Glacier Basin, and Moraine Park. But keep in mind that these sites are all typically reserved far in advance. You can make reservations up to six months in advance for summer reservations at these campgrounds.
Aspenglen features 52 total sites and is located near the Fall River Entrance. The campground is shrouded in thick pine forests, meaning campsites have a mix of sun and shade. The campground does not have any electric hookups, and five of the sites are walk-in. Thirteen of the sites are designed for only tent stays. Flush toilets are seasonal, and the campground does not have showers.
Glacier Basin Campground is considerably larger, with 150 total sites, 73 of which are tent-only. No electrical hookups are available, but the site does offer seasonal flush toilets, potable water, and a dump station.
The largest of the Rocky Mountain National Park campgrounds is Moraine Park, with 244 sites, 101 of which are tent-only. Forty-nine of the sites are walk-in. Moraine Park is reservable for summer months, but switches to a first-come, first-served basis for its Loop B during the winter season, which starts in October.
Rocky Mountain National Park also caters to the backcountry crowd and has ample opportunity for wilderness camping. Requests for overnight backpacking camping permits begin in late March for reservations July through October. The park has more than 120 designated wilderness campsites, and guests are permitted to stay up to three consecutive nights at one campsite.
The final option for Rocky Mountain camping is to find a dispersed campsite on the U.S. Forest Service land that is on the eastern and western sides of the national park. Some options include;
Coyote Hill Road
Parachute Hill/Johnny Park Road
Pole Hill Road
Stillwater Pass Dispersed Camping
7. Longs Peak Area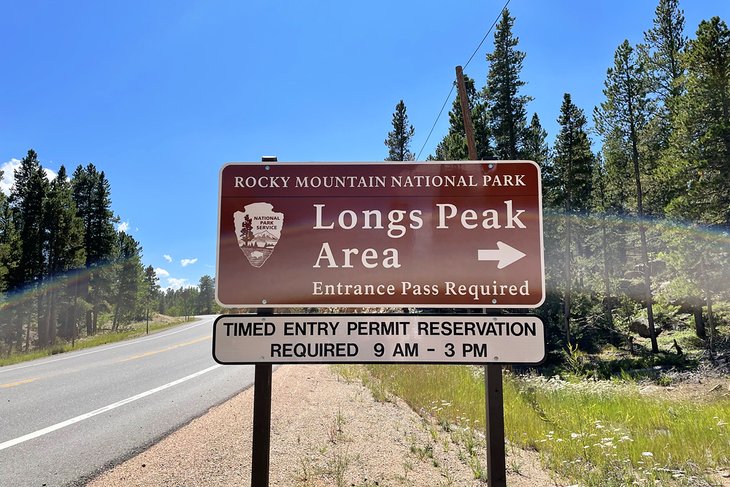 Longs Peak Campground is a small campground just 20 minutes outside of Estes Park. The 26 tent-only sites are an ideal home base for anyone who is looking to attempt the trek up and over Longs Peak – the only 14er in the entire Rocky Mountain National Park.
The campground is steps from the trailhead, so you really can't get a better location than the campground. All sites are first-come, first-served and are equipped with picnic tables and fire rings. You'll find the campsites are pretty private, though a few of them are a bit closer together if you are traveling with a group.
The amenities at the campground include vault toilets and four bear boxes for food storage. The campground is only open from Memorial Day through Labor Day, and be prepared for some other weather closures, as the campground sits at 9,500 feet.
8. Estes Park Campground at Mary's Lake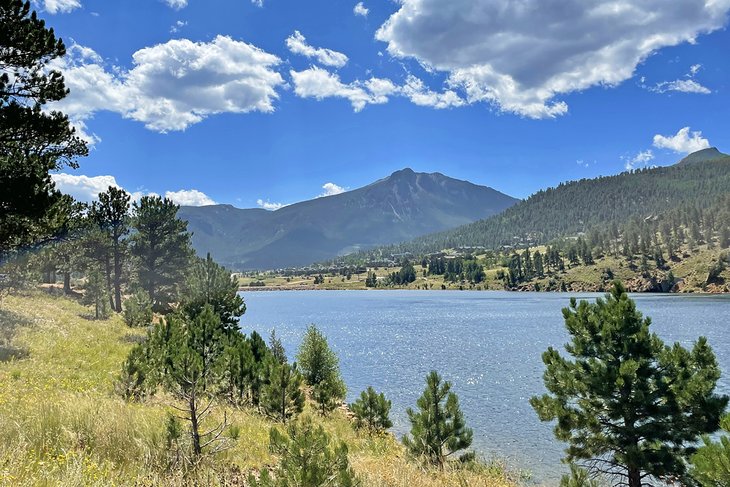 Estes Park Campground at Mary's Lake enjoys a stunning location at the base of Rocky Mountain National Park, right across the way from the banks of Mary's Lake. The campground is surrounded by majestic nature, though it is just a short drive from the heart of Estes Park.
The campground is on the larger side, with 128 campsites, and offers a camp style for almost everyone. The campground has RV and tent camping sites, along with electric hookups, two shower houses with coin-operated showers, flush toilets, and a small canteen shop.
Estes Park Campground at Mary's Lake is bright and sunny, but has partially shaded areas in the tent section of the campground. All sites have picnic tables and campfire rings. Tent-only and standard sites feature food storage lockers. Additional amenities include heated swimming pools, laundry facilities, and a playground.
Of course, the best feature of the campground is its proximity to Mary's Lake, which is a beautiful natural landmark – and a paradise for fishing.