Colorado Road Trip: Driving the San Juan Skyway
As a Colorado-based travel writer, I've spent a lot of time road-tripping around my state, driving its highways and byways, and none are more magical than the San Juan Skyway. When I want to show my friends the very best of Colorado, I take them on this epic drive.
The San Juan Skyway is a 236-mile loop drive around Colorado's southwest corner and is hands-down my pick for Colorado's best byway for its mixture of jagged mountain scenery, charming gold rush era towns, world-class skiing, hot springs, and the historically important Mesa Verde National Park.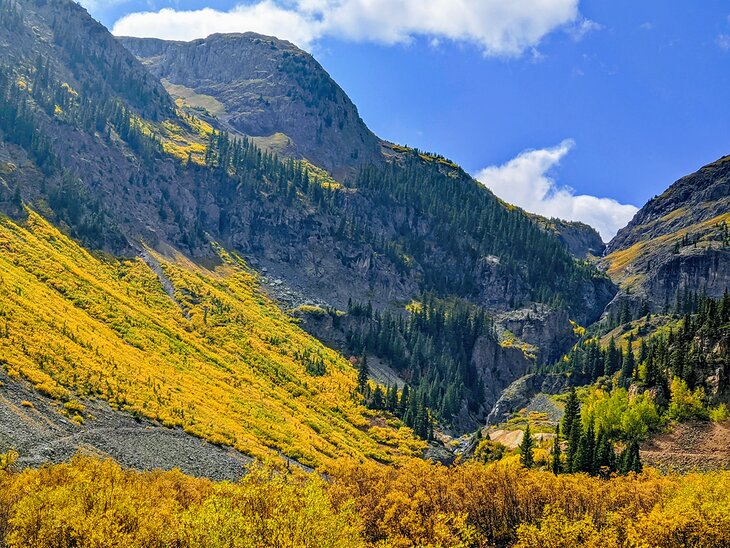 You don't just have to take my word for it either. The San Juan Skyway Scenic and Historic Byway was designated in 1996 as an All-American Road, the most coveted of all scenic byway statuses, by the U.S. Secretary of Transportation.
Since the drive is a loop, you can start anywhere on it, but I like starting and finishing in Ouray and driving the route counterclockwise, which leaves the crown jewel stretch of pavement, the Million Dollar Highway as the scenic grand finale.
The San Juan Skyway can be driven year-round, but summer and fall are my favorite seasons for this road trip. I especially love this drive during the fall, when the leaves add another layer of color to the visual tableau. If you enjoy skiing and snowboarding, however, a winter trip takes longer (road conditions can be icy and snow-packed), as Durango, Silverton, and Telluride all have ski resorts.
The San Juan Skyway loop can be driven in one long day (it takes about 6-hours), but I recommend lingering. I recommend allocating at least four nights for this drive. Spend your first night in Telluride, your second in Cortez, the third in Durango, and the last night in Ouray.
Ouray to Telluride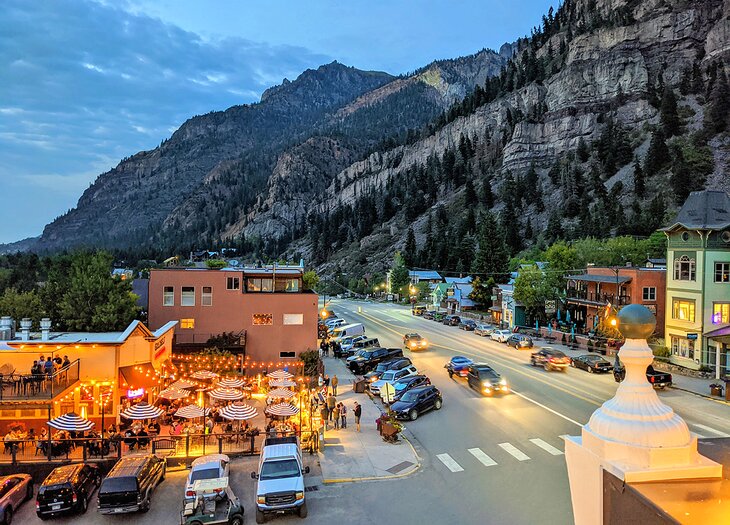 Begin in Ouray, which sits in a box canyon and is often described as the "Switzerland of America" for its striking natural mountain beauty. The historic town dates to the late 1800s, when it was a silver and gold mining camp. Today many of the mining-era buildings remain in the small, walkable downtown.
Ouray is famous for its hot mineral springs. The historic Ouray Hot Springs Pool in the town center has five pools, three of which are heated by geothermal mineral springs. Other things to do in Ouray include 4WD tours, plenty of hiking, and in winter, ice-climbing. One of Ouray's most famous hikes takes you to Box Canyon Falls, which drops 285 feet down a narrow gorge in a thunderous roar when water levels are high.
Leaving Ouray, you'll continue your road trip driving northwest to Telluride via Highway 62. Along the way, you'll pass the small town of Ridgeway, where you'll find another great soaking spot. Orvis Hot Springs, about 10 minutes from downtown Ridgeway, has multiple mineral pools of varying temperatures.
Telluride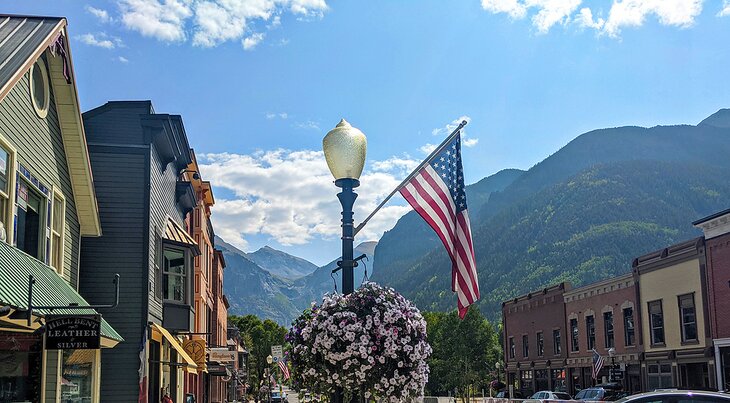 Stop in Telluride for the night. Like Ouray, it got its start as a city during the late 1800s gold rush days. Today it is home to a national historic district downtown with many of the original buildings turned into shops, restaurants, and hotels, plus one of Colorado's top ski resorts. Telluride Ski Resort has terrain for all levels, including some excellent hike-to terrain for expert riders.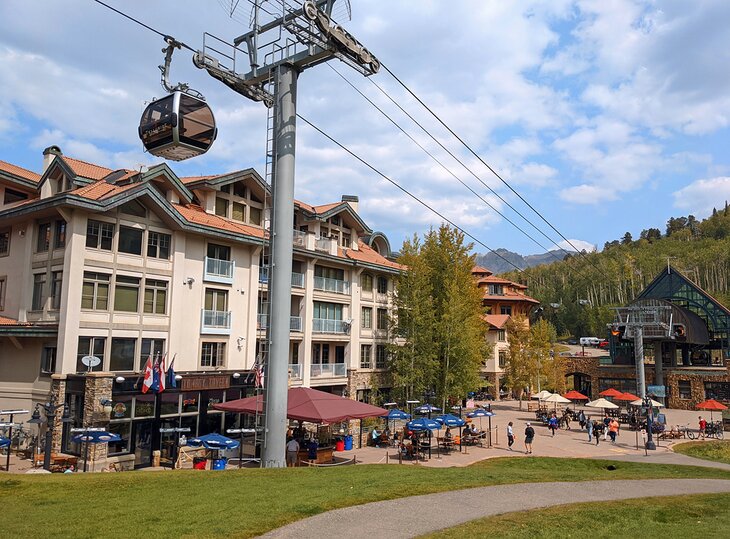 A free gondola connects the resort village to the town, and you'll find lodging and dining options in both. In downtown Telluride, examples of well-preserved original architecture can be seen at the New Sheridan Hotel and the Sheridan Opera House.
Telluride to Dolores
From Telluride, you'll pick up Highway 145 and head south to Dolores, 65 miles away. This portion of the drive is quite beautiful because the landscape changes dramatically along the route. First, you'll pass Trout Lake, which is a glittering cerulean gem surrounded by snowcapped 13,000-plus-foot peaks. From here the road climbs above 10,000 feet as you summit Lizard Head Pass, where you should stop and snap a few pics.
From here you'll start to descend. The next town of interest is tiny Rico, which was once a silver mining town, and today, its Victorian-era buildings from the 1880s still house a few shops and restaurants.
At this point, you'll be following the Dolores River and in a beautiful valley filled with aspen and cottonwood trees. If you enjoy fishing, there are many great fishing spots along this stretch. You will also find campsites and hiking trails.
Route 145 continues to descend, and the verdant valley eventually turns to desert as you near Dolores. Dolores is a great jumping-off point for seeing Mesa Verde National Park, which is just 36 miles away. The unique national park preserves cliff dwellings dating back to the 12th century, built by Ancient Pueblo peoples.
Dolores to Durango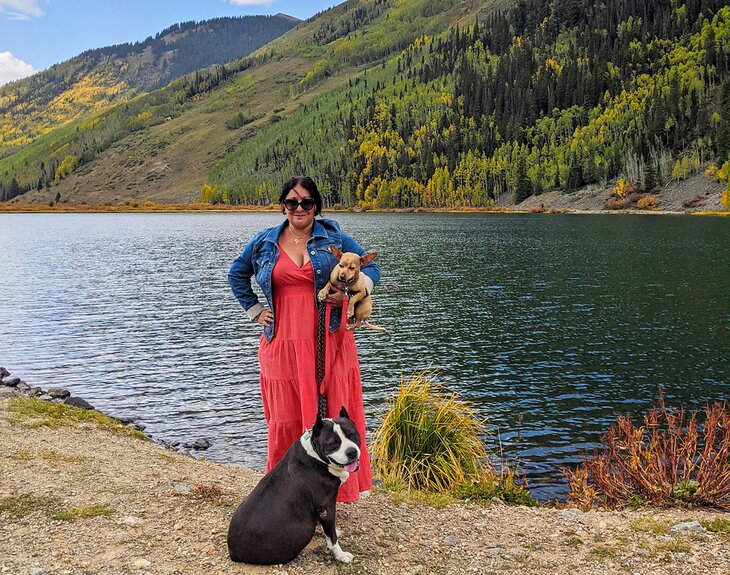 After exploring Mesa Verde National Park, the San Juan Skyway heads east on Route 160 through a lush valley that is home to small ranching towns, including historic Mancos. From here you'll continue to Durango. Founded as a railway town to transport silver and gold in the 1880s, today it retains a Wild West ambiance and has a small-town vibe.
One of Durango's top attractions is riding the Durango-Silverton Narrow Gauge Railroad. It still runs steam trains, but only operates between May and October. The round-trip journey takes up most of the day but is worth your time. The railroad track here is an engineering marvel, with part of the route blasted out of a sheer rock wall some 400 feet above a canyon. The line ends in the frozen-in-time town of Silverton, where you'll have some time to explore before heading back to Durango.
Durango is also home to Durango Mountain Resort, which is a refreshingly unpretentious ski resort.
Durango to Silverton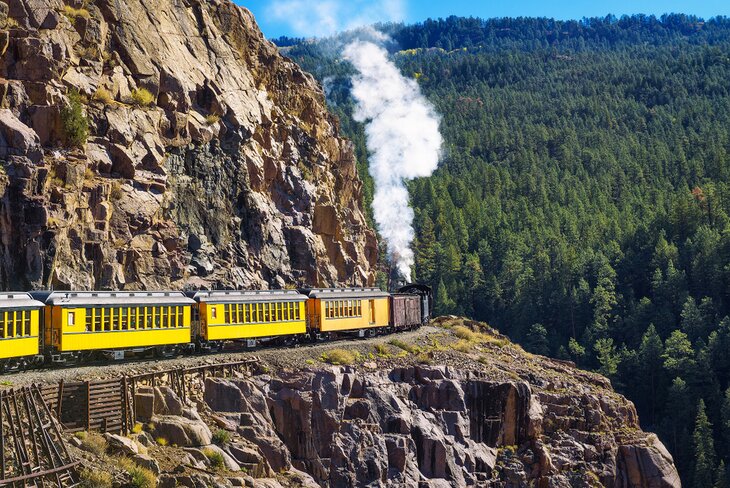 You'll still have to drive the 48 miles between Silverton and Durango, even if you take the railroad journey, as it is part of the San Juan Skyway. Here the byway follows the Animas River and past red rock cliffs and velvet green pastures before zigzagging over the 10,910-foot Molas Pass. Stop here to check out the views as well as the gorgeous turquoise-hued Molas Lake.
The pass then drops sharply down to Silverton, which is a Colorado gem. It doesn't really look like much has changed here in more than 150 years. The historic streets are a mix of empty buildings and still-operational restaurants and shops.
There are plenty of outdoor adventures to be had around town in summer and winter. Summers are perfect for hiking, mountain biking, horseback riding, and camping while in winter locals arrive to ride snowmobiles or ski. Winter is fairly quiet and many places in town don't operate during this season.
Silverton to Ouray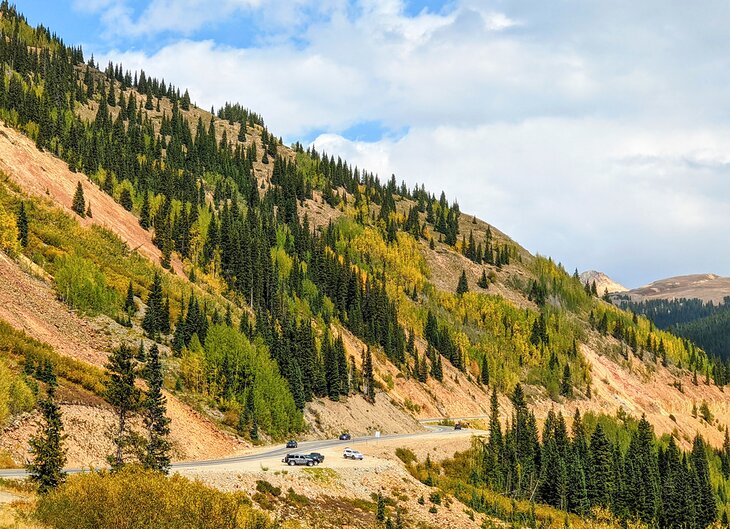 This is the most beautiful stretch of pavement in Colorado. Running for just 25 miles between Silverton and Ouray, it is called the Million Dollar Highway, disputedly named for either the amount of low-grade precious ore in the roadway's fill or for how much money it cost to build.
"This portion of the San Juan Skyway is also one of the most beautiful fall foliage drives in Colorado."
The moniker also matches the million-dollar views around every corner of this canyon-clinging portion of roadway. Although this stretch of Highway 550 is only 25 miles long, you'll want to take your time driving it. The views are stunning in all directions and there are plenty of places to pull off and snap social media footage or just absorb the rocky mountain scenery. The drive also passes by ghost towns and mining remnants. This portion of the San Juan Skyway is also one of the most beautiful fall foliage drives in Colorado.
It's also been called the most dangerous road in the U.S. for its steep drop-offs and endless narrow curves as it climbs over three mountain passes. First up is Red Mountain Pass, which summits at 11,018 feet, and from the top you can see the remains of several old mines.
From here you'll descend into Uncompahgre Gorge, carved by the Uncompahgre River. During certain times of the year, the water here can look like varying shades of mustard yellow, orange, and even green, due to its heavy mineral continent. I stopped here with my dogs to snap some truly trippy photos.
Also, pause at the overlook above Bear Creek Falls. Here, the water crashes down 227 feet into the river below, shortly before you reach the end of the loop in Ouray.