12 Best State Parks in Colorado
Colorado is synonymous with nature. From the millions of acres of undeveloped wilderness to the towering Rocky Mountains, a national park or two, campgrounds, lakes, and rivers, and 42 state parks, there may be as many acres of wilderness in Colorado as there are people.
Colorado's state parks are among the best places to visit in Colorado, and each park is as diverse as the state itself. Get lost along the wetland paths and in the prairies, marvel at millennia-old rock formations, crest the Continental Divide, gaze at looming mountain ranges, or catch a glimpse of the abundant and majestic wildlife. It's all possible in the best Colorado state parks.
Many of the best Colorado state parks are located within a short distance of major cities like Denver, Boulder, or Colorado Springs, which means that you do not have to set off into the backcountry to get a taste of the wild in Colorado. More often than not, you can make an afternoon of it, allowing yourself a much-needed respite from the busy cities.
The state parks in Colorado are typically open year-round, giving four seasons'-worth of changing scenery and landscapes. Get ready to discover the top places to visit with our list of the best state parks in Colorado.
1. Cherry Creek State Park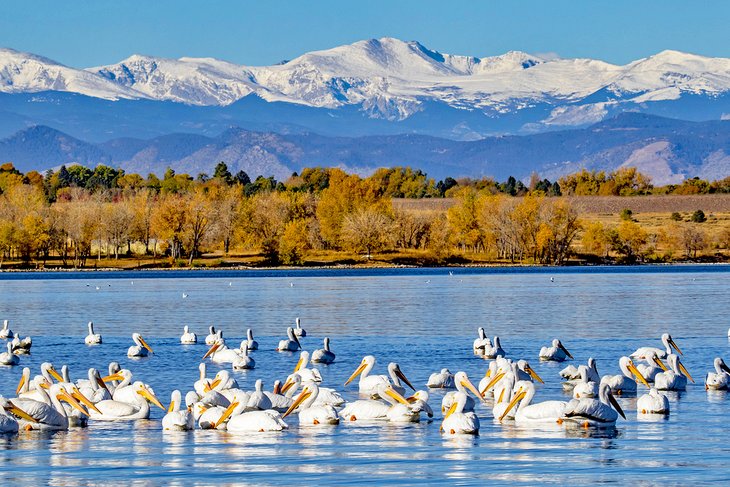 Denver may be the most populous hub in the state of Colorado, but that doesn't mean it is without spectacular nature and parks. In fact, one of the best state parks in Colorado is just a short drive away. Cherry Creek State Park is a peaceful oasis at the base of the Colorado Rockies, not far from the center of the action of Denver.
The park spans a massive 4,000 acres and is made up of wetlands and prairie. The focal point of the park is the 880-are reservoir, which is a popular recreation spot for boaters and paddlers. You can even find the Cherry Creek Marina and Yacht Club on the northern shore of the reservoir, as well as a swimmable beach along the northeastern side.
Hikers can explore the 47 miles of both paved and multi-use trails, as well as the camping and picnicking spots. Come winter, the fresh snow makes a wonderful playground for cross-country skiing and snowshoeing.
Cherry Creek State Park is perhaps one of the best spots in the Denver area to escape the daily grind and get a dose of the Colorado Rockies without having to disappear too far into the backcountry.
Address: 4201 S Parker Road, Aurora, Colorado
2. Roxborough State Park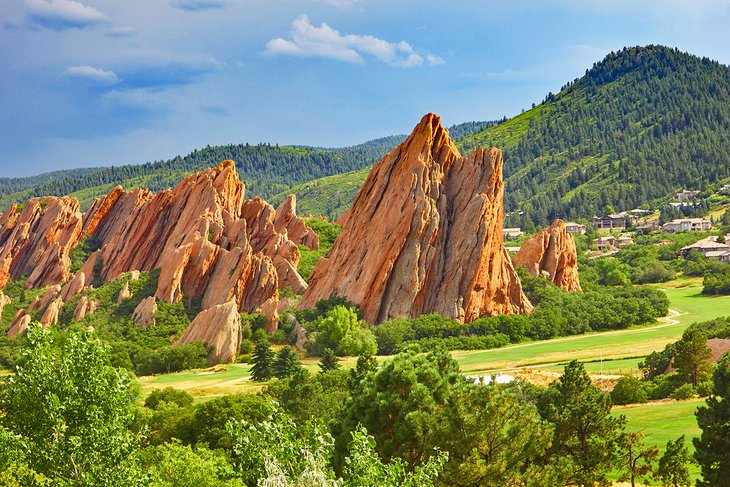 Roxborough State Park is another opportunity to disappear from Denver's rattle and hum. The park sits southwest of the city and offers nearly 4,000 acres of wild beauty. Here is a great opportunity to catch a glimpse of the dramatic Colorado red rock formations, and you may even be able to spot a black bear or two.
What makes the park so famous are its red sandstone formations, which date back 300 million years. You'll notice them immediately — they are the giant slabs of sandstone that tilt at a 60-degree angle. The park also features other geologic formations, like spires and monoliths that date back to the Cretaceous age.
Animals abound in Roxborough State Park, as well. In addition to black bears, you may also see foxes, mountain lions, deer, elk, and coyotes. Roxborough has great hiking, as well. Carpenter Peak Trail is the most popular. This 6.3-mile trail is most used in the spring and summer and is a great spot from which to view the wildlife.
Address: 4751 E Roxborough Drive, Littleton, Colorado
3. Golden Gate Canyon State Park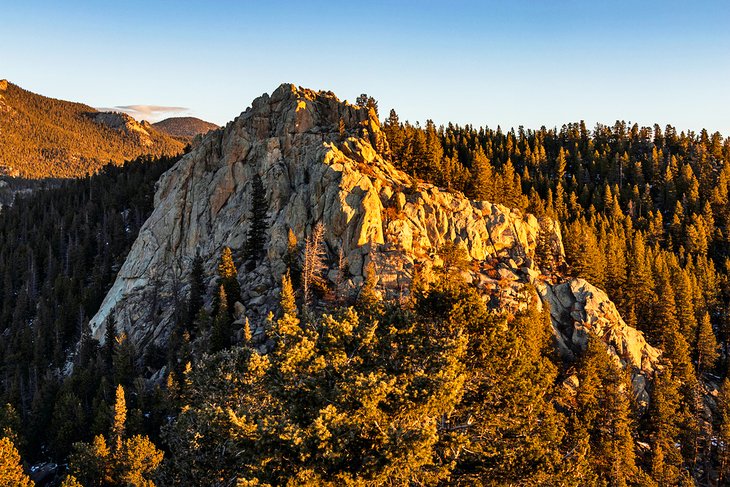 Located near Golden, Colorado (30 miles west of Denver), Golden Gate Canyon State Park is a 12,119-acre park known for its hiking, horseback riding, and biking trails, as well as its campsites and wildlife.
The park has more than 40 miles of hiking trails, with 27 of those miles open for biking and horses. In addition, the state park is a mecca for camping with more than 100 campsites. The park even has five cabins and two yurts. One of the main reasons for visiting the park is to scope out the Panorama Point Scenic Overlook, from which you can see 100 miles of the Continental Divide.
Golden Gate Canyon State Park features a diverse topography, with wetlands, conifer forests, and aspen groves. Be on the lookout for elk, black bear, mountain lions, and the occasional moose.
Address: 92 Crawford Gulch Road, Golden, Colorado
4. Ridgway State Park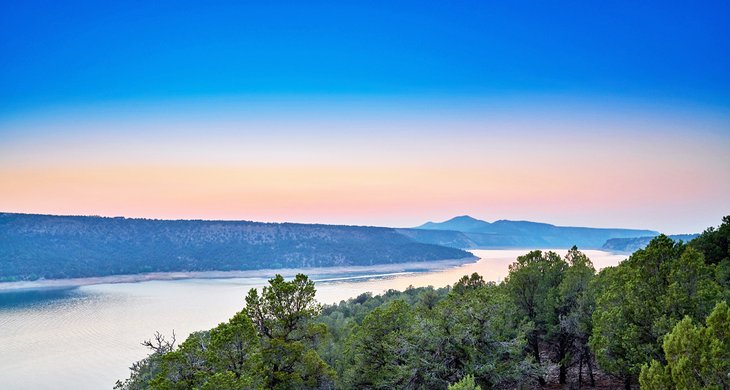 Located in Ouray County, Ridgway State Park is surrounded by the San Juan Mountains, not far from the international ski town Telluride, and nearby Ouray. Like other best state parks in Colorado, Ridgway State Park is revered for its spectacular mountain scenery, recreation paths, and campgrounds. The state park even has a five-mile-long reservoir, which is especially popular in the summer.
The park has different sections, as well as a wide variety of campgrounds. The campgrounds range from those with full hookups to those that are walk-in only. Within the park are 14 miles of trails, which are loved for hiking and biking. But that reservoir is where the bulk of activity can be concentrated in the warmer months, whether you're on water skis, Jet Skis, or wakeboarding.
For overnights, the park has three campgrounds, as well as three yurts available for renting. You'll also find more than 80 picnic sites throughout the park, as well as volleyball courts.
Address: 28555 Highway 550, Ridgway, Colorado
Read More: Top-Rated Things to Do in Ouray
5. Chatfield State Park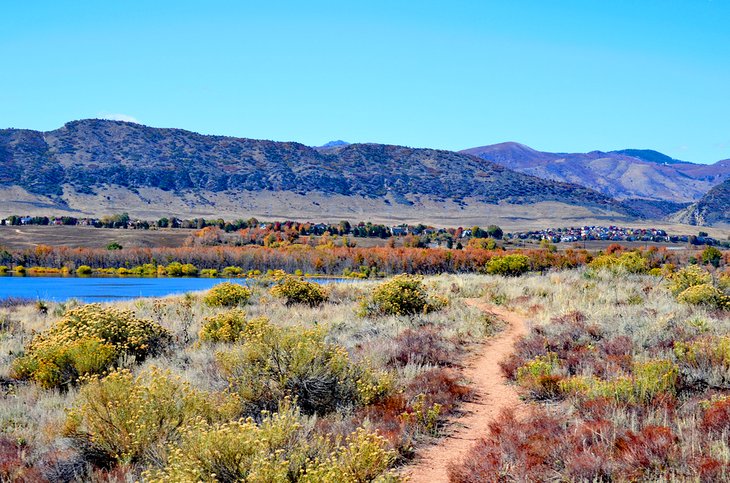 Chatfield State Park shares its name with the reservoir that it surrounds. The 1,423-acre lake, created by the South Platte River, is a beautiful (and swimmable) lake not far from Littleton, Colorado. It provides a quiet, serene escape from the city hum of Littleton and nearby Denver.
In addition to the lake, which is the center of recreational activity at the park, Chatfield State Park has its own Audubon Center. More than 300 bird species can be spotted within Chatfield State Park. And the wildlife sighting doesn't end there. Keep your eyes peeled for various kinds of deer, coyotes, red foxes, prairie dogs, and rabbits.
But Chatfield State Park's main attraction is, of course, the reservoir, where visitors can rent boats, enjoy the marina, and even dine at the floating restaurant. Nearly 200 campsites are available in the park, across four campgrounds, many with full hookups.
Chatfield is webbed with trails, too, whether you're walking around the reservoir, or horseback riding on the park's 3.2-mile equestrian loop.
Address: 11500 N Roxborough Park Road, Littleton, Colorado
6. St. Vrain State Park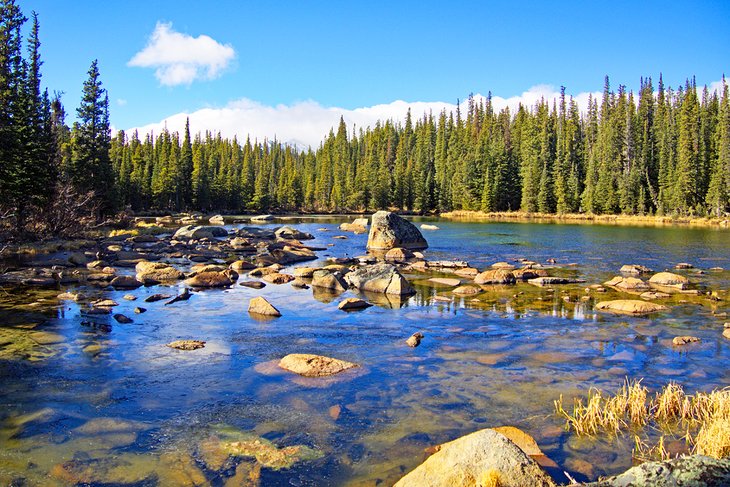 Spread across 604 acres, not far from Denver and Fort Collins, sits St. Vrain State Park, a quiet and serene reprieve located just off I-25. The park was originally named Barbour Ponds after the 152 acres of water within the park that is split over several ponds. Today, St. Vrain remains one of the most popular state parks in the area for fishing, camping, nature walks, and wildlife viewing.
The park, near Longmont, Colorado, is home to a wide variety of animals, from red fox and bobcat to beaver, mink, rabbit, and prairie dog. In the wetlands, you may be able to see amphibians and reptiles like soft-shell turtles, snapping turtles, bullfrogs, bull snakes, and more.
St. Vrain State Park is one of the state parks in Colorado to host year-round camping, as well. The park has 87 campsites that are open throughout the year.
But one of the most popular activities within St. Vrain is fishing. The many ponds are teeming with bluegill, largemouth bass, yellow perch, northern pike, rainbow trout, and much more.
Address: 3785 Weld County Road 24, 5, Longmont, Colorado
7. Barr Lake State Park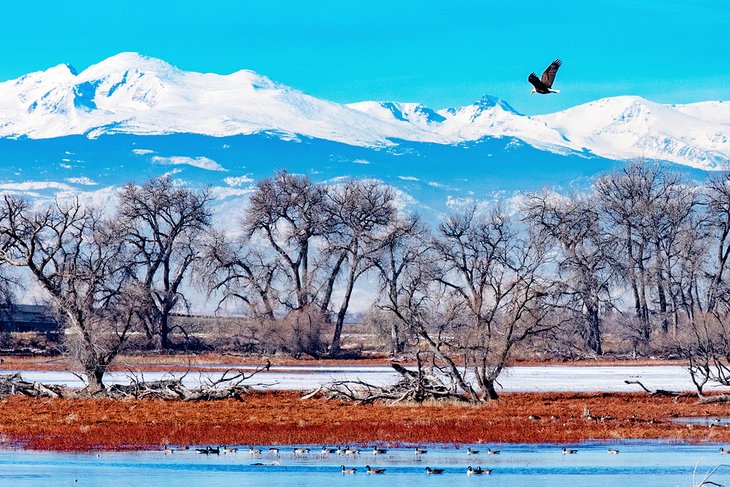 Need another day trip from Denver? Look no further than Barr Lake State Park. The expansive protected area has much to offer locals and tourists, but it happens to be one of the best spots in Colorado for bird-watching.
Barr Lake State Park is home to more than 350 species of birds, and if you're lucky, you may be able to spot the elusive bald eagle. In fact, one pair of bald eagles nest at the lake and raise their young each year.
But birds are not the only wildlife on display at the park. The lake itself is home to so many different species of fish, from catfish and largemouth bass to walleye, bluegill, and tiger muskie. The 2,000-acre lake is one of the most popular attractions within the park, and the boardwalk makes a beautiful perch from which to drink it all in.
Gentle walking trails rope across the park, too, like the 8.8-mile Barr Lake Perimeter Trail or the Niedrach Nature Trail, which weaves through the wetland area. Barr Lake State Park does not have any campsites and is open for day use only.
Address: 13401 Picadilly Road, Brighton, Colorado
8. Eleven Mile State Park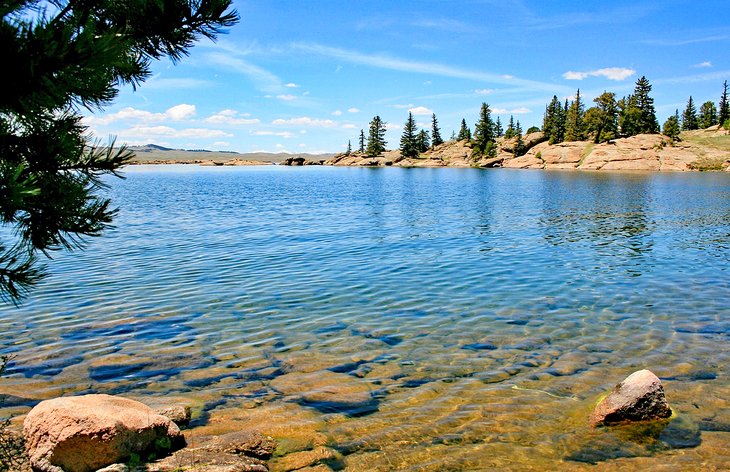 West of Colorado Springs sits one of the most beautiful reservoirs in Colorado, and a state park to match. Eleven Mile Reservoir, and the park for which it's named, is near the small town of Lake George. The lake itself is 11 miles long, as the name suggests, and is a focal point for outdoor activity within this part of the state.
The park spreads over more than 7,662 acres and features a marina, visitor's center, and more than 300 campsites. Fishing is one of the most popular activities, which guests can do from the shore or from a boat. Other popular lake activities include windsurfing, sailing, and even ice boating in the winter.
Eleven Mile State Park has five miles of trails, including a self-guided nature trail and an orienteering trail, too. Camping is abundant, with nine campgrounds featuring more than 300 sites, including 25 backcountry campground sites that are only accessible via hiking trail or with a boat.
Address: 4229 Co Road 92, Lake George, Colorado
9. Rifle Gap State Park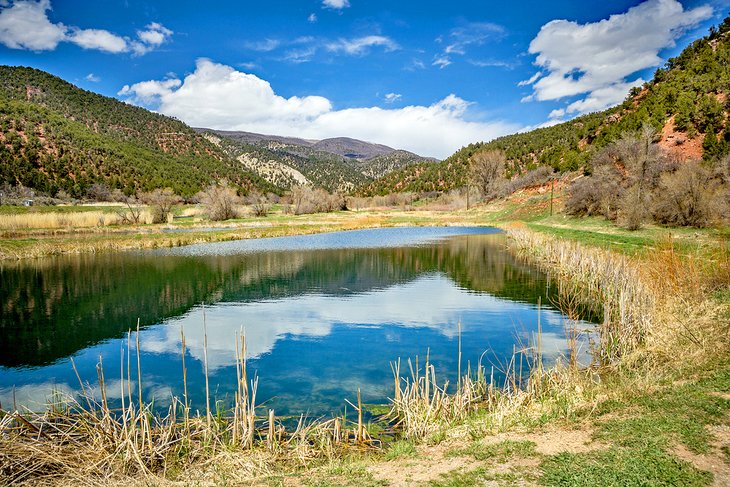 Located in Garfield County, the Rifle Gap State Park offers 1,341 acres of forest, woodlands, and scrubland not far from the town of Rifle, Colorado. But the focal point of Rifle Gap State Park is its 350-acre reservoir, which brings visitors year-round for recreation.
The Rifle Reservoir buzzes in the summer with swimmers, anglers, and boaters, while the winter months give way to cross-country skiers, ice fishing, snowmobiling, and snowshoeing. One of the coolest perks about Rifle Gap State Park is that it allows anglers to cast their lines after midnight, so you'll often see the most dedicated out there at all hours of the day or night.
Camping is permitted in Rifle Gap State Park, as well. Eighty-nine campsites are available, with the majority of them found on the banks of the lake.
Address: 5775 CO-325, Rifle, Colorado
10. Steamboat Lake State Park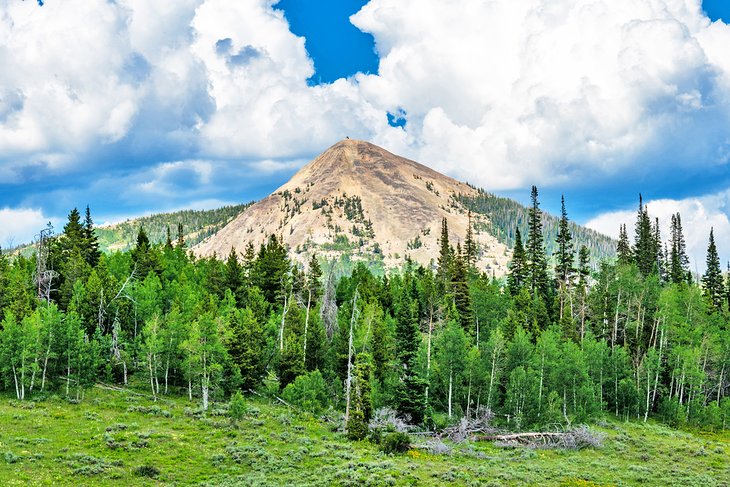 Steamboat Springs, Colorado has so many things to do right within the town's limits. But if you drive an hour away, you'll discover Steamboat Lake, which is the crown jewel of Steamboat Lake State Park.
Sitting 8,100 feet above sea level, this diamond in the alpine wilderness brings tourists from all over throughout the spring, summer, and fall to play in the 1,053 acres. Activities often include wake boating, jet skiing, and water skiing.
The park is west of Hahn's Peak and has beautiful views of both the peak and the Continental Divide. Within the park are more than seven miles of biking trails. You'll also find nearly 200 campsites that are open in the summer. Camper cabins are open year-round, in case winter cabin is on your agenda.
You'll also find three hiking trails, a swimming area, and plenty of trails for snowmobiling and cross-country skiing.
Address: 61105 Rcr 129, Clark, Colorado
11. Boyd Lake State Park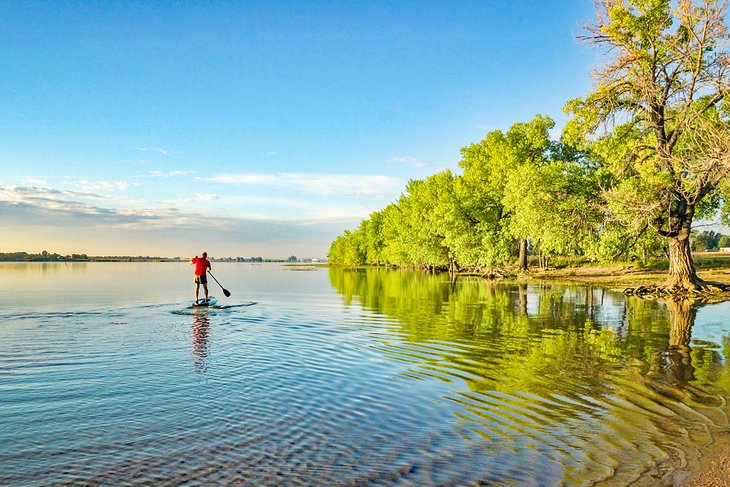 Northern Colorado gets its kicks at Boyd Lake State Park, especially if those kicks are aquatic. Located at the westernmost edge of the plains, at the base of Long's Peak and the Continental Divide, the park gets its name from the magnificent Boyd Lake around which it sits.
The lake and its 1,700 acres of water provide ample things to do, from motor boating and jet skiing to swimming and even beach volleyball. But the park has much more to offer, whether it's camping at one of the nearly 150 pull-through sites, or hiking the trails that are part of the Loveland trail system.
Address: 3720 N Co Road 11C, Loveland, Colorado
12. Eldorado Canyon State Park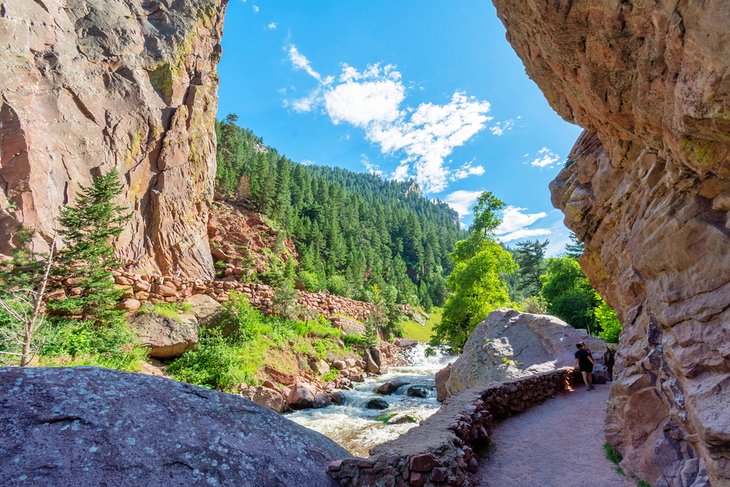 Just 45 minutes from Denver, Eldorado Canyon State Park unfolds in the shadow of the Rocky Mountains. The park features two areas: the Inner Canyon and Crescent Meadows, for a total of 885 acres in Boulder County.
The park is day-use only, and is a popular destination for practicing mountaineers and rock climbers who come to practice their technical rock climbing. The park has more than 500 rock climbing routes all carved into the cliffs of the canyon.
But you don't have to be a mountain master to get the most out of the park. Eldorado Canyon features hiking trails, beautiful views, picnic areas, and babbling streams, all of which make for a wonderful way to spend a day in nature.
Address: 9 Kneale Road, Eldorado Springs, Colorado
Map of State Parks in Colorado