14 Top-Rated Weekend Getaways in Colorado
We may earn a commission from affiliate links ()
Colorado has no shortage of wonderful destinations for a weekend getaway. The Rocky Mountains are a veritable playground of things to see and do. Mountain towns are some of the best places to visit in Colorado and offer a slice of heaven for people looking to escape the city. By contrast, Denver is a great escape if you are interested in culture or shopping.
Depending on the season, weekend getaways can easily be planned around outdoor activities like hiking, mountain biking, and downhill skiing. Festivals are another consideration if you are planning a weekend trip, and many of the towns have an extensive calendar of events.
Couples may simply want to find a luxury resort in Colorado and enjoy a romantic getaway.
For inspiration and ideas, see our list of the best weekend getaways in Colorado.
1. Denver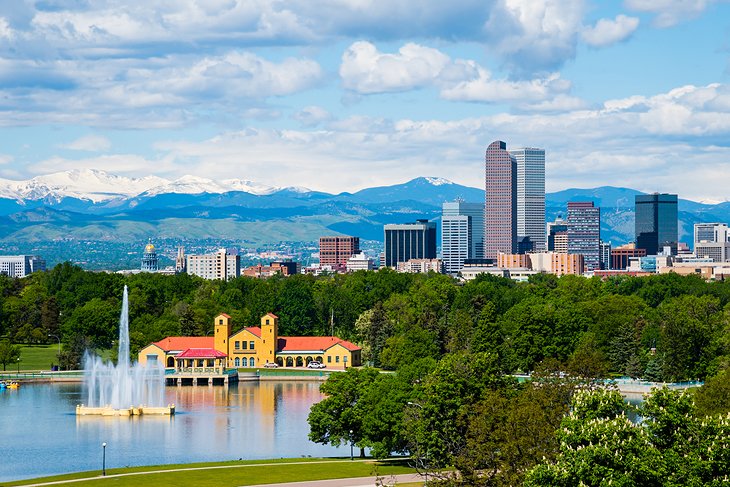 A weekend getaway to Colorado's capital city can include almost an endless assortment of things to do. Shopping, museums, concerts, and sporting events are some of the main attractions. This bustling city also has a thriving dining scene, with some innovative and trendy restaurants.
A weekend away here can easily be built around a concert at the impressive outdoor Red Rocks Park & Amphitheater venue. If your plans include a bit of culture and learning, check out the Kirkland Museum of Fine & Decorative Art and the Denver Museum of Nature & Science.
Base yourself in a comfortable hotel near Larimar Square. This is the entertainment heartbeat of Denver and home to restaurants, shops, and galleries. If shopping is a key component of your weekend getaway, be sure to stop by the pedestrian-only 16th Street Mall.
2. Aspen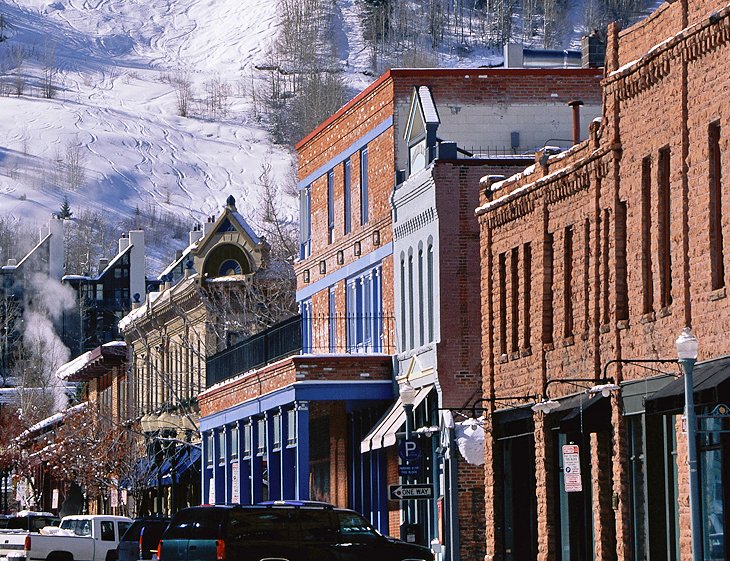 A weekend getaway to Aspen is a special experience. In summer or winter, there is plenty to keep you busy for a weekend. Park yourself at one of Aspen's luxurious resort properties and be as active or as relaxed as you want.
Dining in Aspen is excellent. Renowned chefs operate top-end restaurants with innovative, trendy cuisine. If your weekend plans include shopping, the main street is full of shops selling the latest designer clothing and fashion items.
In winter, hit the slopes at the ski resorts. Aspen is one of the best places to ski in Colorado. Time your weekend getaway in the winter to coincide with the X Games. You'll see the most daring and crazy athletes compete for top prize money. In the summer, the Downtown Aspen Art Festival is another fun weekend event.
If you are coming from Denver to Aspen, the drive up and over the Vail pass will be sure to take your breath away.
3. Boulder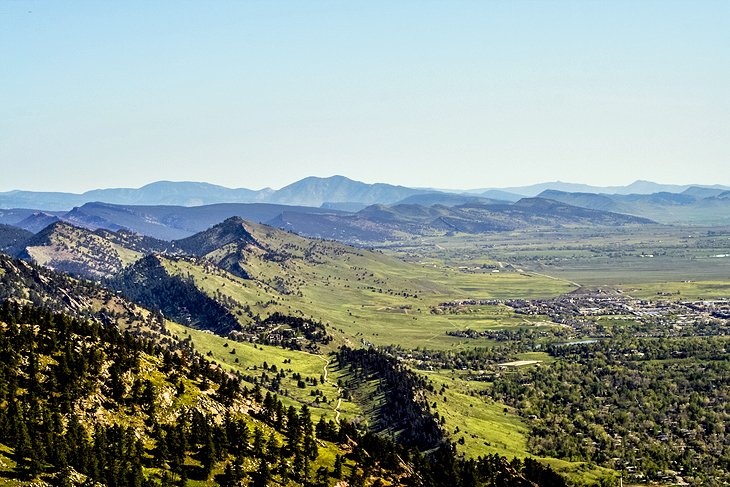 Boulder is only 45 minutes from Denver and ideal for a quick weekend getaway. This outdoorsy town is set against the foothills of the Rockies, and the Flatirons rock formation is one of Boulder's top sights.
Interesting shops, restaurants, and galleries all line Pearl Street Mall. You'll know you are in the right spot when you see the giant Buffalo statue. In behind and just off Pearl Street are additional shops.
Rock climbing is big here, and many climbers plan a weekend around tackling some of the various routes near town. If you just want to get out into nature and soak up some Rocky Mountain beauty, consider a hike or bike ride on the 200 miles of maintained trails.
To cap off an evening on your weekend getaway to Boulder, drive up (or hike) to the top of Flagstaff Mountain and catch the sunset. The views from nearly 7,000 feet are spectacular.
Accommodation: Where to Stay in Boulder: Best Areas & Hotels
4. Telluride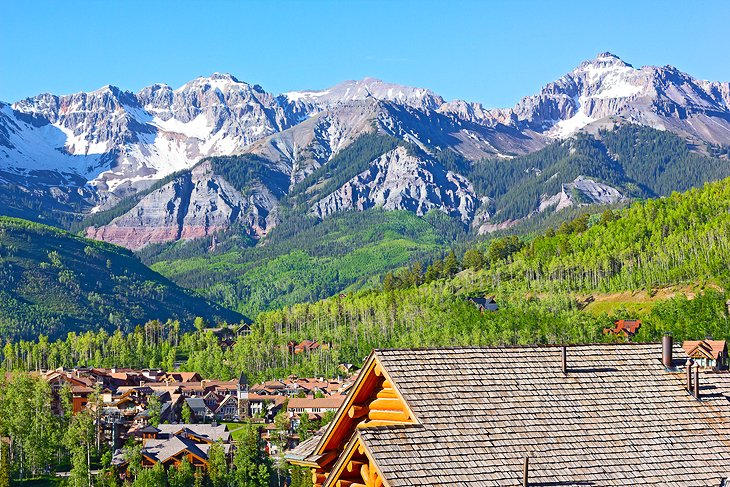 Picture-perfect Telluride is a great place for a weekend away. This historical town is set at the end of a valley with soaring peaks on three sides. You can find things to do in Telluride in summer and winter.
If you are looking for a great winter weekend getaway in Colorado and you are a skier, this is a popular destination. Telluride Ski Resort has some incredible lift serviced terrain and a substantial amount of hike to descents.
Throughout the summer, any weekend will do for a getaway to Telluride. A different festival takes place almost every weekend, from May right through until October. Some of the most notable are the Bluegrass Festival, Yoga Festival, and the Telluride Film Festival.
Accommodation here is generally mid-range or luxury, and deals can be hard to come by. You can find some better prices in the shoulder season.
Accommodation: Where to Stay in Telluride
5. Frisco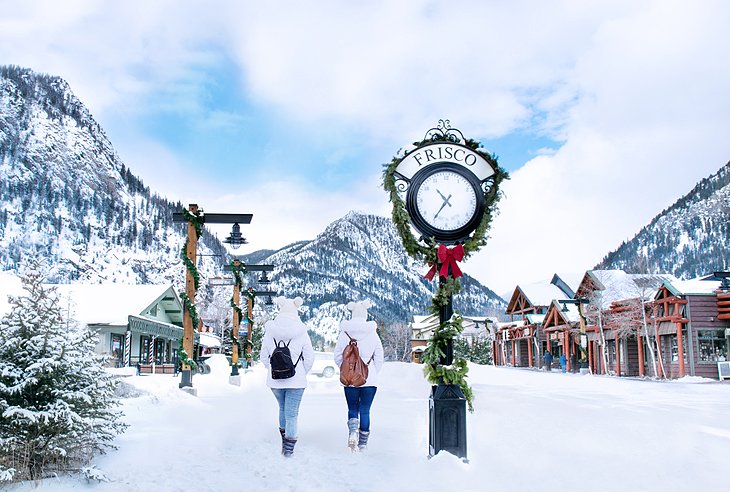 If you want a small-town getaway in the mountains, but still in the heart of the action, Frisco is the place to go. Located just over an hour from Denver, Frisco is the perfect place to slow down (or not) and soak up the scenery.
In the winter, the town is ideally situated near the ski resorts of Breckenridge; Arapahoe Basin; Keystone; and, just up I-70, Copper Mountain. Base yourself here and take day trips to these amazing ski resorts, most of which can be reached in 20 minutes or less.
If you've never been snowshoeing or Nordic skiing, consider incorporating these activities into your weekend getaway. The Frisco Nordic center has rentals and offers lessons to first timers.
After your day of skiing, stroll the lovely main street and stop in at any one of the many restaurants serving cuisine from around the world. Follow it up with a sleigh ride in the trees on a snow-covered mountain. Blankets and warm cocoa are provided.
Frisco is a fun weekend getaway in the summer as well. Nearby, Dillon Reservoir offers water sports activities. Rent a kayak or stand up paddleboard and make your way around the lake. Prefer something motorized? Pontoon boats and small aluminum fishing boats are available for rent at the marina. In the afternoon, the breeze picks up, and sailing is a popular thing to do in Frisco on the reservoir.
Be sure to bring your mountain bike if you want to get out on the trails. The free Frisco Adventure Park has four different courses (pump track, dual slalom trail, dirt jumps, and slopestyle) to suit all abilities.
Accommodation: Where to Stay in Frisco
6. Steamboat Springs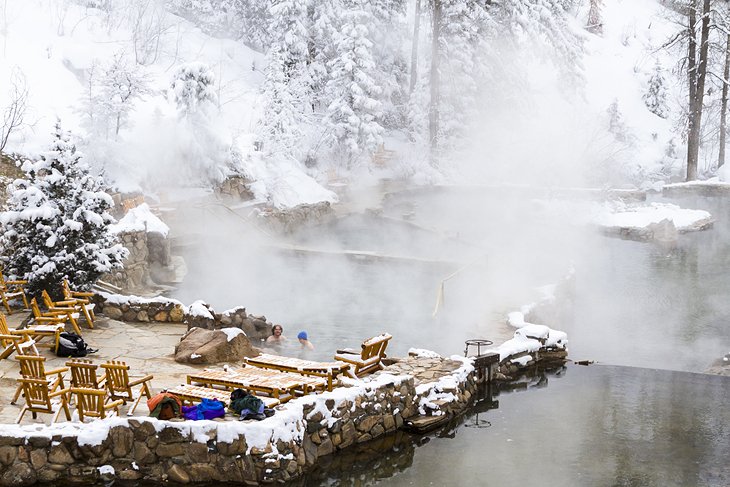 Steamboat Springs is less than three hours from Denver, making it an ideal weekend getaway from the city. The drive here takes in some beautiful mountain scenery. The western-themed town is known for its cowboy culture and is a good place to visit at any time of year.
In the winter, Steamboat Springs is a skiing hot spot. The ski resort of Steamboat is one of the top ski resorts in Colorado.
Off the mountain, other activities in Steamboat Springs include romantic sleigh rides, snowmobile tours, horseback riding, and visiting the Strawberry Hot Springs. Just a short drive from downtown, these outdoor hot springs, set in a natural surrounding of exposed rocks, are the perfect way to relax.
If the kids are part of your weekend getaway, try Old Town Hot Springs instead. Here, you'll find waterslides and an aquatic climbing wall.
7. Durango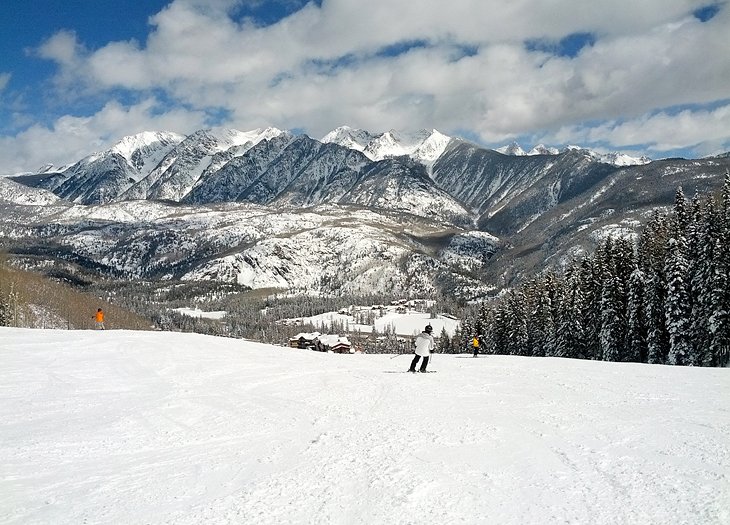 Durango is a scenic and historical town nestled in the San Juan Mountains. This is a destination with character. Check into a historical inn and hear stories of the people who once stayed here and the ghosts who apparently still live here. Wander the main street to find a great selection of restaurants or enjoy nearby skiing, hiking, and mountain biking trails.
One of the most famous year-round attractions in town that should be on your weekend away agenda is the Silverton-Durango Narrow Gauge Railway. Ride the rails behind an authentic steam powered engine as it winds its way up Cascade Canyon on its way to Silverton. The views from the train as it travels along a narrow ledge with the Animas River far below are incredible. In summer, the train goes all the way to Silverton but in the winter, it stops midway.
One of the most popular activities in Durango in summer is river rafting on the Animas River. This shallow river flows gently though town but also offers fun and excitement in sections. Another option for those looking to get up into the mountains surrounding Durango is to hike a section of the Colorado Trail. An easy to access section near Durango starts at Junction Creek and winds its way up to a great viewpoint at Gudy's Rest.
Mountain biking in and around Durango is legendary. Put the rack on the back of the car and head to any one of the trails near the city or drive a bit to Phil's World near Cortez. For those with really strong legs and hearts, tackle the ride up the Colorado Trail along Junction Creek.
Mesa Verde National Park is also nearby. Here, you can see the world-famous cliff dwellings, reported to be nearly 1,000 years old.
Throughout the winter, many people make their weekend getaways to Durango about downhill skiing. Purgatory Resort is about 20 minutes outside of town and is one of Colorado's best family ski mountains.
At weekend at the Strater Hotel can add a sense of place to your visit to Durango. Dating from the 1880s, this historic hotel has maintained its charm over the decades. Many famous people have stayed here over the years. You can book rooms where JFK and Gerald Ford stayed.
Accommodation: Where to Stay in Durango
8. Breckenridge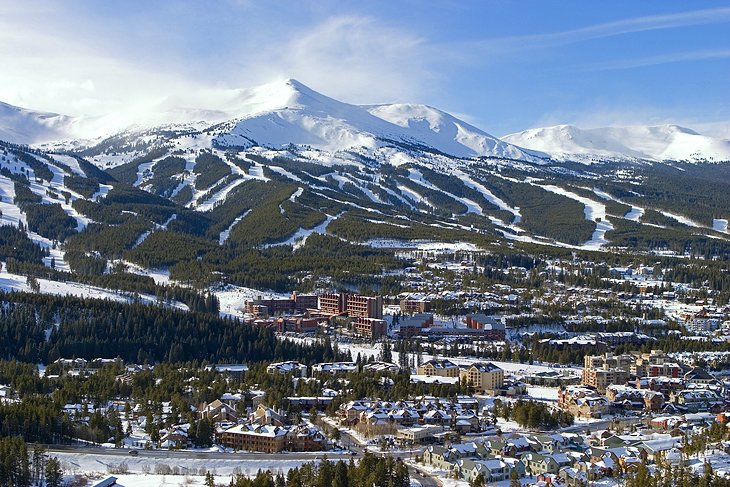 Breckenridge is a four-season resort town and has a bit of everything on offer. You can be as busy or as slack as you'd like with all the things to do in Breckenridge.
Many people come here for the sole purpose of skiing at Breckenridge Resort. Skiing at "Breck" is legendary. The mountain boasts the highest chair in North America, topping out at an astounding 12,840 feet. Up here, the snow is light and soft right into May. The rest of the mountain offers a wide variety of terrain, and the lower elevations feature wide-open runs with gentle inclines, just perfect for families.
Breckenridge is also a great spot for a spring weekend getaway. At this time of year, the sun is warm, and you can sit out on a patio and enjoy a meal in town while watching the skiers do their thing on the slopes.
Summer weekend getaways in Breckenridge are also fun. You'll find fantastic mountain biking, hiking, and white water rafting on the Arkansas River.
If you are just looking for some rest and relaxation, Breckenridge can provide that, too. Take a stroll on the historic main street to find interesting shopping opportunities, from famous brands to eclectic hometown stores.
Accommodation: Best Resorts in Breckenridge
9. Glenwood Springs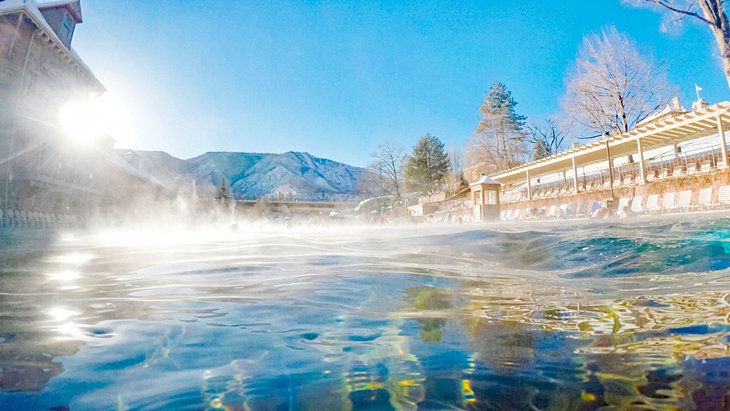 Pack your bathing suits and head to Glenwood Springs for a romantic weekend getaway. You'll know you are getting close when the road begins to twist and turn as you travel through spectacular Glenwood Canyon along the way. Once you arrive, you'll be pleasantly surprised at the sheer number of things to do in Glenwood Springs.
There's nothing quite like a soak in the hot springs to soothe all your worries away and to help you unwind. The only thing you'll need to worry about is where to go for dinner, and Glenwood Springs has numerous options for you to choose from. The compact and historical downtown area has a variety of restaurants, where you can find fine dining right through to cheap and casual fare.
10. Fruita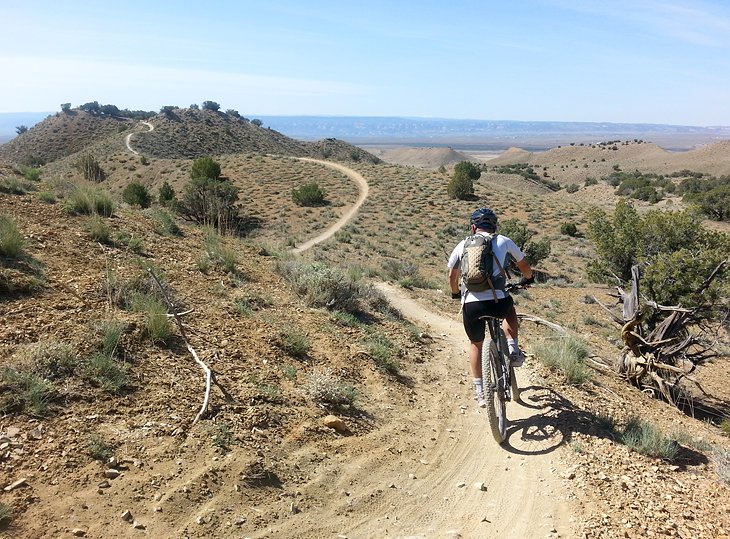 Fruita is one of Colorado's best mountain biking destinations and an ideal weekend getaway for those two-wheeled warriors. A short drive from town brings you to 18 Road Trails, one of the best spots for smooth rolling descents with reasonable ascents. More advanced riders looking for some slickrock should seek out nearby Kokopelli Loops trail. Even closer is Rabbit Valley and the Lunch Loop Trails.
The town itself is small and funky, with bike shops and other interesting establishments. Local restaurants are small and fun, and many of them have outdoor patios. Park the car and wander the streets until you find something interesting. The town puts on several festivals a year; one of the most famous is the Mike the Headless Chicken Festival, which takes place in late May each year.
Accommodation is plentiful; some large chain hotels are just across the Interstate from downtown.
Accommodation: Where to Stay in Fruita
11. Ouray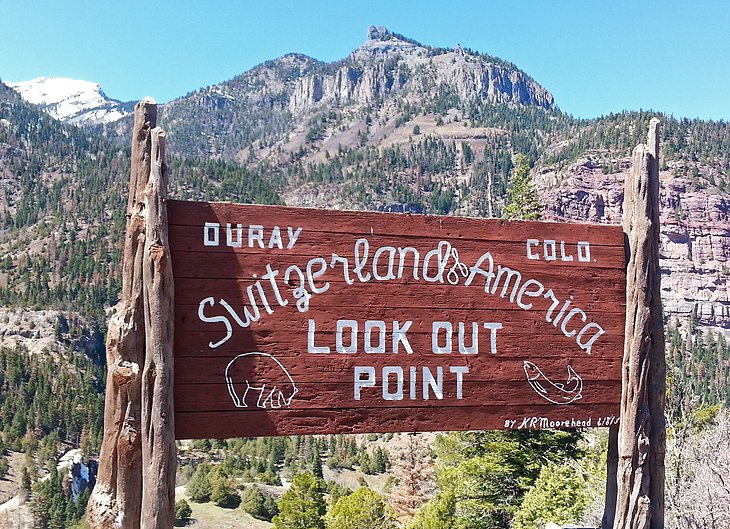 The small town of Ouray has been a popular weekend getaway for many years due mainly to the town's historic hot springs. In fact, soaking in these hot springs is one of the top things to do in Ouray. There are five public and one private hot springs to choose from.
The town has a cute main street, with local shops and restaurants, and is the perfect place for an evening stroll. Accommodation is in local bed and breakfasts or hotels.
In the summer, a day trip up to the attractions of Silverton along the Million Dollar Highway is not to be missed. The twisty road ascends steeply from Ouray and passes some of Colorado's most spectacular scenery along the way.
Accommodation: Where to Stay in Ouray
12. Pagosa Springs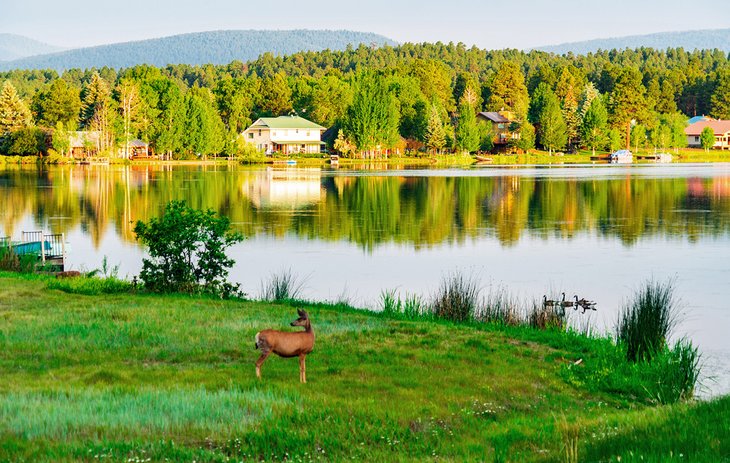 The delightful mountain town is a low-key weekend getaway. With the towering San Juan mountains surrounding the place and the San Juan River running right through town, you can't help but be impressed by the beauty.
The town is famous for its hot springs, and a good way to make the most of them is to check into the Springs Resort and slide into the hot pools mere steps from your room.
Pagosa Springs is perfect for a weekend getaway at almost any time of year. In the winter, nearby Wolf Creek is one of Colorado's best ski resorts, with incredible amounts of snow falling each season.
During the summer and fall, the San Juan River offers some of the best fishing in Colorado with brown and rainbow trout. Plus, with the river running right through the center of town, you can walk from your hotel room to the fishing hole.
Accommodation: Where to Stay in Pagosa Springs
13. Great Sand Dunes National Park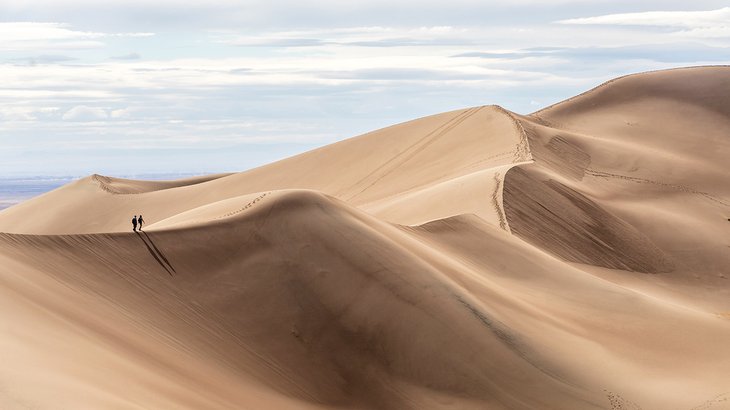 For something completely different and cheap, consider a camping trip to Great Sand Dunes National Park. This wonderful park has some of the highest sand dunes in the United States and makes for a perfect family weekend getaway.
You won't need to cajole the kids to climb up the dunes and then run, tumble, or even slide down them on plastic sliders. Naturally everyone will be completely sand covered, but that's not a problem. Just wade into Medano Creek, which passes by the bottom of the dunes, and wash it all away.
You'll create lasting memories as you set up camp underneath incredibly clear night skies filled with a billion stars. Listen for the sounds of owls hooting as you drift off to sleep, and in the morning, enjoy a coffee as you watch the sun rise over the dunes.
14. Carbondale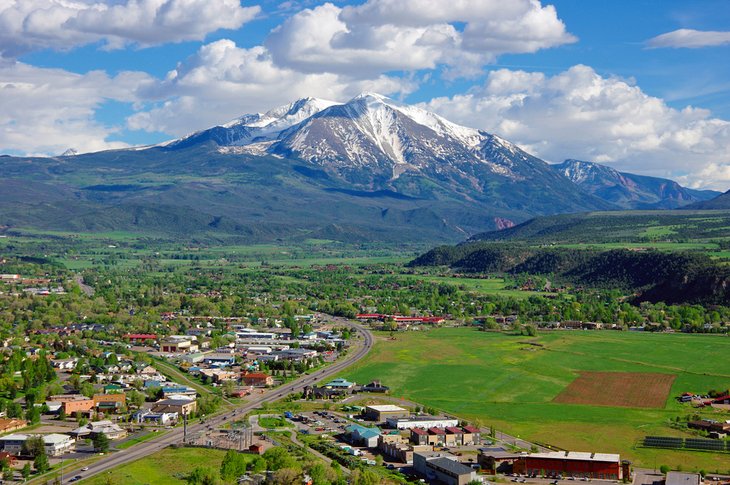 The hip and trendy town of Carbondale makes for a good weekend getaway for its proximity to the attractions of the nearby mountains. The small town, population just under 7,000, is the perfect size to walk everywhere, lace up your shoes, and explore. You'll be surprised at what you find.
All that exploring may cause you to work up an appetite. Fortunately, you are in luck. A wide variety of restaurants across many different cuisines will thrill and delight your tastebuds with locally sourced ingredients from the fertile countryside.
Looking for something for that blank spot on your wall? You might be in luck in Carbondale, as it attracts creative types and is one of the main stops along the 331-mile-long Colorado Creative Corridor.
Carbondale is also a good place to base yourself for outdoor activities on your weekend getaway. Hiking, biking, white water rafting, downhill skiing, climbing, and many other pursuits are located nearby, allowing you to go out and get dirty then come back to your comfortable hotel room, get cleaned up, and head out on the town.
Accommodation: Where to Stay in Carbondale
More Related Articles on PlanetWare.com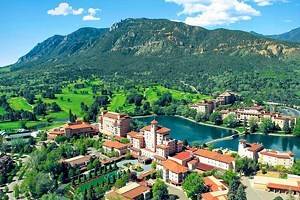 Hotels for Weekend Getaways: If your idea of a great weekend getaway in Colorado is about spending it at a luxury resort, you won't be disappointed. Colorado has some beautiful resorts and lodges spread around the state. Whether you're looking for spas, dude ranches, or modern luxury, you can find it here. Not mentioned on this list, but also a good place if you are looking for some quiet time, are the resorts in Colorado Springs. And if you are traveling with a furry friend, Colorado Springs also has good pet-friendly hotels.