26 Top-Rated Ski Resorts in the World, 2023
We may earn a commission from affiliate links ()
Quickly outgrowing its beginnings as a sport for intrepid mountaineers, skiing is now a mainstream winter activity for the whole family. And ski resorts around the world have kept up with the demand, adding hotels, restaurants, après-ski entertainment, and all manner of indoor and outdoor recreation. But for skiers, it's the snow that counts, and the terrain of the mountainsides it falls on.
Although the world's best-known ski resorts are in Europe and North America, the 1998 Winter Olympics put Japan firmly on the ski map, and enthusiasts' quest for year-round snow has brought the Andes more attention.
A lot of considerations go into choosing the best ski resort for your vacation, but for this list, the ski experience itself – the variety and challenge of the terrain, the snow conditions, and lift access – predominate in selecting these top choices for any serious skier's bucket list.
Caution: Many of these mountains offer backcountry terrain that by its nature is unpredictable and should not be attempted without a qualified and well-equipped backcountry guide.
Find the best places to ski with our list of the top ski resorts in the world.
1. Whistler Blackcomb, Canada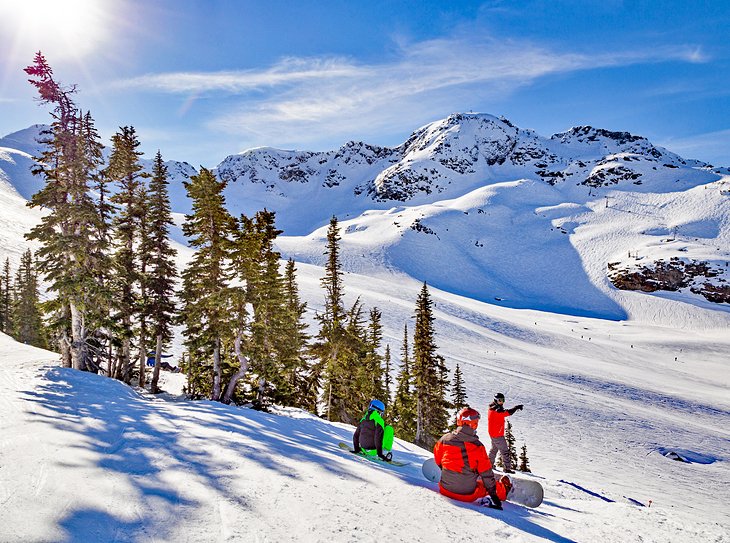 Now part of Vail Resorts group, Whistler Blackcomb combines the superb terrain of two mountains to make it Canada's premier ski resort and the largest winter sports area in North America. The combined skiable terrain offers more than 200 runs accessed by 37 lifts. One of these, the three-kilometer-plus PEAK 2 PEAK gondola joins the two mountaintops and is the world's longest unsupported lift span.
These outstanding technical facilities paired with the variety of terrain — wide-open bowls on Whistler Mountain and the Horstman Glacier on Blackcomb (where you can ski year-round) — and world-class grooming keep Whistler a favorite for serious skiers.
Whistler Blackcomb is also a favorite of freestyle skiers and boarders. Five diverse parks covering 99 acres of snow are designed for all levels of freestyle, from easy jumps and rails to the Nintendo Terrain Park and an Olympic-sized pipe. The pros train here, but the wide variety makes this a good place to learn the basics.
Incomparable views that stretch to the Pacific Ocean, plenty of terrain for all skill levels, and a charming full-service resort village right at the base make it an equally good choice for families and casual skiers. There's enough snow and mountain to go around, and it's just a two-hour drive from Vancouver.
2. Courchevel, France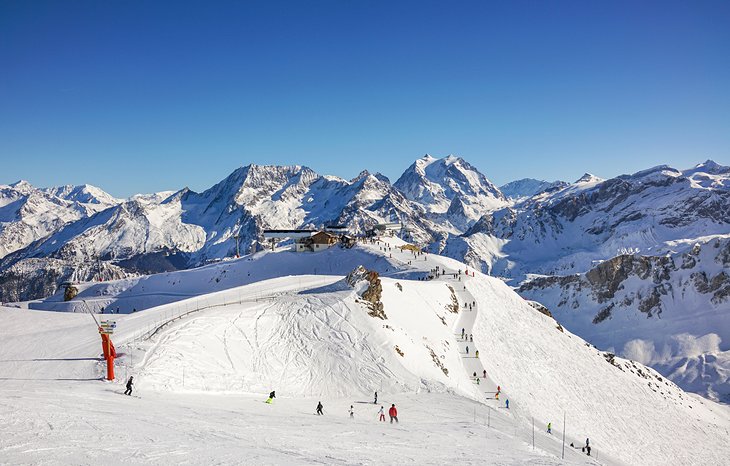 Despite its decidedly upscale villages and reputation, Courchevel is for serious skiers looking for snow thrills of a lifetime. Part of Les 3 Vallées region, the world's largest Alpine ski domain, with 600 kilometers of interconnected ski runs across 10 summits higher that 2,500 meters, Courchevel offers 150 kilometers of Alpine ski terrain accessed by 60 lifts.
The yearly average of four meters of natural snow is meticulously maintained and groomed, and the off-piste skiing is legendary. Black runs include one corridor (couloir) that's considered one of the most difficult black runs in the world; there's also a good choice of steep black mogul runs.
3. Zermatt, Switzerland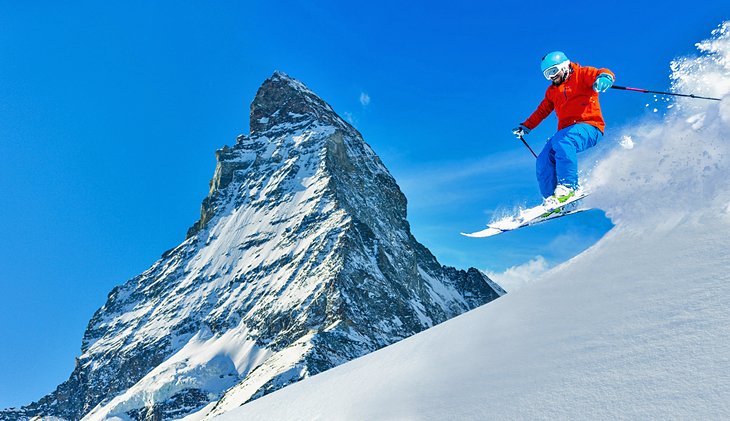 Even if it didn't have one of the world's most beautiful mountains as a backdrop, Switzerland's ski resort of Zermatt would be a place skiers dream about. It's the highest winter sports area in the Alps, and it has the greatest vertical drop in Switzerland, plus the magnificent peak of the Matterhorn can be seen from almost everywhere on its 350 kilometers of trails and slopes.
New last year was the world's highest 3S Lift, carrying 2,000 skiers an hour to the Matterhorn Glacier, at 3,883 meters altitude, where you can ski year-round. Not enough reason to ski here? Try the chance not only to ski over a mountain pass and down into a trail system on the other side, but it's over an international boundary, as well.
The Matterhorn's southern face is in Italy, and skiing over the Theodul Pass leads you into the immense trail system of Breuil-Cervinia, in Italy's Val d'Aosta. There's also Europe's longest downhill run, from Matterhorn glacier (Klein Matterhorn) into Zermatt, over 25 kilometers long. Zermatt Snow Park on the Theodul Glacier, one of the highest in the Alps, is the hot spot for snowboarders and freeride skiers.
Few places can equal the off-piste opportunities of Zermatt. Along with Rothhorn, Stockhorn, and the Matterhorn Glacier, Zermatt is the gateway to one of the world's most exhilarating off-piste experiences, the 178-kilometer (111 miles) mountaineering route from Zermatt to Chamonix, in the French Alps, known as the Haute Route.
4. Vail Mountain Resort, Colorado, USA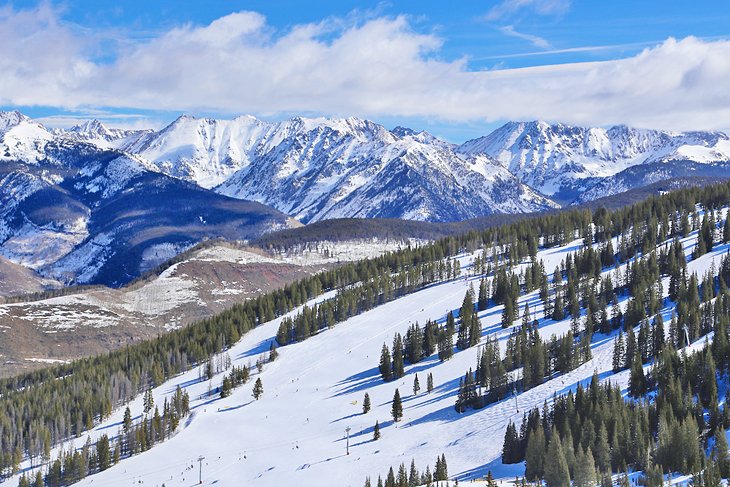 The biggest of Colorado's ski resorts, and one of the largest in the world, Vail offers enough terrain to keep an avid skier in any skill level busy. Long, well-groomed runs overlook the luxury hotels and upscale restaurants and shops in the equally well-manicured town of Vail.
Experts head for the seven back bowls for bumps and glades, which the expected 350 inches of annual snowfall keep in prime condition. Vail is known not just for its size-over 5,289 acres of skiing served by 31 lifts-but for its variety. Three separate terrain parks keep riders happy, and backcountry skiers find powder heaven here.
5. Aspen Snowmass, Colorado, USA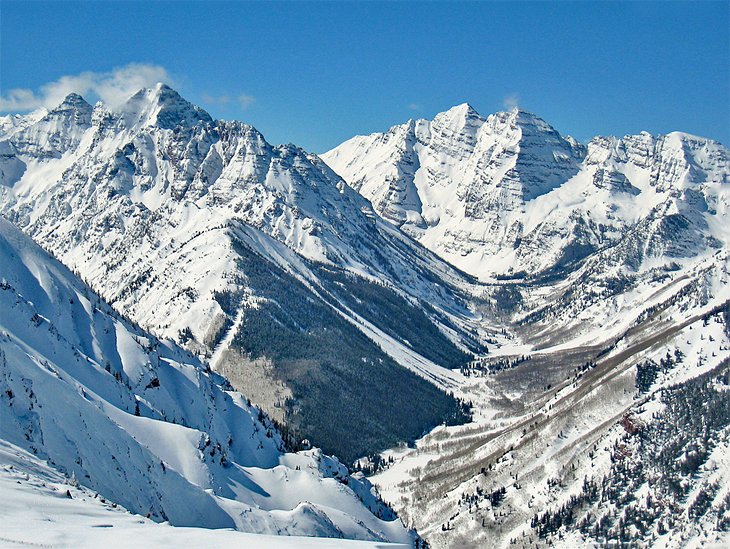 Top among the several ski resorts in Colorado, Aspen Snowmass is made up of four ski areas surrounding Aspen and Snowmass Village. The combined terrain of Snowmass, Aspen Mountain, Aspen Highlands, and Buttermilk exceeds 5,500 acres, with Snowmass alone accounting for more than 3,000.
Although the smallest of the four, Buttermilk is known for hosting the Winter X-Games since 2002. The 2023 games are scheduled for January 27-29, bringing nearly 100 top skiers and winter sports stars to Aspen.
Aspen Mountain is strictly for intermediate and expert skiers, with steep terrain from its three ridge lines all rated black or double-black. The Aztec run is the scene of the annual World Cup Women's Downhill. Aspen Highlands, known for its expert runs, is also a favorite for backcountry skiers, who hike to the high-alpine terrain of the Highland Bowl.
Aspen Highlands is known for its advanced and expert runs. Aspen has completed the three-year glade project at Aspen Highlands to clear new lines in the steep, wooded Lucky Find area. The number of Hollywood and sports stars who own property here has given Aspen its reputation as a glamor resort.
6. Val d'Isere, France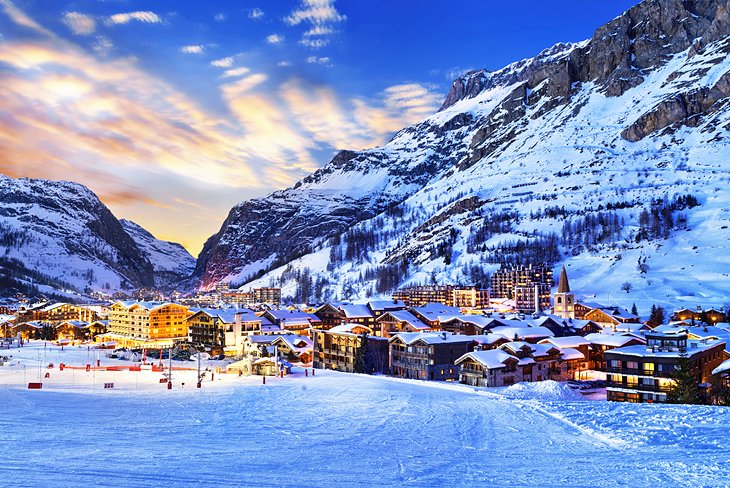 Skiing legend Jean-Claude Killy made his home-town one of the best-known ski resorts in Europe after his breathtaking sweep of three gold medals at the 1968 Winter Olympics in Grenoble. Val d'Isere shares the high valley with neighboring Tignes to provide more than 300 kilometers of interconnected ski terrain served by more than 150 ski lifts.
The valley, surrounded by peaks that provide skiing at altitudes as high as 3,450 meters, is part of Parc National de la Vanoise. The altitude assures snow through the late spring; skiing on the Glacier du Pisaillas usually lasts through June and often into July.
Val d'Isere and Tignes offers some of the best skiing for experts, with more than two dozen challenging black runs. But it's the exceptional off-piste terrain that earns bragging rights for skilled skiers.
7. Cortina D'Ampezzo, Italy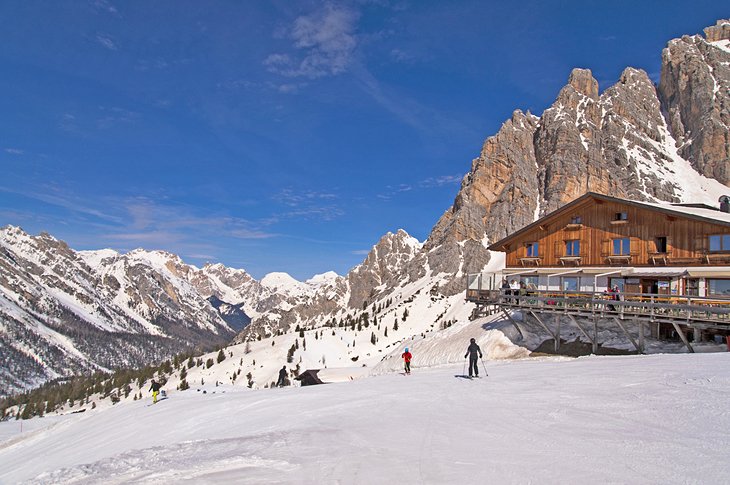 The five ragged peaks of the Cinque Torri give upscale Cortina D'Ampezzo the most beautiful setting of any of Italy's ski resorts. Known only to avid skiers before it hosted the 1956 Winter Olympics, Cortina became an overnight sensation for the well-set winter set.
The town is still decidedly high-end, but skiing here is a surprising bargain, thanks largely to the value-packed Dolomiti Superski Pass. This gives access to the lifts and trails of a dozen resorts, most linked to give nearly 400 kilometers of interconnected skiing. Included are the several ski towns between the peaks known as the Gruppo del Sella, and the Marmolada Glacier; this entire area is included in a UNESCO World Heritage Site.
More than three dozen lifts in Cortina alone carry skiers from the center of town to snowfields at the crests of the highest ridges, from which they can ski back into town in a single exhilarating run or spend the day on the high-altitude snowfields.
Skiing here is one of the top things to do in Italy. Not just for experts, Cortina's terrain is about half suitable for intermediates. There's also a bobsled run, and the Olympic rink for ice-skaters.
8. Telluride, Colorado, USA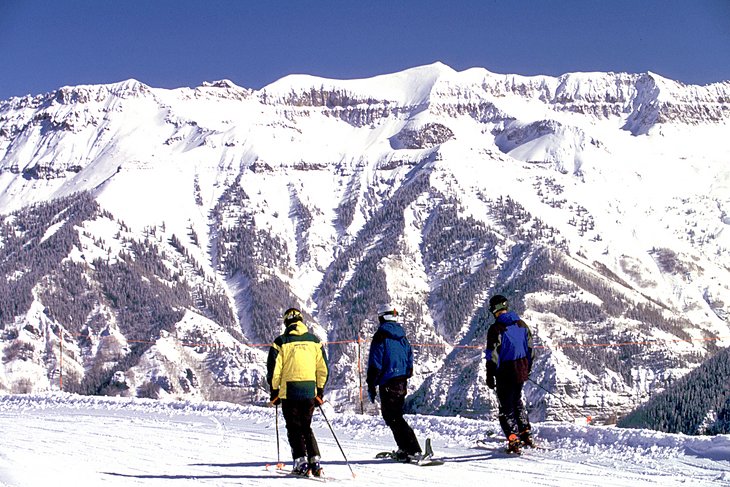 In a beautiful setting with plenty of challenging terrain at an altitude that promises consistent snow, Telluride is one of Colorado's most popular ski resorts. The height of the San Juan Mountains makes it possible for the resort's base to begin at an impressive 8,725-foot elevation, and lifts carry skiers to 12,515 feet.
Between the base and the top of the lifts, skiers have more than 2,000 acres of skiable terrain. It's this impressive vertical and expanses of hike-to terrain that bring extreme skiers to Telluride.
9. Niseko, Japan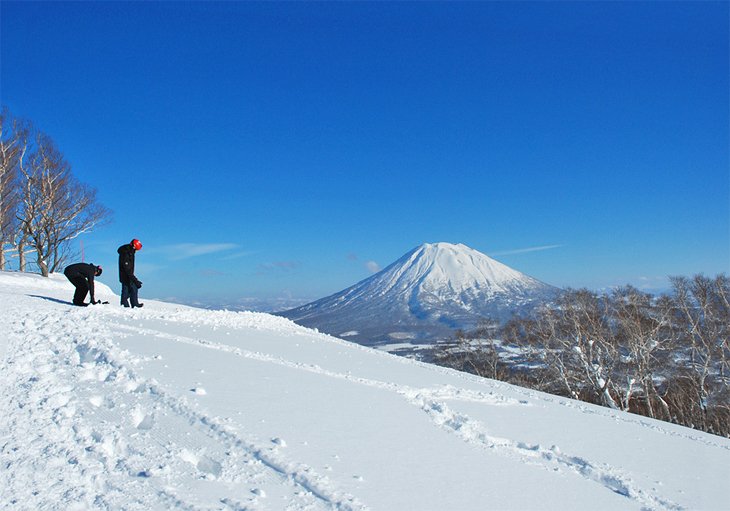 Four interlinked ski resorts, about 90 kilometers from Sapporo on Japan's northern island of Hokkaido, are known as Niseko United; they include Niseko Village, Grand Hirafu, Hanazono, and An'nupuri. Between them, they provide some outstanding and varied terrain on the slopes of a volcano, many of the trails facing the near-perfect cone of Mt. Yotei, known as "Hokkaido's Mt Fuji."
Groomed trails, wooded glades, bowls of ungroomed powder, and snowparks cover one half of the mountain, while the other face is a vast mountainside of unpatrolled backcountry adventures, filled with natural halfpipes, steep chutes, and almost unlimited tree skiing. Niseko is known for its powder and for the low temperatures that produce it, so be prepared for cold weather.
Although it's famed for its glades and off-piste alpine skiing, Niseko rates more than two-thirds of its trails for beginners and intermediate skiers. The resort offers heli-skiing, cat skiing, snowmobiling, snowshoeing, and hot spring spas - a highlight of any trip to Japan.
Niseko's variety of activities for children and its outstanding program of ski and snowboard lessons (available in English) has earned it the title of Japan's Best Family Ski Resort in the Ski Asia Awards.
10. Chamonix, France
The iconic name of Mont Blanc, the first Winter Olympics, and ski slopes with the world's greatest height differential all combine to make Chamonix one of the best-known and most popular ski resorts in France.
Europe's tallest peak at 4,807 meters, Mont Blanc assures Chamonix some of the best snow conditions in the Alps, and the longest lasting. The altitude is aided by the surrounding glaciers in keeping temperatures low and powder dry. The snow falls-and stays-on some of the world's most challenging terrain for skiers.
Chamonix includes several different areas: Grands Montets, at altitudes from 1,235 meters to 3,300 meters, offers expert runs with the greatest height differential in the world. At the Les Houches ski area, you'll find the renowned Verte, the only piste in the Haute-Savoie approved for World Cup races. Tree-lined and often glazed over, its 3.5 kilometers have an 870-meter vertical and include a series of jumps.
11. St. Anton, Austria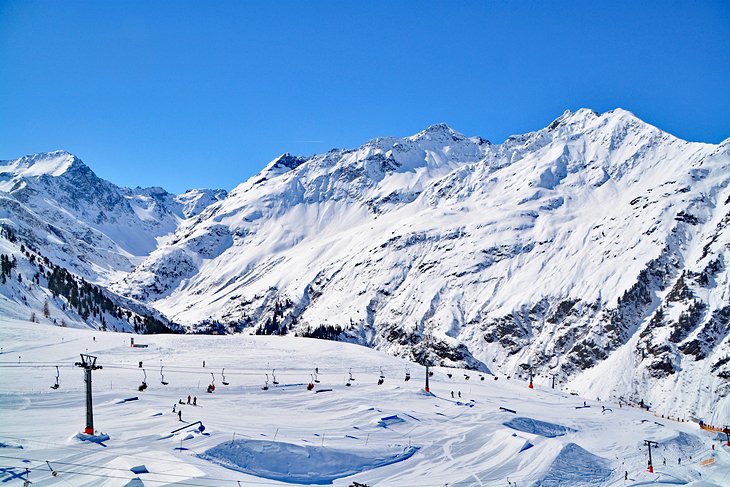 A legendary name in the hearts of skiers, St. Anton is where the first ski club in the Alps began in 1901. Its 280 kilometers of terrain at heights reaching 2,800 meters are no place for beginners, or even most intermediates, as they include some of the most challenging runs anywhere in the Alps.
The moguls are as legendary as the resort itself, and the off-piste skiing is superb, as it's one of the snowiest resorts in the Alps. For the most breathtaking experiences, hire a guide and head for the spectacular views around Sonnenkopf; ask about the Schindler Chutes or the Waterfall route into Langen.
The regional Arlberg lift pass gives access to 340 kilometers of slopes and pistes, including those at the nearby Austrian ski resorts of Lech and Zürs, both of which have ample opportunities for beginning and intermediate skiers.
You can take a shuttle bus to these, and some of the pistes in these resorts are also connected to St. Anton by Flexenbahn, a cable car that links to the other side of the Flexen Pass.
New thrills are in store with the completion of the spectacular 85-kilometer Run of Fame. The circuit takes experienced skiers from St. Anton/Rendl through Zürs and Lech to Warth, retuning back to St. Anton. The circuit encompasses the entire Ski Arlberg skiing region.
12. Kitzbühel, Austria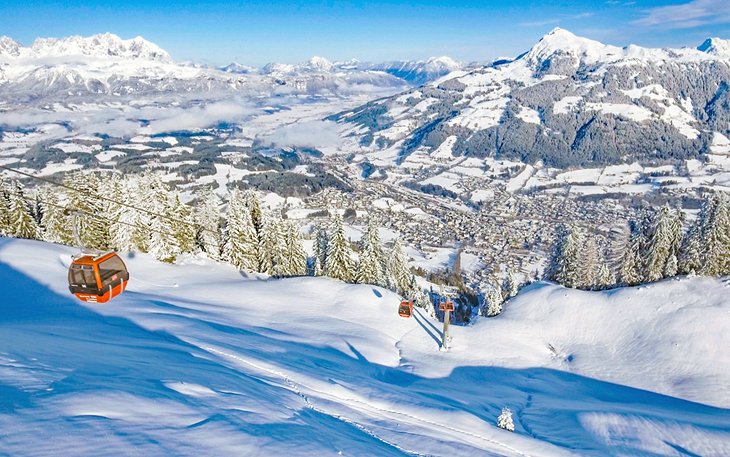 In the Austrian Alps, within easy reach of both Innsbruck and Salzburg, Kitzbühel looks like a travel poster for Alpine ski towns with its fresco-painted buildings and mountain chalets. While its smart boutiques and luxury hotels may give it the aura of a chic Swiss resort, Kitzbühel has a cozy warmth and accommodations that welcome families on a budget, too. Charming as it is, Kitzbühel is more than just a pretty face.
For serious skiers looking for white-knuckle descents, there's the legendary 85 percent vertical, where skiers compete annually in the Hahnenkamm, the most challenging of all downhill races. For less skilled skiers, there are gentle slopes and long, wide cruisers. The small Bichlalm area is especially designed for riders and freestylers.
13. St. Moritz, Switzerland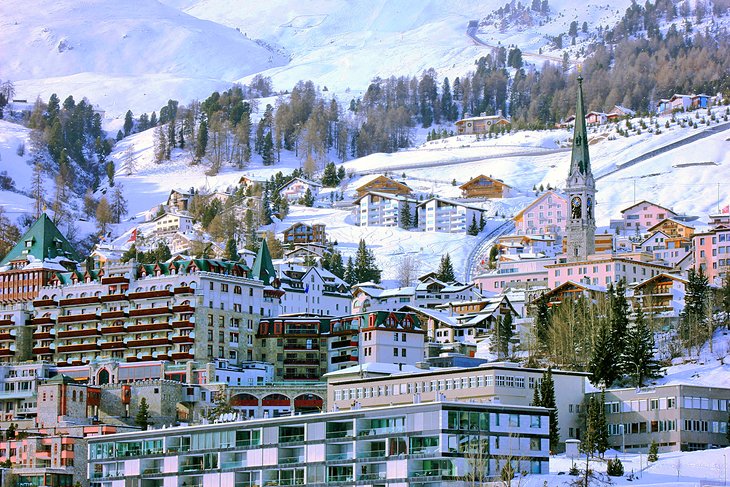 With a claim to being Europe's first winter resort, and still one of its most glamorous, St. Moritz has plenty of credentials to make it stand out among Switzerland's many ski resorts. Although it may be known for its glitz and social scene, there's no questioning the ski challenges of its surrounding mountains. It has hosted two Winter Olympics and five Alpine World Ski Championships, the latest in 2017.
St. Moritz is strong in intermediate terrain, but about 30 percent is rated black and there is ample off-piste, some backcountry, and some marked itineraries. Because it is not as well-known for off-piste, it remains a well-kept secret, which means that its backcountry runs are less used, hence not as tracked as the better-known destinations.
14. Park City Mountain/Canyons, Utah, USA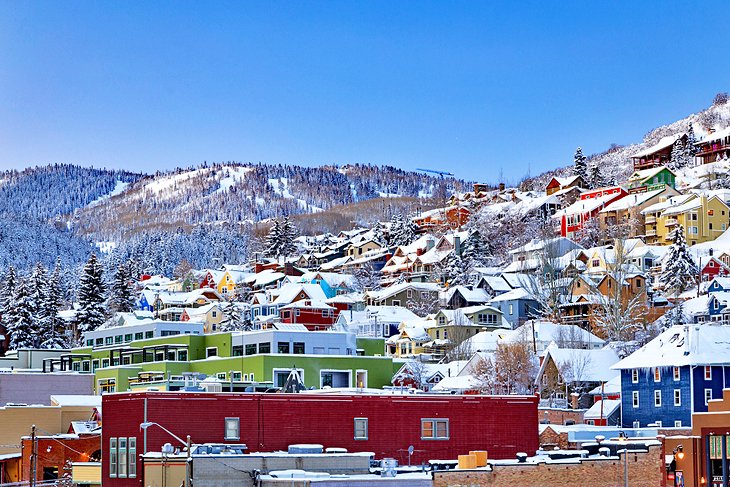 The merging of Park City Resort and Canyons in late 2015 as part of Vail Resorts made it the second largest of the many ski resorts in Utah. With 7,300 acres of skiable terrain, the combined resorts offer something for everyone, including a cozy bubble-lift and a heart-stopping gondola ride suspended over one of the resort's eponymous canyons.
The two still maintain their separate base areas, which is good, because getting from one trail network to the other remains a time-consuming challenge (although it's getting easier). So it's best to choose one or the other each day; for experts, the best choice is Canyons, the larger of the two, for its greater variety of challenging terrain.
About half of its terrain is rated black, and it's characterized by glades, canyon runs, steep fall-line trails, and plenty of moguls. The most challenging may well be the terrain accessed from the Ninety Nine 90 Express quad. For bumps, look for Devils' Friend, off the Super Condor Express quad.
Canyons has its own ski village with resorts, a spa, shops, and restaurants. Park City Resort, true to its name, sits right in the town of Park City, with a wider variety of activities and services right at the base of the slopes.
15. Cerro Catedral, Patagonia, Argentina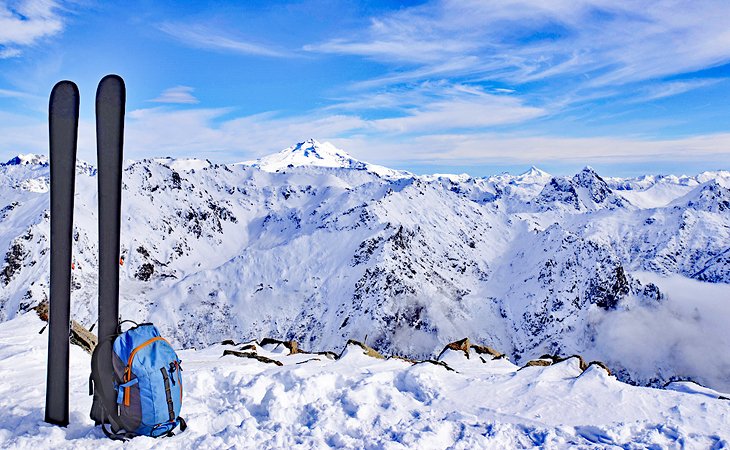 With the tallest mountains on Earth outside the Himalayas, the Andes offer plenty of vertical, and no place takes better advantage of that than Cerro Catedral, in the Patagonia region of southern Argentina. Named for the cathedral-spire mountain peaks, Cerro Catedral's scenery is breathtaking, with views across Lake Nahuel Huapi and the surrounding snow-covered summits of the Andes.
Here, in the southern Andes, where the snow is most plentiful, the ski season lasts from June to October, but early August to early September promise the deepest snowpacks and best powder, as well as the lowest crowds.
With 1,150 feet of vertical and 3,000 skiable acres, experts are spoiled for choice. The off-piste and tree skiing are superb, and there is miles of lift-accessed backcountry terrain and hike-in territory filled with steep chutes and bowls. Favorites are the La Laguna zone and the lower fingers of Alaskita. To experience the best terrain, go with a ski guide. Freestyle skiers and riders have a dedicated terrain park.
16. Deer Valley, Utah, USA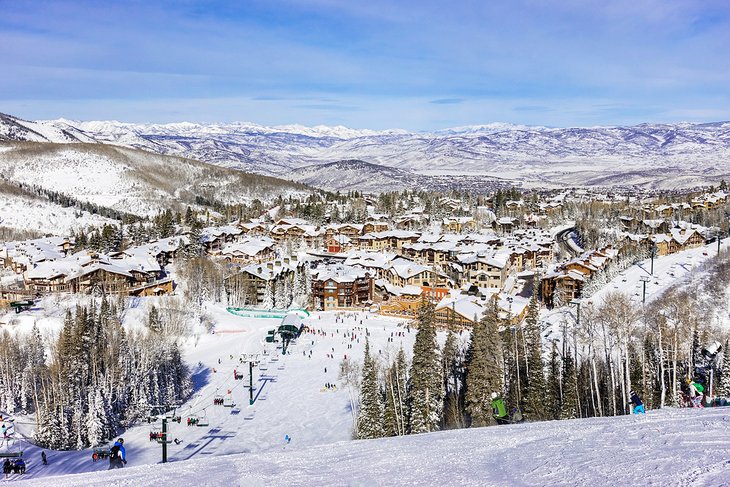 On almost any readers' poll of favorite North American ski resorts, Deer Valley will rank #1 or close to it. What's not to like about perfect grooming, mountain hosts, free ski storage, help unloading skis from your car, immaculately maintained lodges with blazing fireplaces, slope-side fine dining, and a daily limit of 7,500 skiers (no snowboards allowed here) to keep lift lines short and trails uncrowded?
Deer Valley is all about customer service, and the lodging and dining in its beautiful base village are decidedly upmarket. But, as they say, you get what you pay for, and Deer Valley produces your money's worth.
The very fact that Deer Valley is best known for its great intermediate skiing means that experts will have the 37 percent black diamond runs largely to themselves, with that famous champagne powder pristine.
Take Carpenter Express to ski the runs that saw the 2002 Winter Olympic competitions: You Don't Know for the slalom; Champion for the freestyle mogul; and White Owl, where the freestyle aerial event took place.
On Bald Mountain, where there's a lot of black and double black, follow Ruins of Pompeii into Triangle Trees for a mix of steeps and glades. Mayflower offers extreme skiers double-black diamond chutes, Empire Bowl has double blacks, while Daly Bowl and Daly Chutes are even more challenging.
17. Verbier, Switzerland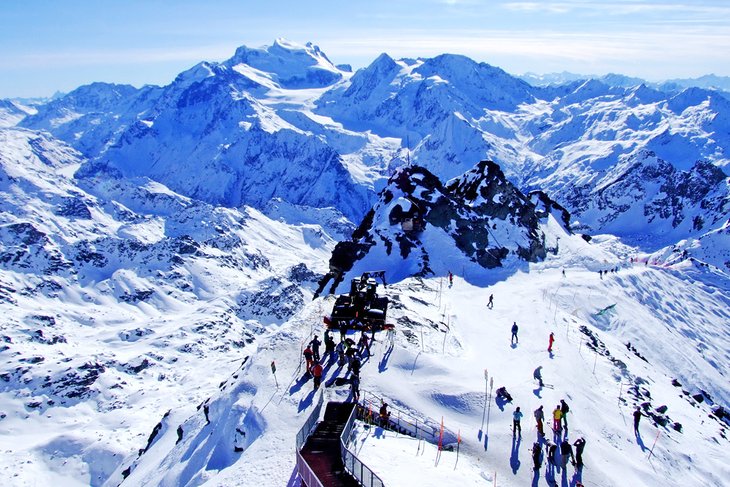 Part of the Four Valleys ski domain, with access to more than 410 kilometers of ski runs on a single pass, Verbier combines one of Europe's steepest descents, with some of the world's best backcountry for off-piste skiing. The Mont-Gelé cable car – an engineering feat that spans the mountain in a single continuous cable -– accesses the best off-piste terrain and the powder fields of the Mont-Gelé glacier.
It's a free-rider's paradise, with breathtaking chutes and vertical drops that are the venue for the annual Verbier Ride freestyle event and the Verbier Xtreme freeride competitions, which are part of the Freeride World Tour.
Expert skiers like the resort's well-laid-out runs for long-distance skiing, while intermediate skiers find good terrain and fewer crowds on the runs at Savoleyres. Across the valley, the cable car to 2,050-meter Tortin, best known for its record-breaking steep descent, also brings you to several runs suitable for high-intermediate skiers.
18. Snowbird, Utah, USA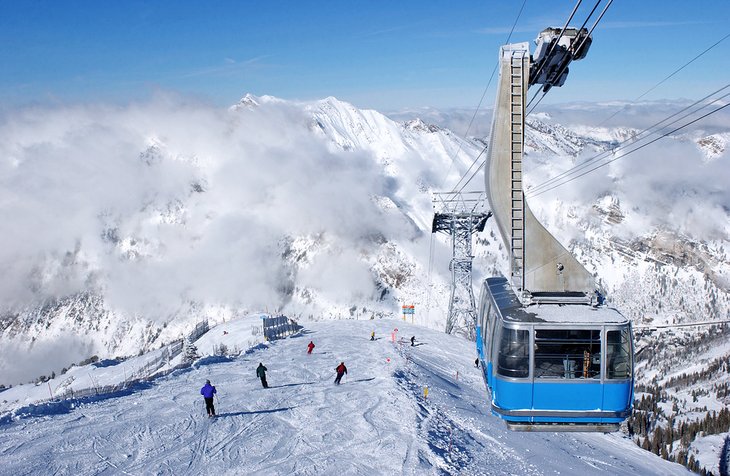 Combine the most vertical terrain of all Utah's ski mountains with legendary powder – it can run to more than six feet out of an average 40-foot snowfall in a good winter – and it's easy to see why Snowbird is a favorite of serious skiers. Not only is there a lot of snow, but it lasts longer than any of the resorts in the region.
Snowbird isn't just for experts, and there's a lot to appeal to any skier. More than a quarter of the resort's 2,500 acres is labeled for beginners, who can enjoy the sweeping views from the wide-open bowls (Snowbird has the best views of any of Utah's resorts). More than one-third of the trails are rated for intermediate skiers, who will find runs off any of the resort's nine chairlifts.
Boarders love it for its 4,700 acres of skiable terrain, and glades with 45-degree steeps. Connected to Alta – you can ski between them – the resorts offer combined passes for skiers, but Alta doesn't allow boarders. Snowbird is in Little Cottonwood Canyon and only 45 minutes from Salt Lake City International Airport.
19. Valle Nevado, Chile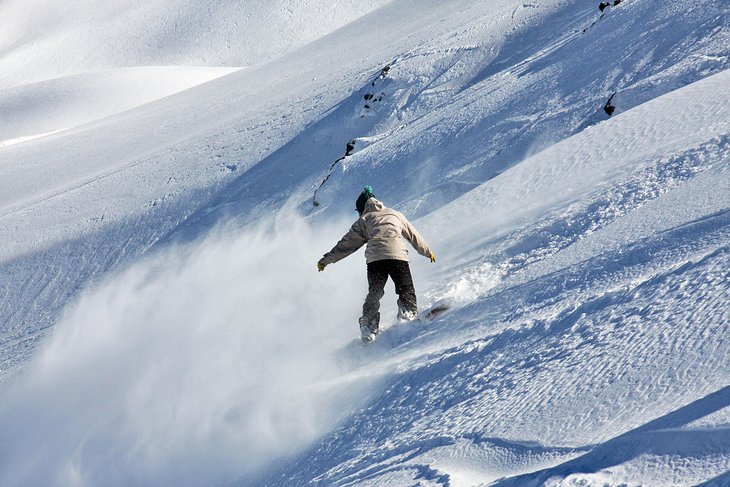 In the Chilean Andes, less than 40 miles from Santiago, Valle Nevado is part of the "Tres Valles" resorts, bordering El Colorado and La Parva, with interconnecting lifts and trails. The resort's 2,200 acres of skiable terrain is served by 14 lifts, but what brings top international skiers here is the wide-open terrain and the best heli-skiing in the Andes.
The 10,000-foot altitude, southern exposure, and extensive snowmaking coverage assure some of the most reliable snow conditions in the Andes. The views from almost anywhere on the mountain are spectacular. Much of the challenging backcountry terrain is lift-accessed.
The infrastructure is up to the skiing and the setting, with multiple hotels, restaurants, condos, and a spa right at the base. Future plans are to develop the base into a full-scale Alpine-style village.
20. Jackson Hole Mountain Resort, Wyoming, USA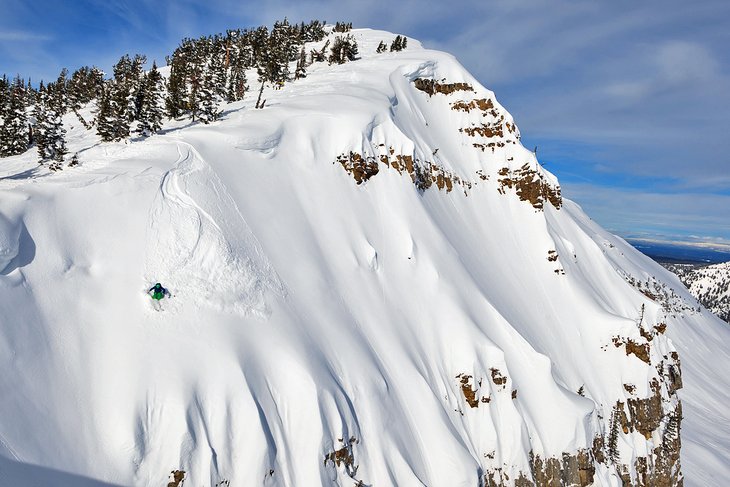 With nearly 40 feet of average annual snowfall across 2,200 acres of terrain, Jackson Hole offers plenty of skiing, and it's mostly for intermediate-to-expert skiers.
Although there's little beginning terrain, there are lessons and ski camps for kids and beginners, as well as for adults wanting to tackle the gnarliest of runs – like the extreme double-black diamond Corbet's Couloir. You can join a backcountry guide who will take you off-piste for a day or, for even more challenging adventures, a four-day Backcountry Camp to learn techniques for touring, avalanche awareness, and terrain selection.
Last winter, Jackson Hole increased the capacity and efficiency of its snowmaking to provide at least two trails with snowmaking from each lift, and expanded the glade terrain by six acres.
21. Val Gardena, Italy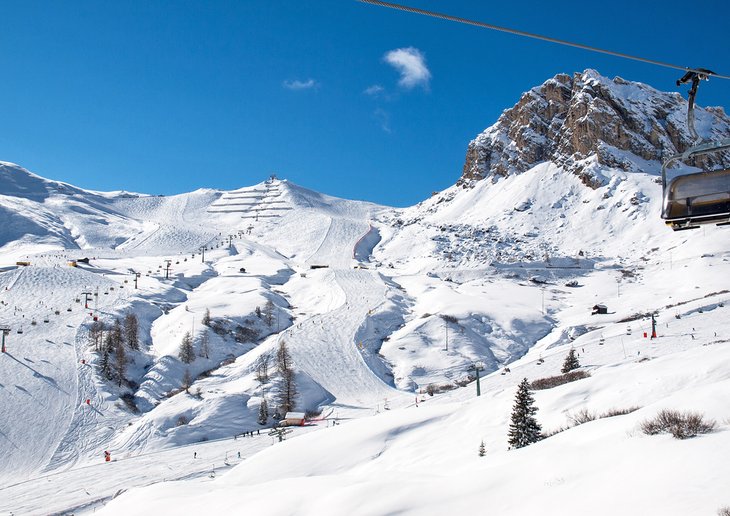 Smaller and without the international glitz of their Dolomite neighbor, Cortina D'Ampezzo, the resorts in the valleys between the peaks of the Gruppo del Sella connect via runs and lifts to nearly 400 kilometers of slopes and trails. Of these, 160 are at Val Gardena; from here, skiers can also access the magnificent skiing on the Marmolada Glacier.
One trail at Val Gardena holds the record as the longest run in South Tyrol. La Longia is more than 10 kilometers, dropping for 1,273 meters from Mount Seceda to Ortisei. On the way, it includes a natural canyon with a frozen waterfall.
One of the challenging circuits includes skiing four runs used for men's and women's World Championship downhill and giant slalom races, with average gradients of more than 25 percent. The new experts-only La Ria opened last year, featuring an incline of 52 percent in places. The former off-piste terrain between the Seiser Alm and Ortisei has been transformed into a 4,670-meter downhill trail with gradients as high as 58 percent.
22. Hakuba, Japan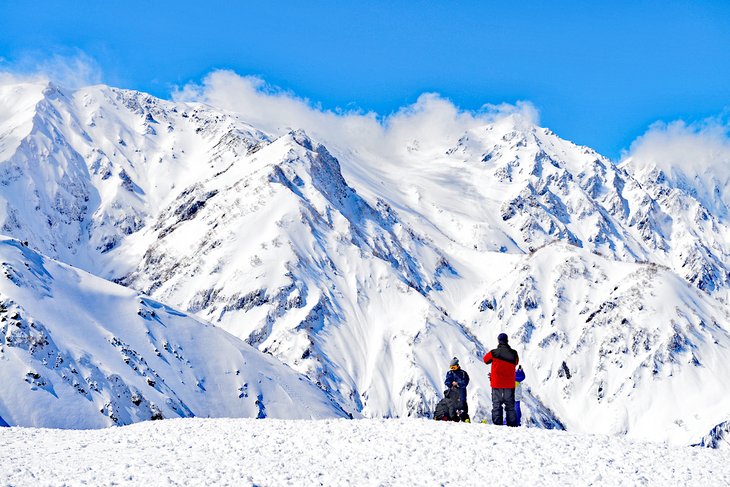 Honshu, Japan's main island, is home to the Japanese Alps, with far more steep, rugged and varied terrain than the gentler slopes of Hokkaido's volcano cones farther north. These are serious mountains, filled with steeps and chutes, as well as long cruisers.
The two parts of the Hakuba resort join at the summit, and you can ski them on a single pass. Each has its own appeal, with Hakuba 47 the favorite of boarders, for its park that includes a professional-grade half-pipe and challenging jumps. Hakuba Goryu has more beginner terrain and a large night skiing area.
Hakuba is a family-friendly resort, with play areas for children and plentiful family lodging; kids under five ski free.
It's easy to combine these two with other resorts in the immediate area: Happo One, Norikura Onsen, and Cortina (not to be confused with the one in Italy's Dolomites) for a wide variety of pistes and backcountry experiences for all levels of skiers.
23. Courmayeur, Italy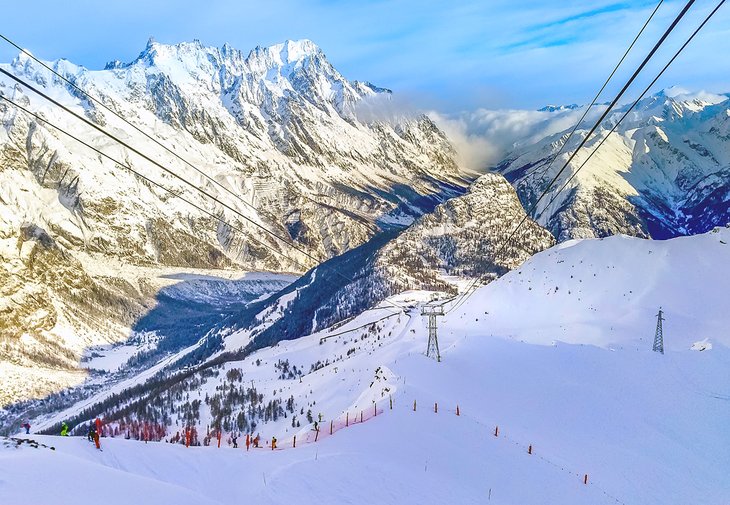 Among the most glamorous ski resorts in Europe, Courmayeur is crowded on weekends with wealthy skiers and partiers from Milan and Turin. That in no way diminishes the quality of the skiing, although it does make a ski holiday here more expensive than the Dolomite ski resorts farther east in Italy.
There's an undeniable cachet to skiing on the upper slopes of the Alps' highest peak. At this altitude, good snow is almost guaranteed, and although it's not one of Europe's largest ski resorts, it has a skiable vertical of 1,545 meters and a lot of variety. You'll find high-altitude, off-piste tree skiing on the north-facing slopes, and superb powder.
24. Morzine and Avoriaz in Portes du Soleil, France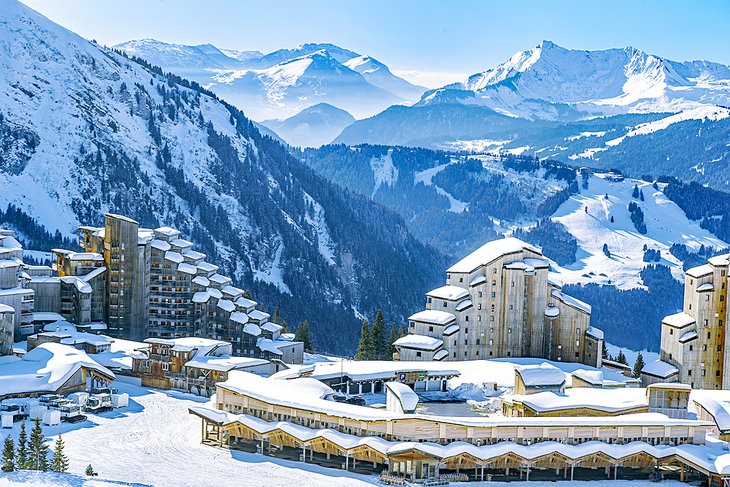 Ski across the border between France and Switzerland on the interconnecting lifts and pistes of a dozen ski resorts, using a single region-wide pass. The total skiable terrain includes 660 kilometers of slopes served by 197 lifts.
Five of the resorts are in Switzerland, seven in France. On the French side, both Morzine and the adjacent Avoriaz are superb resorts for recreational skiers, although each has enough expert runs to keep experienced skiers happy, and Morzine has nine trails designated expert.
An equal number of Morzine's trails are tagged for beginners, and the other 52 are intermediate and high intermediate. At Avoriaz, 75 kilometers of trails are red and blue for intermediates. Boarders will find five different terrain parks and a superpipe; two of the parks are designed especially for kids.
25. Cardrona, New Zealand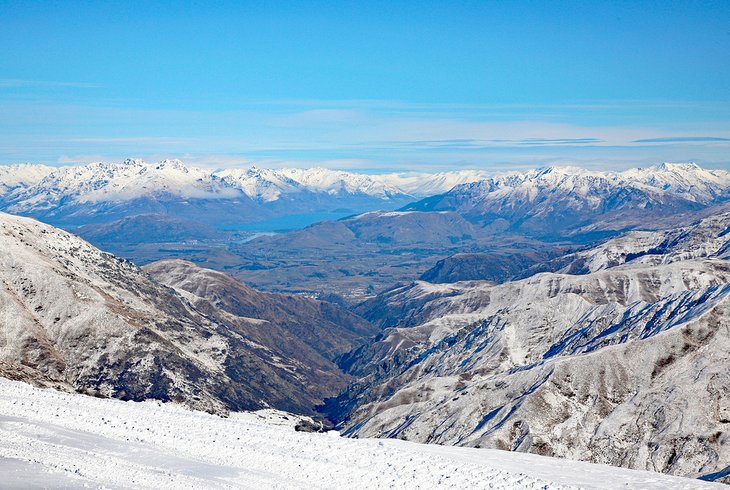 Less than an hour from Queenstown Airport, Cardrona has terrain and off-slope facilities to please all ages and skill levels, from its outstanding child-care and kiddie lessons program to the one-fifth of its terrain designated for expert skiers. The rest is almost evenly divided between beginner, intermediate, and advanced.
The terrain spreads across a series of bowls, all above treeline, with good off-piste challenges when the snow is right. Boarders won't find a bigger choice of terrain parks and pipes anywhere in the Southern Hemisphere; the renowned Cardrona Parks NZ hosts events that draw some of the world's best boarders and skiers.
26. Treble Cone, New Zealand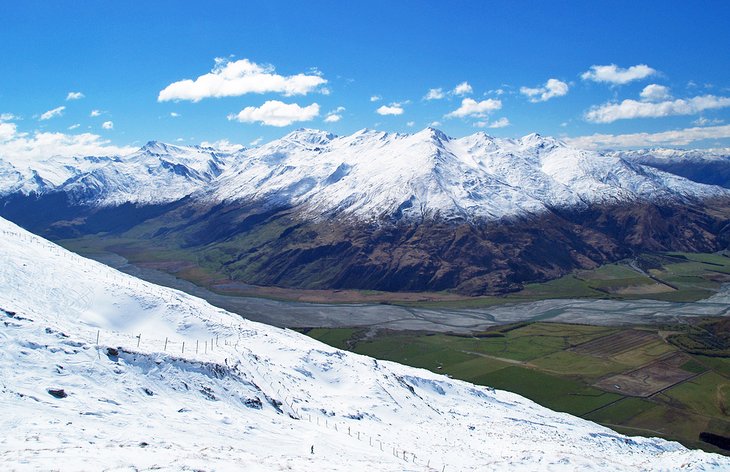 The largest ski area on the South Island at 1,359 acres, Treble Cone is about 90 minutes from Queenstown and half an hour from Wanaka Airport. The terrain is ideal for advanced and intermediate skiers, with 45 percent of the trails rated for each, and there's ample natural freeride terrain. Beginners' options are more limited, although learning skiers can use the Magic Carpet free and the Platter at a discount.
Best for Boarders and Freestyle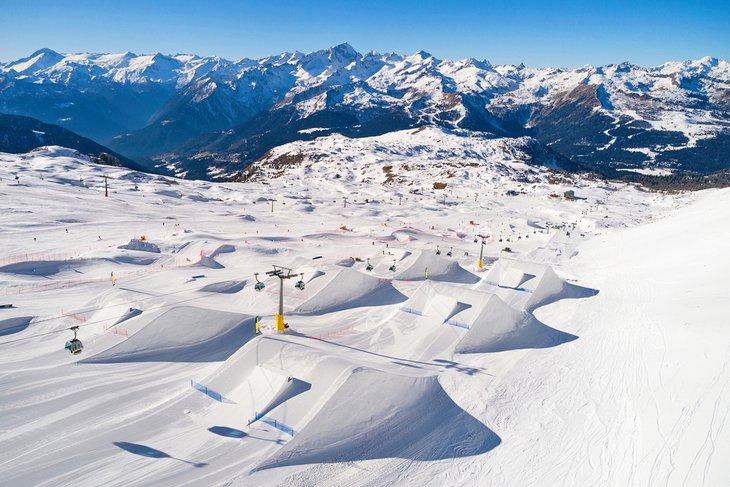 In addition to the exceptional off-piste terrain of Val d'Isere, Courchevel, Zermatt, St. Anton, and Courmayeur mentioned above, boarders and freestylers should consider the following ski resorts:
More Related Articles on PlanetWare.com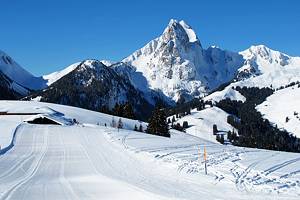 Ski in Europe: For more great places to ski in the Alps, see our articles on the Top-Rated Ski Resorts in Switzerland and France. The Top-Rated Ski Resorts in Italy can lead you to world-class skiing in the Dolomites.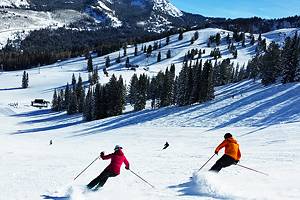 Ski the American West: PlanetWare can also help you discover America's beautiful western ski mountains. Find plenty of powder and almost unlimited terrain. Our articles on the Top-Rated Ski Resorts in Utah, Colorado, and Lake Tahoe will help you choose the best ski resorts for you.