10 Top-Rated Things to Do in Frisco, CO
The best things to do in Frisco are often synonymous with the best things to do in Colorado. Frisco, Colorado sits at the crossroads of some of the most noteworthy locations in the state. Less than an hour's drive from several ski resorts, perched on the shores of Lake Dillon, and steeped in centuries of history, Frisco makes the perfect home base from which to explore the very best of Summit County and beyond.
The area where Frisco now sits has been home to Native American tribes for centuries. Mountaineers began visiting the region in the early 19th century in search of beaver pelts in the high mountains. Mining then followed, and by the 20th century, after a period of ups and downs, Frisco emerged as a small, charming mountain village at the center of the Tenmile Range in the Colorado Rockies.
Today Frisco is a balance of outdoor adventure and cultural treasures. From Frisco, it's easy to disappear into the vast wilderness of the mountains, or ski the world-renowned slopes in Breckenridge, Copper Mountain, or Keystone. In the summer, Lake Dillon comes alive as boats cruise in and out of the Frisco Marina. And downtown Frisco is always humming with restaurant activity, art galleries, shopping, and other rewarding places to visit.
If you can't decide which ski resort is right for you, why not choose them all and make Frisco your home base? Start planning your trip right now with our list of the best things to do in Frisco, Colorado.
1. Explore Historic Downtown Frisco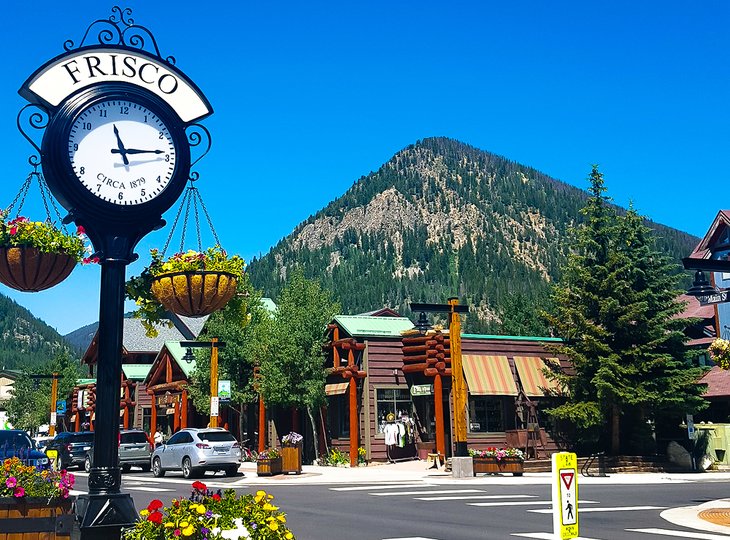 Frontier history mixes with 21st-century energy right in downtown Frisco. Frisco was founded in 1879 as a silver mine destination in the Colorado Rockies. The mining boom lasted until around 1918. During the Great Depression, Frisco's population had plummeted to a meager 18 people. But as the economy revived, that soon changed.
Today Frisco has under 3,000 residents, which makes it a sleepy mountain town in Summit County. But a quick stroll through downtown reveals a town that is anything but sleepy. The bustling historic downtown is just under two square miles, but is packed with adventure sports outfitters, restaurants, shopping, and even a historic park.
In fact, the historic park offers a rare opportunity to actually travel back in time while you're sightseeing. This outdoor museum includes a slew of historic buildings. Pop inside the Schoolhouse Museum to take a look at exhibits and photographs that document the past of Frisco.
2. Ski the Many Nearby Peaks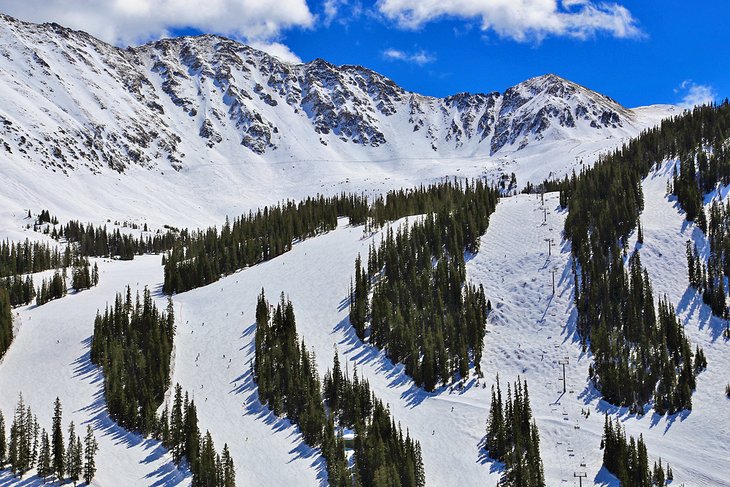 What's amazing about staying in Frisco is the proximity to many different Colorado ski resorts. Frisco has several ski resorts within 45 minutes of downtown. Many of the resorts even provide a free shuttle service from Main Street to the base of the slopes.
Within a short drive from Frisco are Copper Mountain, Breckenridge Ski Resort, Keystone Resort, Loveland Ski Area, Arapahoe Basin, Vail, and Beaver Creek.
Copper Mountain is just seven minutes from Main Street. Visitors can take the Summit Stage bus, which is free and transports skiers back and forth from Frisco to Copper Mountain. Copper Mountain has plenty of restaurants, free ice-skating, the Rocky Mountain Coaster, golf, mountain biking trails, and hiking. In the winter, it shows off 2,490 acres of skiable terrain.
The next closest resort is Breckenridge, with 2,908 acres of ski trails, plus an entire bustling village of shops and restaurants. Keystone is a 20-minute drive, as is Loveland Ski Area. Vail is half an hour, and Beaver Creek is 45 minutes.
Come ski season, visitors to Frisco will be spoiled for choice when it comes to deciding where to ski. And even in the summer, Frisco is the perfect base camp from which to explore the hundreds of miles of hiking trails in the region.
3. Get Out on Lake Dillon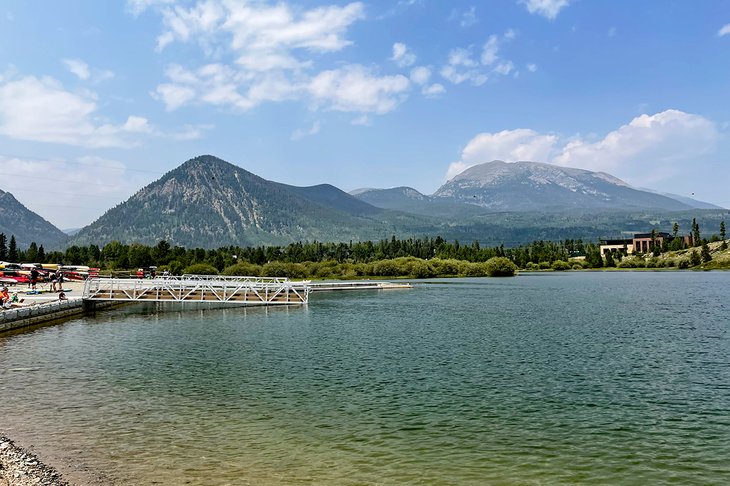 Frisco is one of a few towns that sit on the banks of the expansive Lake Dillon. Lake Dillon is actually a reservoir, but it is certainly a focal point of the area and a popular place to visit. It's actually the reservoir for the city of Denver and is bordered by Frisco, Silverthorne, and Dillon.
Thousands of people visit Lake Dillon every year, which means that Frisco is the perfect home base from which to explore. An 18-mile paved bike path winds its way around the entire reservoir, and along the way, you'll find hotels, campsites, and RV parks.
From the Frisco Bay Marina, visitors have direct access to the alpine waters, whether it's boat and gear rentals or launching your own boat. Non-motorized boating is also wildly popular, and you'll find visitors paddling out in canoes, kayaks, or stand up paddleboards. Fishing is also one of the main events on Lake Dillon.
The Frisco Bay Marina even has a small beach nearby, and it's not uncommon to find locals and tourists sprawled out on the sand soaking up that fleeting summer sun.
4. Let Loose at the Frisco Adventure Park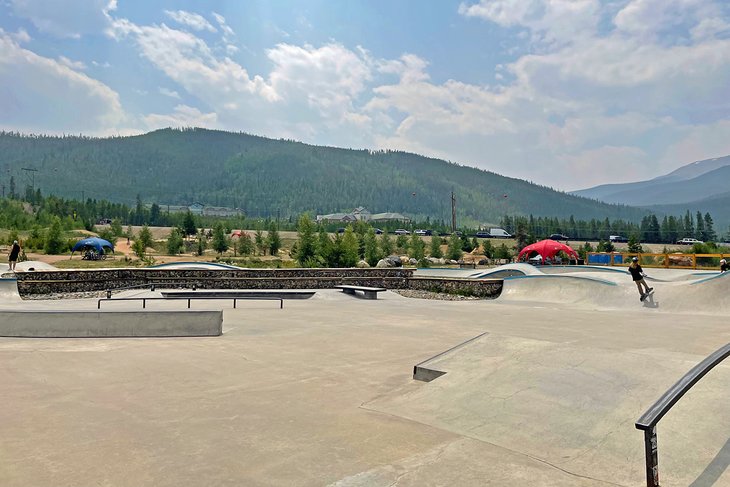 A quick drive from Frisco's Main Street puts you at the doorstep to the Frisco Adventure Park. Located within the Peninsula Recreation Area, right on the shores of Lake Dillon and Frisco Bay, the Adventure Park is a year-round playground for the entire family.
Depending on the season, you'll find everything from snow tubing and beginner ski hills to hiking trails, biking, a skate park, and frisbee golf. Zip down the 1,200-foot tubing lanes, or hit the snowshoeing trails, which put you in the heart of the snowcapped peaks that surround Frisco. You can even participate in a horse-drawn sleigh ride that includes a cup of hot cocoa, or upgrade to the sleigh rides that include a three-course dinner.
In the summer, the bike park comes alive with four different types of track, from the pump track and Slopestyle course to dirt jumps and a dual slalom course. You'll also find the outdoor skatepark, which underwent a remodeling in 2019 and features 28,000 square feet of jumps, bowl pockets, and other amenities. A climbing area is next to the skate park, as well.
Address: 621 Recreation Way, Frisco, Colorado
5. Enjoy the Nordic Center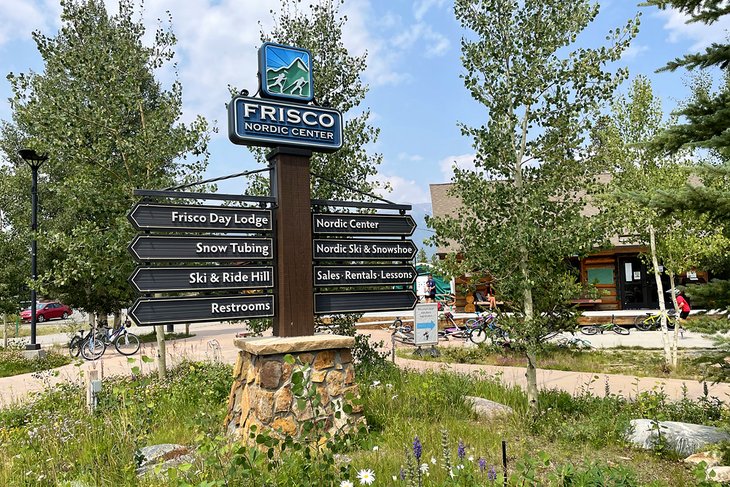 Speaking of winter activities, the Frisco Nordic Center makes it easy to enjoy the snowy wonderland that is Frisco. Also located within the Peninsula Recreation Area, the winter-themed lodge sets the scene for an alpine holiday in Frisco.
Surrounded by towering peaks, the center features skate-skiing options with 16 miles of trails and six miles of snowshoe trails. In addition to the trails, the Nordic Center also has gear rental and offers lessons and clinics for a variety of winter sports.
Have you heard of skijoring? Well, you can learn how to do that at the Nordic Center, too. Skijoring is a combo of cross-country skiing and dog sledding. It's a Scandinavian sport that originated several centuries ago. At the Nordic Center, you can participate in a beginner skijor clinic that focuses on dog care, training, equipment, and more. Note: You must have cross-country ski skills in order to participate.
Address: 616 Recreation Way, Frisco, Colorado
6. Tour the Recpath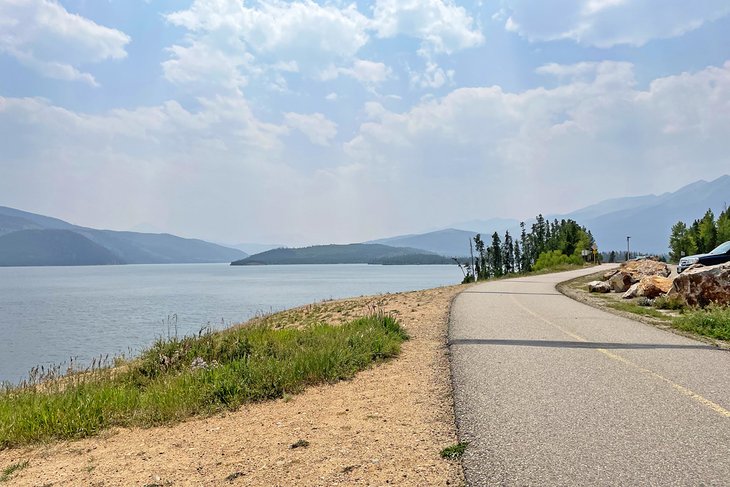 One of the best ways to get the lay of the land is to cycle around it. One of the best easy rides in Frisco is the 18.7-mile round-trip cycle around Lake Dillon. The path starts at the Frisco Marina and rides all the way to the Dillon Amphitheater, over Swan Mountain, and back to Frisco.
The paved pathway kicks off at the marina in Frisco. Along the way, you'll follow the shoreline of Lake Dillon, past wetlands, paralleling the dam road, past some campgrounds, and across the Dillon Dam road.
Keep in mind that the only challenging part of the ride will be the climb over Swan Mountain. If you are traveling clockwise from Frisco, the climb over Swan Mountain will be slightly easier.
The paved pathway is used by walkers, runners, skaters, as well as cyclists, so be on the lookout for everyone.
7. Take a Scenic Drive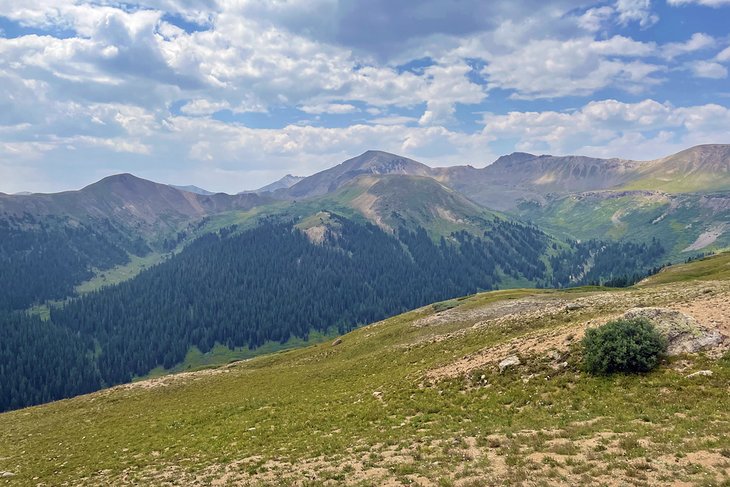 Staying in Frisco means you are at the crossroads of so many fabulous scenic drives in the Colorado Rockies. Not only are you right off I-70 – the main artery for Colorado – but you're also near several smaller roads that turn into dramatic scenic byways.
Most of the scenic drives start with I-70, which is the main artery that runs through Colorado, connecting many of the mountain towns. From Frisco, you can drive east on I-70 to exit 205 (toward Silverthorne/Dillon). This will take you to Highway 6 past Keystone and A-Basin, all the way to the top of the Continental Divide. From here, you'll be able to have beautiful views over the Divide before descending down Loveland Pass and linking back up with I-70.
Another option is to head west on I-70 and take the exit for Copper/Leadville onto CO-91. Pass Copper Mountain and keep going towards Leadville, which is the highest elevation town in North America. Head to Leadville for views of some of Colorado's 14ers, or instead, right before you hit Leadville, you can exit onto Highway 24 and take it towards Minturn. You'll descend on Tennessee Pass, view the remains of historic Camp Hale and pass through Minturn and Vail before returning to Frisco.
A third option, which is only possible in summer, is the Independence Pass route, which follows on Highway 4 through Leadville and onto Highway 82. This goes up and over Independence Pass on the way to Aspen. It is one of the most scenic drives in the country. After leaving Aspen, you can link back up with I-70 and pass through Glenwood Springs on the way back to Frisco.
8. Hike Quandary Peak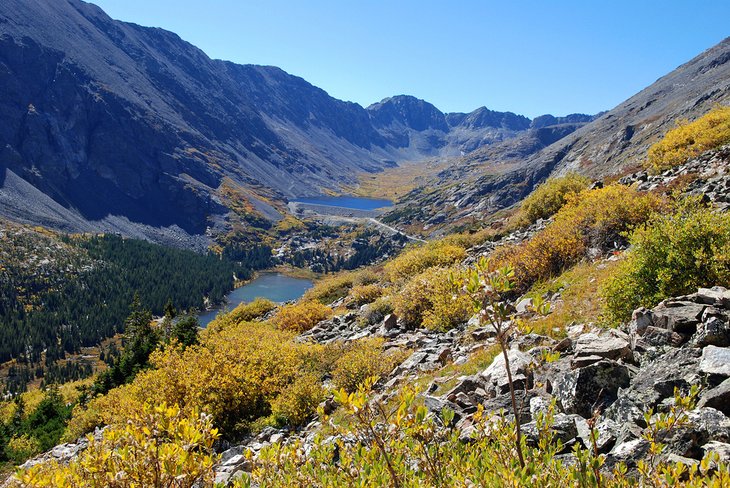 Frisco is a great home base from which to ski the many peaks in the region, but that also means that it is a prime destination for summer hiking. Frisco has so many gorgeous hiking trails within a short distance, but the one to beat is certainly Quandary Peak.
This is one of the highest points within the Tenmile Range, though it is often considered one of the easier 14ers in Colorado. The peak is veined with many trails, but beginners may want to stick with East Ridge, which is one of the easier routes. The West Ridge is saved for the more experienced hikers.
9. Visit GatherHouse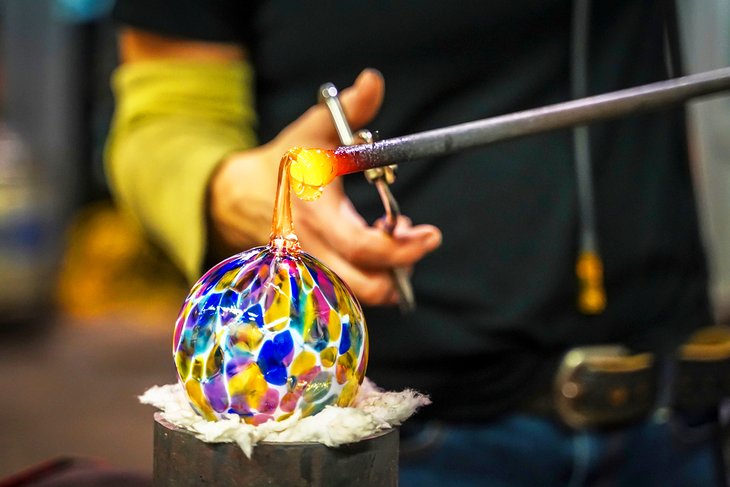 Did you know that Frisco is renowned for its glassblowing? It's true. At GatherHouse Glassblowing Studio + Gallery, artist John Hudnut has been practicing glassblowing for years, and he even offers glassblowing classes to aspiring artists of all levels.
If you're just in the market to buy a piece, the shop has plenty to sell, as well. Or you can order a custom piece, whether it's glassware and lighting, vases, or sculptures.
But the most enjoyable and hands-on things to do at GatherHouse is to take a class with Hudnut, working with the 2,000-degree molten glass yourself. Classes are usually booked out two weeks in advance.
Address: 110 2nd Ave Box 673, Frisco, Colorado
Official site: http://www.gatherhouse.com/
10. Drive to Nearby Dillon and Silverthorne

Frisco shares Lake Dillon with two other towns: Dillon and Silverthorne. While you're getting to know Frisco, you ought to take a trip over to these other two historic towns to see what they have to offer.
Dillon, for which the reservoir is named, is an outdoor playground, surrounded by the same mountains as Frisco, and veined with rushing rivers and miles of hiking trails. The Dillon Marina is one of the highest deepwater marinas on the continent, and from the marina, you can rent pontoon boats and sailboats. Frisco and Dillon share a free shuttle between the two marinas, so you can experience both.
In Silverthorne, the Silverthorne Performing Arts Center is a top cultural attraction in Summit County. You can also find discount shopping at the Outlets at Silverthorne, which has more than 70 brand-name stores.
Map of Things to Do in Frisco, CO
Frisco, CO - Climate Chart
Average minimum and maximum temperatures for Frisco, CO in °C
J
F
M
A
M
J
J
A
S
O
N
D

-1

-18

1

-16

4

-12

8

-8

13

-3

19

1

23

4

22

3

18

-1

12

-6

4

-12

0

-16

PlanetWare.com
Average monthly precipitation totals for Frisco, CO in mm.

22

24

29

31

37

31

45

42

34

20

22

21

Average monthly snowfall totals for Frisco, CO in cm.

39

38

50

39

22

3

0

0

4

17

39

47
Average minimum and maximum temperatures for Frisco, CO in °F
J
F
M
A
M
J
J
A
S
O
N
D

31

0

34

3

39

11

46

18

56

27

67

34

73

39

71

38

64

31

54

22

39

11

32

3

PlanetWare.com
Average monthly precipitation totals for Frisco, CO in inches.

0.9

1.0

1.1

1.2

1.5

1.2

1.8

1.7

1.3

0.8

0.9

0.8

Average monthly snowfall totals for Frisco, CO in inches.

15

15

20

16

8.5

1.3

0

0

1.7

6.8

16

18