12 Top-Rated Attractions & Things to Do in Vail, CO
You don't have to fly to Europe to immerse yourself in an alpine experience. Vail, Colorado, provides that quintessential Alps-style environment right here in North America. In fact, this mountain village was founded by World War II mountain troopers who spent the majority of their time in the Alps — and they brought that vibe back home with them.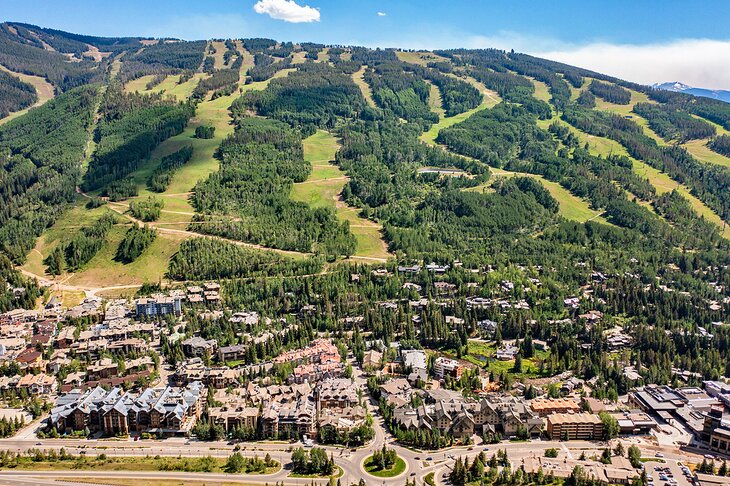 Nestled within the Gore Range, Vail is a paradise for mountain lovers. No matter the season, it offers that idyllic combination of extreme adventure and bucolic charm, with things to do for everyone. Designed to look and feel like a mountain town in the Alps, Vail is considered to be one of the best ski destinations in the world, as well as a premiere location for hiking, mountain biking, dining, and culture.
Vail is packed with so many wonderful things to do and attractions to see during all four seasons. You'll quickly discover why it is one of the best places to visit in Colorado. Get to know this beautiful part of Colorado a bit better with our list of the best things to do in Vail.
1. Ski the Slopes of Vail Mountain Resort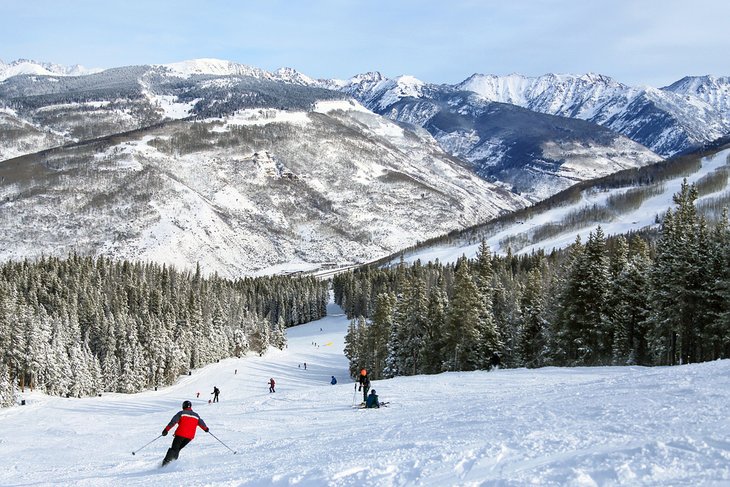 When it comes to skiing in Colorado, Vail is probably at the top of your list of places to check out. Why shouldn't it be? It has more than 5,000 acres of skiable terrain, divided into three areas, and accessed by 31 lifts: Front Side, Back Bowls, and Blue Sky Basin.
The most popular ski area in Vail is the Front Side, which has the majority of the groomed trails and more than half the lifts. It also has the most impressive verticals of all the ski regions in Vail. You'll find Riva Ridge along the Front Side, which is more than four miles of downhill trail.
The Back Bowls include seven bowls that are spoken about in hushed, reverent tones among the world's most advanced riders. The (mostly) treeless bowls have almost 2,000 feet of verticals, spanning more than 3,000 acres, and are reserved for the more expert powder hounds in the business.
Also reserved for experts is Blue Sky Basin, which has the majority of the ungroomed trails, perfect for those who are seeking a little more adventure. But Vail is also home to two freestyle terrain parks that have rails, boxes, rollers, and jumps. Avanti is the beginner park, where newbies can start to practice their tricks.
Accommodation: Top-Rated Resorts in Vail, CO
Read More:
2. Visit Vail Village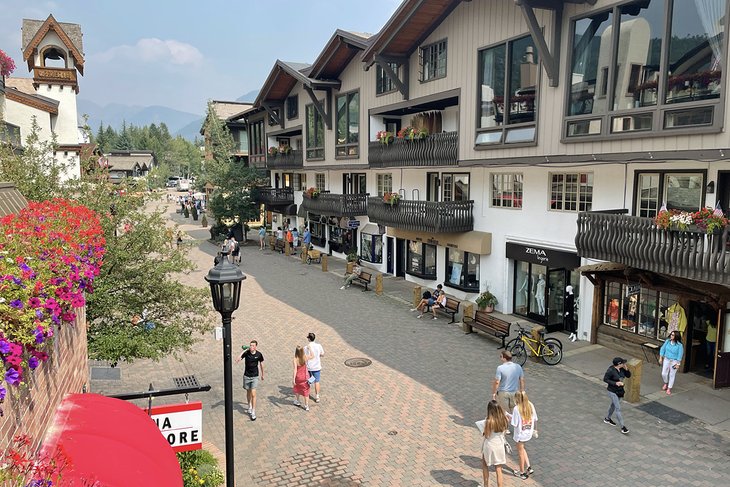 At the base of the Gore Range within the Colorado Rockies, Vail Village is all about quaint, alpine-style charm. Built to look like the charming European mountain towns within the Alpine regions of Europe, the affluent, elegant, but equally outdoorsy Vail Village is a one-stop shop for all of your outdoor adventures.
You'll feel like you've stepped out of Colorado and into the hillsides of Austria, Switzerland, or northern Italy when you stroll down the cobblestone streets, inhale the crisp mountain air, and drink in views of snowcapped peaks in every direction. Vail Village is also where you'll find the historic (and luxurious) ski resorts and hotels, fine dining, shopping, sports outfitters, and entertainment.
Things to Do: Vail Mountain happens to be one of the largest in Colorado — not to mention the world — and there is plenty of skiing to be had right from the village itself. Just hop on the gondola that runs from the village up the mountain. But summertime means Vail Village is alive with street entertainment, outdoor dining, and shopping.
Many of the streets within the village are pedestrian-only, meaning you can stroll freely no matter the time of day or year.
Read More: Best Small Towns in Colorado
3. Explore Ford Park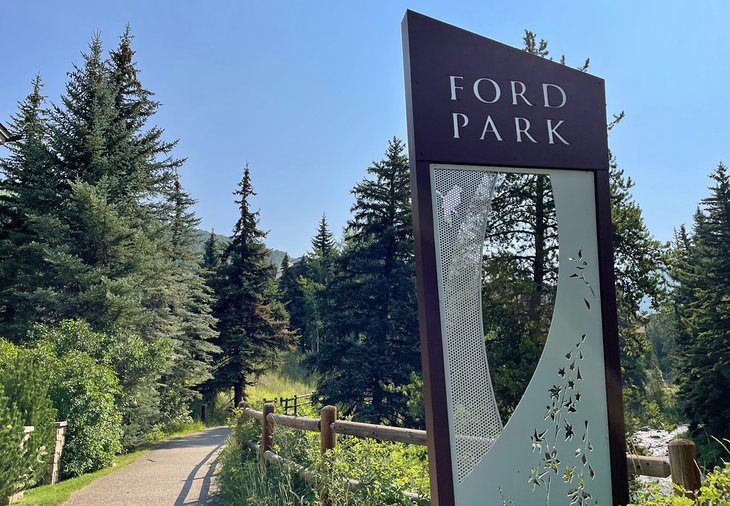 Within Vail Village is the Ford Park complex, named for President Gerald Ford, who loved to vacation in Vail with his wife, Betty. The park is home to an amphitheater, tennis center, athletic field, basketball court, picnic tables, and sculpture park. But Ford Park is also home to the spectacular Betty Ford Alpine Gardens.
Betty Ford Alpine Gardens is not your typical botanical garden. At more than 8,000 feet above sea level, it happens to be one of the highest botanical gardens in the United States. Located directly in Vail Village, the gardens provide a scenic respite from the hustle and bustle of the energetic alpine town. Plus, it's a way to escape into nature without having to exert too much physical energy.
Within the gardens are a wide arrangement of alpine wildflowers, rock gardens, waterfalls, and perennial flowers. The garden is free to access, and is open year-round.
Address: 530 S Frontage Road E, Vail, Colorado
4. Hike the Mountain Trails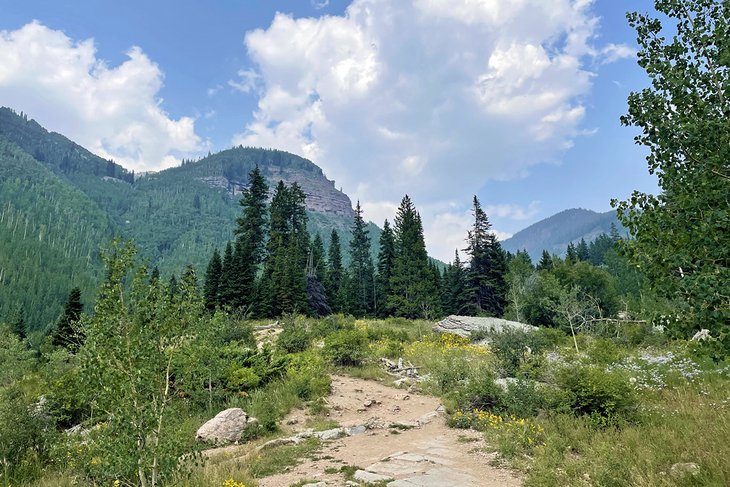 Vail may be best known as one of the world's greatest ski destinations, but one of the best things to do in Vail is actually visit during the summer. The summer months are when visitors can take full advantage of the miles and miles of hiking trails that criss-cross over the mountains.
Vail's scenic hiking trails are simply saturated with rocky outcrops, scenic vistas, wildlife, and meadows of wildflowers. The trails in and around Vail are accessed either by the gondola up Vail mountain or in the surrounding vicinity.
Vail Mountain is one of the best places to start when exploring the many trails. Several trailheads start at its base, as well as at the top of both Gondola One and Eagle Bahn Gondola.
But Vail also has trails that web through the nearby forests, including in East Vail, North Trail, and along Red Sandstone Road. These spots have some of Vail's best hiking trails, like Upper Piney River, Booth Creek, and Pitkin Creek.
5. Ride the Scenic Gondola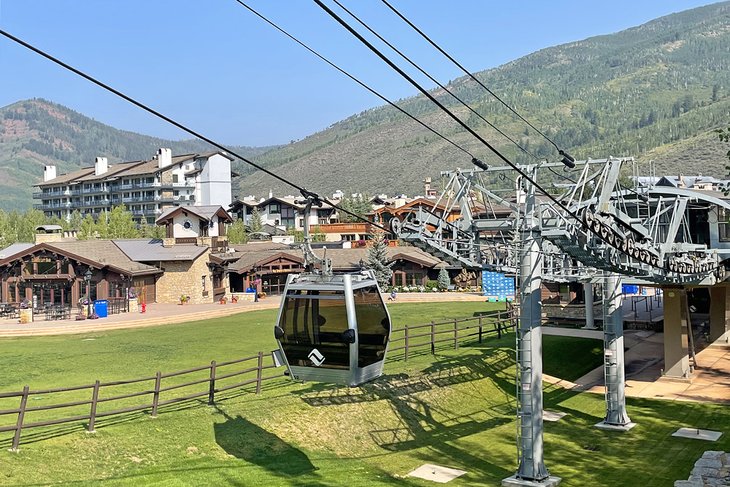 You don't have to be a hiker in order to enjoy Vail's scenic gondola. Also known as the Eagle Bahn, this gondola takes travelers from the base of Vail Mountain up above 10,000 feet. The views along the way are magical on their own, but once you reach the top of the mountain, an entire world of adventure opens up.
At the top of the mountain, you will find many of the city's most popular hiking trails, as well as several restaurant options, which are great spots for scenic lunches or to fuel up before or after a hike.
Address: 699 I-70 Frontage Road, Vail, Colorado
6. Hike Booth Falls Trail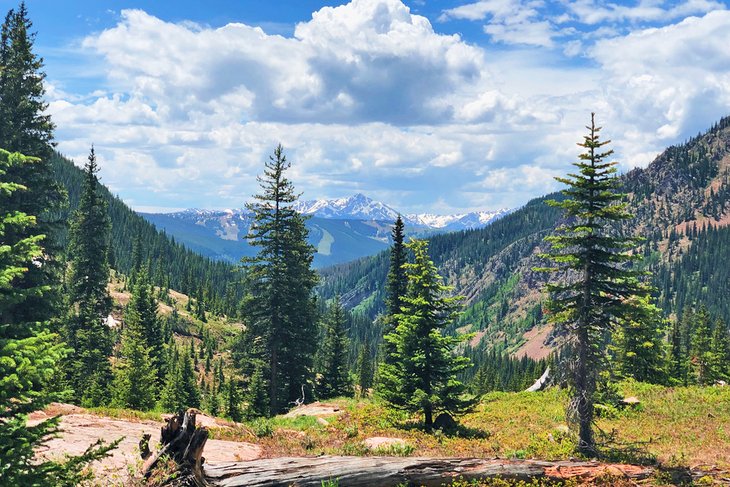 While Vail has dozens of hiking trails, the most popular is the hike to Booth Falls. The 10-mile, out-and-back hike is a challenging one, gaining about 3,000 feet in elevation. Still, those who make the trek are rewarded with some of the most amazing scenery in all of Colorado.
Of course, you don't have to do the entire hike to reap the rewards. About two miles in, you'll reach the plunging 60-foot waterfall for which the trail is named. If you have the energy to keep going, you can make it all the way to the stunning, alpine-esque Booth Lake, surrounded by pine forests, aspen groves, wildflowers, and peaks.
Address: Booth Falls Road, Vail, Colorado
7. Get Your Thrills at Vail Epic Discovery
When summer melts the snow off Vail Mountain, the forests and hillsides spring to life. This is especially true at Vail Epic Discovery — one of the best adventure courses in Colorado.
Epic Discovery is one of the best things to do in Vail in the summer, complete with adventure courses, ziplines, a roller coaster, tubing hills, climbing wall, and many more adventure-themed activities.
With the Game Creek Zipline Tour, visitors have the opportunity to soar above the forest trees across seven ziplines. The mountain coaster takes things up a few more notches as you race across the forest track. The Gore Range Adventure Course creates a ropes course high above the ground, while the Paramount Peak Climbing Wall is perfect for amateur (or experienced) bouldering.
Kids have plenty of things to do, as well, from mini kids' tubing to a scenic gondola ride and a bungee trampoline.
What's great about Epic Discovery is that it is also partnered with The Nature Conservancy, which has implemented discovery stations to help ensure and promote the growth and preservation of the natural environment.
Address: 520 E Lionshead Cir, Vail, Colorado
8. Stop at Piney River Ranch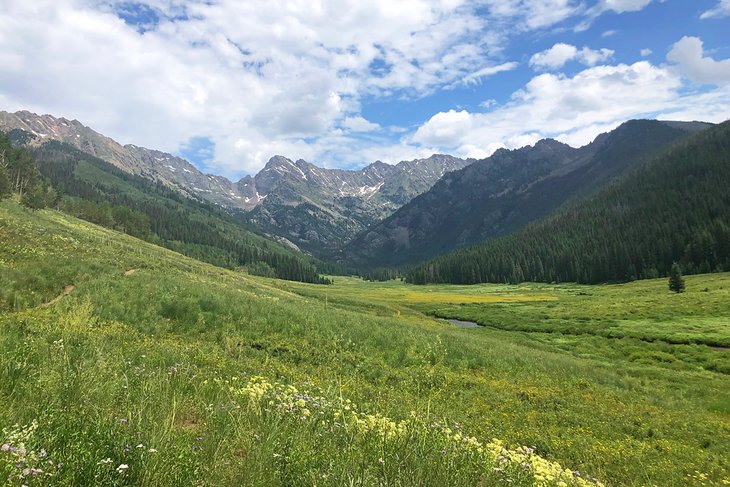 Piney River Ranch is often on the list of the most beautiful wedding venues in Colorado. But you don't have to be anyone's plus-one in order to enjoy the spectacular beauty of this 40-acre retreat.
Located on the edge of Piney Lake within the Gore Range, Piney River Ranch puts the spotlight on gorgeous Colorado backcountry, with the creature comforts of a luxury venue. While it is a spectacular events venue, it is a scenic and beautiful place to visit for the day.
Piney River Ranch features everything from canoeing and hiking to fly fishing, stand up paddleboarding, waterfalls, an on-site restaurant, and a communal fire pit. If you want to stay the night, luxury accommodations are available to book.
The gorgeous ranch sits at 9,350 feet above sea level and is maintained by the U.S. Forest Service. It is open seasonally from June through September.
Address: 700 Red Sandstone Road, Vail, Colorado
9. Stroll the Vail Recreation Path
While Vail does attract some of the world's most extreme adventure enthusiasts, it is absolutely possible to enjoy Vail at a more leisurely place. The Vail Recreation Path, for example, includes 15 miles of paved recreation paths that lead to many hiking and mountain biking trailheads.
Among the paved trails include the Gore Valley Trail. This 12-mile trail includes residential streets, bike lanes, parks and recreation facilities. It also meanders through Vail Village.
Other trails that are part of the system include the North Recreation Path, Bald Mountain Recreation Path, the Eagle Valley Trail, and the Vail Pass Trail.
The trail system also includes soft surface trails, the longest of which is the Son of Middle Creek Trail, which features unpaved roadway and a challenging single-track for hikers and mountain bikers.
10. Visit the Colorado Snowsports Museum & Hall of Fame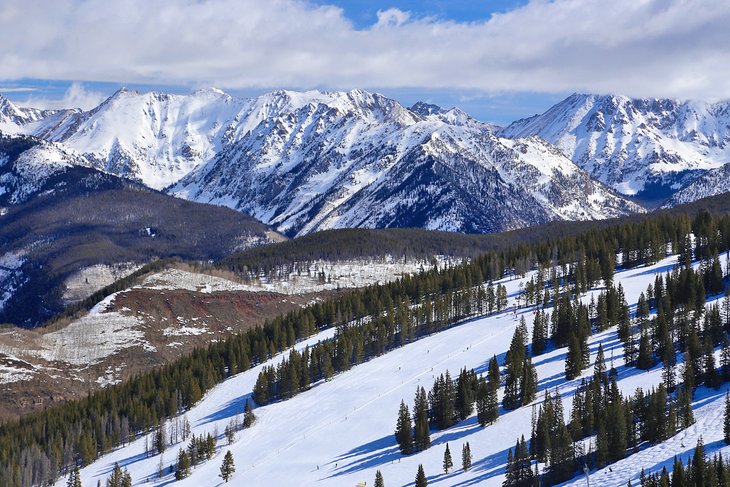 Colorado has long-been one of the top destinations for extreme winter sports. Get to know the history, and the cast of characters who conquered Colorado, at the Snowsports Museum & Hall of Fame.
Through a collection of historic artifacts, the museum tells the story of the rise of Colorado's extreme winter sports scene. You can start at the beginning, with the 10th Mountain Division, the mountain troopers of World War II, who made Vail into what it is today.
Move on to the Hall of Fame, which puts the spotlight on the icons who have mastered the secrets of Colorado's highest peaks. You can also look at the interactive Ski Resorts Table, which shows the 26 active ski areas in Colorado, as well as some of the many "Lost Resorts" within the state.
The museum also puts the spotlight directly onto Vail and the Vail Valley, and walks visitors through its transformation from a quiet mountain village to one of the top ski destinations in the USA.
Address: 231 S. Frontage Road E, Vail, Colorado
11. Explore the Ice Castles in nearby Dillon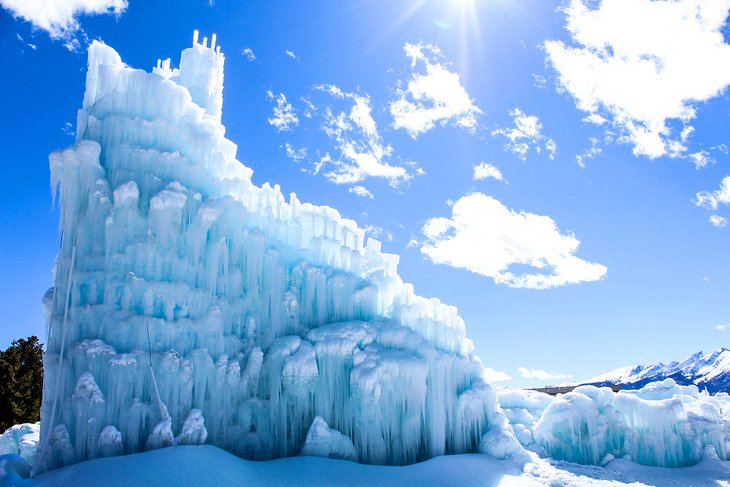 Get lost in a real-life fairy tale, just half an hour from Vail, when you explore the Ice Castles. Located in Dillon, Colorado, the Ice Castles of Colorado is an award-winning tourist attraction that is simply mesmerizing.
Constructed from hundreds of thousands of icicles that have been manipulated by world-class ice artists, the town becomes transformed into a veritable winter palace. The experience includes LED-lit sculptures, tunnels, slides, and fountains, putting you at the center of your very own frost-covered fantasy.
The ice castles are seasonal, of course, but if you find yourself in Vail in the winter, this is absolutely worth the drive. You can also find similar experiences in Minnesota, New Hampshire, New York, Utah, and Wisconsin.
Address: 120 Buffalo Street, Dillon, Colorado
12. Get Lost in Gilman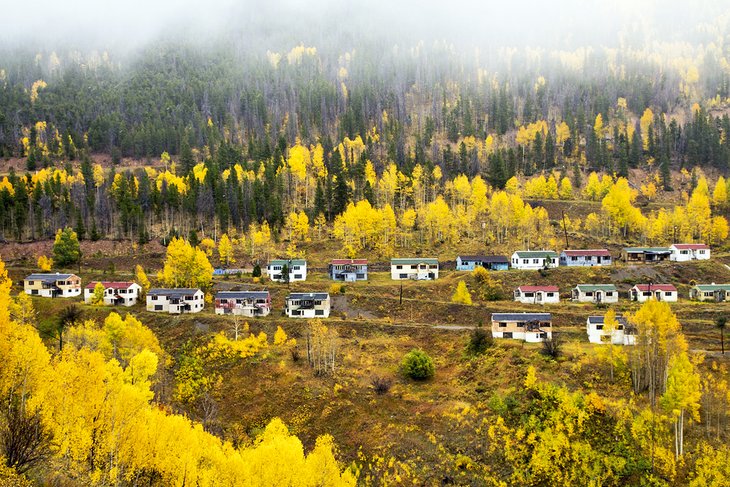 Did you know that Colorado has more than 1,000 ghost towns? These abandoned towns are remnants of Colorado's explosive (but short-lived) mining history in the 19th century. After the mines were tapped out, these remote mountain towns were mostly abandoned. Some live on today and have become 21st-century destinations, but many remain frozen in time, albeit abandoned.
You can catch a glimpse of a ghost town not far from Vail. It's called Gilman, Colorado, and sits atop a 600-foot cliff above the Eagle River on Battle Mountain. You'll have a pretty direct view of the town from Highway 24, which runs from Vail to Leadville. This particular ghost town sits on private property, but it's still worth the drive just to take a look. Gilman was thriving for almost 100 years, but shut down in the early 1980s after the EPA required that it close.
Where to Stay in Vail for Sightseeing
Vail is quite spread out. The most ideal spots to stay are in Vail Village or Lionshead Village, which both have direct lift access, as well as lots of walkable shops and restaurants. More affordable hotels, as well as lots of vacation rentals, are located on the outskirts of town in East and West Vail. All parts of Vail are connected by a free, frequently running shuttle service, however.
Luxury Hotels:
Mid-Range Hotels:
The family-owned Tivoli

Lodge

is a more affordable 4-star option in Vail Village. Recently rebuilt, it features European-style architecture. It is walking distance from the Vista Bahn ski lift.
The trendy Gravity Haus

Vail

is walking distance from Gondola One in Vail Village. It has just 22 rooms and 7 condos available. An experiential brand, the property has a sustainable focus throughout. The gym here is impressive, with Peloton bikes and comprehensive strength equipment. There is also a restaurant, indoor and outdoor hot tubs, sauna, steam rooms, and a spa. Guests can also rent the hottest demo skis and snowboards.
The 3-star Christiana Lodge, A Destination

Hotel

is a good value choice. Choose from lodging in this European-style boutique hotel or one of the adjacent condos. The hotel is in Vail Village, within walking distance from Gondola One.
Budget Hotels:
Budget accommodations in Vail are few and far between. One value option is the Highline Vail – a DoubleTree by

Hilton

. In West Vail, about two miles from the slopes, it offers a free shuttle service to the mountain. This hotel is still a stylish 3-star property—it just tends to trend lower price-wise due to its location.