15 Top-Rated Things to Do in Estes Park, CO
In the Colorado High Country, Estes Park is the southern gateway to Rocky Mountain National Park and a charming mountain town in its own right with plenty of things to do.
Estes Park is a year-round travel destination. And while most tourists come in summer, locals will tell you that visiting in winter is a special experience: there are fewer crowds, the mountains are covered in a beautiful snowy blanket, and there are plenty of winter-focused outdoor activities to keep you busy.
Whether you are looking to challenge yourself with outdoor activities, from fly fishing to horseback riding, or prefer to explore scenic byways in the comfort of your vehicle, like the Peak to Peak, we've included activities for all styles of traveler. Check out our list of the top things to do in Estes Park.
1. Rocky Mountain National Park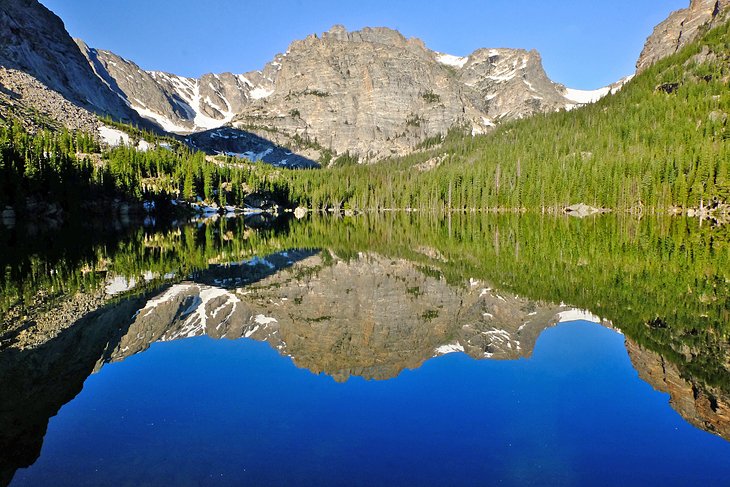 Serving as a southern gateway, Estes Park is just a few minutes' drive from the entrance of Rocky Mountain National Park, one of the most popular national parks in the USA. The scenery here is truly inspiring, with craggy towering peaks, deep blue lakes, and velvet-like meadows with meandering rivers making up the wild backdrop.
Rocky Mountain National Park is also home to Trail Ridge Road (it closes in winter), which is the highest continuous paved road in the U.S., topping off at 12,183 feet high. When open, it connects Estes Park on one side of the park with the town of Grand Lake on the other.
For a quick hike on a packed gravel trail that is great for families, seniors, and visitors in wheelchairs, check out the easy Sprague Lake Trail. It is a 0.8-mile loop around the lake by the same moniker and boasts fabulous mountain views and opportunities to spot beavers and moose in the water. You can also fish for brook trout in the lake.
The park itself doesn't close in winter, however, and you can still hike some of the 300 miles of trails. And there are opportunities for cross-country and backcountry skiing.
Official site: https://www.nps.gov/romo/index.htm
2. The Stanley Hotel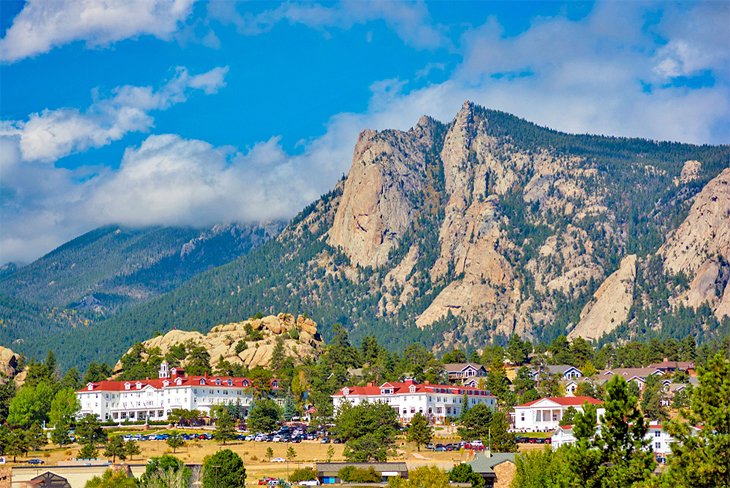 If you are a fan of Stephen King, you won't want to miss The Stanley Hotel. The author was inspired to write his iconic novel The Shining after spending a night at the hotel. While the movie version of the book was not filmed in the historic Colorado hotel, the TV adaption was.
The Stanley, which recently celebrated its 100th birthday, is a landmark property in its own right. Listed on the National Register of Historic Places, it sits on a hill overlooking downtown Estes Park. You can spend the night if you choose, but you don't have to be a guest to visit. If you are interested in the supernatural, then sign up for the hotel's Night Spirit Tour.
Today the hotel is best seen on a day visit for its historic and cultural relevance.
Address: 333 E. Wonderview Ave, Estes Park, Colorado
Accommodation: www.stanleyhotel.com
3. Estes Park Aerial Tramway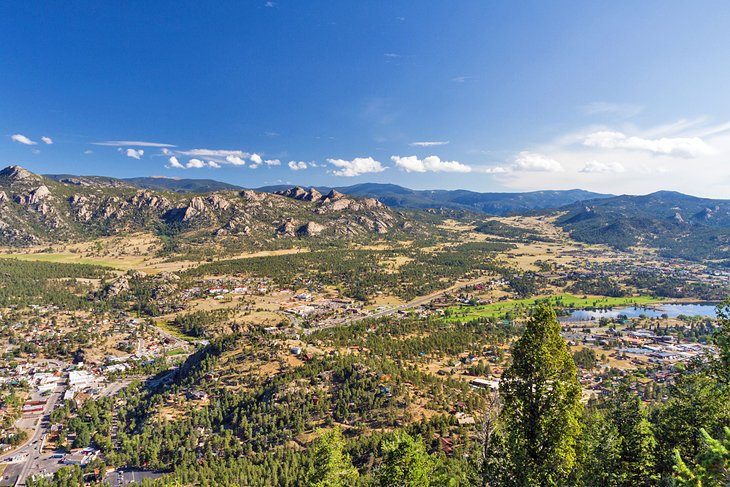 Open from Memorial Day to Labor Day, the Estes Park Aerial Tramway is another top thing to do in season in town. The tramway has been in operation since 1955 and takes you to the summit of Prospect Mountain. It was designed after the European "free span" tram model that runs the cable from top to bottom without any towers in between, which gives you unobstructed views and photos not marred by towers.
From the mountain top, you have stunning views of 14,259-foot-high Longs Peak and the Continental Divide. There are also a few hiking trails and a café located at the summit.
Address: 420 E. Riverside Drive, Estes Park, Colorado
Official site: https://www.estestram.com/
4. Lake Estes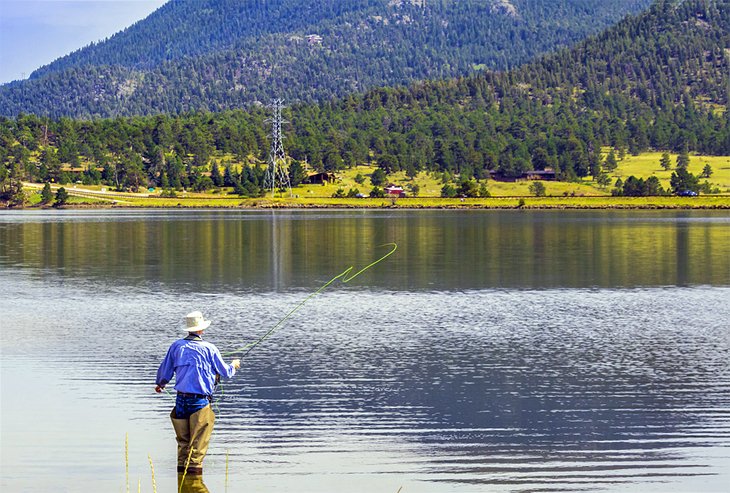 Lake Estes, on the main road into Downtown Estes Park, offers year-round activities, but is especially popular in summer. During the warmer months, you can take paddleboards and kayaks out on the lake. Gear can be rented from the Lake Estes Marina, which even rents out pontoon boats. The lake is also stocked with trout for fishing.
If you'd rather enjoy the water from the sideline, the lake is ringed by a 3.75-mile loop trail known as the Lake Estes Trail. You can hike or bike it, and the Continental Divide and other Rocky Mountain views (hello, Longs Peak) are quite spectacular. You're also likely to see some of the local wild residents, from elk to bighorn sheep and possibly bears.
Address: Lake Estes Marina, 1770 Big Thompson Ave, Estes Park, Colorado
5. Estes Park ATV Rentals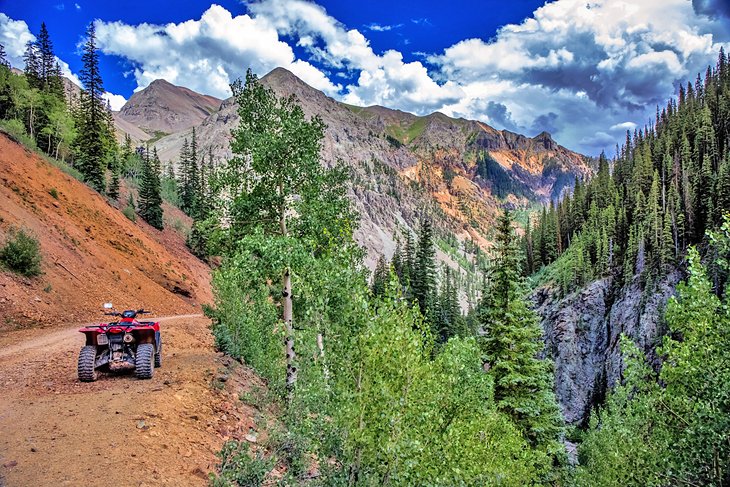 Getting off the road and onto the trail in an ATV is a classic Colorado experience. Estes Park ATV Rentals offers unguided ATV and other vehicle rentals, so you can explore at your own pace and not be hindered by a group - and the views around here are simply stunning.
The ATVs come with maps, helmets, and gas and are already parked on the trail, so you don't need to bring anything except your driver's license. You can book a half- or a full-day rental.
Address: 222 E. Elkhorn Ave, Estes Park, Colorado
Official site: www.estesparkatvrentals.com
6. Beaver Meadows Visitor Center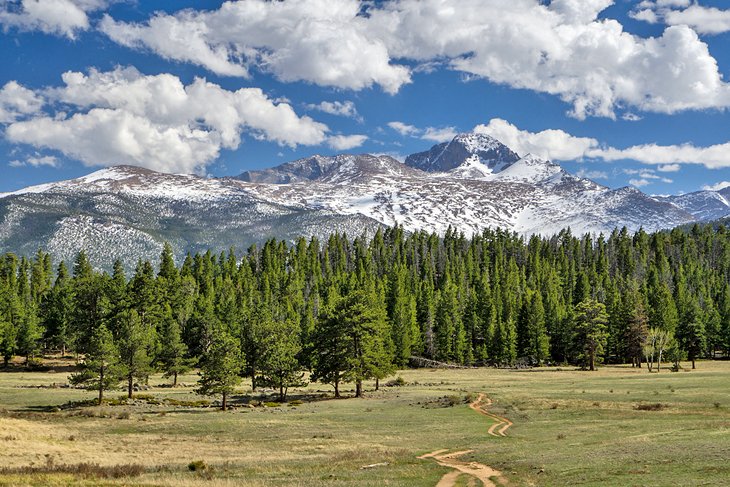 Designed in Frank Lloyd Wright style, the Beaver Meadows Visitor Center serves as the headquarters for Rocky Mountain National Park and first opened in 1967. The visitor center is open year-round, with slightly shorter hours in winter.
Inside the visitor center, you can watch a short park orientation film, as well as pick up information about the park itself, from ranger-suggested hikes to maps. Before leaving, make sure to walk to the west end of the parking lot. From here, you will have unobstructed views of Longs Peak and other towering mountain summits.
Address: 1000 US-36, Estes Park, Colorado
Official site: https://www.nps.gov/romo/planyourvisit/visitorcenters.htm
7. Estes Park Museum
The Estes Park Museum recently celebrated its 50th birthday. Located just off Highway 36, it is open Wednesday through Saturdays from 10am to 4pm. Admission is free.
The museum chronicles the history of Estes Park. It begins with the first Native American inhabitants, continues on to the homesteaders that showed up in the 1860s, and then to the town's incorporation in 1917. Modern history, which has been shaped in a large part by a series of floods, the last of which took place in 1982, is also covered.
The museum also runs an interpretive center at the Historic Fall River Hydroplant. The plant was originally constructed in 1909 to power the Stanley Hotel. It is open by appointment only.
Address: 200 4th Street, Estes Park, Colorado
Official site: http://estesparkmuseumfriends.org/our-museum/
8. Open Air Adventure Park
Want to get your adrenaline pumping? Head to the Open Air Adventure Park. It features a course with 32 different elements to traverse, including rope bridges, swinging logs, tightropes above the trees, and shifting platforms.
You'll be hooked safely into a harness the entire time, so no worries about getting hurt. The elements are as high up as 21 feet above ground, and there are plenty of opportunities to swing and leap along the ziplines.
The course is self-guided, so you can go at your own pace. There are, however, staff here to help you – and encourage you – along the way.
The Open Air Adventure Park is also the only place in town to try your hand at ax throwing. The 30-minute sessions cost $25 and allow you and three other people 16-years and over to throw axes at a target in a dedicated lane. Staff can assist with ax game recommendations and help improving your throwing technique.
Address: 490 Prospect Village Drive, Estes Park, Colorado
Official site: www.openairadventurepark.com
9. Jackson Stables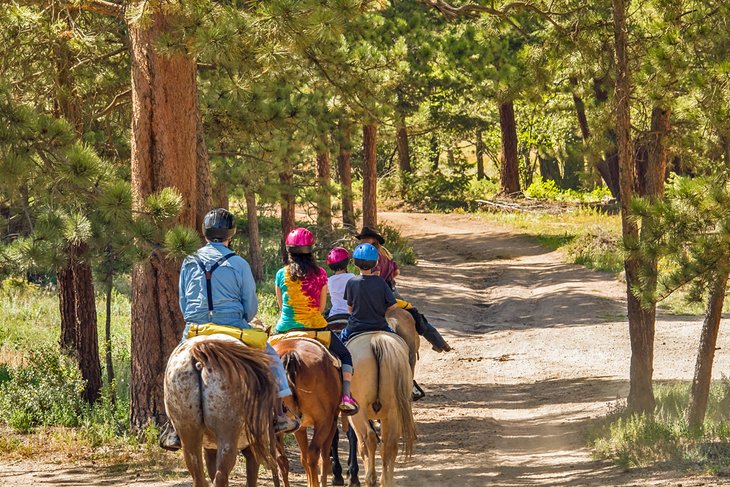 Exploring Rocky Mountain National Park on a horseback ride is another top thing to do around Estes Park. Head to Jackson Stables to meet your mount and take a trail ride into the park. The stables offer a number of rides, from hour-long affairs to full-day adventures that allow you to cover more ground, riding through wildflower-strewn meadows and into glacial basins.
Besides trail rides, Jackson Stables also offers kid-focused activities. They do pony rides, as well as horse-drawn hayrides in fall with stops for fireside s'mores.
Address: 2515 Tunnel Road, Estes Park, Colorado
Official site: www.jacksonstables.com
10. Riverwalk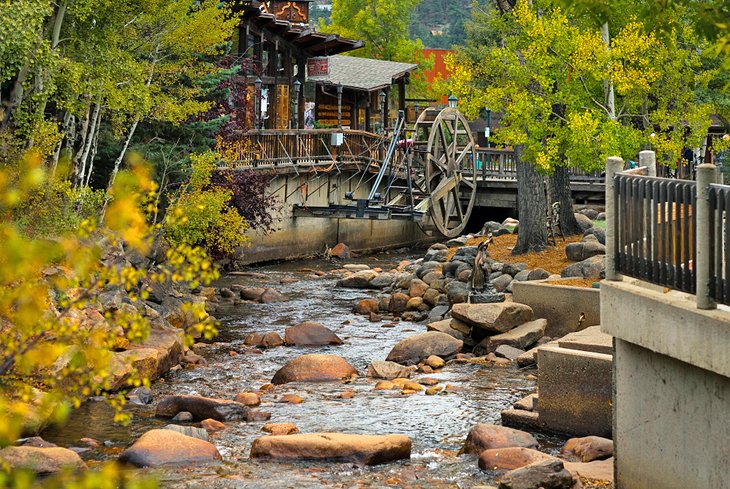 Downtown Estes Park can get very crowded in the height of summer. Its main drag, Elkhorn Ave, which is where you'll find numerous shops, from the touristy t-shirt variety to more upmarket galleries, as well as restaurants, can feel downright claustrophobic. If this happens, do as the locals do and head to the Riverwalk.
The paved trail runs along the banks of the Big Thompson River, which runs parallel to Elkhorn Ave. The trail is usually less crowded, and you get the added audio bonus of running water.
It is easy to jump off the trail when you see a riverside patio restaurant that catches your fancy or a shop you want to pop into.
11. Peak to Peak Scenic Byway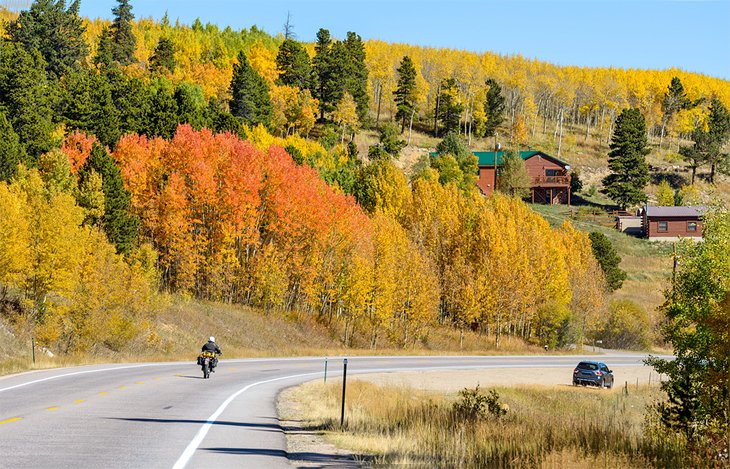 Colorado's oldest scenic byway just celebrated its 100th birthday, and the classic drive down the 55-mile Peak to Peak Scenic Byway is still the best around. The drive begins in Estes Park and then winds its way to Central City, a Victorian-era mining town.
This drive is not only stunning, with views aplenty of towering peaks, but it is also a way to experience the mountain scenery at its best in summer without the crowds you'll encounter driving Trail Ridge Road in Rocky Mountain National Park. There are also a number of worthwhile quirky small towns to pause at along the drive.
12. Fun City
Also celebrating 50 years of fun in Estes Park, the aptly named Fun City is a landmark family favorite for everything from go-karts and bumper boats to mini-golf, gemstone panning, water walking balls, and a bungee trampoline. There are even carnival games and prizes.
And just because Fun City has been in business for half a century, don't think it is outdated. The activities were recently upgraded for this century, including the go-karts and some state-of-the-art arcade games.
You can come for a few hours or all day. Purchase the All-Day Fun Pass if your kids want to try everything - it offers unlimited rides and activities.
Address: 455 Prospect Village Drive, Estes Park, Colorado
Official site: www.funcityofestes.com
13. Kent Mountain Adventure Center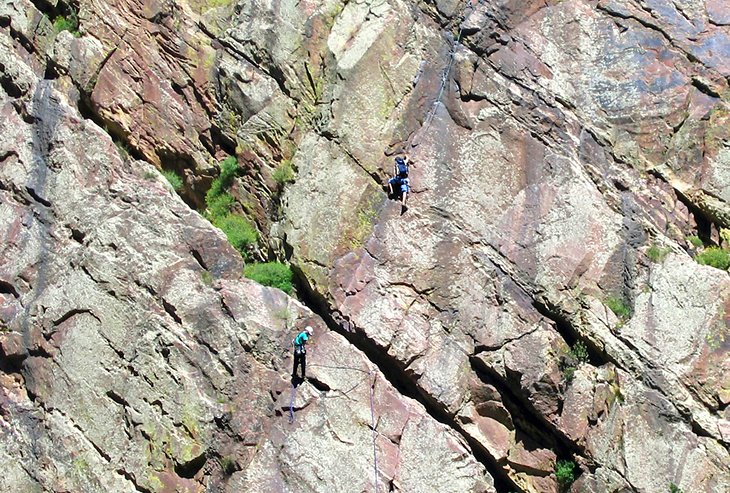 If you want to explore the backcountry but don't have the equipment or skills to do so solo then check out Kent Mountain Adventure Center based in Estes Park. In operation for more than 30 years, they are industry leaders when it comes to mountaineering and rock climbing instruction. They offer guided ascents for beginners to advanced climbers.
In winter, you can sign up for ice climbing, backcountry skiing, and snowshoeing adventures. They also run Avalanche Education courses.
Address: 520 Steamer Pkwy, Estes Park, Colorado
Official site: https://kmaconline.com/
14. Fern Lake Trail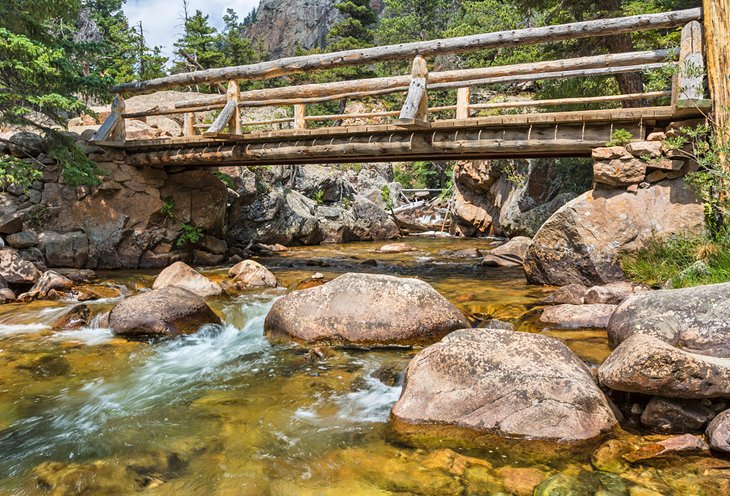 Inside Rocky Mountain National Park, but close to the Estes Park entrance, Fern Lake Trail is a gorgeous 7.1-mile out-and-back hike that is especially stunning in early fall, when the leaves are changing colors and the first snow of the season covers the craggy peaks. The moderately difficult hiking trail gains 1,453 feet over the 3.5-mile trek to Fern Lake and follows the Big Thompson River.
If you fish, bring a rod - the high alpine lake is stocked with trout and offers excellent fishing. There are also stunning views of Fern Falls and Little Matterhorn and Notchtop Mountains from the north side of the lake. If you want to continue on to the falls you can do so - it is another 2.1 miles and a 1,050 foot elevation gain, however. Another option is to backpack to the lake and set up a tent at one of the many backcountry campsites around the lake.
15. Estes Park Visitors Center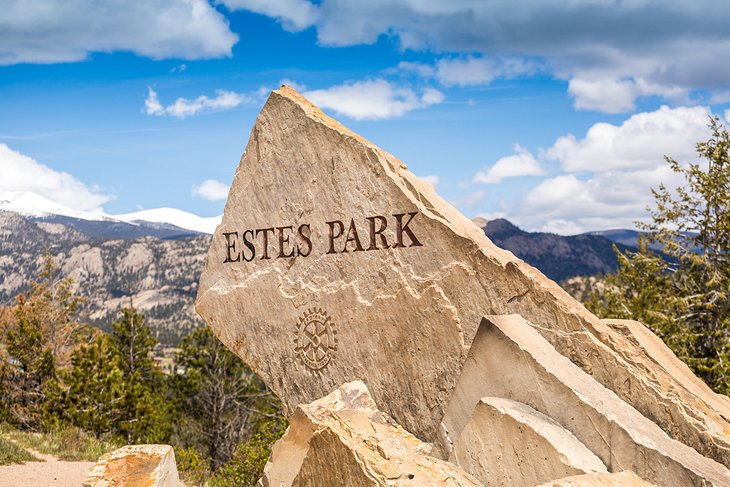 The Estes Park Visitors Center is located in downtown Estes Park on Big Thompson Avenue and stays open year-round. This is where to come to learn everything you need to know about the best places to visit. The helpful staff here can help with recommendations for restaurants and offer advice on activities, from guided fly fishing adventures to jeep tours, and where to book. If you are traveling with your dog they can even recommend hiking trails around Estes Park that are dog-friendly.
Address: 500 Big Thompson Ave, Estes Park, Colorado
Where to Stay for Sightseeing in Estes Park
Mid-Range Hotels:
Budget Hotels:
Quality Inn Estes

Park

is a good budget choice. The two-star hotel has tidy and comfortable rooms. It offers perks like a swimming pool, free breakfast, and free parking. Horseback riding can also be arranged from here.
Another clean and comfy good-value choice is the Alpine Trail Ridge

Inn

. The rooms have mountain views and feature contemporary decor and unique artwork. There is a farm-to-table restaurant on-site with a seasonally rotating menu (rare for a two-star hotel). Other amenities include a heated outdoor swimming pool and a hot tub.
The family-owned Hotel

Estes

is just one mile from downtown and has good-value rooms. The kid-friendly budget property has a swimming pool, serves a free breakfast and is also pet friendly.
More Related Articles on PlanetWare.com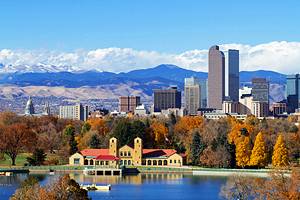 The Mile High City: From Estes Park, it is just a 1.5-hour drive via Boulder to reach Colorado's capital city, Denver. There is much to experience in this thriving city, which is also home to a foodie restaurant scene. For more details, check out our Top-Rated Tourist Attractions in Denver article, which gives you the scoop on everything to see and do in town.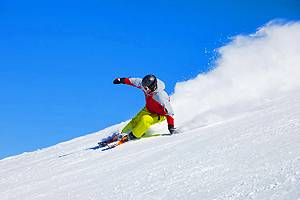 More Mountains: If you haven't had your fill of mountains yet, and especially if you want to do some skiing and snowboarding, there are plenty more mountain towns to play in. Our article on the Top-Rated Ski Resorts in Colorado will point you in the right direction when it comes to winter snow sports. Best of all, a number of Colorado's top ski resorts are within a few hours' drive of Estes Park. In summer, spend some time by the water at one of Colorado's best lakes.