13 Best Campgrounds in Crested Butte, CO
Crested Butte, Colorado is a hidden treasure nestled among the Elk Mountain range in the Colorado Rockies. The town is about a four-hour drive from both Denver and Durango, making it one of the more remote locations in Colorado. That means a camping trip to Crested Butte equals unparalleled natural beauty, small-town living, and much fewer people compared with other destinations.
The landscape here is pure Colorado splendor – towering mountains loom over sprawling meadows that are practically painted with wildflowers. Crystalline alpine lakes sparkle, while aspen groves flutter among the pine forests of Gunnison National Forest.
With so much natural beauty and serenity, it's no wonder that Crested Butte is a mecca for camping in Colorado. Crested Butte has so many campgrounds to choose from, all within a short drive from the quaint downtown. The campgrounds in Crested Butte are made for privacy and for tent campers, as they are typically smaller campgrounds surrounded by trees. Many campgrounds can be found on the way out of town closer to Gunnison, or high up in the mountains along bumpy, unpaved Jeep-style roads.
Outdoor enthusiasts who truly want to sleep out under the stars and do not mind foregoing a plethora of amenities will find that this area is heaven for camping. Read on to find your favorite place to pitch a tent on our list of the best campgrounds in Crested Butte.
1. Oh Be Joyful Recreation Area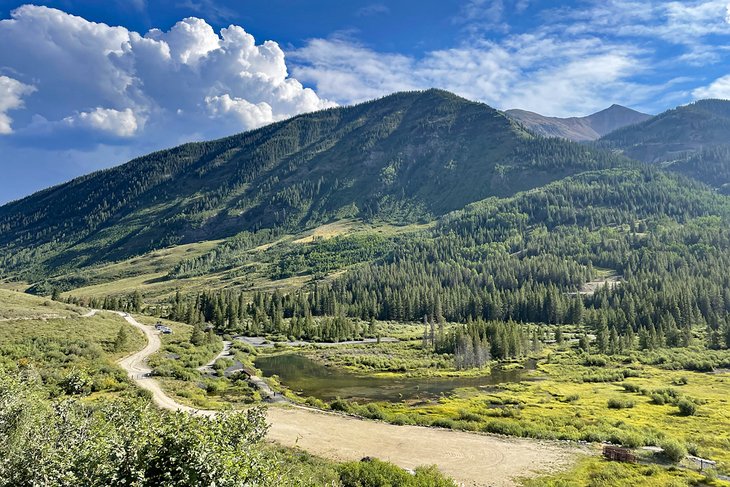 Just five miles from downtown Crested Butte, the Oh Be Joyful Campground feels like you're in the heart of the Elk Mountain wilderness. This 30-unit campground sits on the Slate River, surrounded by towering mountains. It is a spectacular, jaw-dropping backdrop not far from the creature comforts of downtown Crested Butte.
The recently renovated campground features 12 RV campsites, 18 walk-in tent sites and one walk-in group rest room. Each campsite has a fire ring, picnic table, tent pad, and bear-proof food locker. Reservations are strongly recommended, and with one look at this campground, you'll understand why. The scenery is mesmerizing.
The campground does not provide drinking water, nor electric hookups or trash service, so this is something to keep in mind before you make your arrangements. The campground does have three vault toilets.
The area of the campground sits on a 600-acre tract of land managed by the Bureau of Land Management. A short hike along the Oh Be Joyful Creek leads to some beautiful waterfalls, and the Slate River runs next to the campground.
Address: 2343-2345 Co Rd 734, Crested Butte, Colorado
2. Cement Creek Campground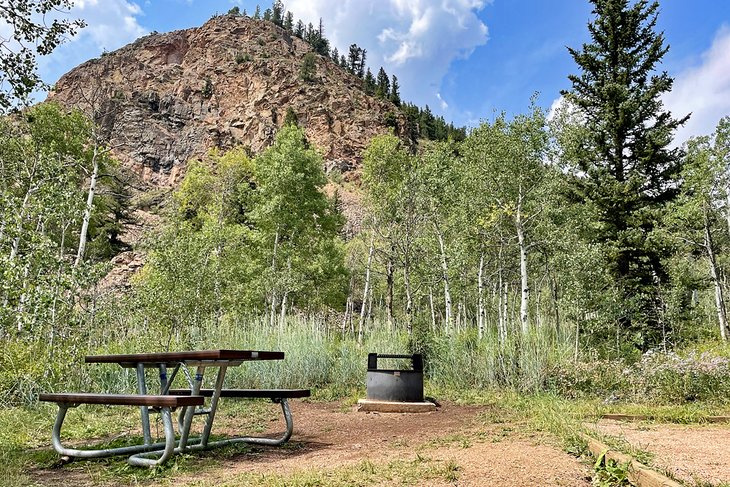 Located within the Gunnison National Forest, Cement Creek Campground is one of the lesser-traveled campgrounds in Crested Butte. But that's a good thing, because you may have this gorgeous campground all to yourself.
The campground is about 15 miles from Crested Butte, tucked in a narrow valley and close to hiking, ATV trails, fishing spots, and mountain bike paths. It offers 13 campsites on a first-come, first-served basis.
The season for the campground is early June to early October. It does not have potable water, but it does have two vault toilets. Campsites are equipped with a metal fire ring, parking spot, and picnic table.
Address: 4670 Co Road 740, Crested Butte, Colorado
3. Gothic Campground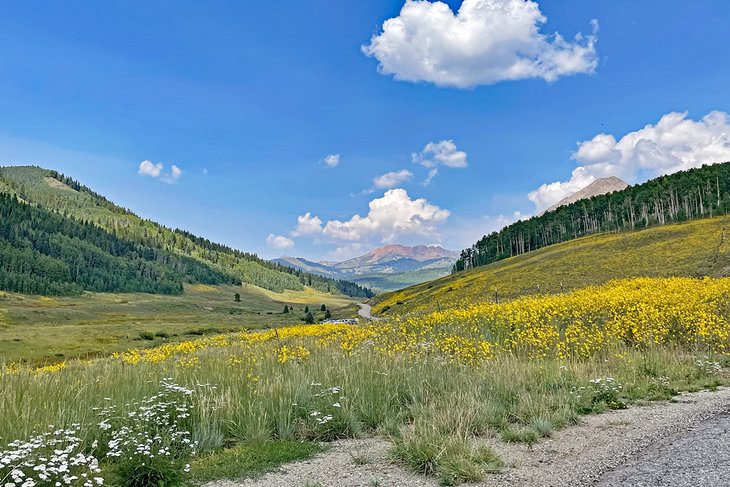 Located nine miles from Crested Butte, Gothic Campground is wreathed in rugged, natural beauty. That makes it one of the best campgrounds in Crested Butte, and also one of the most booked because it is very small. It is especially appealing if you're looking to set off on the many hiking and mountain biking trails in the area.
The campground was named for the mining town of Gothic nearby. From the campground, visitors will be able to hike into the Maroon Bells-Snowmass wilderness area, with far fewer tourists than the other side in Aspen and Snowmass. The Copper Creek Trail starts near the campground and continues on to East Maroon Pass.
The small campground has only four single sites and a vault toilet. No water is provided, and it does not provide additional amenities. But what it lacks in amenities it makes up for in striking natural beauty. The campsites are first-come, first-served.
The campground is open from mid-June until late September.
Address: Co Rd 317, Crested Butte, Colorado
4. Lost Lake Campground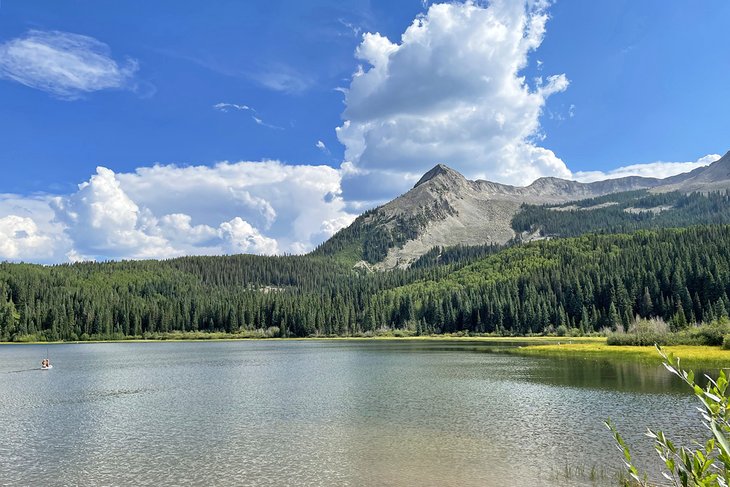 When it comes to campgrounds that brim with activities, Lost Lake Campground certainly matches the description. Nestled in the Ruby Mountain Range, the recreation area has stunning mountain views, is shrouded in forest, and of course, has a gorgeous lake at its center. It has three lakes, to be exact. In addition to Lost Lake, you'll find Dollar Lake and Lake Slough.
The Lost Lake Campground is accessed via Kebler Pass Road, which is one of the most beautiful drives that you can take in this part of Colorado. It is also a seasonal road, which means the campground is only open from mid June through early October.
Lost Lake has 18 tent campsites, 18 RV campsites, and five horse-accessible campsites with plenty of room for a trailer. The campground does not take reservations. It does offer potable water, trash service, and has three vault toilets.
This is one of the best spots in Colorado to get out and play. The Three Lakes Trail is just outside the campground and involves a 3.4-mile loop with plenty of views. For something longer, the Beckwith Path is 6.4 miles out and back.
Getting out onto the lake is another great reason to pick this campground, as it's a popular spot for fishing, swimming, or relaxing on the shore.
5. One Mile Campground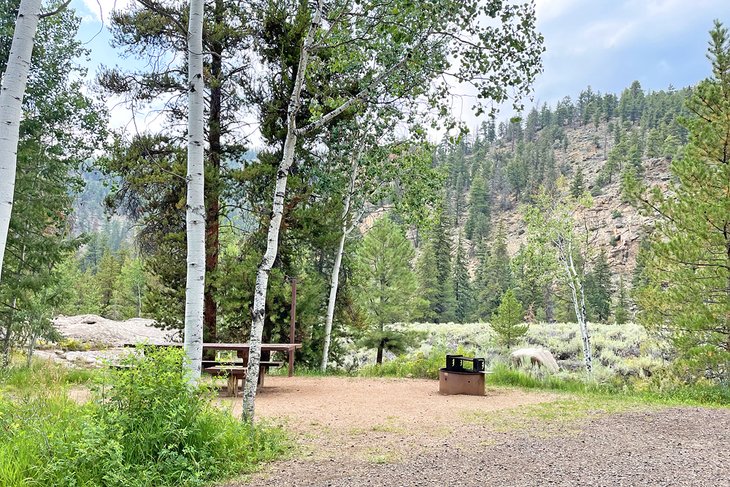 Outside of Crested Butte, towards Almont, flows the Taylor River. Here is where you'll find some of the best campgrounds near Crested Butte. One Mile is one of the more well-equipped campgrounds you'll find along this stretch.
The campground features 25 campsites, all within an easy reach of the area's best kayaking, hiking, rock climbing, and mountain biking. You can make reservations for these campsites, though some are first-come, first-served. The season for camping at One Mile Campground is from mid-June until early October.
At the campground, you'll find three ADA accessible sites, as well, specifically sites number 5, 21, and 22. Other amenities include potable water, a vault toilet, and a pit toilet.
All sites have electric hookups, as well as privacy provided by shady conifers. You'll find a healthy mix of both RV campers and tent campers at this well-equipped, clean, and conveniently located campground.
6. Rosy Lane Campground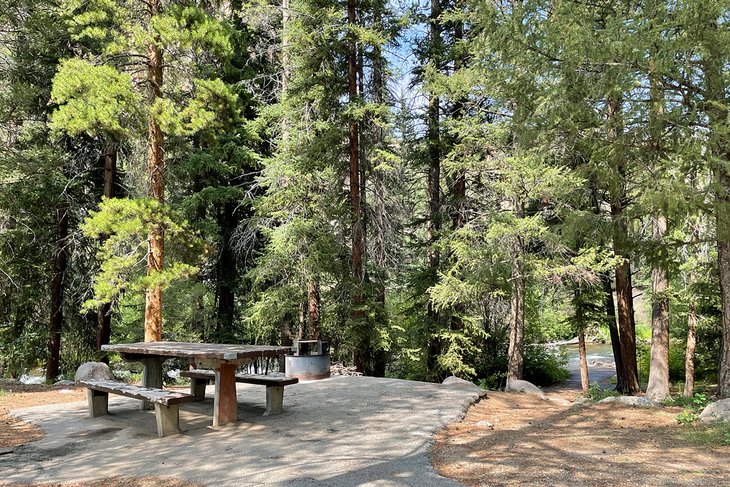 Rosy Lane Campground is another option when exploring the Taylor River campgrounds. Its location right on the river is what makes it so popular among kayakers and rafters. We're talking about Class III rapids right out your tent flap. But because it is in such high demand, it's always better to make reservations.
The campground sits at 8,600 feet above sea level, right on the edge of the Fossil Ridge Wilderness Area. It provides 20 campsites and is open from early June through early October. Keep in mind that site number 4 is ADA accessible. The campground has treated water, a vault toilet, and a pit toilet. Only one site has electric hookups.
Address: Co Rd 742, Gunnison, Colorado
7. Gunnison KOA Journey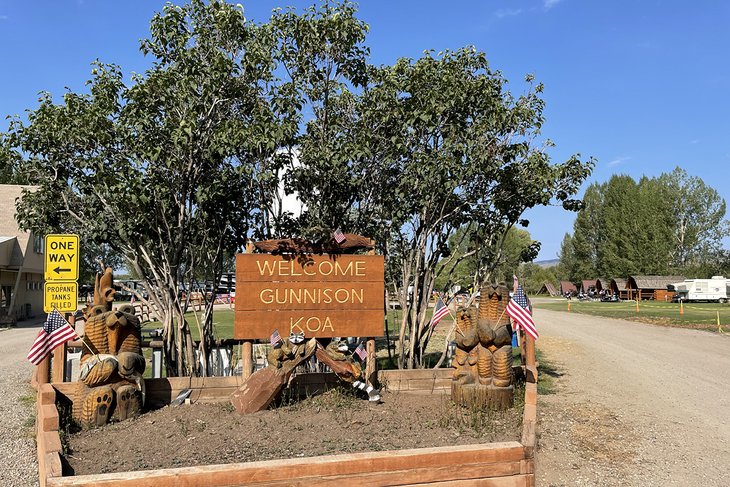 The Gunnison KOA Journey may be a bit of a drive from Crested Butte (roughly 40 minutes), but for devotees of KOAs, or for those who like lots of amenities, this is the campground to book. KOAs are renowned for their cleanliness, amenities, and convenience.
The Gunnison KOA Journey is no exception. Located near downtown Gunnison, the campground has spaces for individual tent sites, RVs, and cabins. All individual tent sites have a grass pad and include a picnic table. For a fire ring, you can make a request. Some of the tent sites have water and electric hookups.
RV spaces are either back-in or pull-through. Some sites are double wide and have full hookups, while others are standard size and still have full hookups. Certain sites feature only water and electric hookups.
The Gunnison KOA also has lodging for rent, whether it's a deluxe cabin with a full bathroom and shower, a camping cabin without a bathroom, or an A-frame camping cabin, also without a bathroom.
Regardless of what you book, the entire campground has a dog park, a pavilion, Wi-Fi, and a small band of goats that roams the grounds.
Address: 105 Co Rd 50, Gunnison, Colorado
8. Granite Tent Campground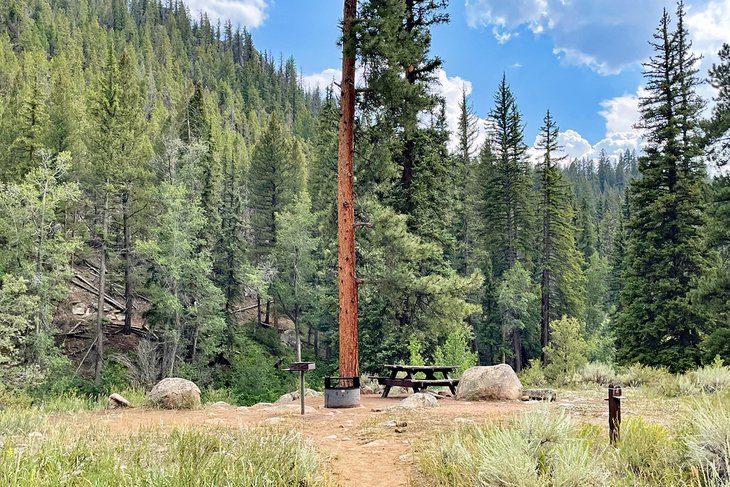 Back over near Almont, also along Taylor River, Granite Tent Campground was designed exclusively for tent camping. Its proximity to the lower end of Taylor Canyon means it has a great location for fishing, rafting, and rock climbing. The grounds are small, with only six tent sites, all of which are shrouded in thick spruce forest.
The season at Granite Tent Campground runs from early June through the end of September. It does not accept reservations and does not provide water. It does have a vault toilet, however.
What's great about Granite Tent Campground is that all the sites are perched along the river. Sites have fire rings and picnic tables, as well. This is a wonderful campground if you want to feel like you've truly disappeared into the backcountry, but is close enough to the main road to provide easy access into either Crested Butte or Gunnison.
9. Elk Creek Campground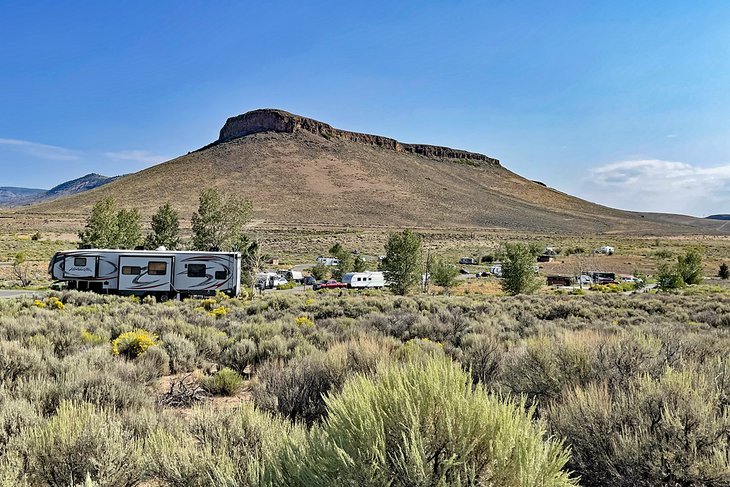 Overlooking the north shore of the Blue Mesa Reservoir, Elk Creek Campground is one of the best campgrounds near Crested Butte, and is close to the services of Gunnison. The lake is one of the largest bodies of water in Colorado, featuring nearly 100 miles of shoreline within the Curecanti National Recreation Area.
The campground, like the reservoir on which it sits, is massive. It features 157 campsites for all types of camping, whether it is with a tent or with a large RV. The campground is relatively exposed, so if it is privacy you are after, this may not be the spot for you. Still, this is one of the area's most favorite campgrounds.
Many of the sites take reservations, especially for those in Loops A, B, and D in the summer, though a few of the first-come, first-served sites are available. The campground has seasonal water and seasonal flush toilets, but vault toilets are operational year-round. Loop D has electric hookups.
The campground also has showers, a dump station, visitor center, marina, restaurant, boat ramp, and fire grates.
Address: 102 Elk Creek, Gunnison, Colorado
10. Lodgepole Campground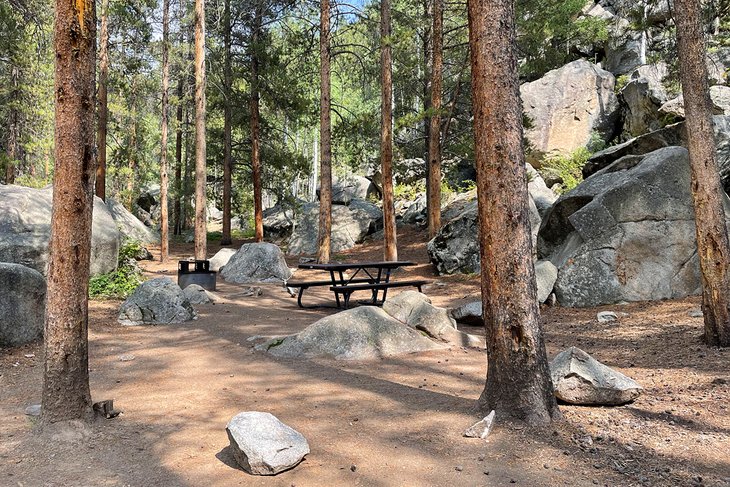 Back over near the Taylor River, Lodgepole Campground is a small campsite popular for its proximity to the river and the activities that can be enjoyed here. The small campground has 16 sites, surrounded by the Fossil Ridge Wilderness Area, whose entrance is just a mile away.
The campground does take reservations, but some sites are first-come, first served. Lodgepole is open from early June through the end of September. For water, it features a potable hand pump. Other amenities include campfire rings, picnic tables, and vault toilets.
Among the many activities in the area, some of the most popular from the campsite are rafting, kayaking, and fishing. You'll also find a few hiking trailheads not far from the campground, as well as a few off-road trails, like Taylor River Trail and Taylor Vista Trail.
11. Brush Creek Road Dispersed Camping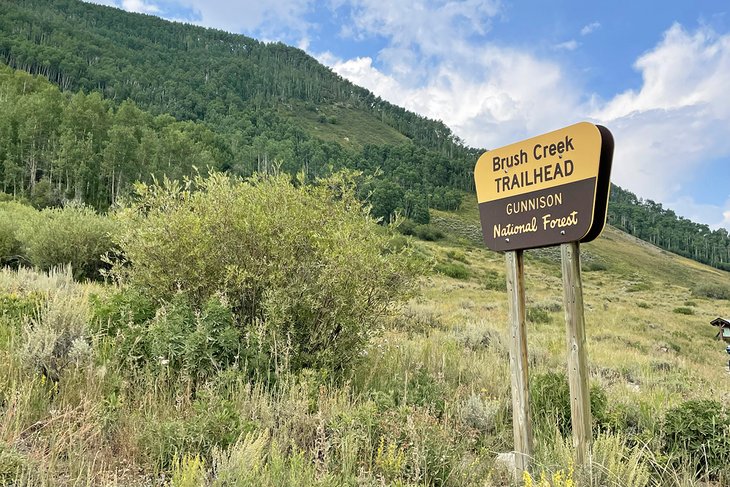 Not all camping in Crested Butte has to be at a dedicated campground. The Brush Creek area is a dispersed camping site that is open without reservations and is free of charge.
The camping area is often where Brush Creek meets the Upper Kern River, and the best season for camping is summer. Because this is dispersed camping, the amenities are quite limited. No water is provided, though a rest room is available. In order to make a fire, a campfire permit is required. This includes for barbecues and camp stoves, and the use of these may be prohibited if a fire risk is high.
If it seems like this is roughing it, that's because it is. But for the more experienced campers, Brush Creek provides some of the most VIP access to the White River National Forest backcountry.
12. Crested Butte RV Resort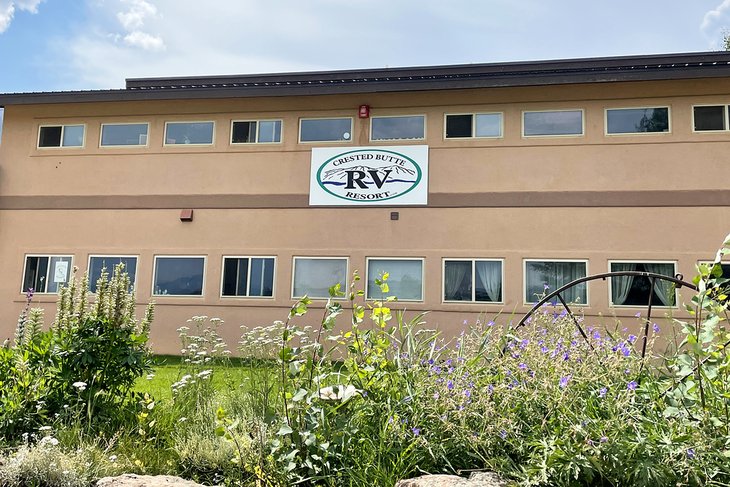 Crested Butte is well equipped to accommodate RV campers, as well, particularly if you book at the Crested Butte RV Resort. The park has 18 sites for RVs and is located just a short drive from downtown Crested Butte.
The park does not offer much in terms of tree cover, but it does provide mountain views in almost every direction. The park is open seasonally from mid May through the end of November. Campers can park during the winter, but most of the facilities are shut off during the winter season.
When the park is open, amenities abound. Crested Butte RV Resort features showers with shampoo and soap, clean restrooms, Wi-Fi, barbecue grills, a communal fire pit, concierge services, and stargazing opportunities.
For an extra charge, guests can arrange for fishing trips, too. The park is also dog-friendly.
Address: 711 Riverland Drive, Crested Butte, Colorado
13. Hartman Rocks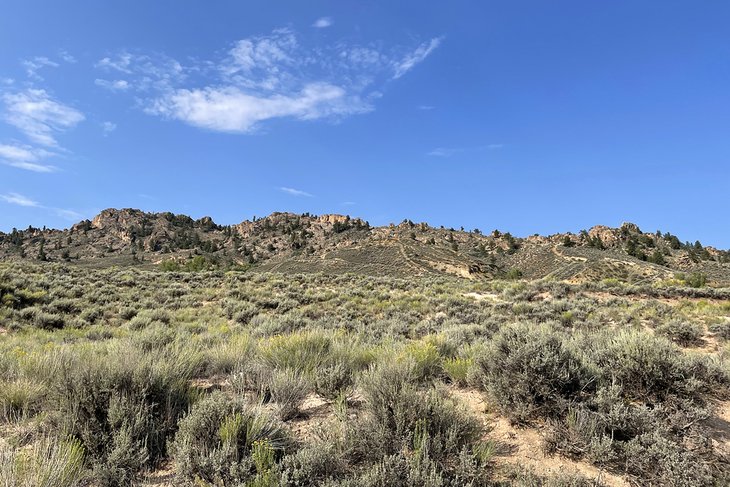 Down the road in Gunnison, Colorado, campers can get out into the wild for some dispersed camping opportunities at Hartman Rocks. Hartman Rocks is a protected recreation area with unparalleled views of the Elk Mountains from its 8,000 acres of open space.
Hartman Rocks is known for its mountain biking, with 40 miles of single track trails. But camping is one of its best kept secrets. Dispersed sites can be found all over the area. All you need to do is show up and find one. You'll know it's a campsite thanks to the presence of a rock fire ring. All campsites are free, and tents can be pitched on the soft patches of earth.
Bear in mind, though, that amenities are hard to come by. This is camping for those who want to rough it and get a bit more off the grid, without having to disappear entirely into the backcountry.
Map of Campgrounds in Crested Butte, CO
Crested Butte, CO - Climate Chart
Average minimum and maximum temperatures for Crested Butte, CO in °C
J
F
M
A
M
J
J
A
S
O
N
D

-5

-21

-2

-19

2

-14

7

-8

13

-2

20

1

23

3

23

3

18

-1

12

-6

3

-13

-3

-20

PlanetWare.com
Average monthly precipitation totals for Crested Butte, CO in mm.

66

62

60

46

41

30

48

51

50

45

53

55

Average monthly snowfall totals for Crested Butte, CO in cm.

109

89

92

49

19

2

0

0

2

24

74

91
Average minimum and maximum temperatures for Crested Butte, CO in °F
J
F
M
A
M
J
J
A
S
O
N
D

23

-6

28

-3

35

7

44

18

56

28

68

33

74

38

73

38

65

31

54

22

37

9

26

-4

PlanetWare.com
Average monthly precipitation totals for Crested Butte, CO in inches.

2.6

2.4

2.4

1.8

1.6

1.2

1.9

2.0

2.0

1.8

2.1

2.2

Average monthly snowfall totals for Crested Butte, CO in inches.

43

35

36

19

7.4

0.9

0

0

0.9

9.4

29

36